Tired of politics, dared gash post about my little hobby (or vacation)
For the quality of pictures much, do not judge, because all were made at different times, on different Soup.
From phone to an SLR camera ...
28 photo.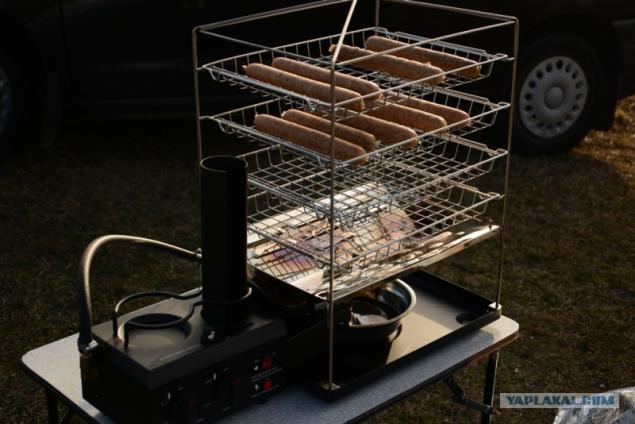 went
it all started with the fact that I decided to try myself in smoked meats and other delicacies
I decided to buy a smokehouse (what could be easier)
Having examined the proposal, realized that nifiga it is not easy
and so, smokehouses suitable for my needs not so much
Well firstly - mnu not at home and smokehouse need to attacks on nature
ie relatively easy to roll up and easily transportable by car or without
smokehouse, which are entirely put to the fire - I dismissed almost immediately
I will not say what I did not like, or large dimensions, whether the eternal black on the sides,
Well, in general did not want
stumbled upon a gas smoker American (or rather Canadian) firms
the firm will not be called, but the pictures clearly shows the name
I wanted to overwrite, so did not consider for advertising, but changed his mind
For those, like me (hiking, gas) are on sale now there is no
ie ALL havent
what is the reason - I do not know as for me, as a very good modelka
studied at the price of Russian / Ukrainian. websites and ebee I prihuel (sorry for the French)
For 500 USD on our websites and 200-250 USD With delivery to Ukraine - such as the price varies greatly ...
500 bucks, okay, I did not have to pay, but for the 200 - you can try
also received a good travel
chosen here such modelku
Photo №2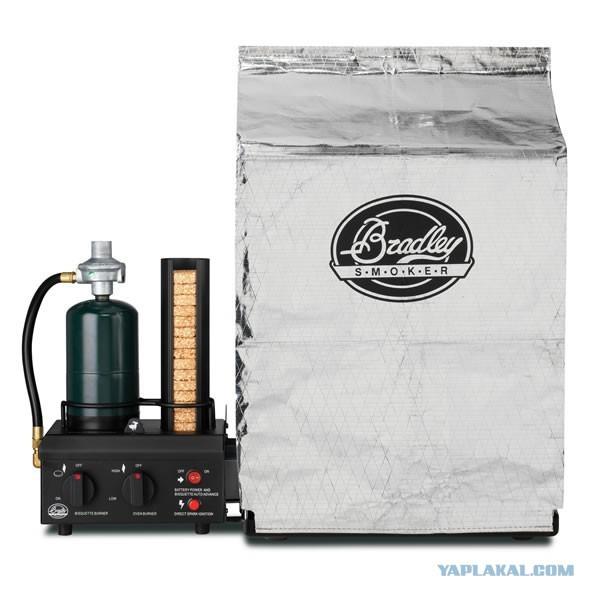 little about the smokehouse
complex-looking machinery was simple kettle
you load briquettes, which are automatically fed into the smoke generator
one cake for 20 minutes
power is supplied from 4 AA batteries (feed pellets)
them and the piezoelectric igniter burners
two burner
a "catching up" the temperature in the smokehouse, the second heats itself a table with briquettes, creating smoke
switched off the big heater temperature in the smokehouse hardly increased (degrees 30-40)
when the main burner - up to 120 degrees
ie smokehouse for both cold and hot smoked exactly what I was looking
Photo №3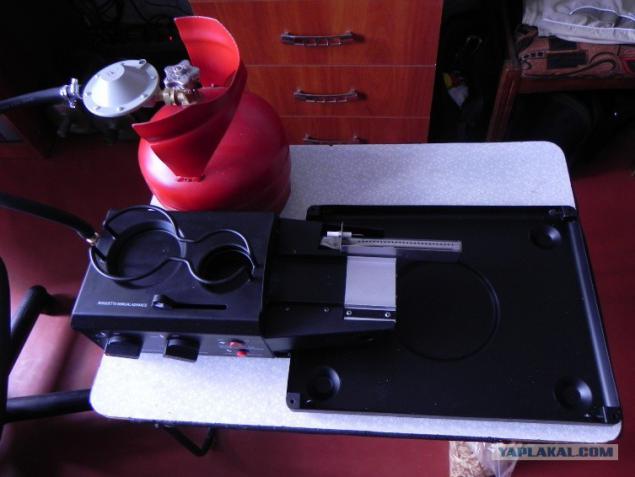 Description of passports
Photo №4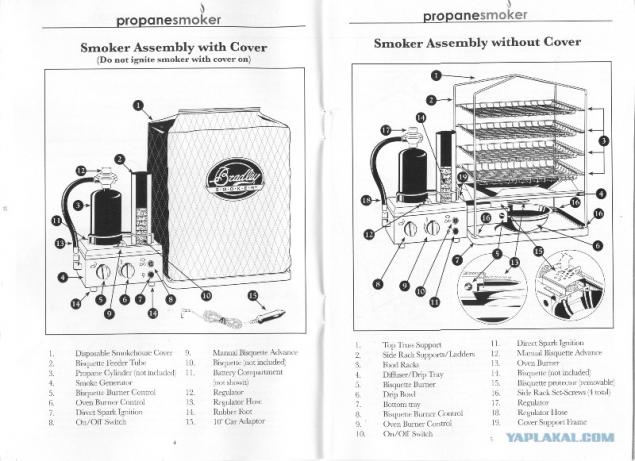 Having examined the forums on this model, I realized that my problem will be two
1st is the briquettes that are running smokehouse
and 2nd - a gas cylinder
For cylinders NOT send mail
thinking that will solve problems as they come in (to "maybe" think of something) - I made an order
and so here it is already in the apartment
As you can see, Americans love to do everything for the convenience (which we would not hurt)
Bag for carrying handy
Photo №5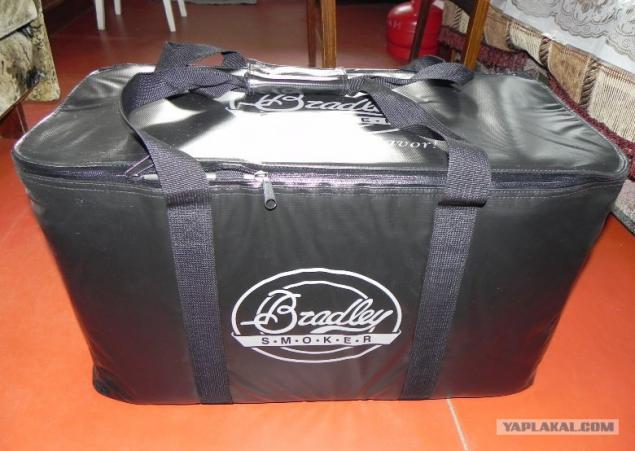 It consists of a smoke generator
Photo №6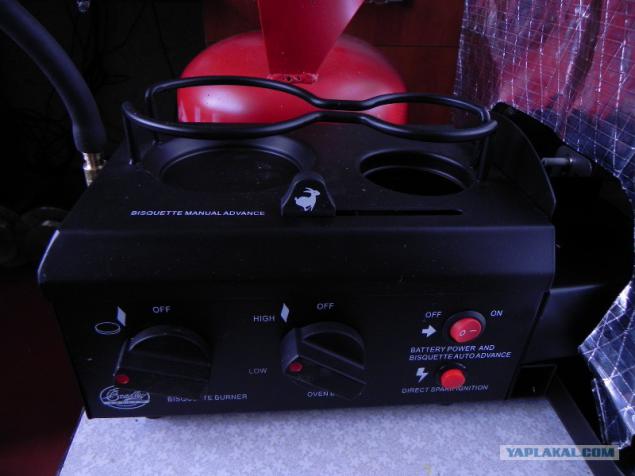 and of the "oven»
the bottom plate must be water, waste briquettes to fall
Photo №7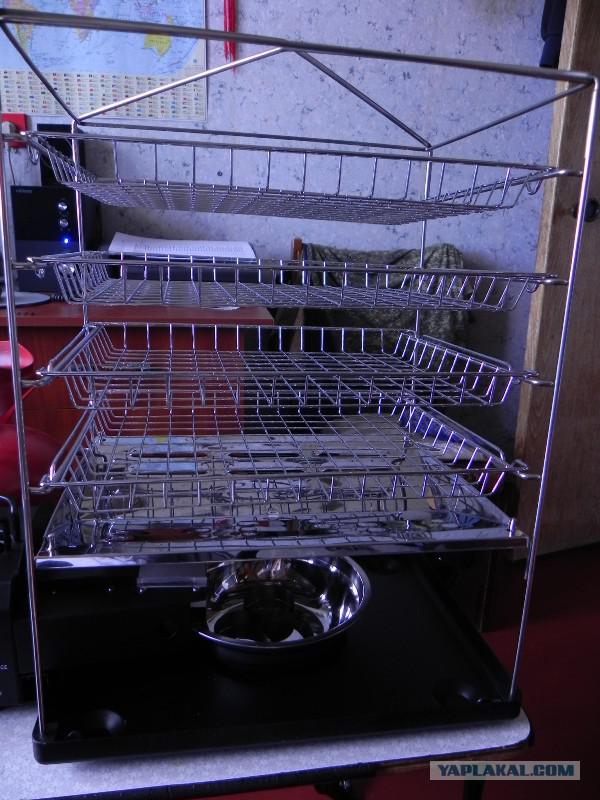 oven covered with refractory mantle
which, by the way, the bundle includes two
Photo №8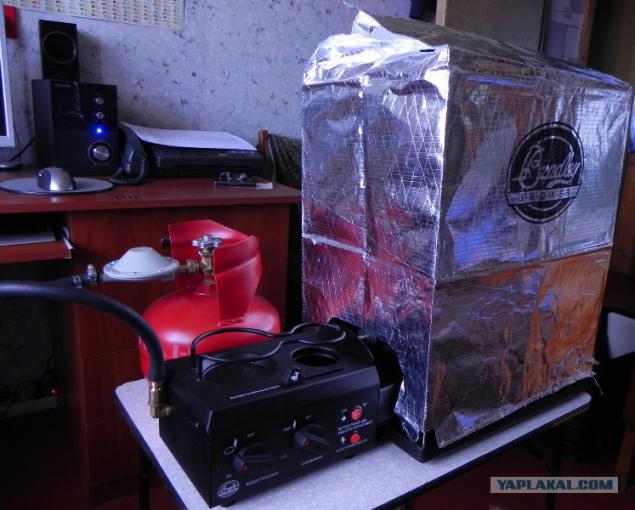 As expected - the balloon was not included
Yes, and our gear is clearly not suited
removing its (gear), I went to a friend's shop tourist gadgets
For all Russian and Ukrainian sites that sell these smokehouse, which was written to suit him
familiar to many tourists cylinders «KOVEA»
as expected - turned out to be a lie
for carving in the US was generally gearbox dick knows how
I had to fundamentally solve the problem
buying the most common OUR portable gas cylinder and the gear to him, I order the union at its plant
as a result of its replacement, the American technique quite successfully started to work on our gas
inconvenient only in appearance (not as nice as in the picture)
but at times lacks the cylinder at a
Photo №9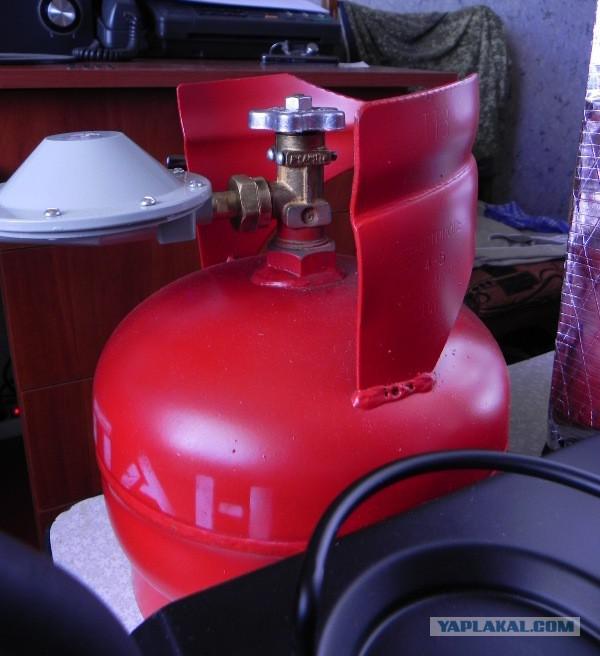 replaced by the same union, converted to our gear (hose)
Photo №10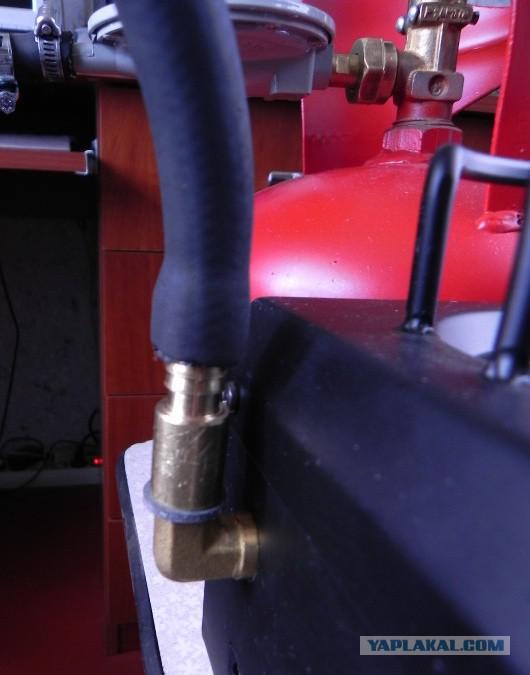 solving the problem with the balloon, took the sawdust
originally used in the smokehouse special bricks of the same company
standard situation for amerikosov where the device itself delivers less profit than with accessories
Here is an example from the Russian site photos
Photo №11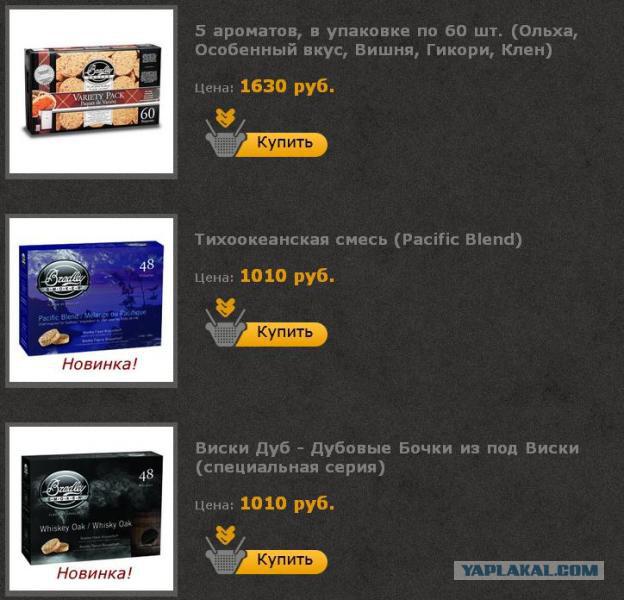 As you can see, it comes around (rounded) dollars for one briquette
Considering that the briquette is enough for 20 minutes - I have meat "golden" will
especially if the smoke is cold-smoked (there sometimes 6 - 8:00 needed) according to the cookbook, which was set
book, though in English, but find its counterpart in the Internet has not made efforts
but back to our briquettes
I, as a true Ukrainian Ukrainian, slightly swelled by the fact that the pellets have to be ordered from overseas
ie most ordinary Stipa, sawdust, fly in America ...
No really, thank you, this stuff, and we have cars available
initially I thought to fill a special spoon chips on the table in the smoke generator
but the idea was bad
except for difficulty falling asleep - lost the very idea of ​​self-feeding briquettes
and then I had to smash his head
as often happens - the answer fell on his head like an apple Newton, ie quite suddenly
was visiting godmother, who had in there for fun vozdushki (gun)
I very much recalled jars of bullets bar-shaped
ask of her godmother some empty, I rushed to the smokehouse
and I was pleasantly surprised, because the cans were just on the size
only a tall little, turned, just a couple of millimeters cut with scissors for metal
Drill a hole in the lid (though not confuse "sloppy" opening for a drill home the big momentum will not give, but on the small thin metal breaks) yes on the performance of the smokehouse sloppy hole did not affect
eventually came out here such miracle "trays" for Stipa (chips)
benefits - a whole sea
and inside you can push any Stipa bought at a special forum for pennies
and there is no need to clean the smoke generator, because the dirty tray only
and the trays themselves can be used as much as the number of times
and in the receiver briquettes are placed just fine, that is, the idea for the automatic feeding of briquettes is working
Photo №12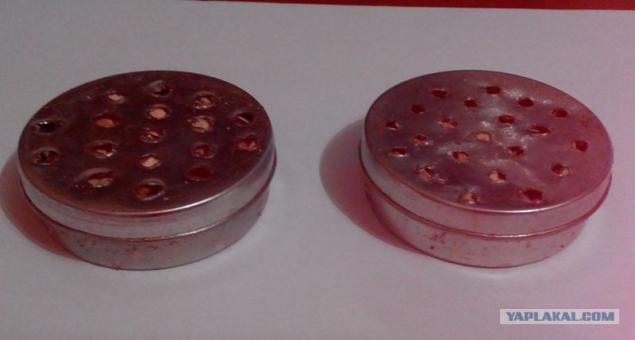 here are a Tyrsa (chips) inside
Still, I was lucky to negotiate with friends to buy from the manufacturer of such containers about a hundred pieces
it certainly turned out to be much much
The real benefit of 20-th pieces
and given that one briquette 20 - minutes missing, then hot smoked enough, and 9 (3:00)
other "reserve" left
Photo №13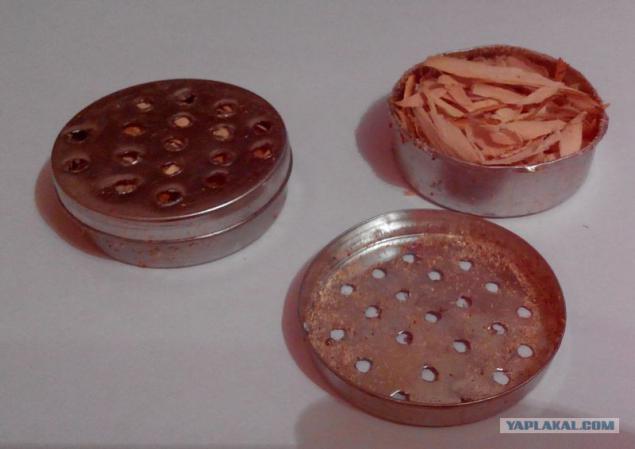 here they are after smoking, washed and prepared for subsequent use
given that burning briquettes fall into a bowl of water, thought to be an active rust
fears were misplaced, because the same bowl and gets fat, flowing down from the meat (fish)
as a result of containers is always slightly "oiled" and traces of rust even close to be seen
Photo №14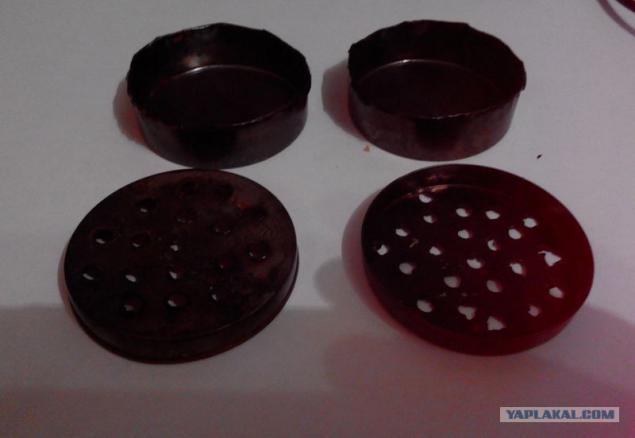 the problem of measuring the temperature decided by a here such nonsense
ordered from the same ebeya per pair USD
later on the photo, it will be seen stuck in the top casing
a great topic for the control, cheap and cheerful
Photo №15
until his culinary especially can not brag
I tried to smoke fish and how each first pancake - it did not work very
due to incorrectly chosen temperature and time (instead of 1 -1 5:00 smoked I gave all 3)
finally got a taste of boiled fish with smoke
in principle, not bad, but not that ...
smoked sausages ... but this is my strong point
the process of production of sausages using kolagenovoy shell brazenly skomunizdil with Jaap
YaPovskuyu alleging that it did not find, and a forum about kolagenovuyu shell found (tyts)
use for cooking is such, at times convenient to the gut, and is convenient to store and use
But the process of smoking on the nature (or yard) is something
and a good designer, and there is no need to constantly monitor the meat (like a kebab)
and a bunch of gazers with questions that for the bourgeois appliances ??? 0_o
Well, he tastes - have received from friends and acquaintances highest accolades repeatedly
Here are just a few pictures:
in the yard (about a year ago)
Photos of the process
foto№16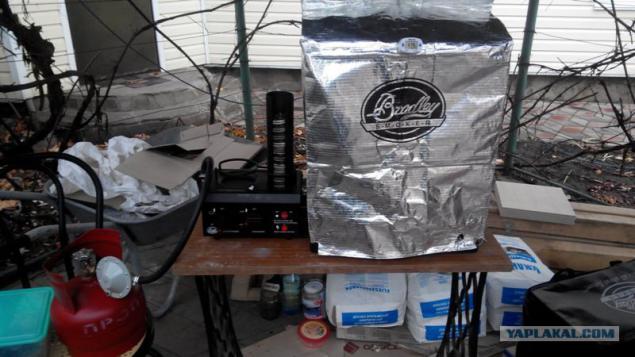 She side
foto№17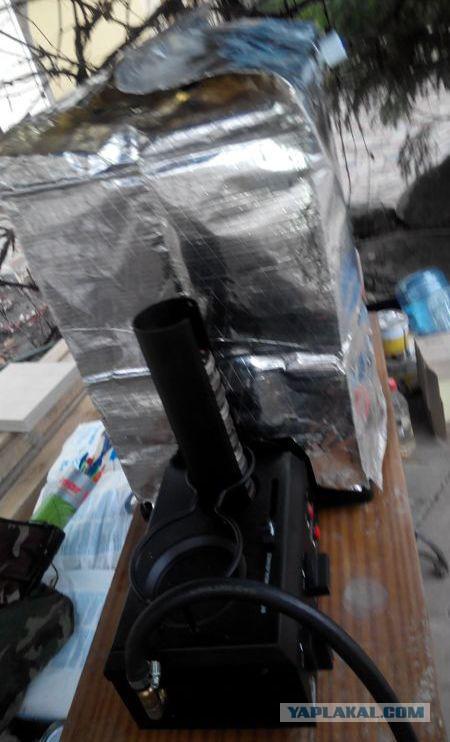 result
Photo №18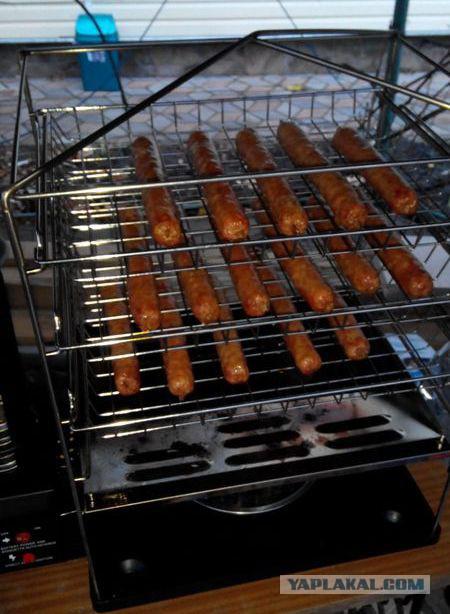 result
Photo №19
Outdoors
last weekend
Photo №20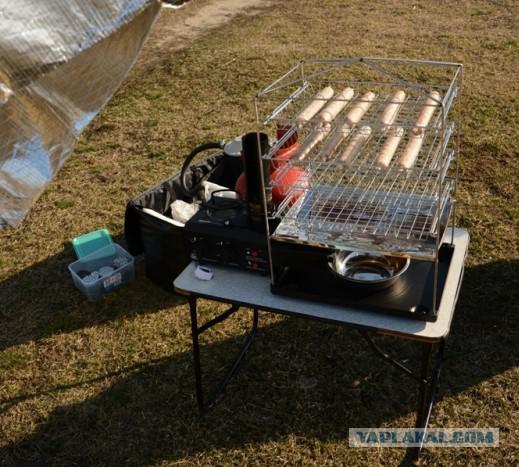 Photo №21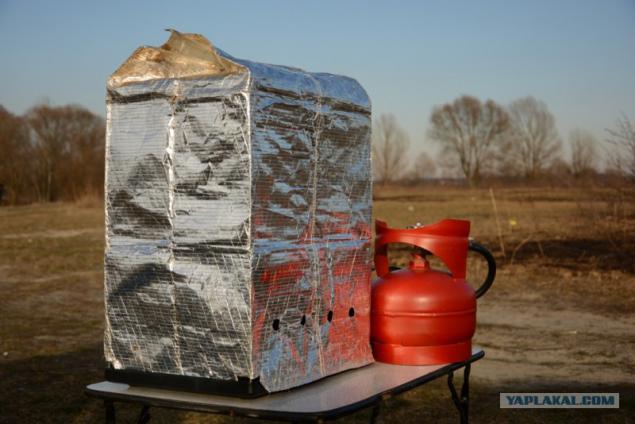 foto№22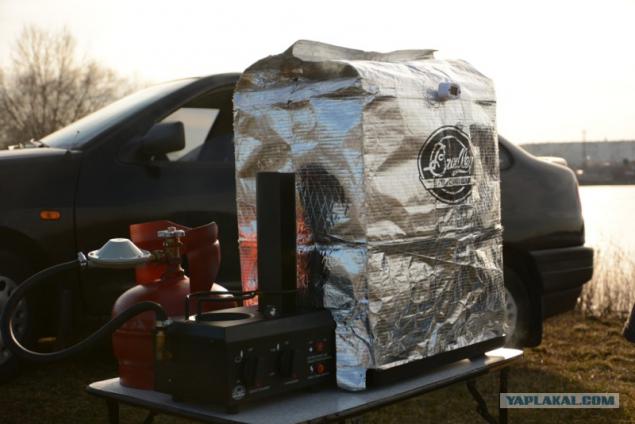 foto№23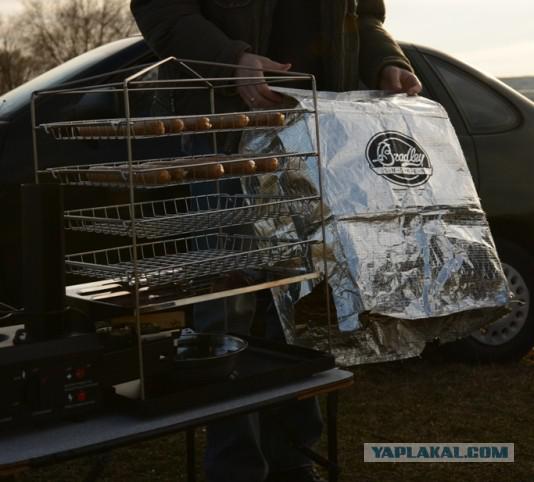 foto№24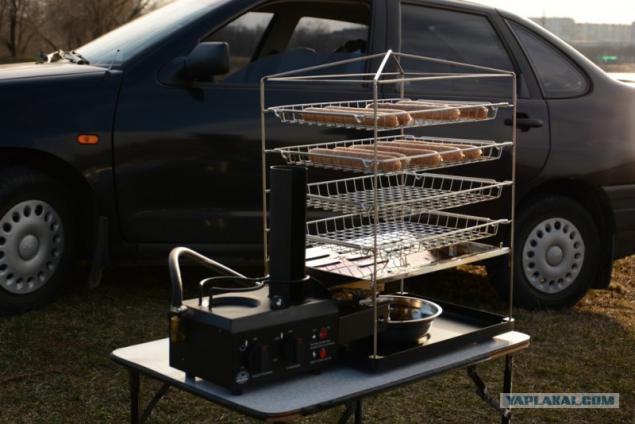 foto№25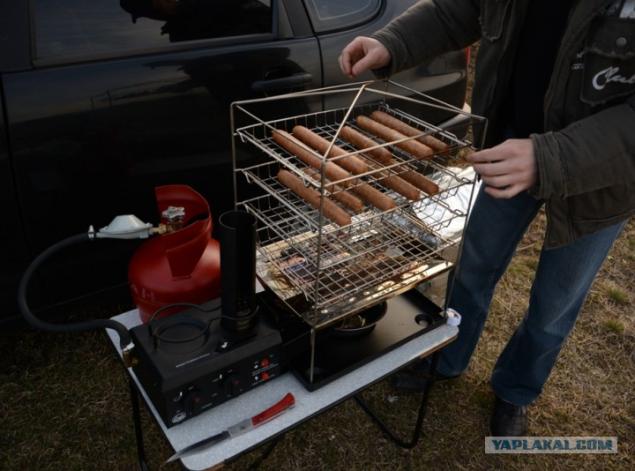 foto№26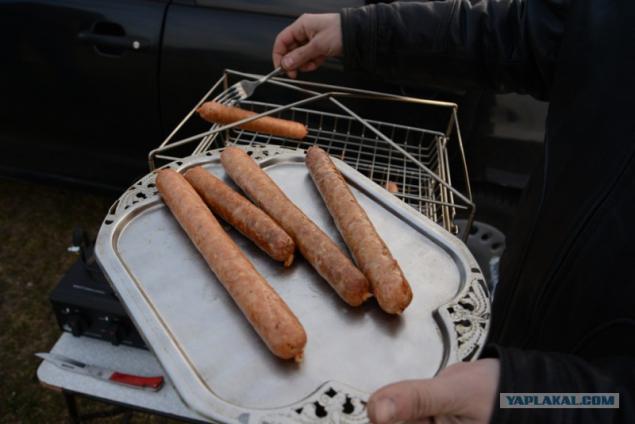 foto№27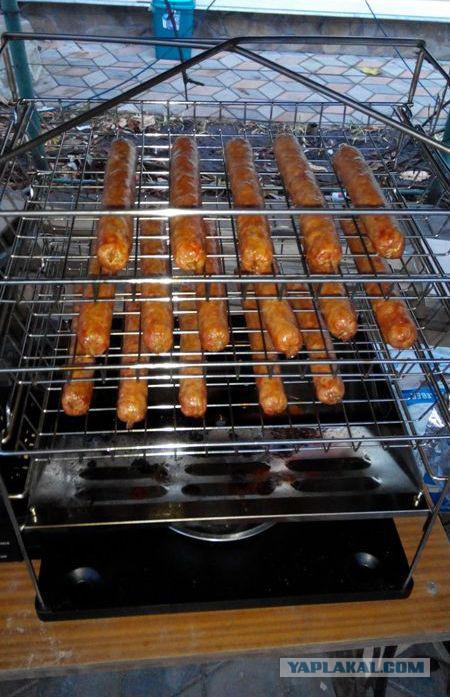 Well and extreme
how to make the stuffing - do not spread because of lack of photos of
Well, yes there is no secret in the total share of 3 pork 3 beef and bacon one
Yes options nemeryannom cooking just so that I do not presume to advise
that's all
all good luck and bon appetit
foto№28
everything you can ask questions and want to kick like
Post is not the first ...
WORLD-WORLD !!!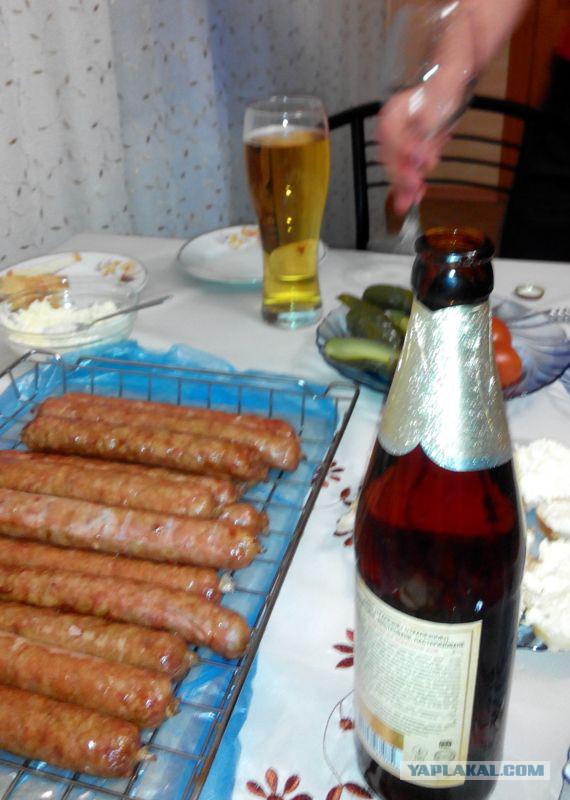 Source: