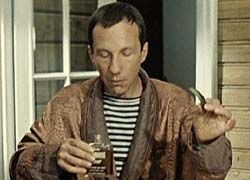 School, somewhere in the seventh-eighth grade. Boys fall in love with girls, girls in boys. And our boy crazy (but what else) falls in love with a girl. But he was quite well, not before. He just started to discover the rock. What sort of girl. He did not fly here. What sort of carnal pleasures. Guitar.
And during the school year, he then gently, then harder trying to explain to her that she did not need. It does not help.
Eighth of March. We must do something. Flakoshek boy buys perfume Opium, which at that time was very, very much. Pours from the bottle perfume fills him shampoo, seals and gives. Cruel? Well, the world is. Offended girl brought the gift back and proudly walked away. The boy thinks - thank God worked.
And they sit with a friend for a dirty sketched desk, and begin to indulge. Dripped lightly rubbed. Scour! And come on, the desk will wash? - And let.
They wash their desk. Then bring (perhaps the smell of) physical education teacher. Well, a typical fizruk. With always fresh smell. Because zastaret does not have time.
 - A sho tse vie robite here?
 - Yes, that's my desk. Spirits. (The smell of something left)
 - Spirits? And well, well.
And with these words, taking the bottle and muttering at first something like "to disinfect teeth", overturns her mouth. Sputter it is something in the process of eating, but have heard nothing, because his mouth flooded foam, and the boys in hysterics lay on the desk and stand no longer had power.
Dude and realized that he used. Clear a container, he sighed, grunted, "Let us estimate vchora in plemіnnitsі CCB Year, dyakuyu", and went on his fizrukovskim important cases.