At the auction, RM Classics of Monaco has been sold retrokupe Bugatti Type 57SC Atlantic 1936 issue, which the auction house Gooding & Company is called, the most expensive car in the world.
According to some reports, a car purchased for about $ 40 million ...
A list of the most expensive produced nowadays cars headed carmaker Koenigsegg from Sweden with his car brand Trevita. Swedes generally excelled in this time and took 10 top 3 places of cars.
In the top 10 most expensive modern cars are present mainly sports cars, and only the company with its Mercedes Maybach with a body Lando distracting from the overall style. Lamborghini is related to Germany, because the company is owned Volkswagen.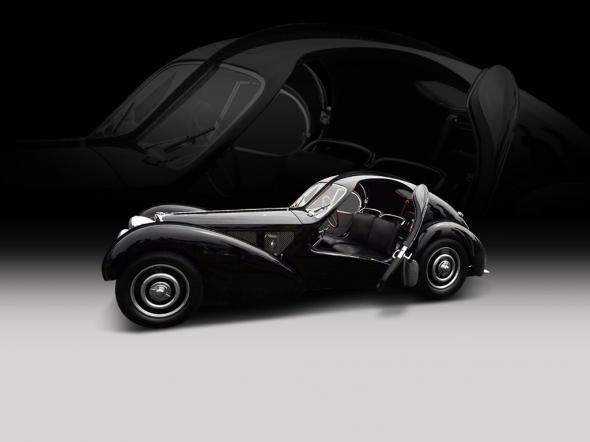 10. SSC Ultimate Aero (740.000 dollars) America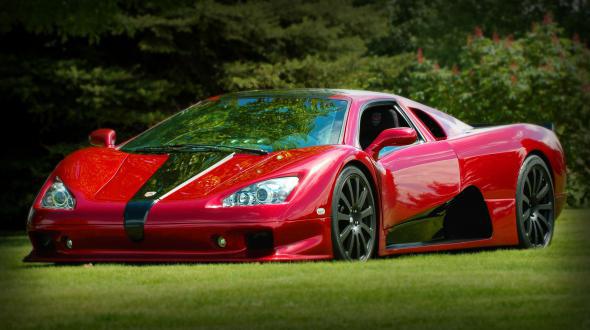 The fastest production car to date is the TT SSC Ultimate Aero, which is able to accelerate to 460 km / h. He also holds the record rate, officially registered in the Guinness Book of Records.
On the car has an engine V8, power 1287 horsepower. Up to 100 kilometers per hour (or rather, up to 60 miles per hour) dispersed for 2, 78 seconds.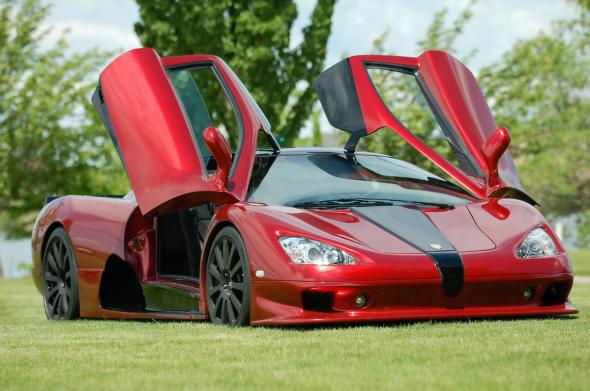 2, 78 seconds, up to a hundred - it is comparable to the speed of acceleration of the aircraft at take-off.
If you want to make the most powerful cars in Russia - you know, he rides on gasoline, which we do not sell. Such power can be issued only on gasoline with an octane rating of more than 100.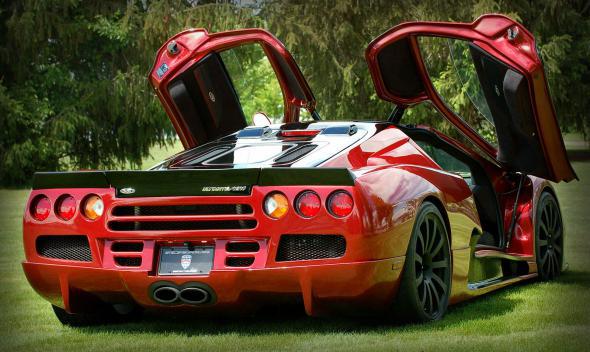 For the first time in SSC Ultimate Aero TT squeezed only 370 km \ h. Only with these attempts turbocharged engine is the most powerful cars sped to 411.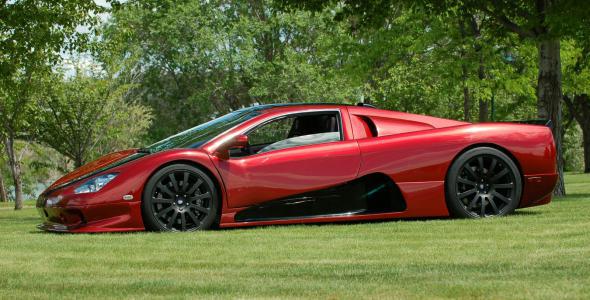 9. Leblanc Mirabeau (765.000 dollars) Switzerland
Leblanc Mirabeau - Swiss origin. Outdoor double car length of 4, 55 m. The car body is made entirely of carbon fiber and must meet all the requirements of both the FIA, and technical supervision authorities. Vehicle weight just 812 kilograms - about a third less than the Porsche Carrera GT or the Saleen S7, 358 kg - than the Koenigsegg CCR, 570 kg - than the Ferrari Enzo.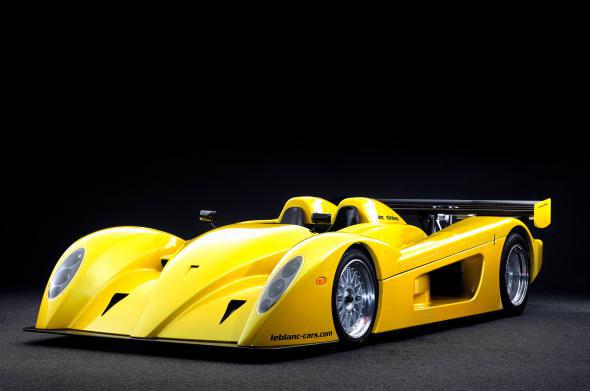 Under the hood lurks Leblanc Mirabeau aluminum engine of 4, 7 liters, equipped with a compressor. This engine Leblanc borrowed from the Swedish manufacturer of supercars, the company Koenigsegg. It is equipped with a turbocharger Lysholm Screw Compressor, which has several advantages over conventional centrifugal compressor. It creates a greater boost pressure at a lower engine speed, thereby improving both acceleration and handling at low speed.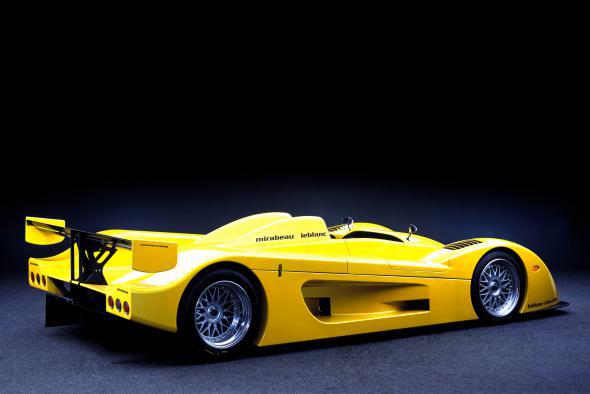 Time lag when switching gears and open / close the throttle is reduced to a minimum. Engine power 700 hp (torque - 850 Nm) soagrgegatirovan with a 6-speed sequential gearbox. Engine power is transmitted to the rear 19-inch wheels. At its core, the yellow rocket Leblanc Mirabeau rated at 700 horsepower designed for racing tracks, but also has official permission to operate in the normal urban setting.
The vehicle interior has been optimized for maximum speed and acceleration.
For a fee you can order a variety of options, ranging from air conditioning, leather trim and finishing tough removable top.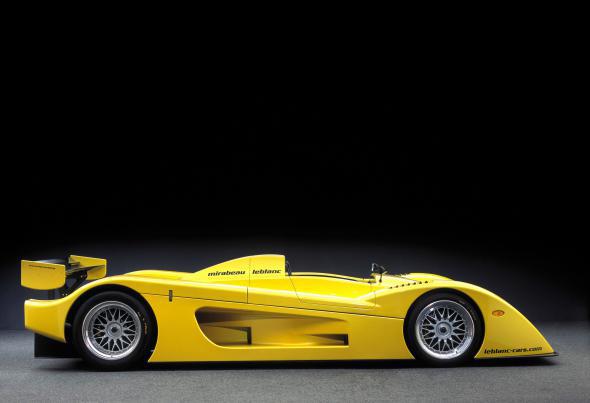 8. Koenigsegg CCX (1, ​​1 million dollars) Sweden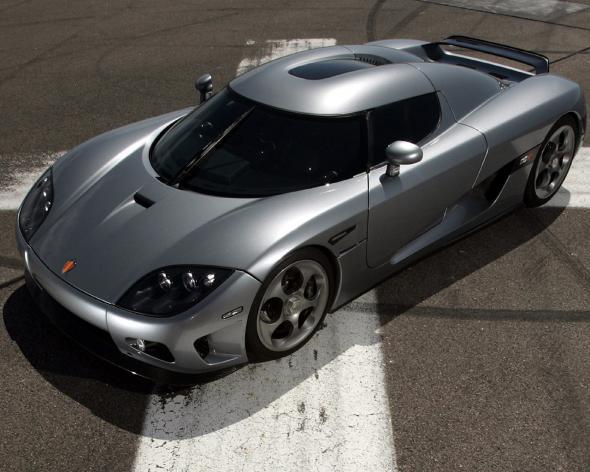 In Sweden, in the town of Angelholm is a company that has no sonorous name, comparable in popularity to the world of Porsche or Ferrari. However, it is this company produces cars Koenigsegg - sports cars, high-speed and power performance that is incomparable for its high data with any production car. Located at the plant fighter jets, Koenigsegg applies to cars produced by only the most advanced space technologies.
Model CCH, Koenigsegg has presented on public display at the auto show in Geneva. Model name - abbreviated Competition Coupe X, which means "Double X Racing." Its creation Koenigsegg has dedicated its first prototype, which was released in 1996. All models of the company are virtually indistinguishable constructional and technical characteristics, the difference in their destiny. If CC 8S sports cars and CCR are designed for public roads, the MHS has a great comfort, the motto of this car - «I travel at extreme speed».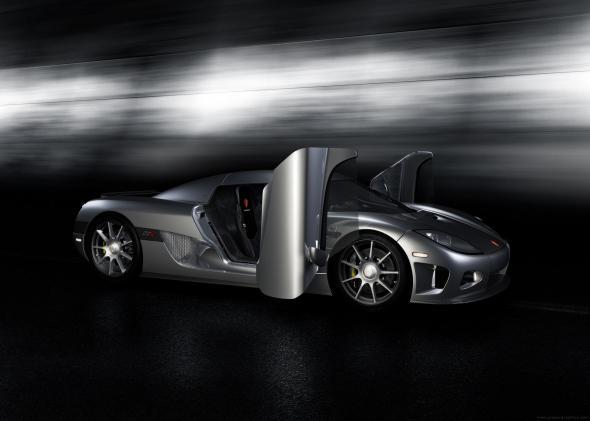 Koenigsegg seeks to maintain awareness and originality of their design cars, not succumbing to the general manner avtokonstruktorov sports cars make aggression and intense line in their design. Model CCH to the observer the impression of a futuristic and dynamic - low and wide, semicircular windscreen has a dominant character in the interior and creates an impression of the cockpit of the car.
Reinforced with Kevlar and aluminum structures in the form of honeycomb chassis and bodywork of cars Koenigsegg are made of lightweight carbon fiber, the weight of the machine is only 1180 kg. Excellent aerodynamics - the drag coefficient is 0, 3. This result is achieved thanks to two-door body, a removable hard top which is easily hidden under the front of the boot lid. With a length of 4, 3 meters, ride height is only 10 cm - this machine is a very important quality asphalt.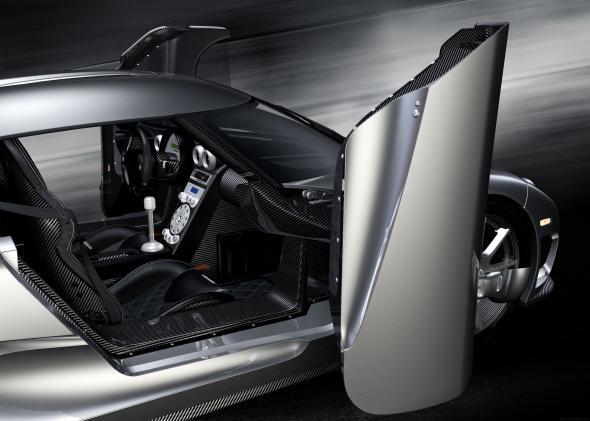 Air intakes front hood create a flow of fresh air into the cabin sports car. Glass window in the rear hood creates a good overview of the cylinder, each side of which is provided with a logo Koenigsegg. Developed by the company's innovation - the vortex generator, or Swedish versions of themselves - energizer is in the air intake near the hood. It creates a high pressure in the intake manifold, directing air directly into the air intake.
In strict compliance with environmental regulations in Sweden and California made CCX engine, and the designers have retained high power parameters of a sports car. Enormous power to create 806 horsepower V - shaped eight-cylinder engine of cast aluminum, which amounts to 4, 7 liters. 5700 rpm 920 Nm per minute at maximum torque, acceleration to 100 km / h in 3, 2 seconds, the standard interval stritreysersky 1/4 mile at 9, 9 seconds, at a speed of 235 km / h - these are the characteristics of this high-speed car . It is not economical in city mode - its consumption is 17 liters of fuel with a high octane rating of 100 km and top speed, according to the manufacturer - more than 395 km / h.
Every movement despite heavy loads controlled by the driver due to the suspension of racing. At MHS new bumpers for the drive in the urban cycle, they are resistant to damage at a rate of 4 km / h. Confirmed crash test high level of safety sports car makes it a truly Swedish car.
Each instance has its own interior, to the wishes of the buyer, the chair of the carbon fiber and individually adjusted, a backrest has its own mobility. Cabin height 112 cm inside the car, it is spacious and high-owner of the previous models and up to 50 mm.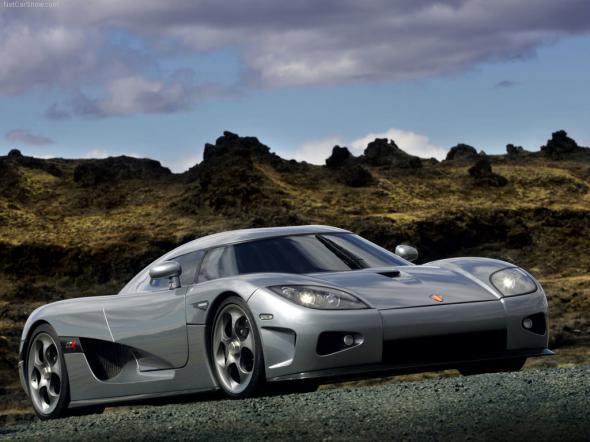 7. Koenigsegg CCXR (1, $ 3 million) Sweden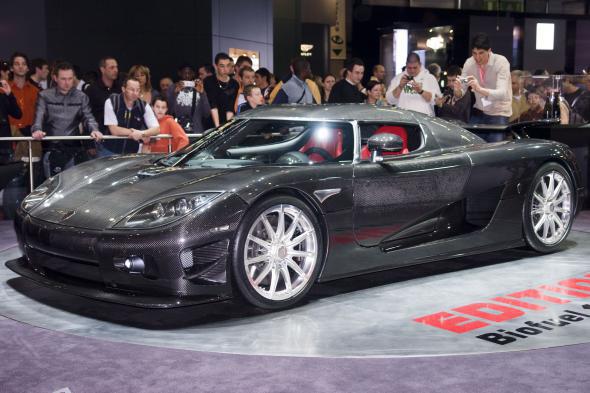 When it comes to supercars, the last thing that comes to mind - is that they can be biofuel. On the other hand, speaking of biofuels, it is something unattractive in appearance and not the fastest. But this is not the case.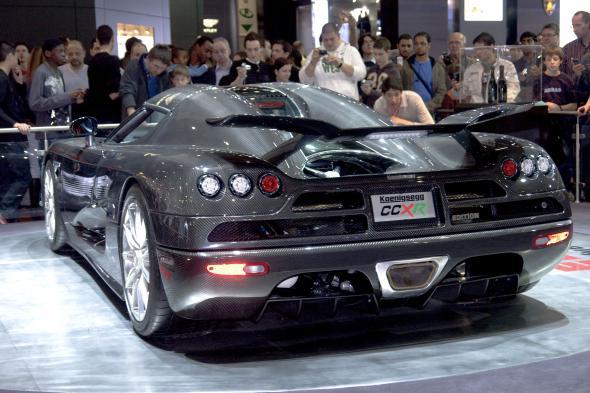 Supercar Koenigsegg CCXR, modification of the conventional model CCXR, dramatically changes the idea of ​​the car on environmentally clean fuel. After all, this vehicle has a lightweight biofuel V8 engine 1018 HP and can accelerate to 100 km / h for 2, 7 seconds!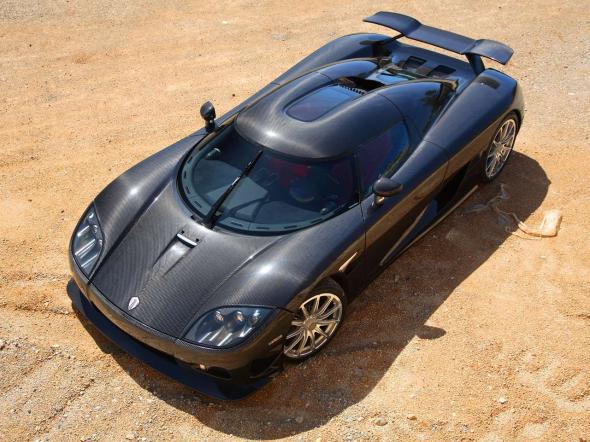 The maximum torque thereof reaches 1060 Nm at 6100 rpm. Such performance is achieved thanks to a high-octane biofuel (E85) and better cooling capacity. About the maximum rate that can reach this supercar is not mentioned, but it may well exceed the 400 km / h. So ... do not underestimate the biofuel and its true potential, but the price ... The price seems as fantastic as all of the above ... 1, $ 3 million - and this is your baby.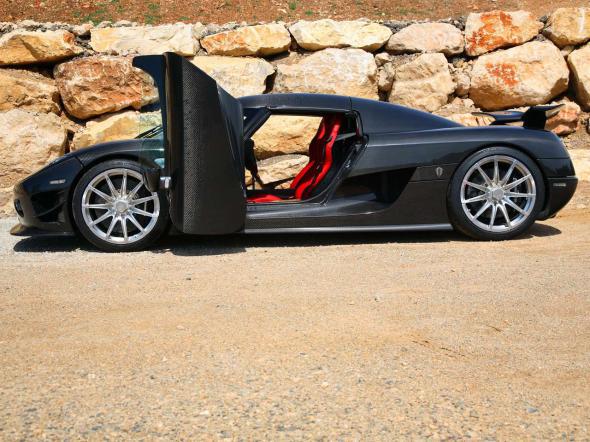 6. Maybach Landaulet (1, 4 million USD) Germany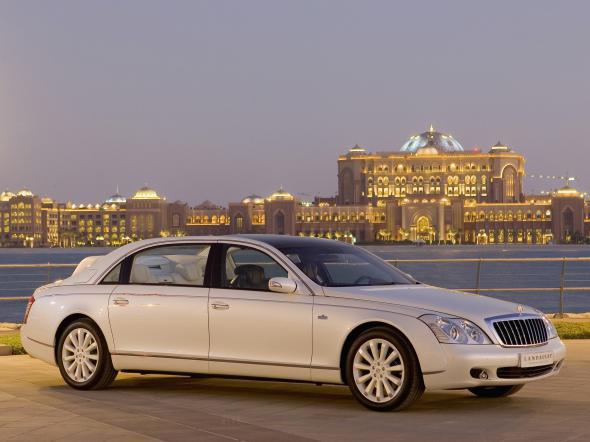 Featured on the last Motor Show in Dubai Maybach Landaulet Concept with a unique body of the landau caused an unprecedented boom. It is understandable. What a rich Arabs abandon the luxury of white limousine, and even an open-top! And it is not only Arabs. The emergence Landaulet Concept in Detroit caused no less excitement. What ultimately prompted the leadership of Daimler AG declare that the landau still go in the series.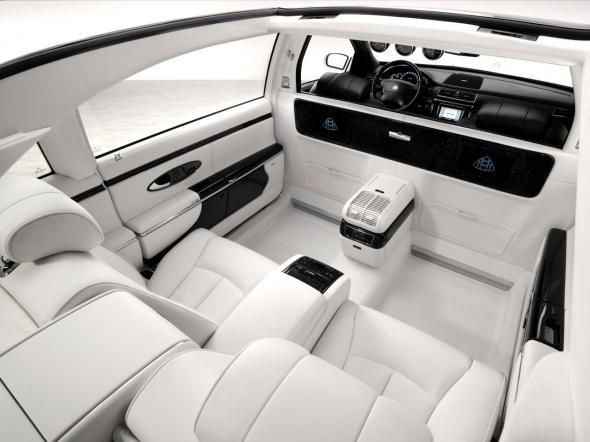 Originally it was planned to produce only twenty cars, but now seems to be of any quantitative restrictions the question. However, the "circulation» Maybach Landaulet is unlikely to be large, since the cost of the machine will be 1 350 000 dollars. It is clear that the influx of buyers landau not threatened. But twenty or thirty people certainly be able to afford such a purchase.
In addition to the open top and an exclusive color Antique White, Lando is virtually no different from the Maybach 62S, based on which he built. Under the hood, the same six-liter twelve-engine with two turbochargers capacity of 612 liters. s., which develops a fantastic torque of 1001 Nm. Soft cloth top retracts into a special compartment located behind the rear seats in just 16 seconds.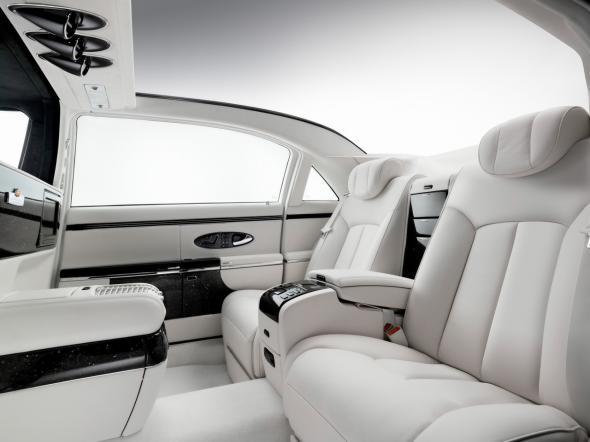 The first cars will be made in the spring of this year. According to unconfirmed reports, already made several requests for a landau Maybach. In the end, nearly a million euros - are not that big money for the right to possess one of the most unusual cars of today.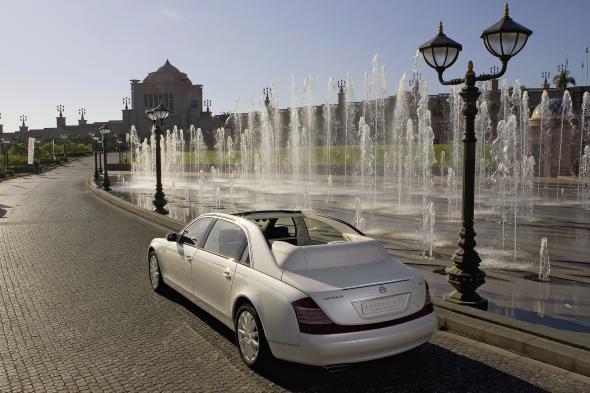 5. Lamborghini Reventón (1, 42 million dollars) Italy - Germany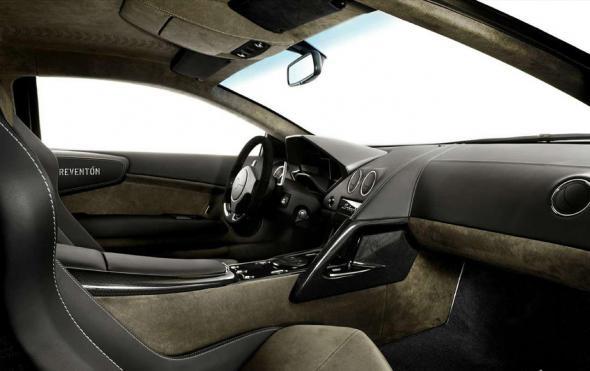 In autumn 2007, admirers of cars and aircraft, assembled on the Italian airport of Ghedi, witnessed a unique competition. Car and Fighter competed in speed. In the competition, of course, is not unusual - for the homeland's most famous supercars is a usual thing. It struck by the fact that the car was in the lead for almost the entire check-in, which took place on the runway length of 3 kilometers. And only at the end of the route already airborne A200-A Tornado was able to get ahead of him. At the finish line it was fixed speed machines. 340 km / h. This result demonstrated the novelty of the Lamborghini.
Between fighters and Lamborghini Reventon, in fact, have much in common. Just look at the aggressive and militaristic appearance of the car. Each line discern similarities with combat aircraft. Asymmetric air intakes on the sides of the body only reinforces this impression, and complements its specially developed color Grey Barra (gray, but without the usual shine), which are painted all cars of this model.
New from Lamborghini got its name from the bull, who in 1943 killed during bullfighting toreodora Felix Guzman. Thus, Reventon - name, obliging people to tremble.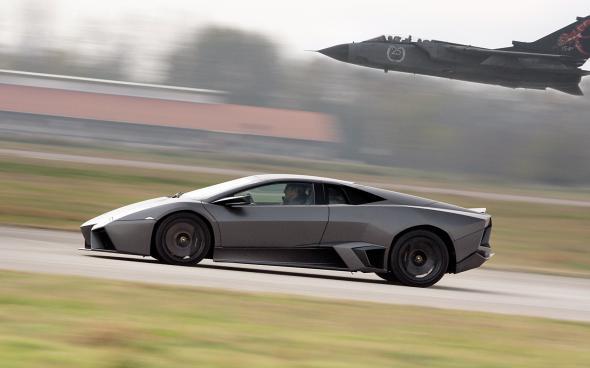 And awe, looking at unique body of carbon fiber - a work of art masters of design studio Sant'Agata Bolognese. And amazed svetooptika based on LED-technology, the LEDs in the rear lights, resistant to high temperatures. And wonder why it was to carry out an exhaust pipe in the shape of the nozzle jet.
But filling the Reventon is very familiar to fans of Lamborghini. This is the famous Murcielago LP640, only engine power. In fact, designers, and made no secret that building a new model based on an earlier and successful solutions. But it turned out they still something special.
Lamborghini Reventon is equipped with 6, 5-liter V12 engine 650 hp at 8000 rev / min. and a maximum torque of 660 Nm at 6000 r / min. Each power unit is thoroughly tested the manufacturer before being placed in the engine compartment located behind the driver and passenger, under the cover of several layers of glass.
To accelerate to 100 km / h supercar will require no more than 3, 4 seconds. The maximum speed of 340 km / h. Such outstanding performance helps to achieve all-wheel drive Viscous Traction, interacting with the transmission Lamborghini e-gear. Excellent engineers and worked on the engine cooling system, brakes, aerodynamics, creating an incredible power and dynamics of the car.
The fuel consumption of Lamborghini Reventon, of course, indelicate. At 100 kilometers supekar consumes 15 liters on the highway, 32, 3 liters in the city, 21, 3 liters in the combined cycle. In addition, the car exorbitant 495 g / km CO2 emissions. Although the manufacturer and model positions to the public.
Interior Lamborghini Reventon resembles a whole Murcielago. Carbon fiber composite materials, a special type of steel and a few touches, refreshing environment that give flavor. Obtain a functional and fashionable. Select can be a huge TFT-monitor, similar to those used in aviation, and G-Meter - a device for measuring accelerations. And the instrument panel and all of a futuristic movie about cars of the future.
Lamborghini Reventon - very exclusive car. He released a limited edition only 20 copies, 19 of which were sold in 2007, and the remaining supercar was exhibited in the showroom dealer Lamborghini in Las Vegas.
Those who "booked» Lamborghini Reventon in advance, it cost 1 million euros (1, $ 4 million), and a copy put up for sale in the US was worth $ 2 million.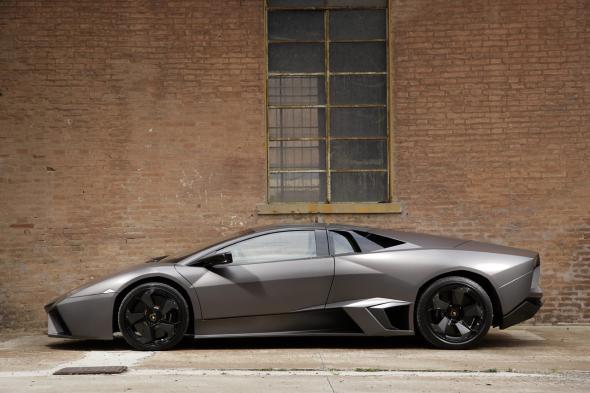 4. Lamborghini Reventón Roadster (1, 56 million dollars) Italy - Germany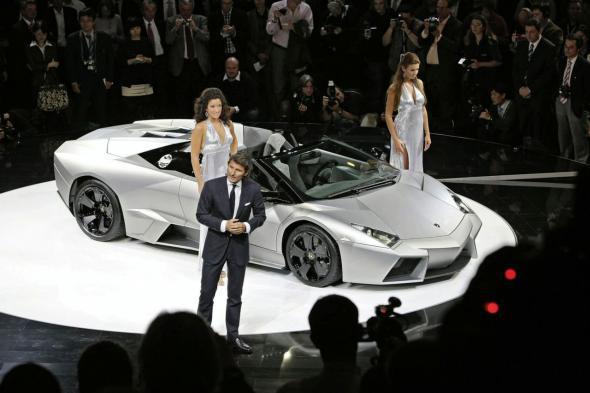 The famous Italian supercar manufacturer Lamborghini, famous for its outstanding in terms of design and technology, cars. Since 1963, the company's machines are becoming more powerful, fast and expensive to compete with its main rival, Ferrari. So, the natural question arises: - What is the Lamborghini model is the most expensive in the world?
It is the latest development of Lamborghini Reventon Roadster, issued in the amount of 20 pieces.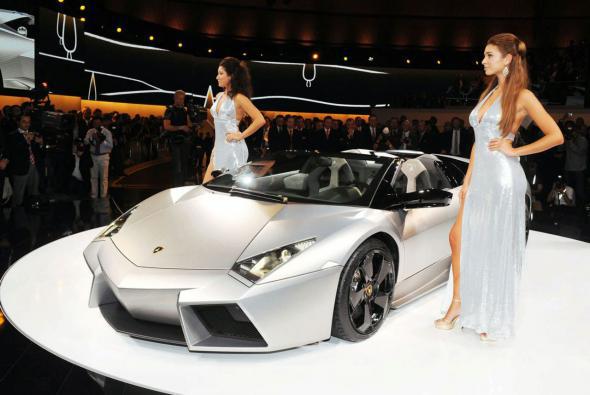 The car is constructed of carbon fiber and high-strength steel. It weighs just 1690 kg - only 25 kg more than the coupe. Reventon Roadster has received bi-xenon headlights with LEDs on the indicator, LED taillights, a unique matte painting called Reventon Grey. The length of the new numbers 4, 7 m, width - 2 1 m high - 1, 1 m, a wheelbase of 2, 7 m. Passengers (the car is designed for two people) sit practically on the ground, but if desired clearance can increased by 40 mm.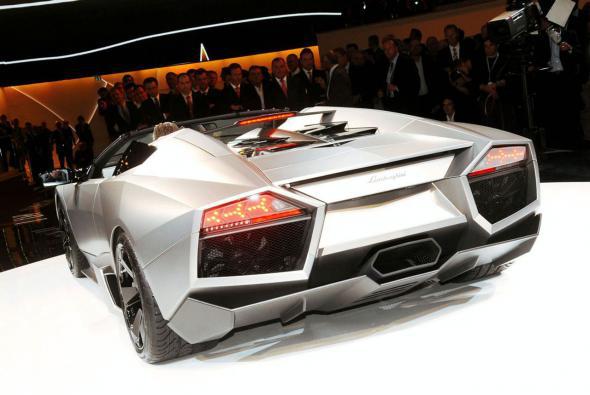 Specifications Reventon can not but impress: 6, 5-liter V12 power of 670 hp and maximum torque - 660 Nm, acceleration to 100 km / h - 3, 4 seconds, top speed - 330 km / h, all-wheel drive .
Interior refers to the cockpits of planes and F1 car and at the same time does not lose in comfort. Of course, aluminum, leather and Alcantara.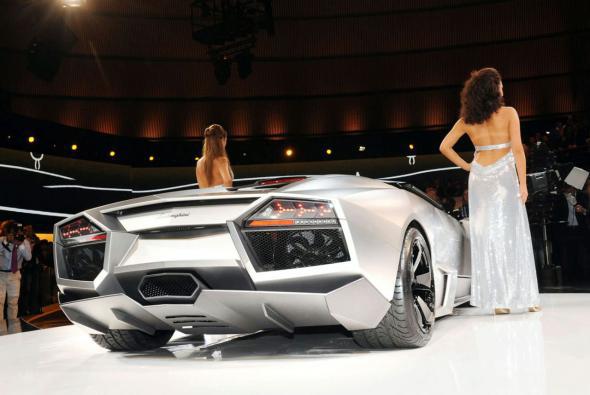 3. Pagani Zonda Cinque Roadster (1, 8 million), Italy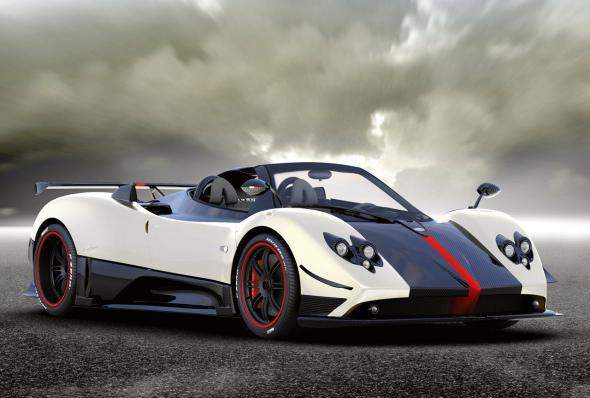 Italian automaker Pagani Automobili SpA I presented the roadster version of the supercar Pagani Zonda Cinque. In the Modenese Atelier will be released only 5 copies of this unique car, so that you hardly ever see di these supercars except in photos, but if it is certainly happen - consider yourself lucky great!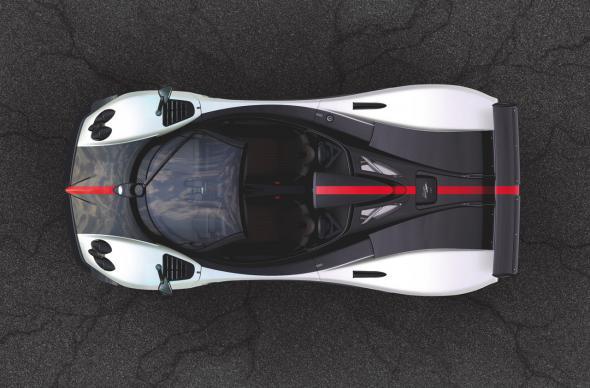 Carbon-Titanium chassis of the car was redesigned to compensate for the decrease in strength due to the emergence of a removable roof. Roof itself placed under the front hood.
The heart of the car - powerplant Mercedes-Benz AMG V12 power of 678 hp and 780 Nm of torque.
The price of the car is 1.8 million euros, but you can be sure that even for the money five cars already pre-bought by the order and in private collections.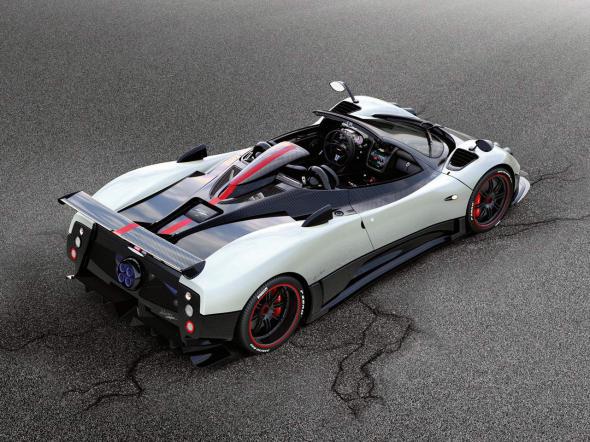 Specifications Pagani Zonda Cinque Roadster:
Engine Mercedes Benz AMG, Power: 678 hp, Torque: 780 Nm
Carboxylic titanium Mononoke
ECU, Traction control, ABS by Bosch Engineering
The exhaust system of Inconel and titanium ceramic-coated
Suspension of magnesium and titanium
Sequential gearbox Cima (6 speed), robotized Automac enginnering
APP forged wheels made of aluminum and magnesium, the dimension: front 9x19 - rear 12, 5x20
Tires Pirelli PZero. Dimension: front 255/35/19 - rear 335/30/20
Racing seats Pagani leather / carbon fiber
Ventilated carboxylic ceramic Brembo brakes with hydraulic booster, Size: front 380x34 mm 6 piston caliper; rear 380x34 mm 4 piston caliper
Dry weight 1210 kg
The weight distribution of the axes: 47% front, 53% rear
Dynamics: 0-100 km in 3.4 sec., 9.6 seconds for 0-200.
Braking: 100-0 km in 2.1 sec., 200-0 km 4.3 sec.
The maximum lateral acceleration: 1, 45 G (with road tires)
Downforce at 300 km / h: 750 kg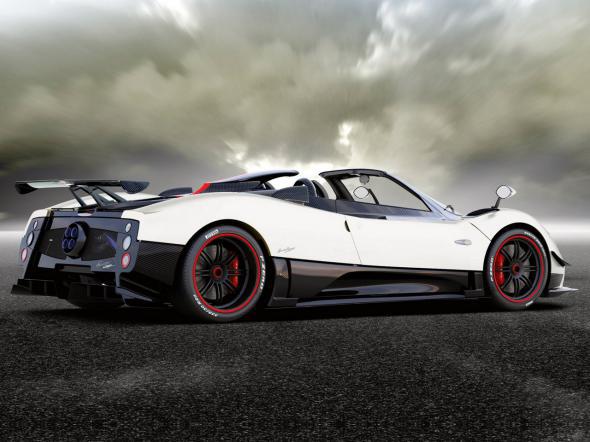 2. Bugatti Veyron 16.4 Grand Sport ($ 2 million) France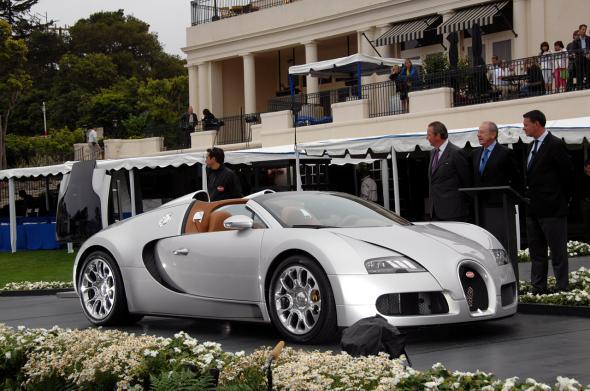 The most outrageous gig of our time, which is, in principle, anyone can buy for the money, is the exclusive Bugatti Veyron 16.4 Gran Sport capacity of 1001 hp, the production of which has recently been established not far from the company's headquarters in the town Molskhaym, France.
Source: