Sales of the world's first smartphone with support of the Russian navigation system GLONASS will begin in April and not in March, as previously thought, according to "Kommersant". The newspaper was told about this in the press service of the MTS.
Phone MTS Glonass 945 at the end of last year was represented by Prime Minister Vladimir Putin. It showed the head of AFK "Sistema" Vladimir Yevtushenko, who claimed that he was "practically all, let's say, functions of the respective iPhone 4».
In fact, this unit features a year-ago production of the Chinese company ZTE is a budget tachfonom running Android 2.2.
In addition the device supports GLONASS and more traditional GPS. MTS argue that a major advantage of the machine in that, thanks to the simultaneous support of two navigation systems provide more accurate positioning of the subscriber in comparison with single-system GPS navigation. The signals from the GLONASS satellites are transmitted in a frequency band other than the frequency GPS, so receivers that support the GLONASS system are protected from interference band GPS - chip on the entire phone alone, and both techniques are its components operate in parallel with one antenna.
The device is equipped with a touch screen with a resolution 320h400 pixels, 2 megapixel camera, supports cellular second and third generation, and the dimensions are 109, 1h55, 9h14, 1 mm.
Earlier it was planned to bring the device on sale March 1. Vladimir Putin has approved the idea, noting that a smartphone can be a great gift for March 8 - "let his wife know where their husbands." The cost model will be around 11 thousand rubles, the first MTS Glonass 945 will appear in showrooms MTS and then, perhaps, on other networks.
Meanwhile, some experts believe that the price of the device is too high for successful sales it is significantly lower. They also recall that the ongoing navigation uses less than 1% of subscribers, and for the successful promotion of the smartphone requires a tremendous marketing support.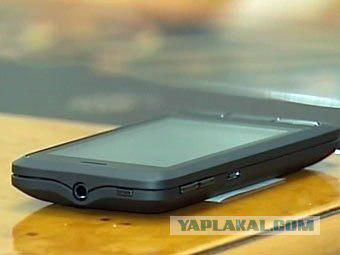 Source: