Be brave people soon summer! I want to share with you the last year traveling in hot Orenburzhskuyu region, on the border with Kazakhstan, the city of Orsk.
It so happened that my father, many years ago, he moved to another part of the country and lives there with a new family. We therefore support, and even went to visit about 12 years ago. Then I had two small children and we traveled by train (even less comfort I can tell you). Now I have three children, the youngest went to his grandfather in advance for the holidays, and we had to take it later.
It was decided to make the trip by car. Especially Russian beauty has always attracted me. The machine has been tested in many trips and gave the relative confidence that doedem. Although I have little idea what the steppes of Bashkiria in the 35 degree heat.
The path was coming at a range of about 1,100 kilometers in one end and had to take about 19 hours of continuous driving, and ye men of tracks.
Will be 57 photos + text © CTPAHnic
Map Tyumen Orsk printed on one popular site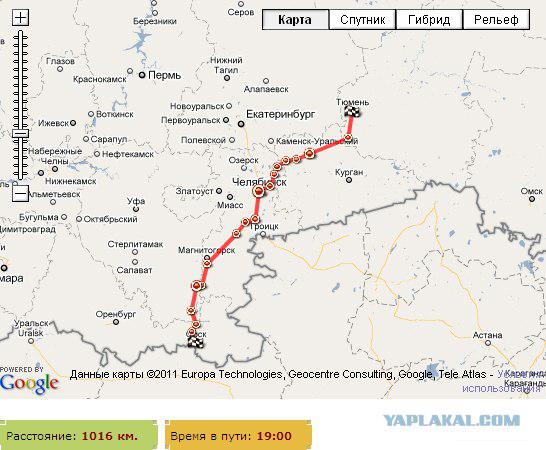 According to the map, we had to drive the whole 1116 kilometers, but experience shows that distance is usually greater. In addition, we passed a couple of turns past smile.gif
Navigator will be here we are. Printed on the pack Belomor plain paper route. Besides, I had a road atlas 1998 release. Although each time approaching the fork is not registered in any card, I repeated a phrase from the "rat race" - I had to buy a squirrel! (navigator)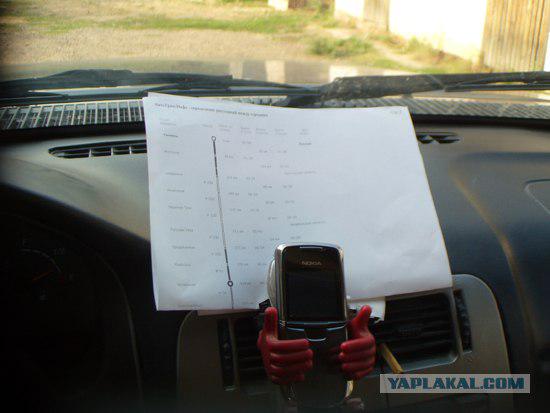 3.
So about 4 in the morning we start from Tyumen. First filling. Pour petrol and gas (in my car from last year in the Italian gas converted. 35,000 rubles paid off in the first 4 months)
The car we have Great Wall SAFE G5 Based on the Toyota 4runner with suschestveenymi simplifications (front suspension, steering, and others.)
Body - frame
Drive - rear / full (with rigidly connected forward)
Engine 2237 cc 105 hp
Price - from 515 thousand rubles (they are no longer produced, so it is not advertising)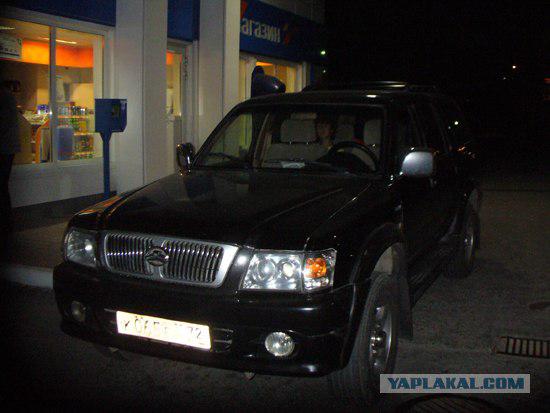 4.
Schadrinska flew up and did not stop to leave the city. Already I want to eat, and still nothing works. In these places it is not accepted to work kruglosutochno.Hotya in this cafe with an exotic name "Chanson" probably booze all night and not just guests. I find absolutely drunk security guard (he sleeps on a chair) and deranged bartender. - Bar closed for sanitary day!
 - The only phrase he could utter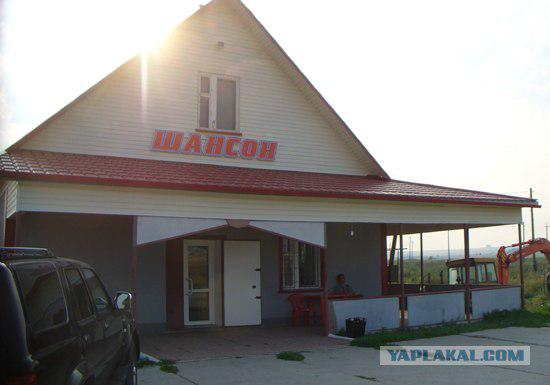 5.
In the cafe "The Wanderer" sin was not to stop. But they also open from 9 am! Time 8:30 absolutely do not want to wait.
Photographed and go further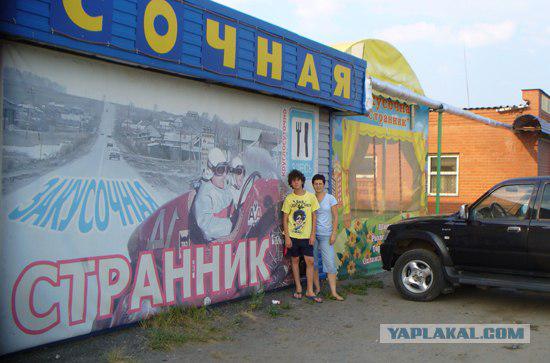 6.
Snack at the next cafe, in the village of "Baraba" A cafe there alone and very inexpensive. One person first, second and tea cost less than $ 100!
It starts primer. This federal highway according to the map!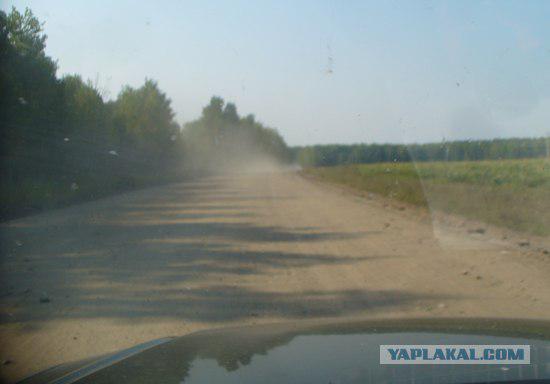 7.
Chelyabinsk drove around the city, since missed a turn on the bypass road. Photos of this exotic city, I did not do, because the heat and traffic completely exhausted.
In the picture tube Magnitogorsk. In it we also just happen to have called, but realized in time to turn around. On all subsequent path posters urged me to turn back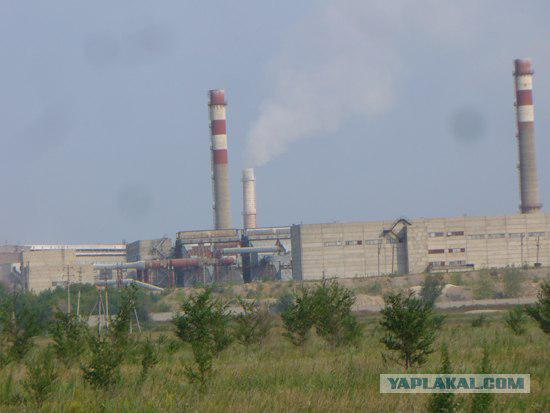 8.
More factory. They are there a lot! All covered with secretions.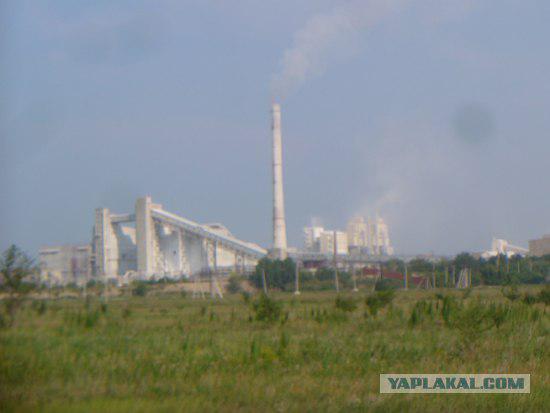 9.
Then the road begins a surprisingly nice and smooth. Two lanes in each direction and nearly no traffic. Otstatki once great nation.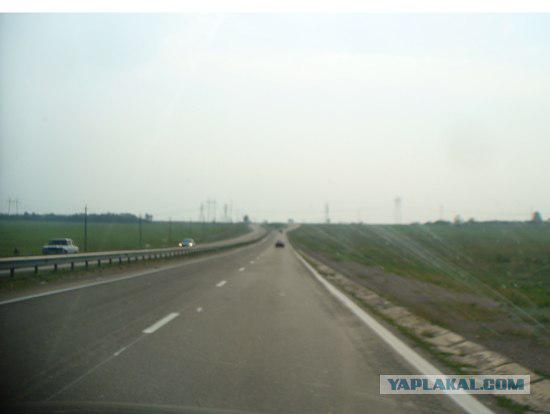 10.
We drive to the village Agapovka. There is a very interesting shinomontazhka. Judging by the dummy, they even repair of BELAZ wheel!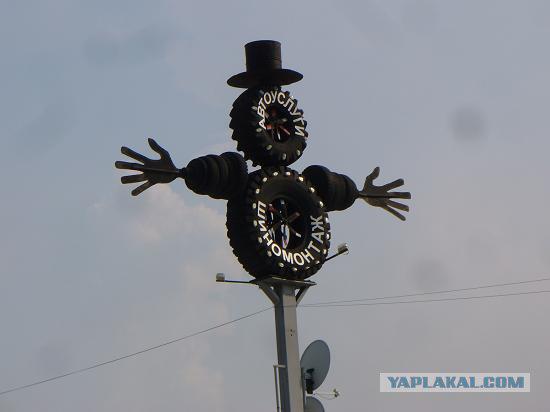 11.
And the most famous in the Urals, a bio-toilet system Soyuz-Apollo!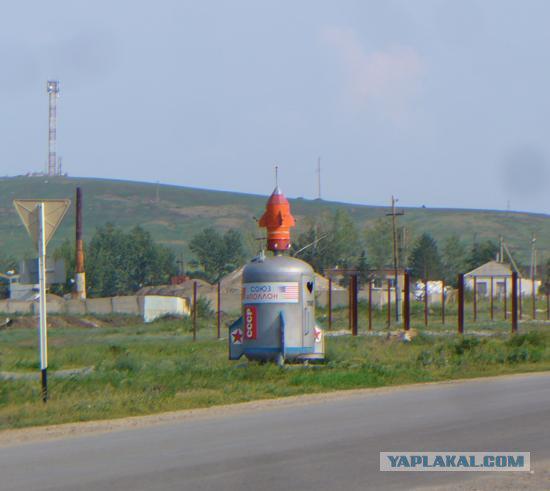 12.
On reaching the town of Plast, stop for a picnic. Despite intensive mining of various minerals nature here is quite green.
13.
We came to Bashkiria. Not far from the border of whole sunflower field. Gopnik's dream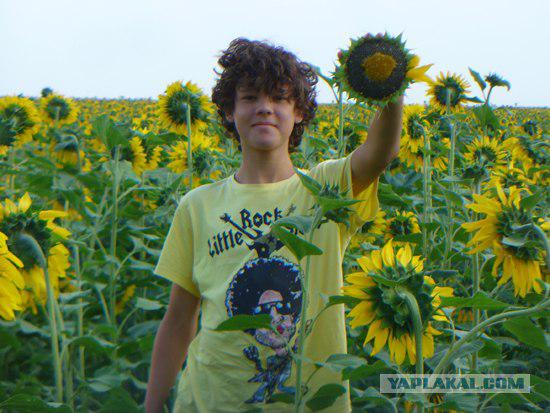 14.
Some are easy to disguise.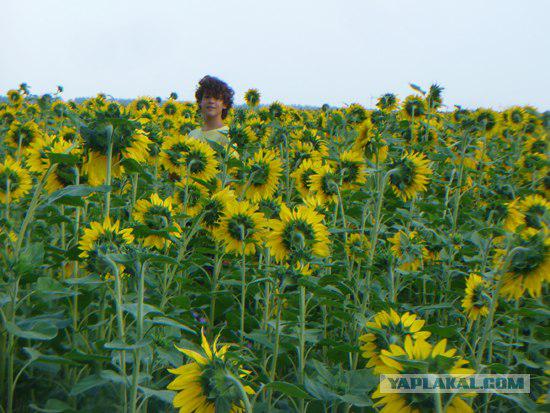 15.
Bashkiria, the administrative border. It is still not seen on the track any traffic cop, and yet we passed already almost half way.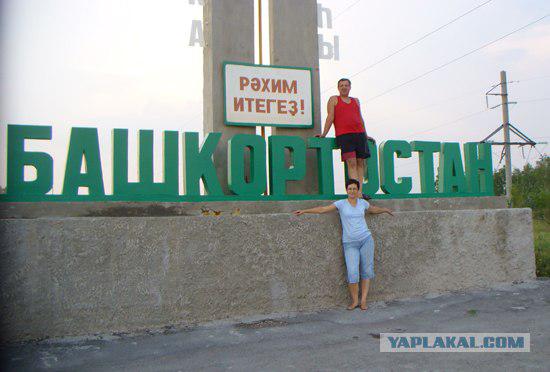 16.
Dull Bashkir steppe almost endless.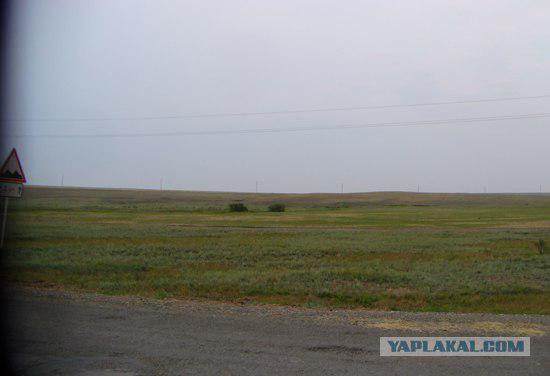 17.
Through Sibai way we did not go. Right at the entrance to the city hangs strange sign: - transit traffic is forbidden. I am frightened by the stories about the ferocity Bashkir GIBDDshniki take a detour, almost at random, looking for the way out of town. IMHO Bashkirov is not color, not hospitality somehow ...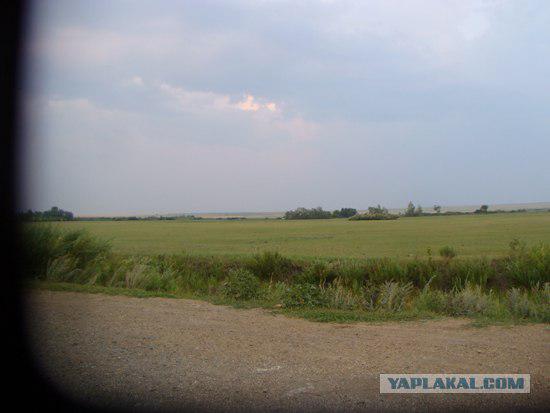 18.
Bashkiria passed quickly, although the 200 kilometers were the most tedious. Landscapes outside monotonous. The road is getting worse and worse.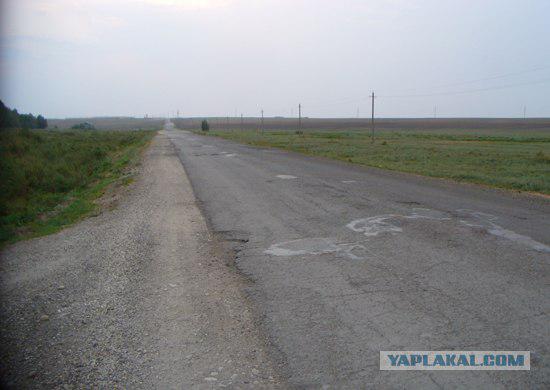 19.
We drove Podolsk (Bashkiria) and seems to have left the wrong way. People like travel, but not enough. Basically, trucks and farm vnedorozhnki. It looks like soon need a four-wheel drive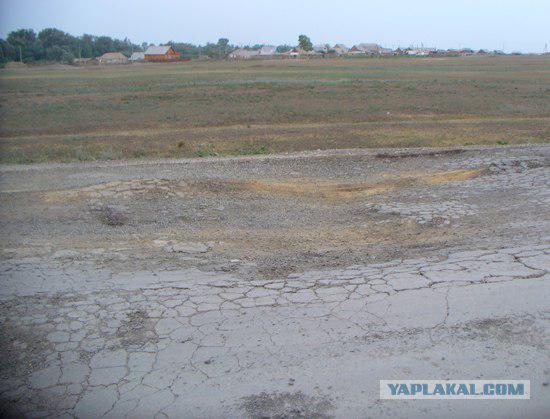 20.
Some of the pit to a depth of half a meter. We must catch up to the dark or we vstryanu here somewhere. Local foresight to go next to the road!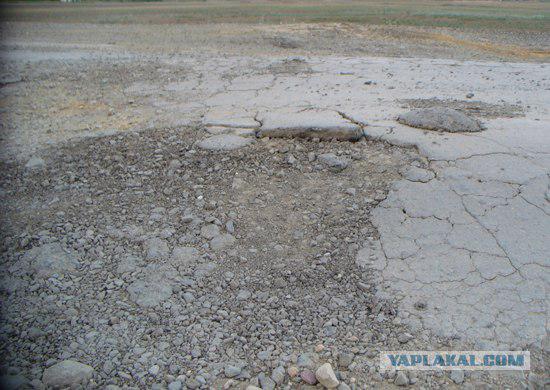 21.
All. Then there is no way! Continuous road. We still have to drive a couple of hundred kilometers.
This former road to the village Akyar. After half an hour and will go dark storm rain. In the steppe - it is fucked up! Lightning byut around and not see anything ahead. Movement speed is reduced to 20-30 km. at one o'clock. At one of the sites I clocked and fall into a pit. Almost thrown off the track at the bottom of something much blurted out, but did not come off. Chinese ssuka strong!
Taking photographs at this time there was no time.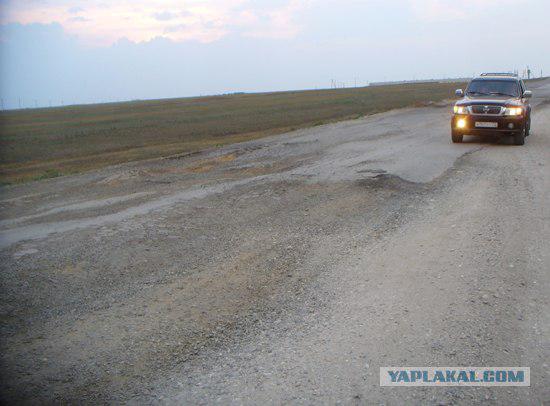 22.
We finally arrived. We were met at the entrance to the city was carried to the house.
The photo family reunion. Time hour of the night about. We are waiting for since dinner.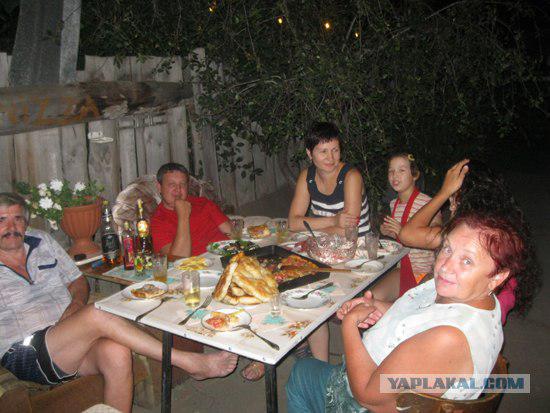 23.
Summer 2010 was hot. It should be 35-40 degrees of heat, and everything is going to increase. It is I, the local palm trees in the courtyard of his father's house.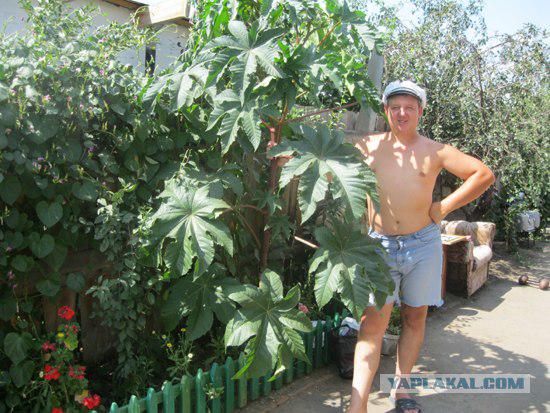 23.
We are going to go swimming in the Urals. While walking to the river walk 2 minutes, we were taken to some special place
Take with you even boat!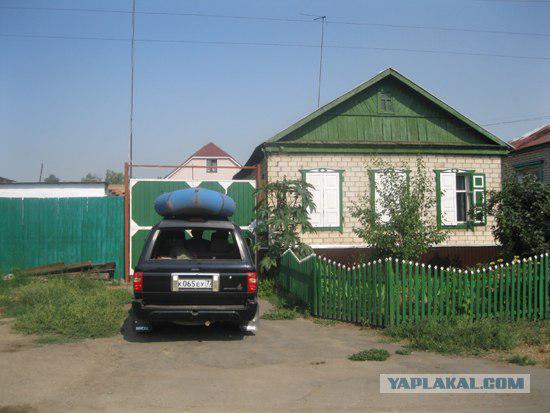 24.
Full combat readiness. Behind the wheel of his wife. I have a week can drink beer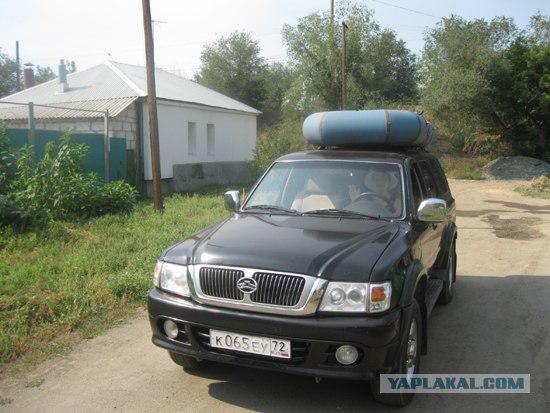 25.
The Ural River. Where is drowned Chapaev unclear Although it is said on the river spreads wider. The water is very clean. Beach is not very. All come with a beer bottle and throw anywhere. IMHO is not removed anybody. For me, accustomed to taking with them all the garbage it wildly.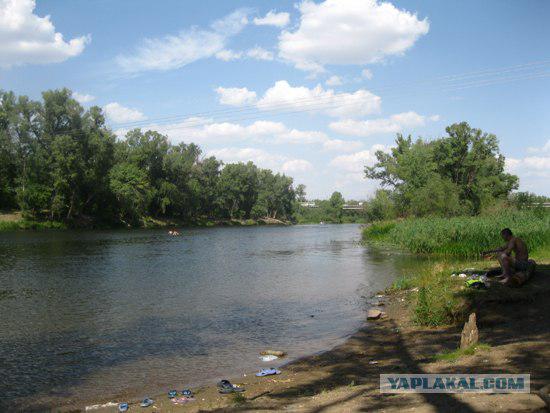 26.
Who knows how to run this thing?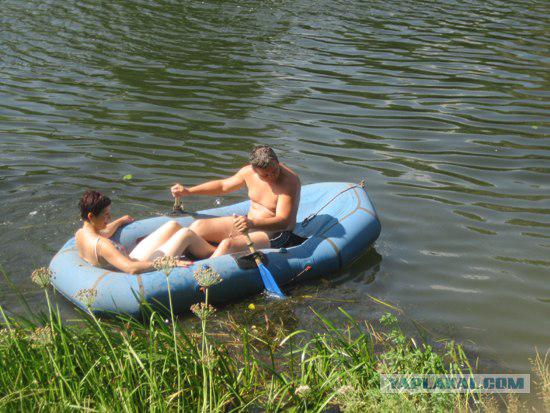 27.
Local flora is charming. Waterlily.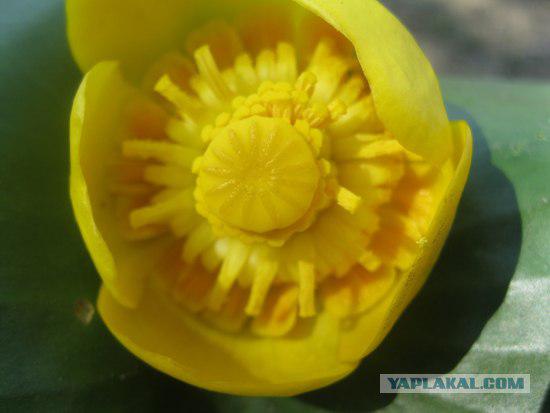 28.
Father takes the oars in their hands and rolls grandchildren. We are floundering in the Chinese air mattress. It not only sleep comfortably, and swim!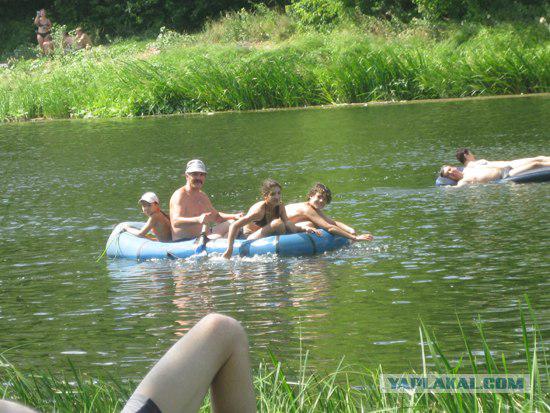 29.
Nearby in the grove grow mushrooms. Naskolko I realized I am mushrooms. Father assembles them right near the house!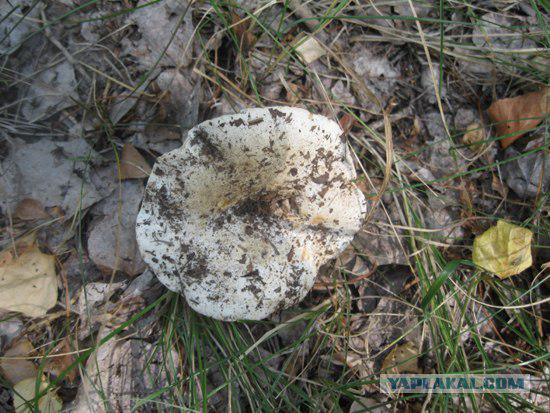 30.
Near the boat sweeps. I wonder what it is it is white?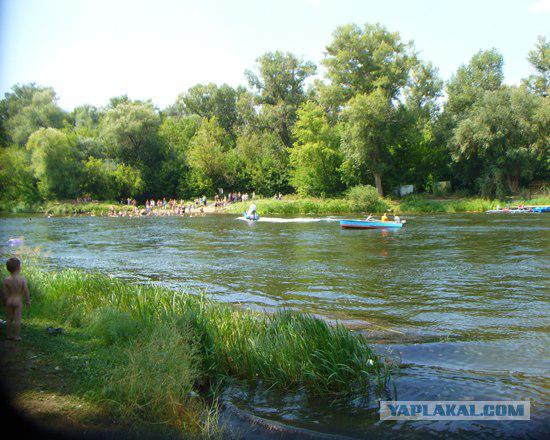 31.
It turns on the local tradition, then carried the water weddings. Or maybe it's just one of the points of the wedding program? Honeymooners long ride back and the court, creating waves and shooting everything on video.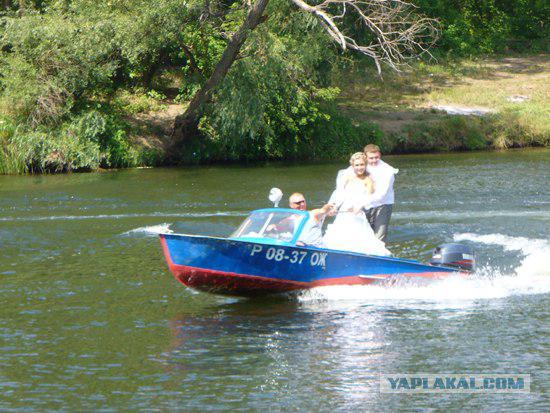 32.
Another local flora.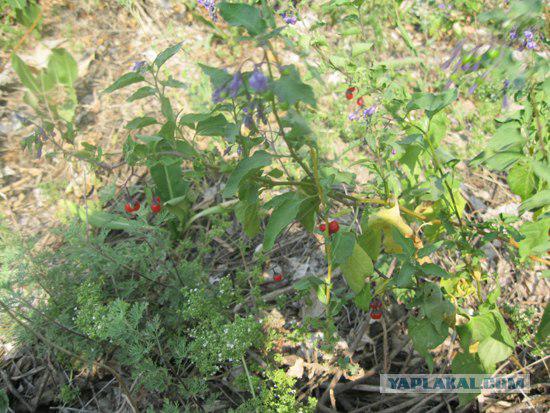 33.
The morning of the next day. The breakfast with the whole family in the yard. Preparing for a fishing trip and a trip to the river GPL.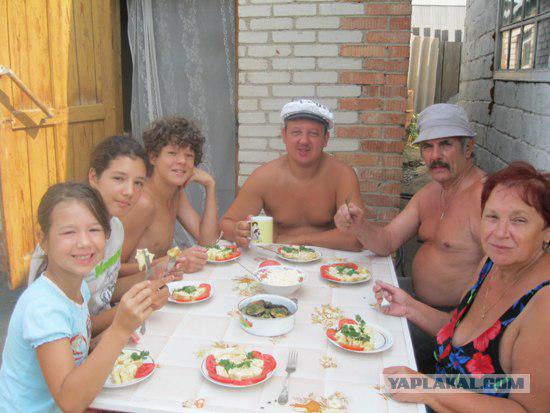 34.
We go to the two parties, all at once is not intermeddle.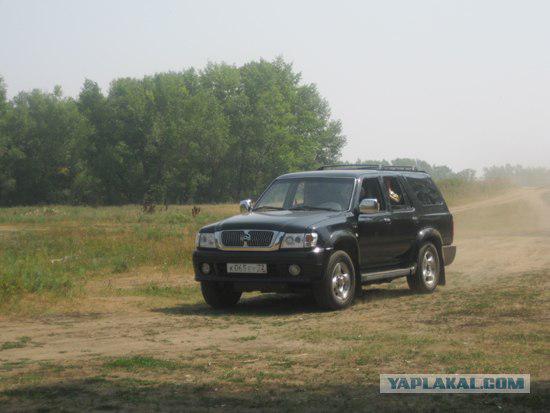 35.
While we are waiting for the rest, holding the intellectual games.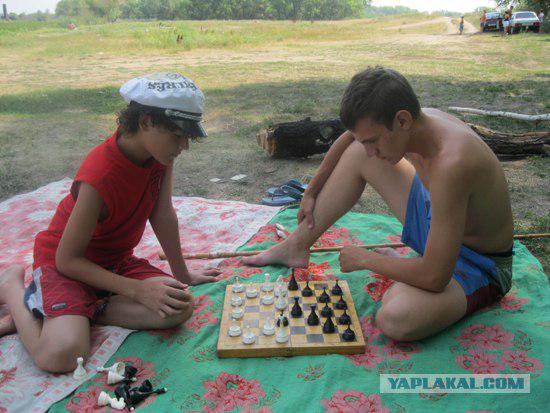 36.
They're coming!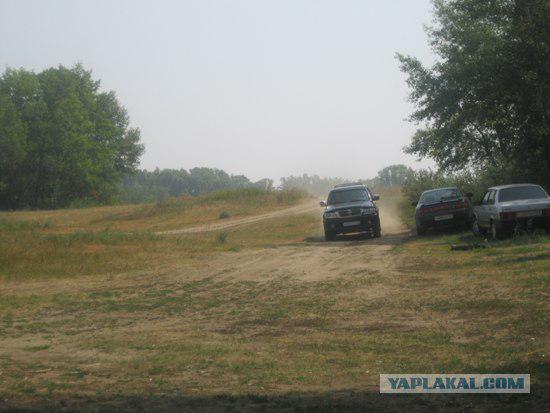 37.
River GPL. A small tributary of the Ural. Very clean, clear water up to 3 meters, despite the thickets.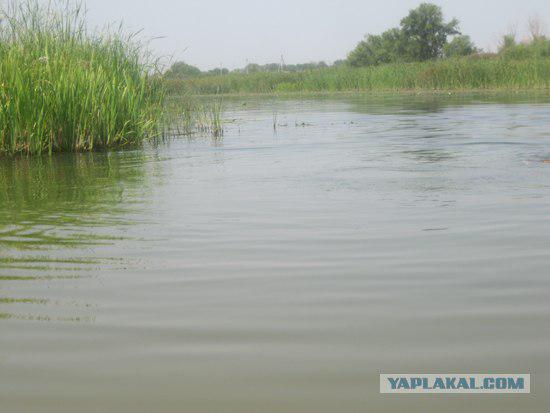 38.
The first catch. Little we let go and folded in the big cup! Cats were happy.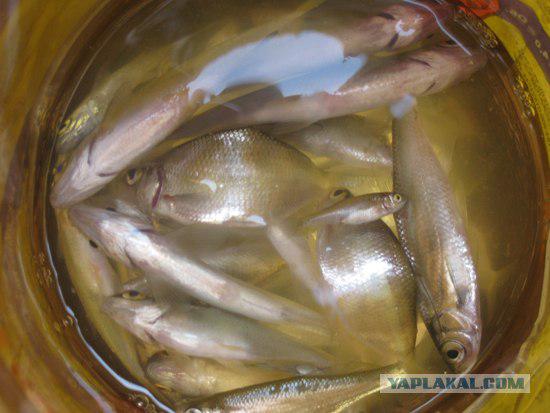 39.
Yet that's what lovilos: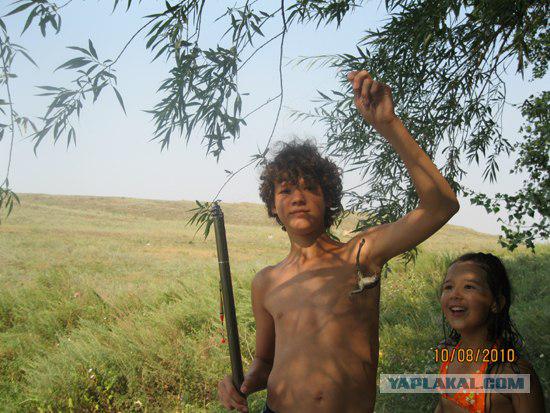 40. snacks!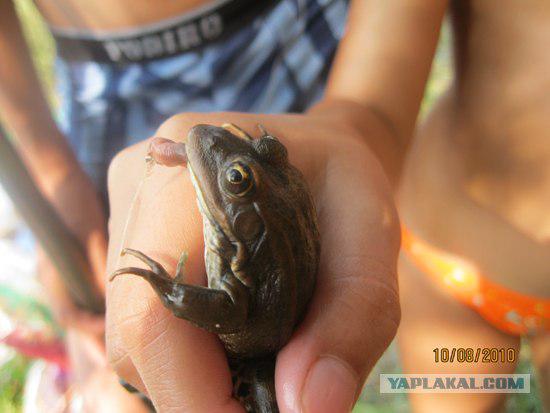 41.
With a boat and took the mattress. (Damn I already have Chinese for advertising their products) Tailgate is easily converted into a table.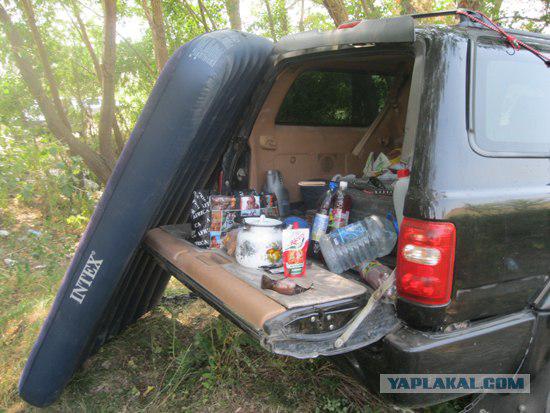 42.
But the boat is easily converted into a submarine!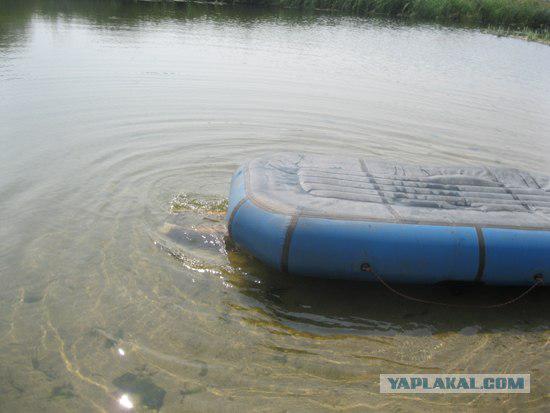 43.
From scrap materials fry kebab (none of the frog is not affected)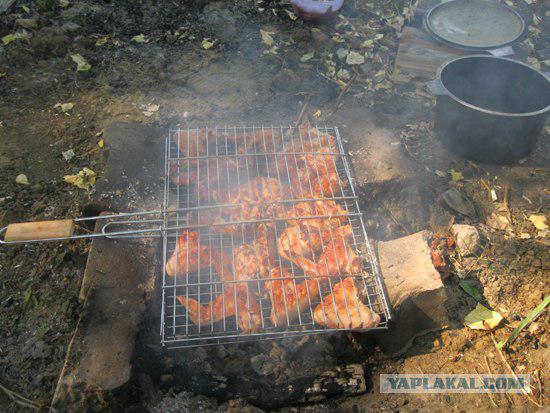 44.
Vast expanses of near empty.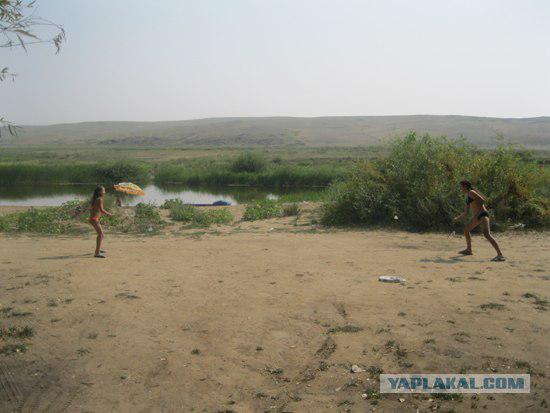 45.
View the other way: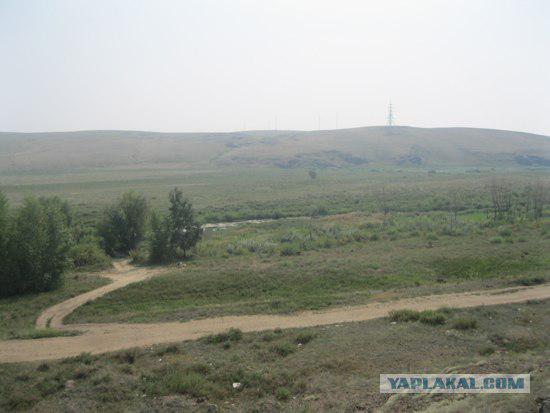 46. ​​And the steppe. How many of us still, in the land of Russia! This way border area with Kazakhstan. Everywhere signs and warnings that the Court can not be! And here we violators ...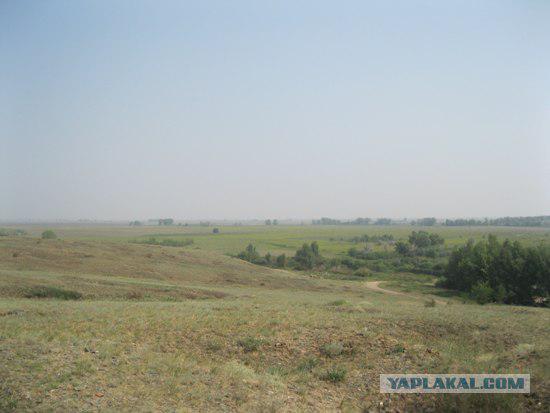 47.
We climb up the hill!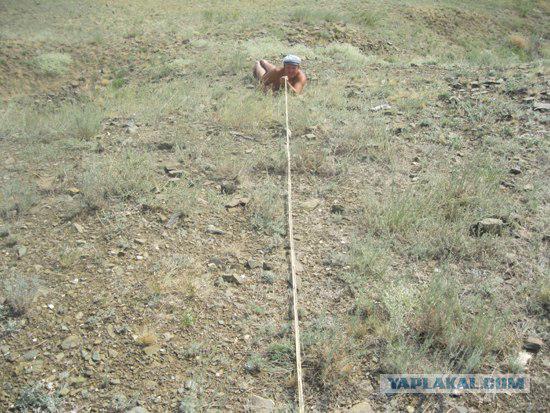 48.
Ural mountain!
How are Vysotsky? - And in life there is no such heights that take, it is impossible!
49.
Came back home. Cats fed fish. Then I went into the garden. The father is only one acres of land free. That's what grows there.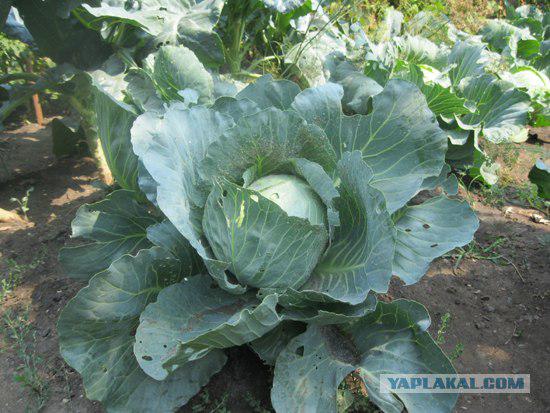 50.
51.
Pepper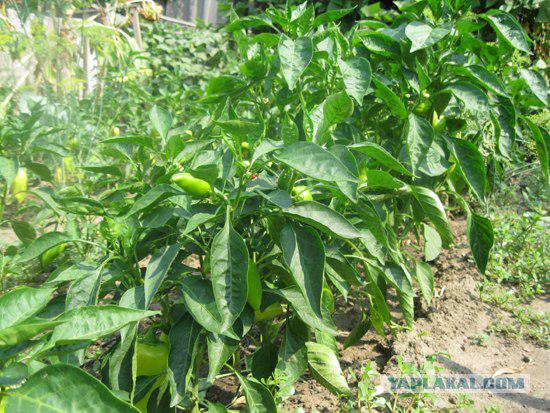 52. It is already possible to harvest! For me, growing up in Siberia and accustomed to buying TAKE things - it's very interesting.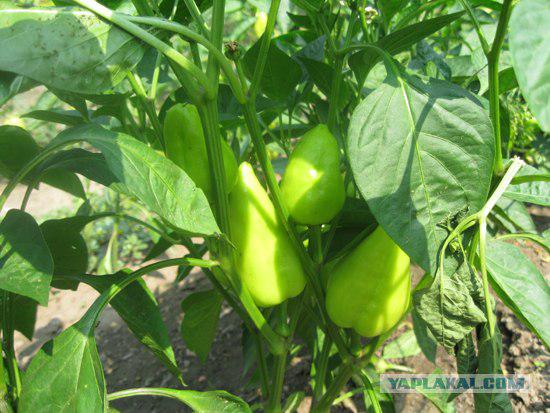 53.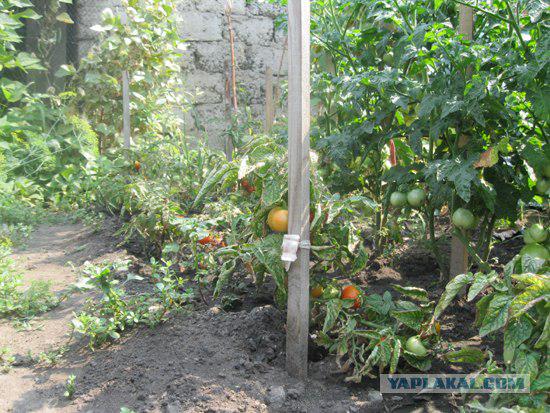 54.
Tomatoes ripen too, right on the vine. Every day my father collected a bucket of tomatoes with only a few bushes! Rich Russian land!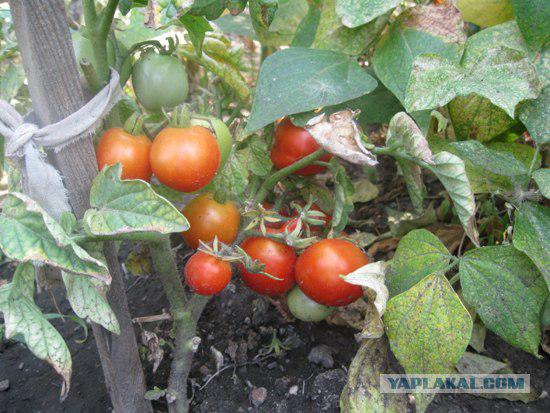 55.
Oh, vodka them now!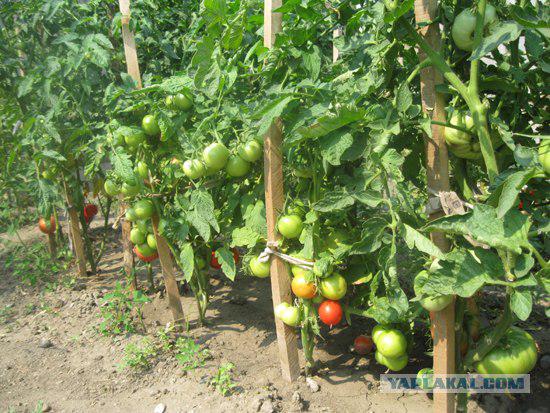 56.
Well, of course cucumbers.
Posted in [mergetime] 1299163522 [/ mergetime]
In addition, it successfully ripen cherries and peaches, plums and grapes, and almost all other berries, to which we are accustomed in the market.
The road back was his adventures as a punctured wheel in the desert, when it was to the nearest shinomontazhki 50 kilometers and it is unknown whether or not it worked.
As we drove across the steppe (looking for a good way), and focused solely on intuition, because in the desert, too, there are many roads and parcels, but on the street the heat under 40 degrees and no one around for many kilometers.
The camera I finally died in the trip and the pictures all the way back there. But all ended well, we repaired the wheel for only 50 rubles, so the prices here are even R15 (I gave a hundred in gratitude to his savior)
And do not hurry, already quietly got home.
That's all!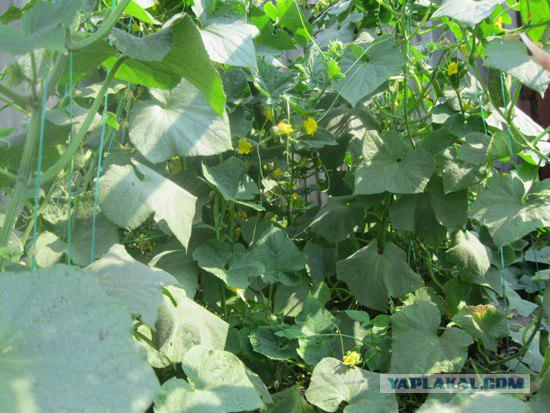 Source: