In the Netherlands, began selling minivan legendary Volkswagen T2 Camper. This model, first appeared in the late 60s of the last century, are still collected in Brazil, however, with a slightly modernized design. Production of the T2 for Europe and the United States was completed in July 1979.
With such a vehicle cabin with a double bed and a kitchen with a gas stove, a refrigerator, a folding table and a sink. In the top configuration will further Highline linoleum floor, seats, leather-trimmed, another battery, chrome bumpers, lowered suspension, alloy wheels in a retro-style mount for the spare wheel in the front of the body.
Retro minivan is equipped with 1, 4-liter four-cylinder engine producing 80 horsepower, which is paired with a four-speed manual transmission. From zero to hundred kilometers per hour such car can be accelerated for 16 seconds. The maximum speed - 135 kilometers per hour.
Base cost Volkswagen T2 Camper in the Netherlands is 32 000 425 euros. The top version is estimated at 55 thousand 995 euros.
Details
Materials: Motor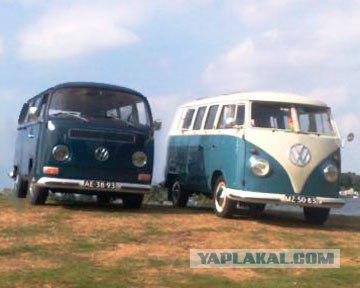 Source: