Writes blogger shamansky for fraud a "cosmetic company»
I regularly spend educational work with all your loved ones about the fact what a hundred small ways they can deceive. My mother, for example, knows that if I call her at three o'clock in the morning left the phone and ask urgently bring all the money on the corner of Lenin and Artem, but I'm in no case does not call back, because I have a terrible problem, as long as I did not tell her what to buttock my birthmark in the form of a sickle with a hammer, and that I have done in the neighbor's garden 12 January 1983 - a place not to move. My relatives are instructed that the words "prize draw" it is necessary, first of all, look at the word "hoax" and about the second and did forget.
I, honestly, conducted an educational talk about cosmetics «Desheli» with all who might be suspected of credulity and softness.
But that's about my future mother in law, I confess, I forgot. And that is why a half weeks ago, it could lure the salon company Desheli, which in Stavropol presented LLC "Nova Group" and is located in a pretty rosy house at st. Dzerzhinsky, 199.
However, first things first. First, as usual, political information.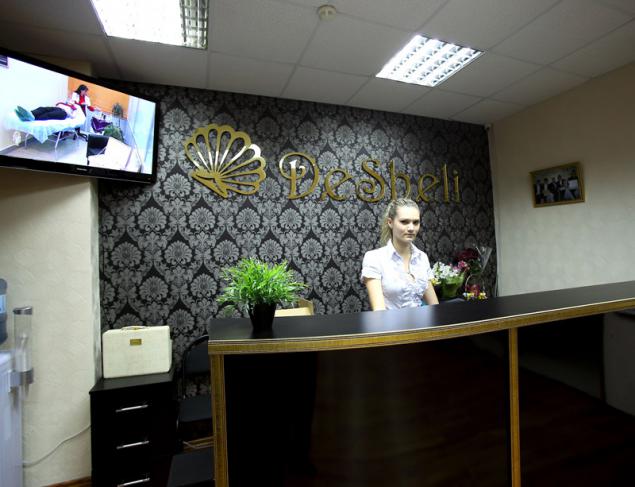 One day, suddenly, you receive a call on a mobile phone and tender girlish voice by my name will call for a free presentation of ultra-modern and genuine Israeli cosmetics Desheli. This procedure, in fact, will tell you, it is worth a fortune, but you do it for free on the recommendation of your girlfriend, which left your phone. Name girlfriend will not tell you, but thoroughly zadurit head that this cosmetics specifically designed for women of your age. And asked to bring your passport to make sure that this is really you, because the presentation with a demonstration they prepared especially for you, and statements they have very strict.
Let's assume that you are a wise man, and immediately realize that there does not need to go. Please note that normal explanation - they say, you have no time, you're busy, you're sick, you do not care cosmetics, you're abroad - will not help. These citizens will call you again in three days, and aggressively to entice me to visit. So let's at this stage we apply armor-piercing artillery. Write down or remember the phrase, after which calls to your cell phone from the organization will cease forever:
"Girl, let me know the exact name and address of your organization and the individuals, which will tell you my personal information without my consent. Your room I have already recorded, I immediately turn to law enforcement authorities with a statement about the violation of the current legislation ».
However, I am aware that some will read this post already after the visit to the salon Desheli and come out with a good portion of the fog in my head a couple of suitcases, the contents of which are not only they do not need, but also unsafe, and the contract for loan at a bank. The amount of your loss will be approximately 40 to 100 thousand rubles. But the realization that you, excuse me, raped, will come to you later. At Home. When you start to think a little bit. And if you're reading this post it was in such a situation - believe me, you is not to blame for everything and the situation can and should be rolled back.
Let's see how this whole thing going on.
You - trusting people. Unfortunately, you forgot to ask, what kind of friend gave your phone does not have it, do not call her and not questioned about all the details of her visit to Desheli. In fact, your phone these guys gave the man with whom he appeared in a notebook randomly with a probability of 90 percent. Or do they just bought the phone base. And that they will show you almost immediately before the procedure is begun. You will be asked to 20 contact numbers of your friends, with the name and patronymic surnames, stating that it is - an indispensable condition of "procedures". And you will be painfully seek them in their phone book.
All the people around are in white coats, the office will impress European clinics, you'll like it, I'm telling you. You would be taken to a separate room where first maznut on the elbow to the so-called test for allergies, and in five minutes will smear half of the face completely unknown means and you will convince you that just five minutes your skin look younger by 10 years.
And you believe it.
You will be given to drink herbal tea, you include relaxing Muzychka, you will be touched by hands - and you believe that everything that happens to you, very good, and right, and that's what you're waiting all my life zaturkanny.
And then you will be asked: how do you think the cost of a such cosmetics? And you will understand that cost a lot of it has to, well, just too much. And you confirm that cosmetics wildly expensive. But for you, given your age, and just because you came on the recommendation, you can do it by installments, and installment debt and even cosmetics to make a special device, and you will have to pay mere pennies, thousands 2-4 per month, and it's not even room, but a real clinic, where your skin will cure where it will remove all of the toxins, and you for a month of a woman fifty years turned into a beautiful young girl, and without any lifting, and without injections ...
In the next room you will have to wait to have the documents. After all, your passport, you have already given them, and a copy of it, they have already removed. And documents for the purchase of a set of makeup, and a bank loan has already been printed, all you have to sign them only.
And if you get to this paragraph, then most likely you have signed these documents, left happy, but much zonked out of the car, came home, and after about an hour suddenly discovered that in the hands of your contract year and a half on consumer credit under 46 percent per annum, the contract of sale of some obscure shit for you no matter what rights do not have, so muddy photocopy of instructions for use.
About the way it happened to my future mother-in about a week and half ago. At the same time, as you are now, it has been fully and completely confident that nothing will bring back that she would have to pay the money, and that deal with these scoundrels impossible.
But, strange as it seems to you now, the situation was pulled back to zero.
First, remove all doubt. Products that you vparili addition to your will (and this is true because you still can not understand why you have signed these same documents) can be really dangerous for your health. When you come to this so-called "clinic" and will need to produce medical certificates and diplomas staff - they is not there. Meanwhile, any cosmetic procedure today can be carried out by medical staff only. Therefore, you should know: you have dissolved and cheated. There is no reason to disagree with this divorce and seek the reasons why you should leave it pseudomedical and nedokosmeticheskoe shit at home. It consists of components similar to the smoking mixture. The same lotus extract could cause hallucinations. So to return, and return without fail.
Second, do not open the product, the integrity of the tubes and packaging machine that you shoved - not to break. The fact that you have opened the box - do not worry. But if you tried to use some so-called drug - for the tube you will remove the money. So - all pristine, nothing open.
Third, you do not owe anything to this company. I repeat: You do not owe them any money.
Moreover, if you're reading this post on the same evening, when all this happened, you do not yet have, and the bank.
Explain. As a result of signing your contract of sale and the loan you obrazovyvaetsja debt is owed to the bank, not the company that sold you this, I may say, commodity. But they have to pay this money should the bank. Check the loan agreement, you will see that the recipient is not you and the seller of the goods. But let us remember the article 807 of the Civil Code, according to which the loan agreement is concluded with the receipt of funds and look at the clock.
You were in the cabin in the evening after work. Posting Bank will be held the next day at 12 o'clock.
Your loan agreement has not yet been considered, even prisoners. Therefore, tomorrow morning you go to the bank and explain the situation, write a statement renouncing the loan. And you have this application be accepted. Trust me, do not be afraid to do so. Maybe you find a bank employee who will assure you that this is not possible. Be polite and persistent, explain that you have been misled, that the evening before your financial situation has changed, that the loan agreement does not fill you, and employee Desheli, the amount of your income that they took from the ceiling. In the situation with the bank "Renaissance Credit", as it was in our case, also the aim of the loan were given "beauty treatments", ie services rather than goods, which was also indicated in the statement.
As a rule, you will not be the first who came to the bank with such a statement. You need to necessarily wait for your copy of the application to put the incoming number and ensure that your application has been sent to the head office. And do not swear with bank employees - they are people too. In the end, the employee receiving your application, not to blame for the fact that yesterday you were led to the tricks of swindlers.
Fourth, in itself rejection of the loan will work after you return the goods. You are partially secured themselves to the bank, however, you need to record the fact that the return of goods to the seller.
To avoid spread of the tree detailed explanations, I just bring the text of the document you need to straighten out for themselves, to put dates, addresses, and so on. And with this document, go to the salon.
Head of _________________,
INN ____________ of __________,
address ____________________________
by ______________________________,
lived. ___________________________,
passport __________________________
__________________________________
CLAIM
& Quot; ___ & quot; ___________ I entered into a sale and purchase agreement _____________________ (hereinafter contract) with the company in the face of _____________ ____________________________. The agreement was concluded in a room LLC ________________ at _________________________________, after a session of cosmetic procedures, which, in accordance with the Order of the Health Ministry of the Russian Federation № 415N from July 7, 2009 has the right to exclusively specialist with qualifications not lower than "nurse (nurse ) on cosmetology ».
The price of goods under the contract is ______________________________________________________ rubles. To be invited to demonstrate the procedure of cosmetics called me on the phone, using derived from sources unknown to me my personal data, in the form of intrusive invited to come to the presentation of cosmetics «DeSheli», with an emphasis on the fact that this presentation and performed cosmetic procedures are free. I was told on the phone address saloon (______________________________ __________) and asked to take a passport to confirm identity, since These procedures must be ordered specially for me, and appointed time for my visit.
As it turned out later, asked me for a passport, the staff was removed from the interior of the identity document, a copy without my knowledge or permission. During the procedure, at the presentation of the consultant assured me in a completely natural part of cosmetics. Before signing the contract I was not provided with a detailed interpretation of the chemical composition of the goods. Later I found out that the product contains components that are harmful to my health.
I also clarified the following circumstances:
On the labeling of consumer packaging of cosmetic products included with Kit «DeSheli» production «HlavinIndustriesLtd», Israel is no information on restrictions (contraindications) for use, warnings, in violation of section 4.5., Item 4.6. GOST 51391-99 "perfume and cosmetic products. Information to the consumer. General requirements "; in products are bee products (propolis, beeswax), other biologically active ingredients that can cause allergic reactions buyers (customers), especially with sensitive skin, but booklet «DeSheli» information is available: "Suitable for all skin types."
On the labeling of consumer packaging of cosmetic products, which are included with Kit «DeSheli», there is a uniquely understood the information on conformity assessment in the form of signs "PCT" and "RStAG47" used in a voluntary, with mandatory certification and declaration of conformity of the product that is misleading consumers about the conformity assessment of products.
To my attention not promptly communicated reliable information to confirm compliance with the established mandatory requirements for apparatus «Cleartone» photon - ultrasonic; actually represented Certificate № ROSS CN.AI18.V61745 on the unit DeSheli photon ultrasonic beauty massage skin care facial. Besides, I was not informed that the "photonic ultrasonic device" Kliaton "designed specifically for use within the home spa-care cosmetics« DeSheli », is a contraindication to use: thyroid disease, pregnancy, cancer and tumors that have tendency to develop ".
I, as a consumer, not timely provided reliable information about the price of traded goods and conditions of purchase (initially dealt with the sale of goods on credit, and later found out that features consumer credit).
These circumstances also prove the fact of introducing me as a consumer confusion in the sale of goods.
Following the procedures under psychological pressure I was forced to buy the cosmetics in installments (and in fact - after the conclusion of the loan agreement with the bank) for 18 months, although initially, in the course of the conversation, I was repeatedly told that I was in a difficult financial situation. But the consultant continued to insist on.
Being in a state of incomprehensible for me under the influence of factors (relaxing music, unusual odors, actively offered herbal teas), I went to get hypnotized consultant's office, which has other staff quickly issued on my behalf, as it turned out, a consumer loan. When applying for a loan in the CB "Renaissance Credit" I have not asked about my income wage. Thus, the information specified in the application for the loan with respect to wages, is false and untrue. In addition, my arms were issued only for the loan (without printing, without the signature of the expert, which at the time of processing the loan was not in the cabin) and a schedule of payments.
In addition, the text of the contract of sale and loan applications were printed in very small print, and, by age-related changes of view, I could not read it. Therefore was forced to sign at the point indicated, LLC ___________________, not being able to read the text of the treaty and realize contained therein. The above excluded from me the opportunity to get acquainted with the terms of the transaction carried out and resulted in negative consequences for me that were expressed, including that on arrival home I have an allergic reaction manifested itself in the form of itching, burning and redness at the site of the so-called cosmetic procedures and the so-called allergy test - on the face and elbow.
Given these facts, on the basis of Article 807 of the Civil Code, today _________________ year, prior to the payment by the bank to the beneficiary specified in the loan agreement, I turned to the CB "Renaissance Credit" a statement on the termination of the loan agreement No. ___________________ as not to yield into force and signed properly, because in the contract LLC __________________ was specified purpose of obtaining credit, differ from the actual - beauty treatments (services) instead of goods.
Based on the foregoing and guided by the Federal Law of 07.02.1992 N 2300-1 «On Protection of Consumers' Rights (hereinafter - the Law on Consumer Protection) requires:
To consider and respond to the claim within ten (10) days in accordance with Art. 22 of the Law "On Protection of Consumers' Rights and paragraph 6.2 of the contract.
Terminate the contract of sale ________________________ year concluded between me and the company ___________________.
To recover the funds paid under this agreement or in cash to the card account from which the payment was made by me.
Take on the act of reception and transmission of goods passed to me.      
Source: