"Mont Saint-Michel" - this name emanates charm, poetry and tenderness. But the impression is deceptive: Mont Saint-Michel in France, on the north-west coast - a small, rocky and inaccessible island bastion.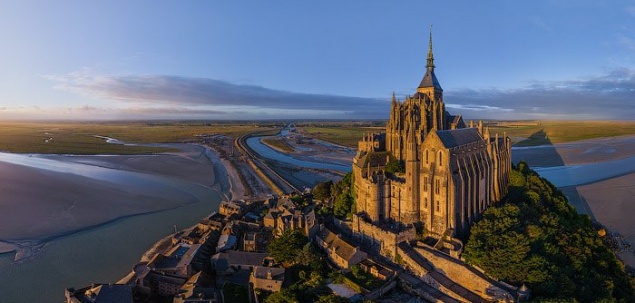 Here - Europe's largest tidal height (14 meters), rapid waves, steep cliffs and quicksand bottom. Water can move away from the island at 18 kilometers, extending deep into the coast 20 kilometers. All this for several centuries makes the island an impregnable fortress.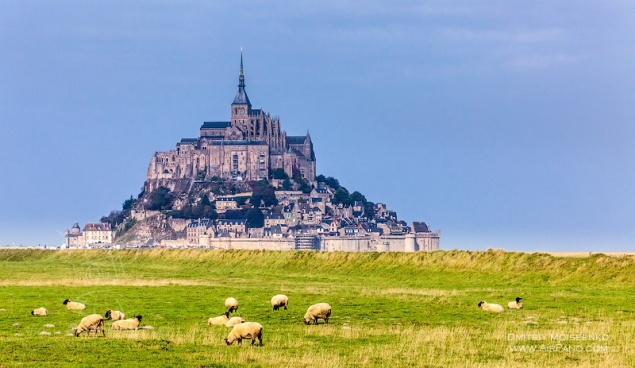 The first inhabitants of the 92-meter cliff, the ancient Celts did not build illusions and gave her capacious name "Tombstone Mountain". By the way, while Saint-Michel was not an island: stretched around a dense forest, destroyed later coming ashore sea. A current name of the island must Archangel Michael. According to medieval legend - also, incidentally, quite severe - in 708 Archangel Michael instructed the bishop of the nearby town of Avranches to build a church on the rock. Guardian of the gates of paradise was the Holy Father three times, but the bishop was not sure I interpreted the sign. It was only after the Archangel knocked him on the head with the finger (in another version - burned bishop sword robe) - on the island began construction. And while on the ground were constantly war: it seized the Vikings, Normans, Bretons, Englishmen and other belligerents those early years - the island-fortress, as if nothing had happened remained unconquered and nerazgrablennym. Moreover, in parallel, until the XVI century, there continued construction of the Abbey and many related areas.
Of course, the island-fortress of Mont Saint-Michel is not only and not so much a prison as a Benedictine abbey. It occupies an area of ​​about 55,000 square meters, as a unique example of medieval French fortified monastery. Height above mean sea level to the top of the cathedral spire reaches one hundred and seventy meters!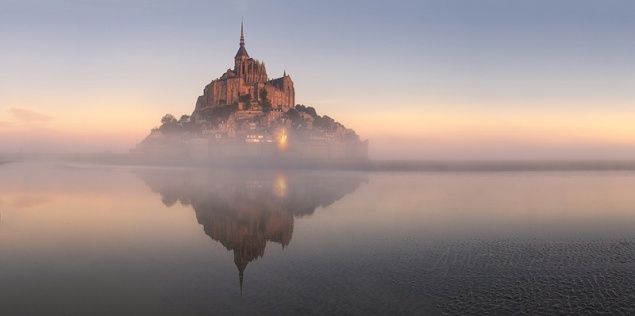 Its inaccessibility Mont Saint-Michel lost after the construction of the dam in 1877, which connected it to the mainland. A century later, the monks returned to the island, and today the community has seven people. But on a deserted island say no: the total number of tourists here every year reaches 2.3 million people. Mont Saint-Michel declared a national heritage of the country and included in the UNESCO World Heritage List. Its unique architecture and austere beauty of nature combined with the atmosphere of medieval mysteries and legends made this island-fortress of the second most visited attraction in France after Paris.
Source:
www.airpano.ru