Writes blogger oleg-lenkov:
Life is full of amazing things that you can not even guess. Usually you know about these things quite by accident, while experiencing vivid emotions and enthusiasm. On one of those things I got to know a completely random in Kiev. It was very unusual gym in the open air in a picturesque setting.
22 photos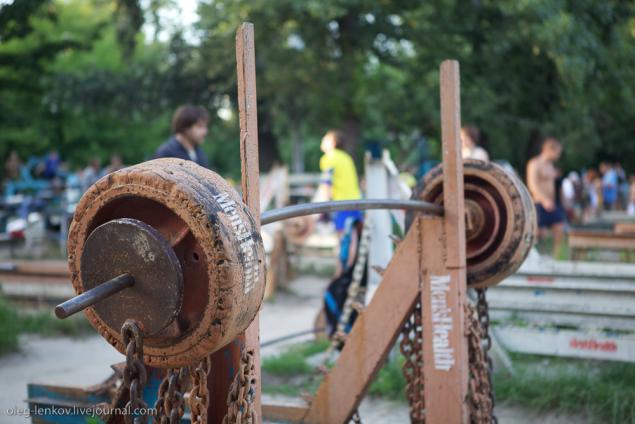 2.
During my life I've told a lot of different gyms. Some of them were very good with expensive machines and stunning interior, while others were small, with cheap gym in a stuffy room. But have never in my life I have never seen a park with a variety of fitness equipment, made just their hands, which is located on the street.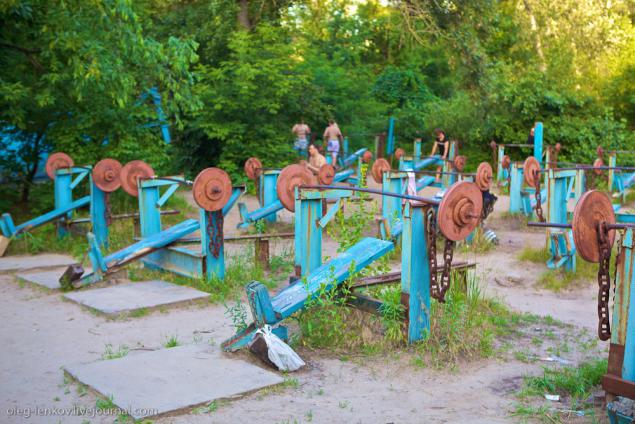 3.
What surprised me even then that this place was a huge number of people, each of whom "horsing around" and take the most that neither is an active part in the global "injection".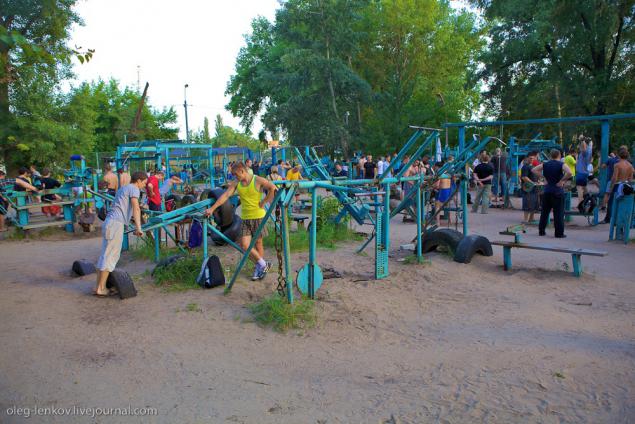 4.
In some simulators claimed several people, which made the whole place was formed.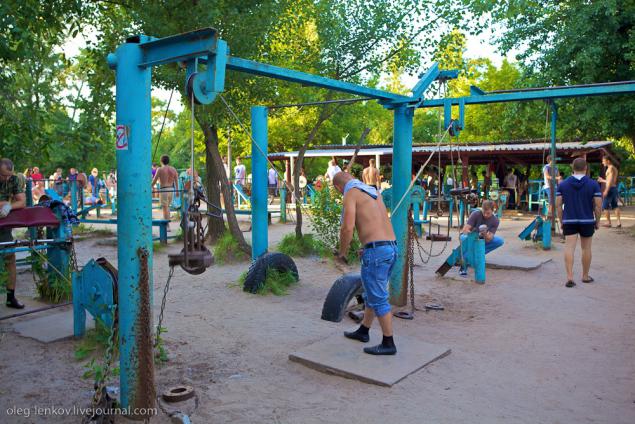 5.
People here come across the most diverse, starting with teenagers and finishing with middle-aged woman. The bulk of the audience consisted of men aged 20-40 years, which seems quite logical.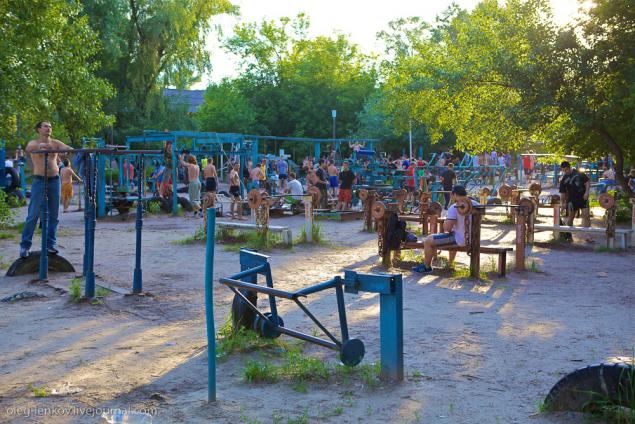 6.
Some simulators is an amazing metal structures, which, I think, can not be found in any country in the world.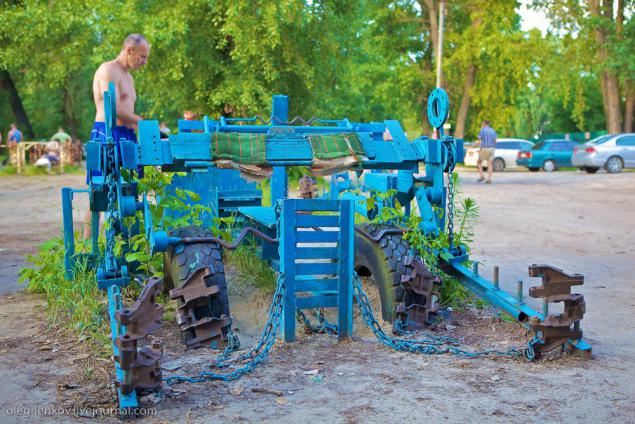 7.
Most of all I was struck by the simulator, which was a cross between an ellipsoid and a treadmill. God knows on what basis it works, and what it's for.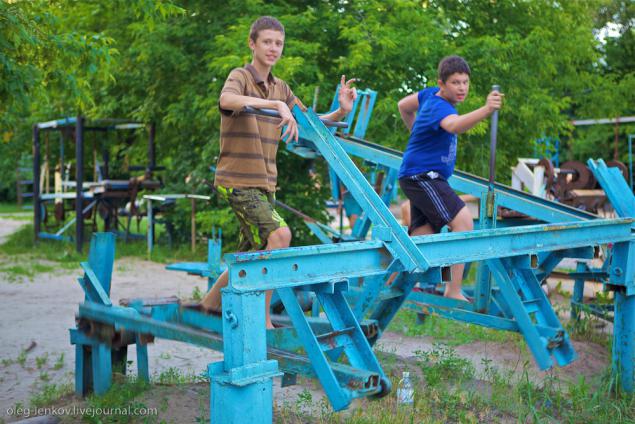 8.
I also drew attention to the fact that most of the simulators were in chains. It is not difficult to guess, this is done to ensure that nothing was stolen. Imagine, for a moment, a man who "steal" vulture with pancakes kilogram since the thirty-running toward the subway. I think it would look ridiculous. Although confident that those who would be found ...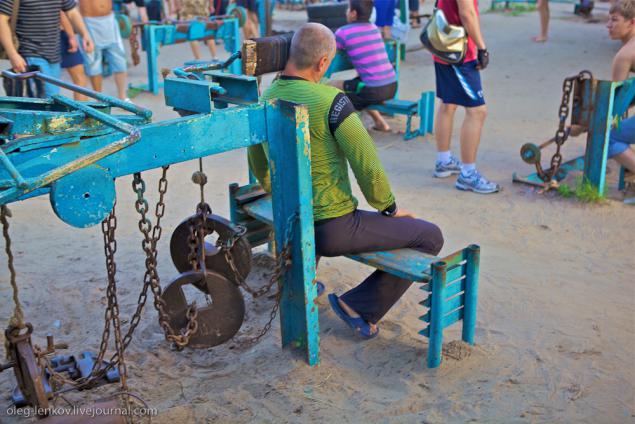 9.
I also liked that's a character who gravely walked the gym, drinking a beer, then sat down at one of the trainers and the table inject biceps. From the outside it looked funny.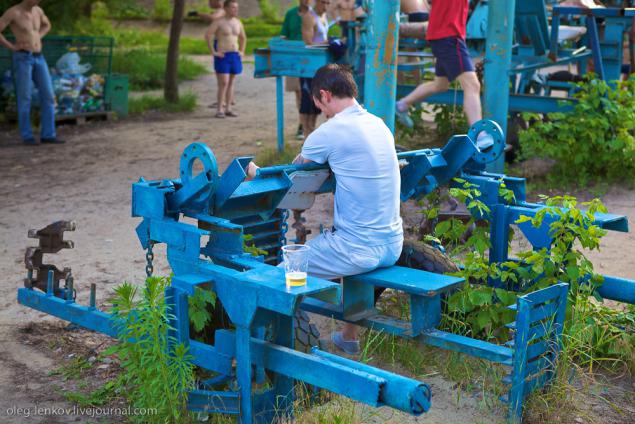 10.
The design of some simulators presupposed the existence of batteries ... or rather the element that was previously used as the battery.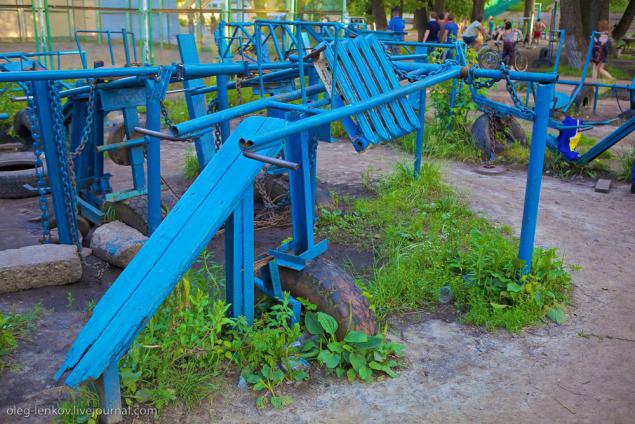 11.
Simulator for the back of the thigh.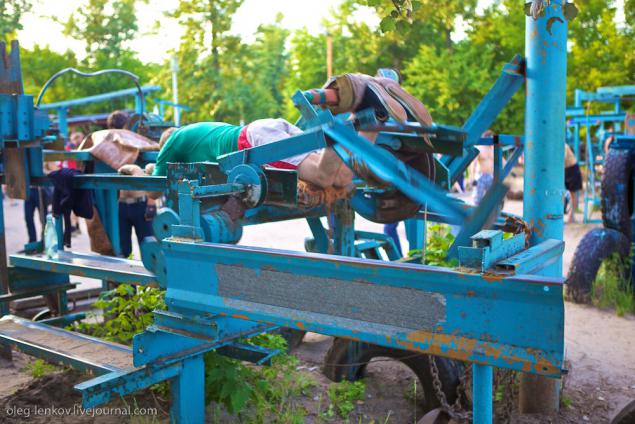 12.
Locker room.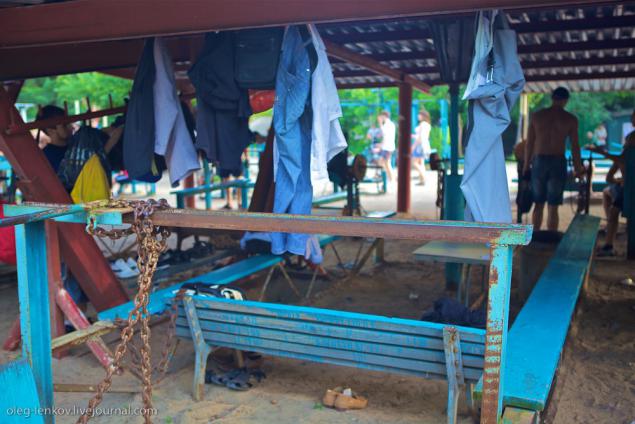 13.
There shake pecs.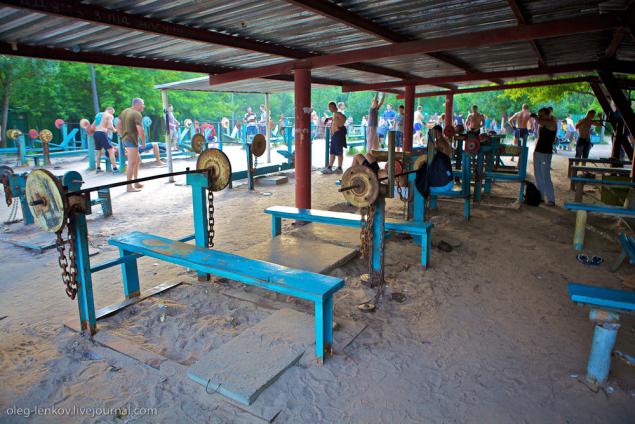 14.
And this machine is more vesego for shoulders.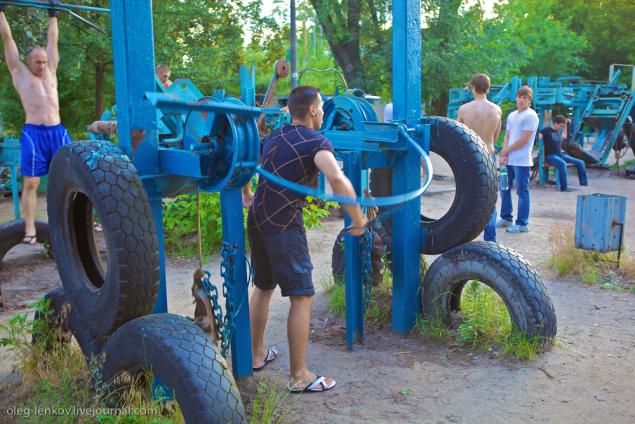 15
16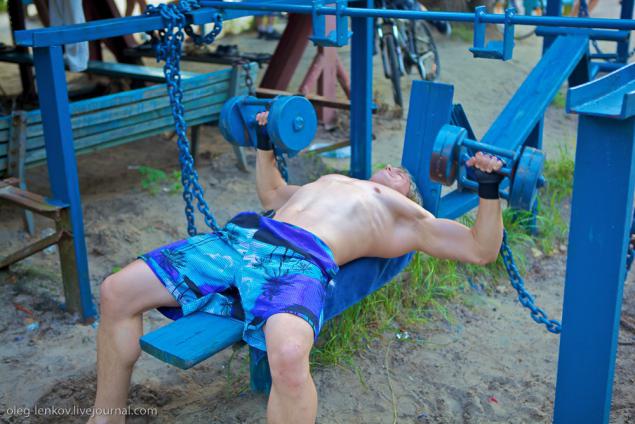 17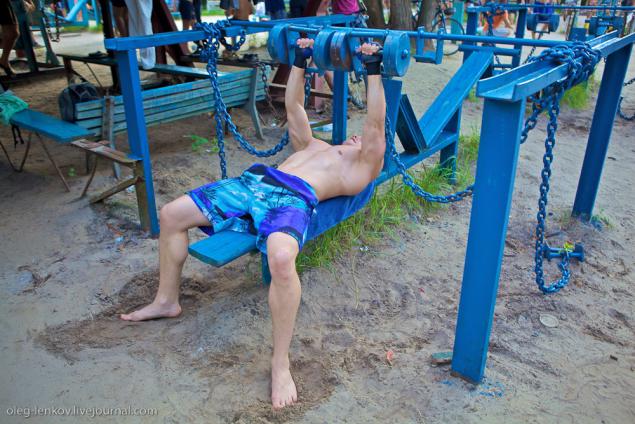 18.
Notice how this guy shakes the press. In order to increase the load, he found somewhere ordinary stone and picked it up.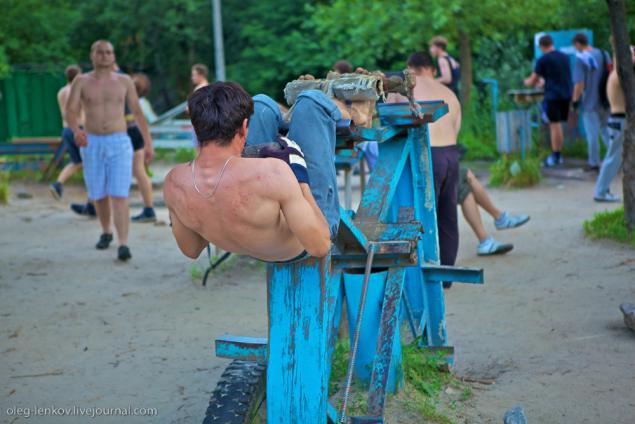 19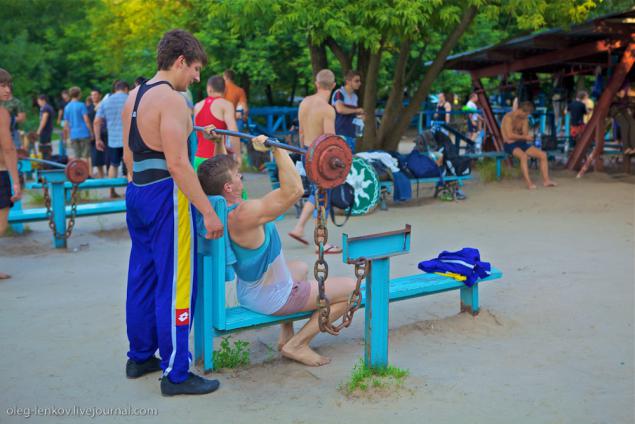 20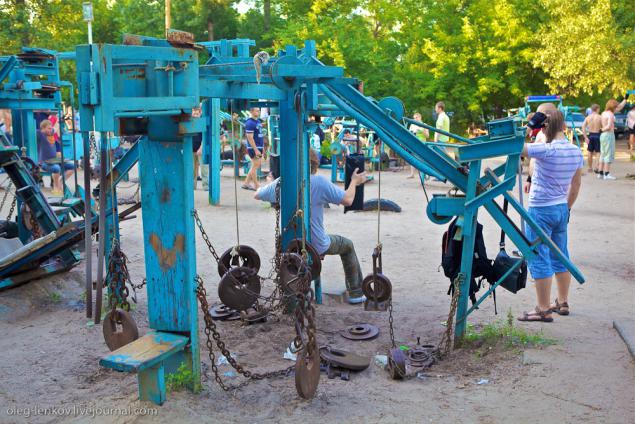 21.
Among other things, in the gym and can poboksirovat. Notice the guy in the background. Instead of a punching bag in the gym used ordinary tires.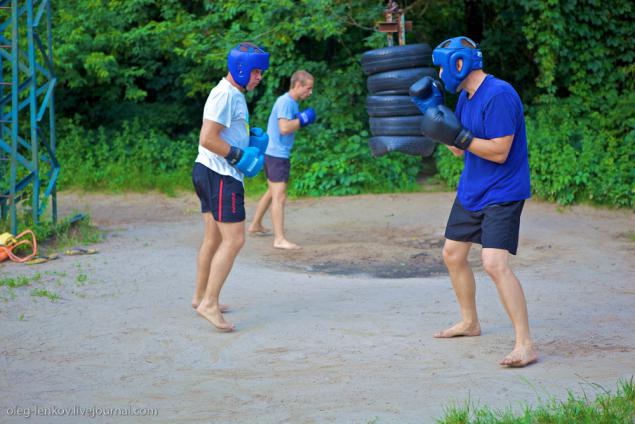 22.
And that, actually, the ring. Already familiar silhouettes Shin said that the organizers of this trenozhennogo hall would perform all in one style - Notice the guy in the background. He hits the hammer on all the same bus ...
To be honest, this gym is very much like me. And most of all I liked, with some trepidation Kiev refer to the sport. For two and a half hour stay in the vicinity of the hall, I drew attention to the fact that here are constantly new people came.
Their number could not cause anything but delight. It's nice when, instead of to have a beer or something stronger in the company of friends, people come here to take care of your body. And judging their figures, we can conclude that they go here regularly.
To get to this room can be anyone, it is enough to come to the metro station "water park", it is not far. Log in as you might guess, free, it would wish.
Near the gym there is a beach. After a workout, you can continue an active holiday or to relax a little. All people.
Have you seen something like that?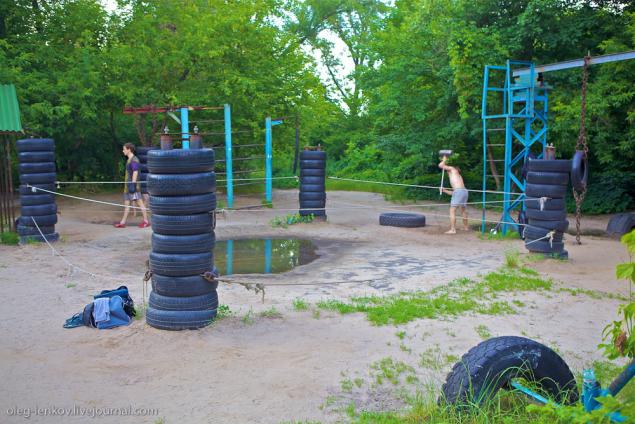 Source: