Lately, there's a lot in one way or another connected with the TS (tech. Support
) and me as much grief - grief for taking "compatriots" in the field of labor.
TP - doctors, callers - patients come with the disease. With this attitude is much easier to relate to people. You know, they yell at you and bite the tube, not because asshole (although it happens), but because they have something to hurt (someone porn there who work do not, someone learns). < br /> One difference - the "treatment" of the remote and you, as a rule, no account put. That is to say, the specific work of the staff - the subscriber is always right, even if he is a child of 5 years, cattle or grandfather.
Speaking of children: it is a very peculiar contingent. Here is an example: in the house worked as an electrician and nakosyachili, of course, we neither sleep nor spirit, while we do not call someone from customers or we do not check for billing, but almost 1,500 entrances to calculate a fallen - it may be that there really is just no one online. Well, okay, something I came away from the topic. Calls girl voice 5 years, gives an application that does not have Internet. There is quite a standard dialogue, but at a discount to the age of the companion (ie I do not ask anything ping, something to measure - just basic things) - ok, I specify whether someone is home of the adults - suddenly we need a tester it include (Yeah, what vituha aluminum does not prevent cutting, alas).
And you know, for 2 hours after application until the installers were getting to her house, she called 5 times and the last time, said: "For you I cry so much money? Where is my Internet connection? Are you absolutely stunned? "- Honestly, I barely restrained so as not to cry
Cattle - there is nothing to say, so try to talk to as little as possible. Much faster will come to him and make a noutom than something in his interrogation. Motive: "you have cheap or go?" - There is not working
Or Grandpa: scream, noise, curse - trying to get into position and I think kakby displace other applications to get to it quickly, but Grandpa nivkakuyu - want, says the administration - you're incompetent. Like, that's "maladёsh" has gone - do not want to work.
So I wanted to say: "Yes, my grandfather, and then run when you such a country prosrali?" - But in fact it is something right, for the TA - is not only calls this training itinerary planning for the next day (self-checking with the authorities), monitoring some parameters (temperature of the server). So we really can lose some detail - we are people too, so sorry.
One way or another, all trying to help. This leads to the fact that even after the change of sitting at home and listening to music when a call seems to be at work - it's great fun caller Well, I feel that I was involved in my job and try it to make the maximum quality to such an extent that even such nuances are developed to automatism.
At the request of "sex»:
How many hours working?
We work according to the schedule Y / N / 48. Day shift - 8 hours a night - 16 dictates the characteristics of the work plan.
What s / n
Personally, my s / n ~ $ 250 / month (Ukraine). There above, but I have not yet worked enough to get more, but I did not travel spend - close to home and the staff is excellent - it dictated my choice. I earned a degree - I'll look for something in the specialty, still 250 and 450 - seryozny argument.
What do you eat?
Ordinary people after all, but basically it is a fruit or something bystrozhuyuschee and bystroglotayuschee: cereal, mashed potatoes, etc. - At any moment the bell sounded, and speak with your mouth full is not only well, but is not practical or convenient
Where to relax?
Girls on discos Hasan guys fishing, shooting ranges, bowling, billiards. Here there are plans to visit this place - once opened, should be good at least for the first time dialed visitors' base
How to relieve stress?
It depends on the weather. In the week wore old - old dabok (doing Taekwondo WTF) and called sidekick. Hour and a half pear bludgeoned sparring full-contact.
Sometimes I run to the state: "He that begetteth a fish" - as well as the work of sitting - do not need much.
That spring forward, the steering wheel and an abandoned aerodrom. 120 km / h and a roaring dvizhek I am personally very soothing. The truth is that it is necessary to sort out the system of supply of brake fluid and clutch, so it too (Moskal 408)
Next, I will introduce to you a little photo description. The story - the story, and it is better to see once than to hear 100 times, we are working, usually in groups, but there are force majeure, when the TA sits just one person. This leads to the fact that one person phone 3: urban, mobile, installers, your personal. It is for this reason is that it is very difficult to reach. Repent, we think is the way out of this situation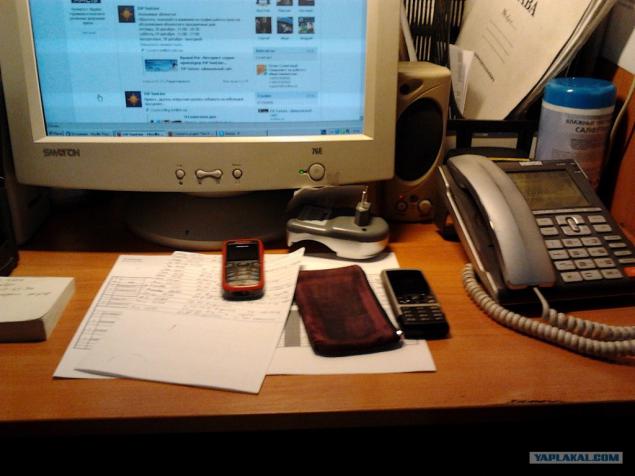 Since day shift work and so lacking, night checks route sheets. But there are tricks of the installers from which we druzhnenko rzhёm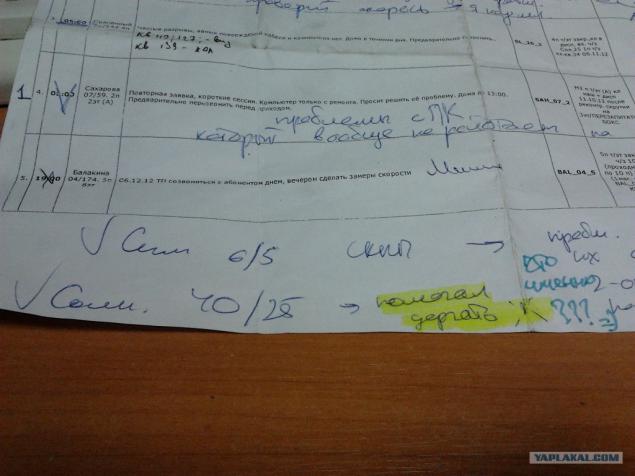 Or the "incident": "took the money and put in" - then we understand what we (took payment and put a cable subscriber to the port), but still smiling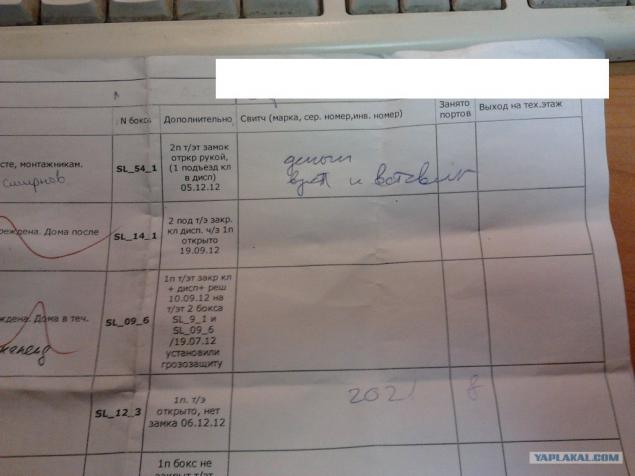 There is also our head: a man grown wise life. It teaches the mind to reason in a little. Here once said: "The more you write - the purer the ass" - respectively, in the notebooks we used to write is not highly desired garbage, but garbage then this helps to keep the premium. Normally, of course, I write this garbage, but this thing seems contagious
In the photo notebook personal - I currently write out some of the nuances that I can roll up and forget in view of their insignificance, but when a lot of them - they skatyvayustya in a decent ball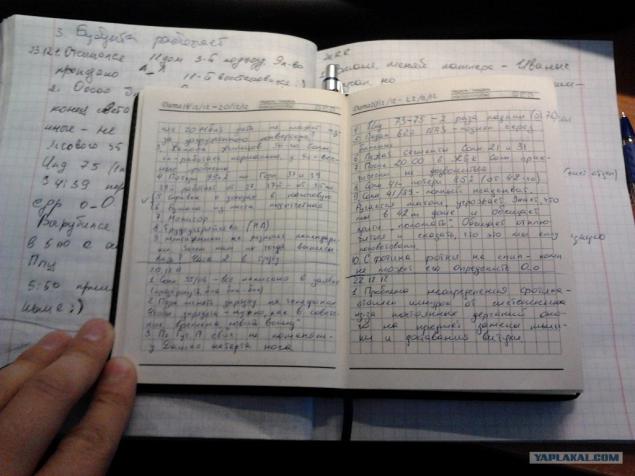 as without heat server
I was told that it was provtykal and a standard temperature of 19-20 degrees rose to 37 - a lot of rustling was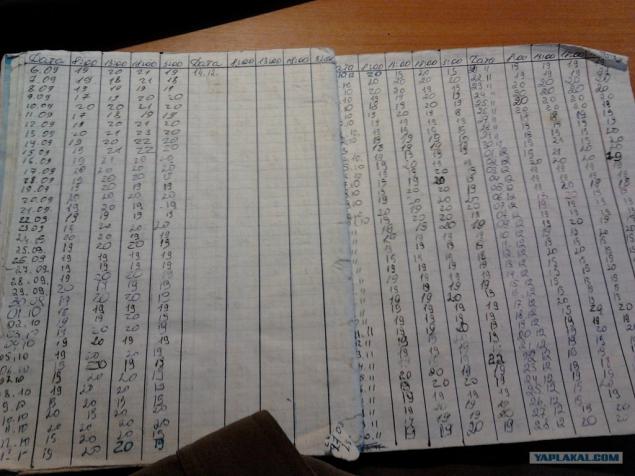 Source: