The US is preparing to repeat 9/11?
In the US, a large-scale terrorist attack is possible with the use of chemical, bacteriological or nuclear weapons
As you know, would not pay better than your life, especially if she is in danger. Therefore, if there is no particular danger, it is possible to create - as it can be done all we saw in 9/11. And it is likely that soon we can see something like this - and the scale may be much larger.
In order not to bother and reader unfounded assumptions, we present a set of facts that have been collected and made available to the American portal CityWatch known human rights activist and journalist from Los Angeles Lisa Zest (Lisa Cerda), a member of the Tarzana Property Owners Association, Vice President of Community Rights Foundation of LA.
Continued under the cut ...
Source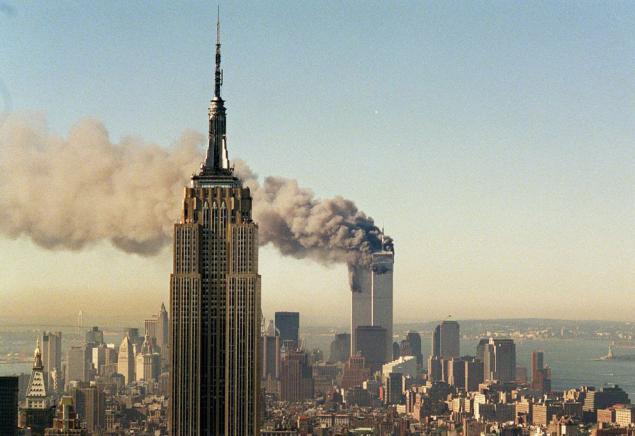 Elemental analysis of this data suggests that the US government is preparing for the fact that in the beginning of October in the country there is an emergency that will require mobilization of different services. And the threat may be subject to one of the states of the so-called "Third District," which includes the states of Washington, Delaware, Maryland, Pennsylvania, Virginia and West Virginia.
But most interesting is that the evidence of preparation for an emergency, wonderfully united by common terms. But judge for yourself:
Since late July divisions of UN peacekeeping forces carry out training, in which the samples are studied American weapons, American English, as well as training exercises for combat operations in large cities. Preparations should be completed by the end of September.
Center for Disease Control by 1 October ordered the supply of medicines in these states (mostly antibiotics) to $ 11 million.
By October 1, must be prepared vaccine against the new coronavirus - according to the decision of the recent emergency meeting of the World Health Organisation (such an emergency meeting before going only once).
From September 29 to begin simultaneous testing of GPS and communication satellites. Such tests are carried out regularly, but never the same, because it will lead to the loss of ability to control the movement of objects and situations.
By 28 September must be completed training courses for all employees of the Ministry of National Security skills of shooting a rifle AR-15 and a shotgun, as well as the use of bladed weapons.
By October 1, the Department of Homeland Security is to get 2800 vehicles with increased mine-protected.
By 30 September to be finalized by the National Guard for riot control and assist the public in emergencies and natural disasters. In addition, for units based on the east coast, exercises will be held within 10 days (starting September 26) in Virginia and Delaware, but they must be carried out in the Gulf of Mexico.
From September 25 to October 2, every day should be tested system of emergency reporting.
Federal Management Agency in emergency situations by October 1, to order in the "third area" dry rations and hot-water bottles in the amount of 14, 2 million (separately ordered 22 million packs of water). In addition to the same date, dry rations and hot water bottles for the sum of 13, 6 million dollars to be delivered to Austin.
300 school systems in September must give each student a "rescue kit" - supply of all the necessary in case of emergency for 3 days.
In the period from September 28 to November 5, all US military personnel who are on leave, forbidden to leave the country.
Teachings of 911 that should have already started, postponed until September 27 and will be held in the north-east coast.
What does all it can speak? That waiting for some very major disaster with very serious consequences. If you think about and remember the specifics of the security services, it can be assumed that preparing a large-scale diversion - most likely in the form of a terrorist attack using chemical or biological weapons. Given the current geopolitical situation, we can also assume that this diversion will be charged with the representatives of the Syrian government that frustrate peace initiatives of Russia on the settlement of the Syrian problem and give the reasons for the operation against Syria by the United States and its allies.
If we go a little further and add additional facts, it can be assumed that a terrorist act can be used for nuclear weapons. Recently, on the portal
www.storyleak.com
was posted information about the secret power of moving nuclear warheads to 5 kilotons with the US Air Force base "Dice" near Abilene, Texas. No one knows exactly which stocks are transported and how is the final destination. But attention is drawn to another fact - all of a sudden renewed interest in recent years the Pentagon and the CIA to have virtually written off the mortar firing tactical nuclear weapons M388 «Davy Crockett».
Initially, it was assumed that these nuclear warheads could be used to strike with Israel (without any apparent involvement of the US) on alleged warehouses of chemical weapons (including underground), as well as bunkers, command centers and shelters Syrian government, as resulting from nuclear Explosion heat can neutralize chemical weapons warheads and low power to avoid the spread of radiation and great sacrifice. However, recent developments in the US cause a vague anxiety as to whether it can be applied to nuclear weapons in the United States under the guise of foreign terrorists attack?
It is hoped that in the near future, the world still will not fear of new terrorist attacks in the US and will not see a new war. But if it does not happen in the next couple of months, it does not mean that this does not happen - such a large-scale training, which we see now, do not just carried out. However, given the expected October 16 statement the US Federal Reserve about the new measures in the framework of budget savings can hypothetically assume that the US is preparing for civil strife and war with its people - in fact the police department for some reason, are equipped with tanks and unmanned aerial vehicles. And for some reason it has long bought a huge amount of plastic coffins.
 - What - this is not the first "call" some disturbing moments had slipped in the media.
It is already interested in the Americans, what happens?
Also would like to know what's going on and know that the US administration if such preparations? What - what are waiting for from September 28 to November 5 ...
How long is it: (ugh - ugh)
Source: