Good day, never did mnogofotochnyh posts on the PL's, so that excuse if that is not so. To be honest, he would, and did not make friends ... podturnivayut: "Come on, show me da show." Photos of different years. made it to the pliers, then scriber ... something I have shown in comments, but they are so I will put in the same general position.
Some crafts were only in the photo, and about half of all there were only memories ... because gave away out of kindness and even pictures do not have time to do
Of the instruments were only semi-automatic welding, presses, Bulgarian, hammer and tape measure ... as well as being the sea iron ...
Well, there you go ... after the break lamp "bat»
First Motsyk ... was later presented to a colleague ...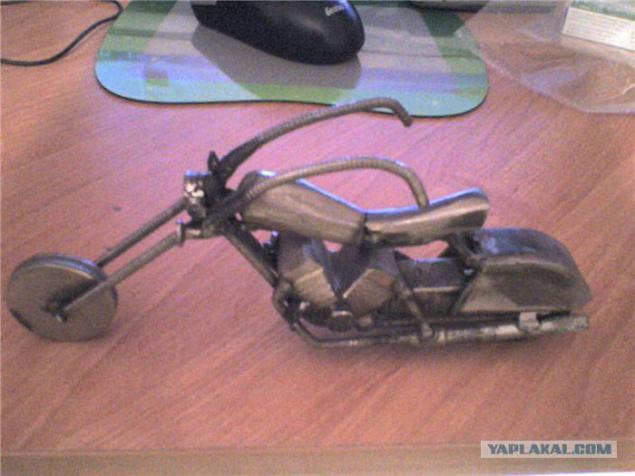 The second bike for electroplating zinc plated and presented to someone on DR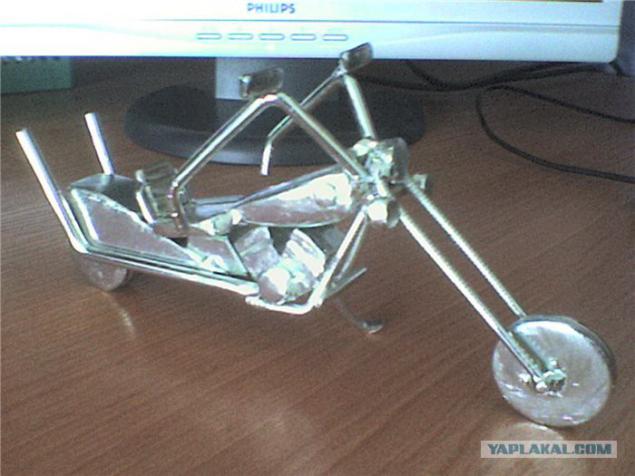 Tricycle ... I left myself ... but more than a year he was lying half-forgotten, covered with a light rzhavchinkoy in the trash on the balcony ...
And until it reached the hands of zinc plated ... at home ... now is on the shelf and pleases the eye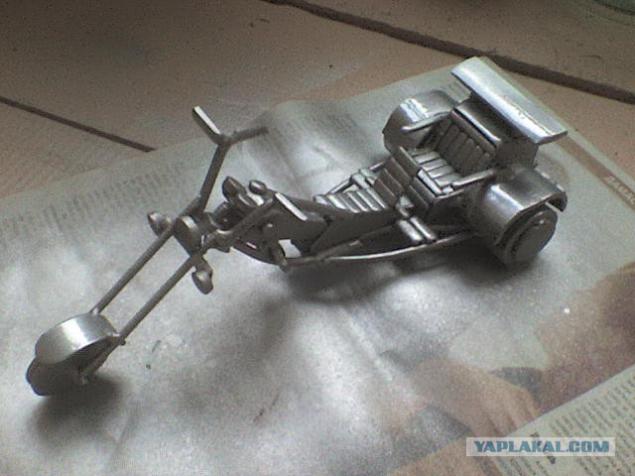 Heavy machinery ...
Hammer ... was presented to the DR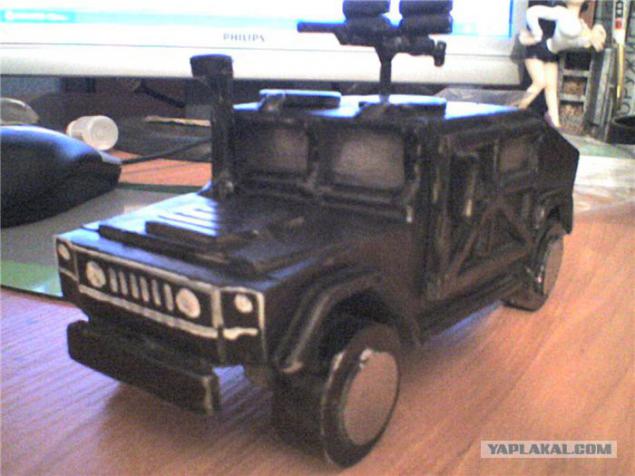 Initially, U-87 had two ... one was presented to the DR, and the second and still lives with me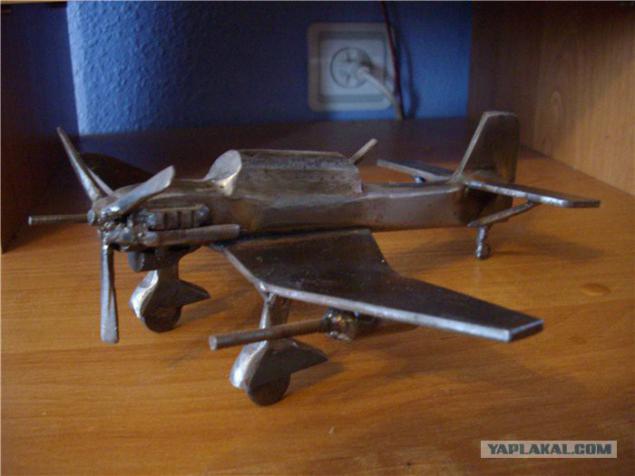 ​​
Tanks also had two ... the very first was "Tiger" ... with him had a terrible story ...
begged his colleagues, for what-would push the drawings on the desktop because ... he worked next to the gate, the paper, something they had not flown all the time to press different dirty iron things ... tank regularly pressed the paper a couple of days ... the third some bastard his sleep ... actually stole ... looking for it for a long time, but did not found ...
My BT-7 is always on duty ... the way his weight 4 kg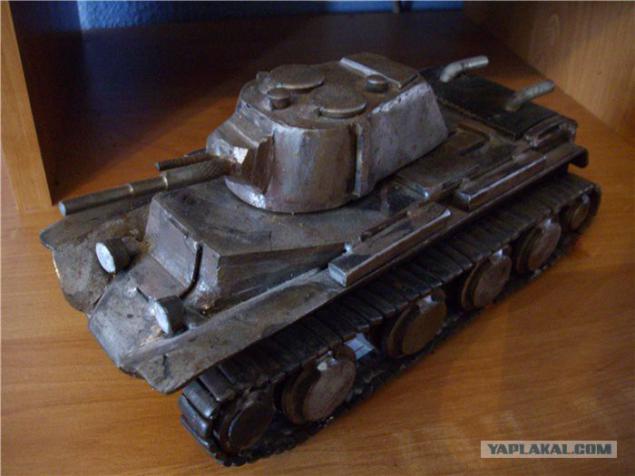 Mouse ... made by 2008 ...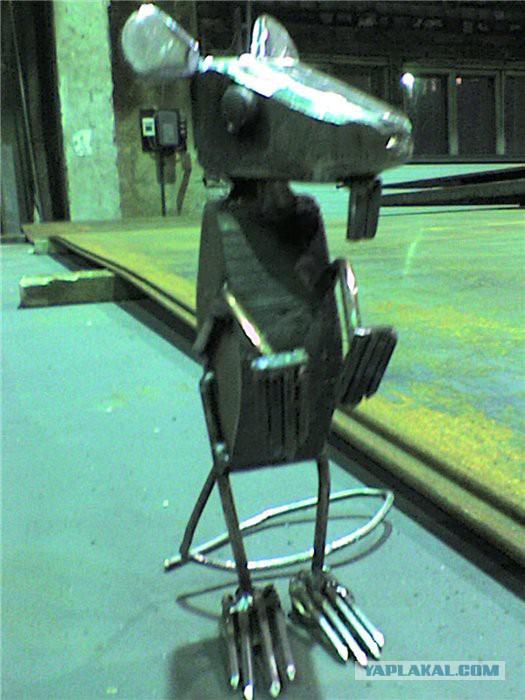 And the tree of nails and a file ... stayed at the old job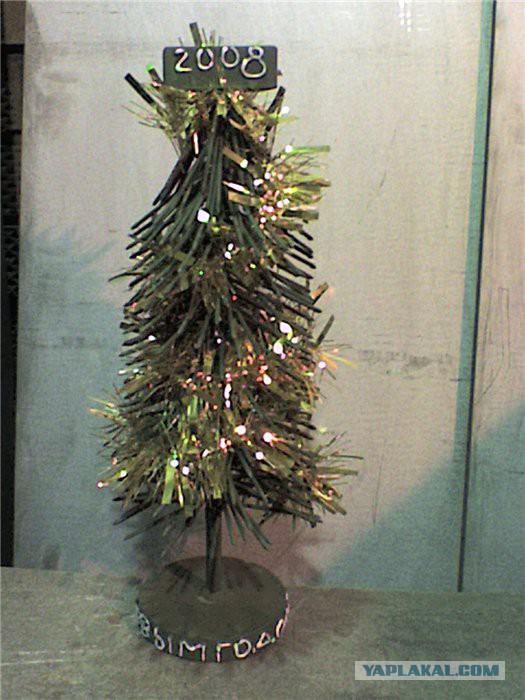 ... At work, idleness inspiration came, and I decided nevertheless to recreate one of the sunk into oblivion Songs ... get even better than the original ...
Nor any complexity and mudrёnosti ... everything ... just as a penny ... Materials: Boltik, Gadget and the coil portion of the welding wire ...
First there was the idea to make more and electroplating, but decided it was too ... "tan" in a couple of cute
...
A couple of cops on the topic ... Finder with the unit was later put in the gift shop, where he was sold ...
Lucky dig up two pennies lives at my house ... by the way, good use kakaliku
Sorry, can not tell you what a shock was slack-jawed at the man in the street, when I was in front of them 197-year-old coin defiantly, tightly screwed into the hands of a small digger ...
Sprinkle with sea councils, something I could do with it sensible ... and the funniest was .... "sell-collector would be better ... 10 dollars is worth it for sure» ...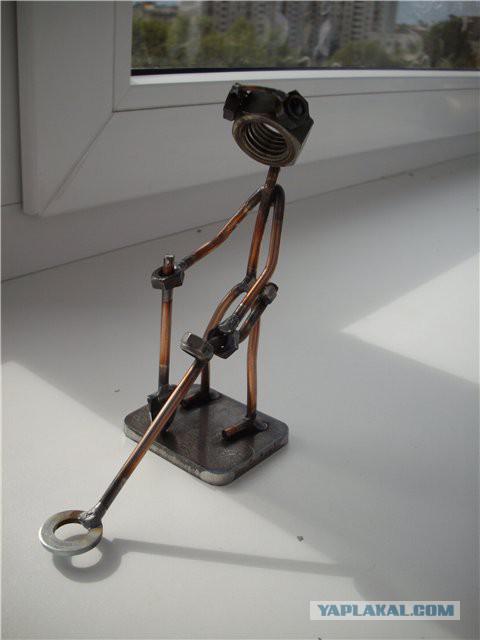 ...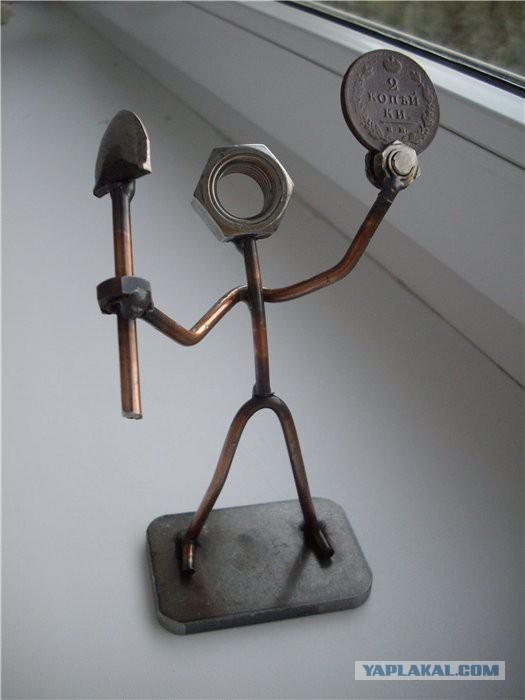 ... From the initial concept ... there is only one new figure will be the guy ... boy-girl, but without vulgarity was originally plot goodbye, which changes every day depending on my mood ... then happy, then thought proschalnoe..2 weeks around the summer, but no could not grasp ... and here I sit at a dinner in a creative crisis and cooler in the hands of the workpiece for men ... here comes my boss and said ... Well, that "Vera Mukhina" ... again someone lepish? And I like scalded ... "Worker and Collective Farm Girl" here's what you need ... estesstvenno sculpture made already in my Interpretation ...
In general sense, which I put into it is: Friday! In the first place ... vacation work remained behind, and a glass bubble "ready for battle" ... BUT! hammer and sickle are closed behind, and therefore at any time our man ready to go ...
Posted in [mergetime] 1387911312 [/ mergetime]
... Lay behind after that is not enclosed in the framework ...
The authorities ordered Tsvetik-semitsvetik (desires have to think with grinder in hand) ...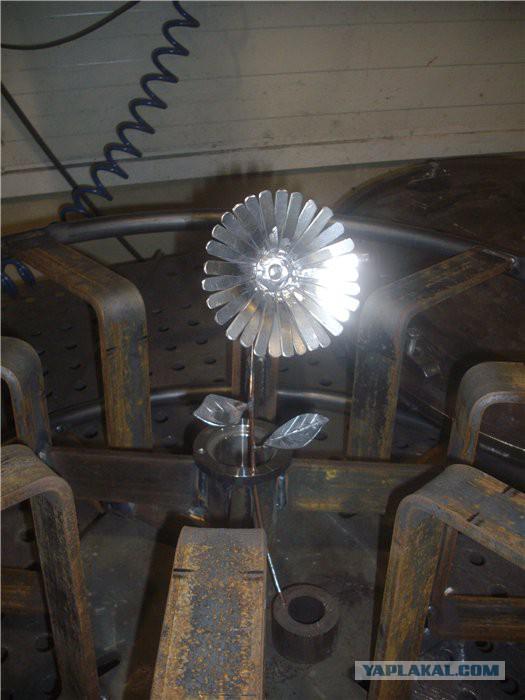 This lad itself out of the hands popped up ... even nebilo ideas ... my men all appear spontaneously ... more accurate to say that they are all self-portraits is my feelings and emotions ... "the little man, giving his big heart," I devoted most wonderful girl the world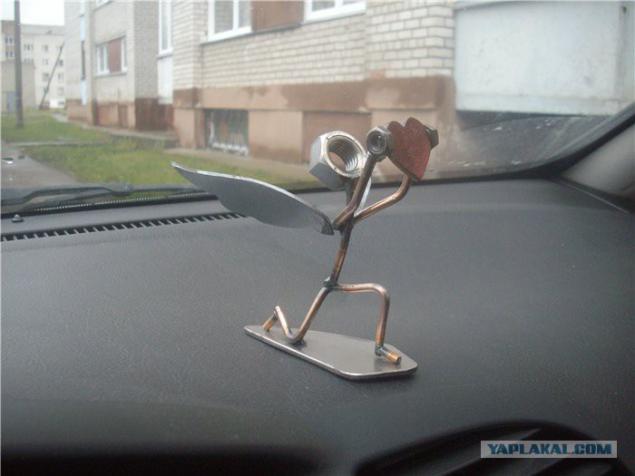 Not so long ago, on the day of the pay I was disappointed in the amount of her ... and as the lightning struck in the head first thought ... F ... PA so even with the ears and not pay !!! To be honest, it was blank for a metal roses ... but in connection with the corresponding mood of flower turned F ... PA ears ... by the way, I forgot her from behind sfotkat, but generally it is not required ... behind her the same thing on the photo it a bubble in my locker at the background boxes with sugar
Tank made from memory 10-20 min.v day ... guys with electroplating special thank you ... It's not a specific model, but as conceived and "Fantasia on the T-34" ... a mixture of 76th and 85th ... more exact models of tower 76th the rest of the 85-scale model ... not sure but ...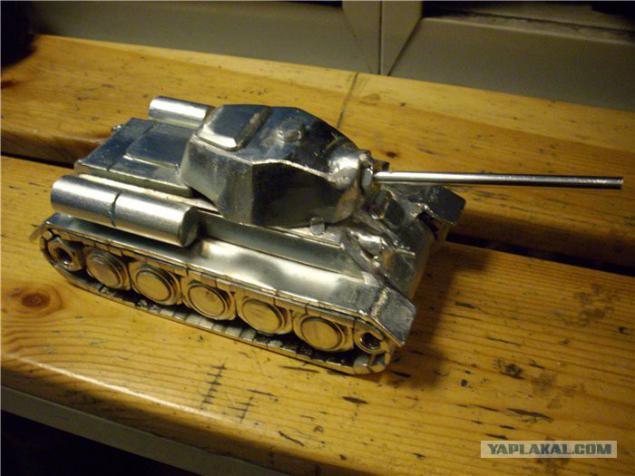 Biker gave superior.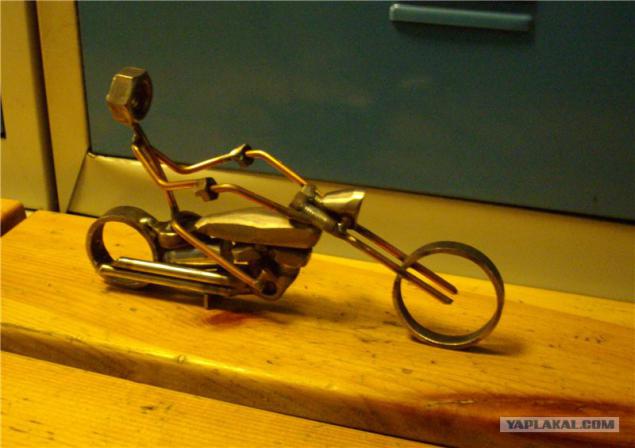 Somehow found myself thinking ... on my desk are two Soviet tanks and aircraft ... ... Ju-87 ... German ... disorder ... we must improve the situation ...
No sooner said than done ... and now, without haste, without too much fuss, interspersed with the main job during the week ... from the welder out ... or rather flew (to fulfill his wish only in flight) ... Our legendary Il-2 "Flying Tank »...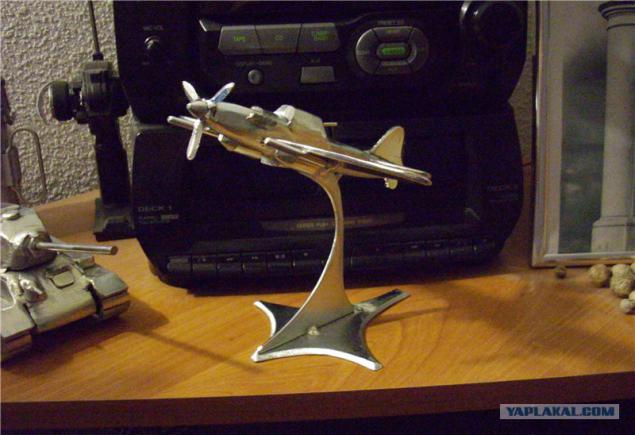 "Stove" for warming mug of hot wine from flat round candles ... to be honest, the idea took from the site "Cooking gift" ... I just wanted to try out or not ... ...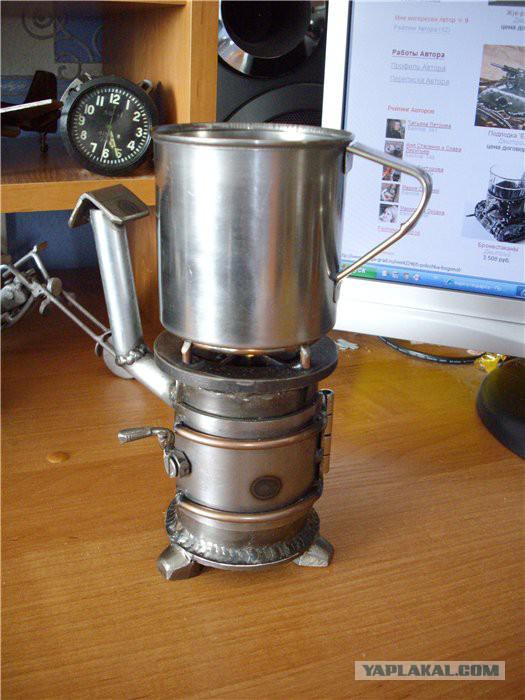 Took the unusual candle ... it is unusual in that the basis of his old horseshoe ... actually many years ago caught my shovel two old homemade horseshoe ... yes and hung-rusting without the use of a garage on a nail ...
And one day I took them to work ... did podstavochku, glass sink for candles ... did not they just patch emphasize non-store object guys its me blast the rust colored ... ... and we've got here is a simple candlestick with a history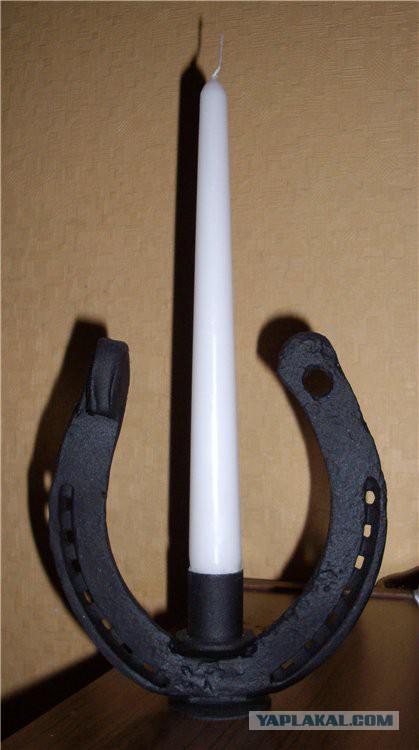 The second turned evropodkova ... horseshoe covered with white chrome ... later donated girl friend ... who after some time there was a BMW X-3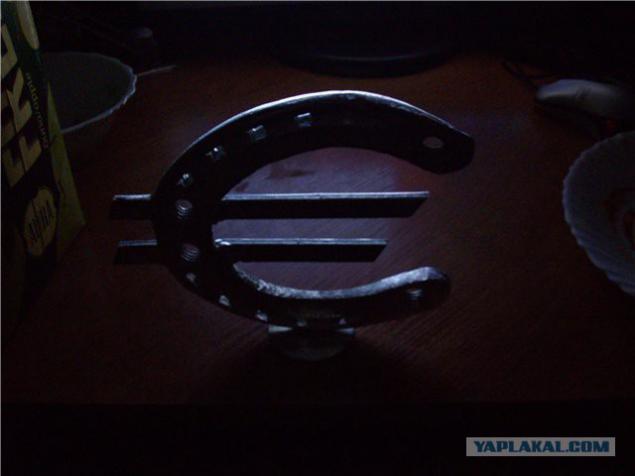 I thought of a self-portrait zabatsat ... so to speak ..., to build a man-made monument in his lifetime ... the idea took work guys from the farm "Cooking gift" Welder
varkapodarka.livejournal .com / 99593.html
rallied, lead time ... and ... figure called "Lover welder" ... I sit astride the "semi-automatic" in the right hand torch, and the left ... well, you get ... Vesna, Lyaboff and so on ...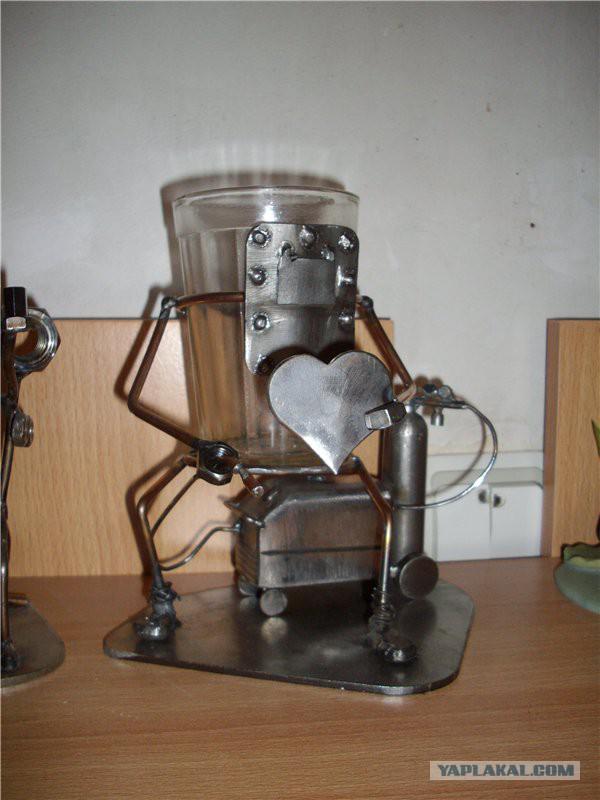 Tanks, motorcycles and airplanes did, but decided to try something new ... all of the above, this was the most complex project ... at the exact resemblance to the original was not originally raised his hand ... it's not even a model ... more "otnefigdelathudozhestvo" on the topic of MI-8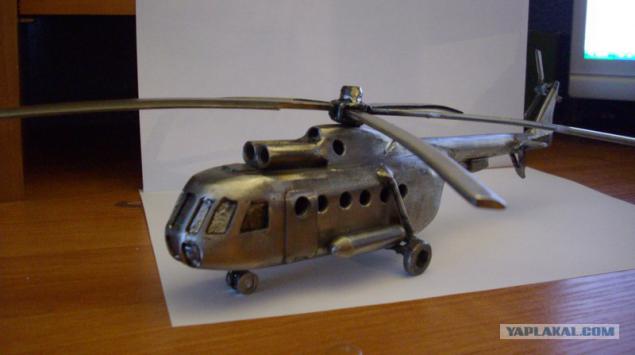 What would not produce those same put here ... also like a piece of iron ... I found the cottage at Tiffany's "Die Fledermaus" ... dirty, zakopchёnuyu, sometimes rusty ... and told his wife, "to make her some damn thread and put the house on shelf ", and received a categorical refusal such as" Do you have a garage, there and put it govnische ... "For everything took three days at a pace" the meantime, a beer ... "cleaned out, remove the paint and some elements construction of the wick, put elektropatron cord with switch, picked up a light bulb of a suitable size and shape ... covered with silver ...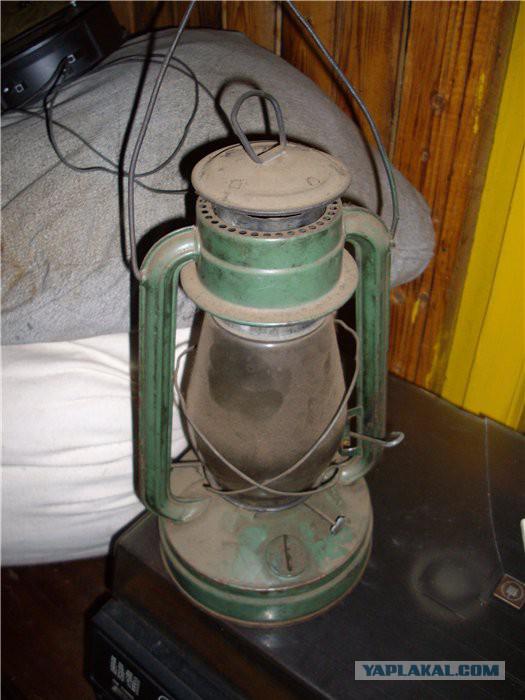 And here is the result ... my wife did not turn language, something to say anything against it.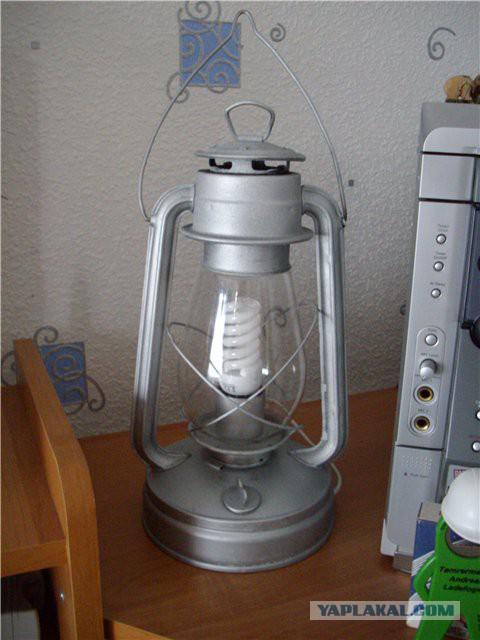 The lamp was very functional ... when the evening is not needed chandelier in a "mouse" and the room is filled with soft intimate light ... Well, like all ... LOMAYTEEEE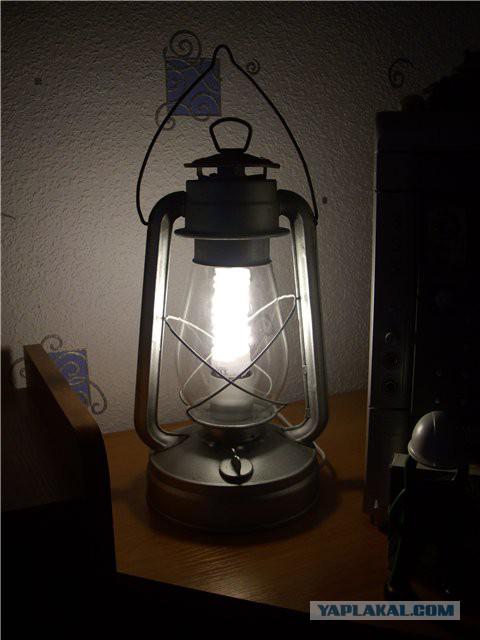 Source: