From the author:
I must say I did not pros. You could say that I'm Maker, but the kettle is very stubborn)
Recently began to notice that the speed of the Internet is constantly falling (100 Mb / s), call your service provider, received assurances that they had no problems.
Climb the forums, I realized that I had someone steals Internet by connecting to Wafa.
Went to the router, I saw that on the router hangs two connections one my phone, and the second one hz. In addition to phone and cable companies in the house nothing else.
So I knew I had found a brazen thief. The first step is to change the password, see "xs who" disappeared, and then he started to connect and disappear within seconds and I realized that the thief in a panic from a trip khaljavnogo Internet began hastily to select a new password, I sat and laughed maliciously, look how he insolent uporstovom appears and disappears.
In the end, after 40 minutes I got bored and I decided to tell him differently, changed the name of my router with ZYXEL on «HUI TEBE A NE MOY INTERNET» thought, so can understand.
Words had no effect on him and he tried to join all perseverance.
Again hour climb on the forums know that you can lock it to the MAC address that gladly did. And enjoying from its & quot; coolness & quot; with a sense of accomplishment went to sleep.
A moment later I saw the thief of my internet right in your bedroom, it was not off the TV, which was a plate is not connected to the network. Then I realized that the whole evening killed at war with his own self-TV, which as it turned out also able to connect to the network. Who and when it hooked up, remains a question. Kettle campaign - a vocation)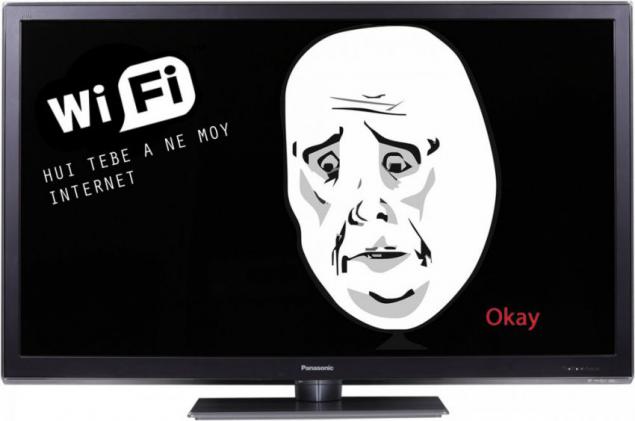 Source: