Did you know that on 1 October 1967 in the Soviet Union began a regular color TV broadcasting? In virtually every Soviet family TVs are one of the main decorations of the festive table. I suggest you remember the movies 60-70-80-ies and learn what imported televisions watched the Soviet people.
Do you remember the moment when for the first time looked at the TV?
The film "Practical Joke", directed by Vladimir Menshov 1976. In the party scene, where going to the golden youth class, attention is drawn to unusual telly. We are certainly not made. Clearly, it imported. Papa landlady certainly often dangle in trips abroad, why not bring back a prestigious bagatelle savings on travel.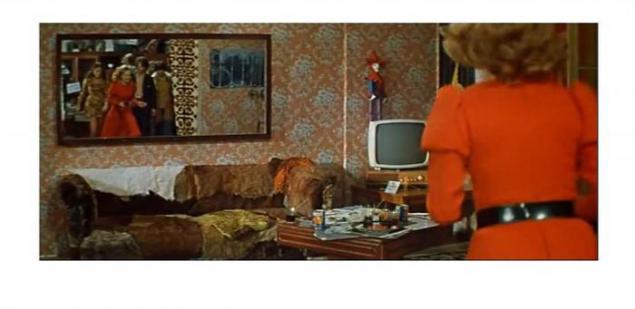 Scene from the party "Rally»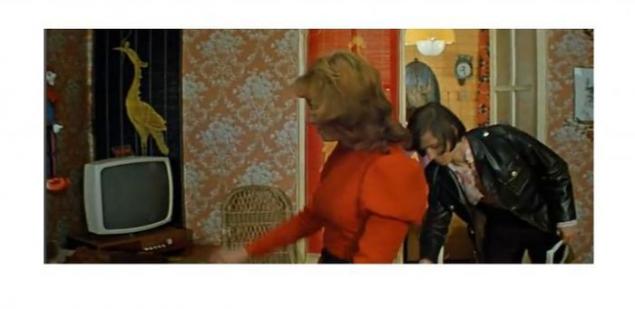 Then he successfully migrated to the movie "Shot in the back." Pretty decent detective in 1979. There is a foreign TV set in the apartment Oleg Perov, played, Vadim. His character is earning a lot of money, it will take place in the underground arteli.Byvshy athlete pays for a beautiful life pangs of conscience because Soviet man supposed to live on one salary, and on the other NO-W-W-Wl !!! But nothing to do, to live on one salary he can not.
Here is his apartment where he lives with a charming allegedly unsuspecting about the affairs of her husband, thoughtless little wife (Larisa Udovichenko), little son and father-in-dark, mostly underground porter.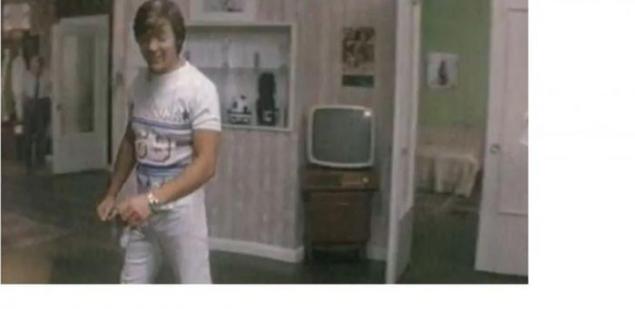 And here he is, this TV. This "Vega" made in Germany. TV unusual and unfamiliar design.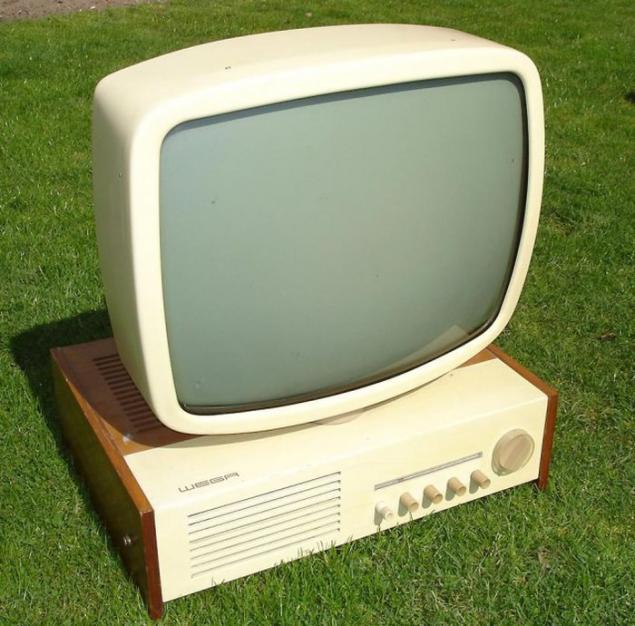 Not from this whether it & quot; Opera & quot ;, as the cult US television late 50s PHILCO PREDICTA. Spectacular TV set trendy, truly cosmic dizayna.Eschё would be the dawn of the space age, the first flights into space could not affect the appearance of all kinds of radio, television and other equipment. Space style has influenced the design of everything from cars to pylesosov.V the time release PHILCO PREDICTA whole event was in teledostizheniy.Uhod from the traditional square or rectangular - the first thing that catches your glaza.A as the TV was shortened tube kinescope, which significantly reduces its volume. The upper part of some models, as seen in a couple of pictures, was removable, it was attached to the bottom via the cable and it can be positioned anywhere at a distance of 25 steps, ie the length of the cable.
In general, knowledgeable in this area people will quickly realize what was happening, and mossy humanities, like me, can only drool unselfishly, enjoy and admire the flight of design and engineering.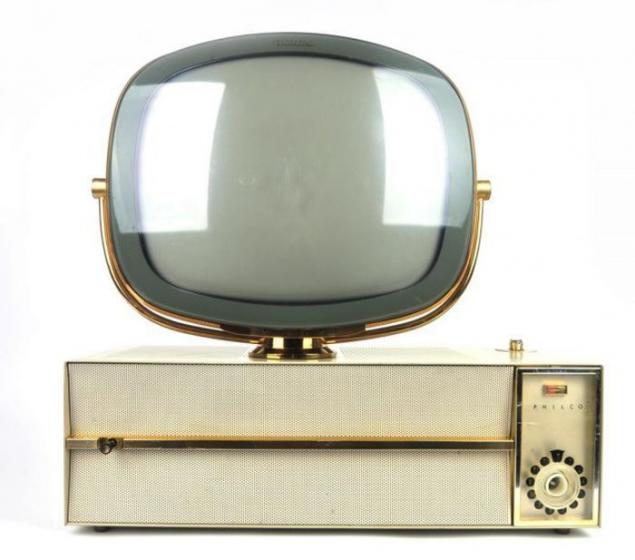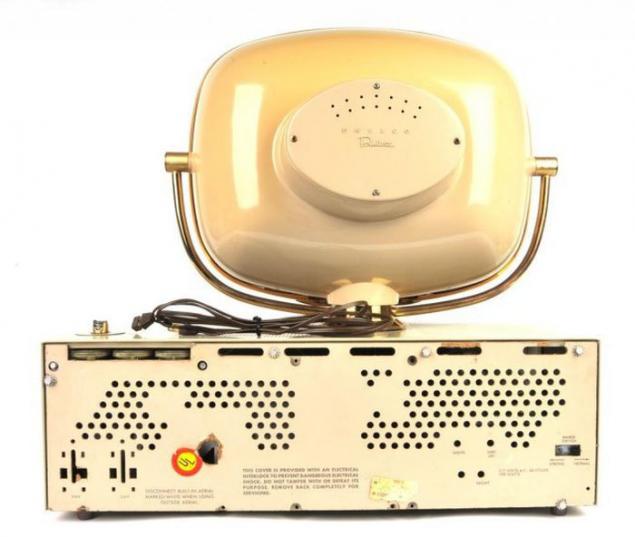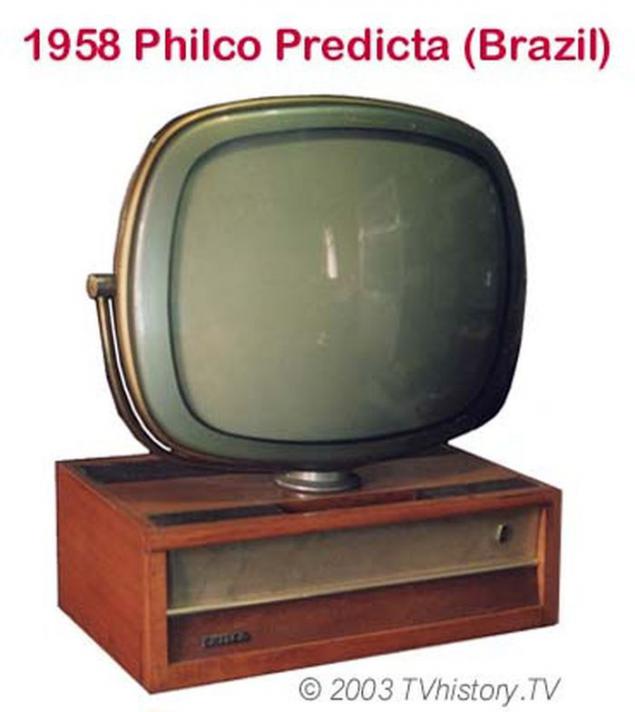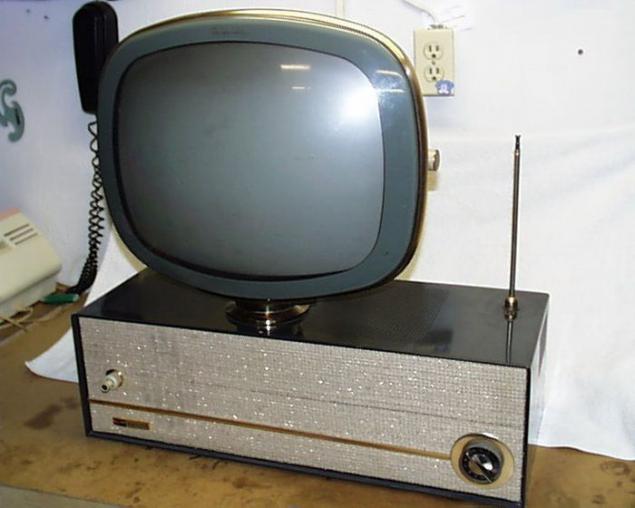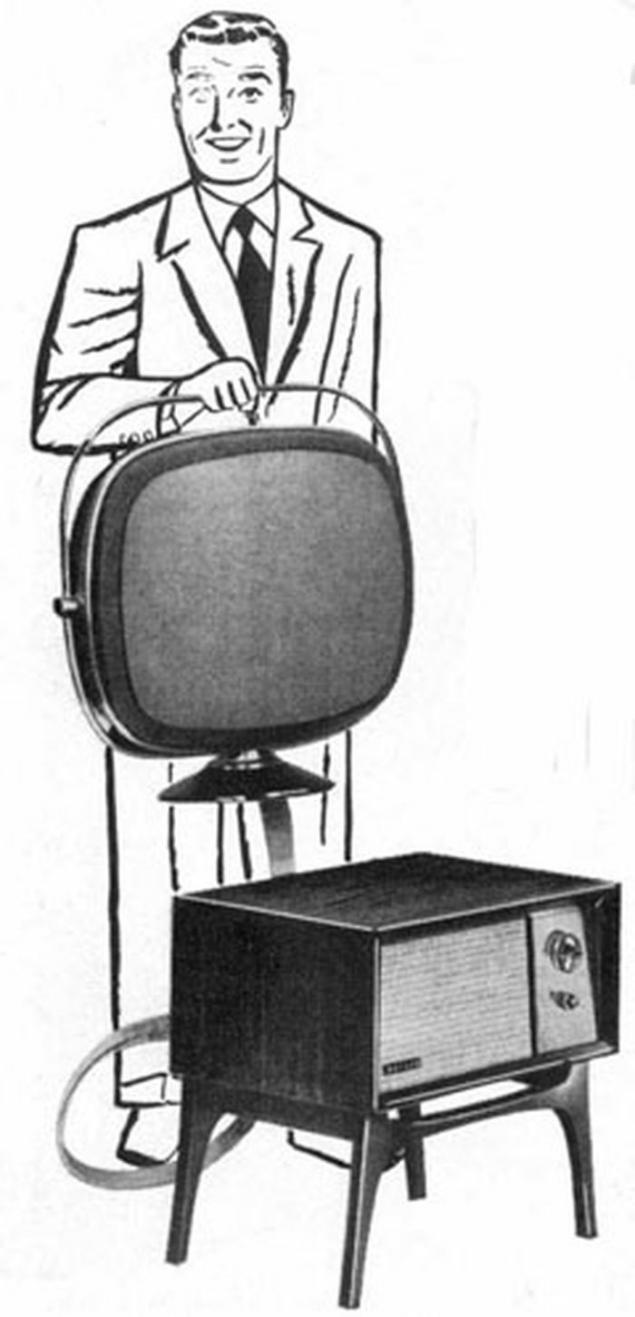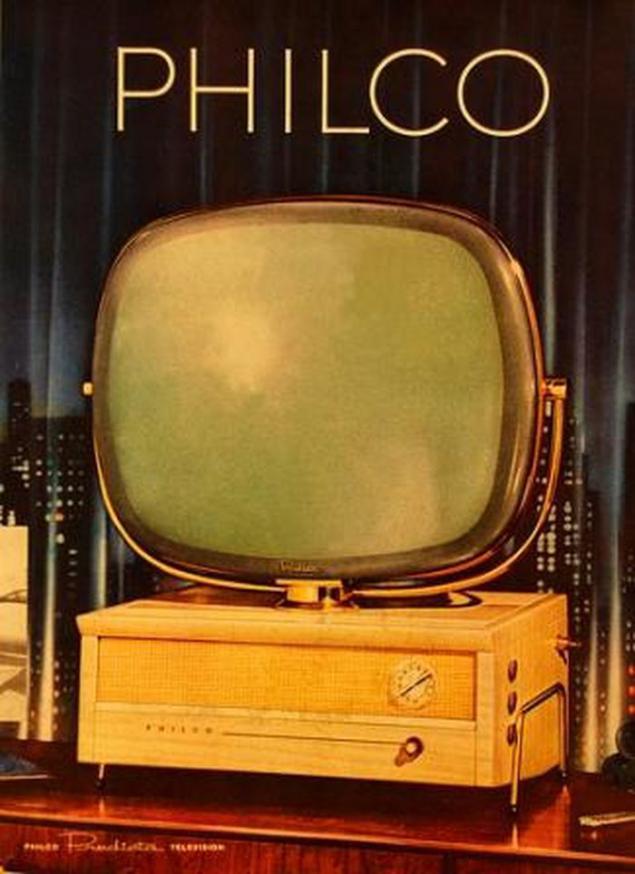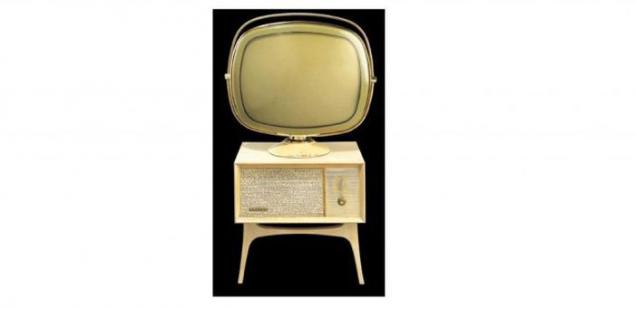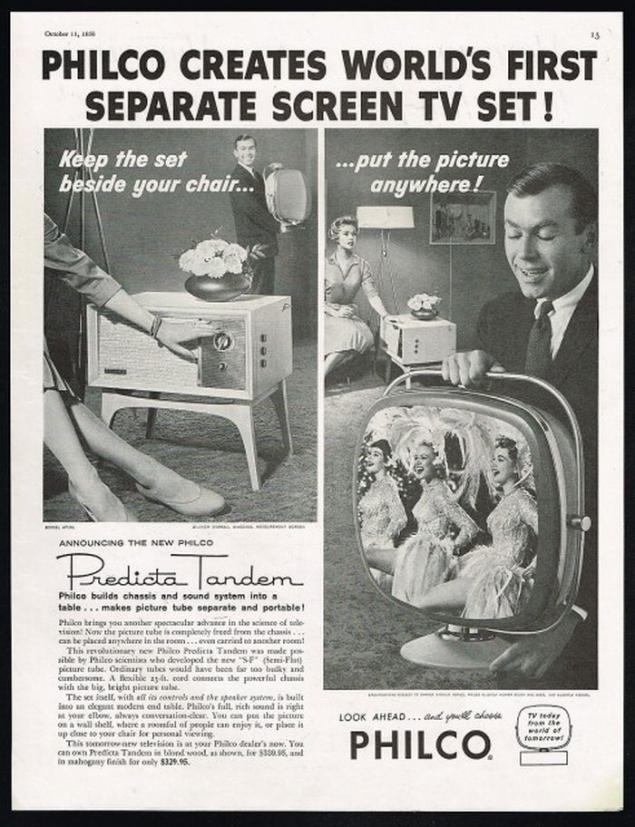 Sometimes it is ironically called "Cyclops" and "gas station" .K Unfortunately century these delightful devices was not long, for a spectacular appearance wing big problems, in particular the high price at a fairly mediocre image, and that the PHILCO PREDICTA were only black and white and while becoming more and more popular color TVs. PREDICTA demand has fallen dramatically. And in 60-62 years it was released last "Cyclops" .Some of the remaining sets were sold in bulk for hotel chains .. And today, these unparalleled TVs become collectible. Still, by this beauty can get crazy any esthete)))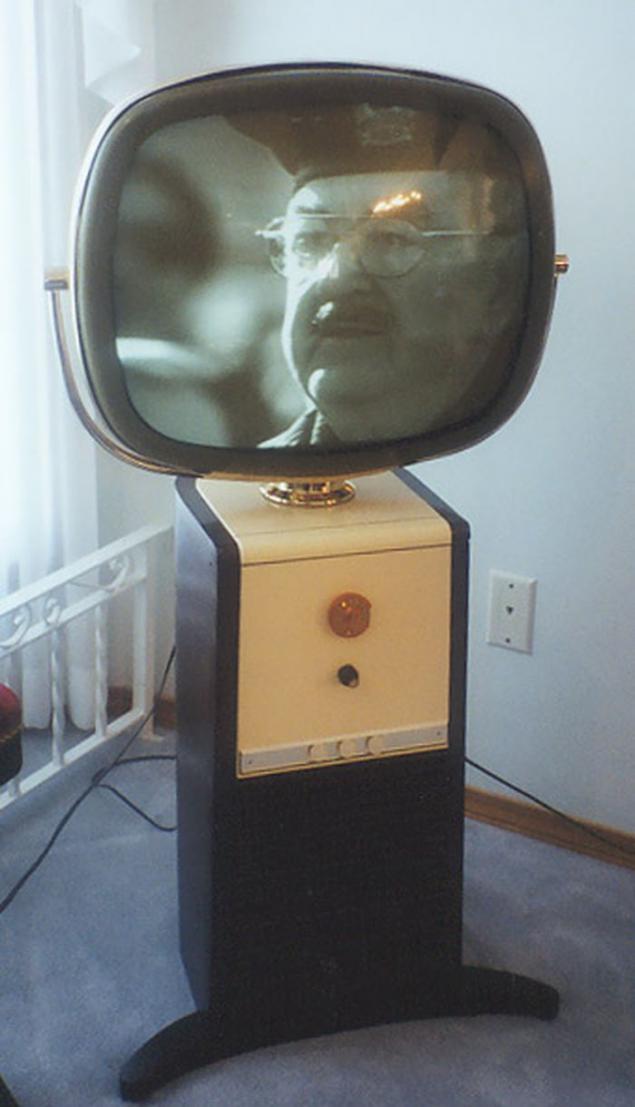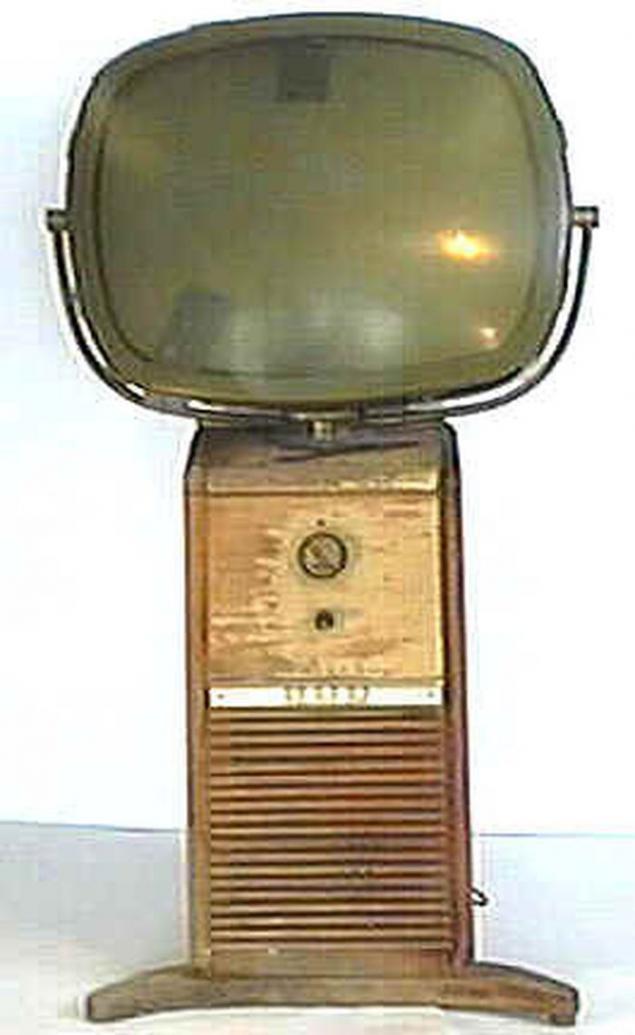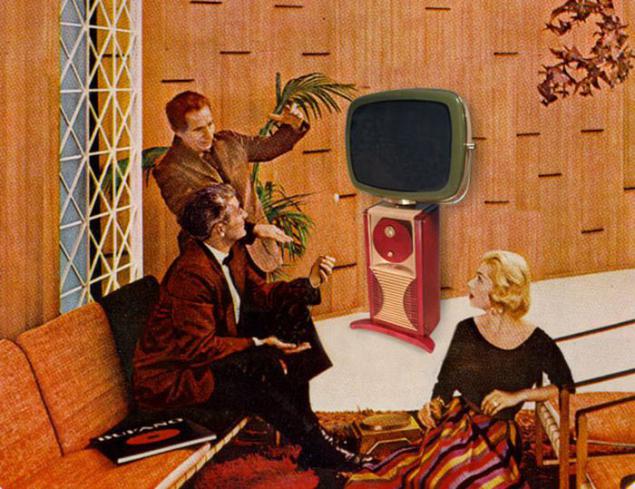 Not spared futuristic influence with the French and Italians. Very funny they turned the telly.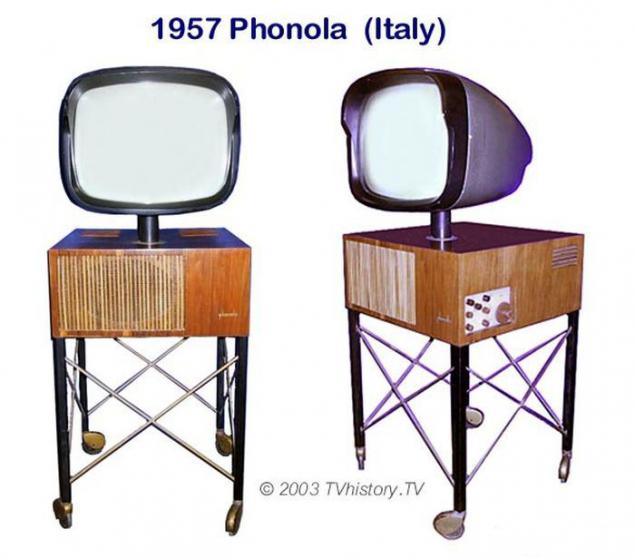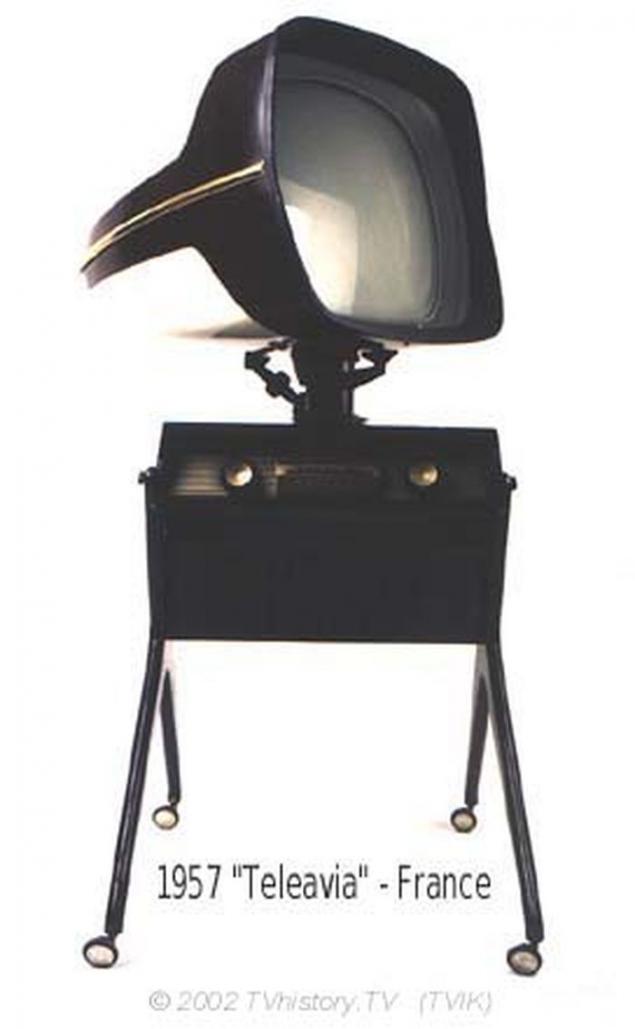 And the British have contributed to space stil.Forma TV is nothing but a helmet like an astronaut.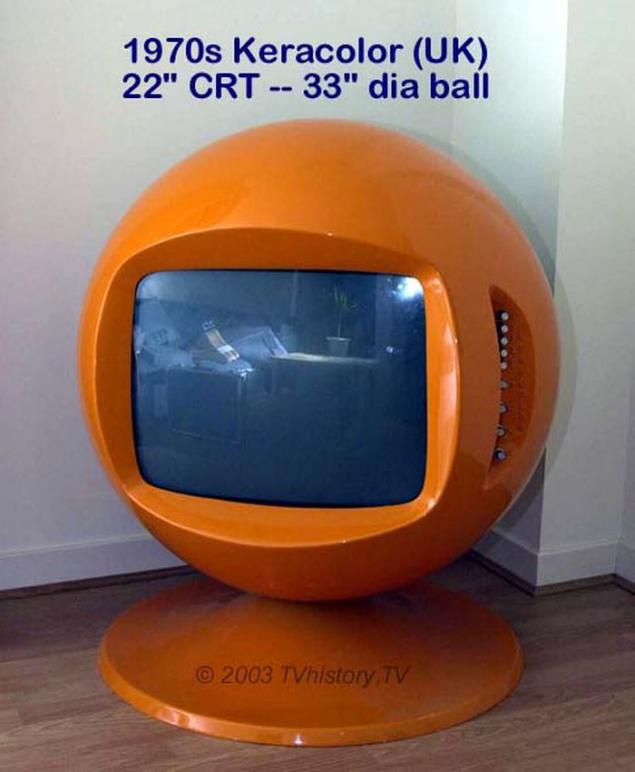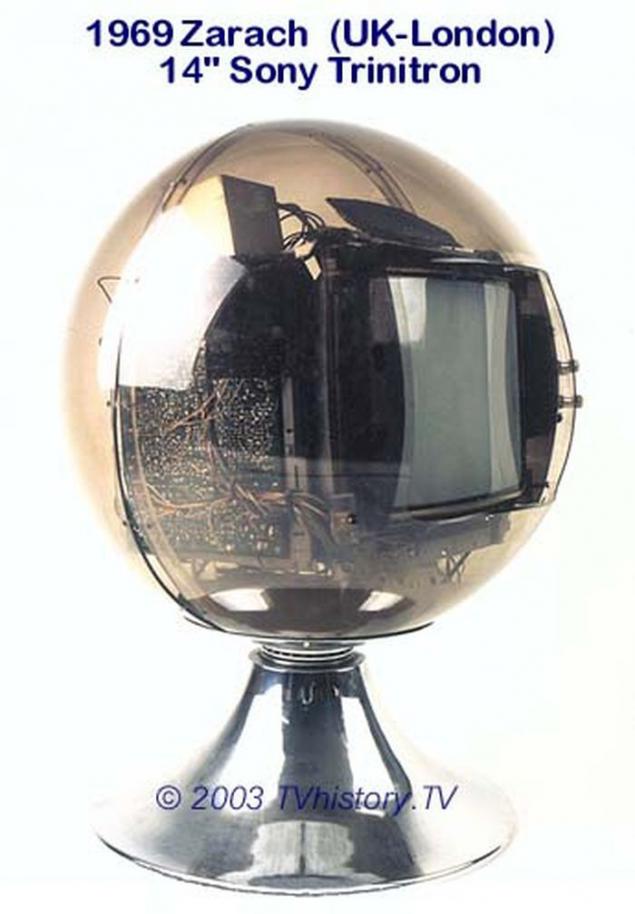 Go ahead, and once again we see that a household item, like a foreign TV vstrechatsya in Soviet films only in the apartments of various speculators, swindlers and irresponsible citizens from the petty-bourgeois tendencies, possessed by greed. Here, judge for yourself.
Film director Alexander Gray, "You, me, I -You" .Komediya 1976. Once Alexander Gray, together with Georgy Danelia removed the famous "Gentlemen of Fortune", and this is pretty average movie, which carries a mile away, "wick". Vengeance branded such birthmarks of capitalism as practicalism, careerism, the pursuit of beautiful, light zhizni.V plot revolves around twin brothers. (Leonid Kuravlev). A water-bailiff, selflessly fighting against poaching, other metropolitan attendant.
Little hard to believe that the man, the head of brooms and gangs can enjoy such a wide honorably, wildly popular and have such material and household income. Apparently Soviet citizens siting fairly narrow range of pleasures by simply fanatel steam rooms, massage and a broom, and the art of which the hero had Kuravlev. Customers generously thank skilled attendant, the entire deficit had dressed to the nines, riding on a personal "Lada" with Otpad lady (Svetlichnaya), a separate apartment, crowded with trendy junk, and a TV, of course, imported. It is unclear, however, what. Maybe "Grundig" may "Philips", but not ours, that's for sure.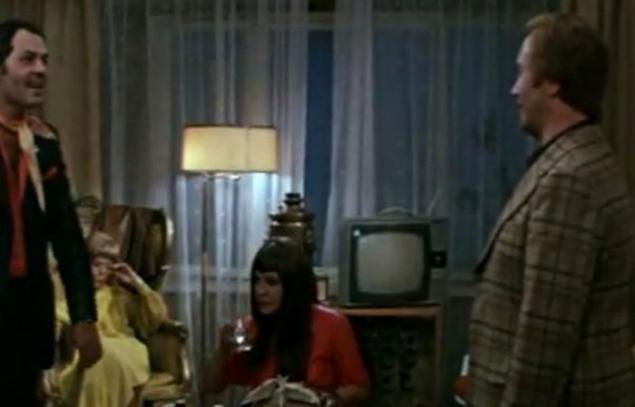 He could easily be here this telly
Grundig Super Color 1632. Model 1975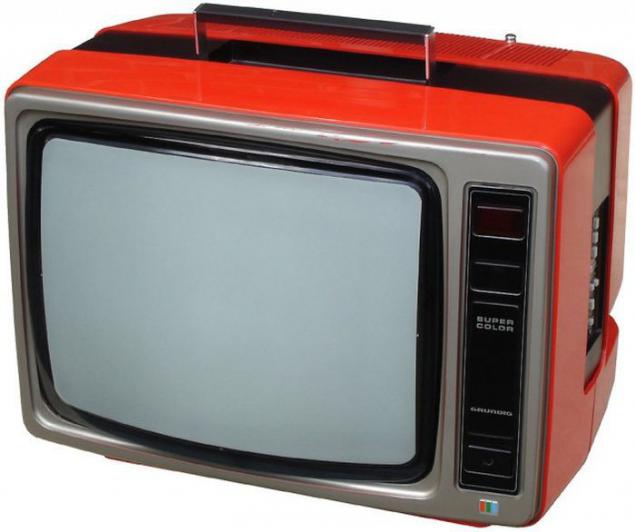 Or such
National TC-1974
48EU.model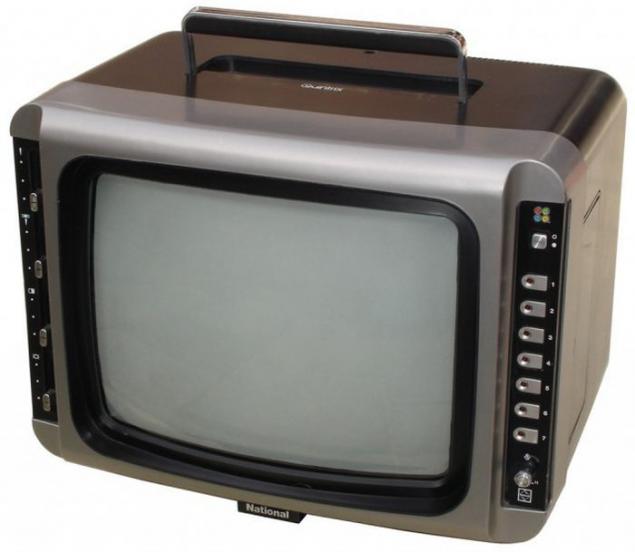 Or maybe this?
Hitachi CRP-year 145.model1974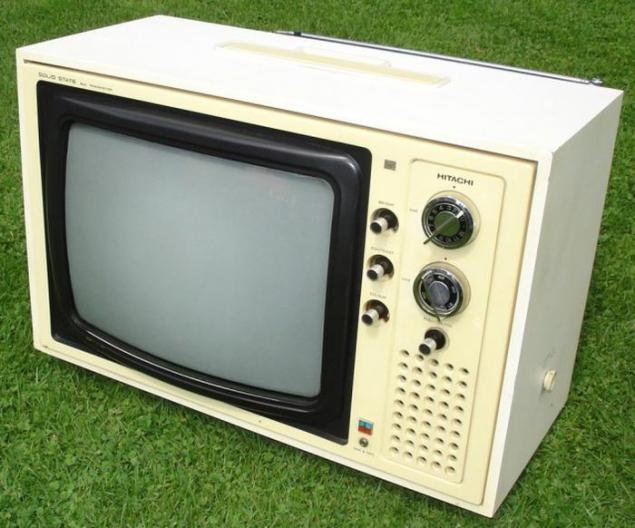 And as you behold this telly?
Shibaden TU-12EL model 1972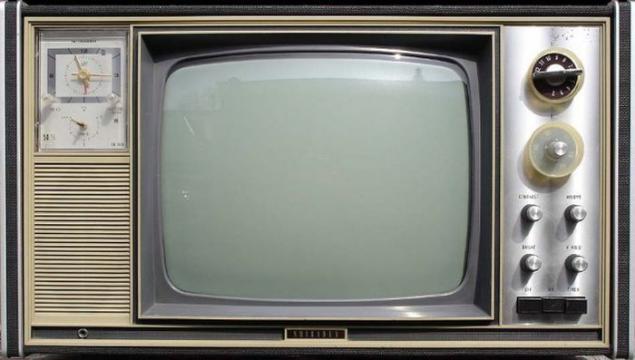 Or should such orange, just do not take the eye. 1970
Indesit T12SI Matr 761.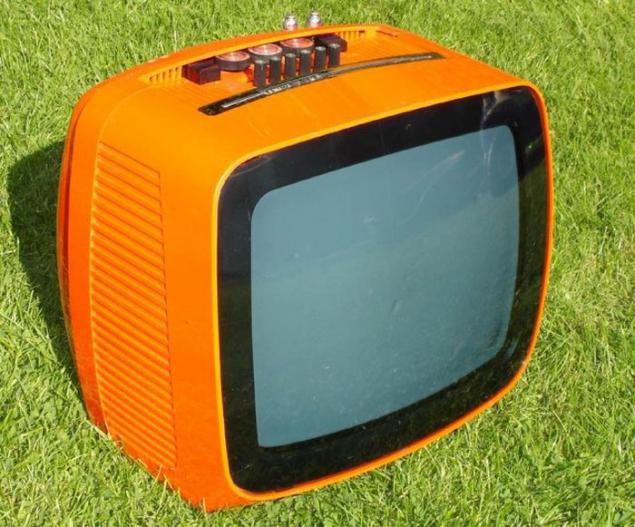 But this miracle of technology, our attendant definitely not be pulled. And to what Soviet man a TV with 4 screens, programs, something only two.
Nordmende Spectra Color Studio. Model year 1967-68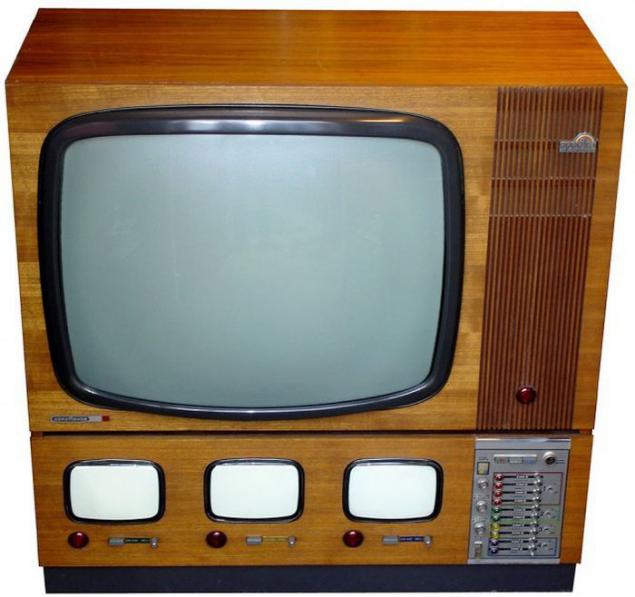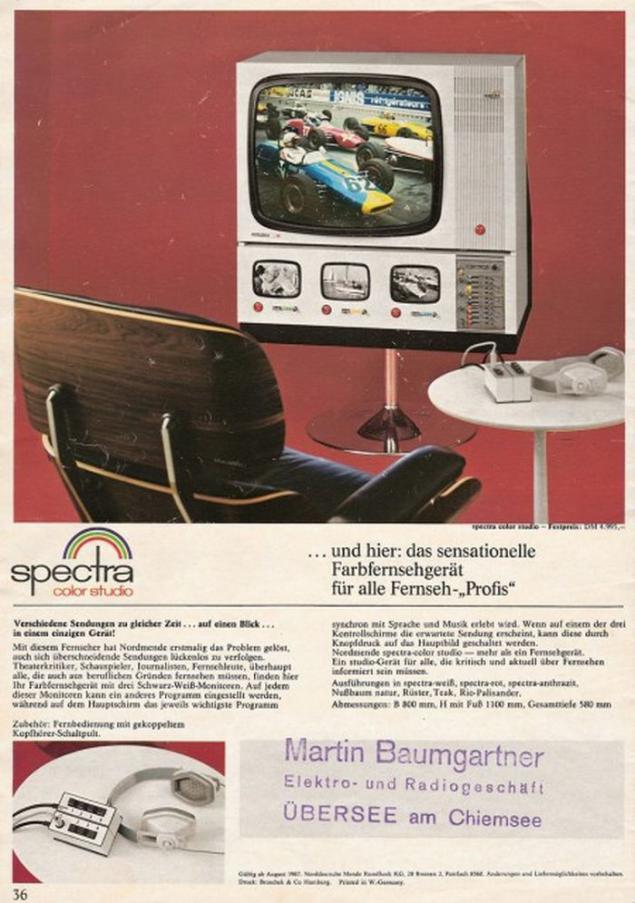 And here is another movie in 1980 "Foam". Satirical comedy based on the play S. Mihalkova.Zabavnoe movies, where he again denounced ulcers, sometimes acting on a bright face of Soviet socialist society. "Intelligence loan" - another name filma.Podumat just write the thesis for the money to order!
.and Beautiful again, by Soviet standards, life, city festivals, banquets, restaurants, fashion shows, where Snuffles sings funny and Pugachev in motley red robe, and terribly popular at the time Boyarsky ... Lady are concerned only fashionable belongings and search for profitable groom desirable foreigner.
TV in the room at one of them, too, is clearly not the Soviet and rather strange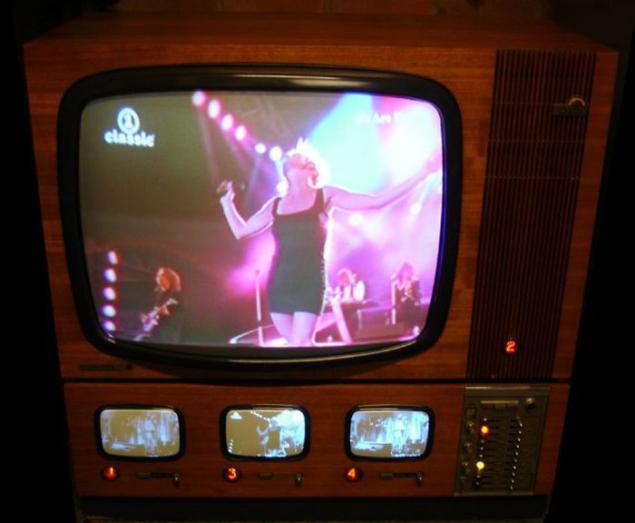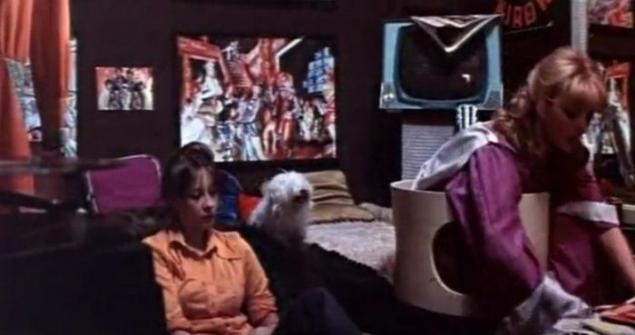 And damned burzhuinov in the decadent West in those days met here are wonderful devices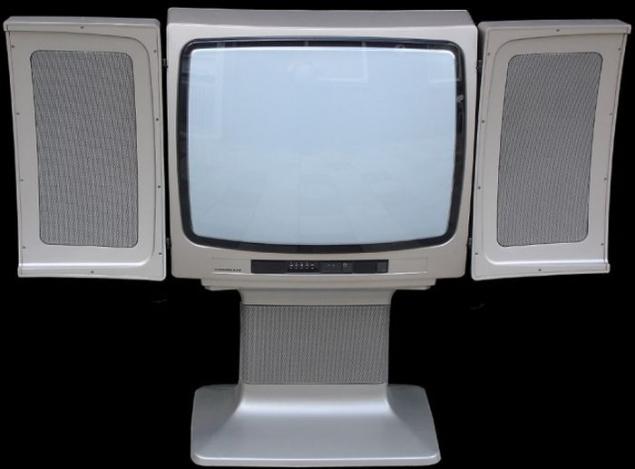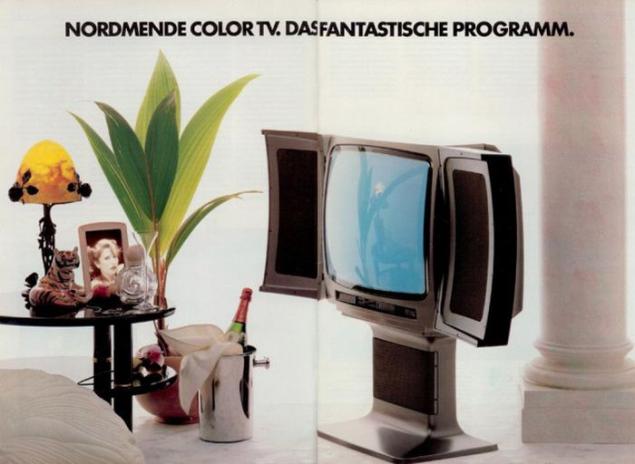 Yes Yes! This 3D telly! Beginning 80.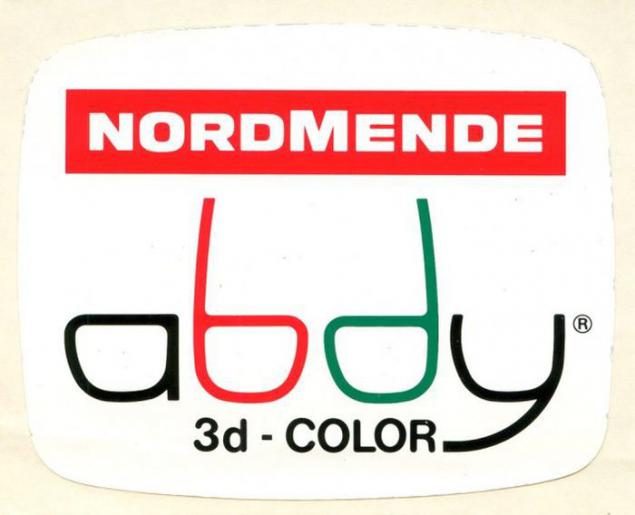 The film Alov and Naumov "Tehran 43" international spy (Dzhigarkhanyan) looks on TV Record. But the TV set is not interesting.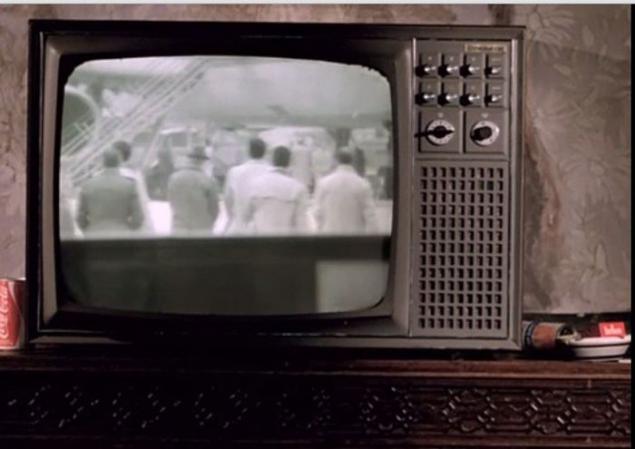 What a difference this
Philips 10CX1130 / 02S. 1982.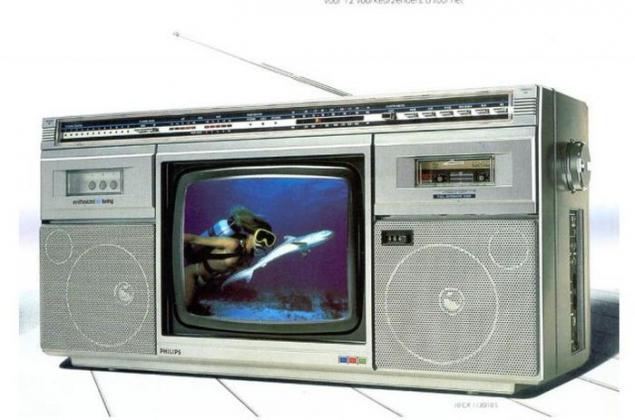 Or this one.
Philips Philetta Royal 14C625 / 22L..1977 year.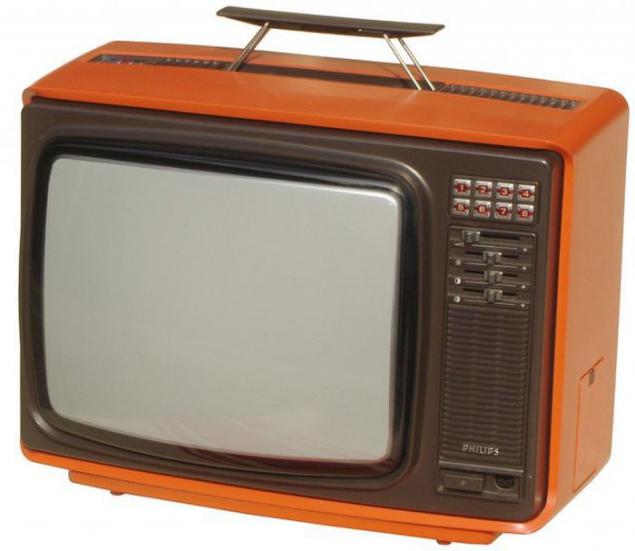 Or here's a handsome born in 1980
NEC CT-252P22.2B2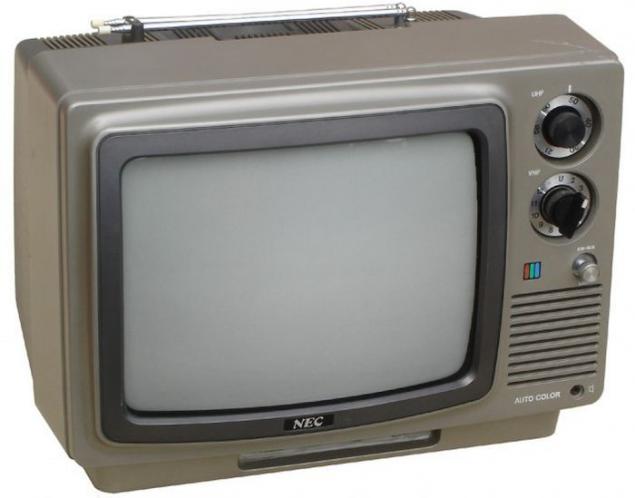 And how do you this handsome 1978 issue
Nordmende Prestige SK2-Color.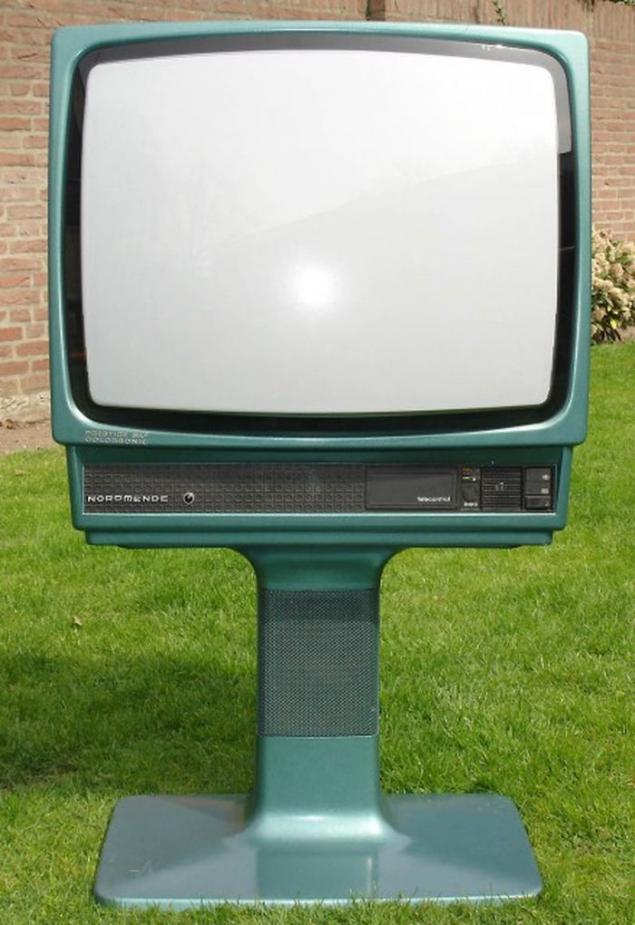 Kostolevsky brought to Budapest Soviet huge color TV "Ruby", which is all the Hungarians definitely want to buy from nego.Po According to his sister, to whom he pёr of Union telly - "here too, but very expensive!" We must say, These Grobiņa 50 kilogram were also not cheap, almost 800 rubles.
The tragic fate of the "Rubin" everyone who watched the movie, remember - he was thrown from the window 10 floors jealous Magyars husband cousin Kostolevsky)))
At an industrial exhibition in Budapest, where for some reason brought the young governess on the TV show "Uncle Misha", suppliers, (Vladimir Basov)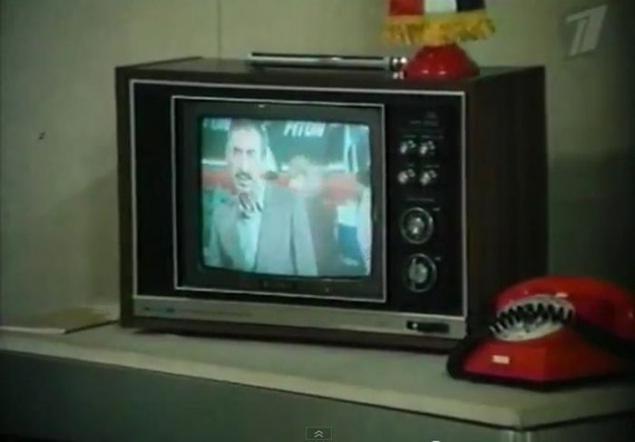 Check the TV is not difficult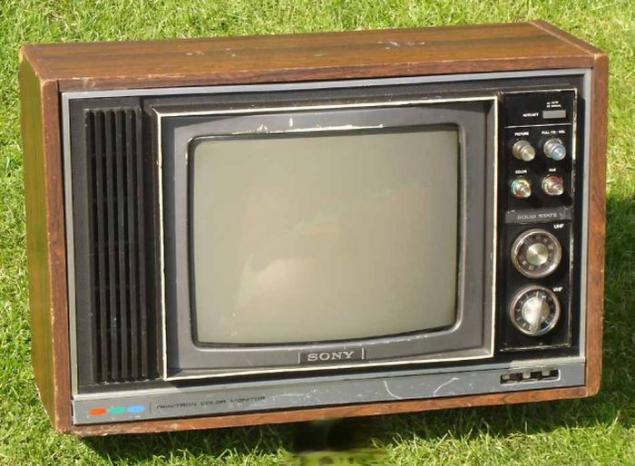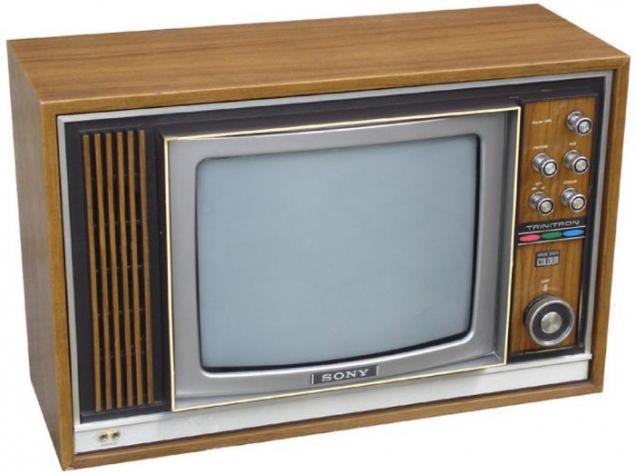 Recall & quot; Blonde around the corner & quot; Vladimir Bortko, the author of the cult movie "Heart of a Dog».
Something's always bothered me in this "Blonde" is likely Tatiana Dogileva, with eternal svomi pridurochnymi antics and prihohatyvaniyami, insufferable vanity and rattling intonations. However, it is quite convincing as hyperactive and energetic saleswoman Nadenka District of supermarket. Little more convincingly - Nadia, as well as the aforementioned attendant in "you-me, I-you", endowed, the director will absolutely fantastic opportunities, and obviously exaggerated, in my opinion. The filmmakers convince gullible Soviet moviegoers that ordinary saleswoman from vegetable department easily have ties at the level of ministries and the Academy of Sciences, played a wedding of 500 people in luxurious restaurants and going to live in an old mansion in the old Arbat, previously "everything is hollow inside ... ". Not too much there is good only for the opportunity to occasionally get stick Finnish cervelat and canned beer?
And in the back of trade workers, resting from the labors, watching football is not on what day, and on imported television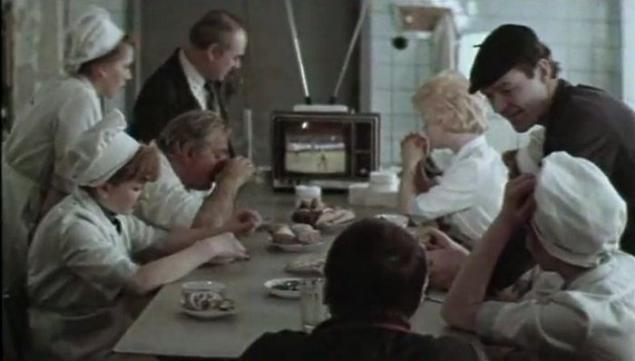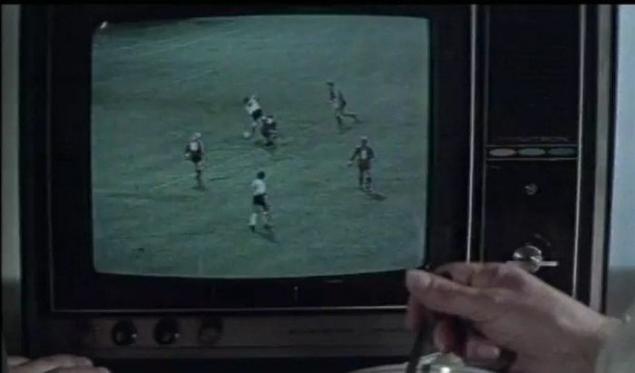 In the film by Eldar Ryazanov, "Railway Station for Two" speculator "Misha", performed by the incomparable Nonna Mordyukova also watching a video on the same TV.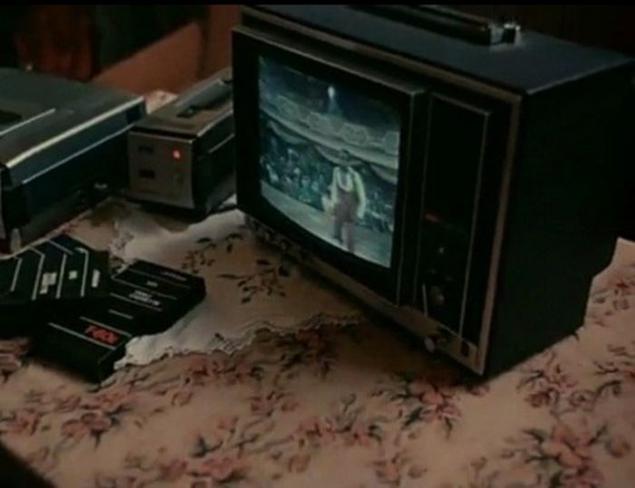 This "Japanese»
Sony KV-1300E 1972 is not so little, but it looks like.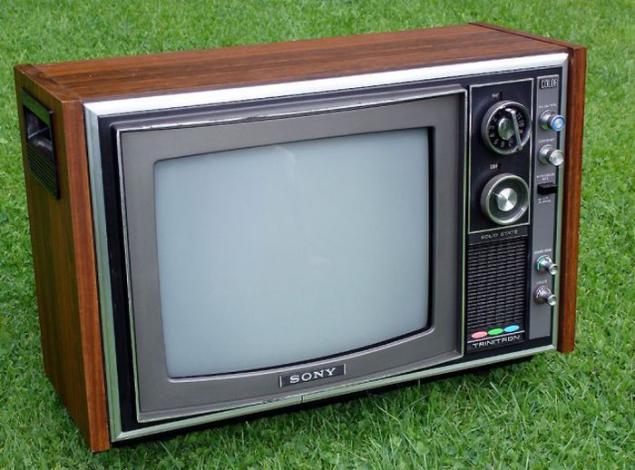 Videos in those days was just beginning to appear in the Soviet way of life, and exclusively at "the rich Pinocchio" sailors who go to zagranku, yes diplomatichekih workers. In the same "Blonde" almighty vegetables saleswoman Nadia lucky night her fiance (Andrey Mironov) sauna with a swimming pool, where they were entertained and watching videos as well.
This brother Nadenka "crocodile" Gene, do not say the whole movie for nothing. (Anatoly Slivnik)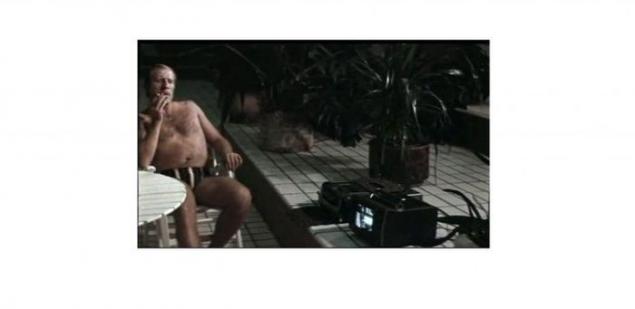 Watch portable color Sony KV-9000E .1978 Mr.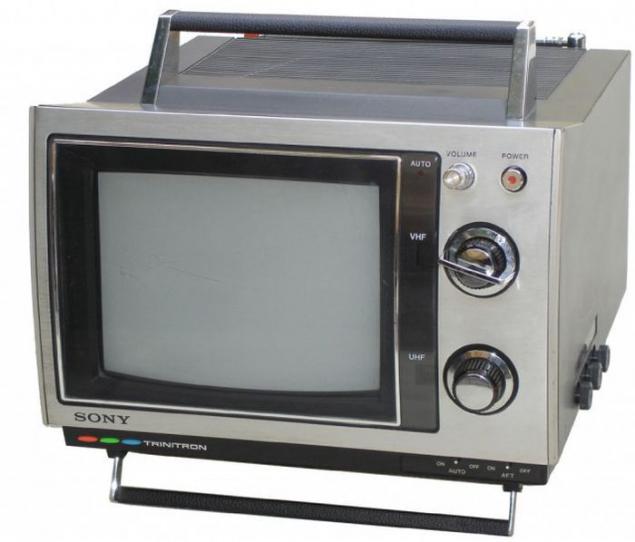 However, the Japanese have a TV set in the '60s were wow Pictures can be enlarged by clicking on them a couple of times.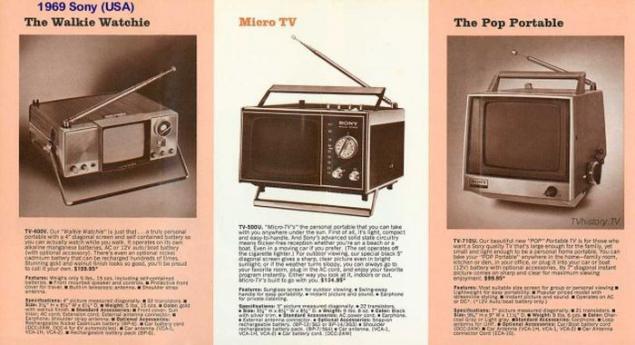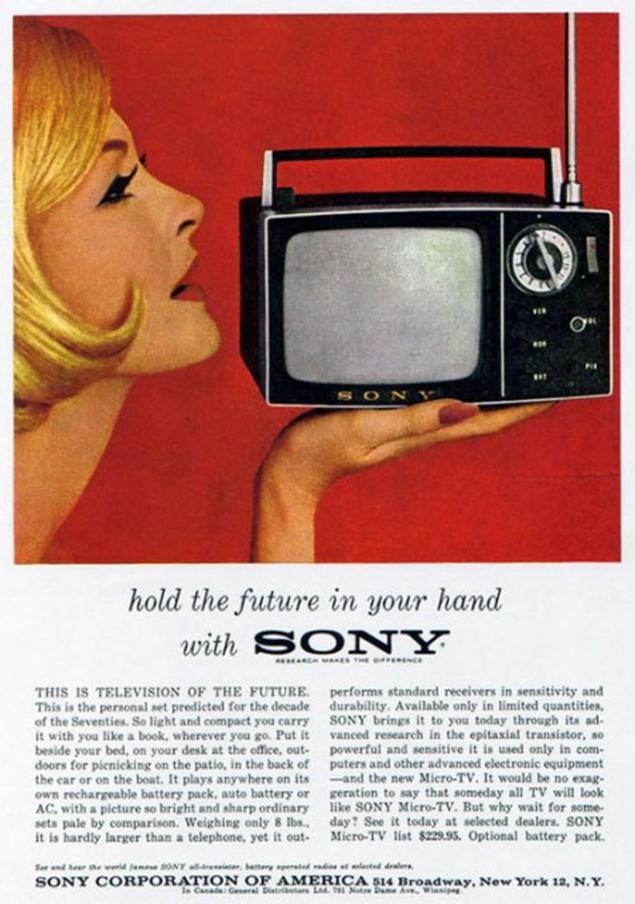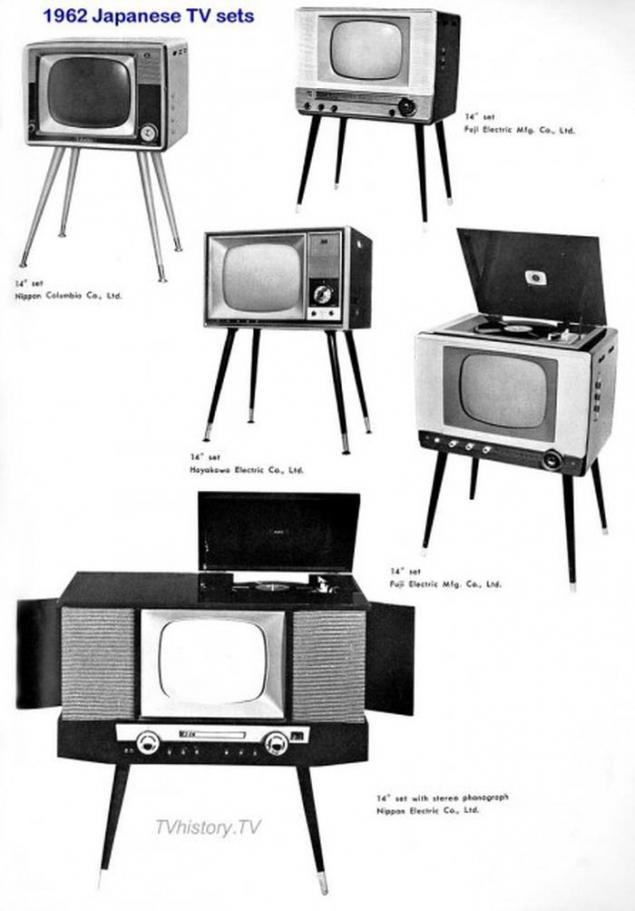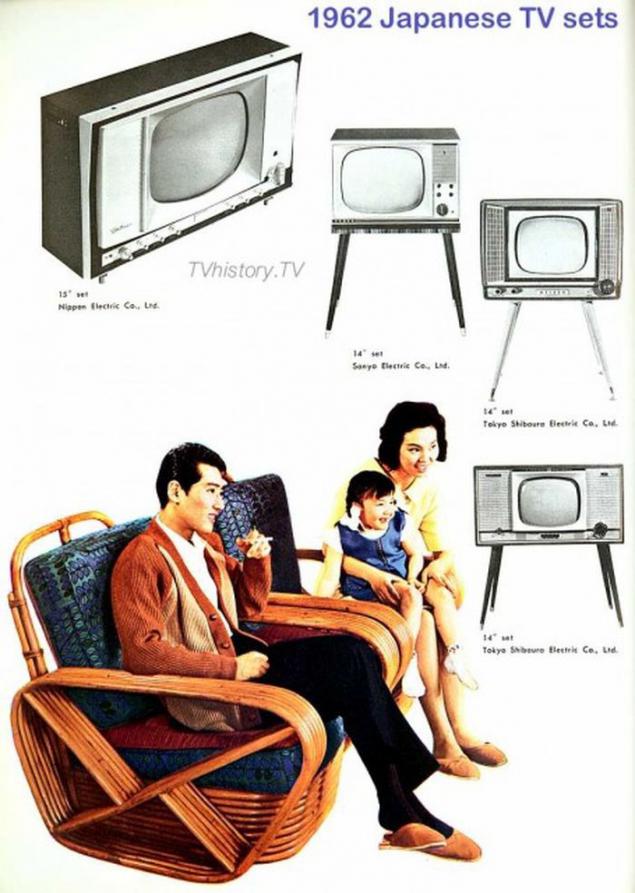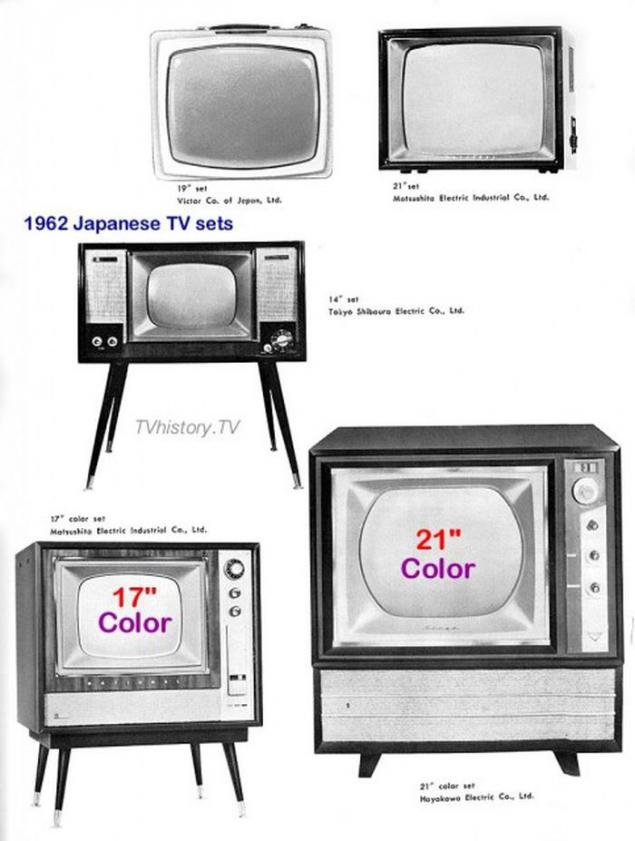 Finally remember the wonderful lenfilmovskoe 1963 movie "The Day of Happiness", filmed on the script Yuri German director Joseph Heyfitsem.Istoriya relationship of one woman and two men. One of them was her husband, the talented geophysicist (Valentin Zubkov), loves his wife, that made it a hostage lyubvi- forced to leave work, settled in a separate apartment, furnished and equipped by his efforts, and where she is waiting for him from his expeditions, like a bird, in a golden cage.
But he did so in vain, a young and pretty wife, Sasha (T. Semin) boredom begins to think about his situation sofa cushion with a diploma from the teacher, and once and for all the doctor falls in love with a noble ambulance (Alexei Batalov), her husband and disappointed ...
However, this is a long story, see for yourself, the movie is worth it. I wonder more and more, in this movie in 1963 showed a foreign television. While for most Soviet families and easy-telly is still a rarity in our apartment geophysics is Philips.
In the picture, of course difficult to determine, but the name of the TV sounded when Sasha came to teleatele requesting repair the unit.
-"ABOUT! Philips! Rich car! Dutch! But are we not fix it, spares no ... »
Stills from where Sasha sees his doctor on TV. Philips really cool, beam model. It consists of two blocks.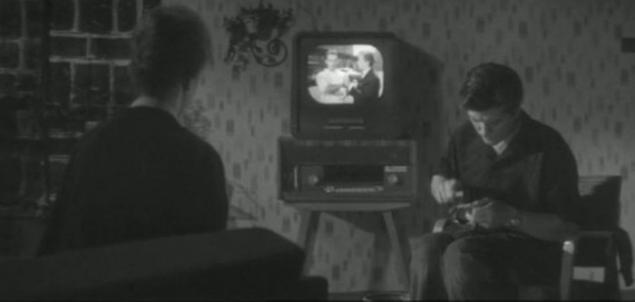 Here they are, the Philips 50 Desktop options, and a couple of console models.
In a similar style, and we made some of our televisions.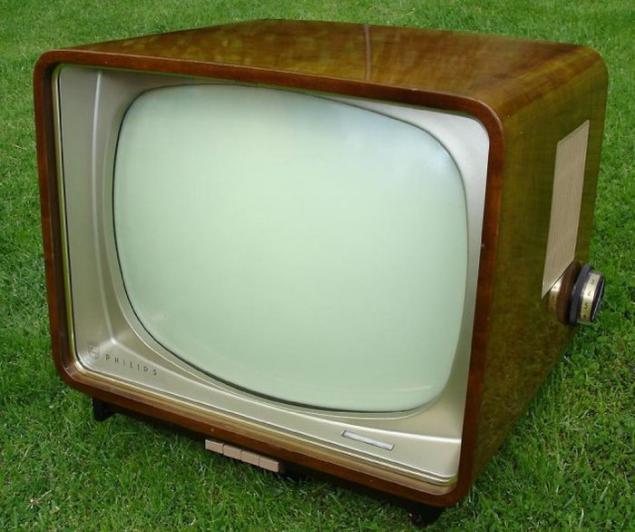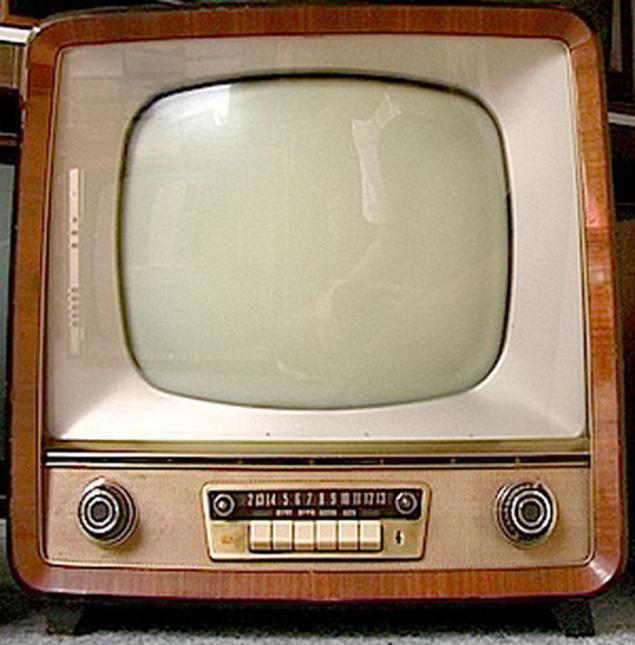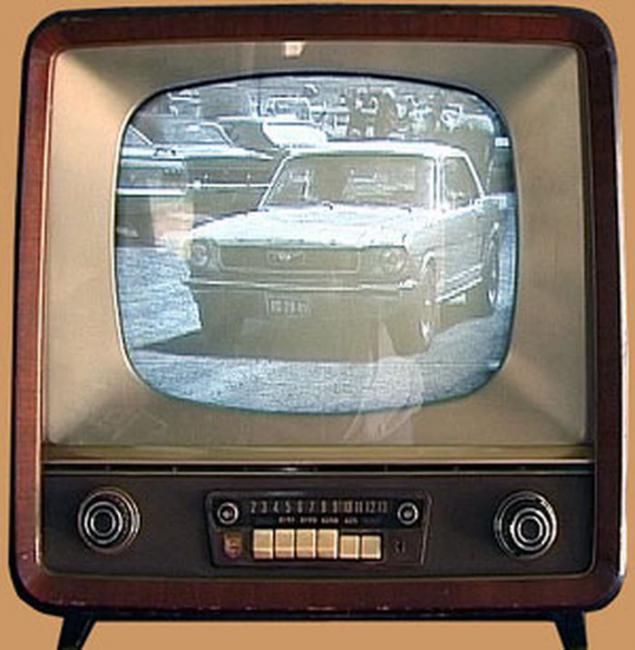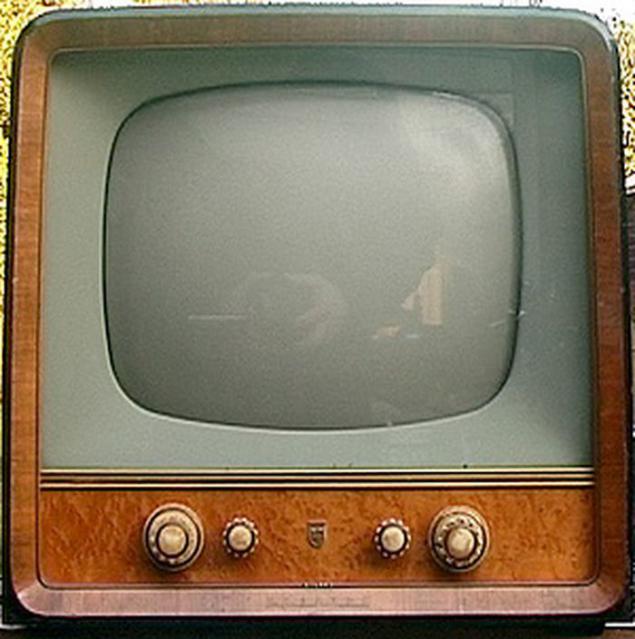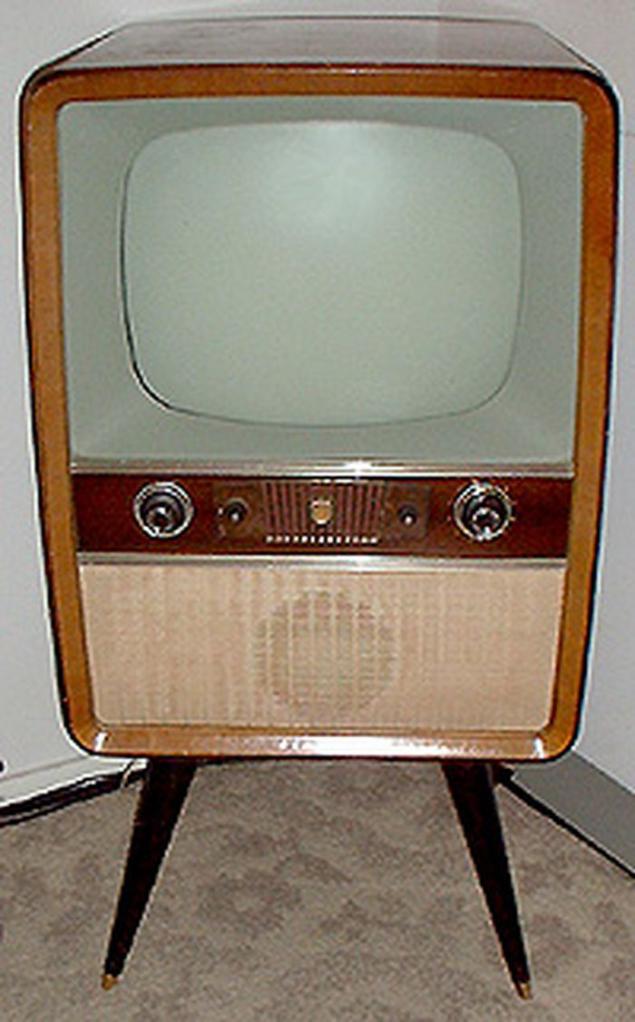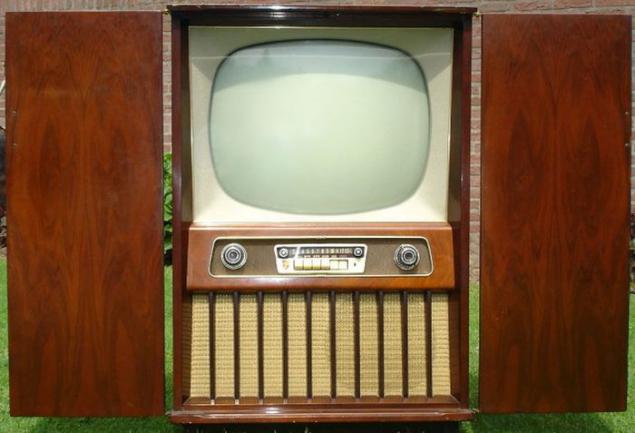 And in 1963, when the film came out, Philips has been here such.
Very similar to our TVs & quot; Neman & quot;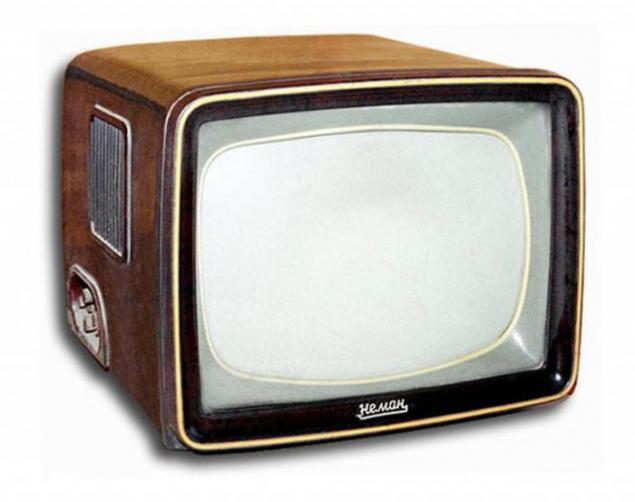 and "Voronezh»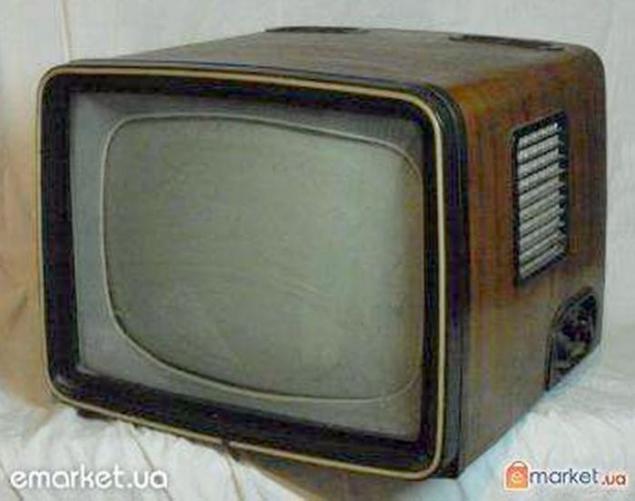 We have, unfortunately, in the early '60s it was not yet a color television as well decadent West has experienced a boom in full color television.
That color Philips 1964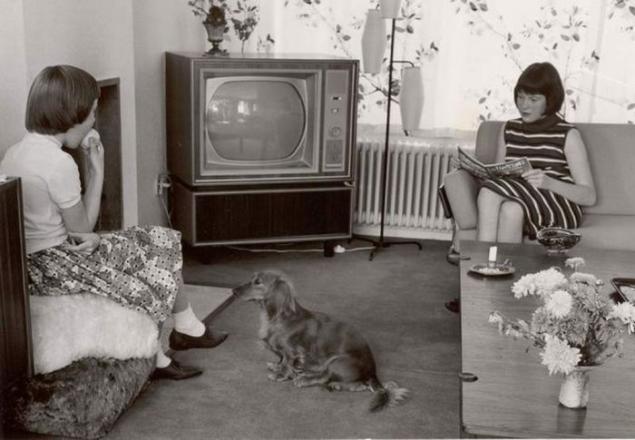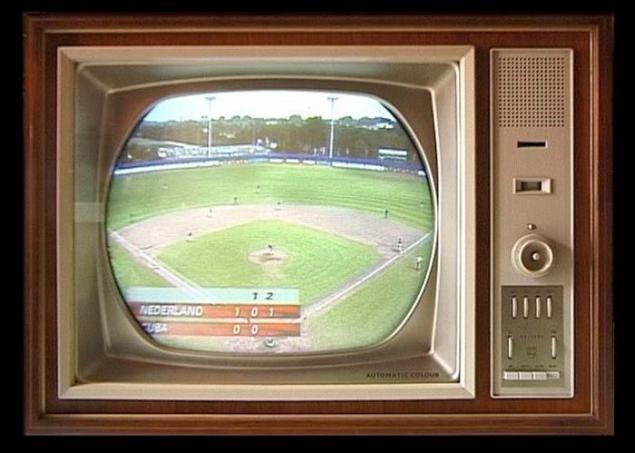 Past another Philips is not able to pass, but it's not a TV set, and the player.
1980 film "White Raven».
Import player vinyl collection, including the foreign, into the bargain.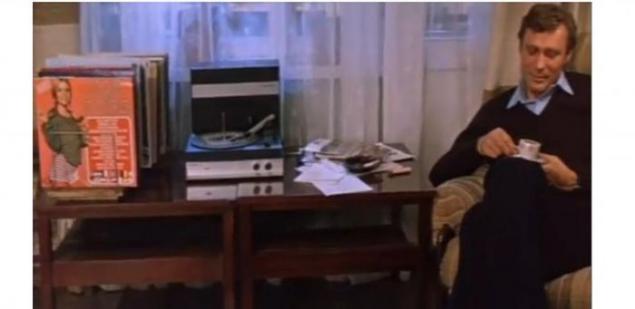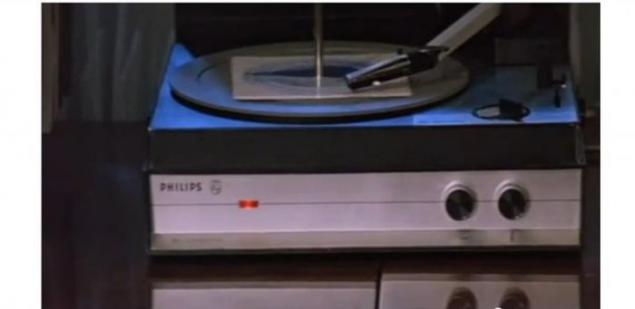 Source: matoos.livejournal.com