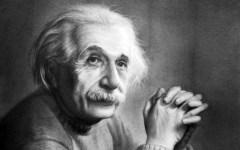 On the online auction site eBay for $ 3, 1 million have been sold the original handwritten letter to Einstein about God and religion, written January 3, 1954 the German philosopher of Jewish origin Eric Gutkindu.  
Recall that in 2008, the buyer has paid for this letter only $ 404,000, according to Interfax.
In this letter, which was a response to the work Gutkinda "Choose Life: The Biblical call to protest," Einstein quite strongly expressed in the whole of religion, as well as separately - about Christianity and Judaism and doubts in the election of the Jewish people.
In particular, Einstein wrote that Jewish and all other religions are for him the epitome of childish superstitions, and the Jewish people, to whom he proudly owned and mentality which is very close to him, is no different from other peoples.