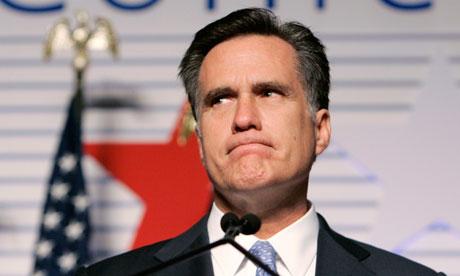 Willard Mitt Romney was born on March 12, 1947, so he is a Pisces and pigs in the Chinese horoscope.
In 2009, Mexico was kidnapped 70-years cousin Mitt Romney - Meredith Romney, his three days held hostage in a cave until a ransom was paid.
Surname Romney has its roots back to William Romney, served as mayor of London in the 17th century.
Polling stations are constantly point out that most Democrats voted against the president, a Mormon than Republicans.
Mitt Romney - the ninth Mormon, became a candidate for president. The first was Joseph Smith (1805-1844), a preacher, who founded the Church of Jesus Christ of Latter Day Saints.
In 1981, Mitt was arrested for "disturbing public order", he continued walking on his boat, despite a warning patrol that his boat is not required stickers. The charges were dropped when Romney threatened to sue Massachusetts for false arrest.
In 1965, Romney was arrested for driving on large blocks of ice on the golf course.
Romney has generated controversy when it was discovered that in 1983 he tied his dog Seamus family, Irish setter, on the roof of the station wagon for 12tichasovoy trip from Boston to Ontario. Critics have called to draw attention to the fact that the laws of Massachusetts against animal cruelty forbid anyone to carry "animals in or on the vehicle».
Romney opposes issuing driver's licenses and preferential college illegal immigrants and opposes the policy of "chain immigration", which allows the family to immigrate to a country where one of the members of the family - a US citizen.
In November 2006, 43% of 1,000 respondents Rasmussen Reports said that they did not even come to mind to vote for a Mormon, it was more negative response than for an atheist or a Muslim.
Romney first ran for public office in 1994, when he was 47 years old. He struggled with Ted Kennedy for the Senate seat from Massachusetts that he served for several decades. Kennedy won the election with 58% of the vote against 41% Mitt Romney.
Romney has been married for 43 years, he has five sons, five daughters and 11 grandchildren.
Romney was elected governor of Massachusetts in 2003 as a moderate Republican who supports abortion and gay rights. However, in his presidential campaign he said that he supports the abolition of the decision in the case "Roe vs. Wade" and does not endorse the service of gays in the military, he was sure some people that he would say anything just to win an election. < br /> Ann Romney (1949-), the wife of Mitt Romney was born in Michigan, it was brought up in the traditions of the Episcopal (Anglican) Church. She met with Mitt still in elementary school. Under the influence of the relationship with her future husband, she became a follower of the Church of Jesus Christ of Latter-day Saints, and, ultimately, they were married. In 2008, she was diagnosed - running carcinoma - after which she underwent surgery to remove a breast tumor and radiotherapy.
Romney's great-grandfather, Miles Romney, was a polygamist; He moved from the US to Mexico in 1885, when the Church of Jesus Christ of Latter-day Saints was persecuted government of the United States for polygamy. Miles had five wives. Dozens of family members Romney still live in Mexico.
In 2003, the headlines were full name Romney after he and his two sons have saved a family of six and their dog when their boat sank on Lake Winnipesaukee in Volfboro, New Hampshire.
Favorite dishes Mitt Romney - a hot dog and meatloaf.
During the organization of the Olympic Games in Salt Lake City actions were criticized Romney representatives of society for the protection of animals. They did not approve the inclusion of a rodeo and exhibition in celebration of the Games program.
Robert Jeffries, a Baptist minister and a supporter of Rick Perry, has generated controversy when he said that Mormonism - is a cult, and, therefore, to exclude Romney from the presidential race.
Romney regrets that did not serve in the army, and that had children less than he would have liked.
The first work Mitt Romney had a job as a driver at the Physics Department of the University. One summer he worked as a guard at the factory Chrysler.
When in 1996 in New York, the daughter of missing partner Romney's Bain Capital, Romney shut down the entire office, all employees moved into the city, created a command center printed 300,000 flyers and organized a search of her. Police identified Bain Capital team to search for the girl.
Cost of equity Romney is estimated at between 190 and 260 million dollars, in the case of the election victory could make him the richest US president ever elected. Obama State varies between 2, 8 and 11 million dollars, obtained mainly from book royalties. Rick Perry has about 1 million dollars.
Romney was named in honor of hotel magnate George. Willard Marriott, who was also a Mormon, and the best friend of his father. In addition, he was given the name in honor of his father's cousin, Milton "Mitt" Romney quarterback in team Chicago Bears from 1925 to 1929.
During his missionary work of the Church of Jesus Christ of Latter-day Saints in France, Mitt Romney helped protect two female missionaries, to which pestered the French team of rugby players.
Romney attended Kranbrukskuyu Academy, an elite private school with a classical training, focuses on Latin, mathematics and weekly writings.
The largest financial sponsor acts of civil protest "Occupy Wall Street" by Robert Halper, also supports Mitt Romney.