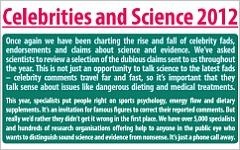 Organization «Sense about science» published a list of celebrities who have made the most dubious scientific statement in 2012.  
So, in this list was Simon Cowell, who said through microblogging service Twitter that found a healer for your home, which is a few days to "cure" the home of the British TV presenter, filling it with positive energy.
In addition, the list includes several sports stars who in the past year often appeared in public with colored patches Kinesio, which supposedly help to treat the injury. Among these celebrities - sprinter Dwain Chambers, footballer Mario Balotelli, Novak Djokovic and Serena Williams. In addition, multi-colored patches used by many athletes to the Olympics held in London.
Representatives of the British SAS organization also highlighted the actress January Jones, who recommended to take food supplements (tablets), made from dried placenta.
"Interesting" statements also noted US Congressman Paul Broun (according to him, all our Earth 9000 years) and former presidential candidate Mitt Romney (he became famous proposal to equip the aircraft opening windows).