This project began with the fact that the journalist and photographer Vladimir Yakovlev spent a few years traveling the world and meeting with people who have managed to maintain happiness, health and enjoyment of life in the 60, 70, 80 and even 100 years. The project is now credited to Facebook, young people, presented the book "Age of Happiness" parents. We chose it from 7 striking examples and best quotes about nutrition and lifestyle.
Fauja Singh, 93 years
Faudzha started running when he was eighty. Shortly before he was widowed and moved from the Indian village to his son in London. Sitting all day at home to former farmer seemed unuseful for health, but also, depressed. Then he went out and ran. After eight years of training - a year before his ninetieth birthday - Faudzha took part in the London Marathon, and overcome him less than seven hours. After another three years - at 93 - he ran a marathon already for 5 hours and 40 minutes and set a world record in the age group older than 90 years.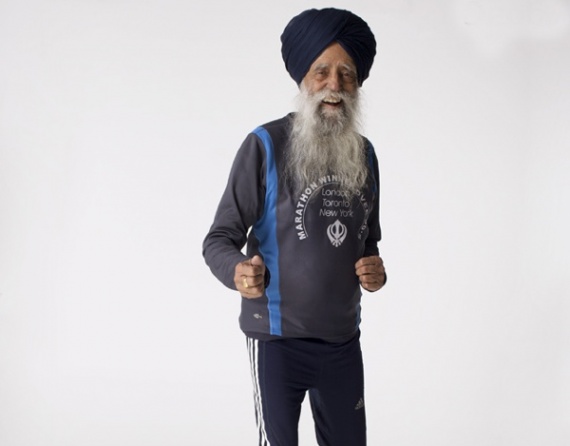 Not surprisingly, after the event, Adidas Fauja Singh offered to take part in its advertising campaign "Impossible is Nothing." So in his 90 years Fauja Singh became world famous and started a career.
To stay in shape, every day he overcomes walking and jogging 15 kilometers. He does not smoke, do not eat fried, adhere to a vegetarian diet, and avoid alcohol as much as possible - meeting with bad people. Yet he smiles a lot.
That smile is recognized Fauja Singh, it allows it to retain its shape and overcome the marathon.
Jacque Fresco 84
When biochemist Jacques Fresco was 75 years old, he made a fantastic discovery, which can completely change the appearance of the human aging process - identified internal mechanisms of self-destruction of DNA.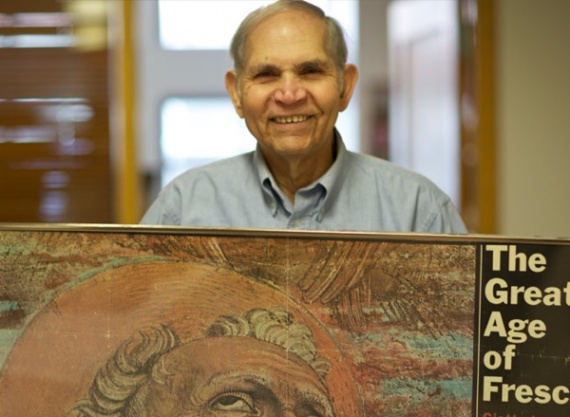 84-year-old scientist is waiting for new discoveries that will find the underlying causes of many diseases and possibly the aging process in general.
Jacque Fresco started to study the aging process in the body when it tried for the fourth time to pension off.
Hedda Bolgar, 104 years
Hedda Bolgar - the famous psychoanalyst. She lives alone in his house in Los Angeles, receives patients 20 hours a week. Lectures, goes to professional conferences. "You know - she says seriously, - the last 80 years I have been a little involved in sports." However, just over a year ago (ie 101 years) Hedda fascinated by yoga. Now she comes to her home teacher.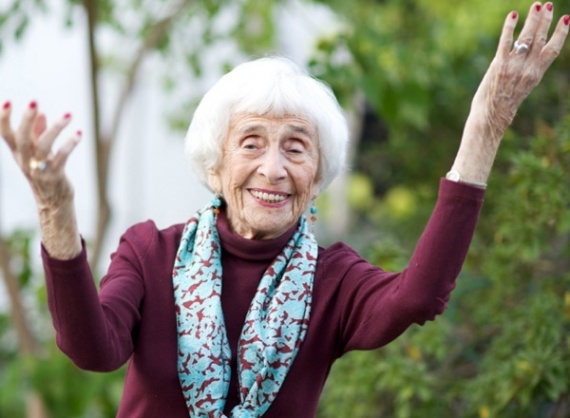 Her secret is not in physical activity. According to Hedda Bolgar to live happily ever after, you have to eat right (she herself is a vegetarian of 14 years), get enough sleep, and most importantly, accept what is happening and do not worry too much because of the difficulties. Especially due to the fact that has not happened yet.
It is necessary to eat (she herself is a vegetarian of 14 years), get enough sleep, and most importantly, accept what is happening and do not worry too much because of the difficulty
Jia DAOCHZHAN 100
Jia Daochzhan works hermit. The last thirty years he lived in a cave. Living in a cave, he left when he was 70. Now Jia Daochzhanu - 100. In order not to create yourself in the life of hell, you do evil to people as often as possible to smile ("smile rejuvenate ten years") and does not seek to have more than a person needs.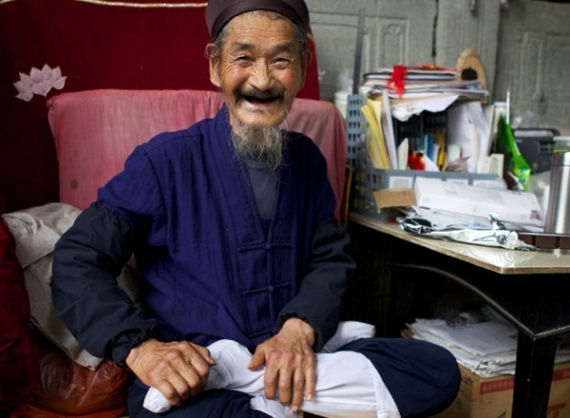 It is important to monitor their health, but most importantly the right to live and the right to communicate with the world. Jia himself Daochzhan (in the past - an ordinary farmer, and now - a monk) trains every day, starting to exercise with four in the morning.
If I had money, I would be shaking constantly over them, afraid to lose them. And when you have nothing, then there is no problem too ... The main thing - to eat well
Yuan TYANTSZEN 79
If Yuan Tyantszen lived in America, not in China, you probably would not have called Taoist monk and psychotherapist. And very successful. In his 79 years, he has from early morning until late at night is receiving visitors at his home, where he lives with as long as thirty years ago, the Red Guards destroyed his monastery.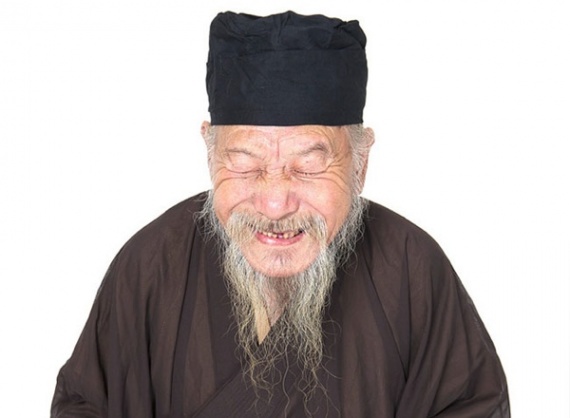 Yuan Tyantszen helps people who find themselves in a variety of situations: from family strife and financial difficulties to physical ailments and existential problems. However, in contrast to the practice of psychotherapists it works virtually nothing - takes on its visitors just what they offer him. "Whatever happens, do not get mad at anyone. This is bad ».
"Man can be considered old only after a hundred years, - he says. - I myself do not feel old. You just need to live a healthy lifestyle and eat more vegetables - this is useful »
BASSETERRE MARTIN, 104 years
Throughout his life, Buster Martin kept "strictly sport mode": each day is necessary to drink at least three liters of beer and smoked 20 cigarettes. The food Buster always preferred red meat, but in life - everything that brings pleasure. After a beer and cigarettes brought him the greatest pleasure work - the general seniority Buster Martin was about 90 years old. It wonderfully combines the desire to work and relaxed, easy attitude to life. It feels that the work he is not tired, but instead rested.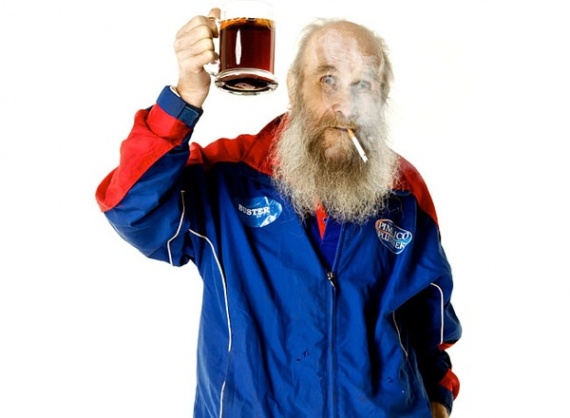 97 years, he has tried to retire, but quickly got bored and got a job washer vans. In the 101 years he ran a 40-mile London Marathon. To overcome the marathon at Buster Martin took about 10 hours. "Most of the way, I did not go and did not run - I danced," - he explains. However, there is documentary evidence that Buster is periodically interrupted this dance, to drink a beer. His favorite, black. And always with a slice of orange.
The oldest marathon runner, however, Buster Martin did not become: it refused to make the achievement of the Guinness World Records because of suspicions that he had "only" 96. Proof of age, Mr. Martin could not be found.
Every day Martin certainly drink at least three liters of beer and smoked 20 cigarettes. The food Buster always preferred red meat, but in life - everything that brings pleasure.
DANCE BAR LAMA, 86
By Ball Bar Lama always turn. And when he worked as a doctor in Buryatia. And when to take patients in Mongolia. And now, after in 2011 he opened in Moscow Medical Center "Jude Shea." Now, to get to see him, you need to be recorded for the month. "People are arranged so that their mind is torn. I thought all the time jumps. It takes a lot of energy. And you can not rush. It is necessary to think of one. On the path that you want to go. For this purpose it is necessary to train the mind. Train the mind - is the most important ... If you give in your mind, you can stumble and go the wrong way. " This is not surprising. Ball-Bar Lama - the Buddhist priest, a monk, though living in the world. He was 86 years old, of which 50 years is its continuous medical record. He also uses his techniques and therefore is a living example of how these techniques work. If you think that a 7 hours of meditation each day - a holiday, try somehow to themselves and soon all will understand.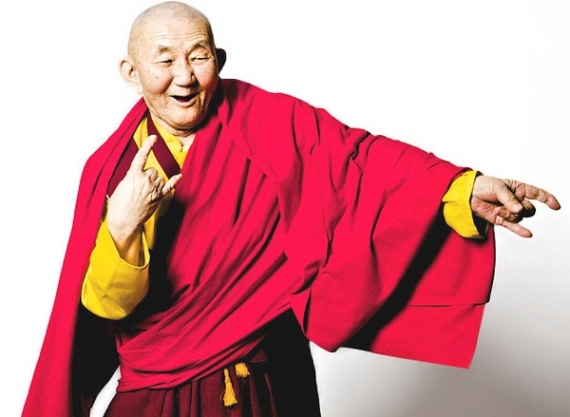 He always walks, even in bad weather. Ball-Bar Lama is confident that the need to maintain the health of a lot of walking. It is particularly important to walk after eating. If you ask Bal Bar Lama, what to do to maintain the health and clarity of mind after 60 years, he says that at this age it is very important to eat well. Be sure to eat fish, poultry, meat (except pork), ghee, and that is very important, honey. There should be 4-5 times a day, but little by little, do not overeat. In the selection of products is necessary to consider both physical activity and region of residence. In the Nordic countries, according to Ball-Bar Lama, being a vegetarian is harmful.