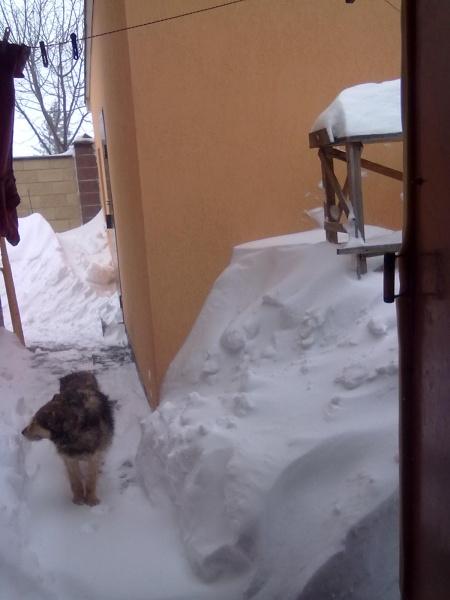 * Screen - rayonchik Kiev with a pronounced hilly. From the top of the entire panorama of Kiev. Even at Laurus can look down. Navigators in this area do not work.
22.03.13. Promised snow drift. Yup. March 22. Forecasters, a pancake. Jokers. Let's see.
10-00. It snowed. Garbage. In shallow. Melted.
14-00. Sweeps. Really guessed prophets fucking? And you need to go to a meeting. Yandex gives 8 points. I'll wait.
18-00. Sweeps, damn it. City stoit.Nikuda not go. That is why, if good weather forecast - so it's grandma half wondered. What is g ...
21-30. Went into the yard. Dug a path to the gate. Dug out the gate.
23-00. Again dug track to the gate. Wicket decided not to dig - what's the point. In the morning I will do. In the yard of snow already nowhere to recline.
23.03.13.
8-00. Prosnulsya.Poproboval open the front door. Sheesh. Skidded. With the effort of pushing through the door to the outside is 25-30 centimeters, dig out sovochkom garbage.
8-15.Prokopal path to the gate. Metal snow already over the fence. And he is 2 meters tall. So why such a height?
8-30.Povtoril wicket with the same procedure as with the front door.
8-40. Crawled out onto the street. I did not recognize.
9-00. Dug up the car. My.
9-15. Began to dig a path for the car in the direction of the intersection of five streets. There should clean tractor. It is necessary to somehow get out.
10-00. Neighbor came out of the market. Do not have anywhere to be selected. Nobody cleans. Only at the very bottom, and on Mistetskiy Guards once walked - and all. Said it best on foot. He speak well. His height is 185 cm and his head rises above the snow.
11-00. Dig further.
11-30. Santa Claus, I promise, I'll be this year is very good. I would be more likely to call my mom. I will not swear, those who do not show turns. Even pay taxes if reminded. Just please, Santa Claus, go away already the fuck. I'm tired dig ourselves up. I want spring.