Held yesterday at the London ceremony BRIT Awards is the most prestigious music awards in England and has long been considered the British equivalent of "Grammy". Of course, such events are not everything revolves around only one music - red carpet preceding the show, the audience waiting with more impatience than the performances of their idols. Let's see who of the celebrities took part in the fashion parade at the opening ceremony BRIT last night, and choose their favorites.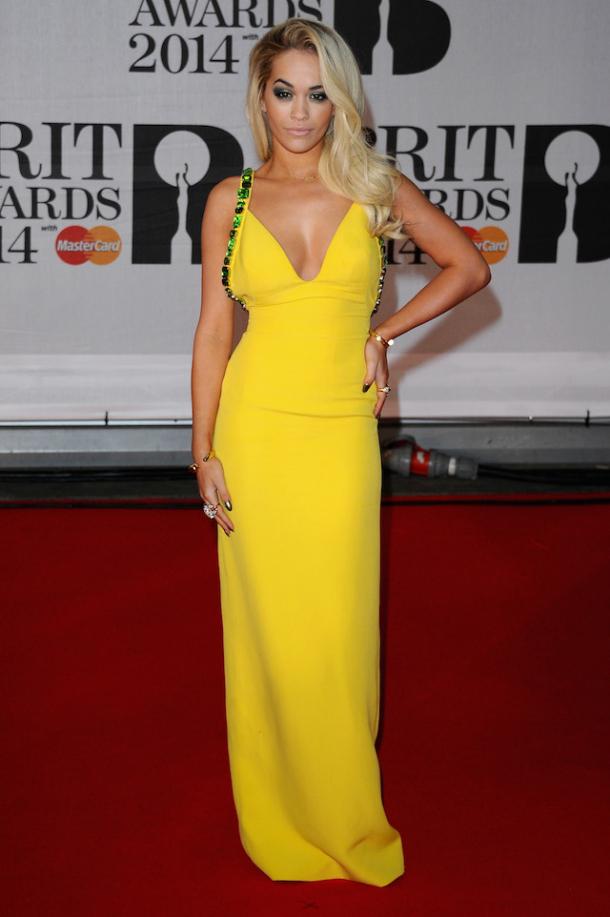 Before we get on the bandwagon review, I hasten to share with you an interesting historical fact. The fact is that every year the statue BRIT changes its appearance and the honor falls to design award best creators of today. This year, the statue was created by the famous designer Philip Treacy hats, so it is not surprising that his work was decorated with a huge hat.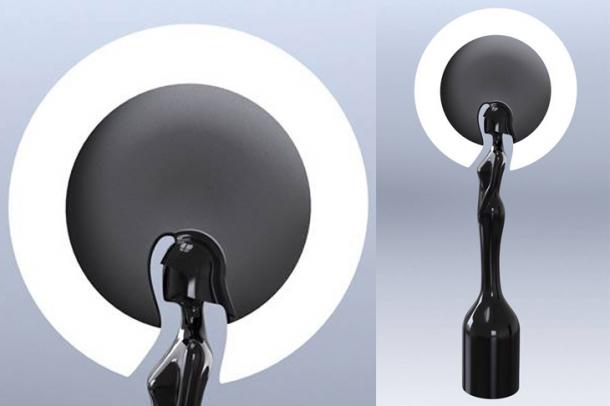 A rare case - Rita Ora in a spectacular, stylish and truly beautiful dress. Bright yellow outfit from Prada, decorated with contrasting green crystals, very becoming singer, and not inconsistent with its style, unlike most of the finery Marchesa, which we used to see her. Eye makeup in shades of green and stylish gold jewelry perfectly complement the image.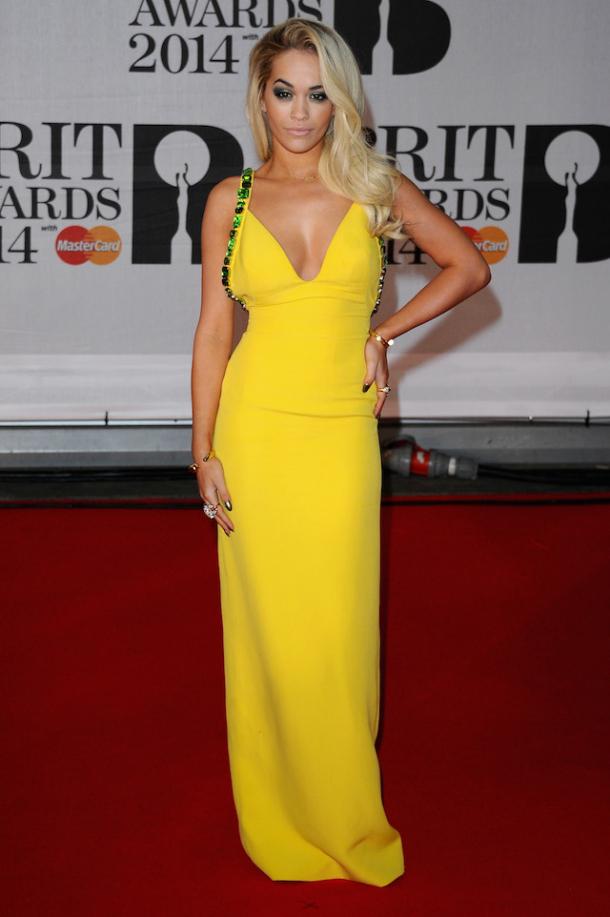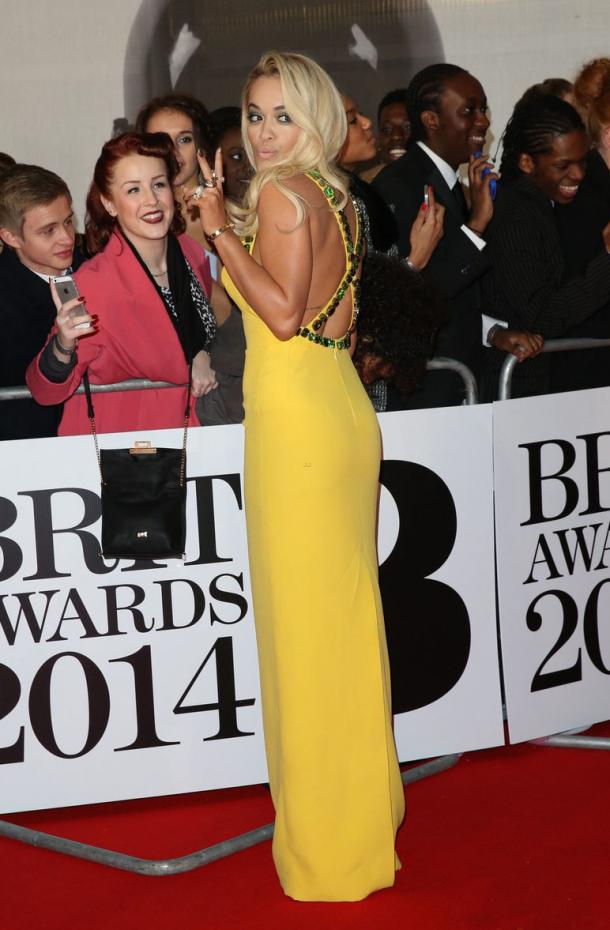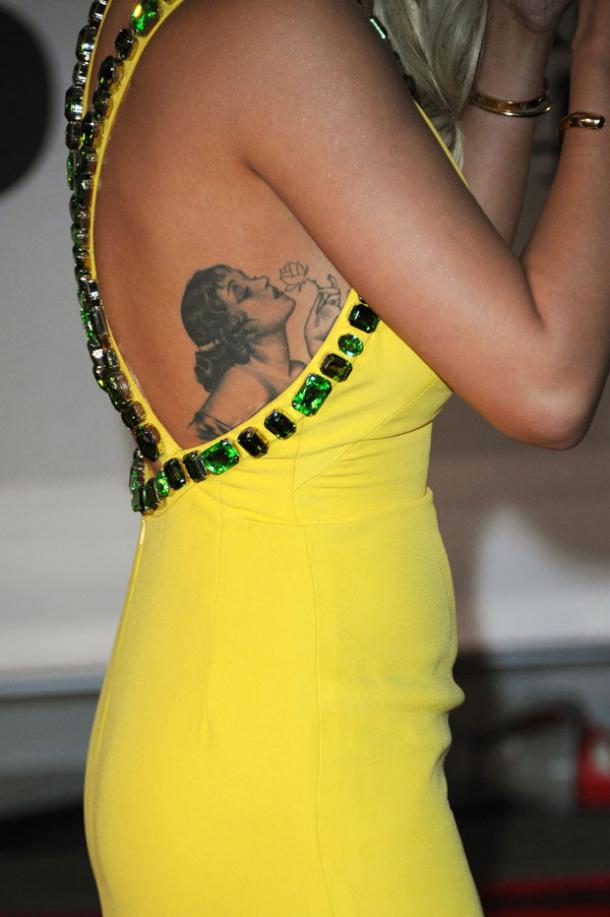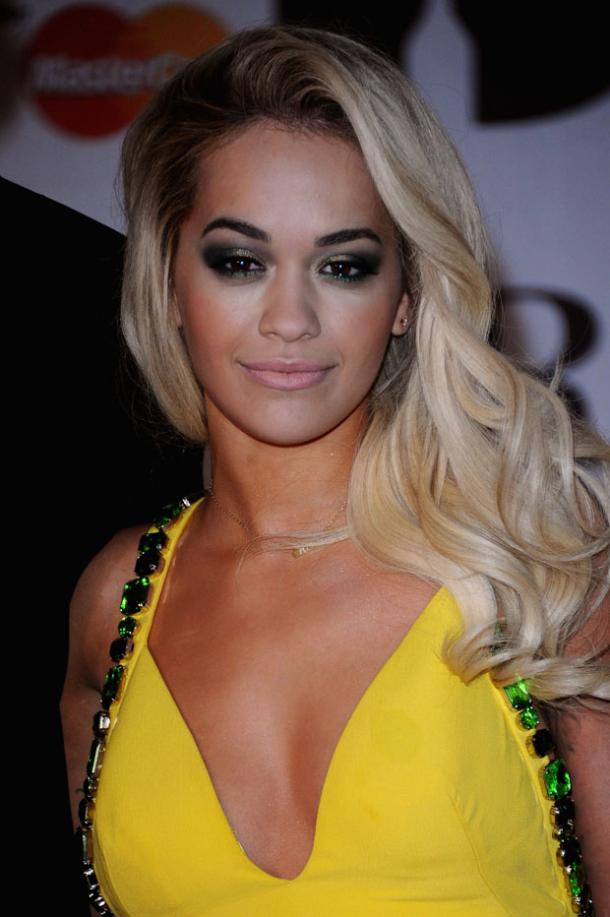 Lily Allen continues to bold experiments with style. Choosing red carpet dotted with sequins vintage dress from the brand Norrell, the singer added a bright color dress eye makeup, yellow clutch Chanel and locks of hair in the same tone. Ambiguous, but very fun and playful.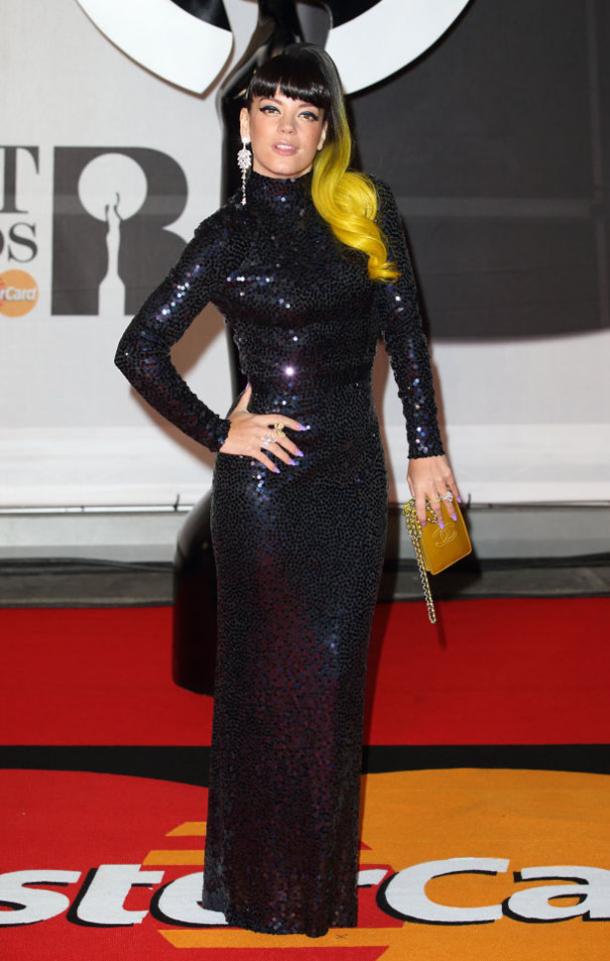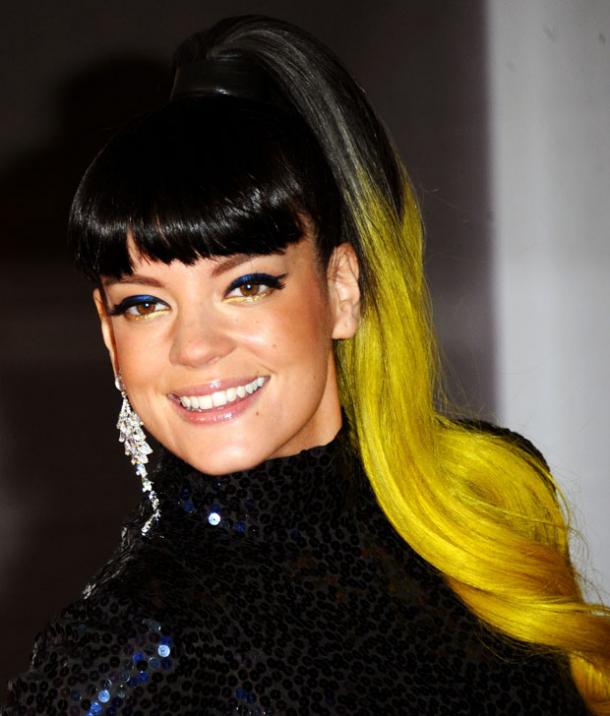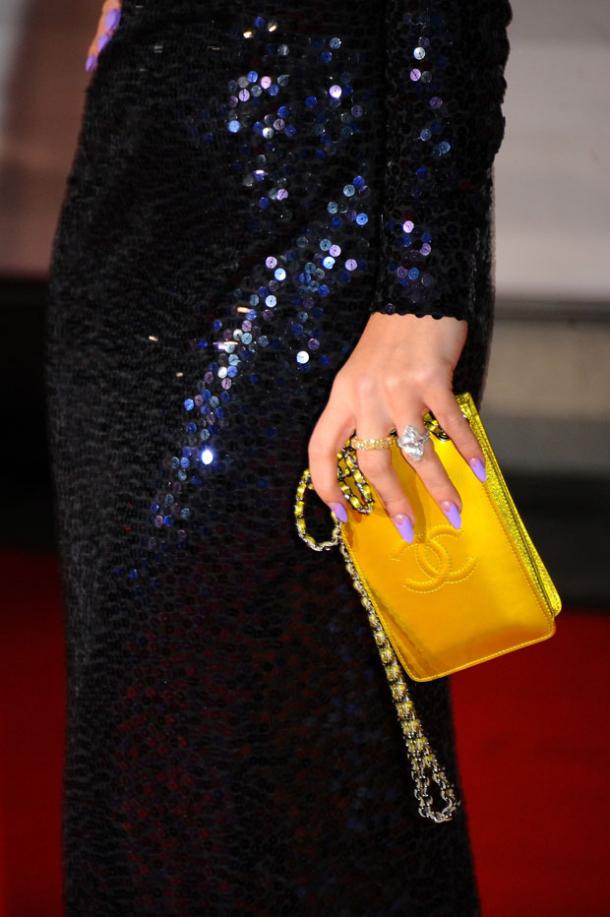 Surprised by his choice of attire and Iggy Azalea. We used to see the singer in a frank and provocative dresses, and she chose for the BRIT Awards modest (by the standards of her) dress with open back by Elie Saab. If we reject the idea that the red carpet music events often implies a very bold and original clothes, this dress looks very well.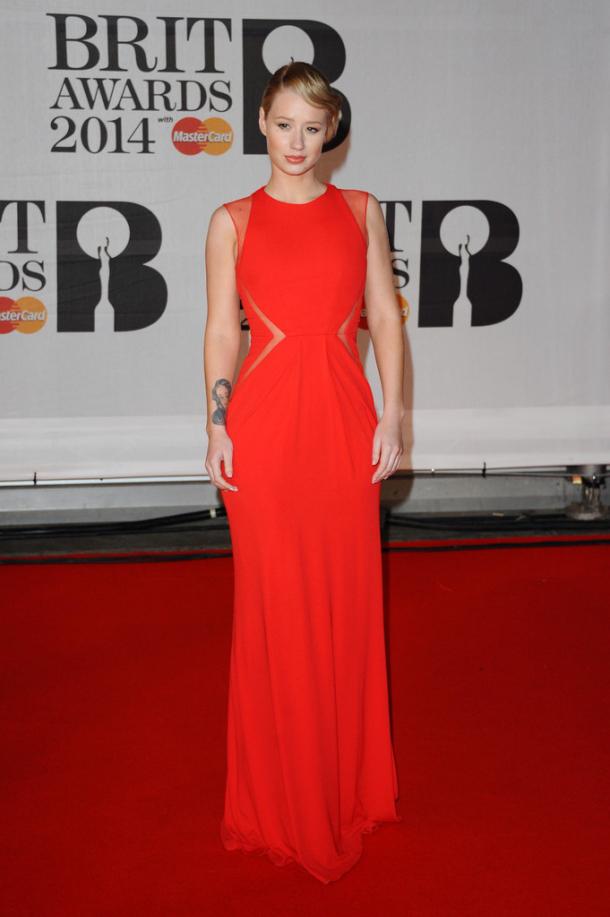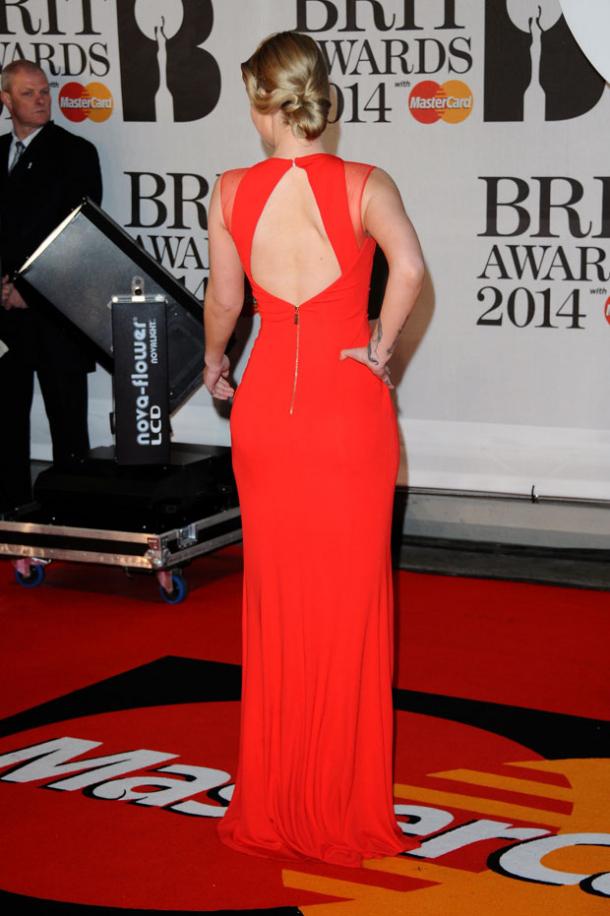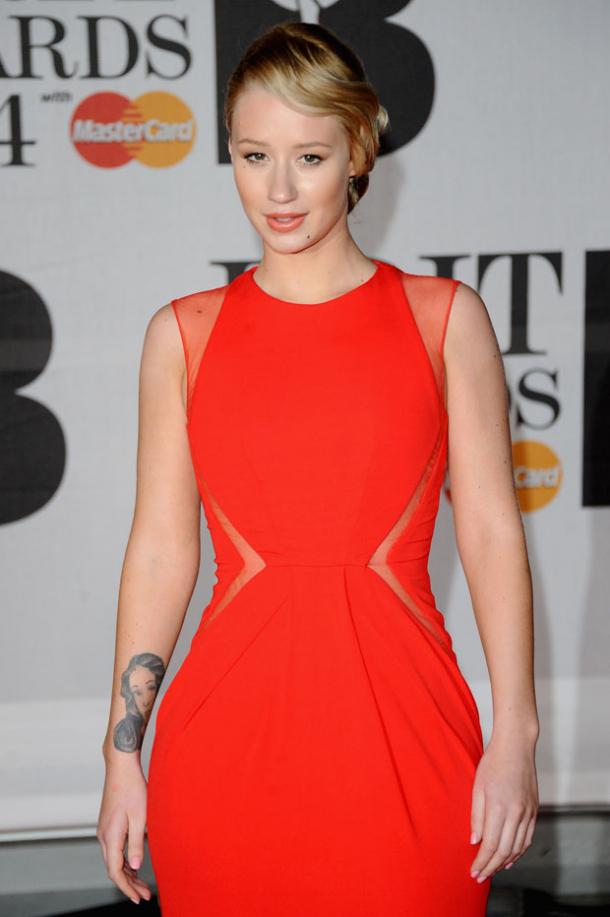 Like a provocation? Receive and sign! Skin-tight jumpsuit with neckline and transparent inserts, which came out on the red carpet Jesse Jay, was clearly designed for you to attract more attention. In case studded with crystals dress from Julien Macdonald did not shock the audience, singer prudently supplemented his lavender lipstick. Goal achieved!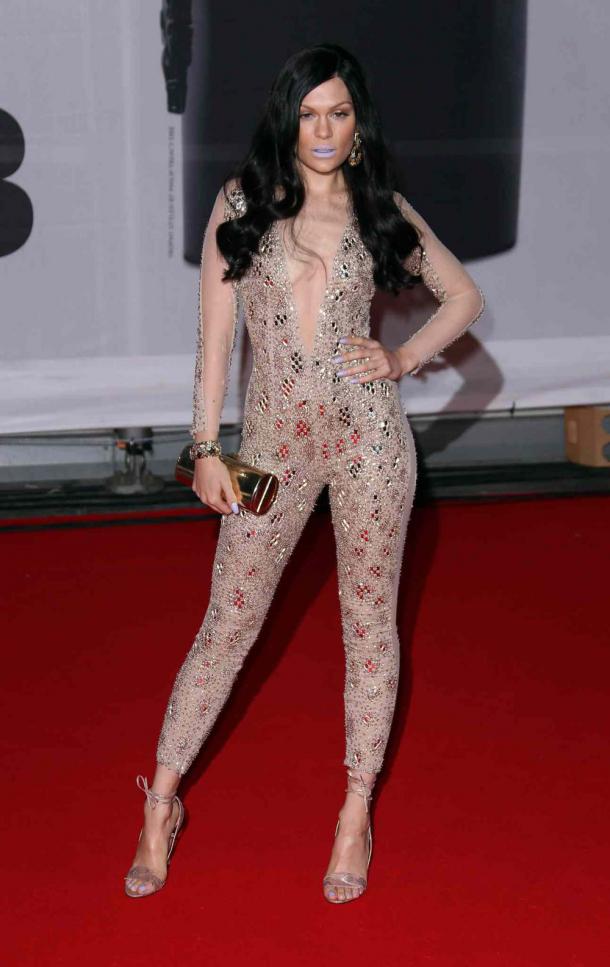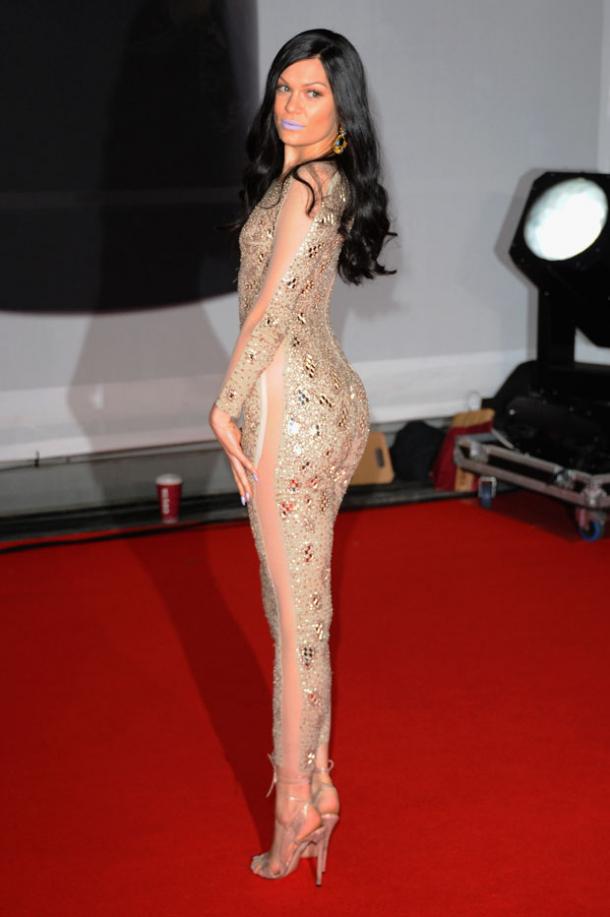 Classic in an unusual version - unanimous choice Minogue sisters. While Kylie opted for an unusual material, and large decorative elements from William Wilde, Danny opted for feminine and sexy way of J'Aton Couture. I'm not a big fan of latex outfits, so my vote goes Danny - its spectacular MPP with sculptural Basque asymmetrical bodice and lace inserts looks gorgeous.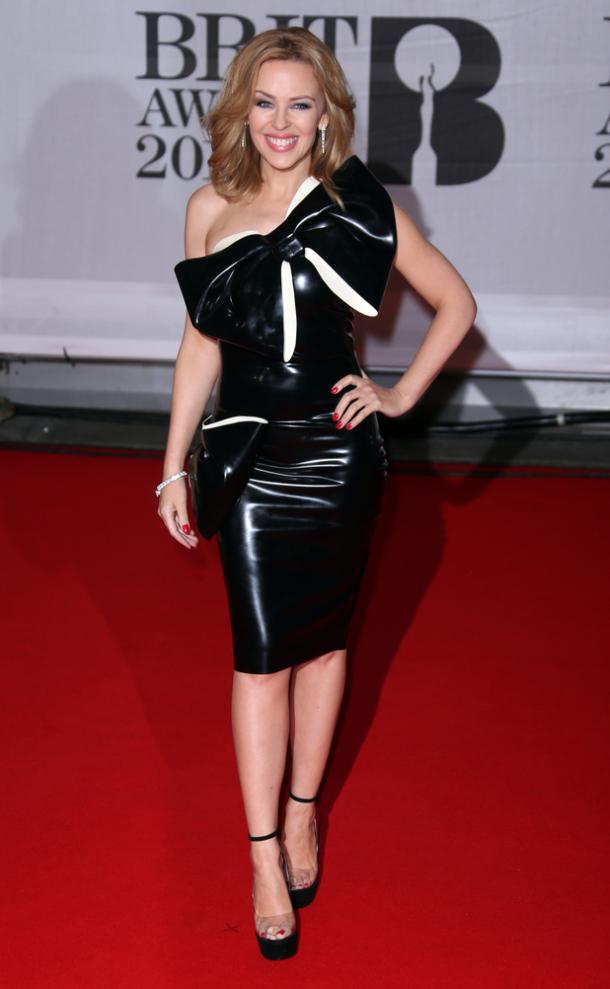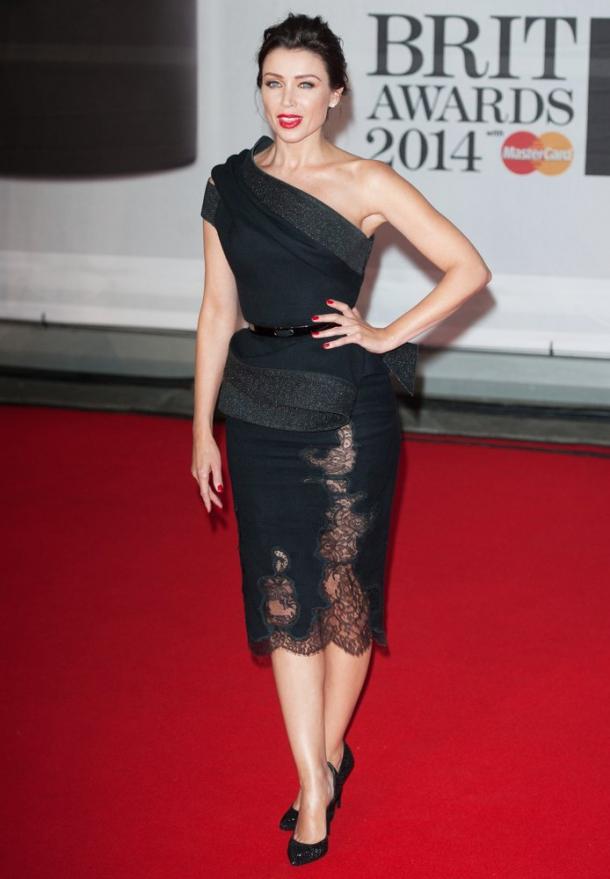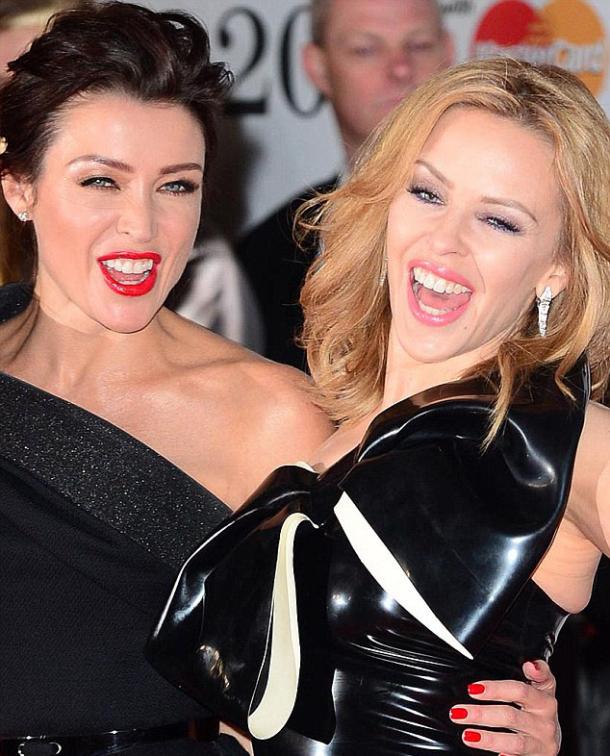 The image shown in the minimalist style on the red carpet Pixie Lott. Choosing the singer fell on a simple white dress with an open back and a cut from DKNY, as well as a supplement to become handbag with retro style of Dolce & Gabbana and concise satin shoes Sophia Webster.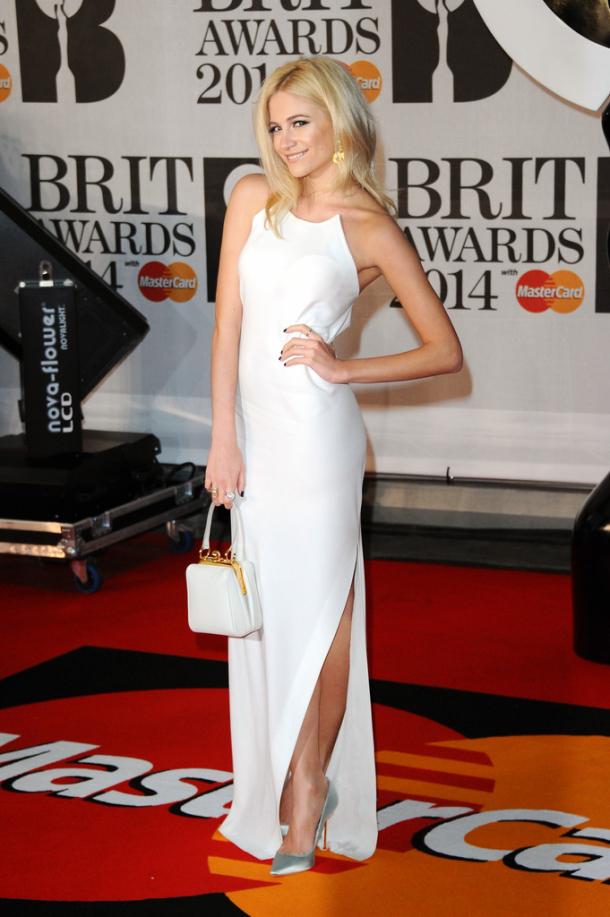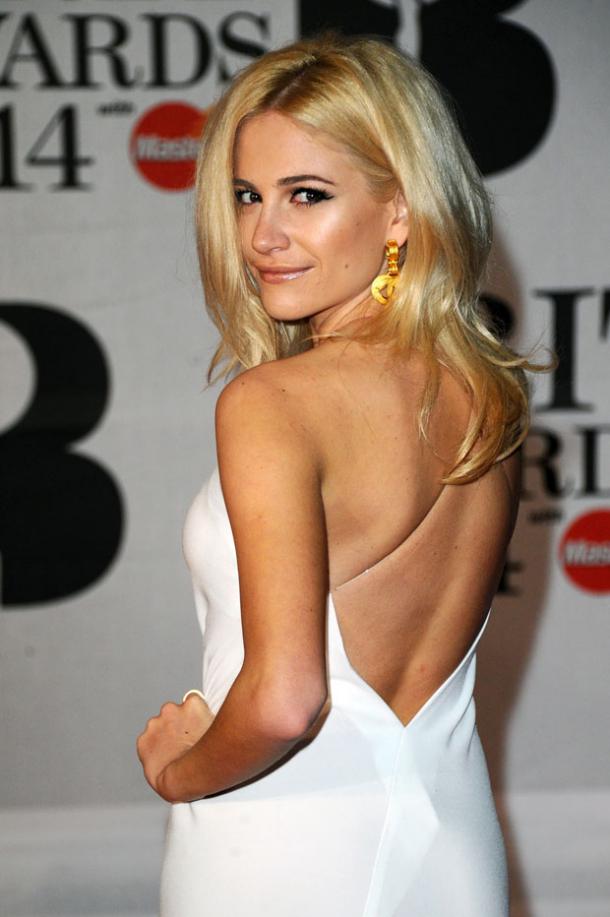 What a pity that we so rarely see Nicole Scherzinger on the red carpet! The images of the singer always have an original and sexy, but do not cross the limits of decency. This time the beautiful Nicole wore to the event stylish trouser ensemble, the highlight of which was the sexy leather bustier with metallic elements and straps. I really like the combination of classic and overt sexuality, which is built this way.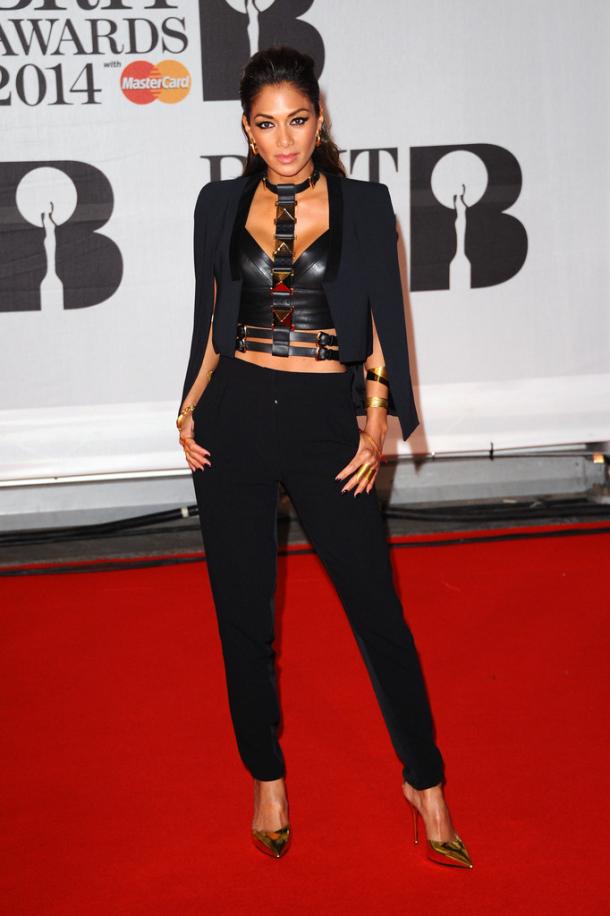 Once again pleased with his outfit and Rosie Huntington-Whiteley. The model opted for small, dressed in a playful dress with bright prints and animalic emphasized shoulder line of the Saint Laurent. I really like the dress, but I am disappointed with the choice of shoes - simple black pumps look at the background of unusual attire so very unremarkable.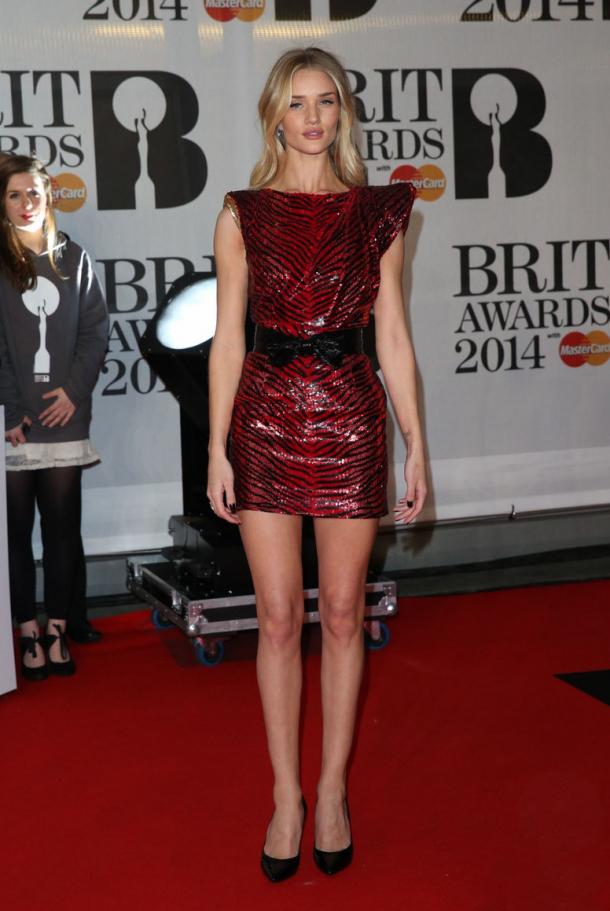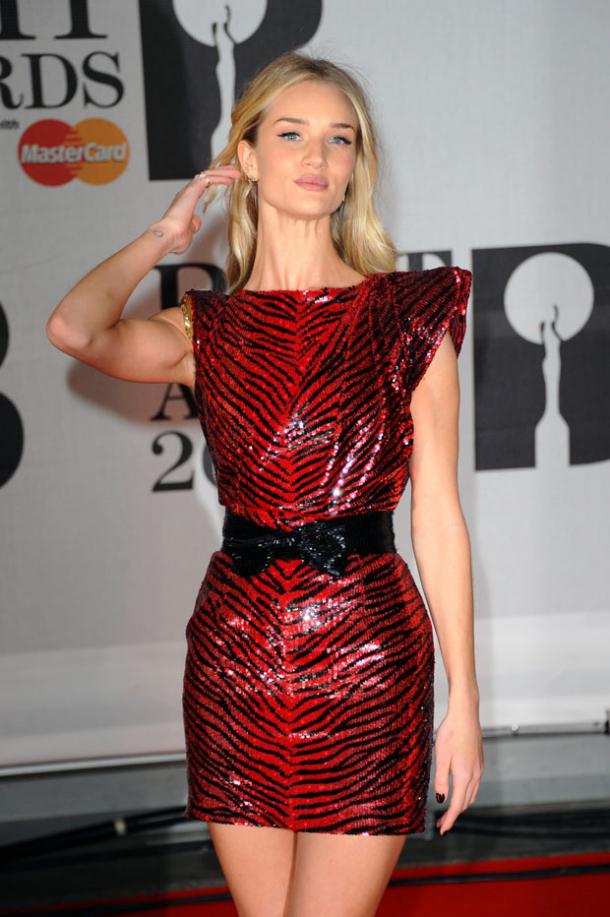 Unusual dress brand Sister by Sibling demonstrated surrounding Daisy Lowe. Her original dress, decorated with ruffles on the skirt and mesh insert on the bodice, was connected by hand, and already this fact distinguishes it from other outfits ceremony. In fact, you often see on the red carpet evening dresses knitted? I do not think.