A native of Russia, with 14 years of living in Canada, Marina Bychkova creates dolls, which has no equal on the entire planet. Body dolls are anatomically designed and are so detailed that they seem alive. The collection is called «Enchanted dolls» ie "Enchanted Doll».
But most of these dolls can be called enchanting. The artist creates them in such detail that the last of its product - doll Daphne - even tried to withdraw from the auction (where it is, by the way, went for 60,100 dollars!).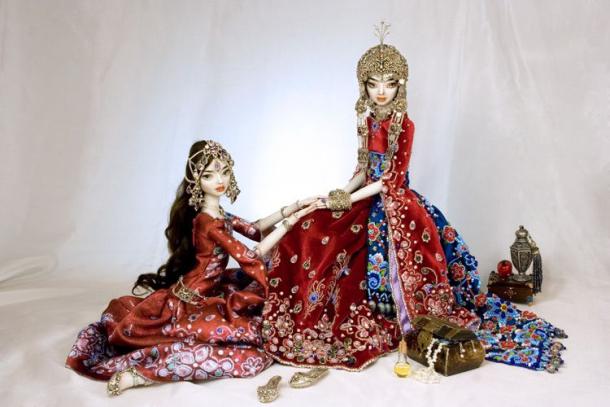 Dunyazada and Scheherazade
Woman, by the way, many believe almost crazy. Comments are separated by exactly half. Other contrary praise her and glad that finally got a single sculptor who makes something worthwhile, now!
Since my childhood I hated all this celluloid, plastic industry, - says Marina. - Russia in this sense unpleasantly shocked me, and I was six years old dreamed of making their dolls. When I moved to Canada, the first thing I started to do is learn everything you possibly associated with the production of dolls.
Beauty and the Beast
Marina was born in a small Siberian town in 1982. When she was 14, emigrated to Canada with his parents and sister. In 2001 she graduated from high school and then studied at the Institute of Art and Design Emily Carr (Emily Carr Institute of Art and Design).
I did not give training practically nothing. I had to catch up itself. I attended courses of jewelry, sculpture, works with acrylic, metal, forging courses and work with fabrics. I wanted to do for dolls everything from frame to jewelery. And so it was not an imitation, namely mikroukrasheniya of these metals, stones, and clothes were sewn as in the workshops of the great designers. I am constantly studying the history of costume, I like to create images of the era. All my dolls - are living beings. I am in everyone puts so much effort and time, which is strange to imagine that the toys may be different, the same for all!
Each doll is created for many months, sometimes two or three years.
Marina is working in parallel on several dolls. Many of the toys immediately go into private hands, but most are sold at auction. Part of the money spent on charity Marina.
Beloved wife Safia. Doll went into private collections and are made to order with a portrait of a girl.
To create dolls Marina uses material Super Sculpey, polymer clay dolls are obtained cute but simple. Much more like working with porcelain. For each body taken its shape, then cast a general framework, polished, is painted.
If you want the tattoo drawn
I use a special hinge mechanisms that doll can move, and move naturally, as a man that it was possible to play.
By the way, many people think that you can easily break a doll, in fact it is not so simple: because under a layer of plastic has a metal "skeleton».
The eyes are made of glass, the hair of natural hairs, I stuck every hair, that there are no bald patches terrible as it is done everywhere. No single cut wigs! Each cilium is planted on the eyelid.
Olga Larina
The best part - draw a face. Monotonous work is tiring, but the face - a holiday and a fairy tale! Always something new. Ornaments I have to create the same pattern: first pour shape, then melting gold, silver, copper. Each bead sew separately so as not to fall off. A lot of work!
Echo - the youngest daughter of Emperor
I often say that my dolls sad and gloomy. But this is not true. I just make them real, we are in life, too, do not laugh all the time. We are wounds on the skin, stretch marks, cellulite. If I'm doing Snow White lying in a coffin, of course, it is logical to assume that it touched the decay time. And there are bruises on the skin. And the same goes for the doll "Bride of Frankenstein».
Hands to draw the most difficult! They are created each time a correction, fill in the form can not be too fragile fingers break. Suffer, suffer, and then something happens yes. With these puppet handles I am very proud of! I was busy with them for several days.
I am realist and I do not hesitate to apply the body for what it is. And such as it is - it's beautiful. In spite of everything!
All decorations are created in a single copy. Anyone can buy a replacement shoes for her dolls. A pair of shoes costs between $ 220 and above.
At the time, Japanese Vogue offered the girl to use her dolls in the original photo shoot spirits.
Gradually began to buy dolls in Russia, although in 2008 Marina did not even hoped. The girl is your own personal touch, where talks with groupies in Russian.