Today you have a unique opportunity to feel like a bird, and a fascinating journey of Vladivostok, boarded the helicopter. So fasten your seat and get ready to enjoy breathtaking views of the city. Helipad, where we took off, was on the Russian island. So the first thing we saw - a huge territory of the Far Eastern Federal University.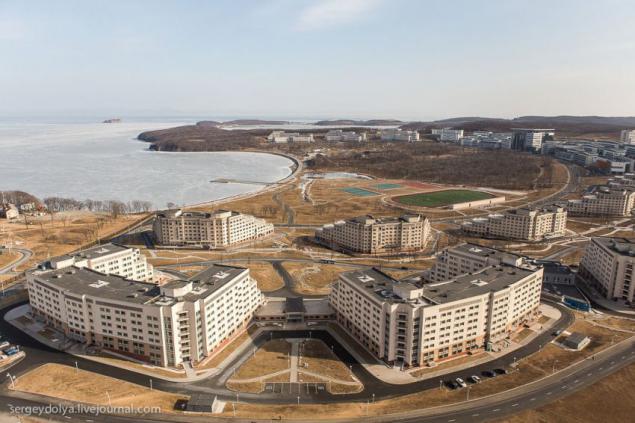 The complex of buildings surrounds the bay distinctive "horseshoe" and is best seen from a helicopter. Built-up area - some two hundred acres. It then passed the summit of the Asia-Pacific Economic Cooperation in 2012.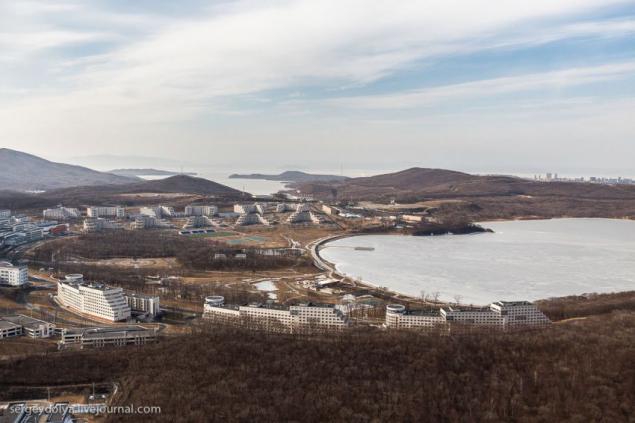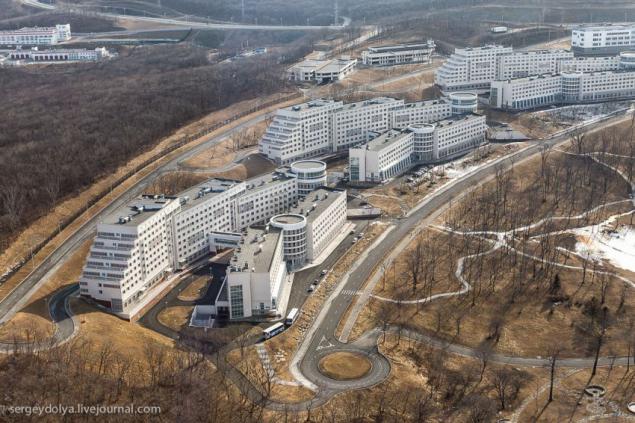 The main building, where the rector of the University.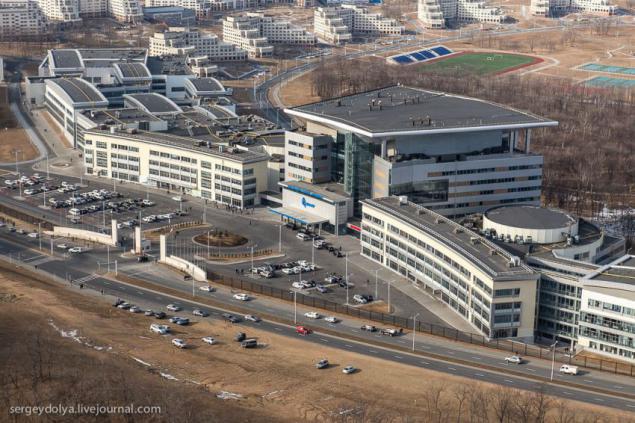 Inside the complex a huge park. At the moment it opened, but the final decision whether or not to keep people out, both in Moscow State University, there is no or not yet accepted.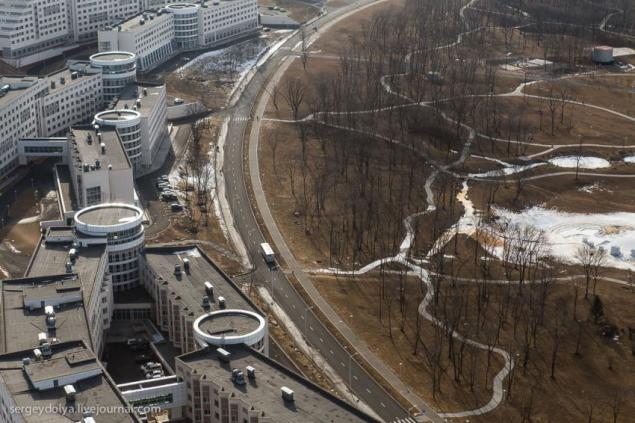 Seaside Aquarium - a grand structure. The total volume of water in the aquarium - nearly 10 000 cubic meters. The main building will establish 500 tanks for 18 thousand species of fish and mammals. Oceanarium is planned to open this fall, he must become the world's largest complex of its kind.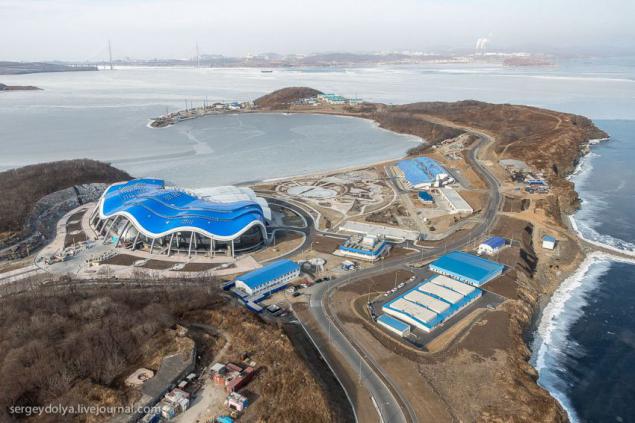 In the background is seen the so-called "outer harbor" - part of the port waters for anchorage of ships. If you compare the port with a dwelling house, it is his "entrance".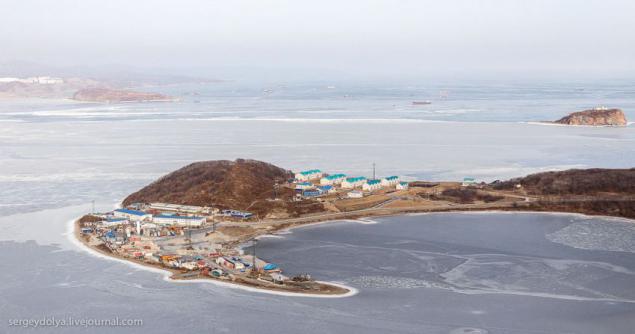 There are fishing vessels, the tanker fleet, bulk carriers and others.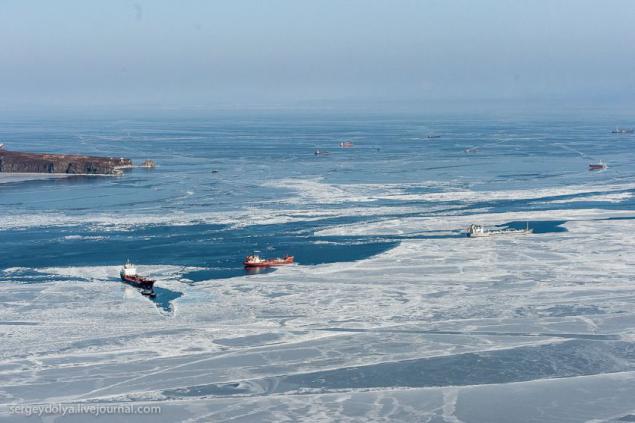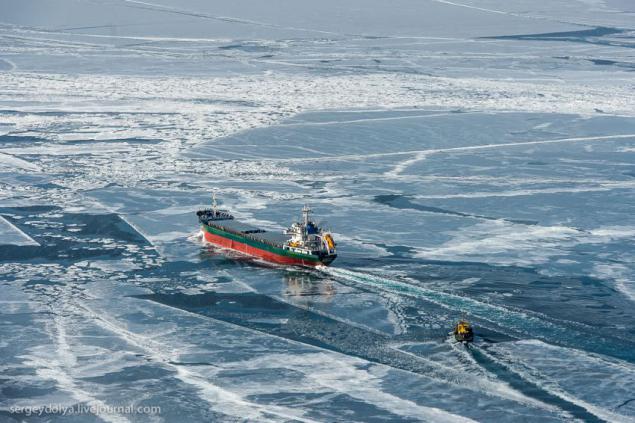 Famous Russian bridge on the Russian island.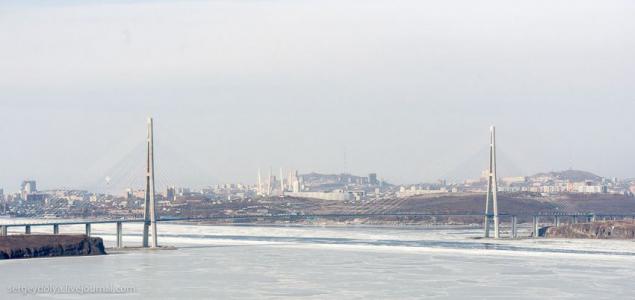 And this is - the city itself. The picture shows the Golden Bridge across the Golden Horn. By the way, throughout the construction (from 2008 to 2012) the bridge had no name. The official name was just before the surrender of the object.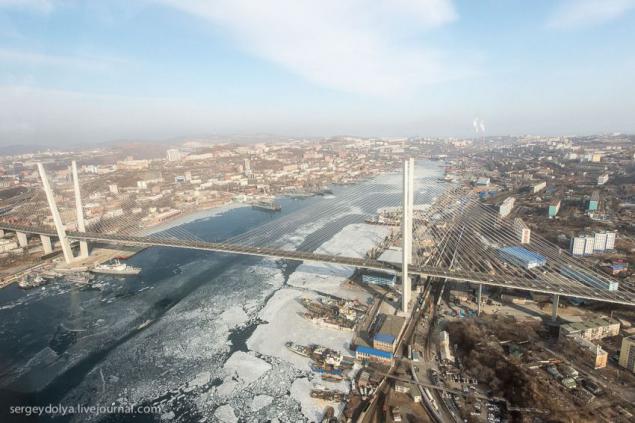 Before the construction of the bridge to get from one side to the other could be, at best, 30-40 minutes, at worst - in 4 hours.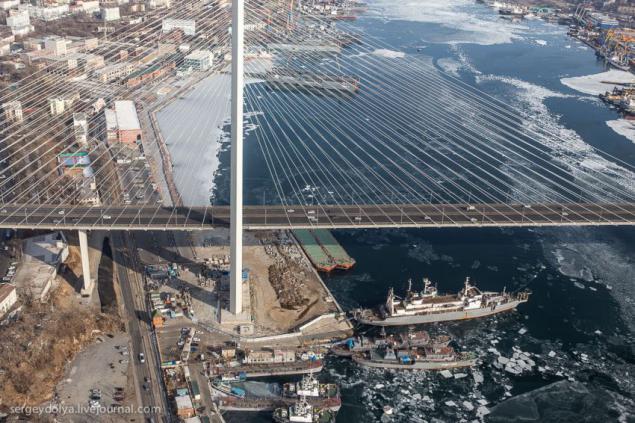 Coast. In the upper left corner - go-kart track in Vladik.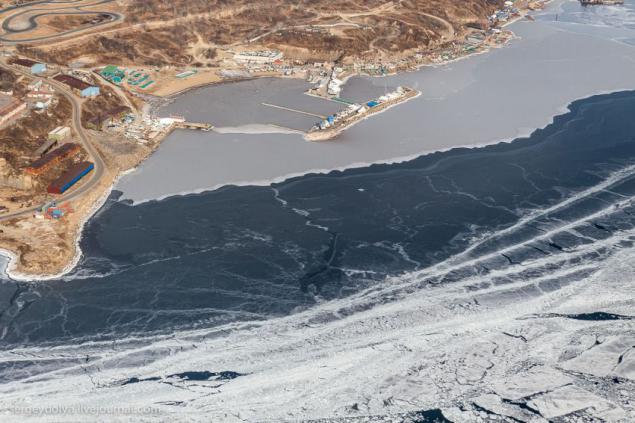 In the background smoke pipe CHP-2, which heats the water for the entire city.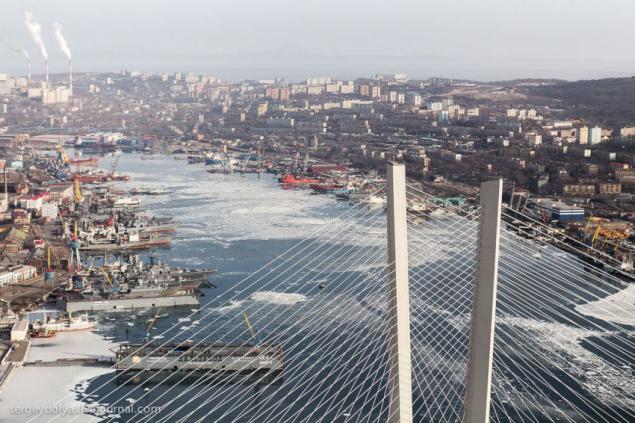 Port.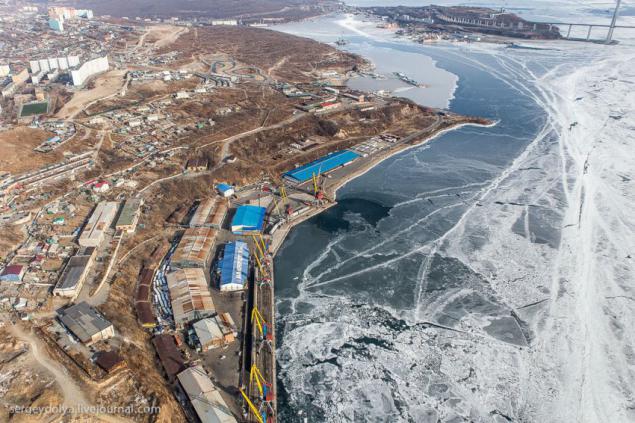 Repair docks.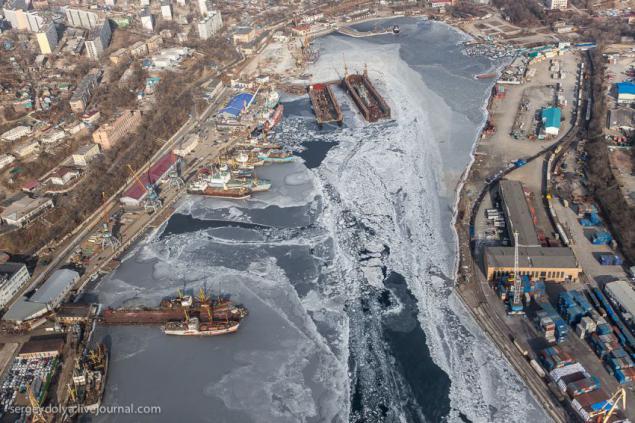 If you look closely to the winding ribbon of the railway on the right, you can see the gray-red train. This Express, which connects the center of Vladivostok Airport. Express is the same as in Moscow.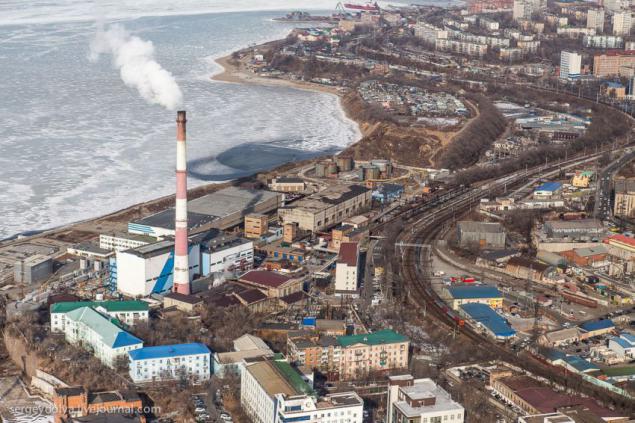 Over the bridge - Orlinaya. One can see how it matched the new building. Buddhists consider sacred hill, and by all means protect it from development.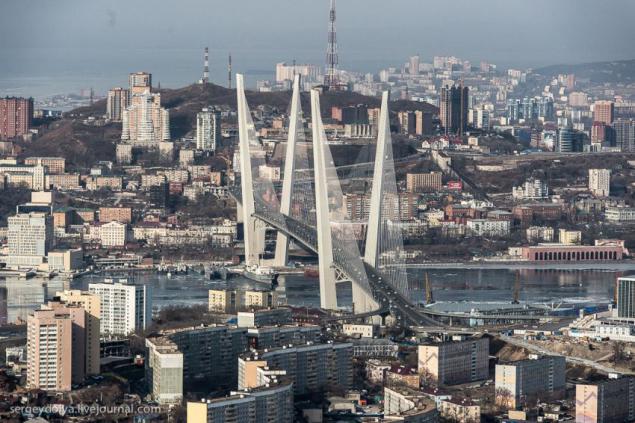 Then we flew along the coast.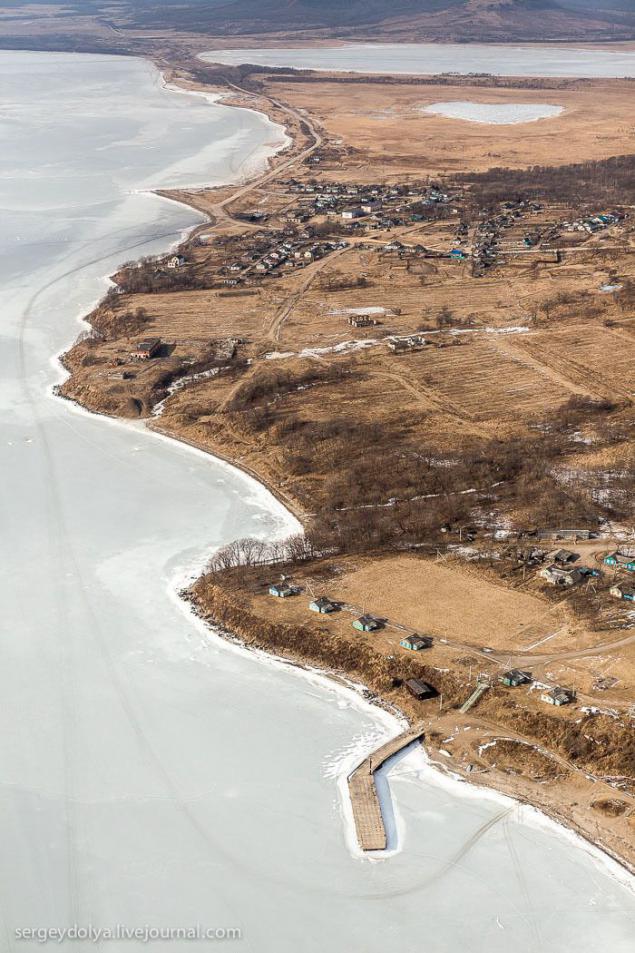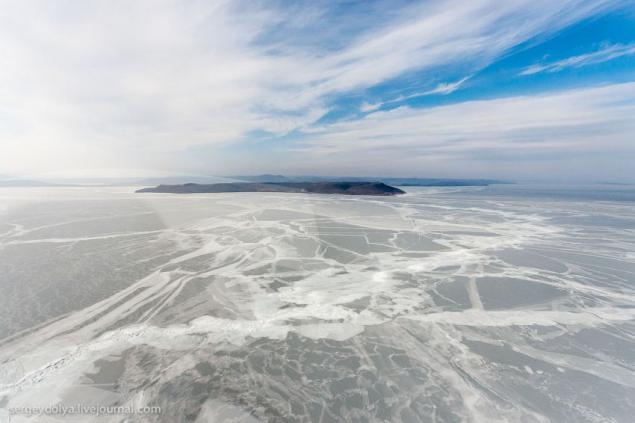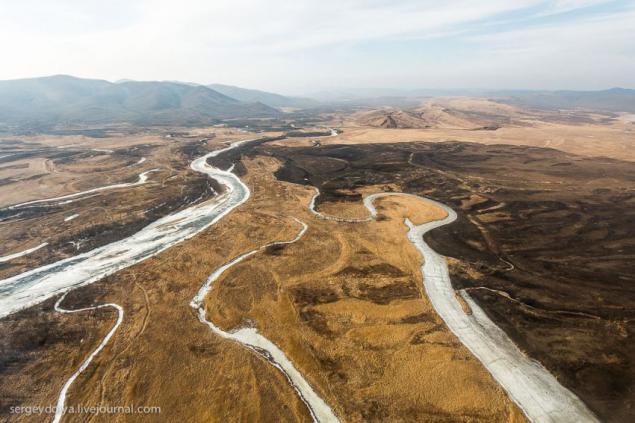 The village of Slavyanka. The population lives off fishing seafood, there is a military unit.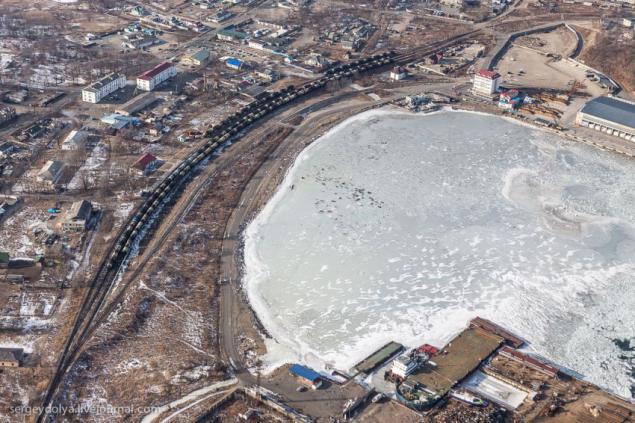 At the mouth of the river water salinity average - a favorite place for the winter smelt and fans of winter fishing.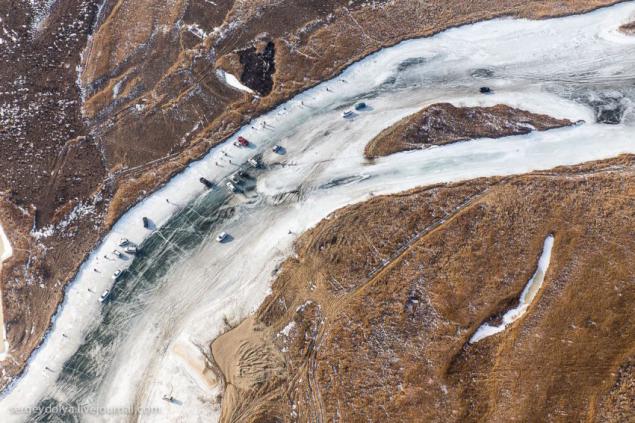 The photograph shows the effects of fires. The road was a barrier to fire.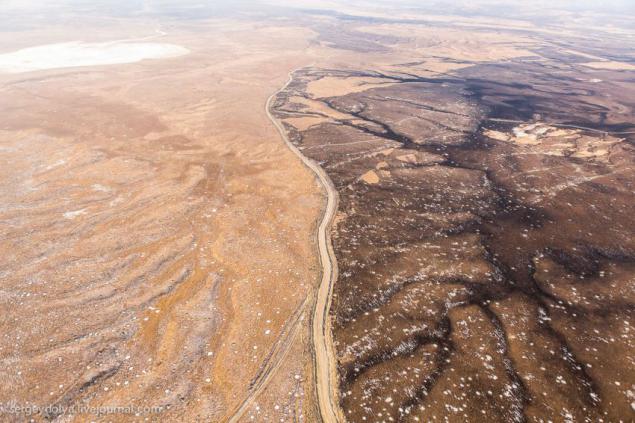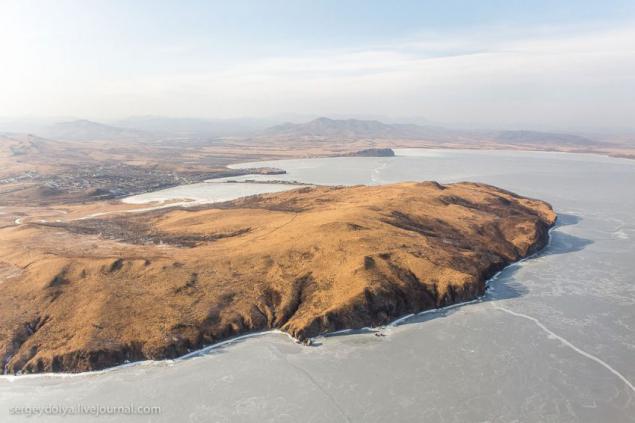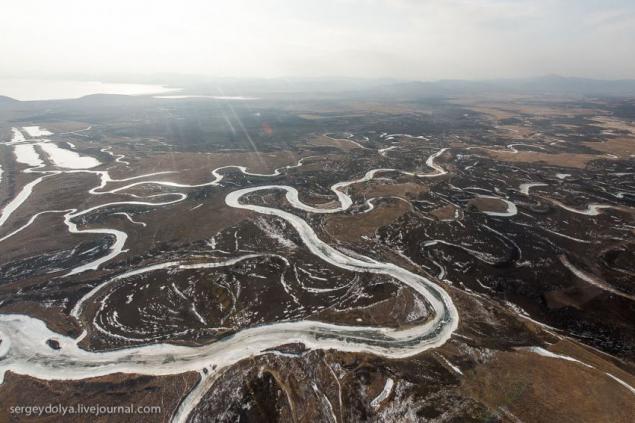 The strip of water called a lagoon near the shore.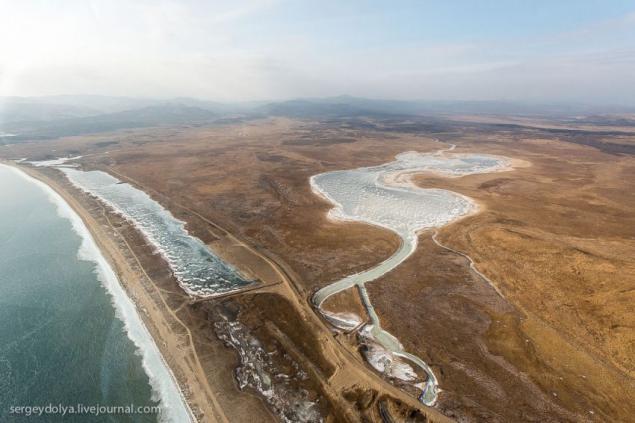 The transparency of water - 25-30 meters.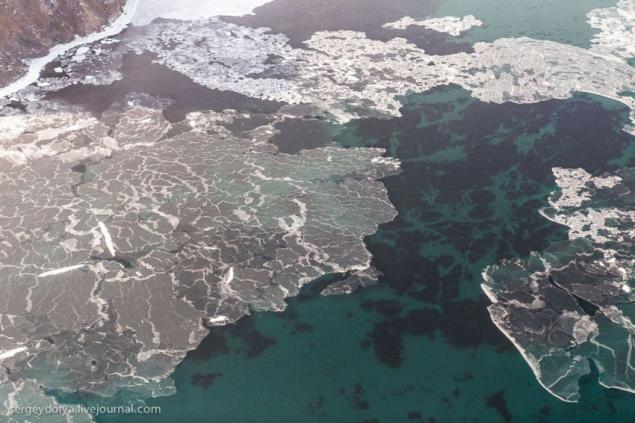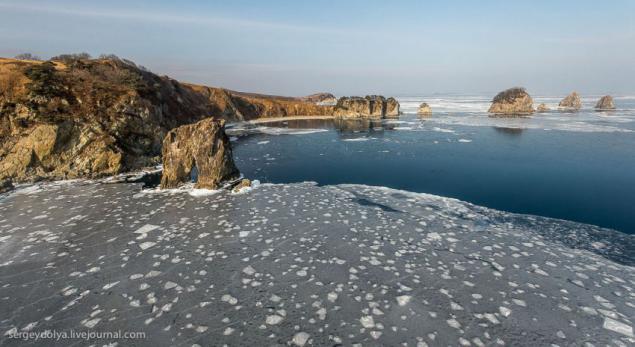 Source: sergeydolya.livejournal.com