In Moscow, the exhibition is very steep - HeliRussia-2013 - etoprezentatsiya achievements helicopter industry from around the world. And especially cool that we have something to show this to the world. The exhibition showcased the Russian Ka-226T, "ANSAT" Mi-171A2, Ka-62, Mi-35M and many others. But first things first.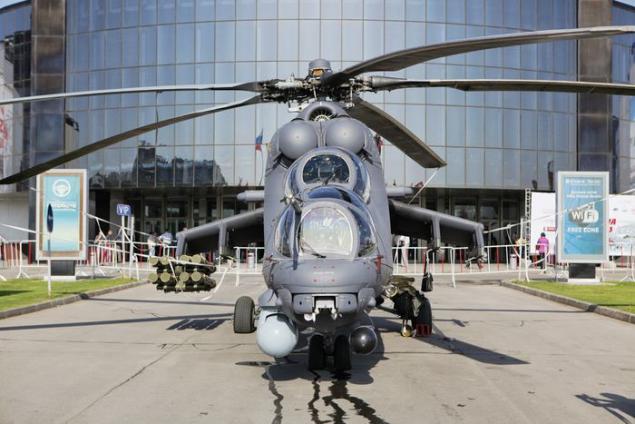 Mi-35M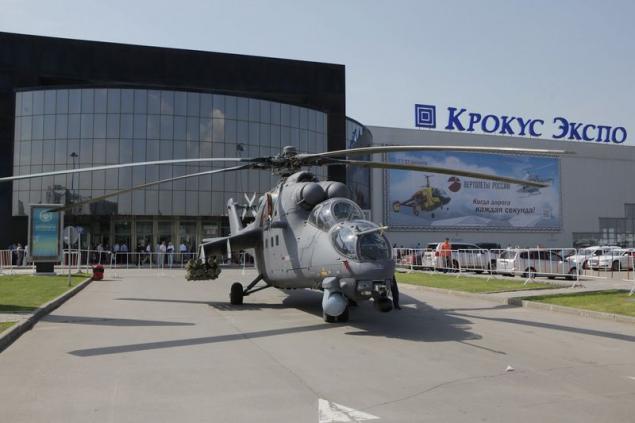 Mi-35M - a multi-purpose attack helicopter, sharpened to destroy the enemy armored vehicles. Is a deep modernization of transport and combat Mi-24. In contrast, has advanced management system, weapons, a new system to detect enemy. Has high maneuverability and low noise level, which also significantly increases the fighting qualities of the helicopter. Developer and manufacturer of this machine is holding "Russian Helicopters", included in the corporation Rostec. Until 2007, there was no holding company, and the Russian helicopter manufacturers trying to survive in competition with each other. Thanks Rostec, the situation has changed for the better. Broken industrial chain have been restored, and the production of helicopters tripled. As a result, Russia has regained its place among the world leaders in the industry. Now "Russian Helicopters" unites all helicopter industry enterprises of the country. Holding - the general partner of the exhibition HeliRussia-2013.
Multi-purpose light helicopter "ANSAT" exhibition HeliRussia-2013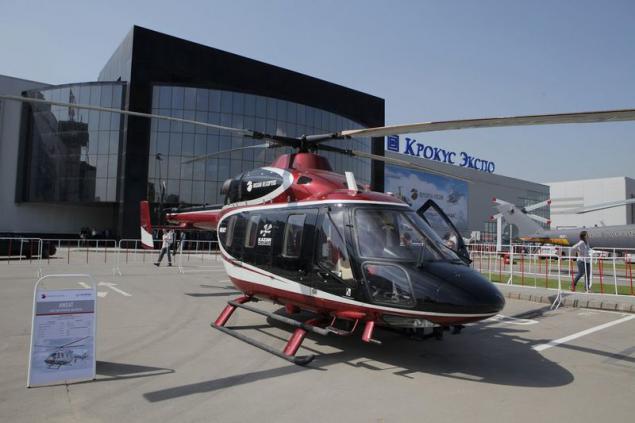 Light multipurpose helicopter "ANSAT" developed and produced at "Kazan Helicopter Plant". The helicopter will be used for the carriage of goods and passengers, used in search and rescue and medical evacuation operations. ANSAT in translation from the Tatar translated as "simple". The name reflects the efficiency of the helicopter and ease of management, so it is assumed that this model will be in demand flight school. Helicopters are used for the production of advanced composite materials, it is equipped with modern avionics. "ANSAT" capable of speeds up to 275 km / h, to lift up to 1,300 kg of cargo and carry up to 8 passengers. Maximum range - 515 km.
Ka-226T at the exhibition HeliRussia-2013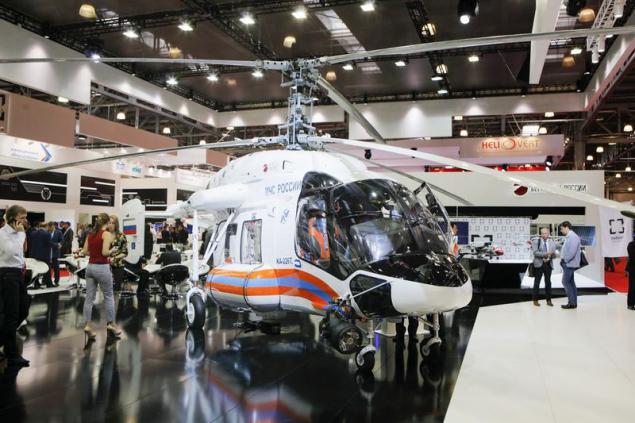 Ka-226T - light multipurpose helicopter designed for special operations in remote areas. It can be used for rescue in distress, as ambulances, patrol, special forces landing on unprepared sites and transportation of goods. The helicopter is capable of speeds up to 250 km / h, can lift up to 1,500 kg of cargo, has a modular design that can effectively use it for different purposes, different reliability, safety, ease of operation, low noise.
Medical unit in the light multipurpose helicopter K-226T, HeliRussia-2013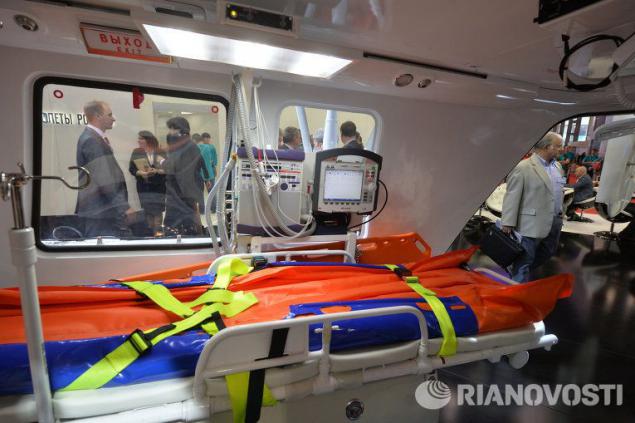 Layout middle multipurpose helicopter Ka-62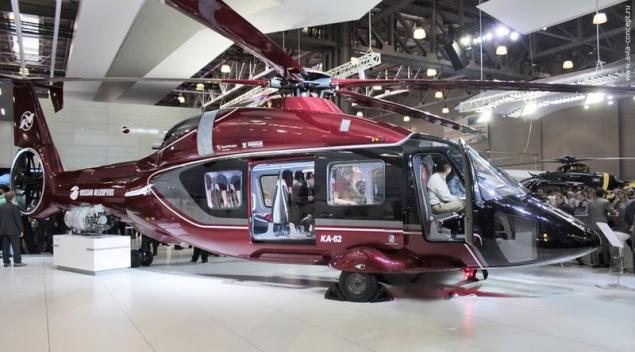 High-speed multi-purpose helicopter Ka-62yavlyaetsya modification military transport helicopter Ka-60. Designed to carry passengers and cargo, emergency medical care, can be used in rescue operations. Maximum speed - 308 km / h. Carrying capacity - 2500 kg.Shassi helicopters have enhanced cushioning qualities, and the fuselage is designed using the principle of safe destruction. The helicopter is made of advanced polymer composite materials.
Layout AgustaWestland AW139 navystavke HeliRussia-2013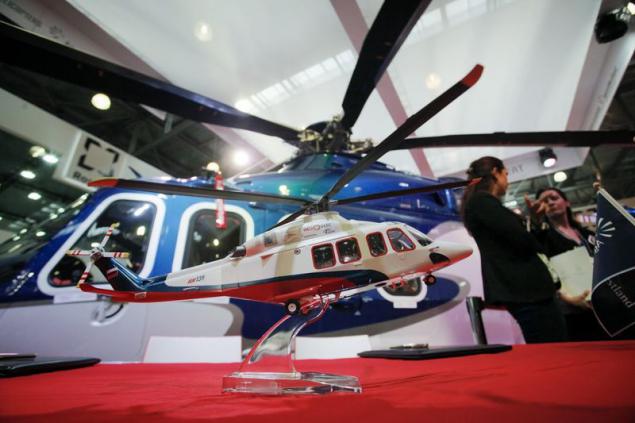 The twin-engine multipurpose helicopter AW139 designed by AgustaWestland. AW139 develops cruising speed of 309 km / h. This is the only helicopter in its category, which can be equipped with de-icing system. The helicopter can seat up to 15 passengers can fly up to 2,500 kg of cargo. AW13 is more reliable: the machine is able to perform vertical takeoff on one engine at full capacity even at high altitudes.
The twin-engine multipurpose helicopter AgustaWestland AW139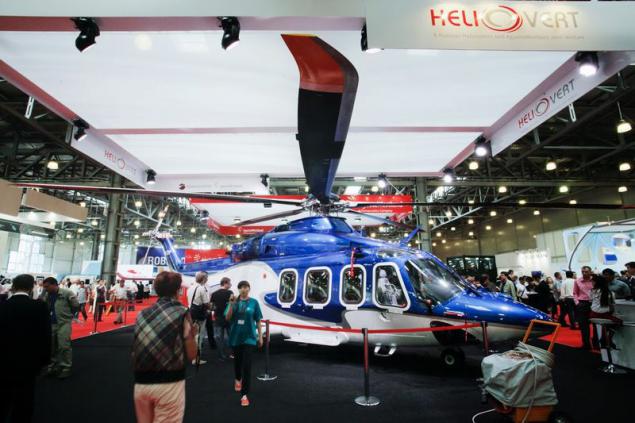 Since 2012, the assembly of these helicopters is carried out in a joint predpriyatiiHeliVert created in the suburban Tomilino companies AgustaWestland and "Russian Helicopters».
AW 139 helicopter cabin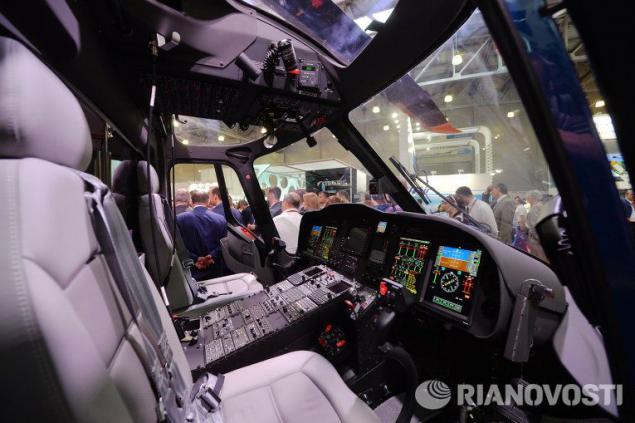 Mi-171A2 layout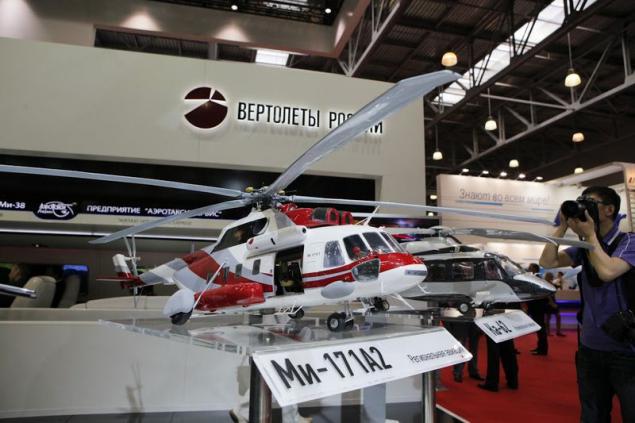 Latest Russian Mi-171A2 - a deep modernization of the Mi-8/17. On the external sling helicopter capable of carrying loads up to 5 tons, flying Mi-171A2sposoben carried out at temperatures from -50 to 50 degrees Celsius, and the maximum range - 850 kilometers. Serial production will start in 2014.
Layout Ka-32A11VS exhibition HeliRussia-2013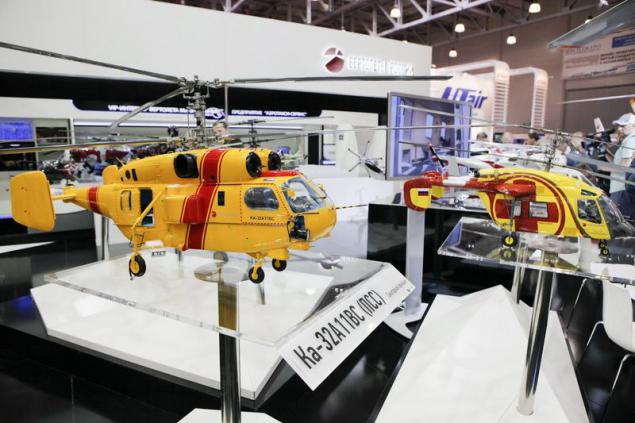 Ka-32A11VS - multipurpose helicopter designed for the transport of persons, goods, construction and installation works, fire extinguishing (can carry up to 5 tons of water). The helicopter is equipped with a fire suppression system «Simplex», horizontal water cannon and drain device VSU-5 is designed to meet the requirements of ship-based. Helicopters Ka-32 is successfully used worldwide for forest fires and Fleet Air Arm.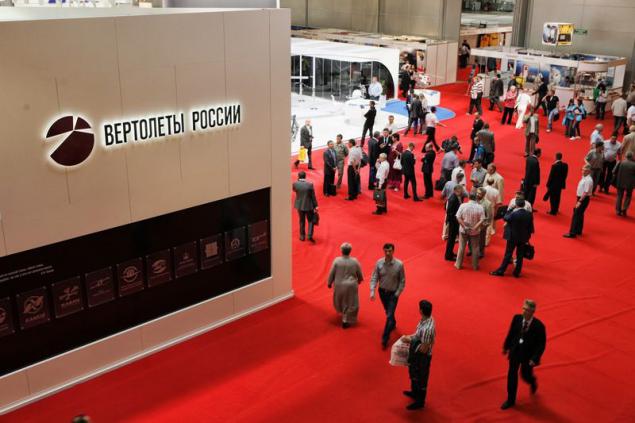 The exhibition will run in "Crocus Expo" until 18 May. Ticket for it costs 400 rubles, but for seniors, students and children under 12 free entrance to it.
Source: egor-lavrentiev.livejournal.com