Feoktistovich Boris Safonov - a unique and truly legendary pilot - fighter of the war 1941-1942 GG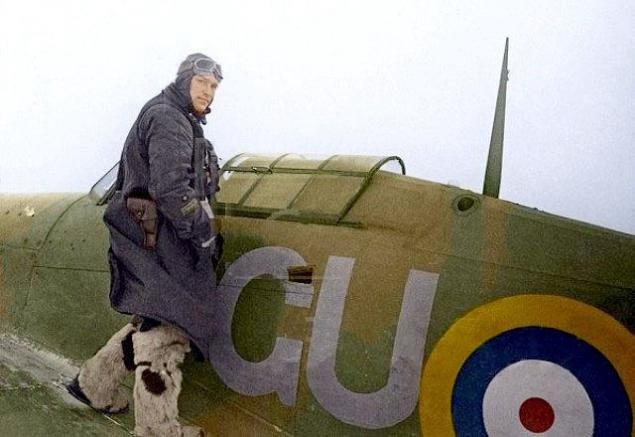 Boris Safonov - the first who was twice awarded the title Hero of the Soviet Union for heroic deeds in the Great Patriotic War. By this high calling a brave fighter pilot was presented May 27, 1942 - three days before his last sortie. He - the first of the Soviet fighters, destroyed by May 1942 destroyed 30 enemy aircraft in person and 3 in group battles. Safonov - a true legend in the history of the formation of the Air Forces of Russia. He is not just an outstanding fighter pilot, among his pupils, 13 Heroes of the Soviet Union. Among his awards the Order of Lenin, three Orders of the Red Banner. Boris Safonov was awarded the highest award of the UK aviation - the Order "a large silver cross."
Safonov was born in 1915 in the village of Sinyavino Tula region. He graduated from school - seven years, the railway trade schools in the city of Tula, the local flying club. There, he was an instructor VS Grizodubova, later famous lёtchitsa, Hero of the Soviet Union. One of the first Safonov became "Voroshilov marksman" stage 2, showing the best result in the group.
The war began on I-16 fighters.
That's his car: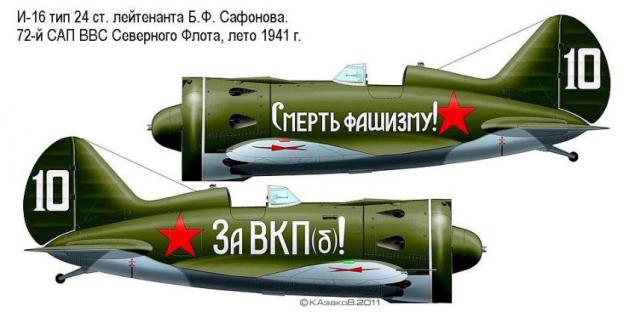 Safonov on the background of I-16, his wingman.
July 6, 1941, Vaenga airfield, 72 minutes SAP VVS SF. Eugene does Khaldey portrait
Boris Safonov. After a few minutes there will be a raid of German planes and cannon
all lies a few steps from the photographer. Aircraft slave A. Kovalenko - I-16 type 24,
tactical number "11", the inscription on the board - "For Stalin!". For cabin - fotokinopulemёt.
Already at that time (!!!).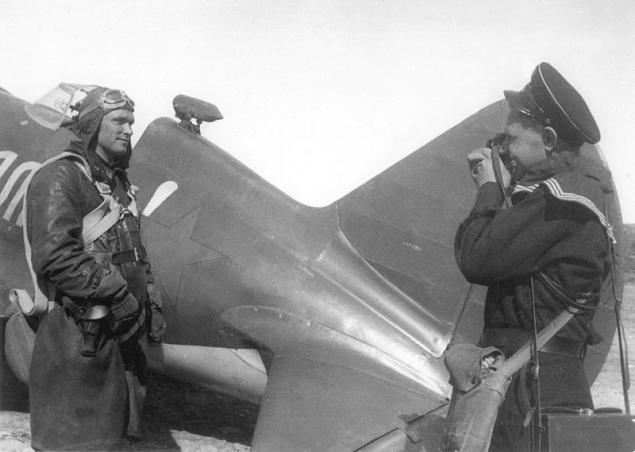 The first sortie made June 22, 1941 over the peninsula Rybachy (near Murmansk), attacking with his wingman bomber He-111. The pilots fired up the depletion of ammunition, but puffed "Heinkel" managed to hide in the clouds.
His first victory Safonov won the evening 24 June, 1941. Flight on their I-16 to intercept intelligence Ju-88 (identified as non-111), after a long chase, he attacked him. First Safonov killed and injured hand plane, and then a long burst from a distance of about 100 meters is almost cut off his tail feathers. The machine fell into the bay Zelentsy and debris picked it approached the boat. It was the first German plane downed pilots of North Aviation.
Safonov loved his plane and personally monitor his condition. There was a case that he was not present when charging ammunition. Check how and what shells stuffed with tape, if it is properly installed. Boris Feoktistovich preferred to shoot armor-piercing projectiles. Once minder Kolpakov asked him: "Why did you not take tracer?" He replied: "I have sighted weapons. And by no armor-piercing Hans will not go ».
At its I-16 BF Safonov has made 109 sorties and shot down 17 German bombers and fighters. All the fighting plane changed its 3 motor. Equaling to the pilot, performed their duties in an exemplary aircraft technician and mechanic Semenov cap. Safonov said many times: "Half of the downed planes me I carry the expense of machinery and Semenov minder Kolpakova.
July 14th, 1941 Boris Safonov was awarded the first Order of the Red Banner, the same day he wrote to his battle score 2 bomber. July 27 shot down another 2 dive-bombers Ju-88. August 6, paired with Maximovich shot down Me-109 fighters. August 9 won just 3 wins. By the end of the summer on his account was already personally shot down 10 aircraft (No-111, 5 Ju-88, 2 Hs-126, Ju-87 and ME-109) and was soon introduced to the title Hero of the Soviet Union.
Guys, think about it:
By 28 August 1941, he made 130 sorties, conducted 32 air battles personally shot down 11 enemy aircraft. Only 5 days in August, he won five individual victories. September 15, 1941 Seven fighters under the command of Baris Safonov, entered the fray with the superior almost 8 times the enemy forces, destroyed 13 enemy aircraft, not losing a single of his own. Safonov shot down 3 cars (including: Ju-88 and Hs-126). Its success is based on flexible tactics, knowledge of the enemy aircraft, as well as slёtannosti his team in the air.
When they near the airport made an emergency landing a German fighter Me-109, Safonov did not fail to carefully examine and study it, identifying weaknesses in the enemy's machine, such as a bad review back from the cockpit. When I was shot down by Me-110 took off from him the armor and dragged into a kind of shooting range on the edge of the airfield, where pilots practiced shooting at it from different distances and different angles.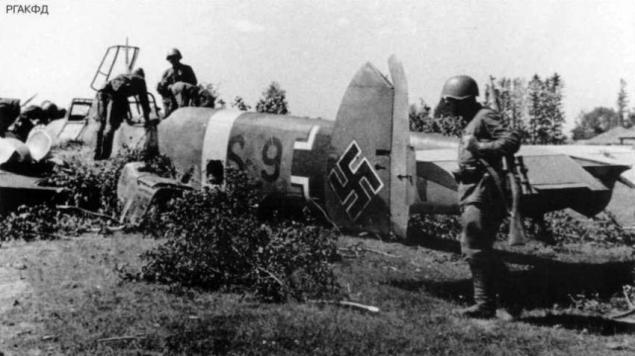 September 16, 1941, for the heroism, courage and bravery shown in combat, squadron commander of the 72nd Mixed Aviation Regiment (Air Force of the Northern Fleet), Captain BF Safonov was awarded the title Hero of the Soviet Union. At the time of publication of this decree, on account of the squadron pilots had about 50 air victories, 16 of them - on account of squadron leader.
Boris Safonov quickly became known not only in the Northern Fleet, but it always remained remarkably humble man. Never talk about their personal victories, he always emphasized the merits of his comrades-in-arms. Often the training of young pilots Safonov held directly in the fighting. As a rule, he shot down enemy planes from the first attack. But when it went to an inexperienced pilot, Safonov sought only "podranit" the enemy, and then handed the initiative to his partner.
In September 1941 at the aerodrome, where the squadron Safonov, settled British fighters. These were the "Hurricanes" from an aircraft carrier, who arrived to strengthen the fighter escort convoys. The group received the code name "Benedict". He commanded by Colonel Sherwood. British pilots kindly gave two of his machines to our pilots, in response to our command has presented them our I-16 and I-153 "Chaika".
Excellent flight training allowed Safonov first in the Northern Fleet master the new fighter just days after his studies, together with the British squadron commander Miller. And after only 10 days, these machines have mastered the other squadron pilots.
The Englishman Hubert Griffith later recalled:
"It was more than capable pilot, an outstanding shooter, as it later turned out to compete in pistol shooting. Safonov was a typical Soviet man, stocky, solid, methodical and unhurried ...
While in the air, three Soviet pilots, led by Safonov, found on the way to the enemy convoy 6 Ju-88 bombers. Around 10:00 they quickly attacked the enemy. In the confusion of battle Soviet unit disintegrated, and more Safonov, nobody saw. In his last fight Safonov shot down two aircraft, shot down the third, but he was killed.
He was the first Soviet aces Naval Aviation, who in May 1942 had to battle account at least 25 enemy aircraft destroyed himself and a group of his comrades. In many editions of the number of victories won by them is different: from 22 to 41, including group.
Here he writes about this former pilot of the 2nd Guards IAP Nikolai Gerasimov Golodnikov (on account of his personal and 7 8 group wins):
"I think he knocked more than 22 German aircraft. Safonov beautifully shot, and used, in one battle shot down 2 - 3 cars. But Safonov had a rule - "more than one shot down for the fight does not write & quot ;. All others, he "gave away" slave. I well remember one fight, he shot down three German aircraft and immediately ordered that one to him, one - Semenenko (Peter Semenenko flew wingman Safonov) and one more who - is. Peter stands up and says: "Comrade Commander, but I did not shoot. I do not even percale shot through. " And Safonov him and says, "You did not shoot, but I shot, and you provided me shooting!" And such cases have more than once been Safonov & quot ;.
The reason for the death of a brave pilot is still a mystery. Many publications are different versions - a sudden attack of enemy fighters, fire gunner of one of the "Junkers" and the engine failure "Kittyhawk" the last plane of Boris.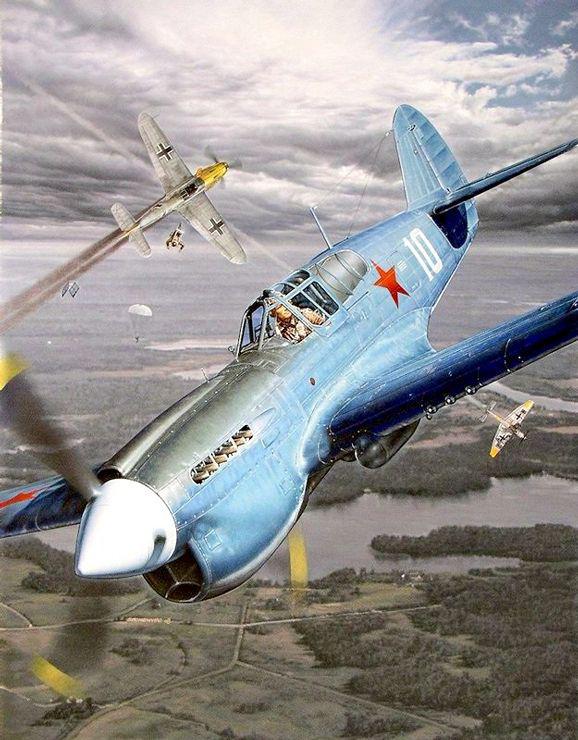 Source: