Interesting story in great detail about how one family bought a house in Sicily and moved there to live.
Next, the text author:
View from the terrace of our house: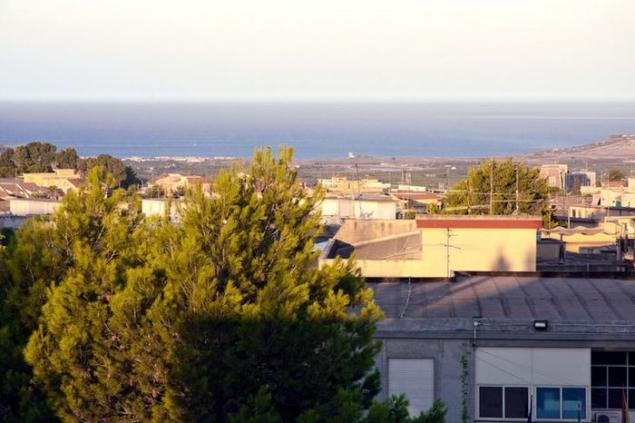 Why did we choose Sicily?
1. Climate. The climate here is simply paradise. The temperature in summer rarely rises above 40, and the heat is not as heavy as in Moscow, the winter lasts about 10 - 15, sometimes at night, falling to 3 - 5. Sea (almost deserted beautiful beaches), the sun (over 300 days of sunshine a year), beautiful nature - forests, fields, mountains.
2. People. Contrary somehow common beliefs, the Sicilians incredibly friendly and sociable. Any xenophobia, hostility or suspicion of "come in large numbers", not at all. No one in the head does not come to conclusions about what you're human, only by reference to where you came. A good man - a good means. Not really - it means not much (but in this case will just try to talk to you a little less, and all).
3. Language. Italian language is simple enough to learn, and also just very beautiful. At a level sufficient to go to university, we learned the language in less than six months, with without any courses and tutors themselves, textbooks and multimedia courses. Yes, of course, the southern dialect common in Sicily, is much more difficult to grasp than the classic Tuscan, all of which are taught, but also to get used to it fairly quickly.
4. The distance between Moscow and ticket prices. For me it was also an important factor, as with working business in Moscow, still need to come back sometimes. Direct flights Palermo-Moscow is not seen (charters do not count), but Alitalia with a connection in Rome, Venice and Milan can be reached in six hours. Return ticket in economy class will cost 12-25 thousand rubles, depending on season and day.
5. Property prices. Well, this is, actually, a post.
6. The ability to obtain an Italian residence permit. Italian residence permit to obtain a very simple, it would wish. There are many solutions, we have to start by selecting one of the easiest - for studies, enrolling in the University of Palermo. Then it is easy enough to convert a residence permit for work, and after five years you can request permanent.
7. Other conditions - the infrastructure, price, etc. The infrastructure here is better than in Moscow. Prices of almost all below exceptions can be counted on one hand: gasoline, car insurance, electricity (although the situation is improving, thanks mercato libero).
A little bit about the myths about Sicily.
1. Here, the mafia. In fact, here there is no mafia. Sicilian Mafia sunk into oblivion even before the Russian bandyuki crimson jackets, good, here it fought seriously.
2. Sicily - dirty, noisy and ugly. Yes, we were also in the center of Palermo. But the center of Palermo - this is not the whole of Sicily. It is rather its complete opposite.
3. Sicily packed with legal and illegal migrants. In fact, all the illegals just trying to go north. From low-skilled workers here are only those who do not shun peasant labor, for example. And they are very few.
4. In Sicily, it is impossible to find a job. It's funny, but local businessmen complain quite to the same, to their colleagues in Moscow: the lack of adequate staff.
True, but a few: with office work does not; you need to know the language, and it would be good and more English; for more or less responsible work we need a degree of special education (even apartment rent without a diploma geometra will not be allowed), and opportunities for doing business according to the principle "for the ruble buy, three sell, here are these two percent, and live" not available as a class.
The first time we came to Sicily in the autumn of 2011, just to see if we like it. I liked very much, we had the feeling that these places for us can really be family. We stayed a week near Palermo, then a week in Syracuse, during which time we tried to go around the island, and in particular, the small town in which we have chosen in advance a few houses.
Beach 7 minutes away from our house, nature reserve. Just like the picture, to set the mood: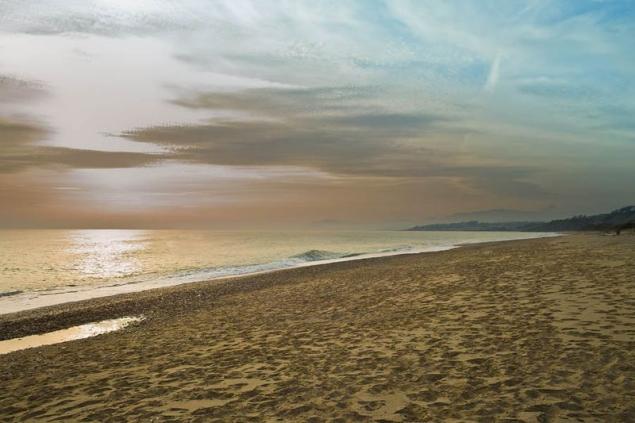 I have several times familiar and unfamiliar people said, "What you tell me're lying, you bought a house overlooking the sea, renovated and fully furnished, just 35 thousand euros, I kind of money even a dog kennel can not find!" And everything is very simple - the Sicilians terribly conservative and Sicilian estate agency - is no exception. Most simply do not have their own sites. And if anyone is, 90% of the site is only in Italian.
So if you type in the search for "buy a house in Sicily", the price you actually start from 150 thousand euros. If you type «buy house in Sicily», the result will be a little better. But the better type «comprare casa in Sicilia» - and you will have plenty to choose from. Although, of course, nothing can replace your personal conversation.
So, we really liked the tiny town in the mountains called cancala, only three thousand inhabitants. Very cozy, hospitable. To the sea, however, go about 30 minutes But the silence and the beautiful air. Foreigners among the residents very much, mostly Canadians, British, Germans. Houses there myself bought more than 200 families, but not all live permanently, many come just for the summer.
It cancala: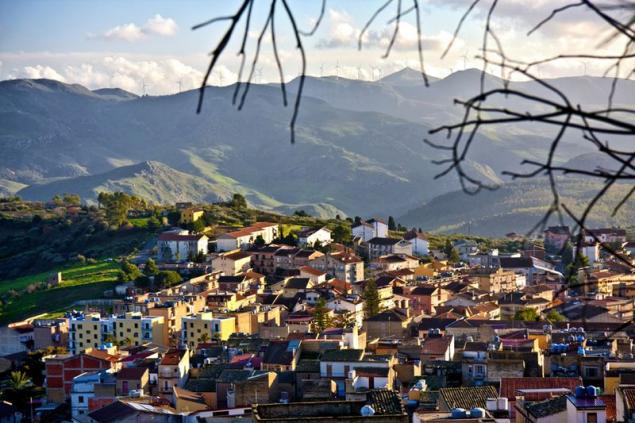 We wrote off a local real estate agency My House - now it's our friends and colleagues, yes, you can take it as an advertisement; and agreed that arrive in early summer (2012), take off for two weeks in a villa on the nature of the couple of kilometers from the city (560 euros for two weeks), and we choose a house.
Property in Italy can buy anyone. To purchase is required to receive the first Italian Inn, codice fiscale, the paper about his assignment to you one day for free will in the social department of the Consulate of Italy. Make sure it is in advance on the site it will be much more difficult.
Arriving in Italy, you will need to open a bank account. Actually, this does not need anything other than passports and codice fiscale. On this account then you will translate money, and it checks, pay the purchase. Check numbers will be entered in the act of buying real estate. Cheques will be three - one in the name of the former owner, the second for notarization, and the third - the agency commission, so that no fraud and possible misunderstandings.
Yes, in any case do not bring a bunch of cash - cash transactions in Italy is limited by law to 1,000 euros, so that you will not even be able to put this money to your bank account, will have to take them back.
We went to see the house in Chanchane. The most important thing that catches your eye - at the Sicilian and Russian are completely different evaluation criteria that are interested in this house or not. For example such factors as the beautiful view from the window, does not matter - we Sicilians generally 95% of the time window covered with metal shutters or blinds, an overdose of the sun affects. But dubious artistic value of the repair or finishing bath with pink marble can be two-thirds of the price of the house. So here we must not be ashamed to look the most options, even the budget.
View from the upper terrace (two) 250-meter four-story house at home. True home without repair: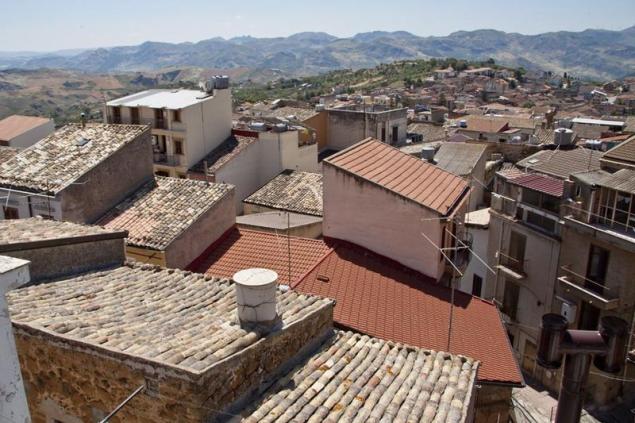 Disposition of the house very often unusual for us - vertical. On each floor - the room.
Typical door in a typical town house: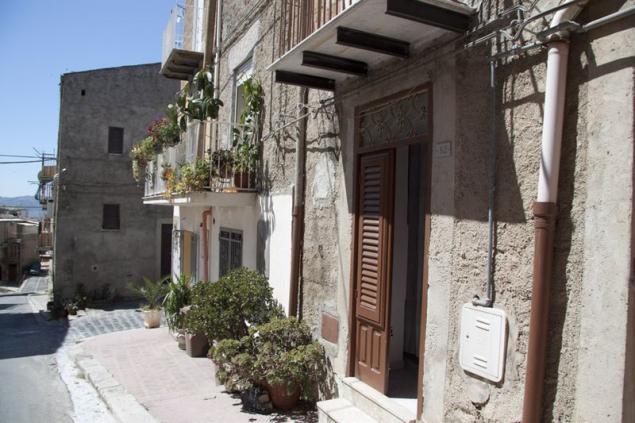 Here's what a normal view from the window, it is still a good case, the window opens onto the roof of someone else, and not on the balcony of neighbors: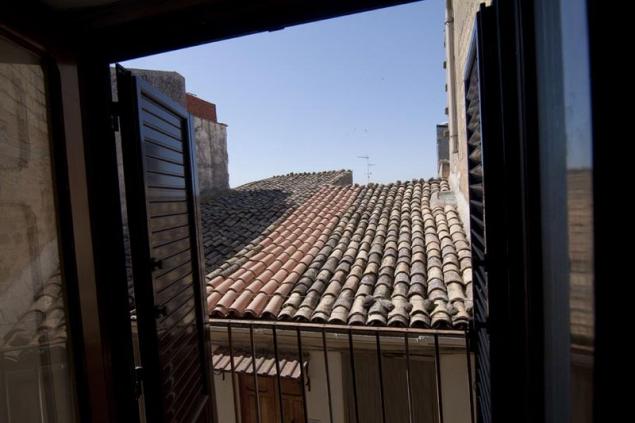 But as a result, much to the dismay of our real estate agents, we eventually chose the house is not in Chanchane, and in another city, Ribera, they showed us. Proximity to the sea and the location of roads played a role.
The second time we arrived at the end of August, immediately settled in almost our home. Signed a contract at the notary - and everything.
Official documents on the property, however, we only got a few months, but here it does not bother anyone. When making a local residence permit - "Residence" aunt-type local passport office, "anagrafe", said simply: "We are very glad that you bought a house here with us, we will surely believe. Documentation? Yes then you shall stretch as will be ready to ... »
Here as everywhere.
And the little pictures of our house.
This is our home, zhёltenky, poseredinke with sun awning, three floors, the fourth - an outdoor terrace: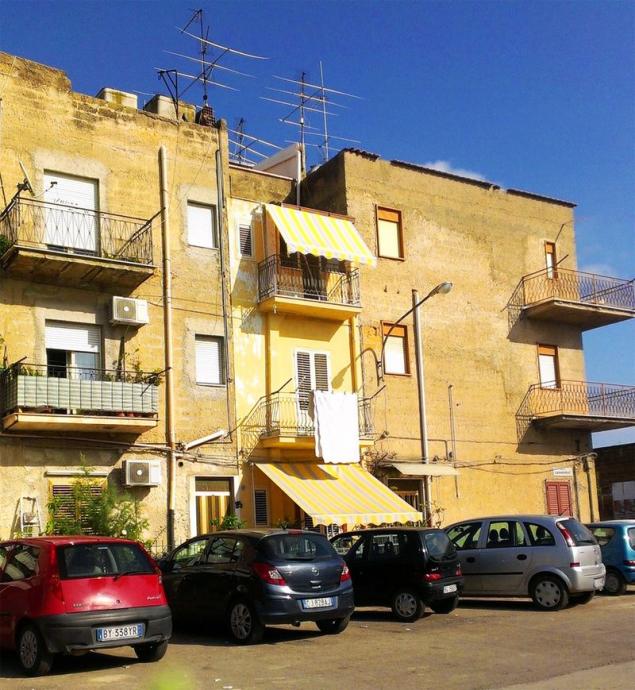 On the ground floor kitchen, living room, and we bought a house already furnished: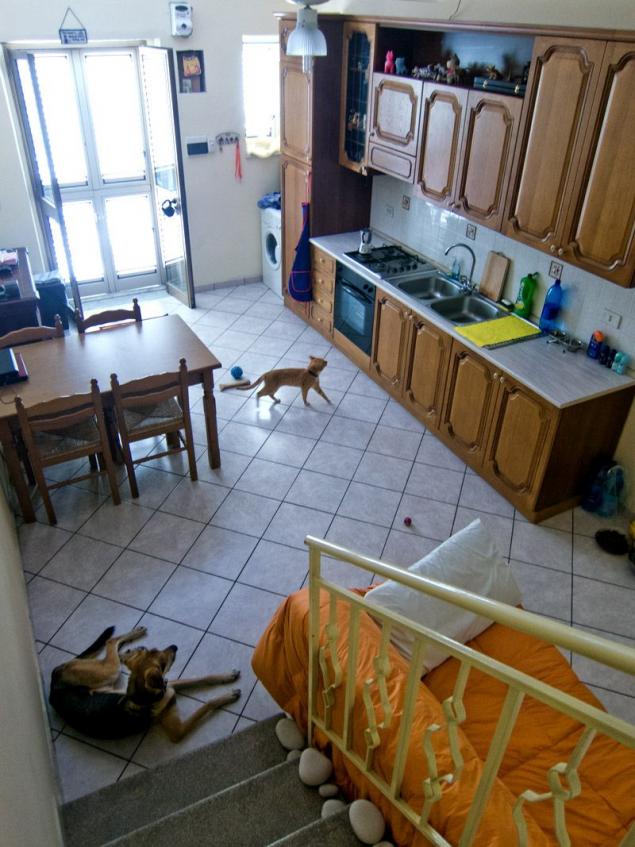 Bedrooms: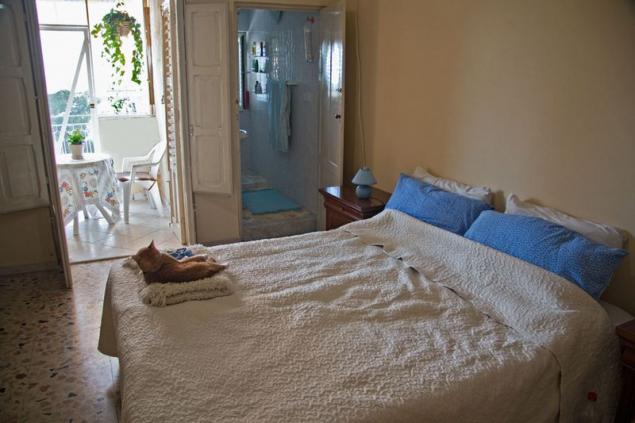 A small covered terrace in the bedroom: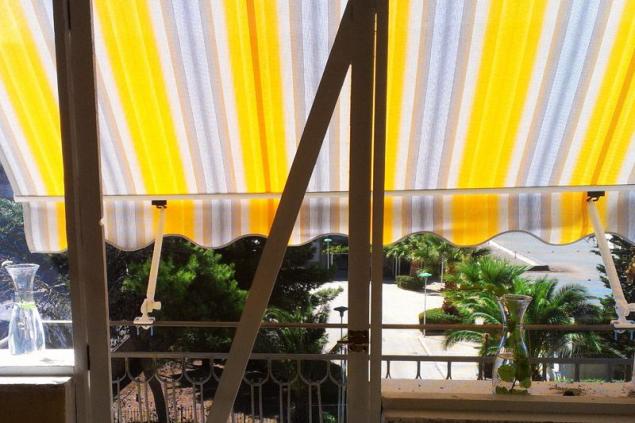 It is just fine to sit during the day and evenings: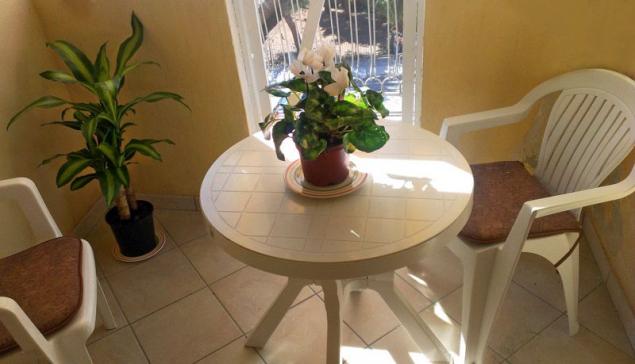 This local craftsmen, we put awnings from the sun on the upper floors: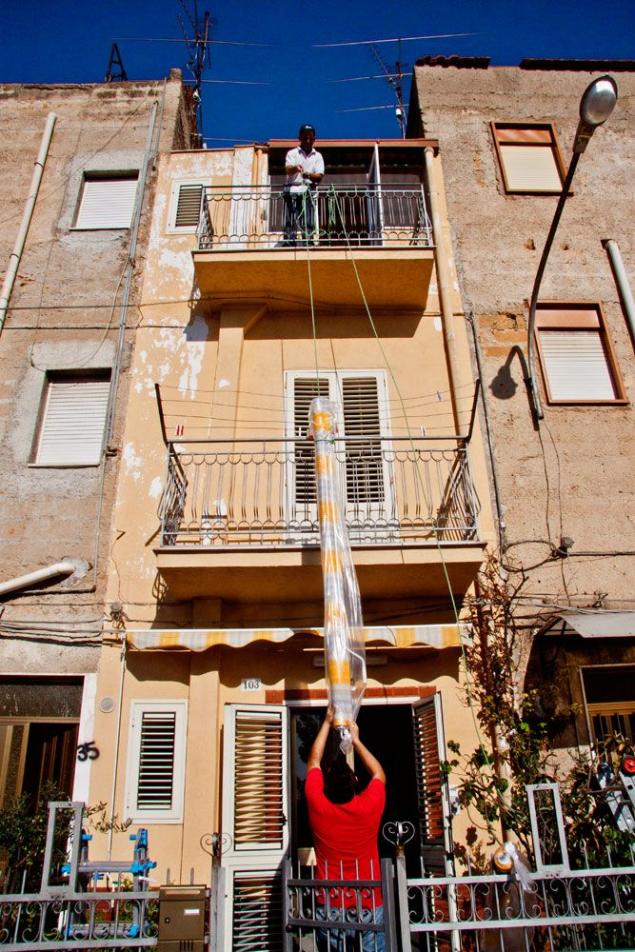 And a photo of the streets of this New Year, we in Ribera: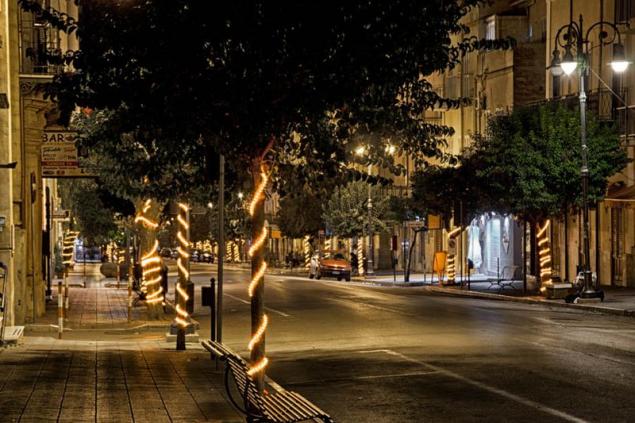 So we now live here, learn at the University of Palermo (a branch in Agrigento, the course "Cultural Heritage"), and working on our tour company that we have created in cooperation with our partners Sicilian.
Source: pora-valit.livejournal.com