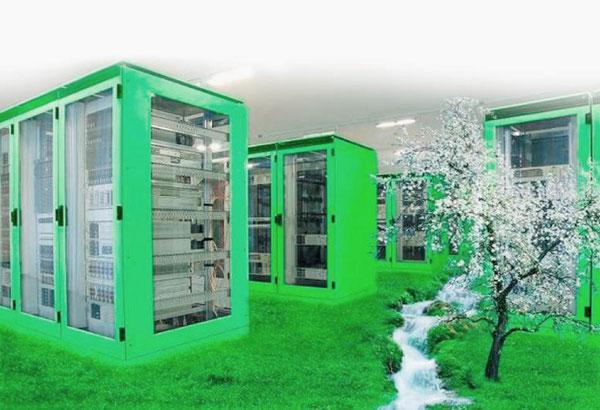 Data centers for large technology companies are now necessary as air. Of course, data centers, with their servers, cooling and lighting, consume a lot of energy. Of course, the situation has improved compared to data centers, worked 10-15 years ago, but not enough to be able to talk about the complete victory of energy-saving technologies.
But there are data centers where energy conservation situation is much better than mediocre DC. Such data centers are not many, but they are, and in this brief overview we offer to evaluate some of the most interesting "green" data centers.
Finnish data center Google (Hamina, Finland) h4>




This data center, as well as some other "green" DC benefits from its location.

The thing is that in this region the temperature of coastal waters (and DC is located just beside the sea shore), only a few degrees above zero. And this situation is observed throughout the year.

Besides, the DC is located in a former paper mill, which already have a system of chilled water intake. Of course, we had to adapt the system to the needs of the data center, but it was already. There is also a built-in purification and recovery system is designed so that environmental damage is practically applied.




Due to all these factors, an indicator such as PUE (Power usage effectiveness) in this particularly taken the data center is only 1, 1. In ordinary data center PUE is 1, 6-1, 8.


Data Center Equinix AM3 h4>




This data center is located in the "Science Park" of Amsterdam, is one of the most "green" in the world. This was confirmed, in particular, the award DatacenterDynamics Green Data Centre in 2012. This data center uses and terrestrial technologies, and technologies that now are for the benefit of astronauts.

For example, fuel cells are used. Also used "green" cooling system with all the modern refinements.

For personal use this data center generates about 800,000 kilowatt-hours per year.


you can rewind for a minute, first is just advertising. I>


Standalone DC Microsoft (Wyoming, USA) h4>




Microsoft is also not far behind from other companies by offering new technology - the introduction of fuel cells (methane) directly into the server rack.

Building a data center located next to the water treatment plant. Why? In order to use methane from the station without requiring whence the gas is transported. Actually, it is more of biogas - a mixture of several gases released during the biochemical processes in organic matter, where the predominant methane.

"Methane" data center receives these are the advantages compared to traditional DC:
decrease the probability of equipment failure due to power outages. Since in this case the data center to itself the power company, no load / crashes the total energy system in the region will not lead to a denial of autonomous equipment; reduction in infrastructure costs. This was already mentioned above - there is no time bespereboynik, transformers and other power equipment, the cost of energy infrastructure of the data center are greatly reduced; energy efficiency equipment. Here it is not only about PUE. The overall energy efficiency of the system, according to the authors of the project, increased twice; data center can be built almost anywhere where there is methane, away from the extensive energy infrastructure of the city / region. In addition to methane, it is possible to use the "solar" energy, wind energy and other alternative energy sources. I>


Data Center Google (Changhua, Taiwan) h4>



In the new data center "Corporations Good" planned to invest about $ 600 million. This data center uses wind energy, for it was built by a private wind farm, which supplies the data center.



Furthermore, there is used an unusual cooling system. Thus, the water used here as a coolant is cooled during the night (sorry for the tautology), after which it is collected in insulated storage using during the day as needed.

In the morning the cold water used in the cooling system, and the accumulated water at night just enough to light (and hence warm) time. Thus, the data center from Taiwan uses far less energy than a conventional DC,


Utah Data Center (Maryland, USA) h4>



This is DC we wrote , here wondering what to ohladzheniya infrastructure are used waste water (purified).

On this site you plan to use about 19 million liters of effluent per day to cool the data center facility. Already signed (still did not sign the same NSA) Howard County with the authorities, which involves the use of wastewater for cooling Utah Data Center. Without this agreement, the purified wastewater is discharged to a nearby river immediately after cleaning.

It is worth noting that only the creation of a new pumping station, which will take water to cool the data center agency requires US $ 40 million. Himself data center, which is being built at Fort Meade, will be launched only in 2016. But the total price of the data center is 860 million US dollars.


«Arctic" data center in Lulea Facebook h4>



About this data center we have also been contacted , DC on Facebook is one of the most (if not the) " green "data centers in the world, with PUE, equal to 1, 07. This is even better than the Google data center in Finland, where PUE = 1, 1.

By the way, it would be interesting to hear from habasoobschestva - perhaps you know of other "green" DC, which uses different kinds of energy-efficient technologies? It would be interesting to read about them, offer to arrange a discussion in the comments.

Source: habrahabr.ru/company/kingservers/blog/210494/