Start here.
Name: Marlowe Ottolayn Laing Sturridge
Date of Birth: July 7, 2012
Parents: Sienna Miller and Tom Sturridge
Sienna waited so long for a marriage proposal from Jude Law, that this time decided to take the "bull by the horns" and, without waiting for the wedding to give the new boyfriend of the child. Is Tom Sturridge expected this from his girlfriend or not does not matter, because the beauty Marlowe need a loving father, whom Robert Pattinson's best friend, for sure, has been or will be more. While it is unclear to whom the girl looks like more dense hairs but she is clearly in daddy.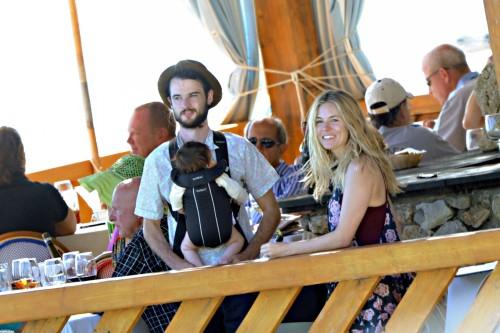 Here you can see a better face Marlowe: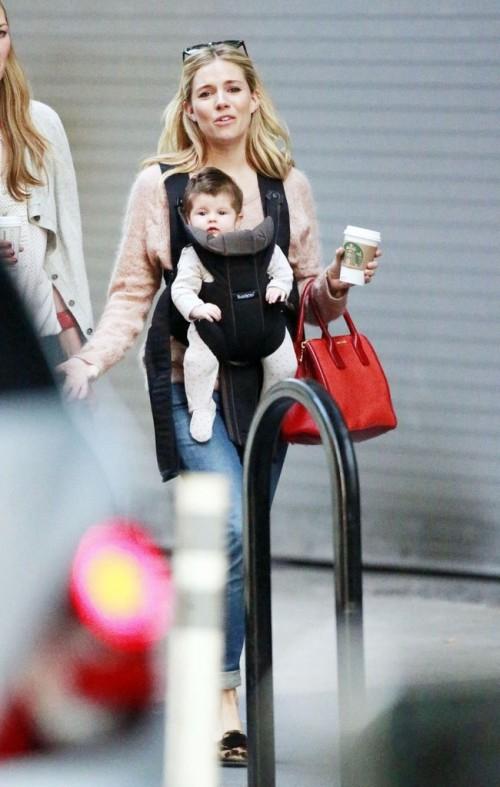 A few weeks before the birth of 30-year-old actress posed for a famous artist Jonathan Yeo. The painting will be exhibited in a gallery in Berlin.
Name: Dixie Pearl Followill
Date of Birth: June 21, 2012
Parents: Lily Aldridge and Caleb Followill
27-year-old model VS and 30-year-old leader of the rock group «Kings of Leon» began their relationship in 2007, every day is getting closer and closer to each other. In 2010, they became engaged in 2011, played a modest wedding in the closest relatives, and in mid-2012, their family was waiting for completion. Probably born future model that will become much famous and popular of his mom, and maybe Dixie - Taylor Momsen is the future. 3-pound baby was born late at night, that, according to experts, says that the girl will be active and full of energy.
After the appearance of the first-born representative of the pair told my mother, father and daughter feel at this moment:
"They are very happy. The baby was born healthy, and admiring parents enjoy the presence of a new family member »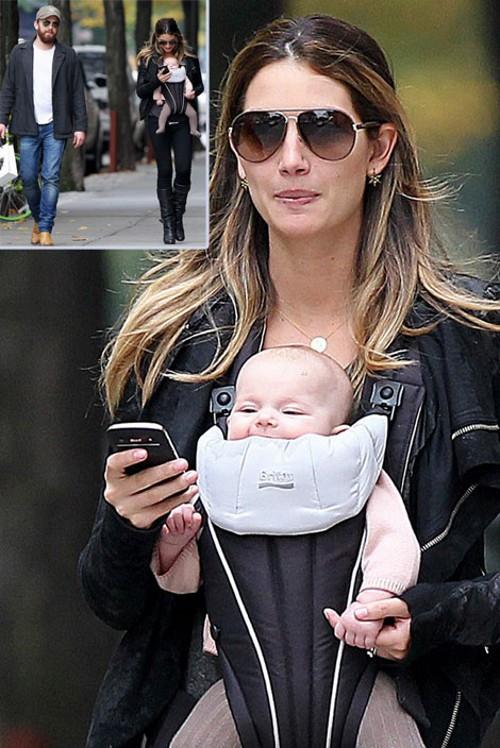 The first photo of the crumbs which Lily placed on the network:
Name: Monroe Jackson Rathbone VI
Date of Birth: July 5, 2012
Parents: Jackson Rathbone and Sheila Hafsadi
The star of "Twilight" Jackson Rathbone still the weirdo. He loves all the unusual and even chose a Woman on the principle "that is not the same as everyone." His tattooed lover, but not yet a wife, make him happy this summer, giving birth to little Monroe. The boy was born quite strong - about 4 kg.
Family photo:
Jackson everywhere with her son (and he only selected on the premiere of "The Twilight»?)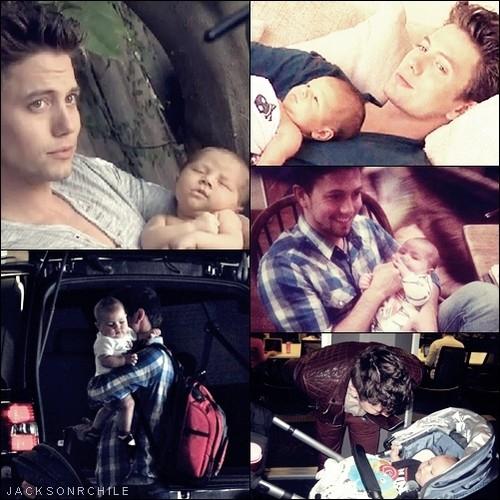 Monroe with her godmother mother Nikki Reed: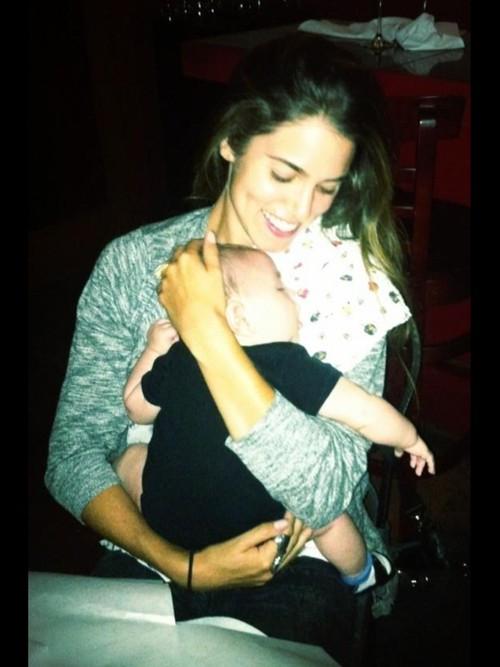 Name: Penelope Scotland Disik
Date of Birth: July 8, 2012
Parents: Kourtney Kardashian and Scott Disik
While only one of the sisters Kardashian, who has children and wants more. Kourtney Kardashian said she had long dreamed of her daughter and her son Mason on my little sister.
"Scott, I and our son are extremely pleased to welcome our little angel. Penelope - happiness in our lives. We are forever blessed »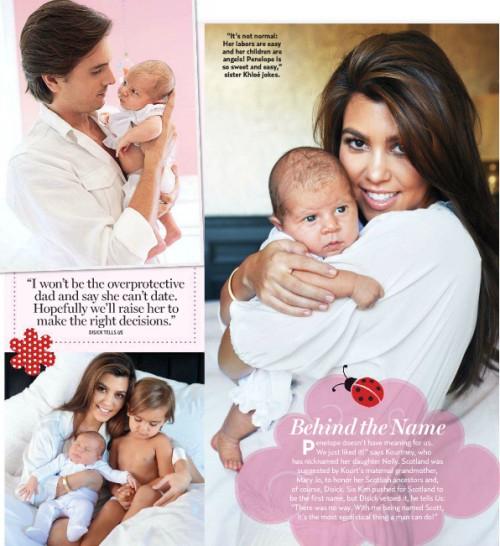 Twitter Photo: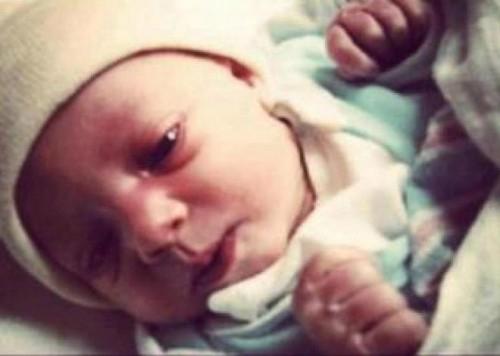 Name: Rosalind Arusha Arkadin Altalun Florence Thurman-Busson
Date of Birth: July 15, 2012
Parents: Uma Thurman and Arpad Busson
On the first general child actress and financier, little is known, but the girls are very twisty name, just like love Uma. Two children from his second marriage Thurman name is Maya Ray Thurman-Hawke and Levon Roan Thurman-Hawke (not so bizarre as the third child, but still not so standard). By the way, abbreviated Rosalind Arusha Arkadina Altalunu Florence Thurman-Busson name Luna (and it was necessary to come up with as many names to call a girl a moon).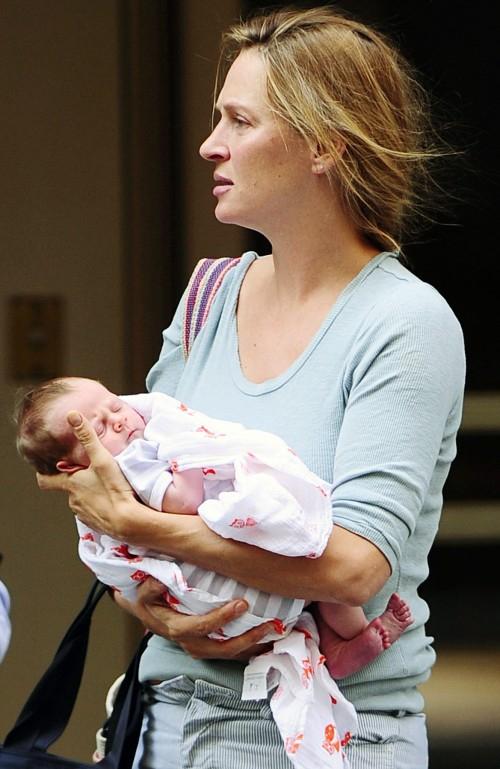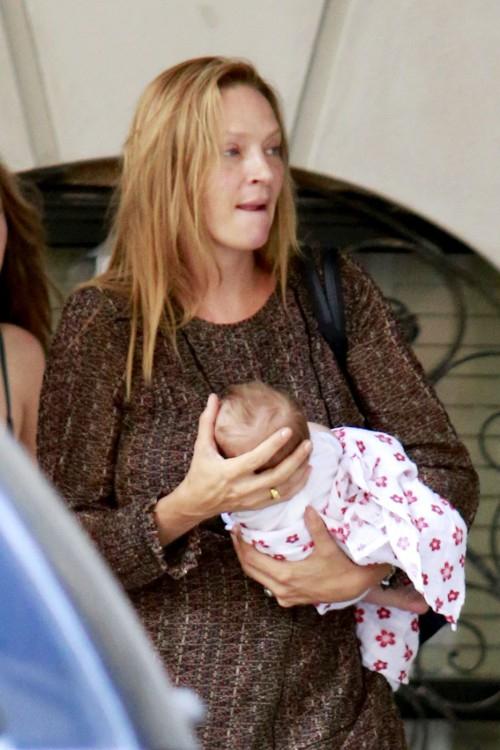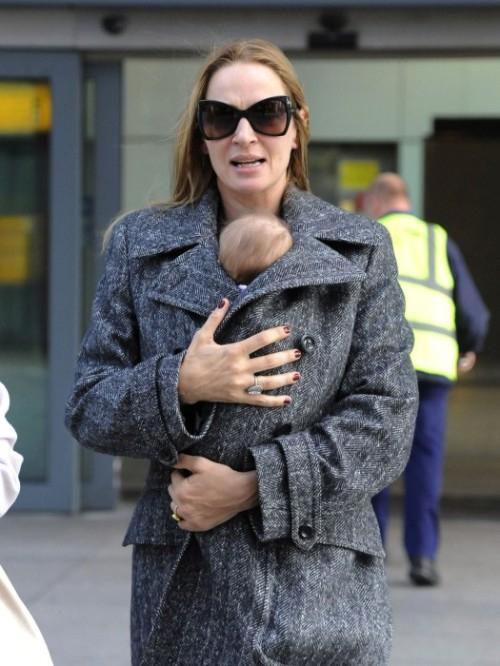 Name: Lorenzo Dominic LaVell
Date of Birth: August 25, 2012
Parents: Snooki and Johnny LaVell
Who would have thought that Snooki become a mother so early. Soon she 25, but usually this type of famous women (stars of reality shows) give birth strictly after 30. Snooki, whose real name is Nicole Elizabeth Polizzi, meets with Johnny LaVellom about two years, got engaged they are in March this year and now have become parents.
On the status of the mother responds positively Snooky:
"Being a mom - an amazing feeling! I love my little Lorenzo to death! »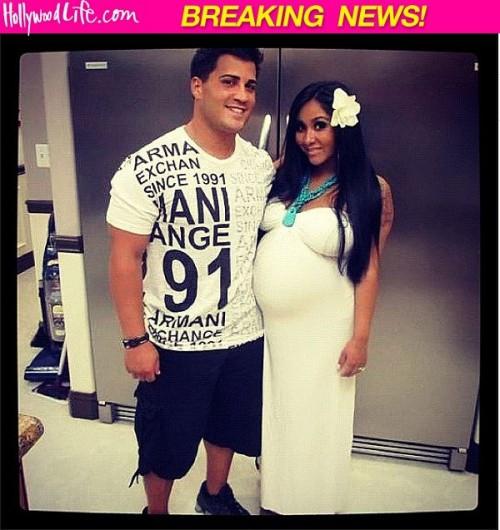 Without a ton of makeup completely different person!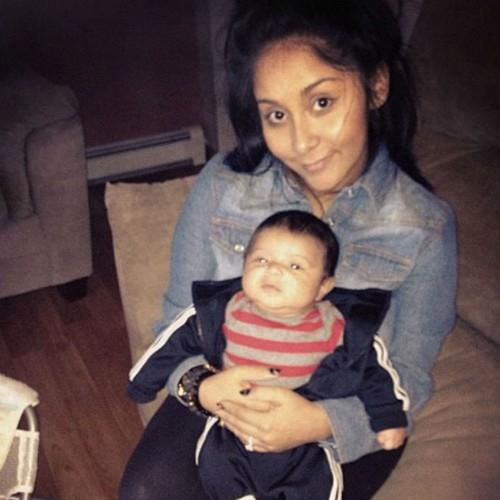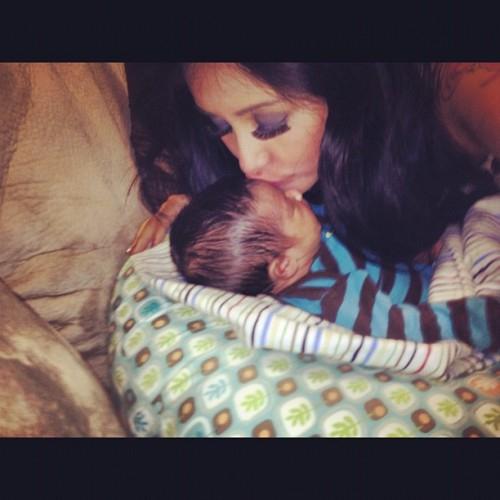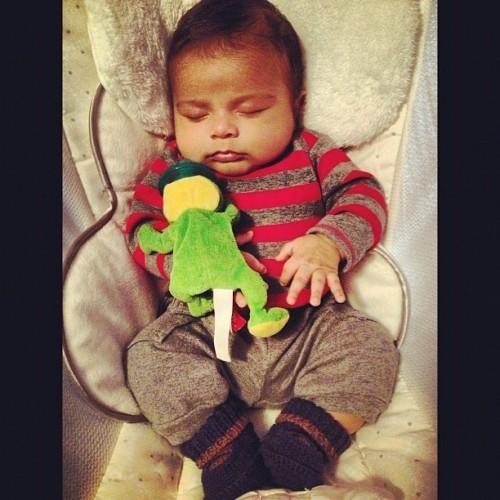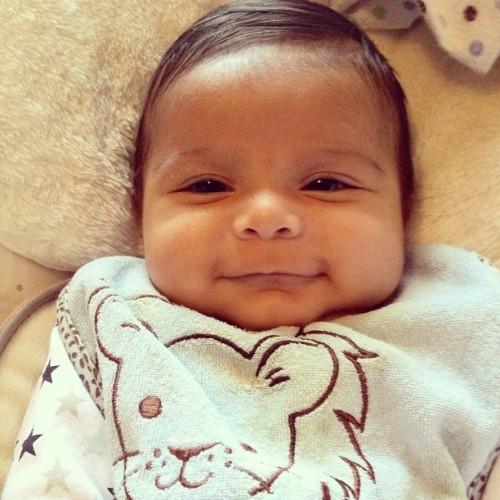 Name: Unknown
Date of Birth: September 2012
Parents: Anna Paquin and Stephen Moeyr
As expected earlier, Anna gave birth to twins. 30-year-old actress, who had never been a mommy now will be to study it with a vengeance.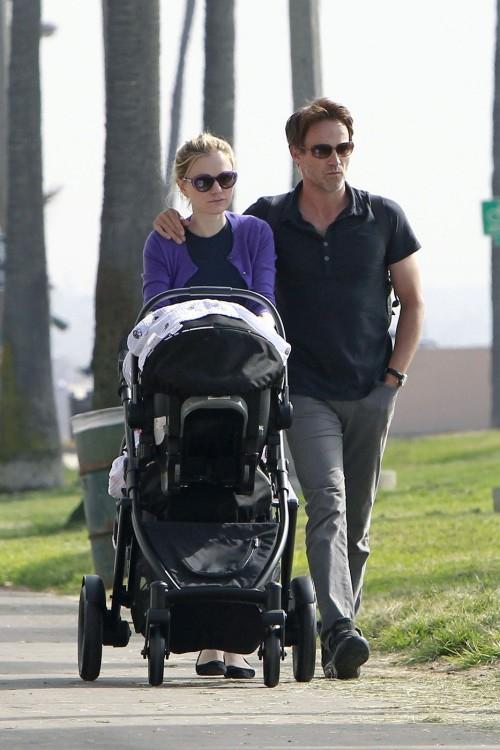 Name: Sienna Yarich
Date of Birth: September 12, 2012
Parents: Adriana Lima and Marko Jarić
In this colorful couple already have two year old daughter Valentina and now Lima became a mother for the second time. While there are no photos of Sienna.
By early November Adri tried to return the old form, but after pregnancy it was too difficult. Oh well, still she and her daughter will be proud of.
Name: Theodore Rose Williams
Date of Birth: September 18, 2012
Parents: Robbie Williams and Ayda Field
Robbie waited so long for this, all, of course, very glad for it.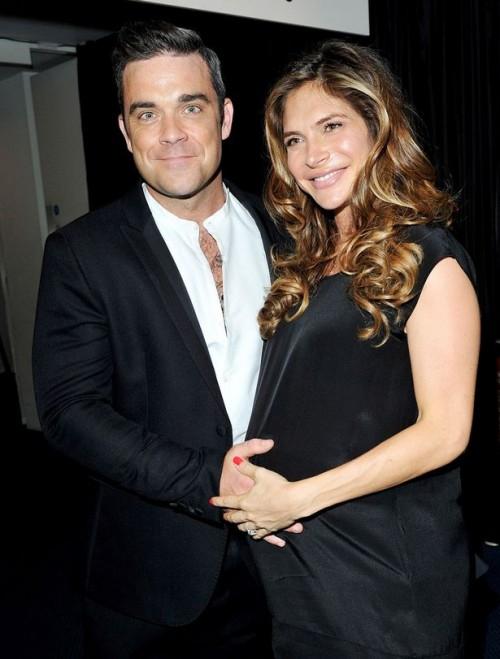 Little Teddy and her big Ted:
Name: Unknown
Date of Birth: September 2012
Parents: Sarah Michelle Gellar and Freddie Prinze Jr.
In a three-year daughter pair now have a brother!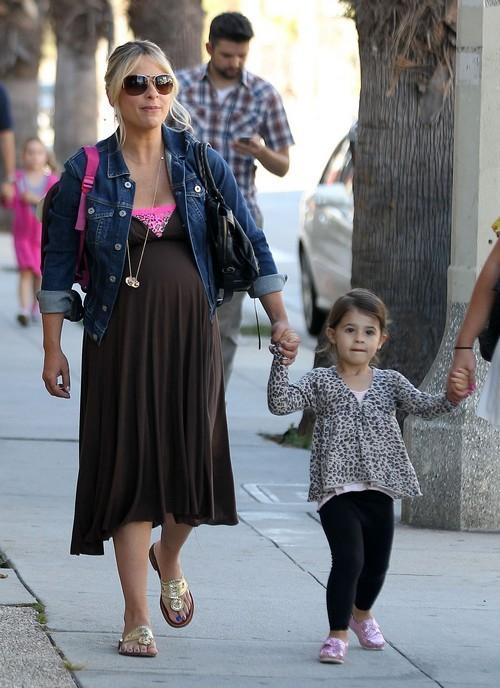 After birth, Sarah decided to give free rein to his appetite: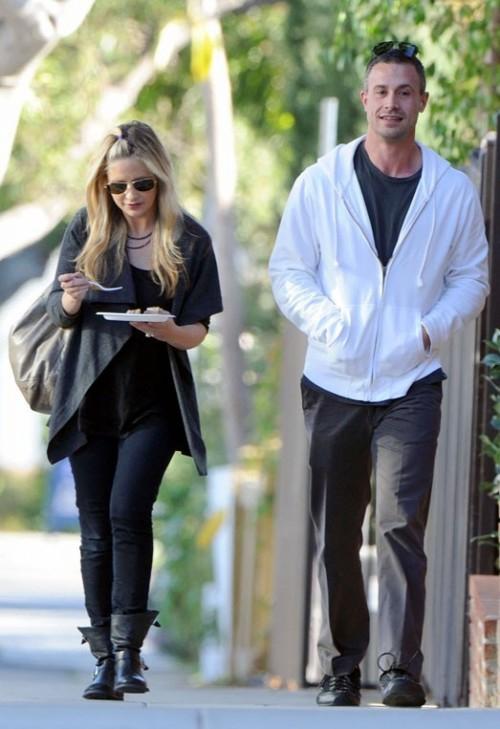 Name: Olive Barrymore Kopelman
Date of Birth: September 26, 2012
Parents: Drew Barrymore and Will Kopelman
"We are proud to announce the birth of our first daughter, Olive, charmed us more September 26. She was born healthy, happy and very loved. Thank you all for the respect of our privacy at this special time for us »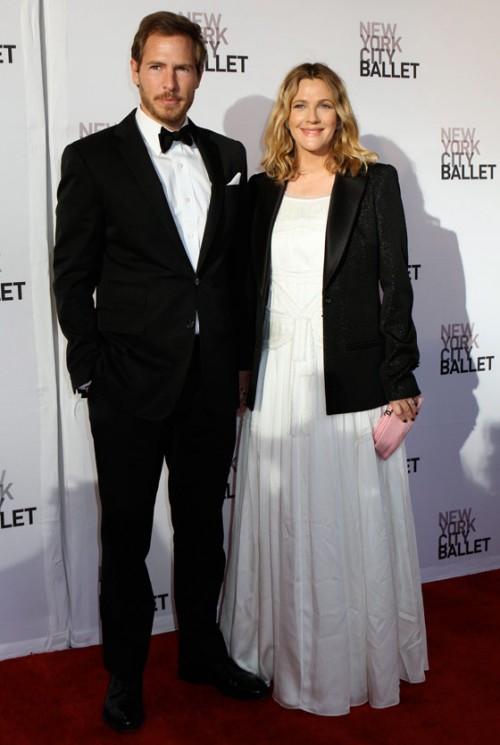 Photo baby Drew and Will showed fellow actors Jennifer Aniston and Justin Theroux. Over the eyes can see how much wants to become a mother Jen, what I wish her the following year.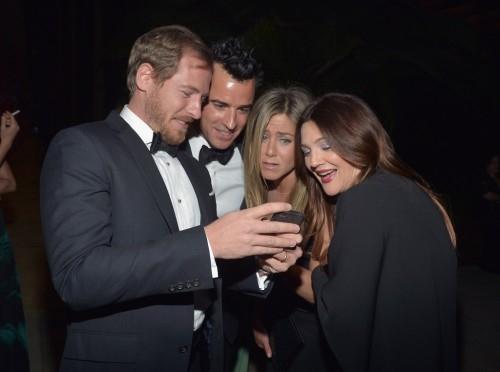 Name: Noah Shannon Green
Date of Birth: September 27, 2012
Parents: Megan Fox and Brian Austin Green
Many vain thought that Megan is waiting for the girl, because she was born a beautiful son, what she wrote on her Facebook page after a couple of weeks after the joyful event. Paparazzi simply overslept birth of a son of this couple, engaged in surveillance of pregnant Reese Witherspoon.
Fox after pregnancy:
Name: Tennessee James Toth
Date of Birth: September 27, 2012
Parents: Reese Witherspoon and Jim Toth
"Two son and daughter bunting": now everything is so Reese.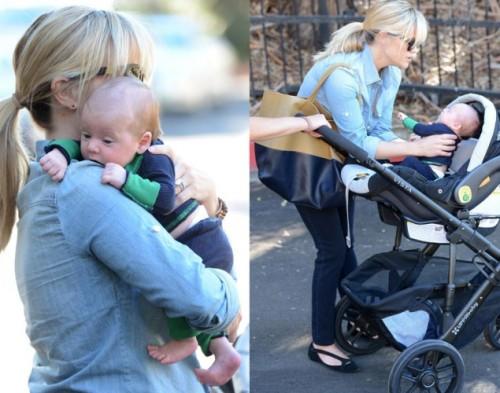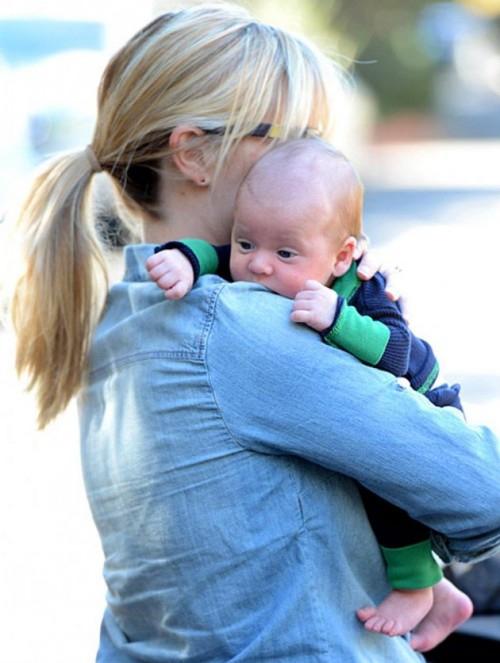 Name: Unknown
Date of Birth: October 20, 2012
Parents: Adele and Simon Konecki
In 24-year-old singer and her 38-year-old groom had a son.