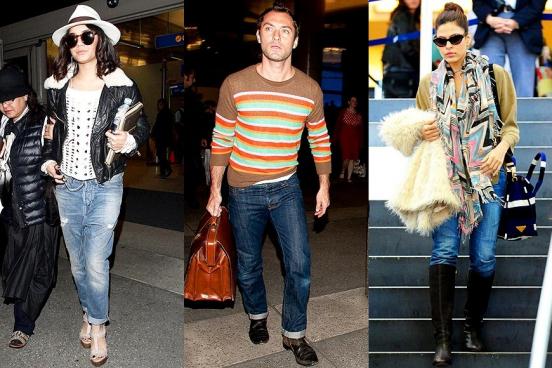 I think the style of celebrities caught in the airport - the most honest. In this case, certainly over their clothes they do not work stylists, their faces covered with layers of makeup cosmetics and caring hands of professional makeup artists, and randomly arranged hair a break from the many chemical effects masters of hairdressing. In general, everything is real, mundane, normal. Although, it should be noted that many hold the mark, afraid to tarnish his reputation as the dudes and even dress up to the nines for the flight many hours in length.
Miley Cyrus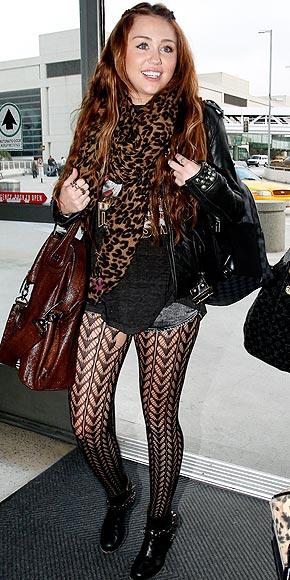 Miley decided to collect all the trends in one dress. Then you and scarf with animal print and fishnet stockings and the main trend - leather leather jackets.
Eva Longoria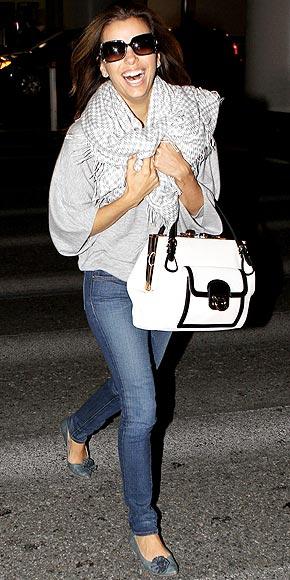 Eva Longoria apparently overjoyed successful landing. At the airport, Eva appeared in a gray shirt with a checkered scarf, straight jeans and cute ballet flats.
Vanessa Hudgens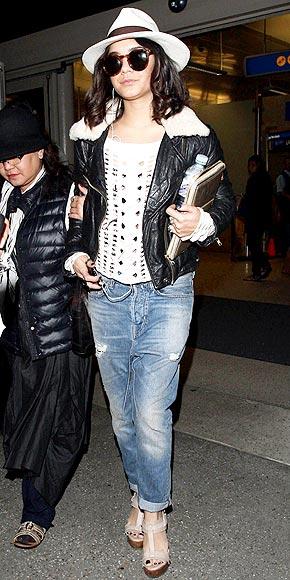 You no one recalls Vanessa in this hat? Personally, I immediately thought of Johnny Depp. As accessories Vanessa prelpochla fedora with a wide brim and vintage glasses. And she wore them to the pilot's jacket, knitted topu and baggy jeans. Such a set of the actress picked up the shoes on the platform with T-strap.
Fergie
​​
For this Madame immediately noticeable that it "flies first class." Glamorous, then really there to hide! Popular singer in leather trousers and shining jacket. Complements the image of rock red bag Birkin.
Jude Law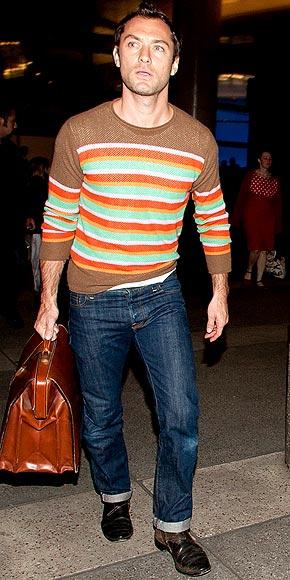 Strange thing, but even a little frikovatom striped sweater Jude looks tempting. Probably, it's tucked in with the latest fashion jeans or a chic leather loafers. You never know.
Anne Hathaway and Adam Shulman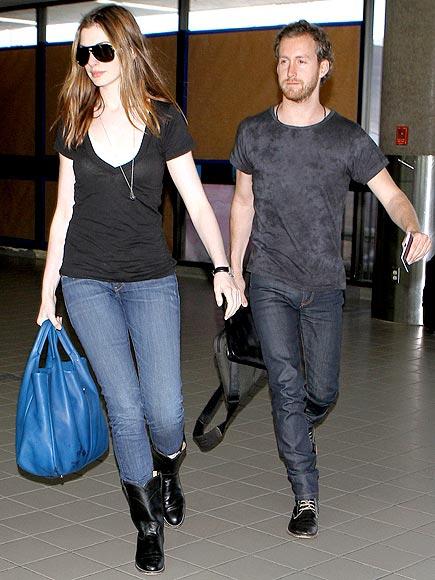 Both are very simple outfits: jeans, black shirts, and a couple of shopping bags in hands. The only thing that is worth noting - a carry-Anne - graceful actress holding a blue bag by Tod's.
Eva Mendes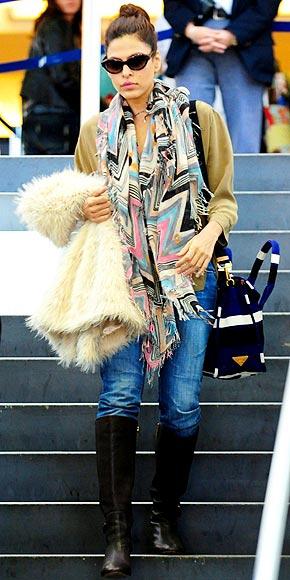 For flight was not really quite boring, Eve decided to take on board a scarf with a very bright and jaunty coloring suitable for him to become a satchel and fur jacket.
Angelina Jolie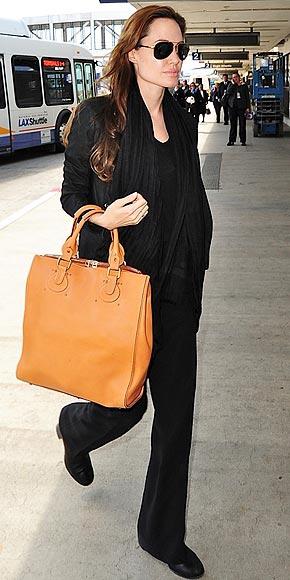 Angie does not change during the flight. Strict total black look and a bright accent - Elegant spacious bag light brown shade.
Cameron Diaz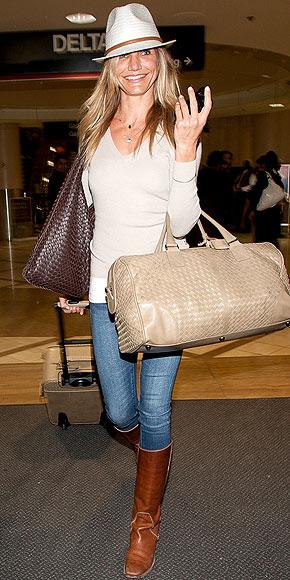 The first thing I noticed two delightful bag from Bottega Veneta, and then by itself Diaz. As always, charming and very stylish. Even nothing to complain about. Is that a hat from Melissa Odabash could drop below.
Kim Kardashian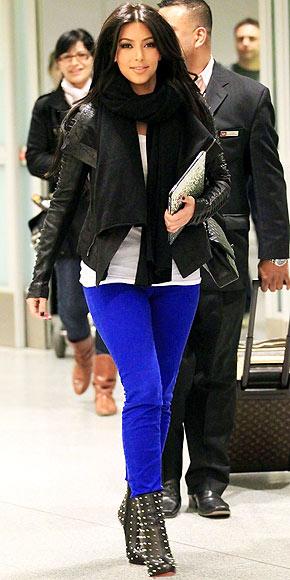 Kim is able to highlight key points. The same total black outfit would have looked at times boring. But she did not allow herself to be invisible, so a leather jacket and boots with spikes, Kim wore blue jeans almost sapphire.
Jessica Simpson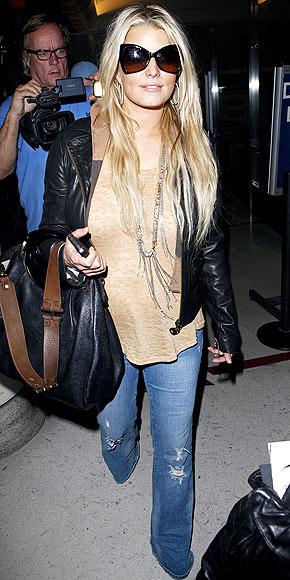 Numerous Faile in dresses Jessica learned to hide the shortcomings of the figure with the help of clothes, and not vice versa as it was before. The image in the style of "rocker chic" perfectly balanced amounts of the singer.
Emmy Rossum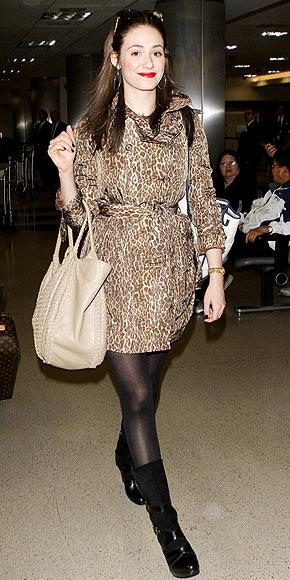 Cope with the effects of glare from bright red lipstick on her lips Amy I still could see her trench Jane Post with leopard print, shiny shoes and bag Elie Tahari color Nude.
Josh Duhamel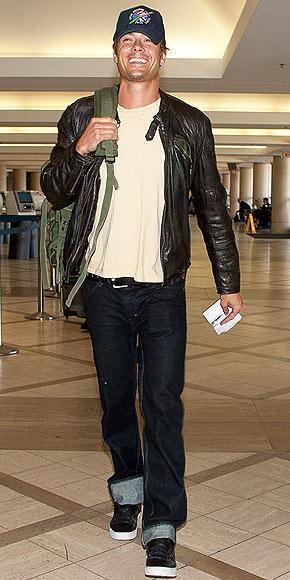 Another handsome man with rolled up trousers. Apparently, Hollywood men appreciate this trend. Josh unlike Jude Law eccentric sweaters, no, he chose a light T-shirt and leather jacket.
Charlize Theron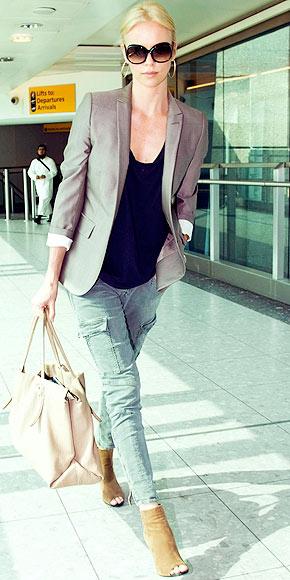 Charlize is not afraid to experiment and boldly mixes styles and brands, putting Blazer, shirt and bullying punching with luxury accessories.
Gwyneth Paltrow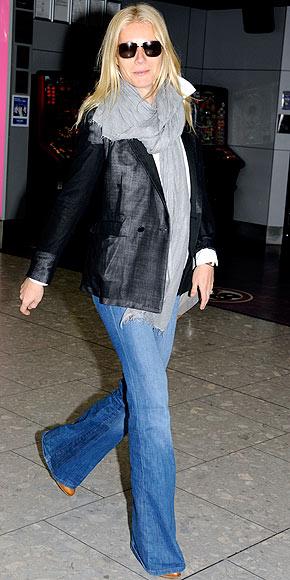 Gwyneth in the most comfortable clothes for flight: Blazer dark shades, flared jeans and universal for all cases of airmen.
Miranda Kerr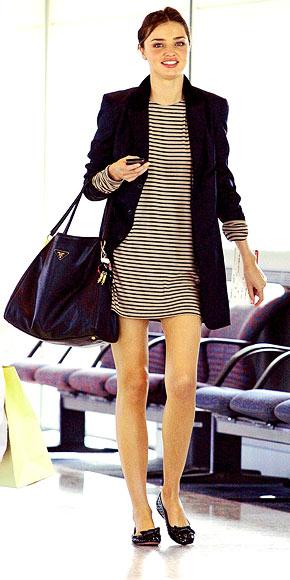 Miranda chose a simple and comfortable clothing, but combine it in a way that look easy to be called every day chic. Miranda striped tunic, long blazer, black ballet shoes and a big roomy bag.
Victoria Beckham
Wherever Victoria went on it will always be heels. For example, black patent leather Louboutin. As well as comfortable gray skinny and beloved green leather jacket.
Russell Brand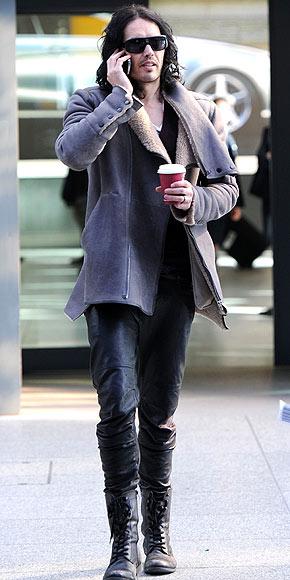 Russell in the usual manner not glamorous, not the slightly dented rocker. He wore black leather pants, high boots and jacket tanned.
Photo: people.com