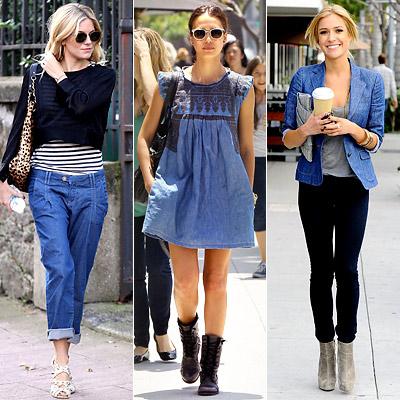 Jeans - all known fabric, used to make not only a Super stylish pants and skirts, dresses, tunics, shirts, in general - a lot of things. Sometimes this is what prevents denimnoe diversity make the right choice in favor of one or another thing. Especially when it's a new season, followed by new trends.
That you are not confused, and rejecting all doubts, went to buy something that you really fit, though stylish and true, I suggest to get acquainted with the guide of fashion clothing made of denim.
Spring - time to upgrade. It is foolish to repeat it over and over again, but in this lies the whole meaning of the sentence. In the spring you need to try something new, unusual, something that not only refresh your style, but also your attitude towards it. So, give up all their habits and begin to choose a new way.
Denimnye trends
For example, instead of the usual skinny, try jeans wide trouser cut. Allow yourself to relax and be easier. Buy jeans with a pocket. Finally, copy the look, created by professionals of the fashion house Celine: wear pants large size with a simple top or borrow an idea from the trouser legs rolled up Sienna Miller, in order to create a casual look.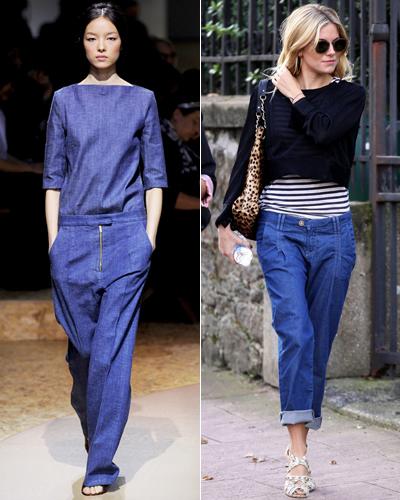 If you are used to wearing denim skirt, immediately dispose of the case. The trend denim dress. The comfortable and really cool. Dress-shirt - a strong focus throughout your outfit, so you do not even need to worry about accessories. For the office, choose feminine dress made of shiny jeans, a hair's breadth as in the show Valentino. For sunny walks in the day, try to dress tunic boho style of Isabel Marant, as Jessica Alba.
Retracts into the darkest corner of your closet hanging huge in the wrong place cut jeans for men, exchanged them shamelessly for jeans with a high waist in the style of the 70s. They accentuate your beautiful waist. I am inspired by the show Lam'a Derek, who turned an elegant look complemented by an interesting white shirt. Or refer to the image of Miranda Kerr: It has added denimnoe topom creation with a plunging neckline and structured Blazer.
If you were a fan of the classic straight jeans, be sure to note in this spring-summer season in the cropped jeans. Dress up in style otvyaznyh Balmain. Or give preference to a calm and well-groomed image Dzhenyueri Jones.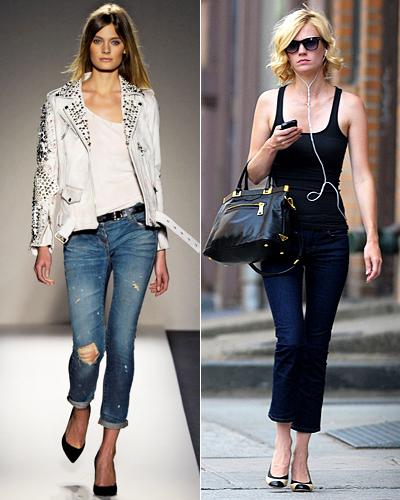 If you previously chose darker shades jeans, change yourself, buy a light. 70th in the extraordinary honor of the season, so immediately illuminate your wardrobe in style jeans Thakoon. Or refer to the style of not less popular '80s, beat light jeans with modern accessories and riding like Kate Bosworth.
Pay attention to the Blazer denim, instead of buying another denim jacket. Blazer much more practical - and they can wear to work and walk. The main thing is to find a perfect balance of what will be accompanied by jeans. As an inspiration I can advise to put the belt on top of the Blazer with shorts. Showing Elie Tahari shows great result. Or combine the creation of two denim buttoned with skinny dark shade. Kristin Cavallari in my opinion not bad.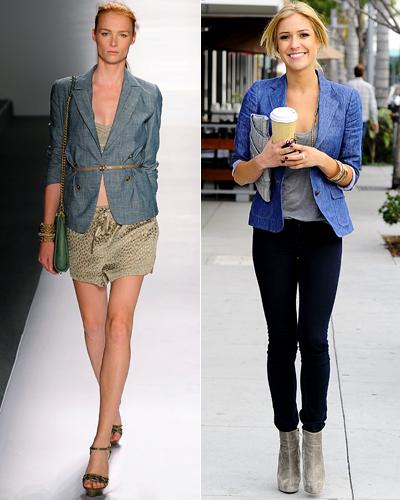 Frequently asked questions about denim.
Can I wear denimnye two things at once?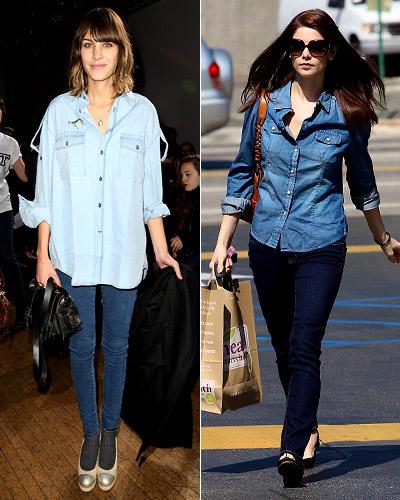 If they are the same color or a shade very close - keep them away from each other. How to wear two denimnye autfite things in one, you can read my post on this.
What shades jeans are best suited for the office?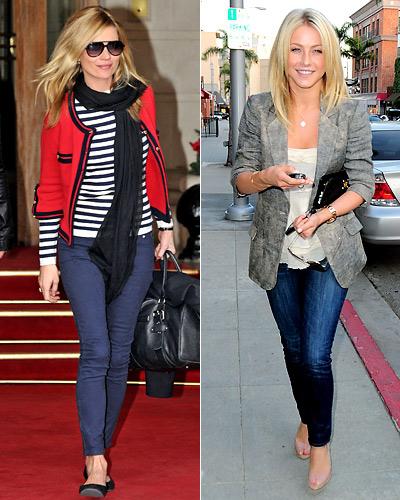 Vintage color, simple plain, dark shade of "wear" jeans - these colors are easier than the other shades of denim, so they are completely appropriate for the office.
How to make a denim shirt feminine?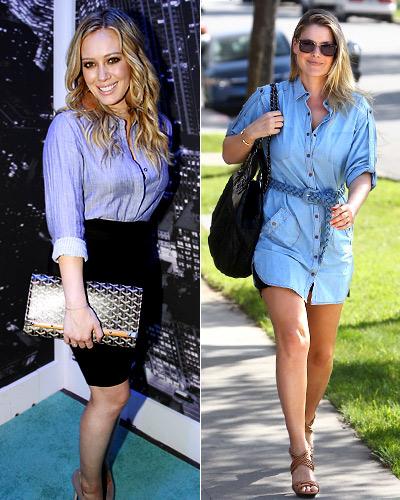 Firstly, when buying a shirt you choose the right size. The shirt should sit on the figure. Then the problems with it will not. If you put on a man's shirt, and want to give her femininity, the most simple advice - use the strap to your figure is not rubbed in a huge amount of shirts.
How should wear white jeans?
Straight white pants denim visually lengthen legs and make them slimmer. BUT. Any emphasis on the loin increase it, even if the increase is absolutely nothing. So avoid white jeans with embroidery, studs and other "charms" on the back pockets. No, it would be better if the overhead pockets will not do. Pay attention to the fact that the trousers were neatly trimmed, no jagged edges. As a top pick tops or blouses simple just below the waist, so that they detract from your fifth point.
Choose jeans on a figure
Boyish figure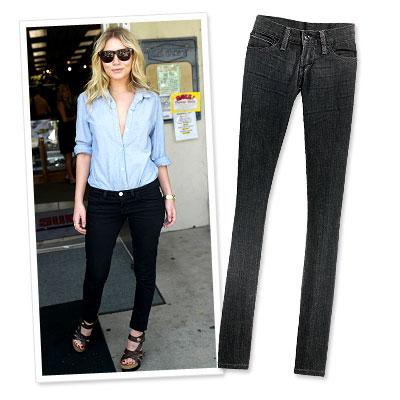 Choose jeans with a low landing straight leg, skinny part of your loin.
Avoid bell-bottom jeans, skaters are more suited to girls.
Do not forget that ...
- Baggy jeans men's style can look chic with feminine shoes.
- Your figure will approach big belts with numerous details.
- Shirt tucked into jeans add your figure femininity.
Low growth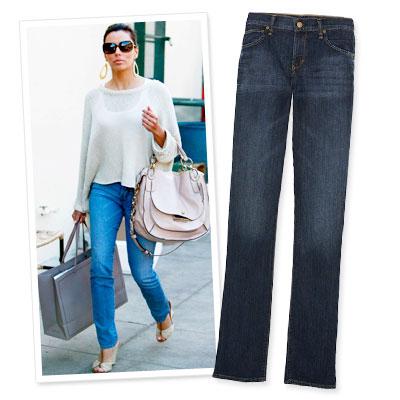 Choose jeans in a classic style with a waist in that place where it is and you. These jeans will not overload your small, fragile figure.
Avoid jeans with wide trousers and jeans on the lower landing.
Do not forget that ...
- You should wear jeans with long, straight trousers, combining them with high heels.
- Darker denim visually lengthen your legs.
- The legs skinny jeans should also be long, this is important.
Big Booty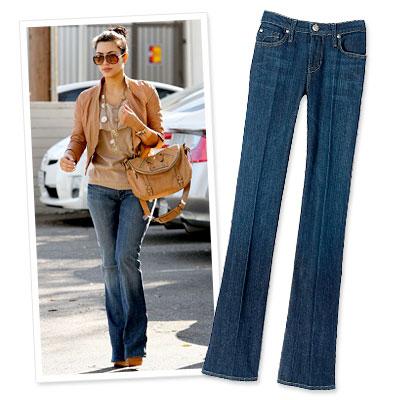 Choose dark jeans. Not a bad option - dark jeans, looking like old. Slightly kleshennye and long.
Avoid very tight jeans, jeans with a high waist and very wide trousers.
Do not forget that ...
- Do you fit jeans is not very high landing. This will put your ass in the best light.
- Jeans length to mid-heel - the perfect option for you, he will balance the body.
- You should avoid jeans with back pockets, do not focus on what you want to hide.
Full figured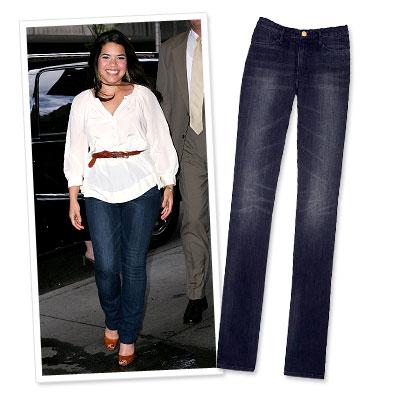 Choose jeans with long, straight trousers.
Avoid jeans at low landing. Also, do not buy jeans narrowed.
Do not forget that ...
- To jeans sitting on the figure, it is better to buy one size larger pants and take them to the tailor, so he tailored them as you will need.
- The dark shades of jeans more than others visually slim you.
- A minimum of parts and accessories - the key to successful look'u with your type of figure. No back pockets and embroidery on your jeans.
Short waist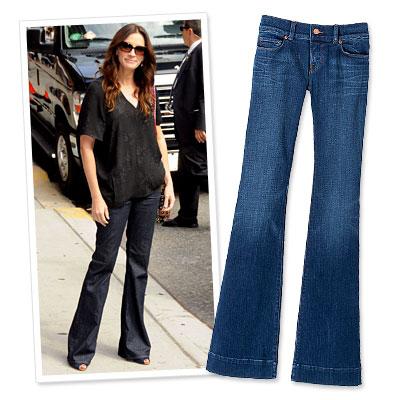 Choose jeans with a very low landing long trousers.
Avoid jeans with a high waist and the upper parts of their parts.
Do not forget that ...
- Straps should be in harmony with the image, choose subtle, neutral shades.
- Baggy jeans men's style at a low landing - great for casual autfita.
- Skinny jeans with long, not seasoned horseback hide your figure flaws.
Short legs
Choose jeans with a natural fit, then there are those who will sit perfectly on your hips. Leg straight or slightly flared.
Avoid tight-fitting jeans hip, with short trousers and baggy jeans.
Do not forget that ...
- Jeans trouser cut with shirt tucked visually reduce the waistline.
- Flared jeans have to be elegant, but not rude.
- Jeans worn with a short jacket will balance your figure.
Photo: instyle.com