Denim continues to stay in the top 10 of the most current trends spring-summer season, which can already be officially called an open magically thanks to solar denechki.
Using denim in their everyday images, celebrities try to look stylish. Suggest some good examples that should take note.
Diane Kruger
Thanks to the efforts Raf Simons (designer of Dior) dress shirt again returned to the category of things trend of the season. Actress Diane Kruger chose a dress-shirt with light denim with active parts in the form of massive pockets with metal decor. Length mini obliged actress switch to low speed. White volumetric soft bag Jil Sander makes the image very fresh.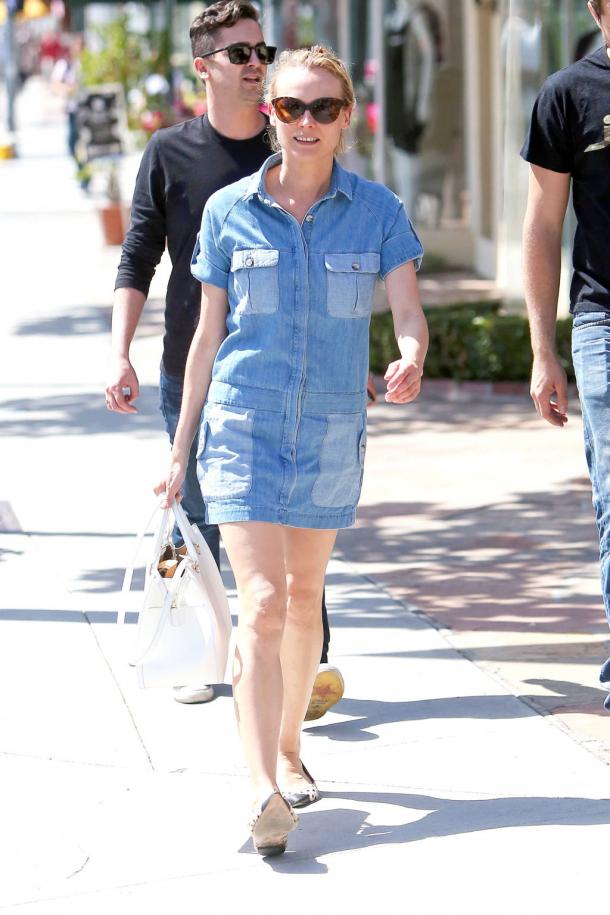 Mandy Moore
Took the bag of tricks Mandy Moore. She opted for a tight-fitting jeans denim 7/8 length, thus opening the graceful ankle. Boats with active floralnym print heels gives the image of femininity. White cotton top and leather jacket simple cut properly formalized way.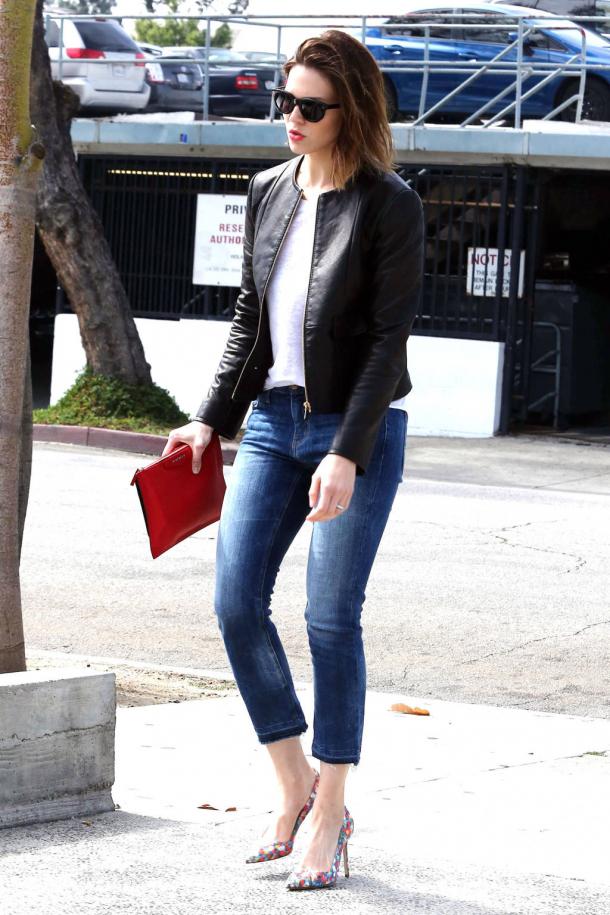 Selena Gomez
Intrusive paparazzi caught the young pop singer at the airport. Denim - a frequent companion of travelers. However, in the case of Selena, her image was quite successful. She chose jeans slim silhouette, flared from the knee, made of classic blue denim. High landing has created an emphasis on the waist and at the same time visually stretched proportions bottom. Shortened cotton top adds lightness and freshness, and also revealed that Selena well versed in fashion.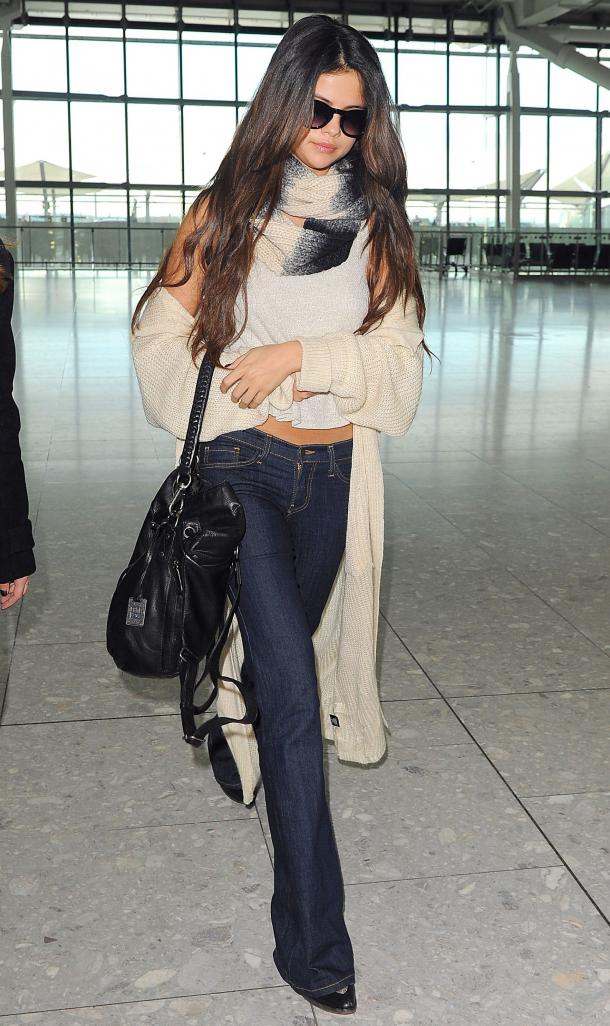 Rosie Huntington-Whiteley
Total-bow denim is still relevant in view of the model Rosie Huntington-Whiteley. Shirt of lightweight light denim paired with jeans, skinny of denser complementing suede Loafer light gray in color, with an emphasis on the active print bags. Stylish fedora hat, completed daily image.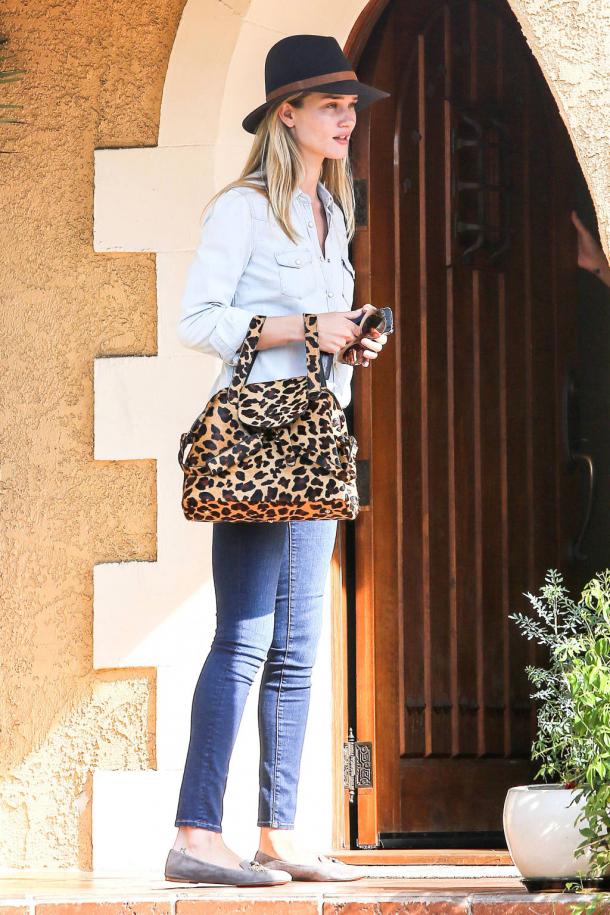 Jessica Alba
Actress Jessica Alba chose a win-win set - black blazer classic style, free cotton white top and jeans with the effect of aged. Actress casually podkatala sleeve blazer, giving the image a little relaxed chic. Velvet Loafer, bag with active animalic print and massive gold watch in men's style on his left wrist finished image.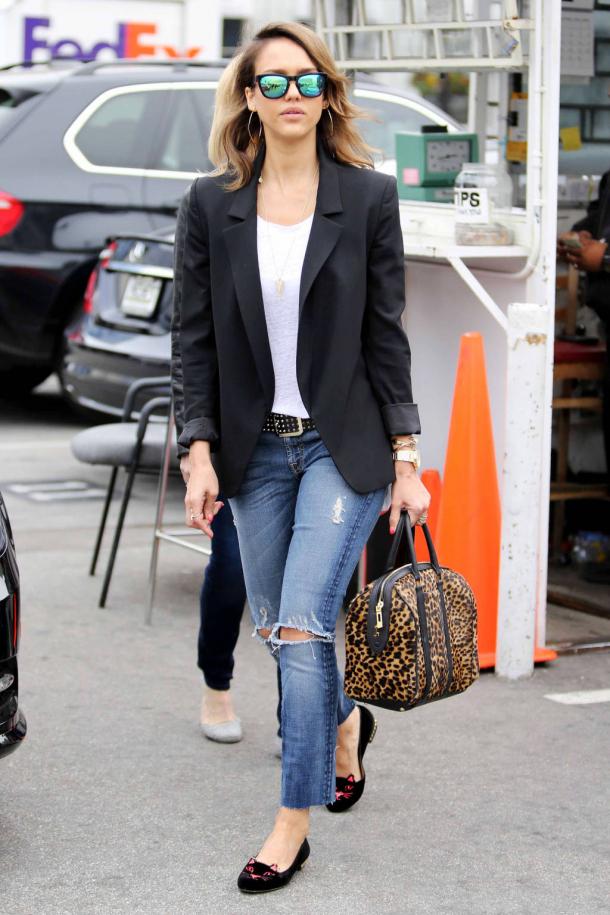 Emma Watson
White shirt and dark suit actual denim - a trend monochrome image. Comfy espadrilles and Emma is ready to make long walks - comfortable and stylish.