Vlada Roslyakova - model of Omsk, which is now 24 years old. As a child, like many others, to become a model she was not going, but accidentally trying to pass a casting, she was invited to Japan. In the Land of the Rising Sun Vlad became known to the whole world. Thin on the nature Woman somehow accused of anorexia, thus jeopardizing her career, but Vlad proved that such thinness - its natural state. However, Vlad loves to eat and is constantly holding (or teeth) that some of the food, so do not believe it - it is difficult.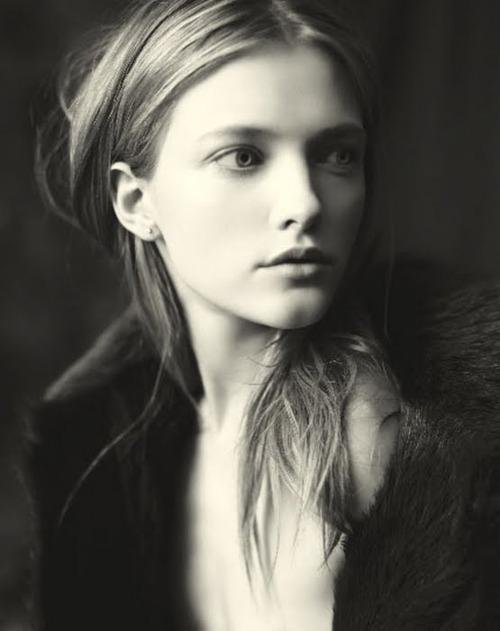 In 2004 I graduated from school, enrolled in the preparatory courses even to go to college. Wanted to go to a psychologist. The courses met with a girl who has worked as a model. And decided to try their hand in this field. A month later reported that there is a contract. I went to Tokyo. I was told that I was too tall and thin. In Japan, girls like miniature. But my face they liked. Tokyo already sent my pictures to other world agencies. And me interested. The first time I went to the show Edzhi Yamamoto in Paris. I remember it was a lot of people, cameras, long podium, flash fotoapparatov.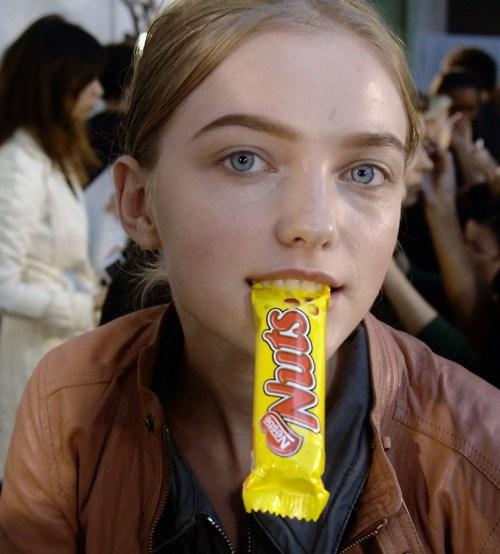 She won her international designers, not only for its fabulous looks, but also an unusual gait: Vlad leans back. Rumor has it that this is due to the fact that it is constantly slouching, but she denies them Vlad.
About the stoop, I do not know where this information is gone. On the podium, I always here such. (Shows a straight posture.) I do when I get up on his heels, always straightens his shoulders. My mother taught in childhood: the girl's shoulders should be back, nose forward. I remember this lesson and on the podium, too, so I do.
Vlad - not his real name Roslyakova. In fact, she Elena Rosliakova. There are two versions of why she took the pseudonym. The first - because there is another model from Russia with a similar name, Elena Rosenkova. And the second - it simply asked to take a more unusual name for abroad.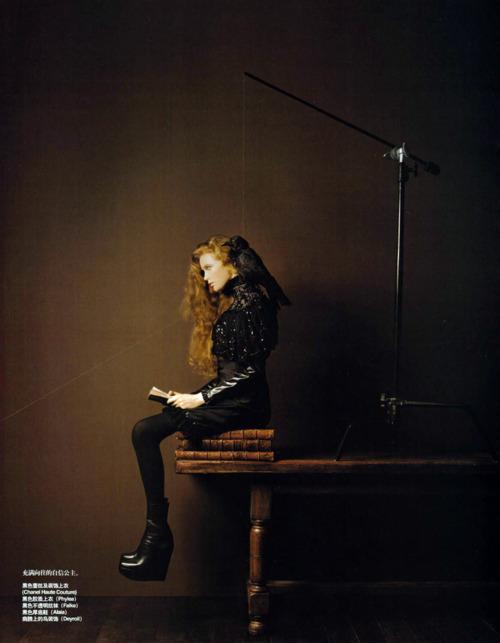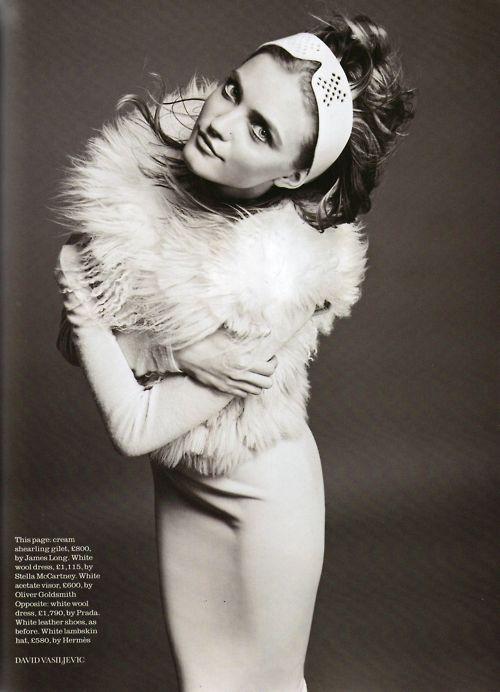 Rosliakova can take any images from the fatal temptress to cute girls. All her submissive role!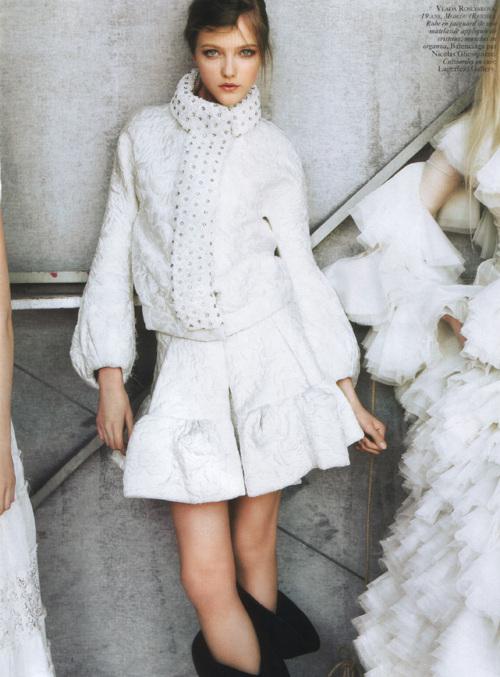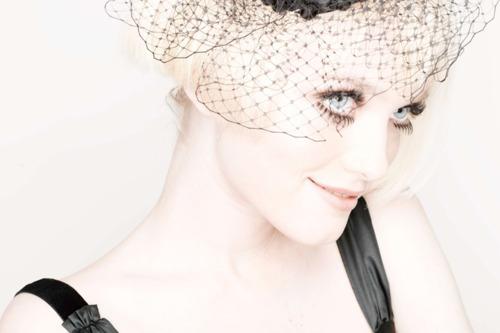 And cry, if necessary, will be able to model. And even if it is not necessary. As an example, one of the backstage impressions.
It was a show Louis Vuitton. I cried alone, and it was not an allergy. I just ran with another show, have already made up. Makeup artist wanted to make my eyelashes, poured on the cotton wool lot of liquid makeup remover ... and slapped me right in the eye. Actually, I was crying from the pain, plus the stress to say - it was the last day of the month after exhausting show. I went to rest, style your hair and makeup done at the last moment, so that it became easier. But all the while I was sitting with his eyes closed and was very afraid that I would stay without eyes. On the 20th of a second.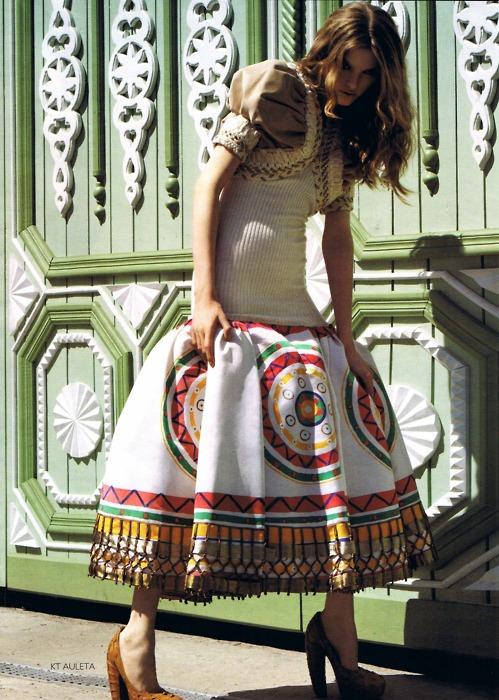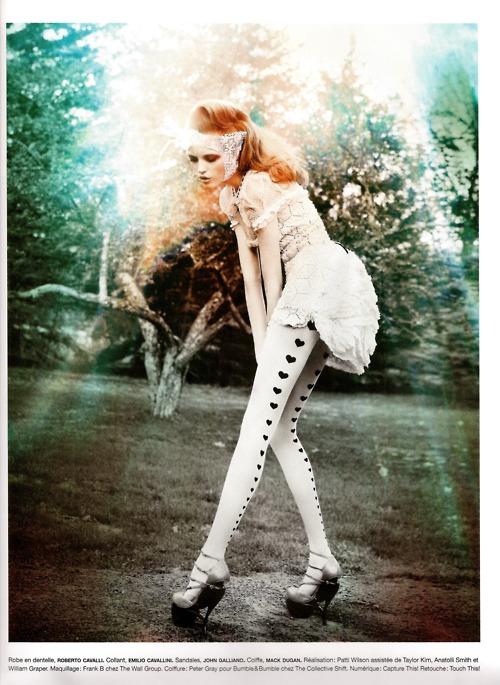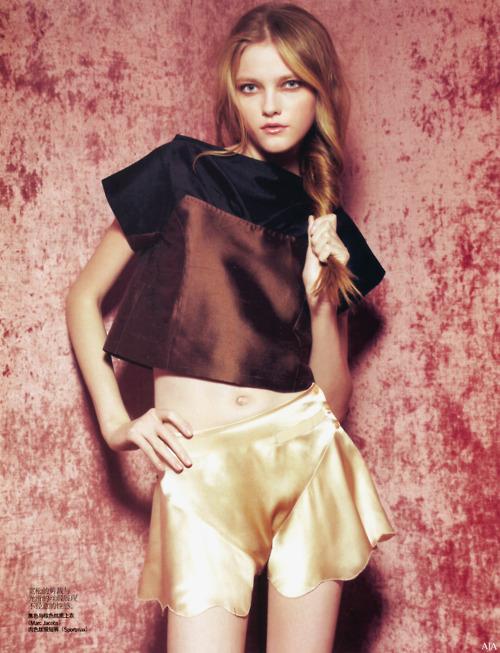 In addition, Vlada very interesting voice low and gruff. Not combined with her appearance? It goes well!
On the 50th of a second.
Vlad is very workable. She is not afraid of any difficulties, neither stress nor fatigue, nor even the weather.
Once we were filming in Iceland, among glaciers, and the whole crew was in winter jackets, hats, and I blouse. And yet, I remember something with me to shoot my mother went to Japan. We worked on the street, in November, it was pretty cold. I got used, and my mother first saw it, I never told her that I have to work occurs. She was standing with my jacket in his hands, looked at it, and so she was sorry for me. But the campaign Lacoste week we were shooting in the desert. However, the collection was autumn and winter, and we posed the heat in warm clothes on ... specially imported background! I said, "And why would the desert?" - "Well, just fun to shoot!"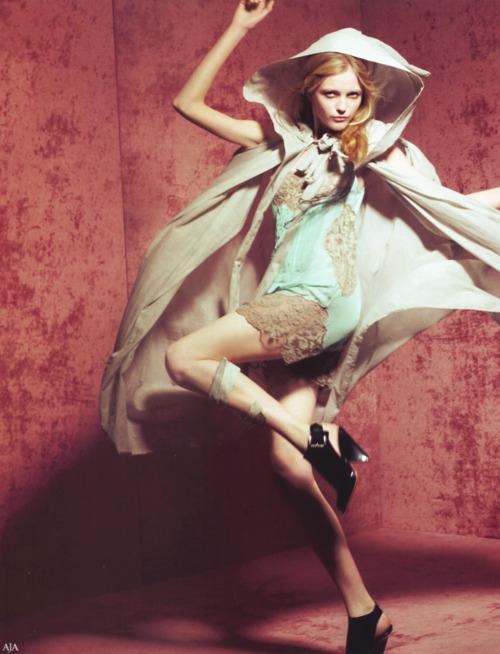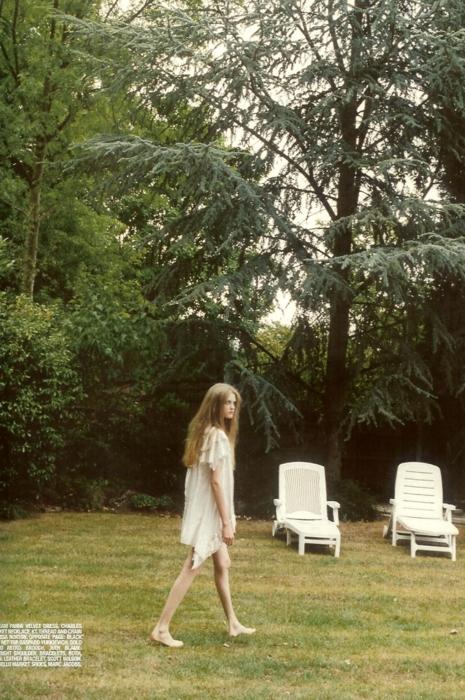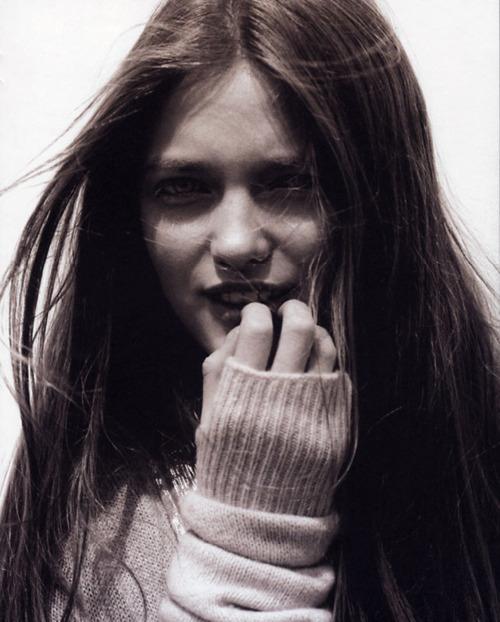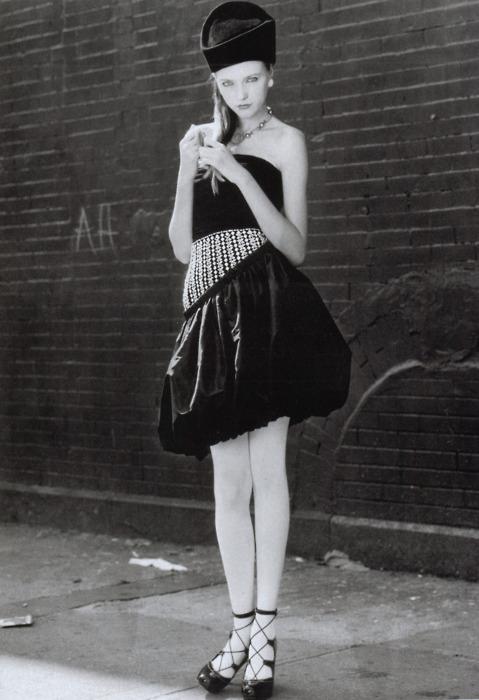 And to his work and his role in it, Vlad is with a healthy cynicism and practicality. When asked how she relates to the fact that her appearance retouch, Rosliakova answered adequately.
I relaxed attitude to this, it's my job - my good looks make whatever they want. But that's why her nose retouch - Vlad does not understand.
I had a couple shots, where I changed the nose. Although, honestly, I think the nose of his favorite part of the body - do not even know why.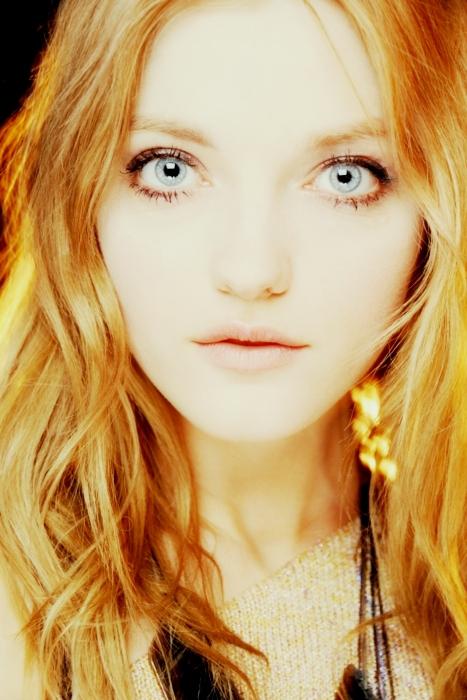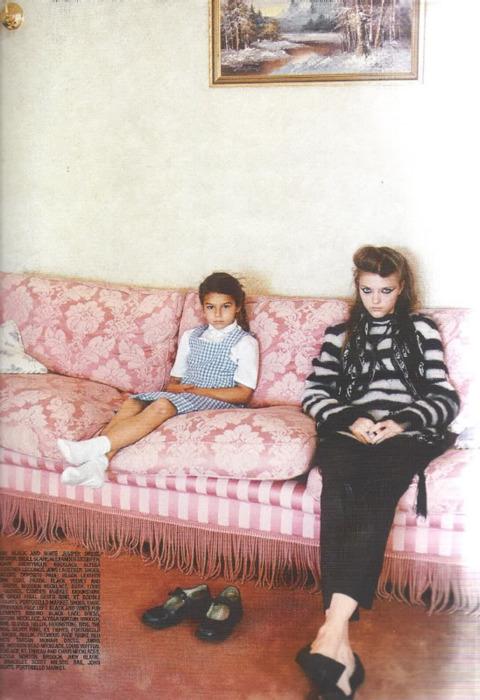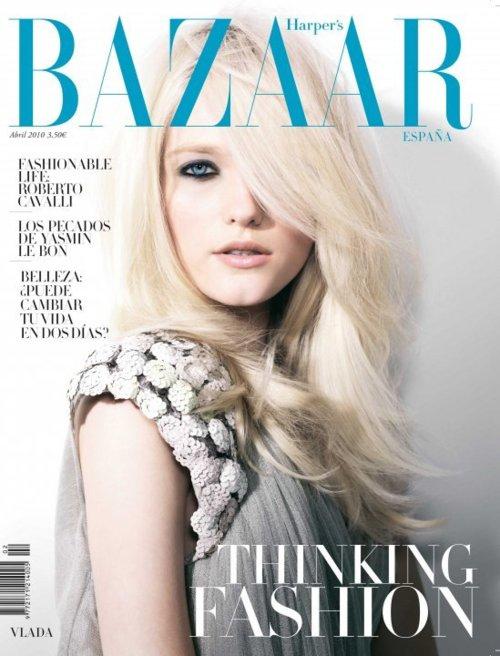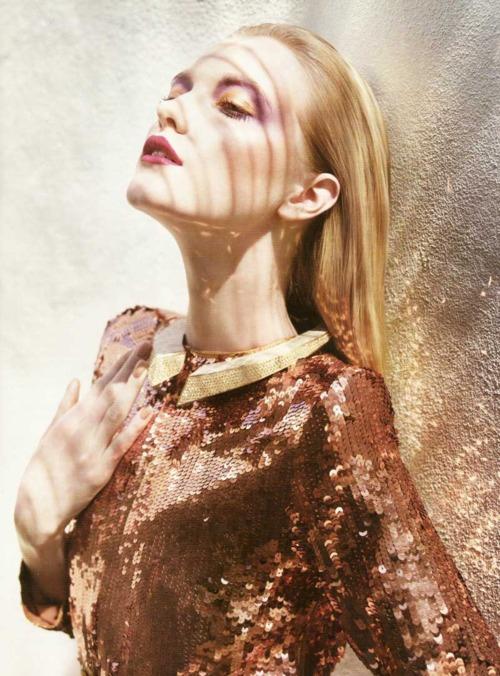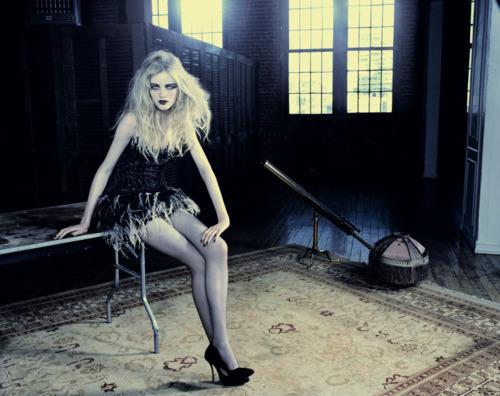 Vlad - Read a model that can not but rejoice.
Lately, I have less and less turns to read before the show, the more eager to communicate. What are you reading? Let me look into your iPod, I have everything there. Here is the "creatives" Anna Borisova very much, recently read "The Secret" by Rhonda Byrne, moved to the "Transerfing reality" Vadim Zeland. Now taken for "The Alchemist." Once upon a time, long ago, in 16 years, I began to read Coelho - just backstage. But apparently, when I was not yet ready for such a book, and when even the fuss around ... read half and, quite honestly, could not, quit. And now, I think, is ready already.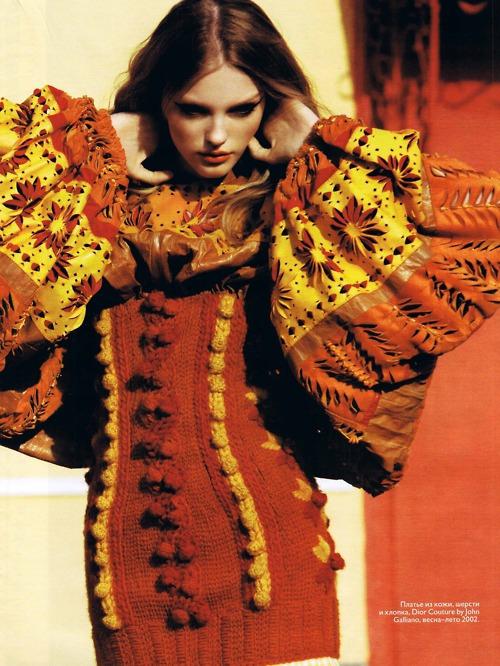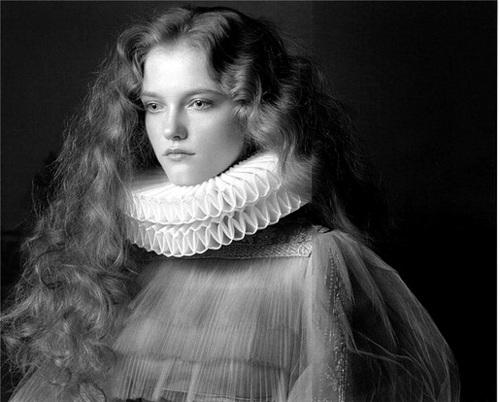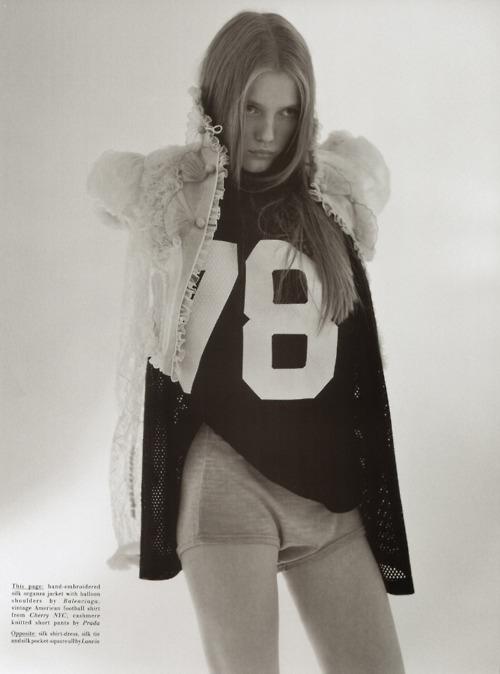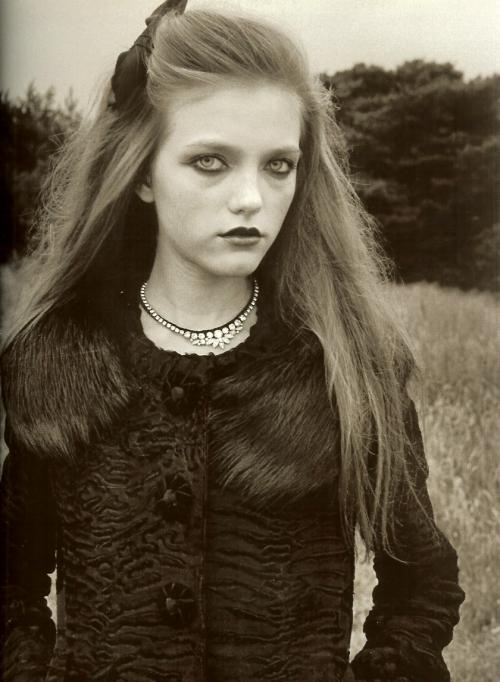 But the book Rosliakova selects specific. However, because she wants to study psychology. On the question of what Rosliakova will do after the end of her modeling career, she replies:
Modeling career, I hope, for a long time will not end. And then I want to finally teach psychology - so for themselves. In addition, next year finally received a diploma Pedagogical University Faculty of History. In Omsk, perhaps pickings esche.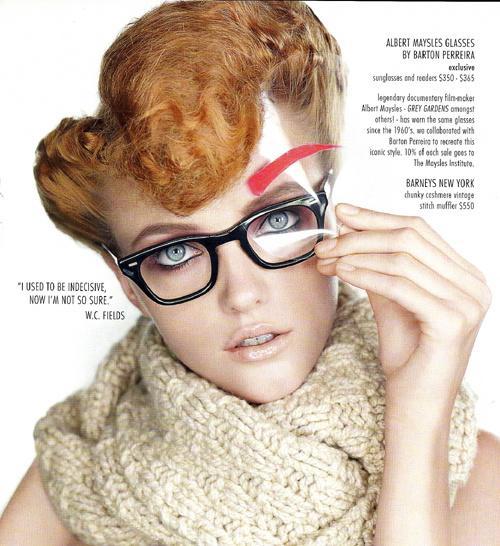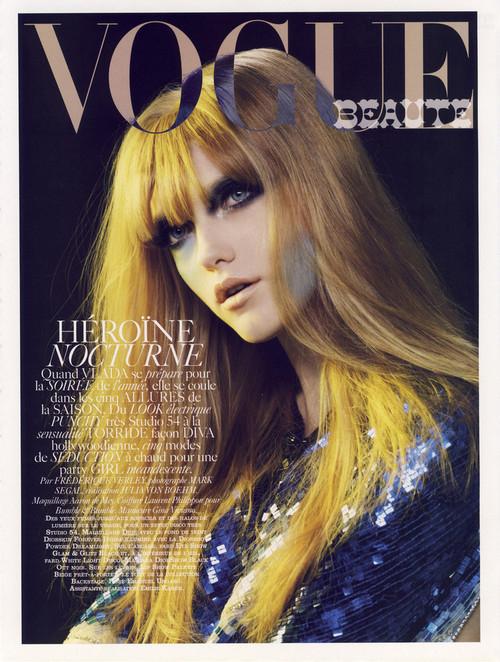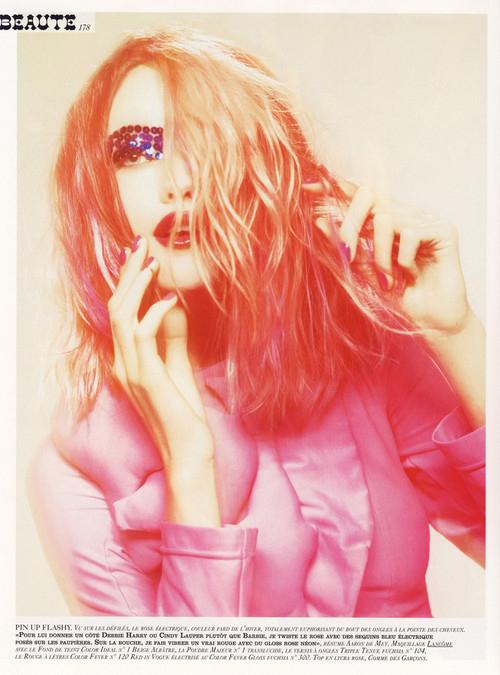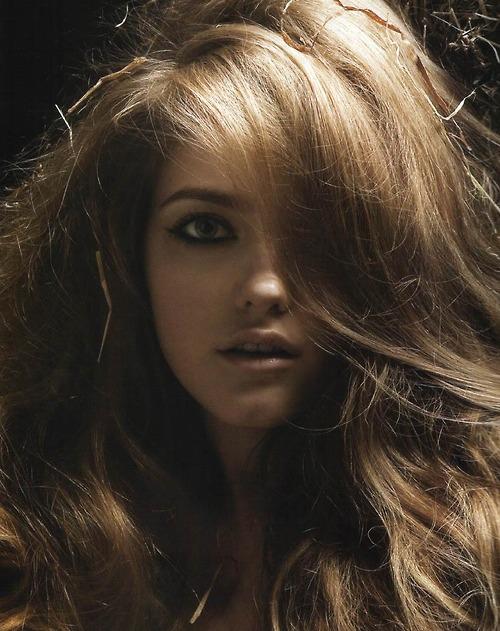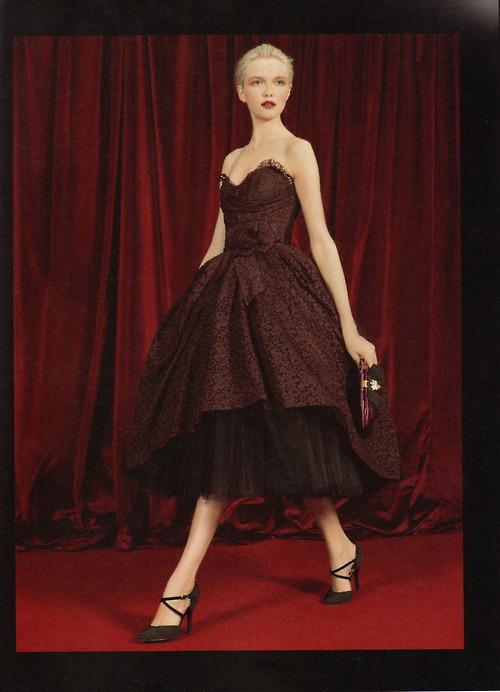 About her long career say with confidence I can not, but the fact that Vlad will forever remain in history - exactly. Vogue chose her in the top 30 models of the first decade of the 2000s. However, no wonder so Vlad keeps for modeling, because it gives her a lot of different opportunities, including to see different celebrities:
With Naomi Kempbel was not one show. Dressed by her side. She is very beautiful, looks good. Another model was that I very much wanted to see - Natasha Vodianova. Was very happy to meet her in New York in the first week of fashion for me. Natasha is a very good person, sweet and kind. Met once with Lady Gaga on the show, even though she is not a model. This is another dream come true. At the show we were standing. And talk a bit. She said that she loves us very much, because we go to such high heels and platformah.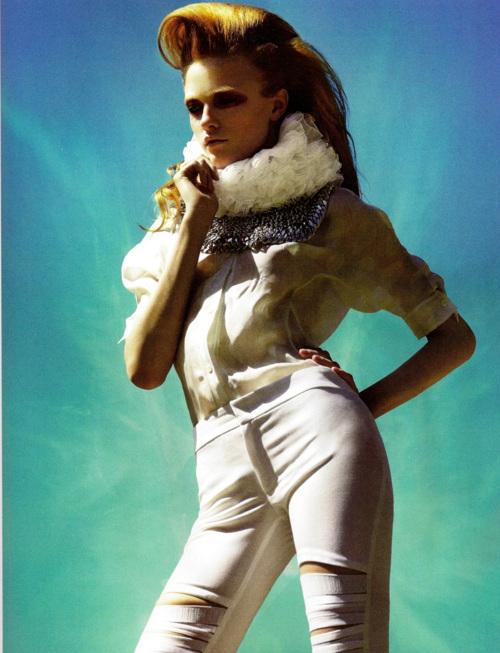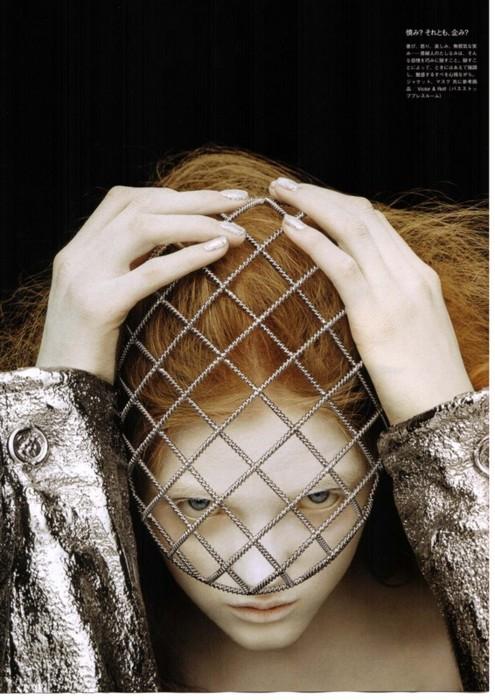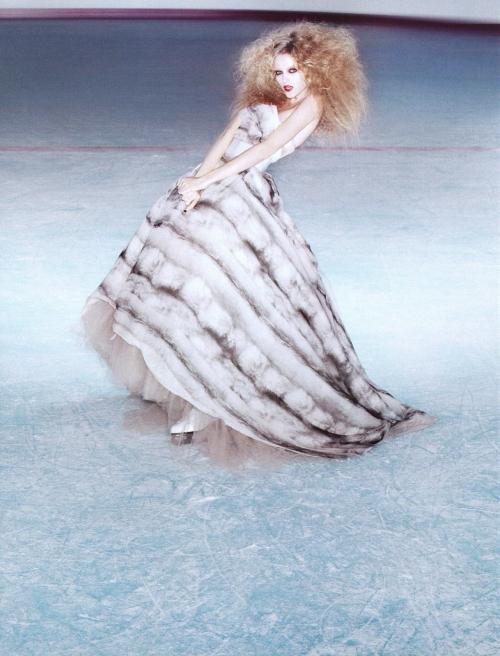 And I like her attitude to Andrej Pejic, although nothing against him have:
When I saw him in the photo, I was in shock. Thought, "What a beautiful girl!". But it turned out it was a boy. I believe that it is wrong.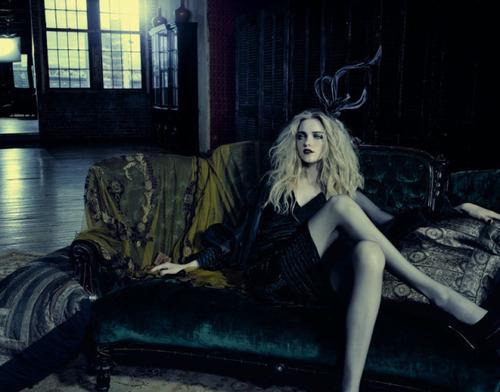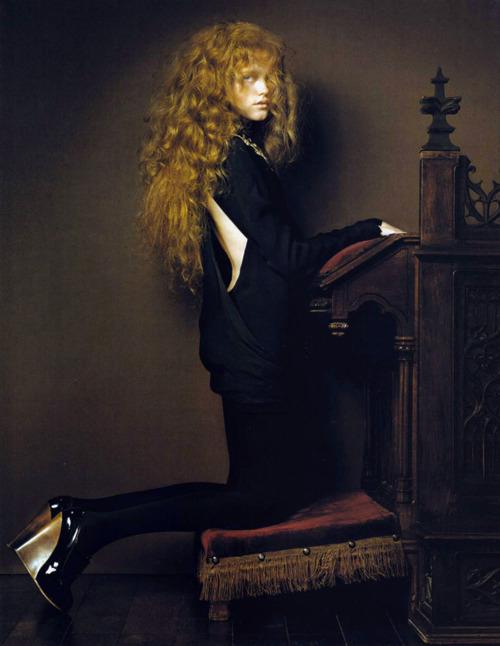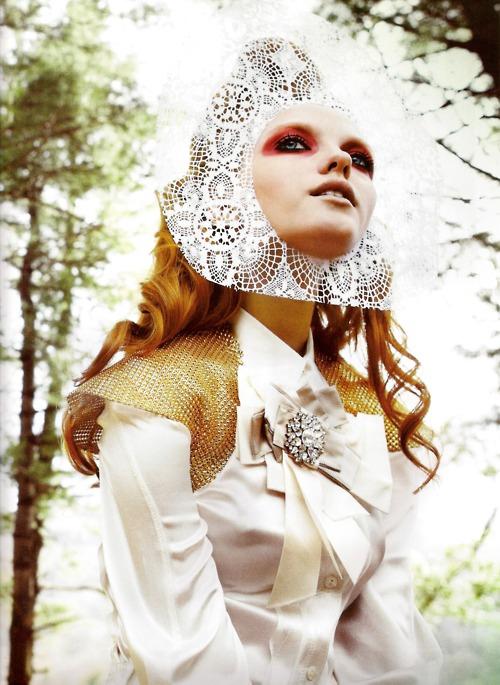 As for his personal life Vlada, then, after six years of relations, they were married. Vlad wants three children, but is afraid to stop in his career. Vodianova case because one in a million!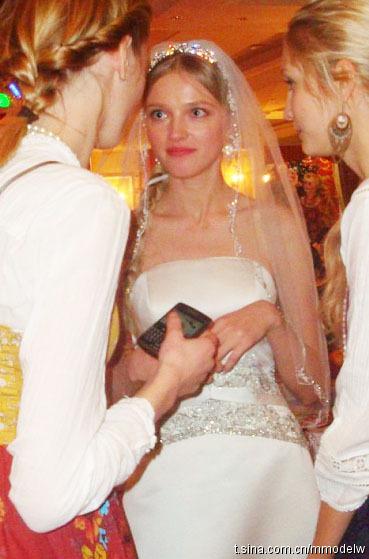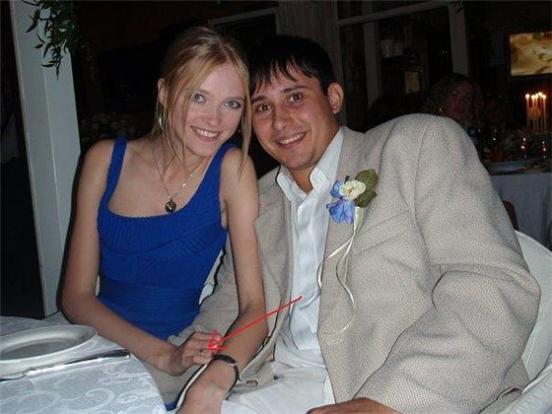 Not looking for a serious relationship Roslyakova to work, Vlad is very interesting and fun personality. She loves going to the movies, and preferably with popcorn, roller-skating and wants to see the penguins in Antarctica. And she is very good friends with Sasha Pivovarova.
Vlad sings with Anna Barsukova.