Frankly, I Milla Jovovich does not seem so much beauty. However, as the bulk of the models. It can not be called sexual, comely. But a beauty is not enough to get a picture "that is necessary." It plays the role of many factors: light, makeup, clothes, hairstyles, photographer himself, finally.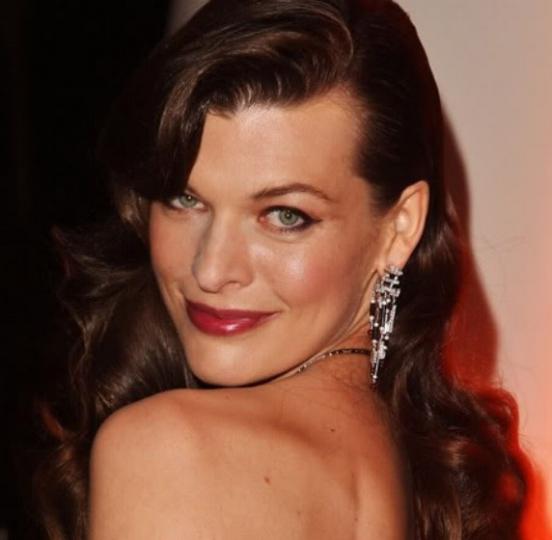 However, the ability to lodge itself - it is there. Feels inner core. Here, in my opinion, the best pictures of models, actresses, singers, which are just nice to look at. It presents a variety of images, sometimes even opposite. The ability to transform - that's what I appreciate models. And if the model does not look like a dead fish, so it is of interest to me. Mila can do it!
Fresh image. There is something from the 30s. It seems a little more - and Milan Station Charleston! Coral shades uplifting.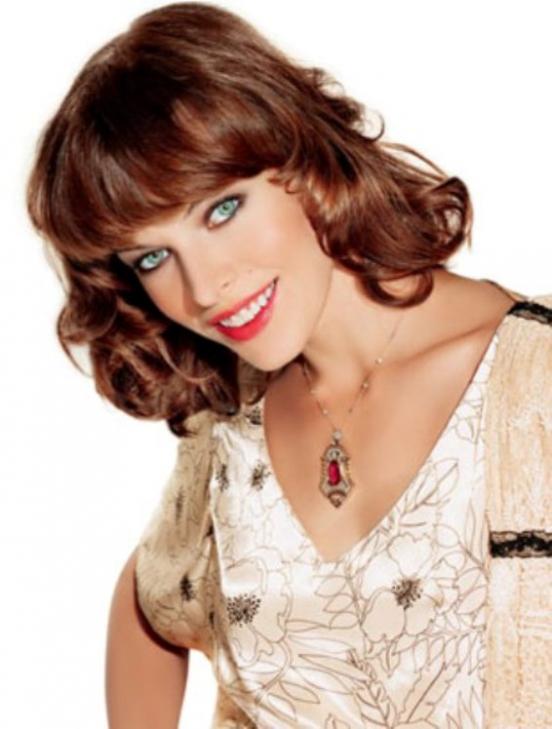 Bright, positive image. Lipstick with a touch of the hair goes very well. The smile is open and bright.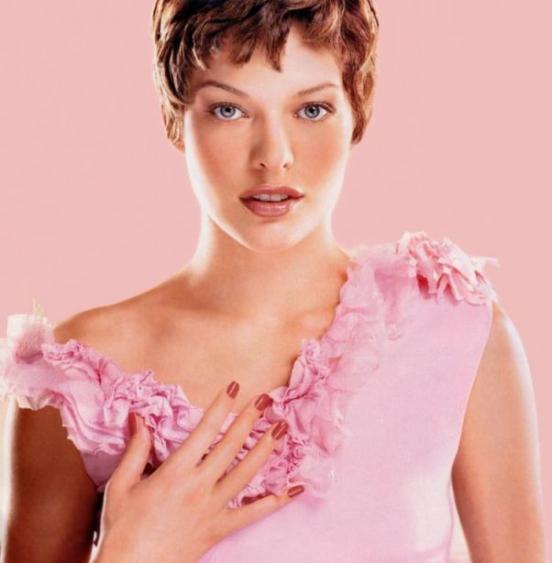 Pink miracle ... Romance and sensuality. Well, that lipstick and nail polish out of tune dress. Otherwise, the image would be lost.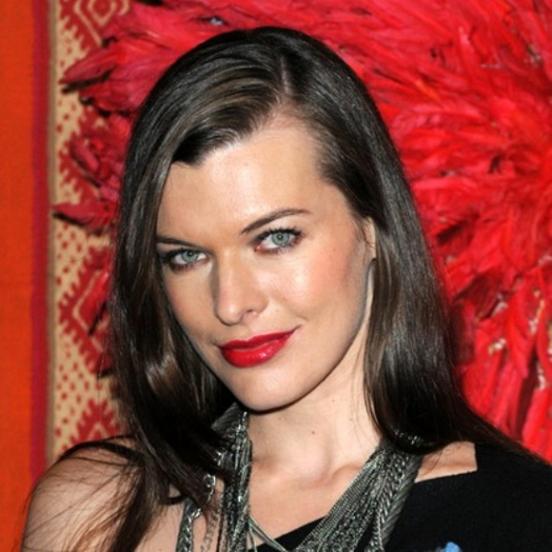 A little goes red lipstick. But Mila Jovovich - a killer accent. In a good way, of course. Ukrainian roots are felt, so it is so very dark shade of hair.
Proud, but at the same time with a very positive energy. Dress in dark colors calm restrained surprisingly does looks brighter Mila.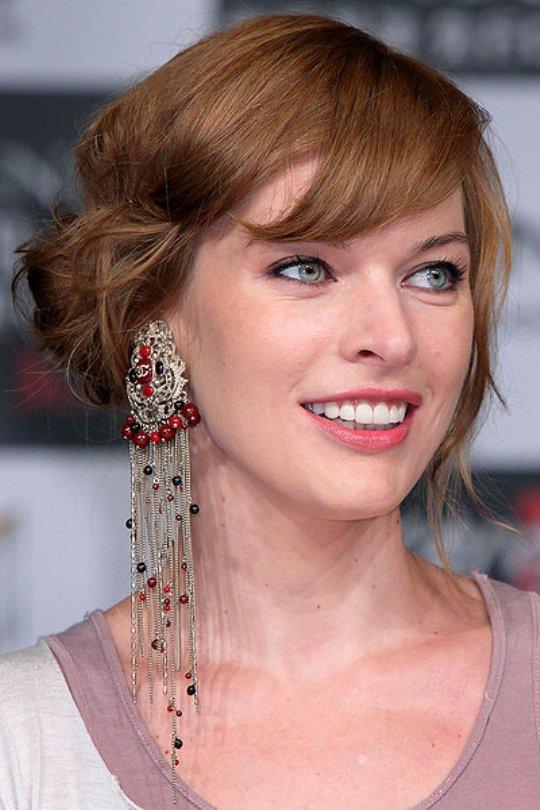 Here I liked best earring and eye makeup. Lovely fresh, natural style, a little careless strands and pastel shades.
Red boots - a "trick" is not the first year. (And is not the first century!) Advertising "on the brink" but still very elegant and natural.
The most successful pictures are obtained when the model feels very uncomfortable. It's strange, but I'm not the first to say. Unlikely length Mila usually so reading a magazine. (I personally tried - a complete fiasco!)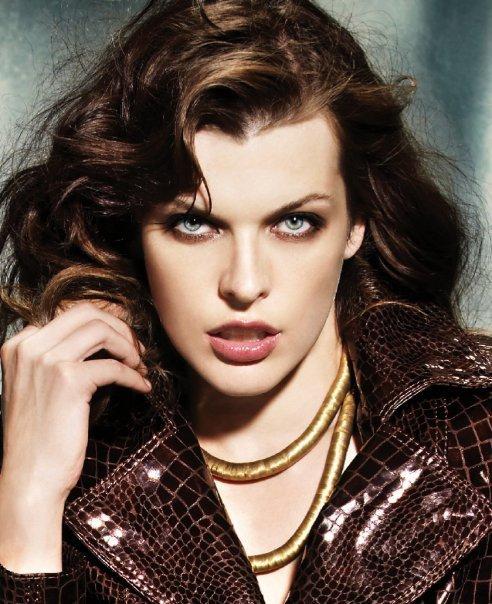 Femme fatale (with the accent on the first syllable)! In the smoky eyes is just a hint, otherwise it would have been gothic ...
Blonde curls creates a juicy way. Original finish neckline. Spring makeup and youthful appearance - what else is needed for a woman?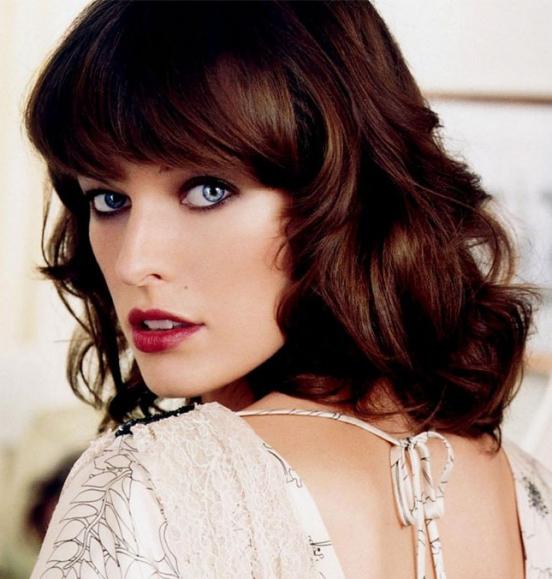 Mila has positioned itself a strong woman, and most of the photo is immediately evident. Particularly strong-willed sight.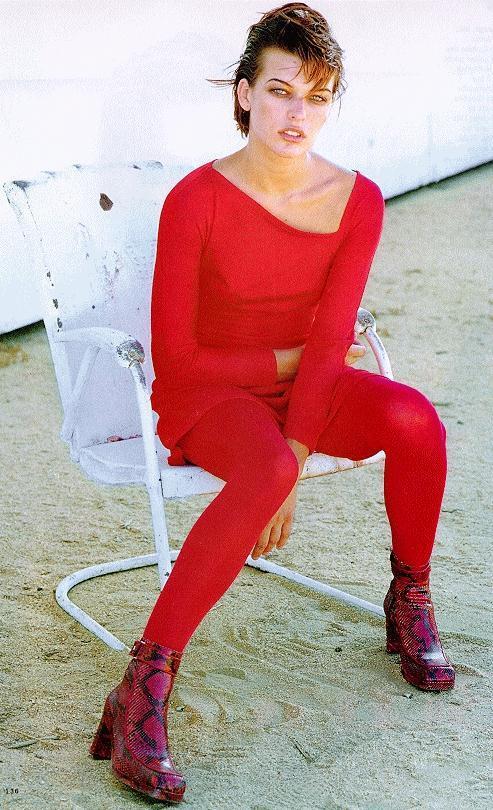 Have you noticed that the red - is a real trump card Milla Jovovich? Even if there is almost no makeup. This is one of my favorite photos and the clothes on her, certainly for me - must have!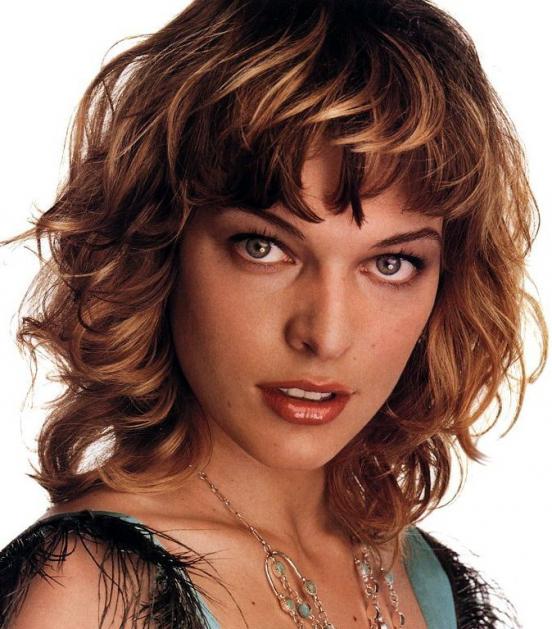 Excellent make-up and skin. Here's another example of what a decoration on your face can be to a minimum, but the tone of facial skin must be smooth and shine. Otherwise, you always have a good old friend of Photoshop!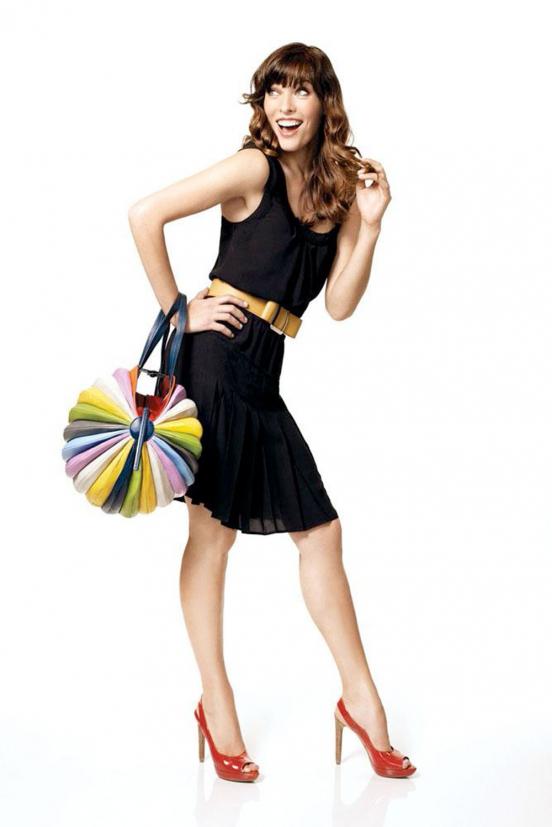 I love the original bags. Well, that dress does not distract attention from her. Pumpkin-mutant alien planet. Props "The Fifth Element»?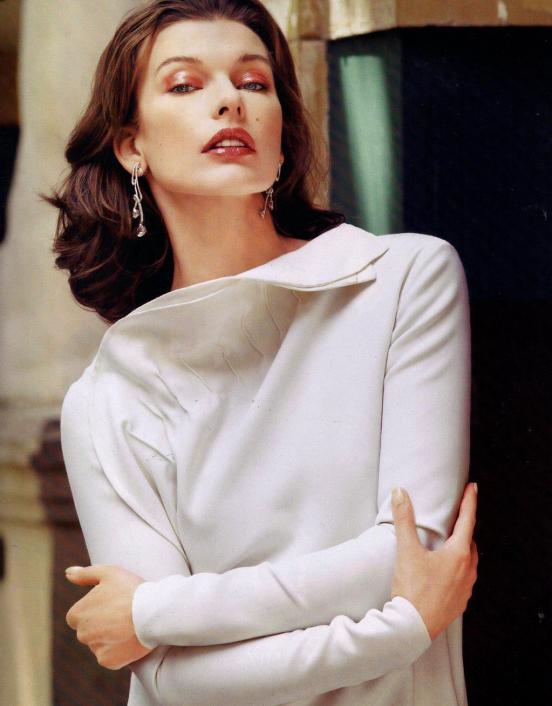 If no shadow, I would say that everything is fine. You can go to work in the office. Although distantly me this outfit still resembles surgical gown))))
Recently, the star suddenly rushed to dress in lace. I just caught this outfit: the beautiful and chaste at the same time. As they say, combining incongruous ...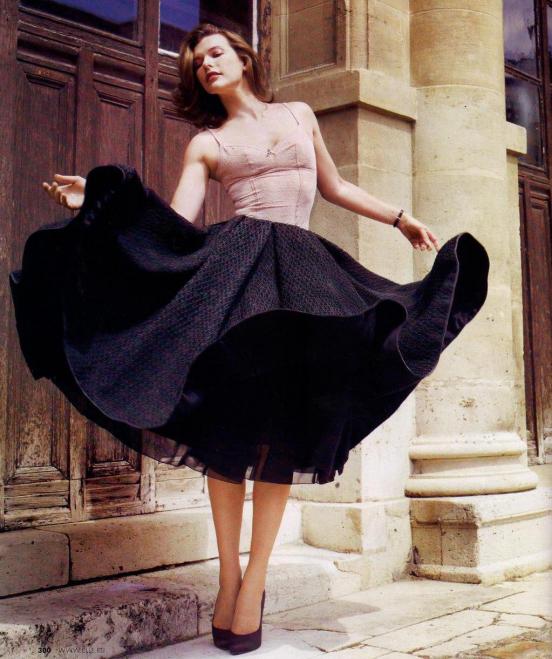 The best way to show all the possibilities for design skirt Louis Vuitton. Maybe worth to choose black body instead of pink? But shoes D @ G color "eggplant" great complete image, turning his feet in the Admiralty spire.
Trouser suit never goes out of fashion and is relevant since the time of Marlene Dietrich.
Legs in the foreground in a rock 'n' roll ballet flats and Mila in bandages. Where the second leg?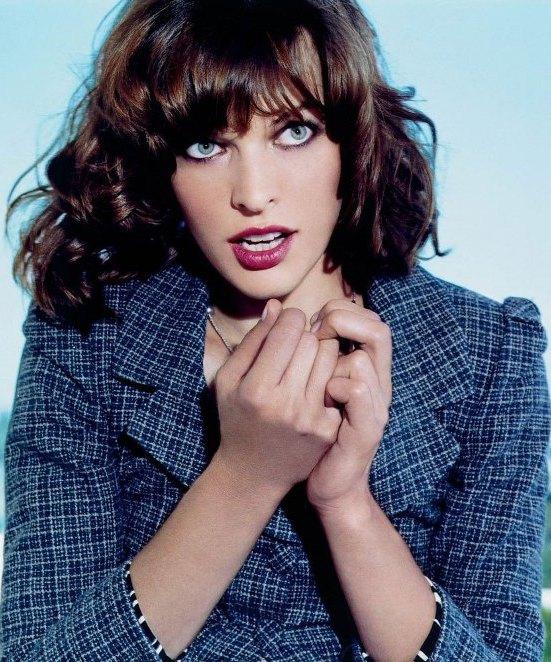 The Little Match Girl. The glamorous version. A look stunning!
Advertise Armani can not do without tension, dynamics and frenzied energy. Mila acting in the right way. Black and white photo - it's always a win.
I remember in the mid-eighties, so went to the cottages ... Perhaps-Ukrainian Mila still remembers that era. I would choose this dress as your home comfortable clothing. By the way, in the hospital because my mother still go)))
Milla Jovovich shows the image in the style of "high fashion". "Raisin" this image - the play of light - the sun at sunset. But what about the red robes and all so clear: Mila long time and gladly accepted the detachment 'Red calico »!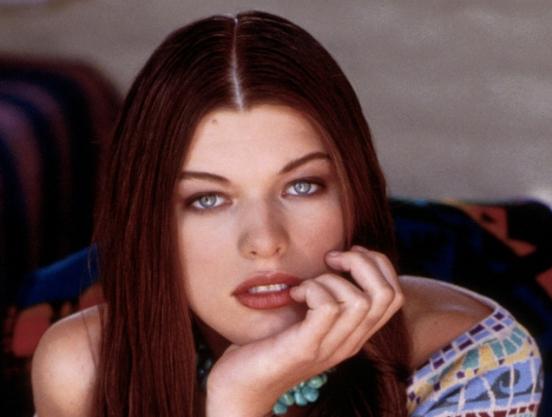 And here I liked Mila just for the fact that such a home, without a "show off." True!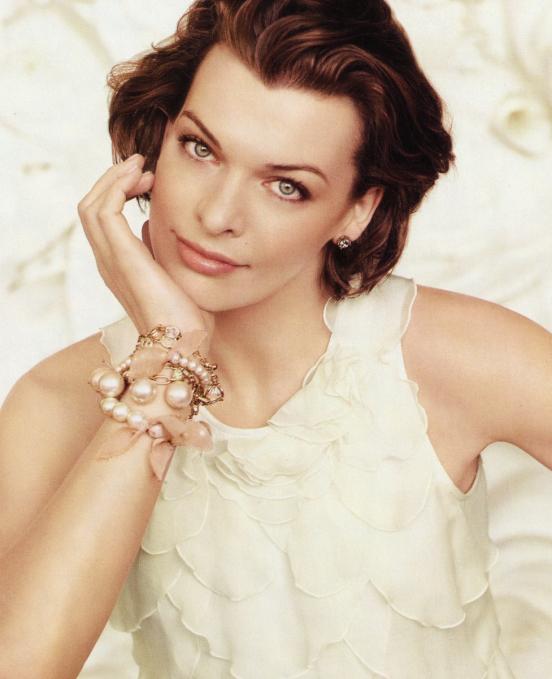 Open a little playful Jovovich. It is airy and at the same time "mature" image. There remains some mystery - and that's the charm!