Inspired by hipsters ...
Those who are older than 40 - remember your crazy adolescence? And you, twenty years have seen a photo of their dads or moms with Haier in long colorful skirts and ribbons in her hair? May themselves wore all black bangs and painted pink? My girlfriend, for example, wore a shapeless T-shirt with the inscription "Agatha Christie", and I - black lace dress to toe ... Oh, it was a crazy time! What am I doing? On the good old informals!
Of course, I do not propose to dress up in costumes and unimaginable frighten children on the streets, but for the sake of tomfoolery (or fashion?) Can and pretend "urban crazy».
Today we play Rockabilly!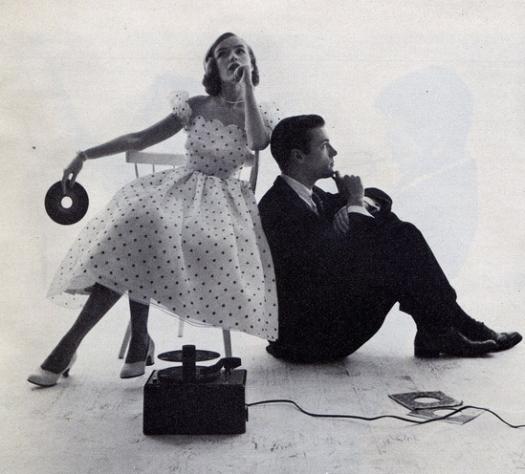 Rockabilly ... I've always liked that word, it seemed that he has character and style. Sounds hooligan mischievous, is not it? Perfect girl in this style is exactly what I adore: stockings, dresses with exaggerated waist, high-heeled shoes with a platform ... add here the characteristic makeup - smoky-eyes with long lashes and arrows (in moderation, without fanaticism!) red lipstick and skin untouched by the sun (alas, by nature I am very pale). Do Rockabilly girl rich form - outstanding breasts, thighs and steep narrow waist.
Leads me overjoyed that my style reflects my inner self, because "rockabilly", in fact, the kind of music that somewhere between rock and blues n'rolom, heavy and country (my favorite music!) , its founders were the Beatles, Rolling Stones and Elvis Presley handsome ...
Even the Japanese appreciated!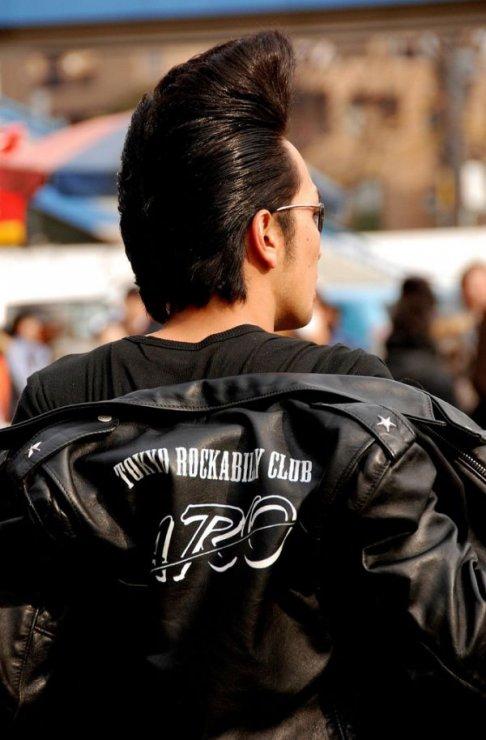 So, if you want something new, I suggest to try on this image! But do not get carried away - still a difference between infantile "urban crazy" and fancy gadgets that can take on the style of the best essential.
Makeup in the style of rockabilly, shall we say, somewhat eccentric, perhaps someone's opinion even vulgar, but I like it. Especially when carried out carefully and tastefully.
You can make a classic version of Meiko - tidy sum arrow, carefully paint over the cilia volume mascara and red lipstick - the sponge. But I suggest a little experiment (as is done, for example, Katy Perry and Alice Sophia-Bexter) - replace the scarlet lipstick fuchsia lipstick, use bright eye shadow and not to abandon the light tan. Still, we do not feteshistki and fashionista!
"I'd like to be clear, but it does not have pop ..." That Christina Aguilera wants to be convincing, but not pop. For girls with a similar makeup looks - just salvation. Expressive eyes and lips, but do not look vulgar. Perhaps this is the most successful way of Christina.
We proceed to the hair!
"Named penny - get in the box!" This, I appeal to those who pretend to be known as rockabilly princess of this - if you want to fit, without some hairstyles can not do. Top volume and smooth sleek locks on each side - about what we need. However, the hair can vary from case to case - it can be as easy bouffant and unimaginable "pretzel" forehead
Clothing!
All the matter in the silhouette and print. The first is to be feminine, the second - bright. Underlined the chest and waist, full skirt, large and small peas, sea motif rims with ornaments in the form of artificial flowers, stockings with a seam. Style on the edge - filled with tasteful way memorable, but it's worth a little too far, and you already look whether as rural confused, whether as a saleswoman at the market.
Most often, a play style, diluted with various accessories - Chanel handbag with these dresses look-classically, some leather bracelets and leather jackets from Burberry - and that's before you rock princess, makeup and skin whiter podramatichney - gotessa.
This rockabilly-girl can be considered as Dita Von Teese. However, beauty is not fixated on the implementation of strict rules of style: sometimes it looks too pompous or glamorous, wearing studs instead tankettes and thick heels, plays with textures and fabrics ...
Look what her dress! You can choose a something similar to create the desired image.
Rockabilly girls, inter alia, are large colorful tattoos. Now that's really vulgar and gone. You're not going to do them, ok?