One of the most fascinating models of our time - Dutch 26-year-old beauty Doutzen Kroes - to force their way in life itself. She sent her own image in a modeling agency and noticed her. Doutzen is now not only one of the highest paid models in the world, but also a young mother and wife. The supermodel, who was born in the Dutch village Ostermer can be seen in almost all activities VS, as Doutzen - this is one of the brightest and most beautiful angels of today, and since I love Victoria`s Secret, I decided not to deprive Doutzen and make a post about it.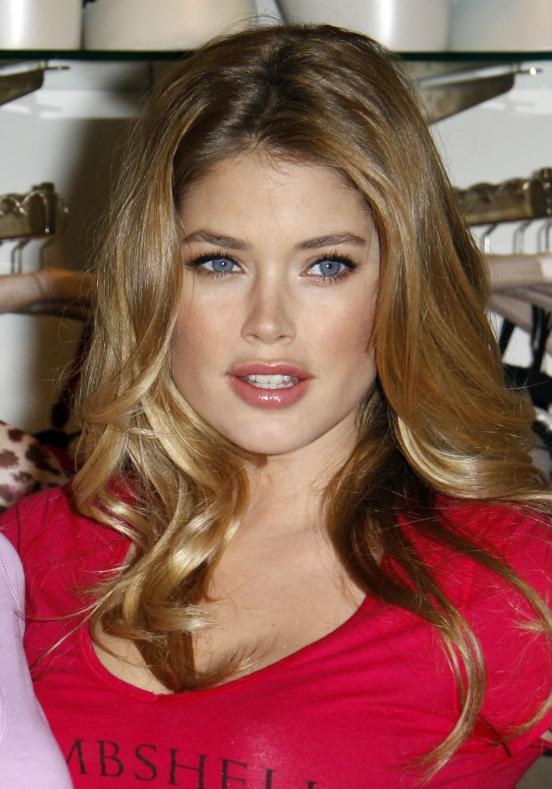 1. Doutzen - incredibly nice girl! Another such in today's showbiz afternoon with fire you will not find. In addition, it seems to me that it is about a wife and mother, who still spends his free time at home. This "house kitty", if you so wish. I would not call her a written beauty, but something in it definitely is, the more that external data in it is absolutely natural. She has a small asymmetry of the face, but at the same time it is beautiful in its own way (Highlight eyes, although it is not the eyes, and a bottomless ocean of some sort). Makeup in the photo below I like. Increasing the edge of the eye black arrows - it's almost an integral part of Meiko Creuse.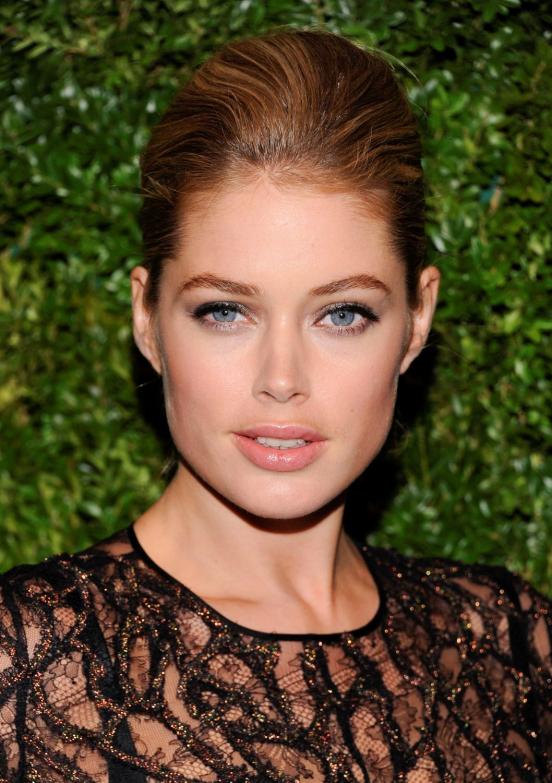 2. And here you can see all of her ideal, but at the same time simple and natural beauty Doutzen share without hypocrisy. There is no false eyelashes, hair or of extension or a deep neckline, nor daring makeup ... all very relaxed and at home. Model in an ordinary sweater - is a common to see? Make-up, I would have made any softer (almost without it), or whether that poagressivnee (you can thin arrows, emphasizing the eye), though, and so quite well. The photo reminded me Doutzen Sharon Stone and it is not an indicator, because Sharon - fucking magnificent woman!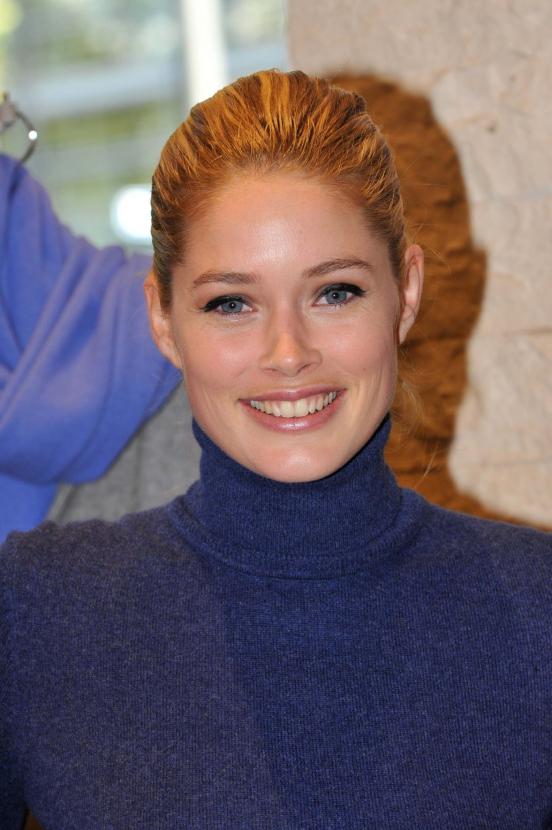 3. Wonderful makeup in golden tones. Do not like just what eyebrows if there are separate from the person, and jewelry is not enough (apparently the model does not like them).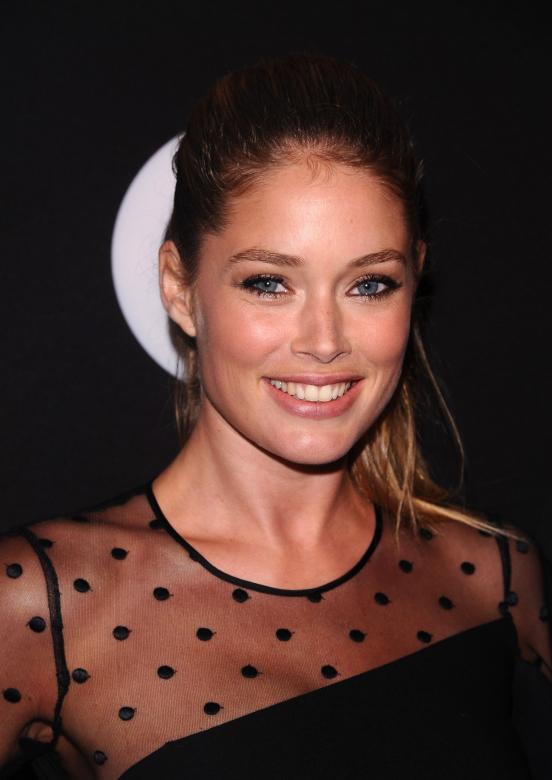 4. Beautiful and ideal hairstyle for her make-up that could be cooler? In principle, there is nothing extraordinary in Meike not (the shadow + eyeliner on the upper eyelid, a simple pink lip gloss), but the image is very sensual.
5. Always said that the same type of makeup VS destroy their models. Why ever should be applied is ekstrarozovy gloss on the lips? I neponyatkah. With all good eye makeup, makeup artists in this respect molodechiki)
6. Well, I do not know, I do not know ... "Corpse Bride" of some kind. On the pale face Doutzen is a combination of colors is not "playing". Maybe I'm wrong and this super-Duber high fashion ...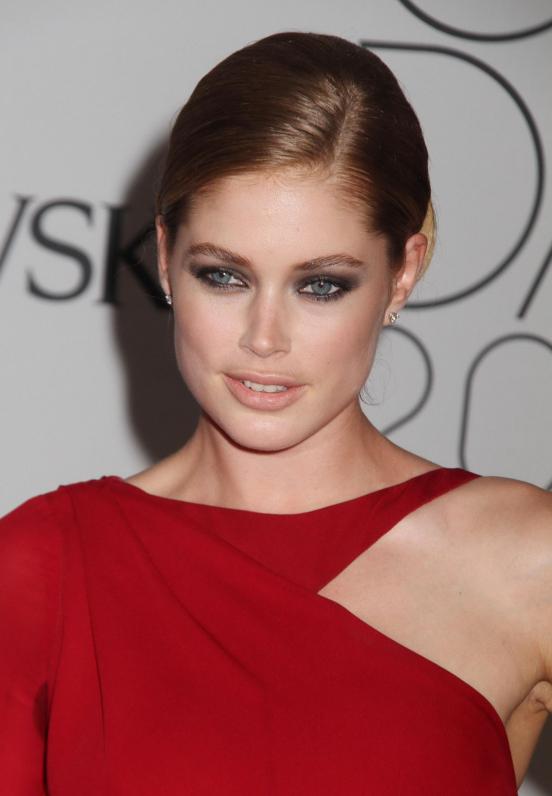 7. The very image of a cheap, but make-up ... Oh, it is wonderful! All hands make-up artists, make this work! Finally, the bright blue eyes Doutzen honored to be in the spotlight! Generally noticed regularity that all blue-eyed and gray-eyed girl fits this palette colors (silver + blue + dark gray).
8. The facial features like, but cilia ask mascara. Ink in the studio!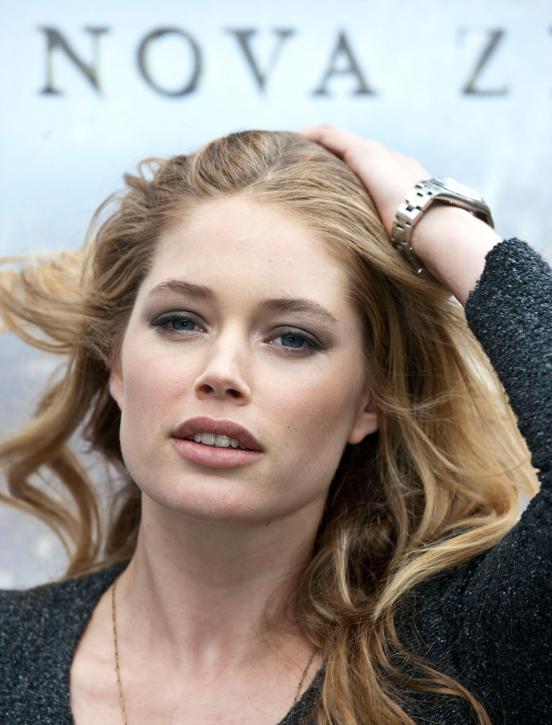 9. Very nice. Brown scale Doutzen also a person.
10. When viewed from this perspective, the makeup is stunning. Everything as it should: and cilia are bent (not like when they stood "tetanus"), and a good skin tone and lips look appetizing (I want is therefore only such associations, sorry). Incidentally, such a haircut it very much goes.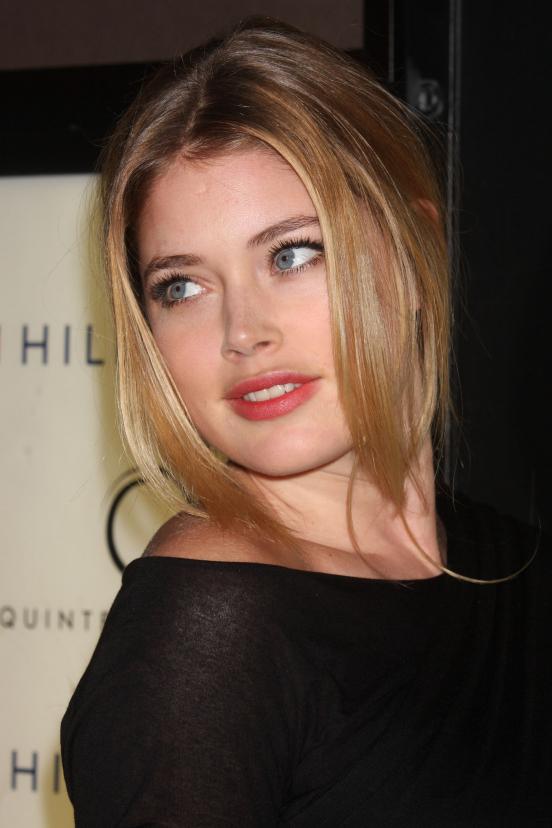 11. This makeup introduced me to thinking. On the one hand I love, so that there I adore blondes with bright red lips, but on the other hand is not all that color goes. Like Doutzen and well with the lipstick, and kind of not, but in any case, such an image a la Monroe brings me only positive emotions, because to me it always seemed perfect and there is no other such, and probably will not.
12. The sharp shooter, often do the same myself. And I think it's a very good option for daytime makeup. Tres belle!
13. Oh, what an interesting color shades! It is necessary to adopt, can spring should diversify the makeup, and even got used to the gray and brown tones, well and arrows that had completely forgotten about the existence of other colors ... great, the girls - spring!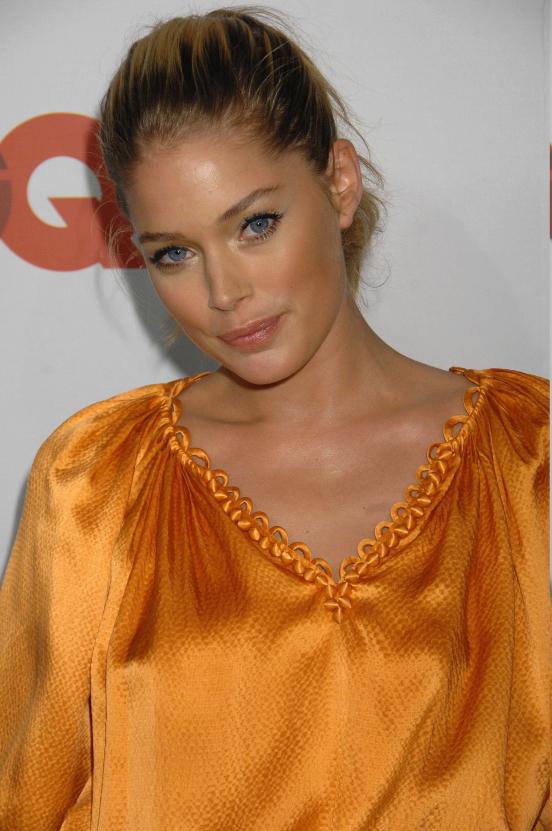 14. EYES! God, they really can drown. Doutzen husband has drowned 500 times, probably (by the way she is very, very nice husband, they look like coffee with milk). Eye makeup I did not like too many brilliant shades ...