Anais Mali, a new face in the fashion industry. Anais is famous as a promising and memorable model. Anise - half-African, half Polish. Anais was born in Nice, most of his childhood and adolescence spent in Toulon. So we can say that it is the French model. Scouts modeling agency noticed Anais, when she was walking with friends in Paris. From Paris and began her career.
When it became clear that there is no place to grow Anais in Paris, she decided to move to New York, where he began to work under the wing of the agency Wilhelmina. Incidentally, unlike many aspiring models, Anais well versed in fashion. Of course, it helped a girl in his career. Through her work with the US Vogue magazine, as well as a very successful performance on the catwalks, Anais is considered one of the best discoveries in the modeling business.
One of the first impressions of Anais - Vivienne Westwood 2010. This show is still considered the favorite. Although she now boasts the participation in even greater numbers show different designers.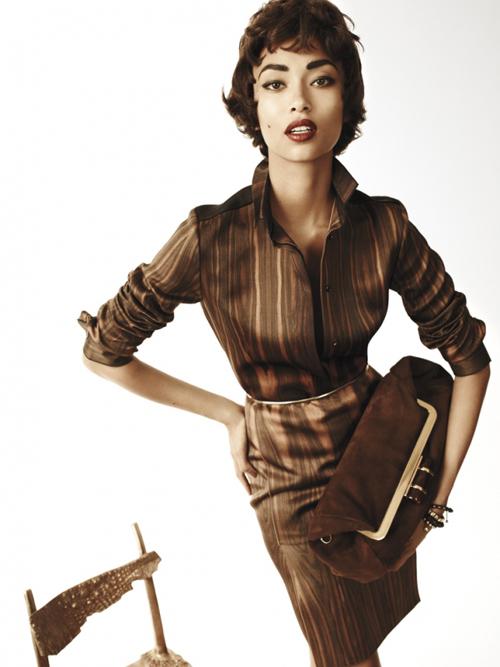 By advertising survey Anais Mali began to attract after the first impressions: first, it appeared to lukbukov Ralph by Ralph Lauren and J. Crew, they were followed by photos Zink, an advertising campaign for Levi's and at the end - a double cover of the magazine Jones. Anais loves to eat: in his spare time she is looking for new and interesting restaurants in New York. Compensates for their forays into restaurants Anais is very simple - long training in the gym. Food and Athlete two main hobbies Anais.
show Victoria's Secret:
Anais is working hard. But it is not fixated on his modeling career. Anais is the founder and ideologue of the French organization «Yntiafrica», raises funds for underprivileged children in Africa.
And in everyday life Anais demonstrates his passion for fashion: