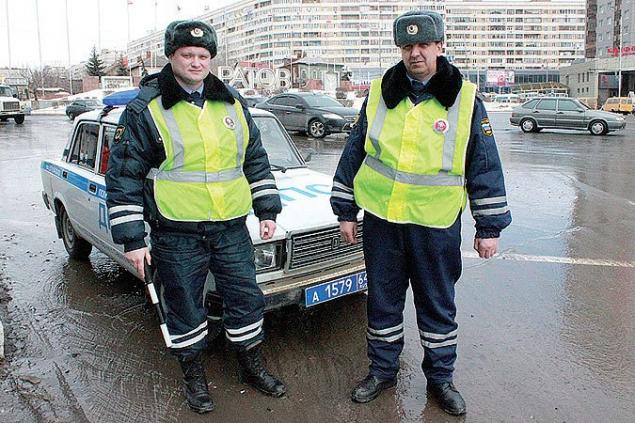 Lieutenants road patrol for almost an hour to persuade the girl did not jump off a bridge.  
People cops rarely praised, often criticized, noting in their work only bad. But a few days ago, two young lieutenants patrol made a truly heroic act. Ternovik Andrew and his partner Alex Christening saved from suicide young girl. Guys almost an hour to persuade the 28-year-old Olga Semenova * do not jump off a bridge connecting Saratov and Engels. And when they learned that she had decided to commit suicide because of serious illness, decided to raise money for the treatment of women.
 - On Friday, we were on duty at Predmostovoy area - says Andrew Ternovik. - And about an hour of the day in our manual car suddenly pulled up. Driver's just yelled at the girl standing bridge, jump going! - And left. We do not even believe it at first.
 - I grabbed a pair of binoculars, look - and indeed: somewhere in the middle of the bridge girl sitting on the railing, swung her legs down - echoes Alex Christening. - We immediately jumped into the car - and to her. And in my head, only one thought: the main thing - to have time!
Just a couple of minutes the guys were already in place. In order not to frighten off Olga began to slowly approach, talking. Asked what makes one here as felt. First, Olga strictly forbade police to approach her, but gradually conversation. It turned out that the girl since childhood epilepsy patients and because of the constant attacks can neither get a job or start a normal family. Her husband threw a couple of years ago, and she was left alone with a small child.
 - I said to her: Well, is not this a reason to life ends? Oh baby think! And his love is still sure to meet, how beautiful you are out! Speak calmly, but his hands are shaking - suddenly jump now! - Says Andrey Ternovik.
Woman guys persuaded about an hour, gradually making small steps toward her. When close enough, Alex Christening grabbed her arm to suicide does not tear down.
 - She did not resist. Only tears. We have it to us at KP brought, tea drink, wrapped in a blanket to keep warm - traffic cops continue. - And then to Olga "ambulance" arrived at the hospital and taken away.
But the story is not over. Happy ending at all became like a fairy tale, when Alexei baptisms, Andrew Ternovik decided to continue to help the unfortunate girl. One of these days it will go to the hospital, but most importantly - have started to collect money for her treatment.
Meanwhile, the traffic police are already thinking about how to reward the guys.
 - We need these workers. Now consider encouraging the lieutenants, - said Head of the Propaganda Department of the city traffic police Yuri Sukhorukov.
However, Andrew and Alex already know how to spend the prize. Most of them are going to pay for treatment, and the rest on gifts Olga and her son. The most important thing for her now - it's attention, perhaps it would be the best medicine.
* Name changed for ethical reasons.