This world is full of beautiful, good artists. Almost wizards, creating a naive fairy tales and mystical worlds. There are so many that even we did not expect. Can you imagine living among us, walking on the street, these people know how to create beauty. Bread shop. Ride the tram. Squinting sun.
In preparing this article, the most difficult for the
Website has been mention a few names. We asked about the happiness of the artists, creativity and dreams. And the answer can be admired as paintings, drawing from them the wisdom and happiness of the sun

Supplier number 1 -. Eugene Gapchinskaya 34,158,582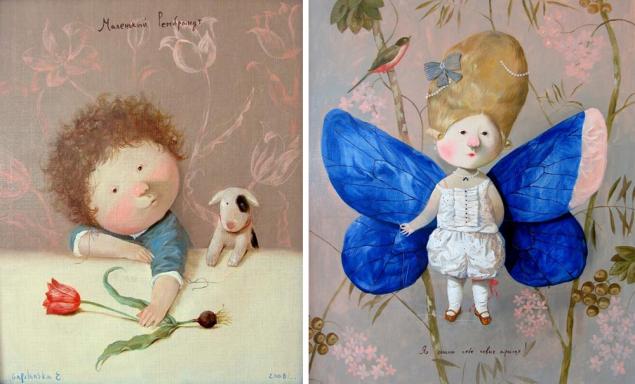 Eugene Gapchinskaya a classical art education. But at some point I realized that she had "no director in the painting", trusting himself and began to draw what you want. Now she is one of the most popular artists. Eugenia creates soft, kind works. Its worlds inhabited by incredibly sweetly pupsiki.

Eugene Gapchinskaya of happiness:

«I am always completely happy. I do not have a certain frenzy, or the feeling that here still have it, and reach all dreams. I am happy that I have eyes, I melt from the sky view, the smell of the earth, even by rain worms. I'm happy little different. Slightly differently I perceive this world. Whether as children, or vice versa, as though I had lived a long life, already old, understand the value of something else, more. »

Children's dreams Natalia Derevyanko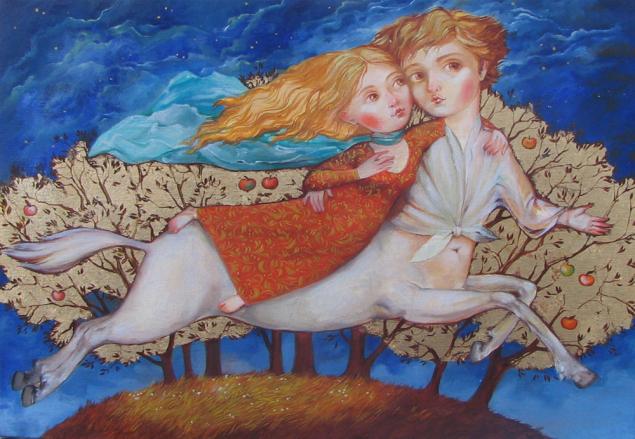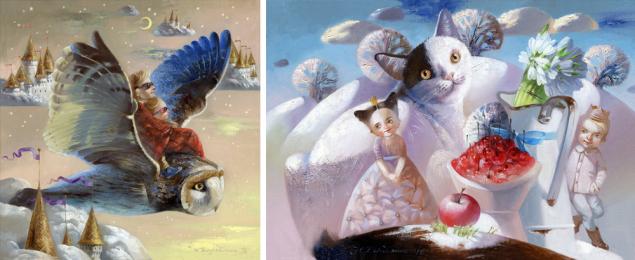 Natalia Derevyanko - creator of children's dreams, which are goodness and peace of mind. One day, her little fairy-tale characters who lived in different films, united into a book for children. Now Natalia writes fairy tales.

Natalia Derevyanko about creativity and about dreams:

«I draw since childhood. Often I joking: "I just do not know how anything else to do)))". In fact, I illustrate children's books, teaching and draw fairy tales under the motto "A piece of joy in your home." I was lucky, my work - it's my job, my pleasure, my freedom »

« What I dream.? I have a small, chamber works, and I dream to create great tales on large canvases ».

Warm tale Victor Nizovtseva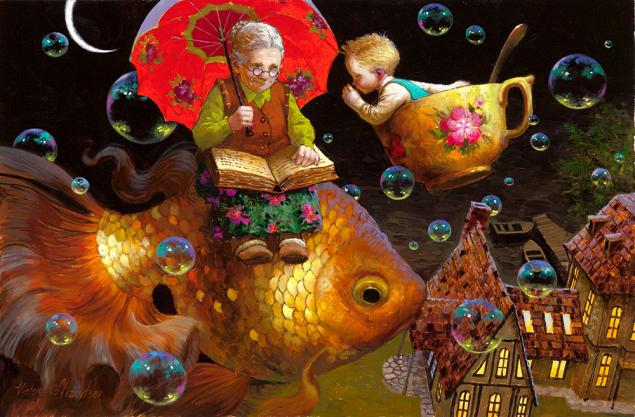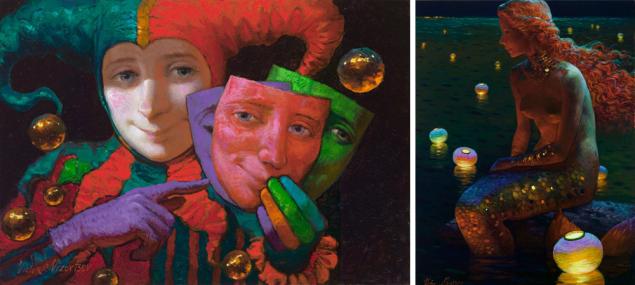 Victor Nizovtsev artist paints his works in oil painting. It creates a warm, beautiful fairy tale. About his childhood, about the grandparents, who a little wizards, about mermaids and dreams. The world of his paintings - it is through the eyes of a child, full of secrets and wonders

. Victor Nizovtsev:

«I hope that my pictures will give people a taste of his childhood and inspire them on their own stories - stories that may not be like mine. In my paintings there are no strict rules - the reality can be bent, and real characters can interact with imaginary. It's - indeed the world, everything is possible, and all the intrigues »

Hello world Berehtinoy Tatiana

.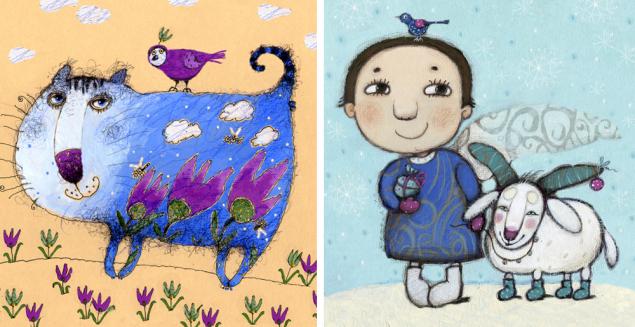 Tatiana Berehtina - illustrator of children's books, creates drawings, samples of arts and crafts. The artist found himself in the children's and cartoon style. Often it works on the viewer mischievous look cute, pretty angels and fairies. Tatiana - a teacher of the art school, and for more than 10 years, she sends his disciples kindness creativity

. Tatiana Berehtina about creativity and about dreams:

«What for me creativity and drawing? A way to live in harmony with each other. This is how to breathe deeply. This is the whole range of emotions - from joy to sadness. And yet, when holding book with his own illustrations, is the excitement as on the first date. Very pleasant. And if someone warmed my drawings - is also happiness »

« What I dream.? My dream is to learn how to do everything in a rush. ))))))))). »

Mischievous joy Lisa Suhno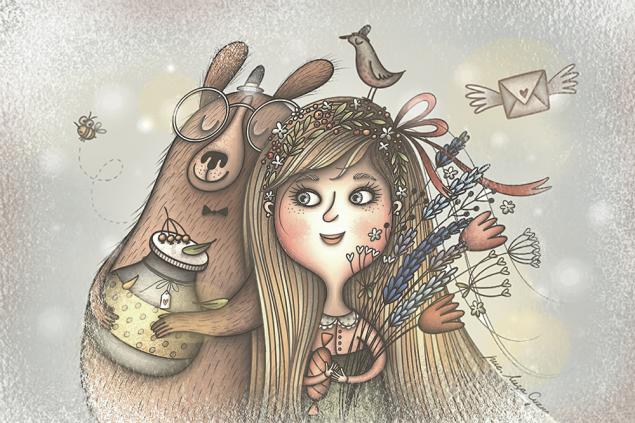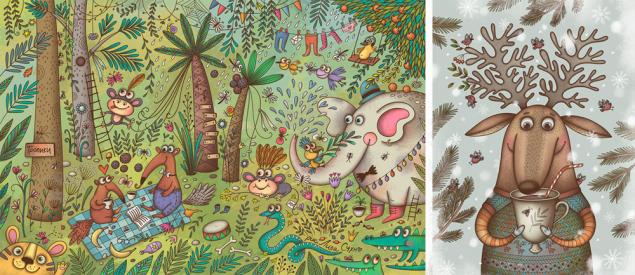 Lisa Suhno - children's illustrator. It draws a lively and funny pictures for children's magazines and books. Good and bright, with a smell of childhood. She likes to fill their details and bright emotions. Naughty baby and funny animals inhabit its fabulous worlds.

Lisa Suhno about creativity and about dreams:

«Creativity - it is always a way to create their own worlds, so in the first place - that feeling of magic. It is important for me to get my worlds were filled with vivid and emotional characters that were almost physically hear any of their murmuring and laughter that rustled and smelled of grass, clinked cups with cocoa, scurrying ants, and even necessarily - caramel and berries. I therefore pays special attention to detail. When the soul gave his business, creativity - this is happiness, and a way to decorate the mood surrounding
»
« What I dream.? My dream is to bring all all your ideas! There are so many, and time is always not enough. »

Solar childhood Catherine Babok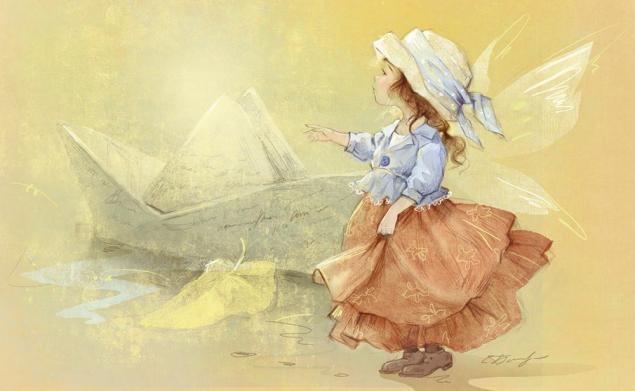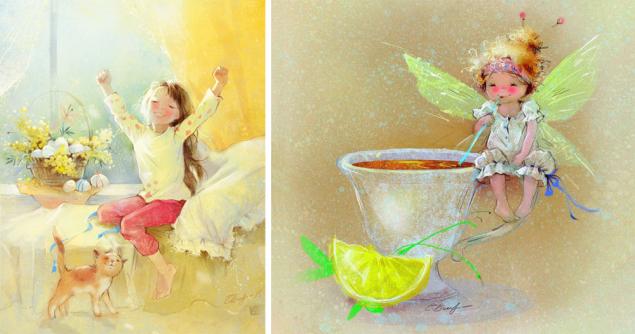 Catherine Babok - artist, singer of childhood and the sun. Her blond drawings adorn postcards and souvenirs, she illustrates books. Kate wants to talk with the audience in a language that can be understood regardless of age, - the language of kindness

. Katya Babok about creativity and about dreams:

«Drawing - this is the language that I speak most easily. Talk about that. I think of how I see the world ... and how would like to see him. It is a language understood by all, regardless of age and country

And I dream that my pictures to remind people of the good that is in each of us that we can all unite -. The kindness and harmony. »

feeling of freedom Nicholas Tyulina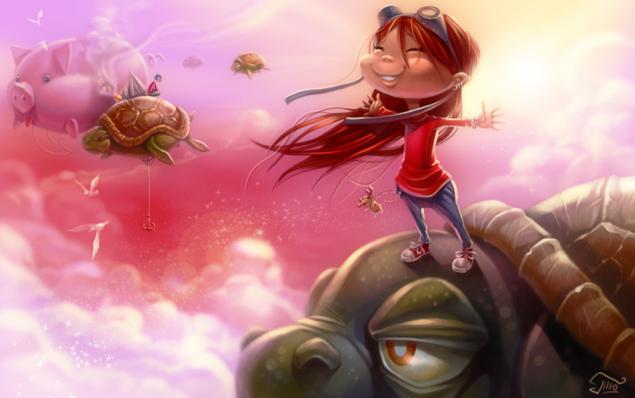 Nikolai Tyulin - illustrator. Create parallel worlds, adventure stories. Nikolai developing characters for the game industry and wants to create large fabulous cartoons. In many of his works of the wind almost physically palpable.

Nikolai Tyulin:

«Sometimes the image of a character or plot image emerges involuntarily. Perhaps under the accumulated experiences from watching a cartoon or something else like that. Looked Miyazaki cartoon, then, after a while looked cartoon Pixar. And after some time, after a long blending of these experiences, you are born something of their own. The idea appeared - on her just work, develop »

Light sadness Ghali Zinko


.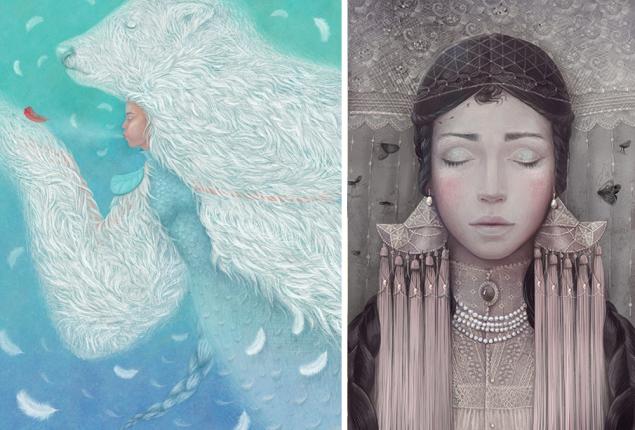 Galya Zinko - illustrator of fairy tales. Her works more children. They are filled with deep love and light sadness. They evoke the excitement and thrill. Galya worked in the art linocuts, and then very little details dorisovyvaet computer.

Galya Zinko about creativity and about dreams:

«Well, if I have at least some reason to believe that I am an artist, then to the" kindness "I have great doubts. In general, I am afraid of good people, let alone the more good artists. Painting for me - is the salvation, including the good people »

« What I dream.. My dream is to finally invent the ornithopter on the muscular traction ».

Cozy magic Catherine Razinkovoy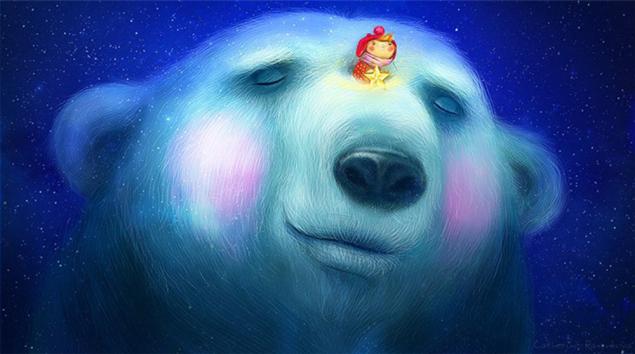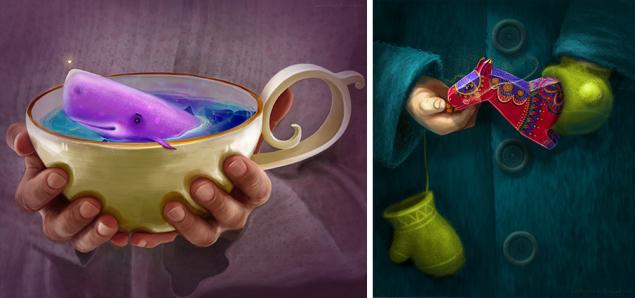 Catherine Razinkova illustrator, working in mixed media. Basically - digital graphics. Bright, deep and very close. As a hug as a warm friend. Her tale for those who want to hide in the tenderness of the good giant. Or find a small defenseless miracle.

Catherine Razinkova about creativity and about dreams:

«2D illustrator - it's my profession, in general, the most important thing, that the work was not work and passion, now I have it precisely this!»

"This dream is only one that does not bring practical benefits, in which there is no greed, no jealousy, no fear, no attempt to get rid of him. A real dream you can tell others, without fear that it will be stolen, without fear of being mocked. But most importantly, when people hear about this dream, they learn to dream. »

Gentle harmony Katya Maleev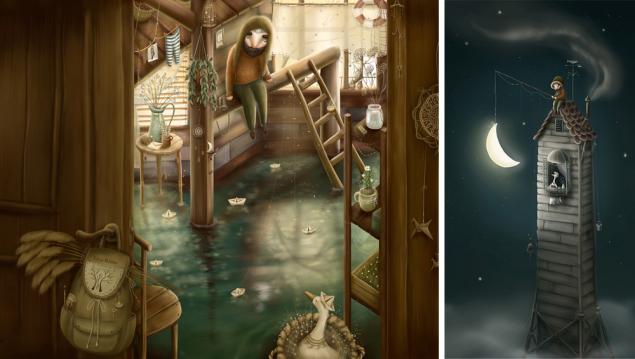 Katya Maleev draws a pencil in a notebook. Then drawing a picture and bring to completion in Photoshop. Ideas, according to Katie, born themselves. Her work is soft and slightly mystical. They are about love and friendship, about the inner quietness and harmony, about the fact that everyone has their own worlds, about peace and light sadness of the sea.

Katya Maleev about creativity and dreams:

«Creativity - is a joy, happiness. The process of creating their version of the world. Inspiration surrounding it. »

« What dream? I will say the words of Slava Polunin, "I always feel that I am in the place where my dream has been realized." You have to be happy here and now and in small steps, joking and dancing, go to the intended targets. This is very important because if you are not happy here, then there is unlikely to be able to appreciate what you have presented. »

She studied the work of artists and interviewed specifically for the Website Ulyana Sinyushkina < br>
via # image6916060