One of the highest-grossing films in history, created by James Cameron, "Avatar" would not have been that way as it is now, if not for Zoe Saldana - Neytiri played the leading role. Despite the fact that the picture of the true face of the actress is not seen, but seen her emotions, her facial expressions and her movements. As she says Saldana work on this role was difficult, but pleasant and maybe why Zoe again agreed to star in "Avatar", but now in the following sections. This role brought 34-year-old actress a great success, after which followed the less interesting and ambitious film "Death at a Funeral," "Losers" and "Colombiana". Zoe called mid-level actress, but her external superiority over other actresses with less expressive data speaks for itself: it certainly will call for a good main role of some dark-skinned actress in a biographical film or biopic of another genre. Without work, it certainly will not.
1. Expressive Smoky ice in coffee colors suitable for almost everyone, without exception, but the eyelids Zoe Saldana shade of brown tones look even more pronounced, because the mulatto girl and her beautiful brown eyes. Perfect Feather, long overhead cilia pale shade of lip gloss, luxurious hair and earrings together give excellent image in the style of the legendary "American Twiggy" Edie Sedgwick. The actress does not fit like a little sparkle because light pigmentation on the lips, but overall charming view.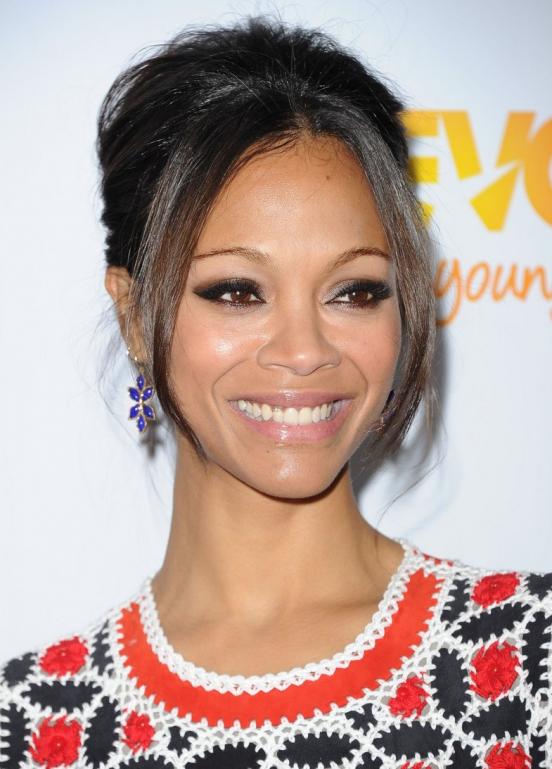 2. Mix the mustard and red I see as a trend already. No matter how I look at the stars, often meet such, although all the corny - a combination of daring, bright and interesting, and therefore is used so often.
3. Pale skin tone, red lips and Zoe already vamp. If a little larger picture, you will notice the transition between the foundation and concealer, but it's just a minor defect. In general make-up, hairstyle and outfit look harmoniously.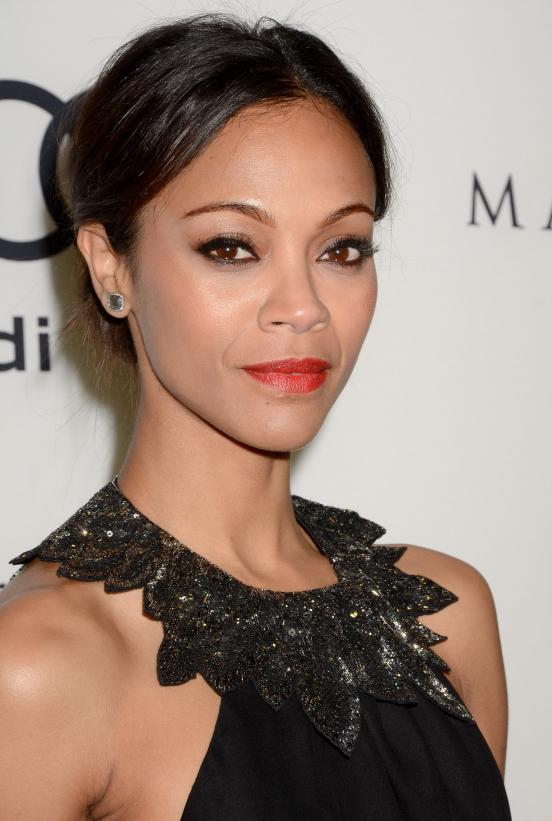 4. What if Zoe become Catwoman? It seems to me in this role, she would not have lost as looks and talent God has not cheated. In the meantime, such a "varnish" role only in dreams, you can try on a real cat make-up. This type of shooter is more interesting for girls with light eyes, but you can try too. Again, it would be worth to make up Zoe lips, and then pale, too pale.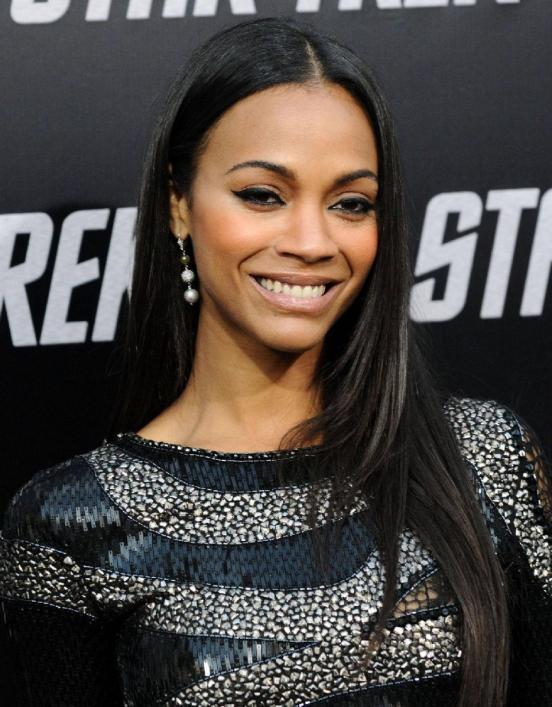 5. "Gangster" image and a "razdolbaysky" makeup. Person without false eyelashes and curved arrows and a lot has changed. Basically something in it, but to go so constantly Zoe, fortunately, did not.
6. The following two options makeup - the choice of actress for almost all activities. Coral shade of lipstick is definitely it.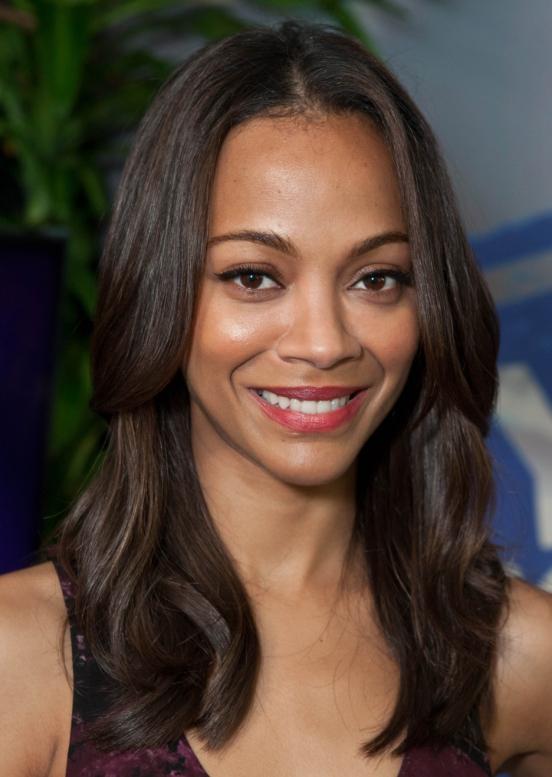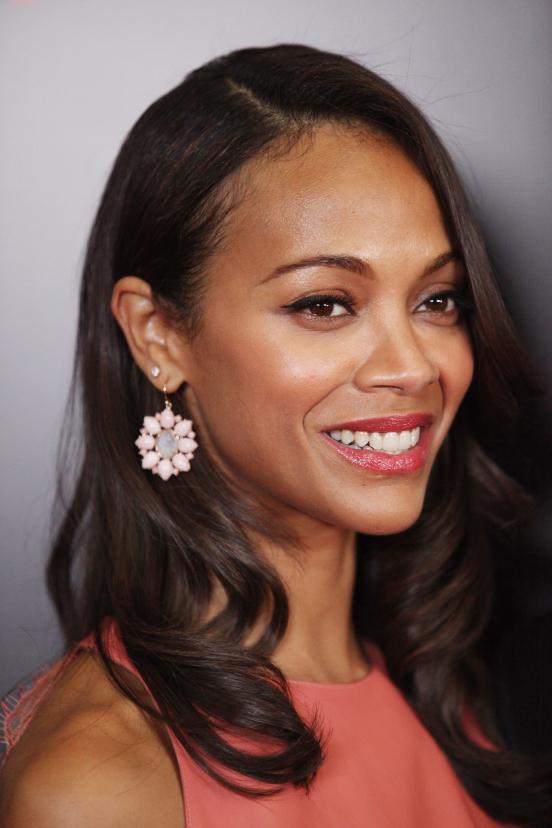 7. Shape eyebrows Zoya is so-so, but it, as they say, do not choose (you can adjust a little bit, but not globally). But the make-up artists to pick up a professional actress. Use the arrows to highlight the shape of the eyes are his client and make her feline look. Instead of transparent pink glitter used Pearl Lipstick.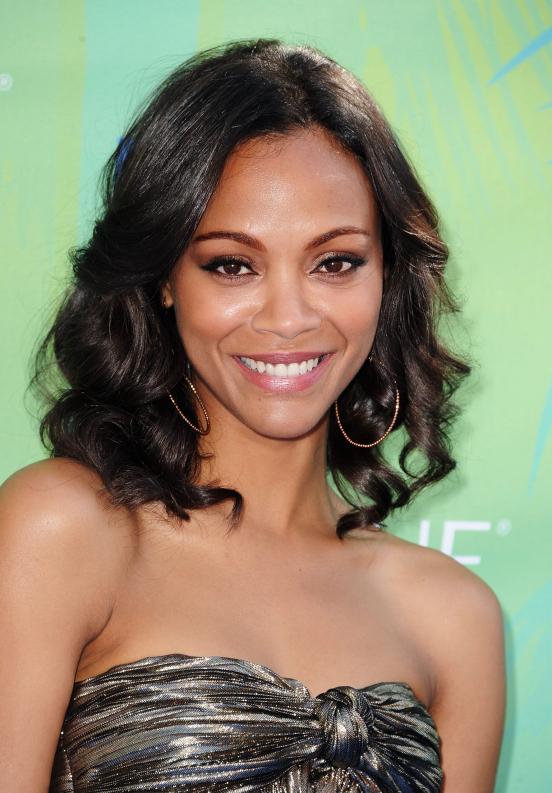 8. In my view, this make-up are no minuses. Where are they? I do not see. Bright colors for mulattos look much better than soft and muted.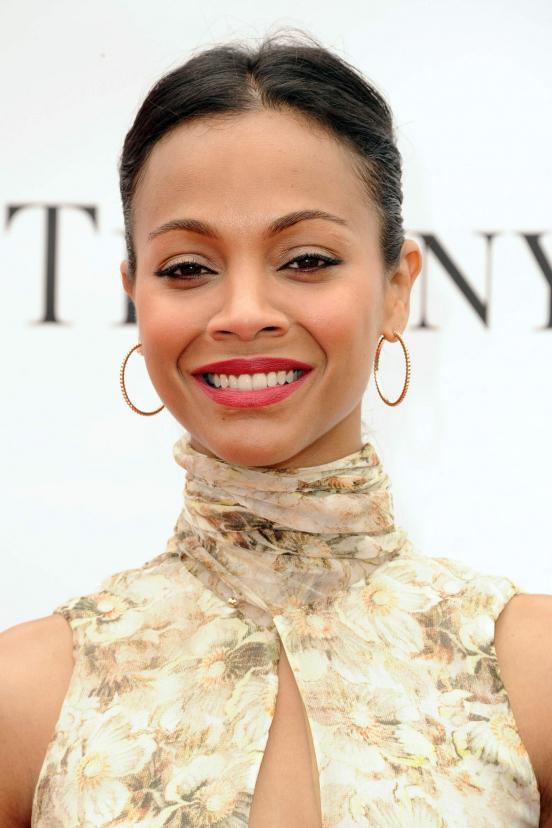 9. Usually eyeliner around the eyes make it smaller, but not in the case of Zoe, which nature has awarded a huge "mirror of the soul." Lucky.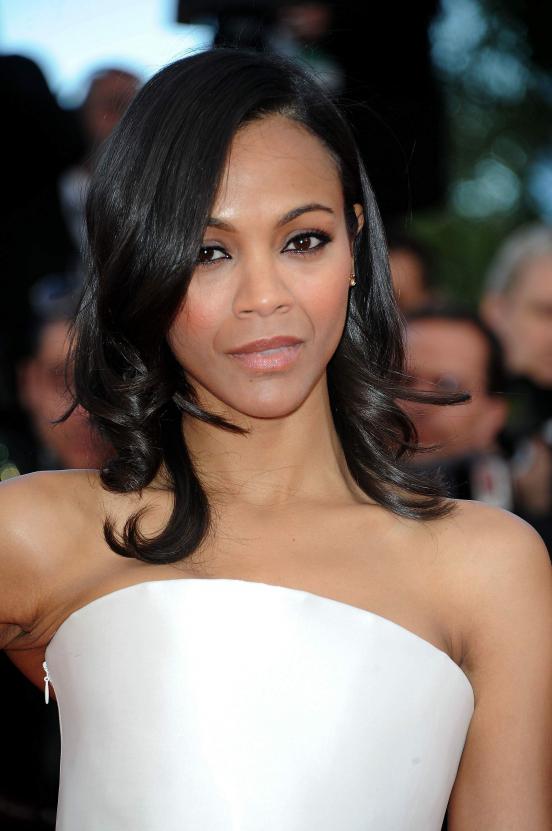 10. Easy natural makeup and Zoe took off that way five years.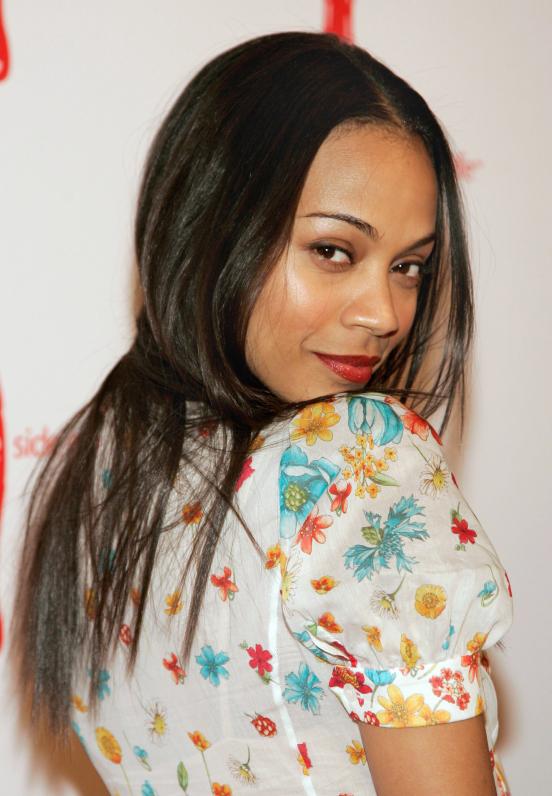 11. Brovki tinted shadows? Shine, shine it, but because they do not have to be poured in the world ... It's a puncture makeup artists, but everything else was great. Little did at hand was not a pencil (although it's a bit funny in Hollywood make-up and not a normal pencil !?).
12. I have already hinted it seems that Saldanha absolutely contraindicated in bright shades of lipsticks and glosses, and their complete absence? So these words I do not refuse. In the photo she is the most natural, but this naturalness on the fan.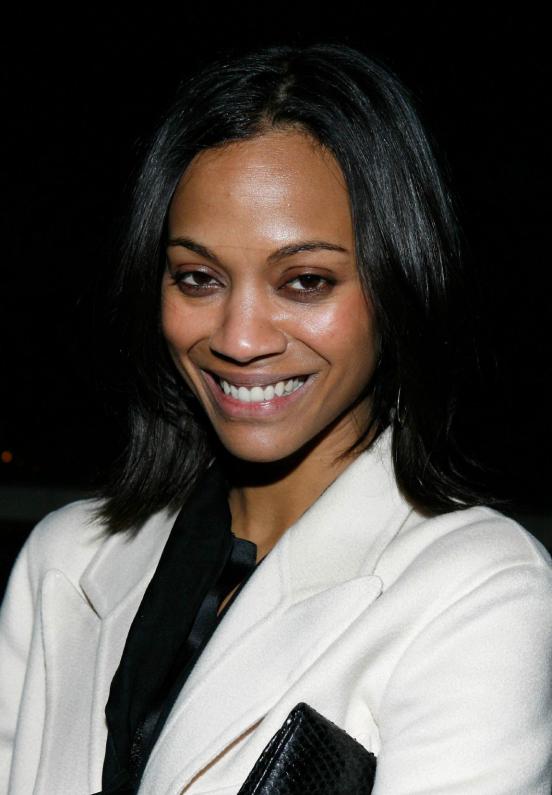 13. Excellent makeup: eyebrows done more - it + have chosen shade of gold - a +, and even some "made" skin! ++ And again +.
14. Yes. And it is not + and one solid - lips almost blue shade match. Hello 90s!
15. For connoisseurs of female beauty has found just such a picture. Eyes amazing!