Prior to the onset of spring there are only some two months. It is a good time to talk about what we put on when the warm spring sun chase away the winter cold - it's time to talk about the skirts)
Skirt - this article of clothing, which from year to year is still relevant. How could it lose relevance that women and even some men, are already thousands of years old? Undoubtedly, the skirt is one of the subjects that must have in your wardrobe every girl.
In the season of spring-summer 2013 several designers have continued enduring trends, recalled the classic silhouettes and added new accents. What all of this happened, see below.
Length 2013 Maxi
Peaked last summer, the popularity of skirts to the floor this season will come to naught. But that is no reason to postpone the long skirts shelved until better times. This season is better to try a new form and color. Rejecting the plain pleated skirts, should refer to the models of silk or cotton with floral or abstract geometric pattern. Note that any long skirt looks great with sandals on a flat sole and a short jacket, a blouse and a skirt to fill the better - will look flawless. A perfect example of combining long emerald green skirt with a short dark blue jacket makes us Michael Kors.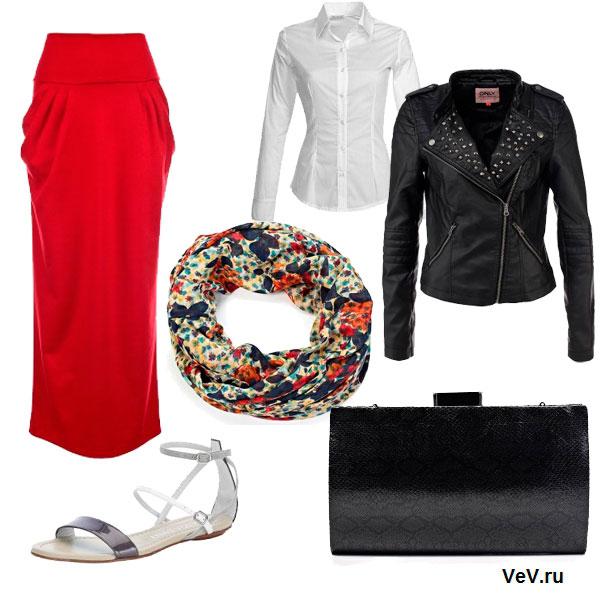 BUY PRODUCTS FROM SETH
Skirt Be in
3080 rubles.
Blouse SUNRISE
1 299 rubles.
Jacket Only
2690 rubles.
Clutch Eleganzza
1360 rubles.
Scarf QS by s.Oliver
1710 rubles.
Sandals Quelle
6499 rubles.
Length of 2013. The unusual mini
The most important thing for a mini-skirt in the coming season - this is the material. In this regard, designers have shown us tremendous diversity. Skin prefer Balmain, Jason Wu and Phillip Lim. Miuccia Prada in the spring collection for Miu Miu turned its attention to the heroines of Hitchcock, but some of them dressed in mini-skirts, trimmed with fur. Such unusual materials require a more careful approach, but may become an element of daring, provocative and memorable way.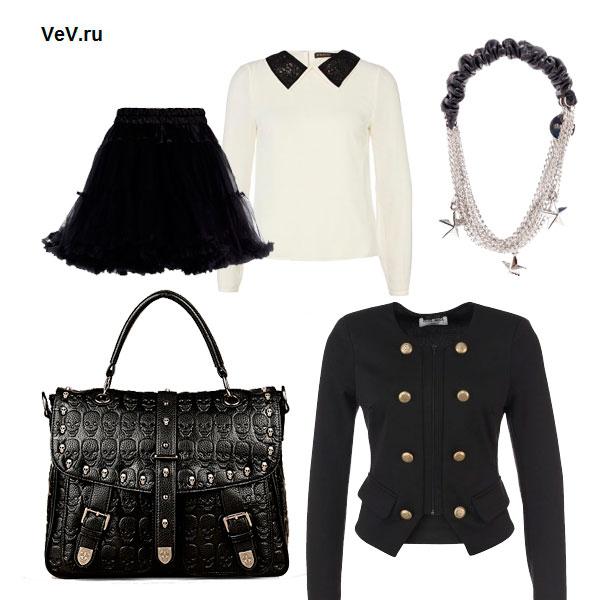 BUY PRODUCTS FROM SETH
Blouse SuperTrash
4360 rubles.
Skirt ICHI
2780 rubles.
Sandals Elche
3999 rubles.
Bag Mastermind
7 100 rubles.
Bracelet OXXO Design
2520 rubles.
Jacket Vero Moda
1650 rubles.
Length 2013 Classic midi skirt
The popularity of skirts to the floor this summer does not exclude the fact that a great replacement they can become skirt just above the knee. It is this length is now more relevant to the average length of skirts.
Dolce & Gabbana in his spring collection presented midi skirts with colorful prints depicting Roman soldiers. Continues to develop its own brand Victoria Beckham opened the show with a demonstration of the skirt just above the knee with a sloping cut, worn with a white blouse.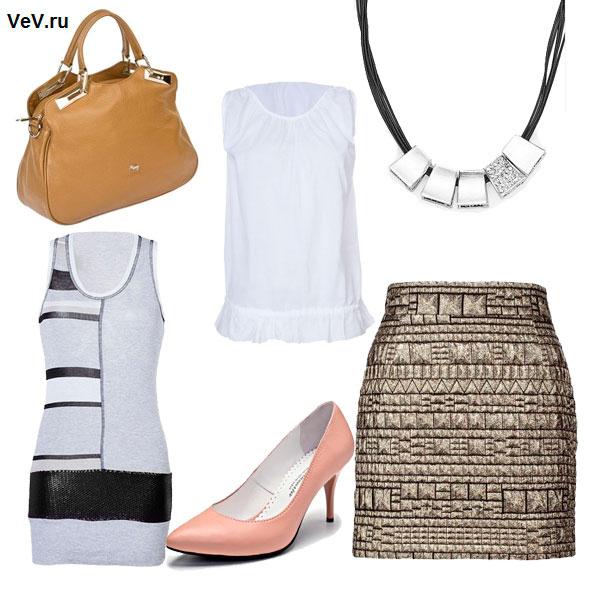 BUY PRODUCTS FROM SETH
Bag Labbra
8799 rubles.
Skirt Frankie Morello
10 510 rubles.
Shoes Alex Mazurin
5 210 rubles.
Top E.A.R.C.
1 299 rubles.
Collier Selena
1099 rubles.
Top DEEROSE
699 rubles.
Form 2013. skirts retro
Beginning last summer, the revival of the classic silhouette of the 50s this summer is expected to reach its peak. At New York Fashion Week skirts were particularly noticeable in the collections of brands such as Prada, Oscar de la Renta and Blumarine. This skirt will give you a feminine and coquettish modesty, and properly selected the top will help to create an elegant silhouette of the hourglass.
In addition, full skirt - it's a great option for smaller girls. Just pick up the skirt just below the knee and wear low heels. This visually lengthen your figure and make your legs more slender and wide belt will create a favorable emphasis on the waist.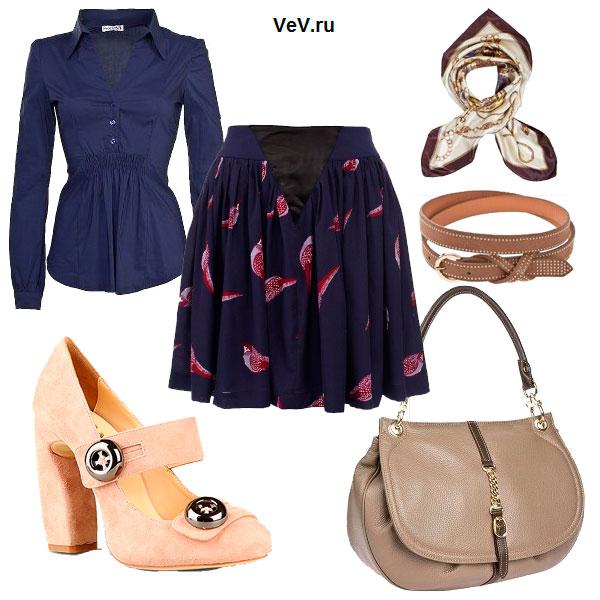 BUY PRODUCTS FROM SETH
Skirt Vero Moda Very
1300 rubles.
Shoes PRADA
6510 rubles.
Blouse SUNRISE
1 699 rubles.
Bag Hogl
14 999 rubles.
Shawl Dispacci
599 rubles.
Belt
399 rubles.
Form 2013. Baska
This classic item this season flashed on all the catwalks, particularly in Vera Wang and Pierre Balmain. Baska - a broad frill, which is attached to the waist. It was originally part of the traditional Basque costume, from which it gets its name. Later this element revived Cristobal Balenciaga. Now skirts Basques can often be seen on the heroine of the series Mad Man, that impeccable style.
Baska creates extreme femininity and draws attention to the waist. For skirts this type is very suitable fitting blouses or tops.
BUY PRODUCTS FROM SETH
Skirt Be in
3080 rubles.
Shoes Buffalo
4599 rubles.
Clutch Coccinelle
6800 rubles.
Necklace OXXO Design
2520 rubles.
Watches Gucci (Accessories)
56 700 rubles.
Form 2013 Pencil skirt
This skirt is not only for those who are tired of the standard office clothes and wants to bring to life a little strict routine sexuality. This skirt is perfect for dinner or a romantic date. In order not to look too formal, you can wear a bright jacket. A win-win for this spring, we demonstrated the designer Derek Lam: his images combined strict pencil skirt and a bright surround jumper.
BUY PRODUCTS FROM SETH
Sweater Alexander McQueen
6900 rubles.
Cardigan Mango
649 rubles.
Set Taya
1390 rubles.
Skirt Waggon Paris
5600 rubles.
Shoes Repetto
6540 rubles.
Material. Transparent parts 2013
For several years, the designers add to their collections elements of transparent fabrics. This season, the designer Stella McCartney showed multilayered skirt, of which the top layer is made of a translucent high-tech fabrics. It turned out an unusually light and airy shape. Models with transparent inserts always look unusual and sometimes provocative, but undoubtedly stylish.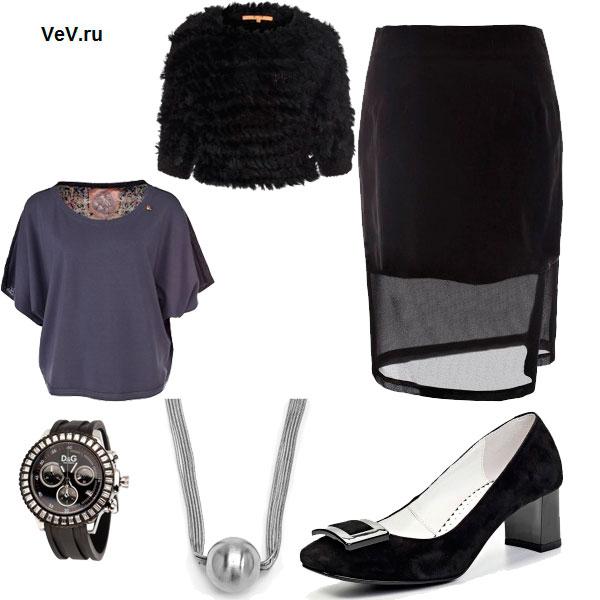 BUY PRODUCTS FROM SETH
Skirt Selected Femme
2930 rubles.
Shoes Alex Mazurin
4530 rubles.
Blouse Rare
4720 rubles.
Cardigan Silvian Heach
4340 rubles.
Collier Selena
799 rubles.
Watch Dolce & Gabbana (Accessories)
19 530 rubles.
Material. Leather skirt 2013
Short leather skirt, gloves with cut fingers - created such an aggressive way of Creative Director of the fashion house Chanel, Karl Lagerfeld. Not only the famous fashion designer, but designers and fashion houses Christian Dior, Valentino and Erdem offer leather skirt as an absolute must have for this season. Jason Wu showed us a skirt made of black leather with floral lace. I note that the classic black color prevails in the majority of the models shown on the catwalks.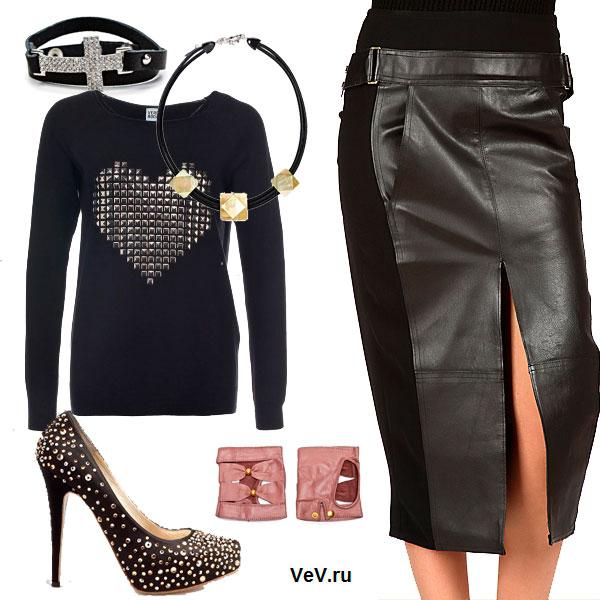 BUY PRODUCTS FROM SETH
Gloves Georges Morand
2440 rubles.
Bracelet Taya
790 rubles.
The skirt Alexander Wang
11 500 rubles.
Shoes ZUHAIR MURAD
32 400 rubles.
Cardigan Vero Moda
1620 rubles.
Collier Nature bijoux
2900 rubles.
Drawing. Flower Power!
Flowers have become the leitmotif of the summer collection of Prada. This is the best pattern to make the summer is sunny and bright colors to please yourself. Floral ornament this season is suitable absolutely everything, whether it's tough bow with metal parts or strict formal style. You just have to choose the right length of your mood and go for a summer stroll.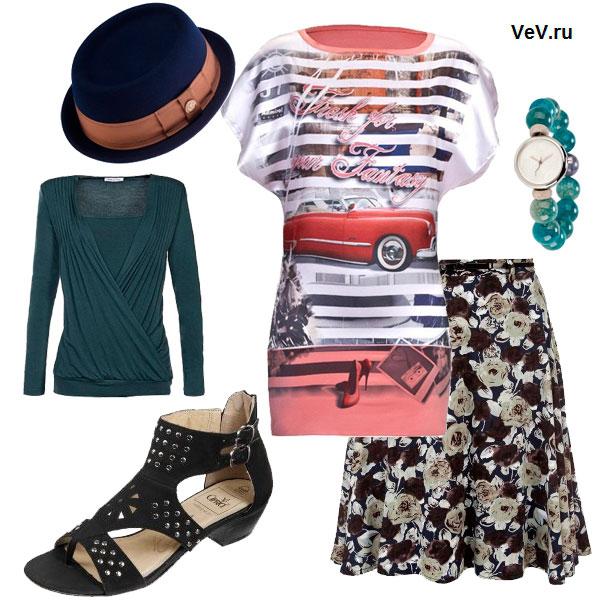 BUY PRODUCTS FROM SETH
Cardigan MISS MODA
2399 rubles.
Skirt LiberaVita
2250 rubles.
Sandals Caprice
3899 rubles.
Shirt DEEROSE
1 599 rubles.
Hat Goorin Brothers
6400 rubles.
Watch Just Cavalli (Accessories)
12 530 rubles.
Drawing. Strips
Skirts strip was a great event this season and demonstrated at all venues from Paris to New York. Designers Dolce & Gabbana inspired stripes on beach umbrellas and Marc Jacobs copied the red and white lines with Christmas candy canes in form. Vertical, horizontal or slanted - stripes on skirts this summer will be noticeable.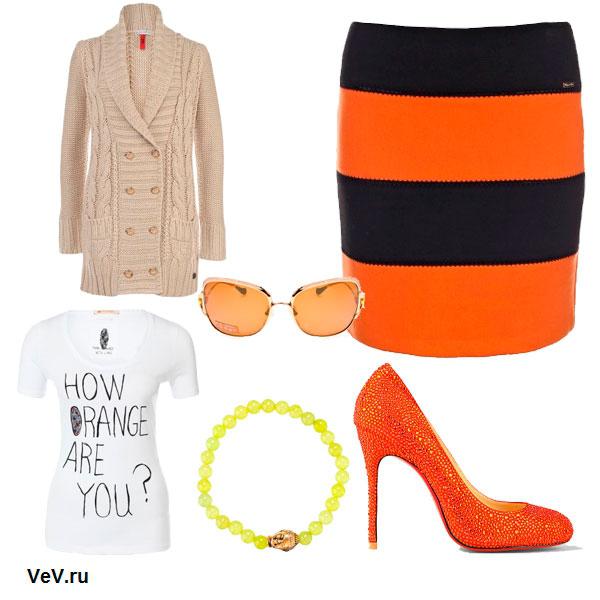 BUY PRODUCTS FROM SETH
Skirt Waggon Paris
5800 rubles.
Shoes Christian Louboutin
8700 rubles.
Shirt BOSS Orange
2250 rubles.
Cardigan QS by s.Oliver
5710 rubles.
Sunglasses Chrome Hearts
74 030 rubles.
Bracelet Shams
2200 rubles.