I offer you the third and final part of the post on the red carpet along with the grand award ceremony "Golden Globe" 2013. Watch and enjoy!
Start of post can be found here and here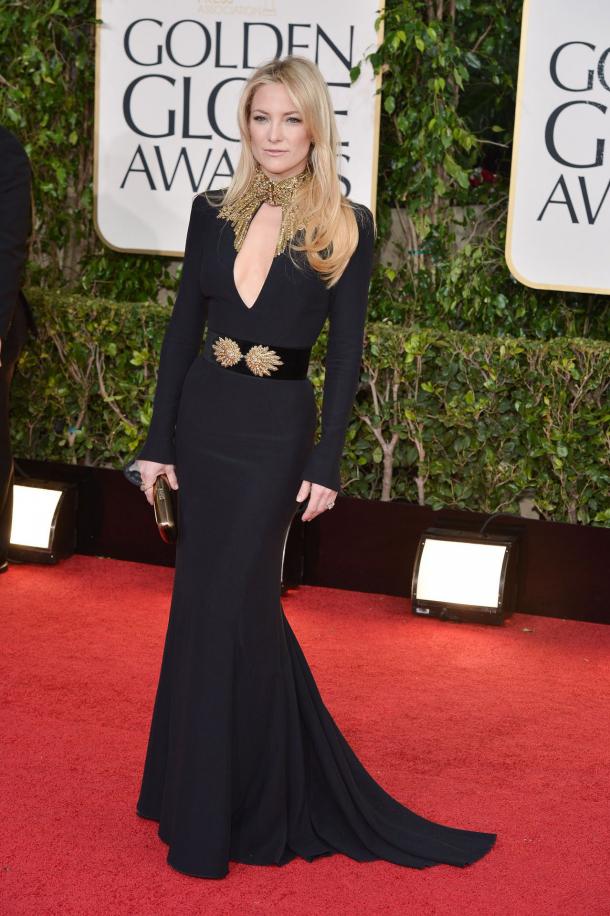 Selecting Kate Hudson, this time fell on a chic evening dress by Alexander McQueen. Dress the floor is decorated with candid cleavage, which revitalizes and refreshes a black outfit and a beautiful gold trim at the waist and bodice. The combination of black and gold looks royally luxurious and ornate, but I was upset choice of hairstyle Kate, which hides all this beauty. Her hair, I would have preferred a sleek low ponytail with hair parted in the middle.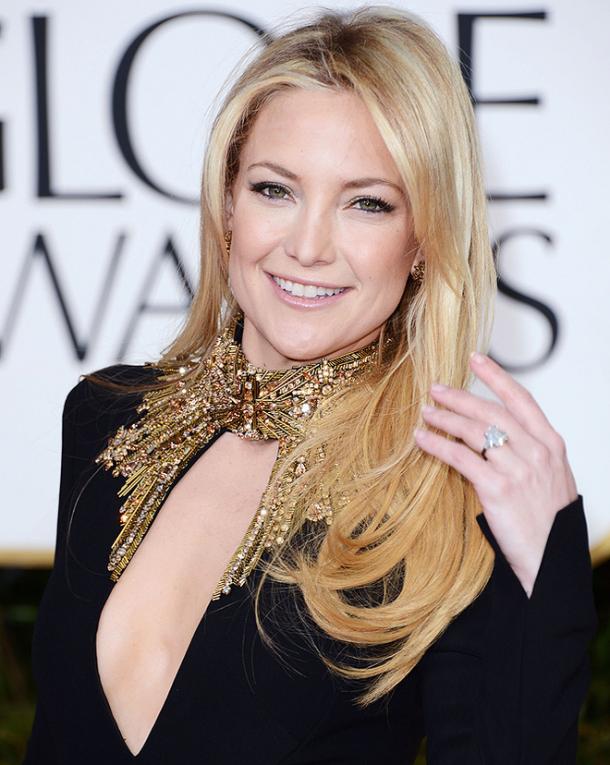 I too was delighted that this year's red carpet "Golden Globe" without its obvious failures, until she saw the dress Halle Berry. It looks like the actress has decided to repeat the fate of Heidi Klum, who repeatedly chose Versace dress and looked in them bare, tasteless and vulgar. This outfit finally convinced me that couture Versace collection designed exclusively for the podium, and not to enter the red carpet, the more the status of such events as the "Golden Globe».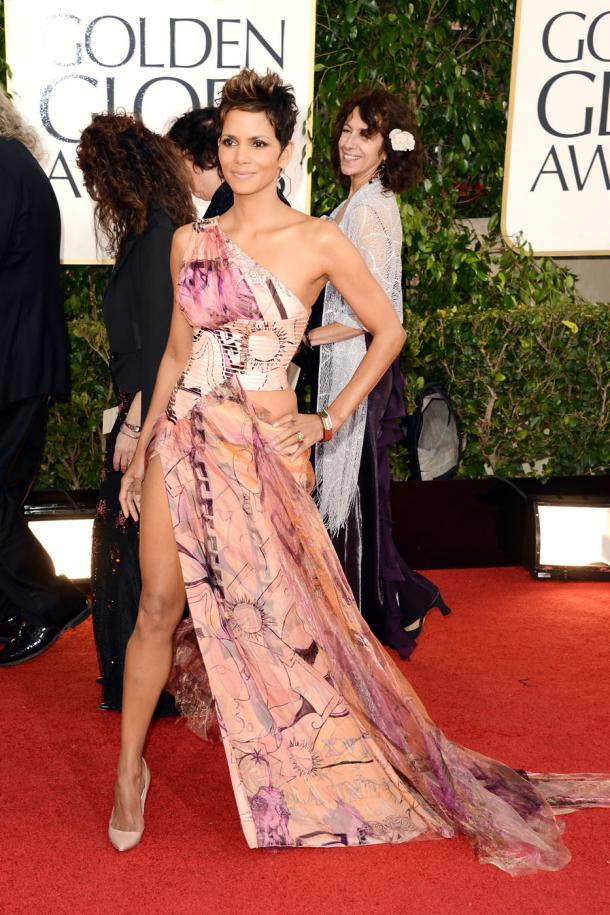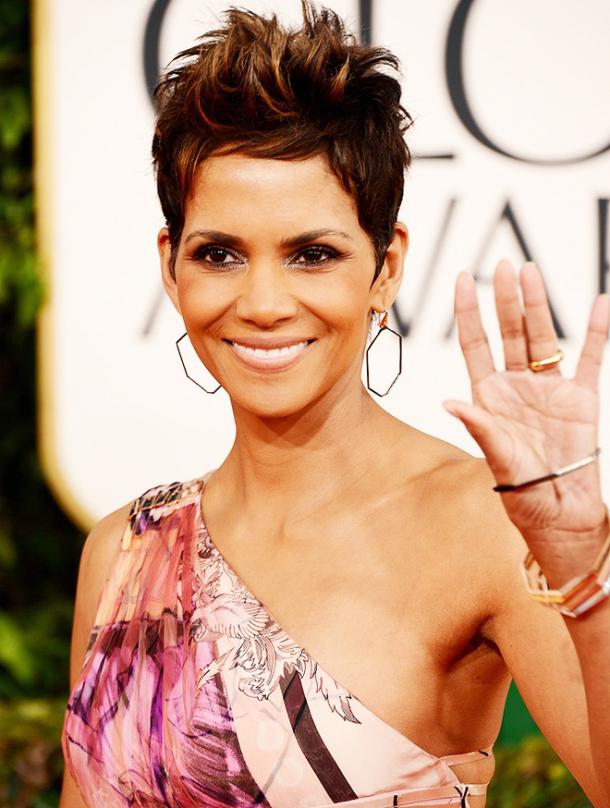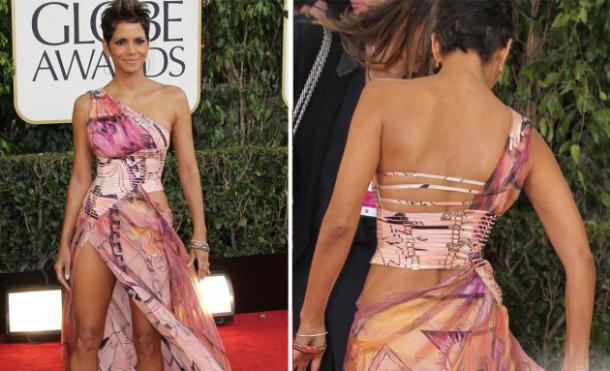 Sofia Vergara is well aware of all the merits of the figure, so chooses to go out dresses that accentuate her beautiful neckline and elegant pen. I admit, I was a little disappointed in the choice of the actress this time, but not because it looks bad, but because I was expecting to see her in a dress mermaid cut that goes well skater Sofia.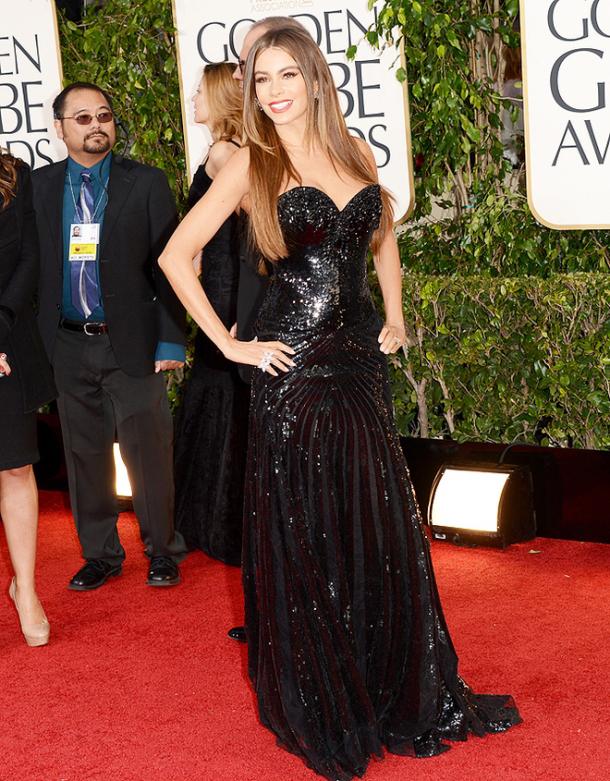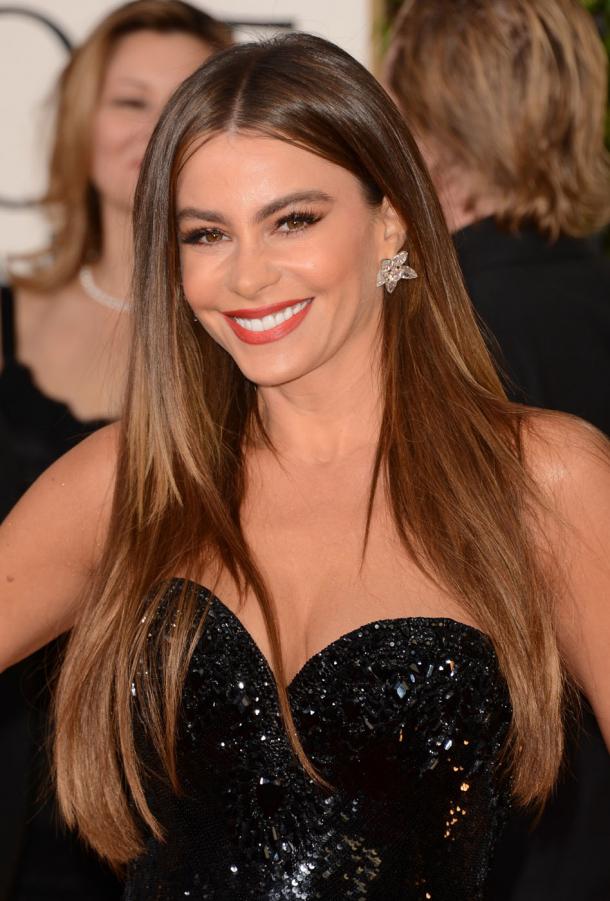 Dress like a big - get! Lucy Liu spot just once all your evening dresses Carolina Herrera with breathtaking pastel roses on a blue background. Of course, this outfit, like any other, is not likely to appeal to everyone (in fact, he may even enjoy a little), but deny that it will be remembered, I think, there will be none.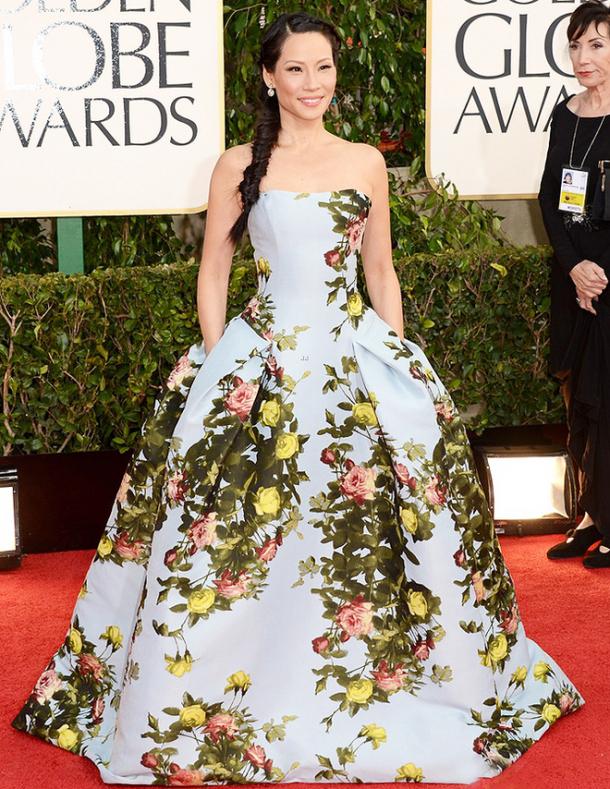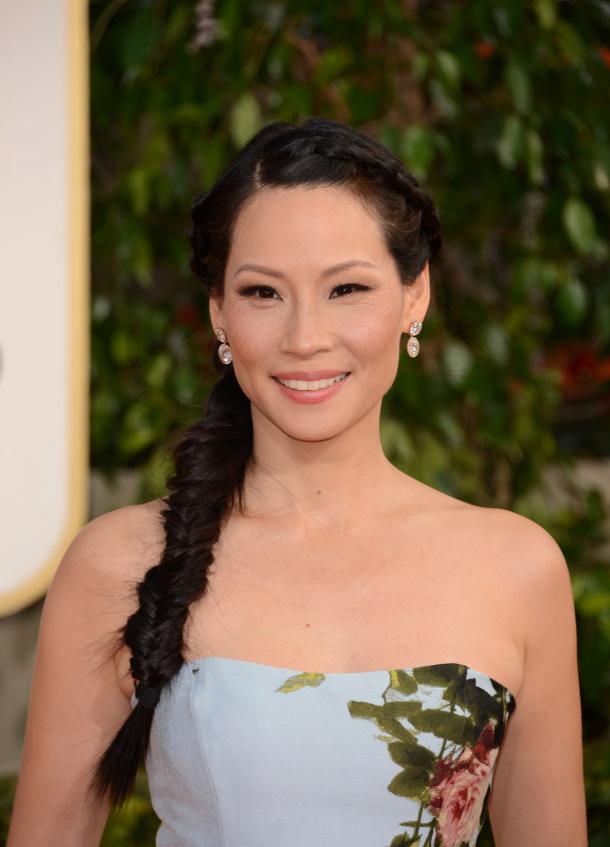 Julianna Margulies in Emilio Pucci. In most cases, the actress chooses dress with an open back, and this output is no exception. In my opinion, Julianne outfit looks pretty decent on the background of colleagues - it is elegant, sexy and interesting. And I am delighted with lace unusual blue-purple color!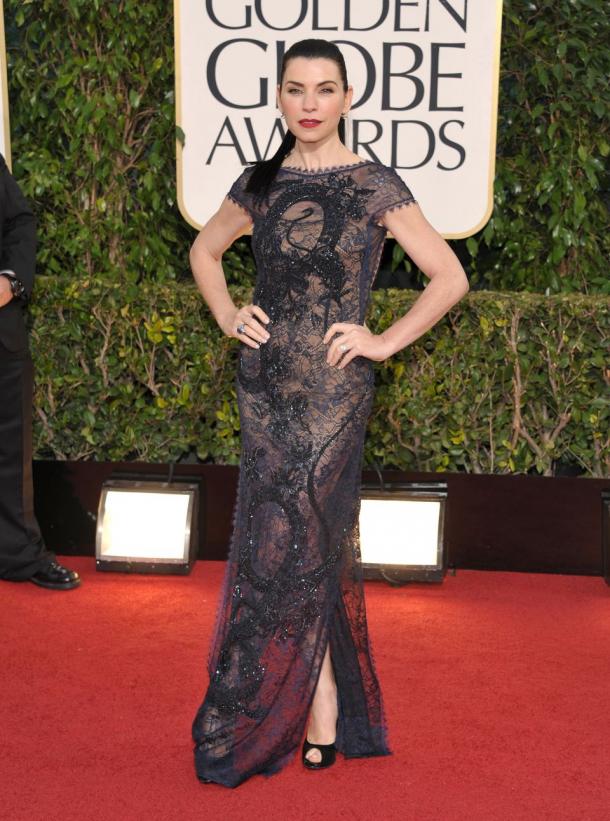 Olivia Munn in the creation of the spring collection of Giorgio Armani. I love the outfits by Giorgio, they always look very expensive and elegant, while not devoid of personality (and this dress is no exception), but I'm not entirely happy that Olivia chose a dress of just such a style - it hides the curves of her figure, which It has long been the hallmark of the actress. But I'm glad that this dress is not cut ...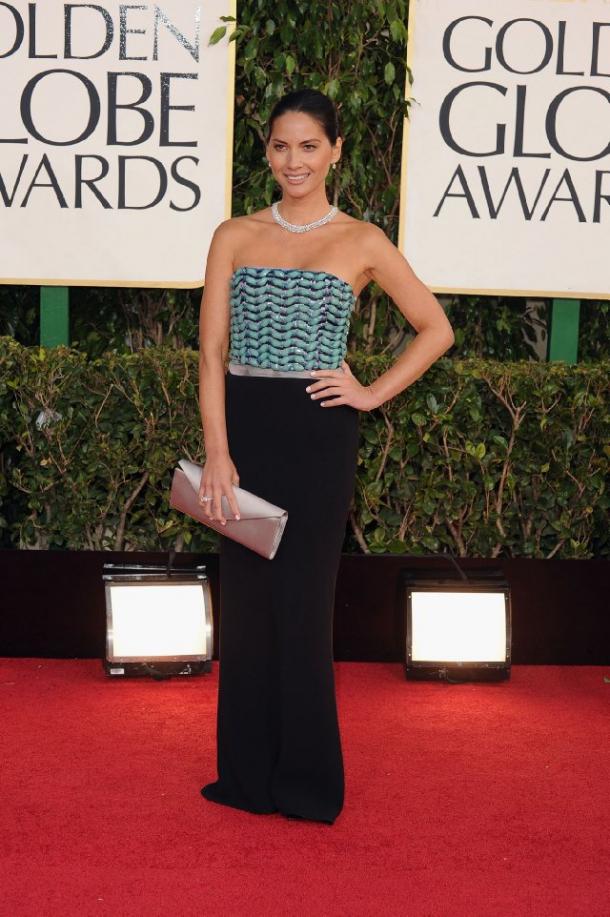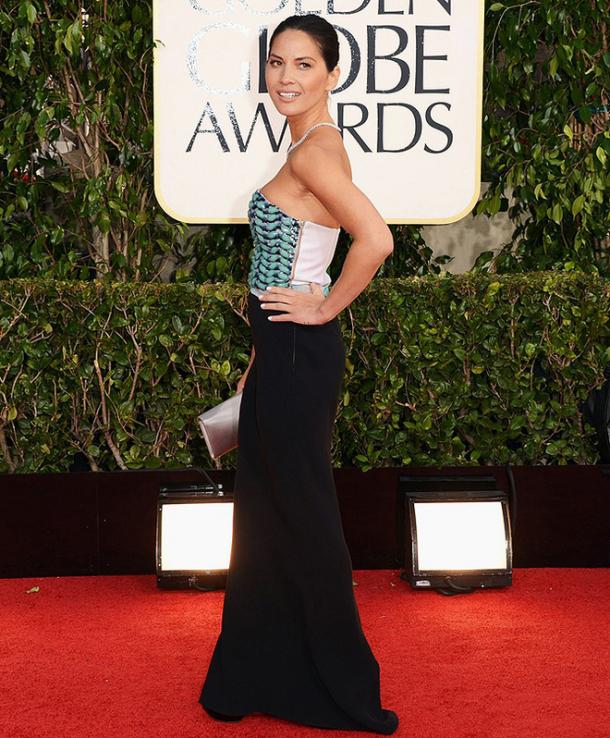 I just love the images, which are supplemented by large earrings with colored stones, so I like the bow Lea Michele created a beautiful dress payetochnym Lebanese magician Elie Saab. Earrings with emeralds perfectly with white dress and add the image of individuality.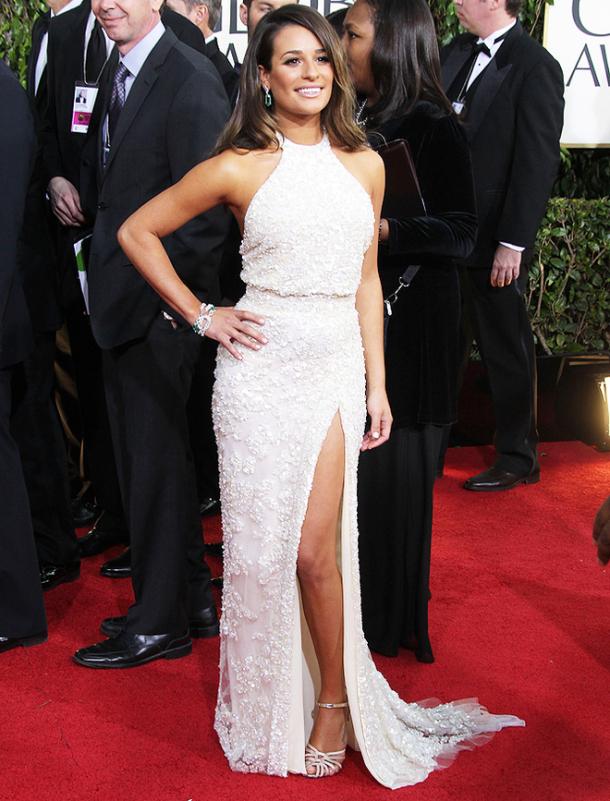 Another outfit with colorful ornaments - by Salma Hayek in Gucci Premiere. Style dress is gorgeous - just look at what makes a delightful silhouette of this dress (although it may have the merit of the actress, since her figure - the ideal of femininity and sensuality) and earrings with large blue stones is very refreshing and facilitate the black evening dress. I'm not quite sure about the coral lipstick shades - possibly worth opted for the classic red. What do you think?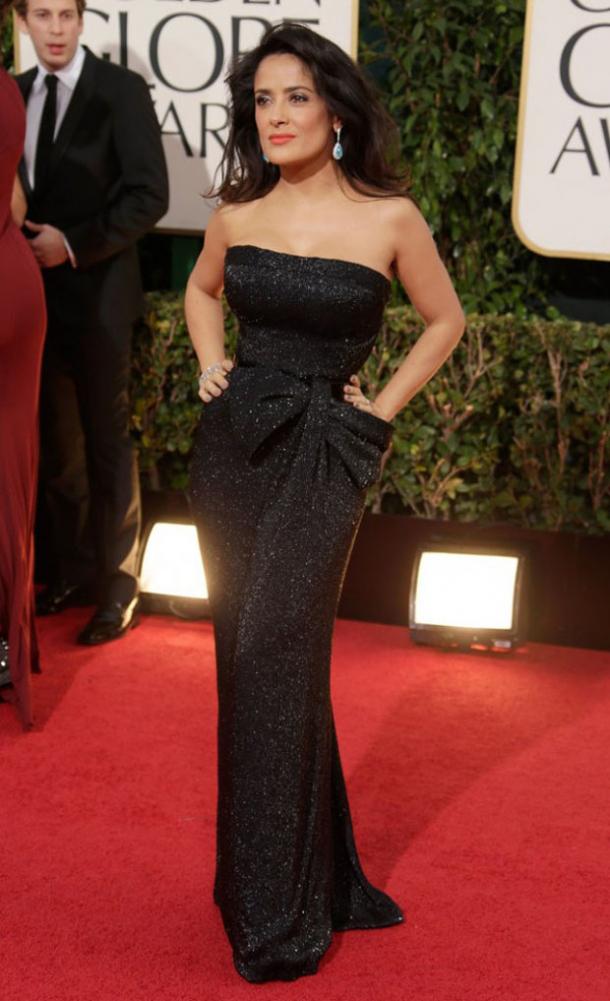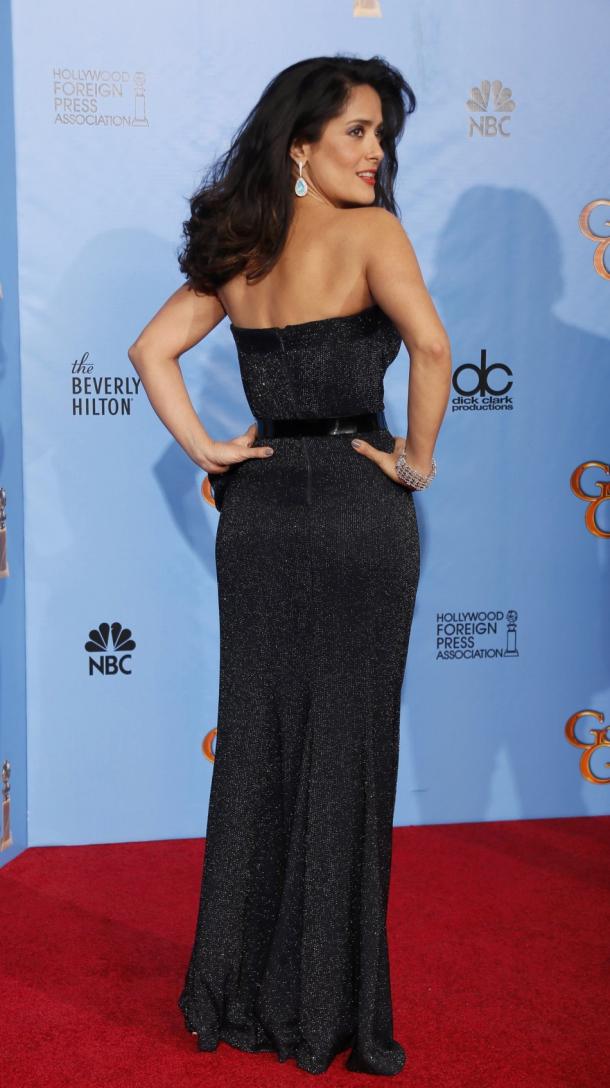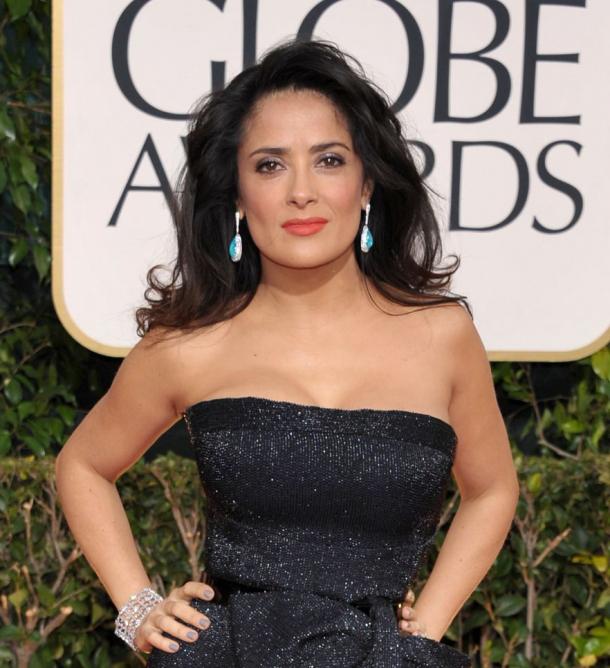 Kaley Cuoco image would be perfect if not for the make-up of the actress. I understand that this mejk a la vamp was intended to give the image of originality and make it more interesting, but makeup artists Kelly clearly overdone. Looking at the photo, I did not see anything but bold black pencil summing up the eyes and lipstick wine. Dresses, accessories and the actress left somewhere behind.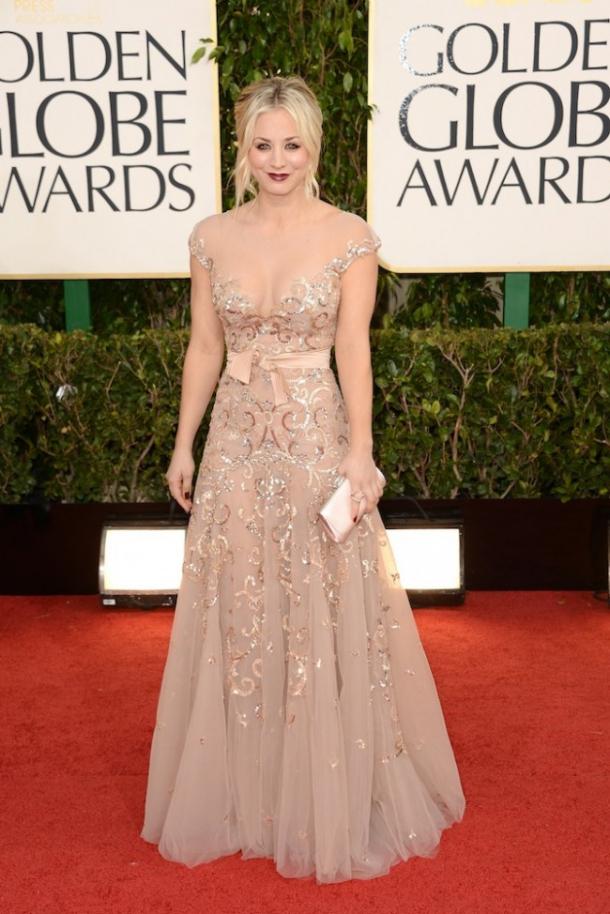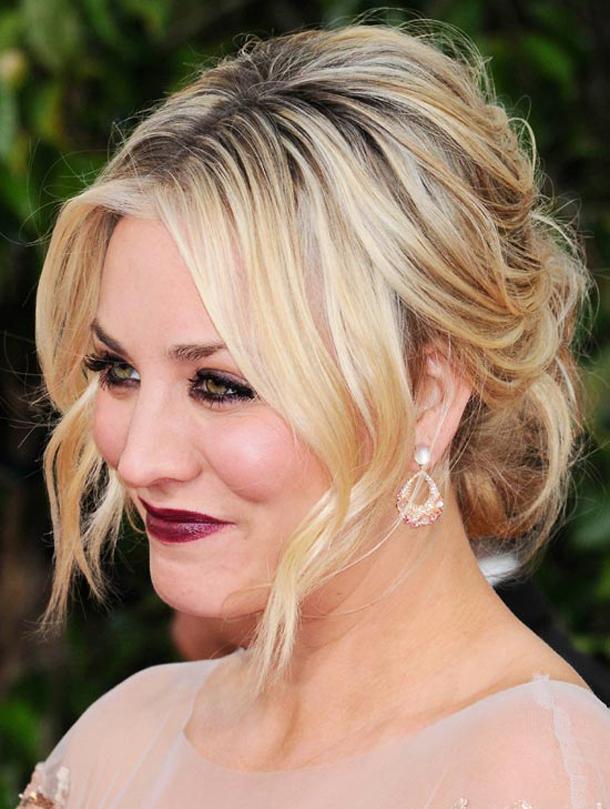 I love Stacy Keibler secular outlets, but this image made me bored. I agree that the dress sits and looks fine, but I miss the brightness - or makeup, or jewelry. Minimalism is beautiful, and for whom this would be the best way, but I'm not one of them.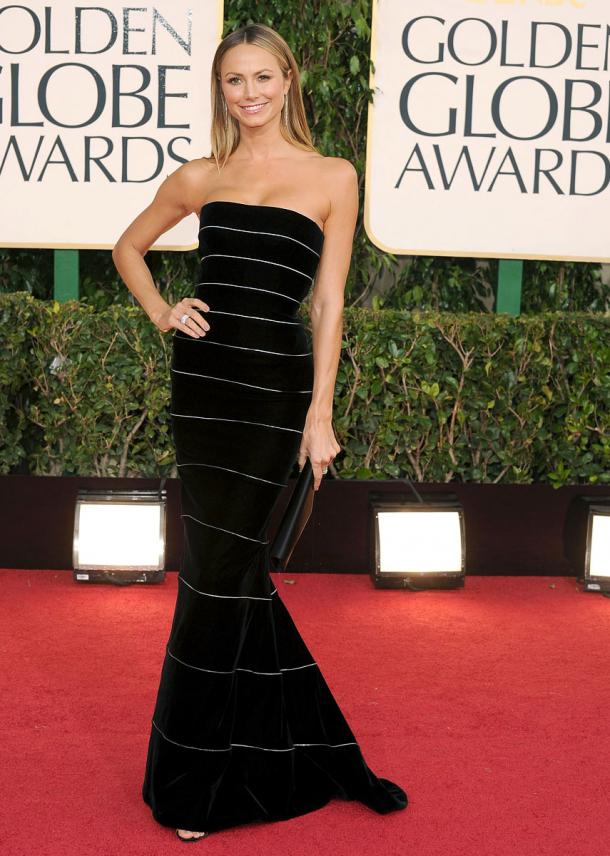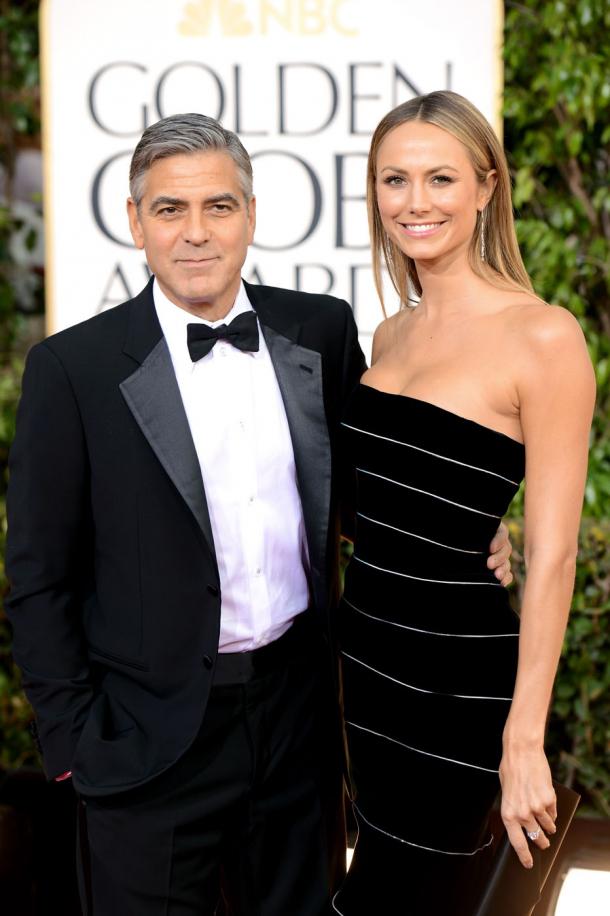 A breath of freshness brought on the red carpet Cody Horn in a lavender dress Vionnet. The dress looks very gentle and originally by black contrasting inserts at the waist and chest, but nice stylish haircut has not been canceled.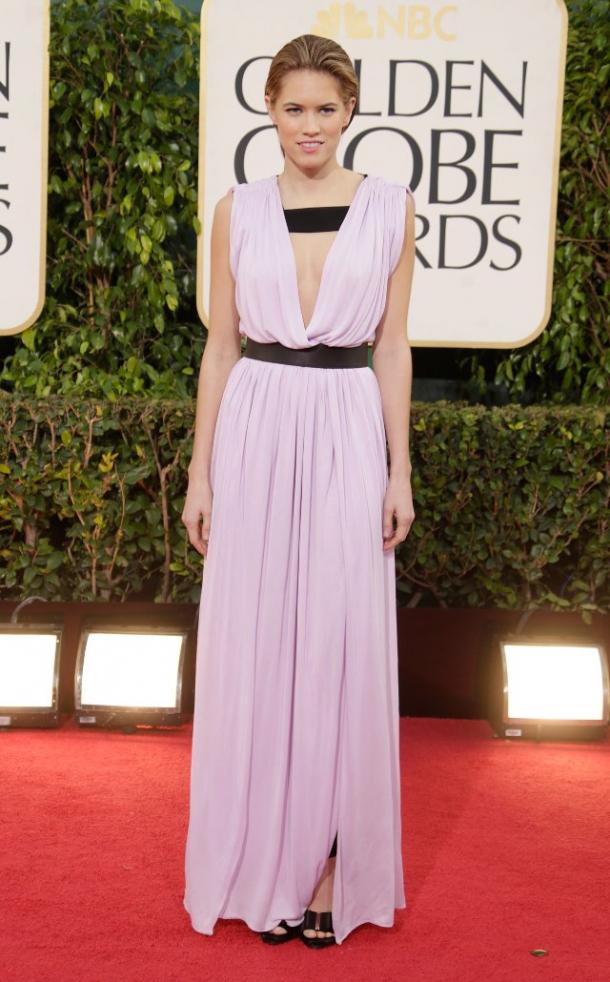 Well, we made it to the image of Eva Longoria, who had already become famous as envious of Angelina Jolie and her famous legs. I can not understand what this dress. Despite a number of cuts and cuts on his back, chest, and from the hip, top dress anyway looks too heavy. And if we're talking about the proverbial foot, I want to note that the foot Longoria looks much more appetizing legs of Angelina.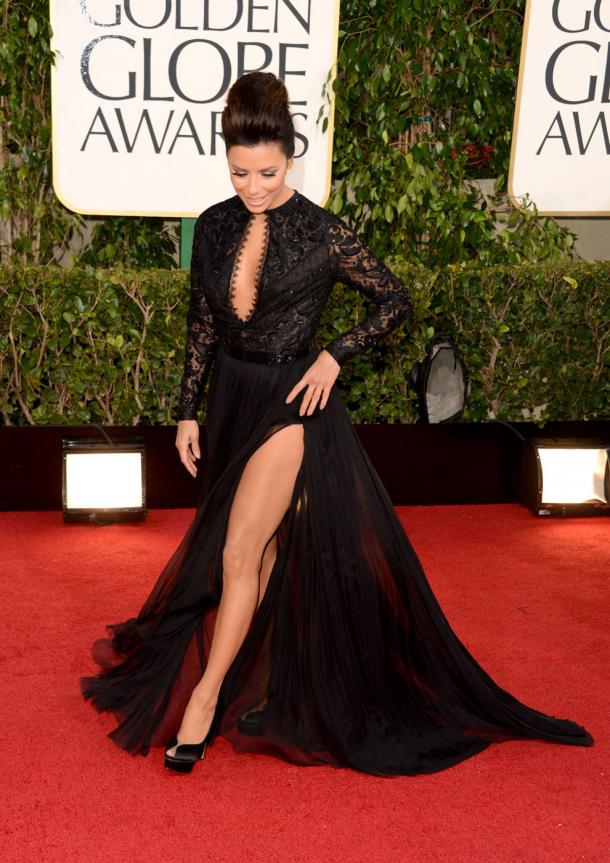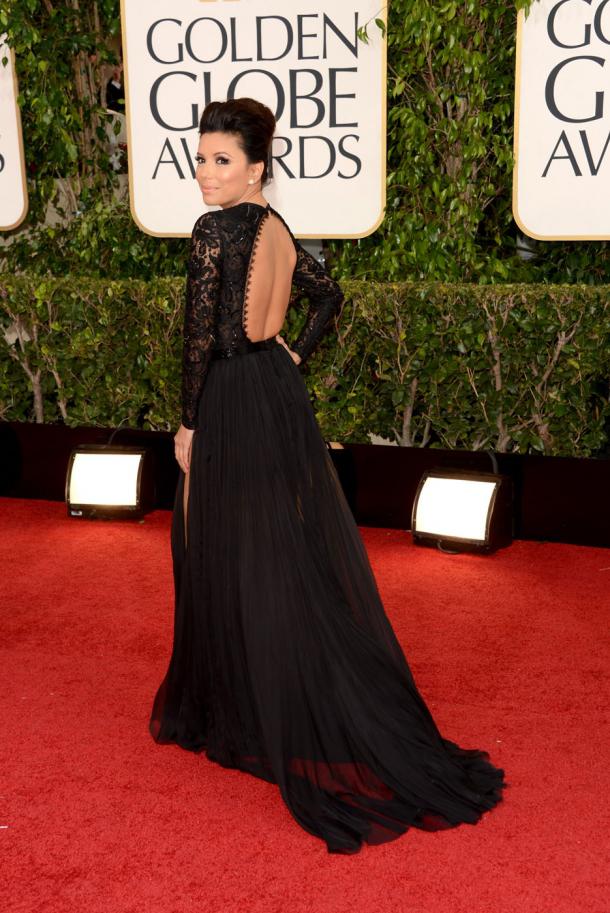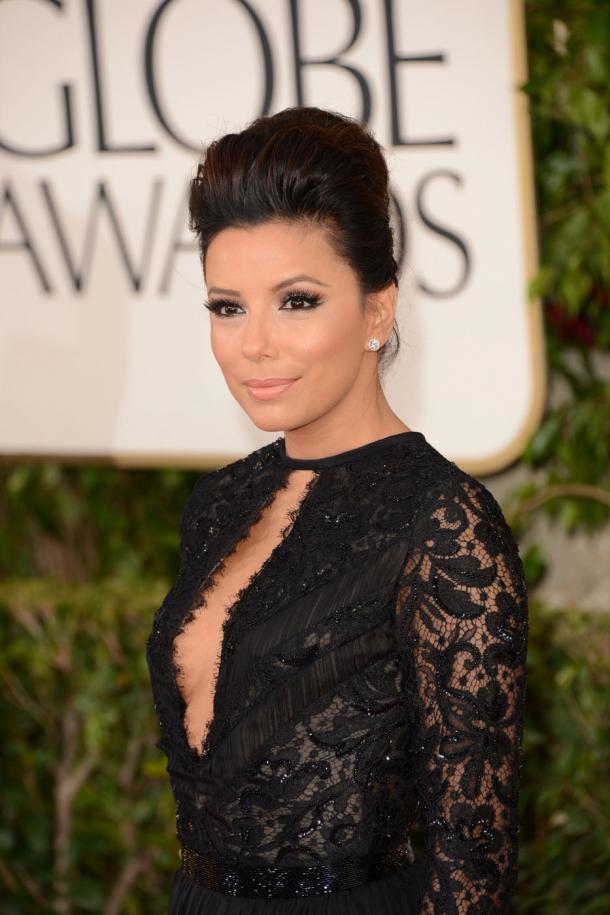 I really waited for Marion Cotillard on the red carpet, but what was my disappointment when I saw it. Simple bright orange dress, belted on one side of the metal strap, clearly not drawn to the outfit for the "Golden Globe". Against the background of her colleagues looked too Marion every day, despite the fact that it was Christian Dior Couture.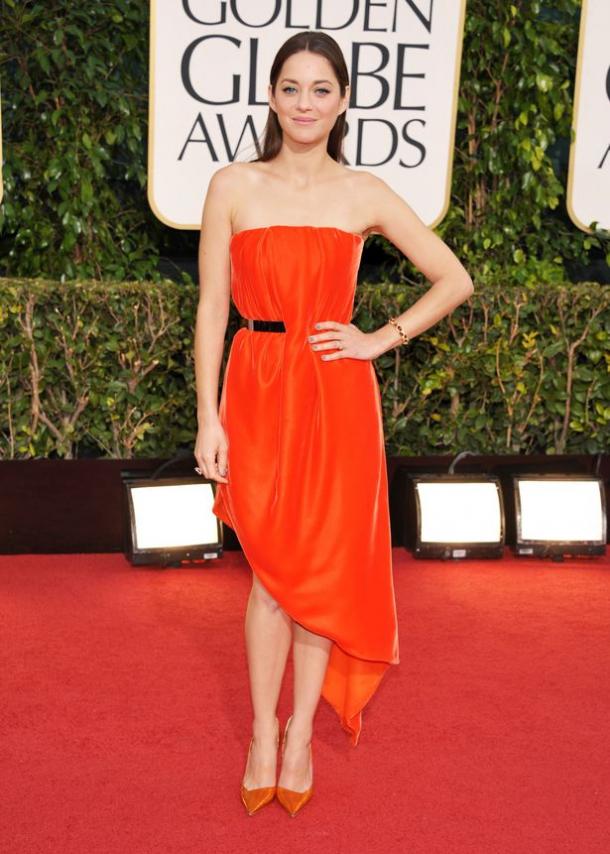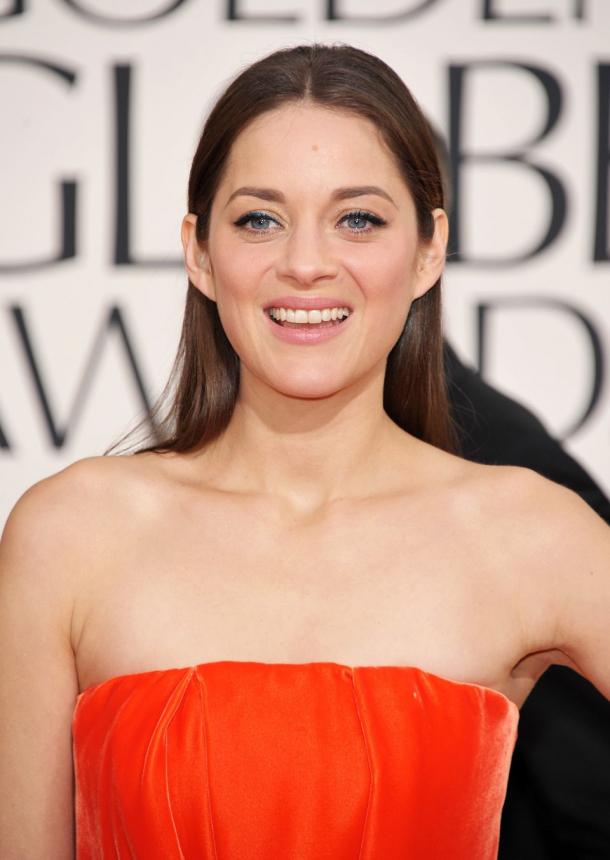 Rosario Dawson in Antonio Berardi. Very beautiful dress delightful pastel shades with interesting details in the form of original Basque and geometric elements on the shoulders could be one of the best costumes in the evening, if not spoiled the shape of its owner. Dress, really, full of Rosario and makes her arms wide. It is unfortunate, but this dress style will suit only a very fragile young lady.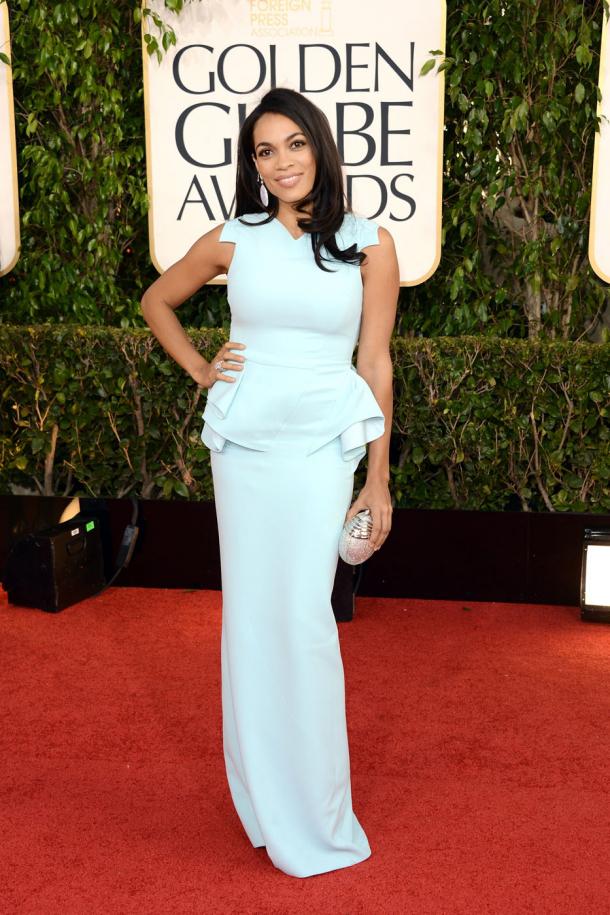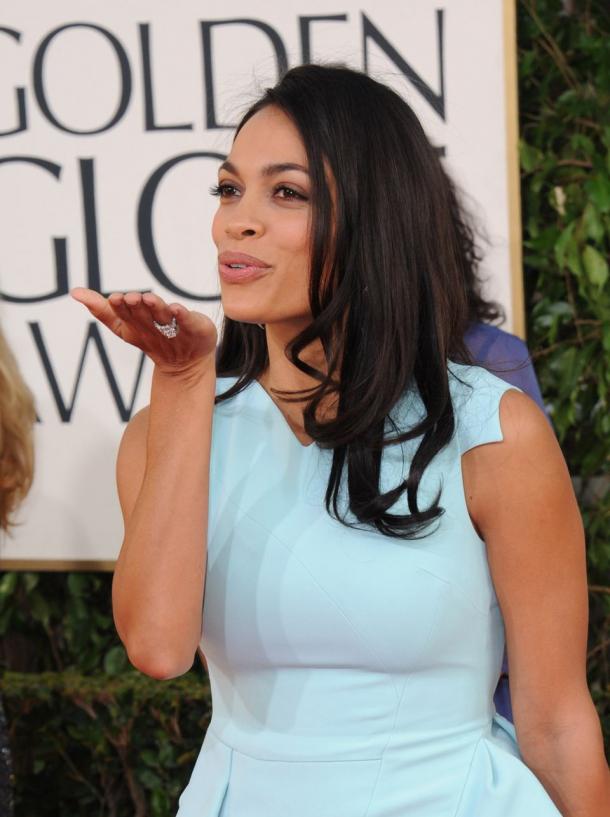 Kelly Osbourne outfit made me sense of deja vu - I already somewhere saw. Nevertheless, it is worth noting that the dress is really its owner - has in it something that is well matched with tattoos Kelly, her make-up and hair color, even eccentric. Despite this, I still do not leave hope that someday she will get rid of the latter.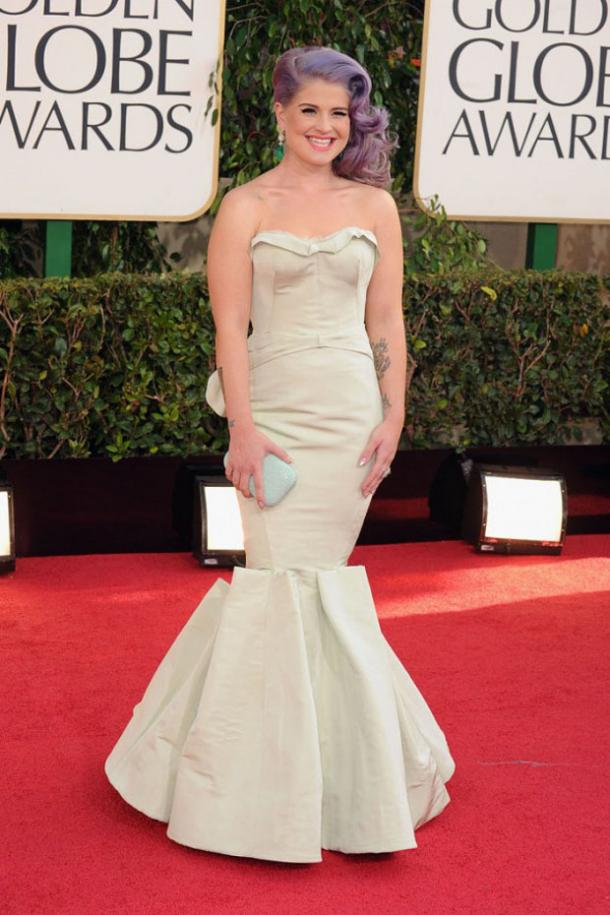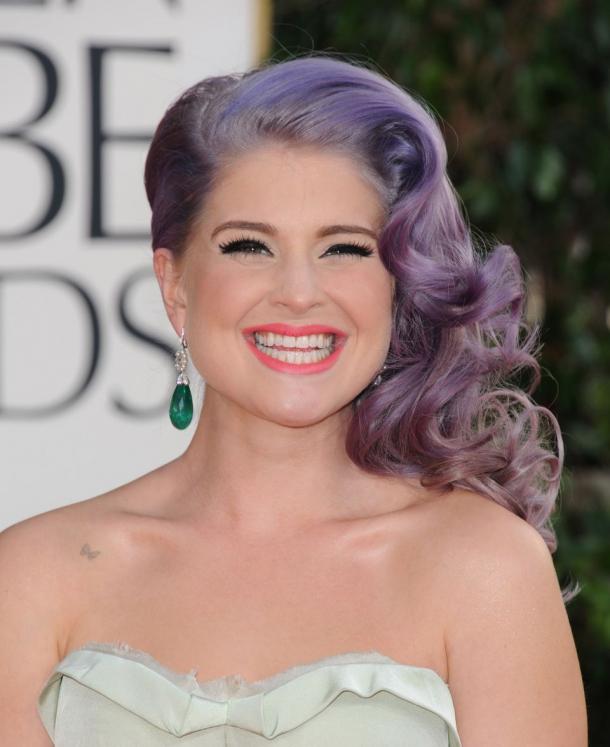 Kerry Washington has decided to not care about the mermaid gowns and princess dresses and chose a simple toilet, but very modern style of Miu Miu. I'm pretty skeptical about the skirts with a short bottom layer and a transparent top, but it is one of the few dresses of the cut, which I like. The dress looks very cute and soft, and the colors of the image nyudovaya successfully diluted with shimmering rhinestones.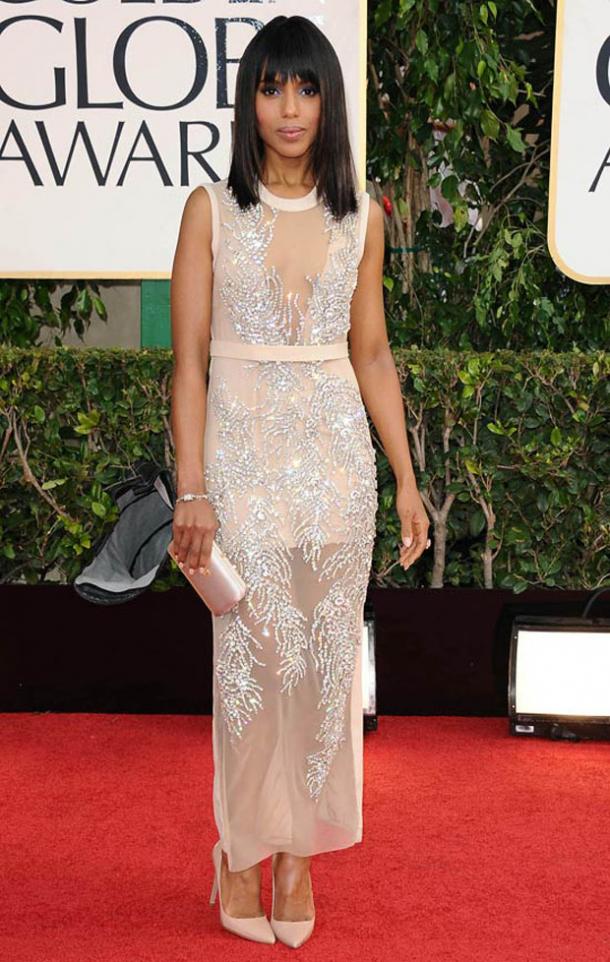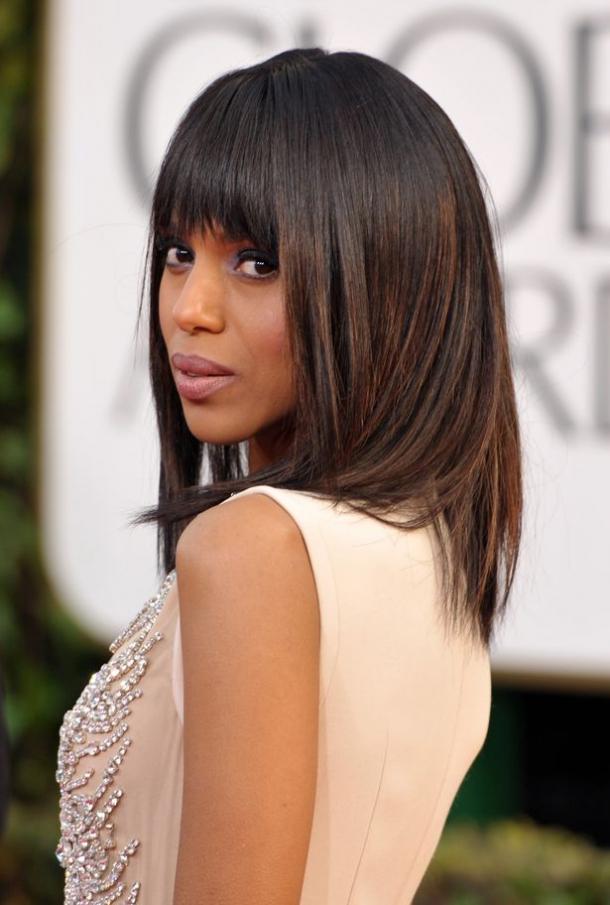 Thandie Newton was one of the few who chose to not dress red carpet on the floor, and a cocktail dress to the knee. Like Carrie dress, pale lavender dress Tandy was adorned with Swarovski crystals and created the illusion of transparency. I have mixed feelings about this outfit - in my opinion, it should be reserved for the after-party, and on the red carpet to wear evening dress.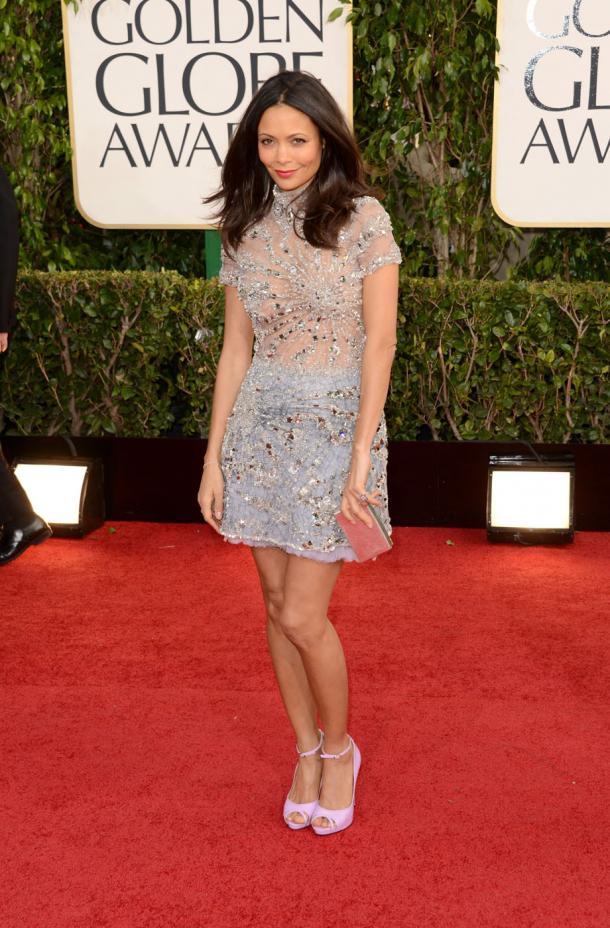 Michelle Dockery opted for the red carpet white dress Alexandre Vauthier with golden guipure bodice and a dedicated line of the shoulder. Very interesting dress and I like it even more, because it does not have any rhinestones, crystals and sequins, from which is simply dazzled. The dress looks very elegant and expensive, and even a little disproportionate figures in this dress, which is certainly not evident in the movement remains for me one of the best on this evening.