This post is about the amfAR charity ball will be entirely devoted to models, because who but they are the main decoration of any social event. Outfits sit perfectly on their chiseled figures, makeup emphasizes regular features, and hair dazzle with its brilliance. In addition, the models often lead friendship with their employers - designers, and those in turn are happy to provide them to the use of the best creations of their latest collections.
The first part of the post about the ball in Cannes amfAR can be read here.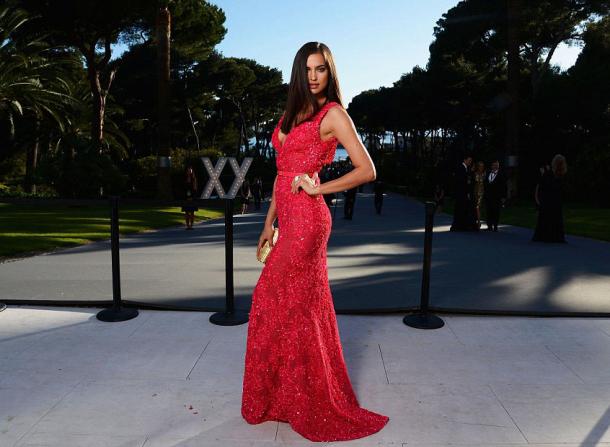 That's dress! That's what I understand! After his resounding failure in Roberto Cavalli Irina Shayk tried to rehabilitate his own style with the help of a nice evening dress from the spring collection of Elie Saab. The dress looks very bright thanks to deep pink color and seductive neckline, but there is no single gram of vulgarity or cheapness. To look tempting not necessarily remove their "most do not want».
The sweetest in the world model Chanel Iman wore on the red carpet elegant white dress with a cut on the back and shoulder line underlined in the spirit of the '80s. Style 80 is the main trend of the season, but that does not mean you have to completely copy the style of the characters of the series "Dynasty", even if it does not suit you perfectly. Dress well and something even more interesting, but not particularly suitable for 20-year-old girl.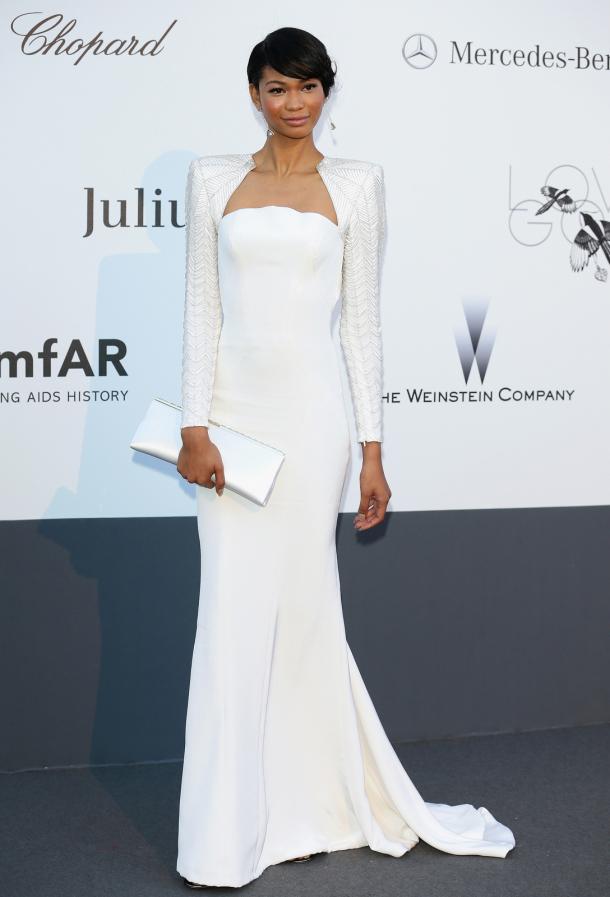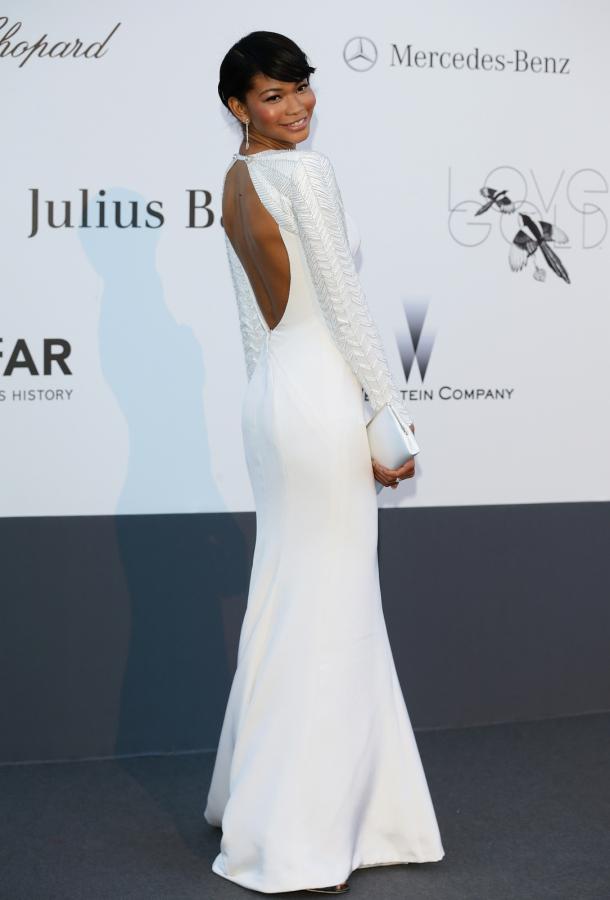 Model Liberi Ross, who became famous all over the world after the scandal with her husband cheating with Kristen Stewart, is now a frequent guest of many social events. Liberty has opted for an unusual ensemble Balmain (in a similar outfit, only pink color appeared at the premiere of the second part of "Star Trek" Zoe Saldana, and then made a dress for our readers a lasting impression). In my opinion, the image of Liberty looks very interesting, although I did not abandon the idea that the dress looks too voluminous for her petite figure.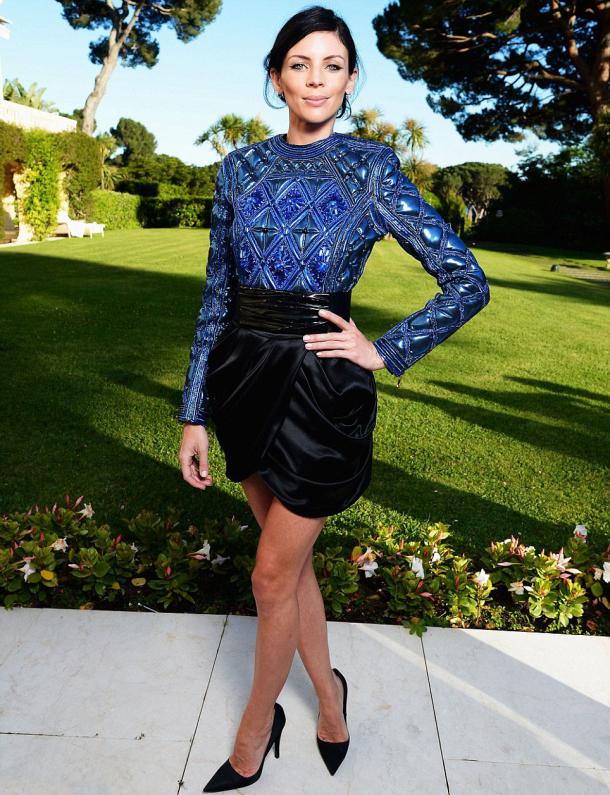 Very pleased with my red dress Jessica Hart. Her outfit is probably too modest for the ball, but just fine sitting and effectively emphasizes chiseled figure model. Besides, I like the idea of ​​dress - a strategically important places are covered with a thick cloth, and chest, waist and legs slightly translucent under transparent inserts with a wavy finish.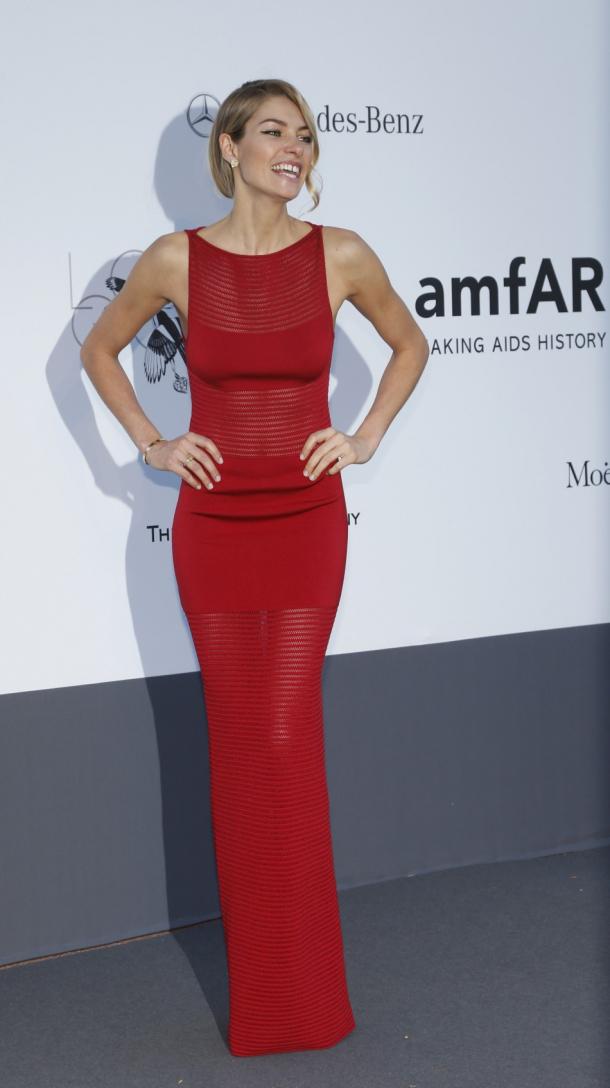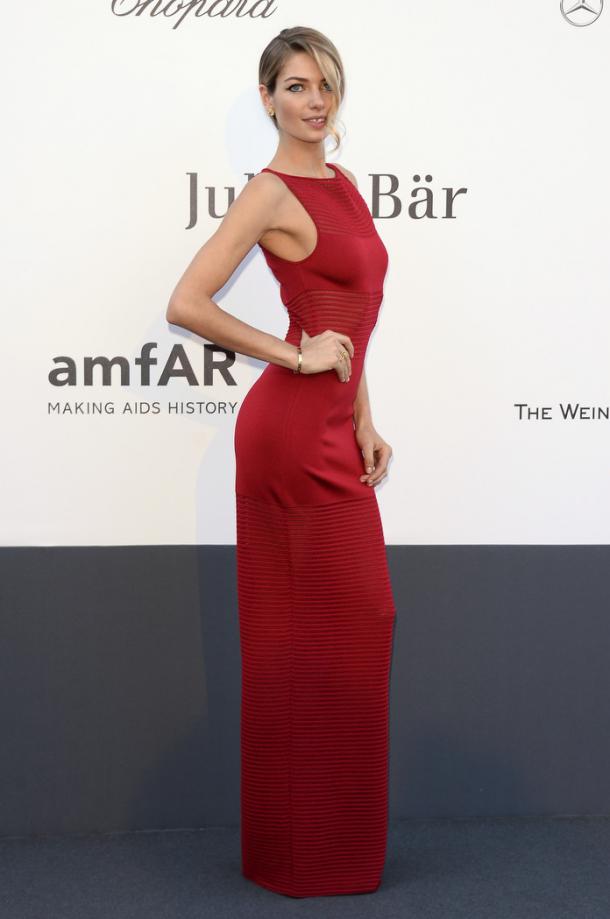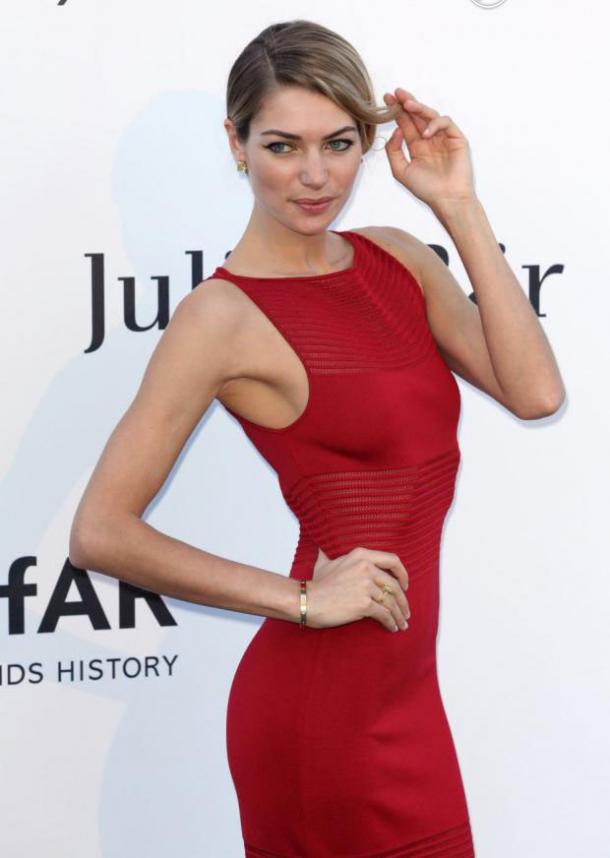 Izebel Gular, like many others, opted for a dress with a rich finish by Elie Saab. Color dresses just delightful, much as he sits on Isabel - fantastic. With this figure only the dress and wear it! I really like the look, but with a choice of jewelery model too far - one large diamond engagement rings in this already shining, it would be enough, so on necklace with emeralds could easily refuse.
The title of the evening, most girls I gladly give Karolina Kurkova in an elegant creation Roberto Cavalli is the designer sewed for her. The dress looks delicious and even though the cuts, can hardly be called vulgar. In my opinion, the whole thing in proper placement of accents - discreet makeup, hairstyle and the simplest one and only piece of jewelry makes a simple and natural way.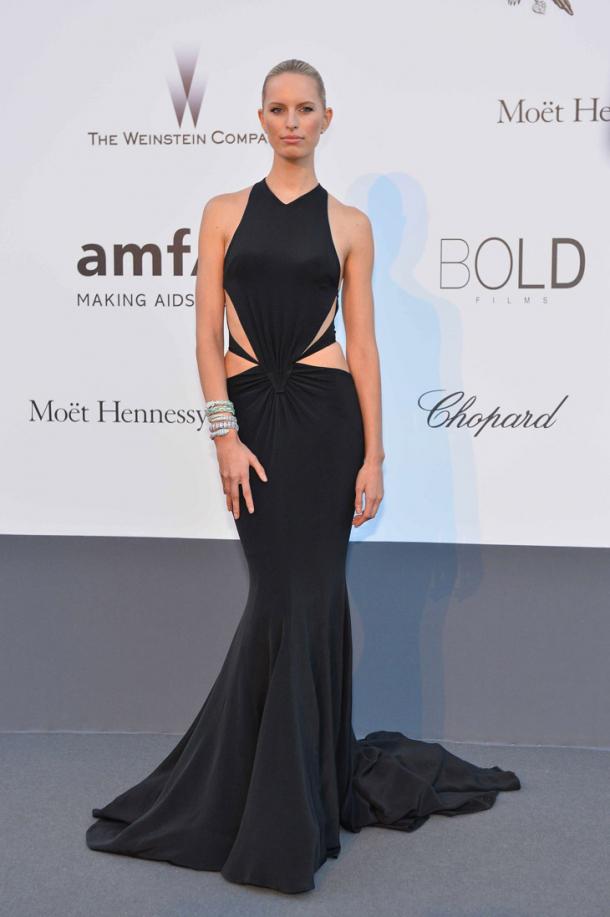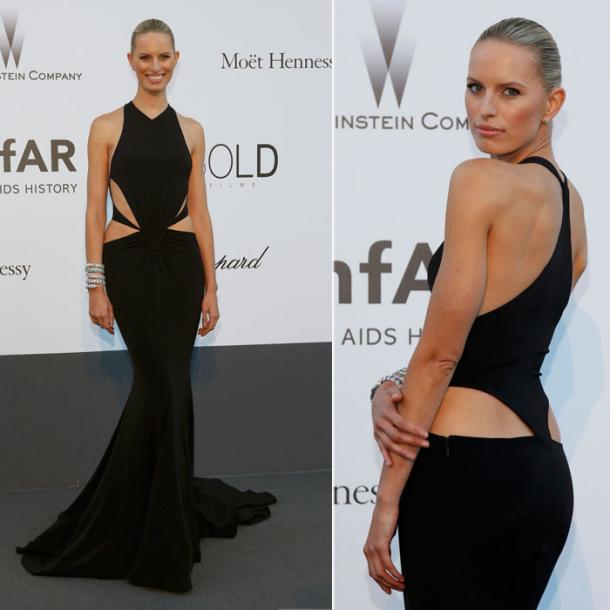 Unlike Carolina, Bianca Balti has chosen for maximum ball dress closed with a tiny hint of transparency. Alberta Ferretti dress of tulle and chiffon looks very impressive and regal luxury.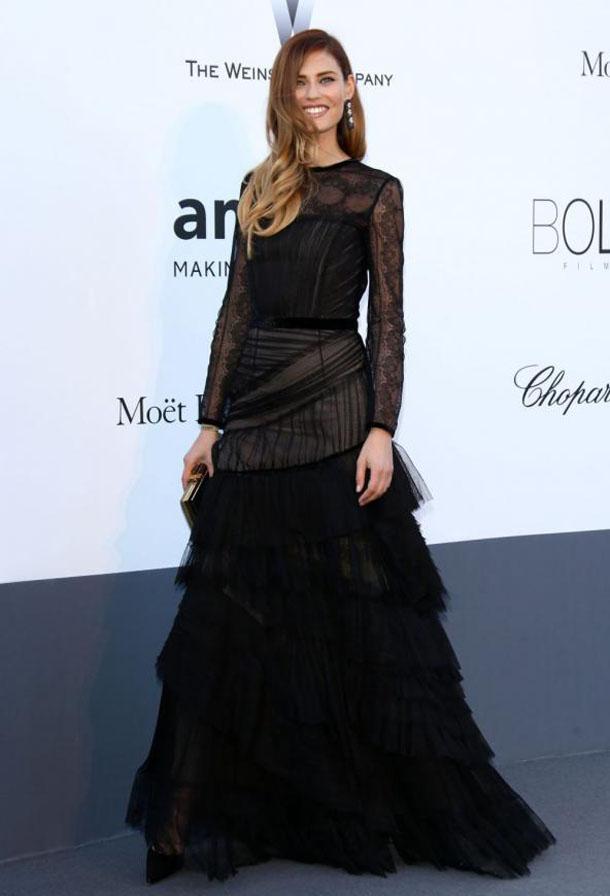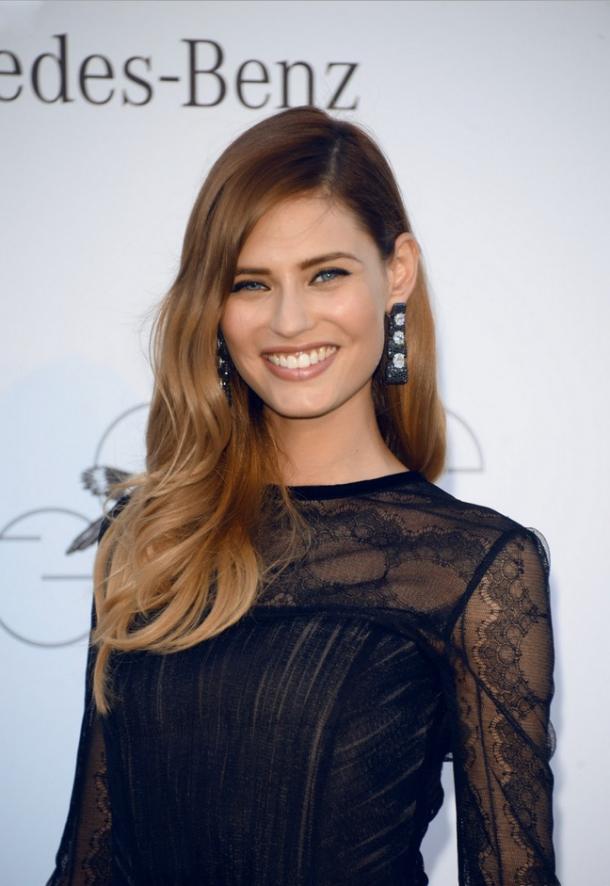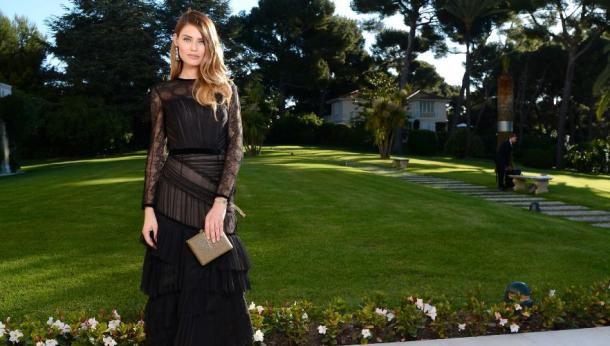 Apparently, Roberto Cavalli is a very versatile man - he may just as well as create superotkrovennoe vulgar dress, so elegant and feminine attire. Fortunately, Liu Wen model chosen for the ball the second option and posed for photographers in the air ivory dress with a shiny finish and delicate chiffon skirt with a small train.
Petra Nemcova second time in a row makes the choice in favor of Elie Saab. Dress with shiny finish deep blue looks very good on the model, and massive Chopard pendant in the shape of a pear, which seems to be no need to bring the image of the ideal.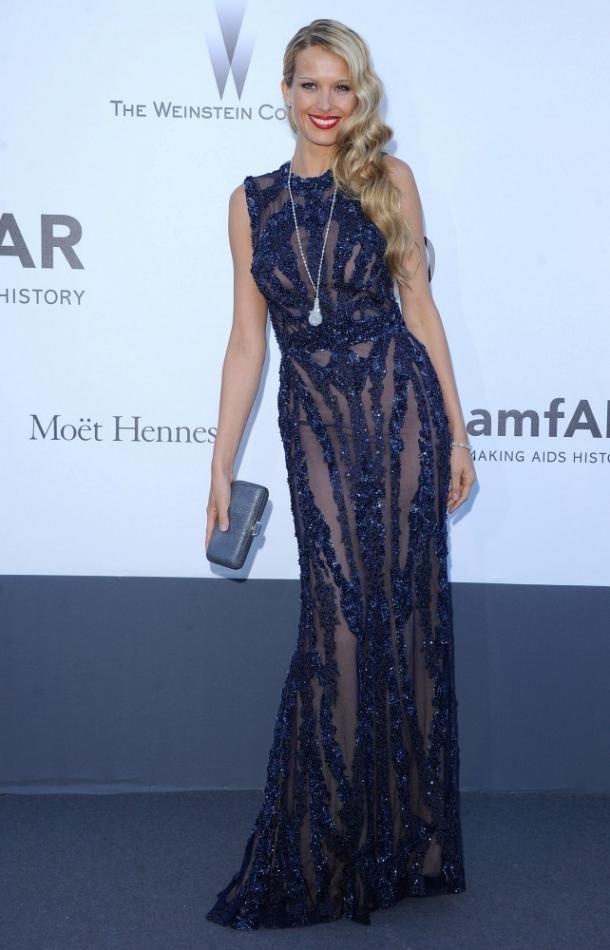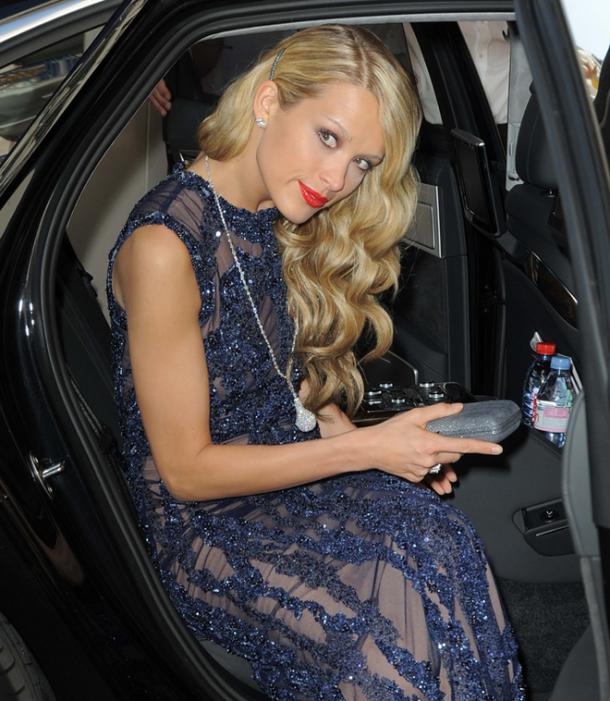 Isabeli Fontana appeared at a gala evening in the open black dress with lace inserts and cut from the hip. I can not say that I am delighted with the dress, but I really like the way he beat Isabelle. The model tried to stand in their way of muted colors, choosing makeup without bright accents, accessories laconic and restrained (general standards) decoration. With such a risky dress can easily earn the title of the most vulgar ladies event, but due to the competent styling with Isabelle did not happen.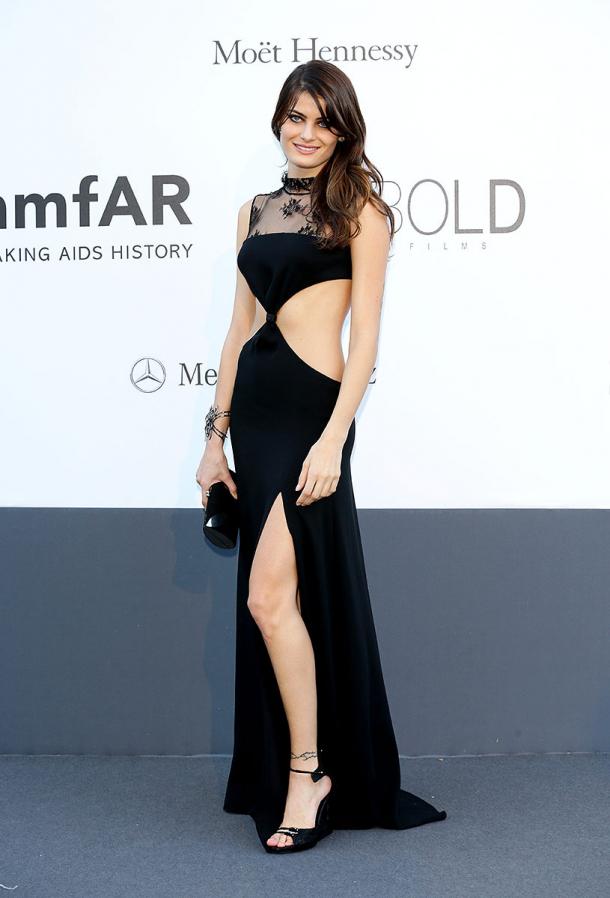 Very gentle dress couture collection Zuhair Murad showed us Alessandra Ambrosio. Silk dress in Greek style was decorated with delicate lace embroidery and unusual chiffon trains that turned Ale in the forest nymph.
Very simple, but stylish outfit put on a celebration Rosie Huntington-Whiteley. Concise cream dress with asymmetrical skirt from Dior was complemented by cutting-white this season seed pans, restrained golden eye makeup and simple hairstyle. Perhaps Rosie slightly underestimated the event where she had to attend, and she should have worn something more grand, but even so the image turned out good.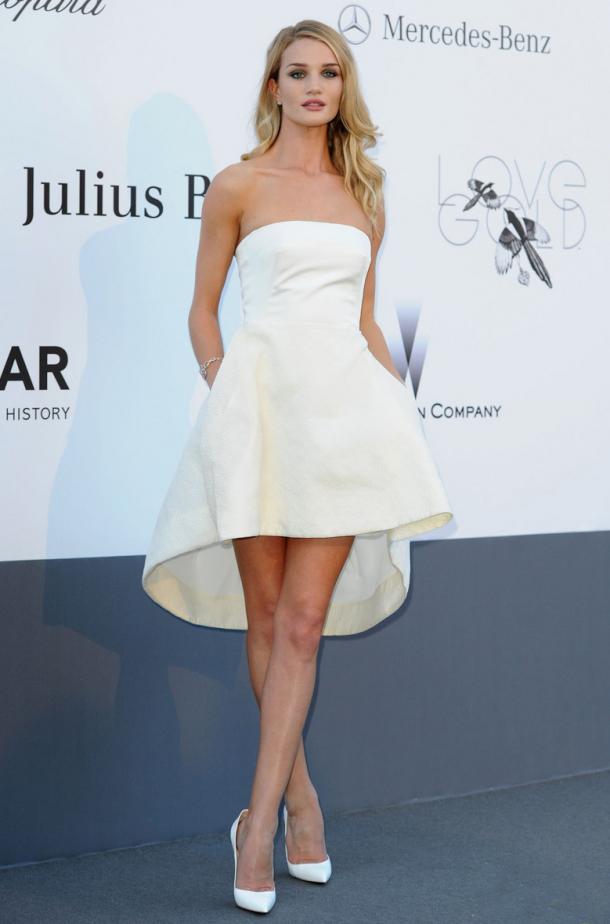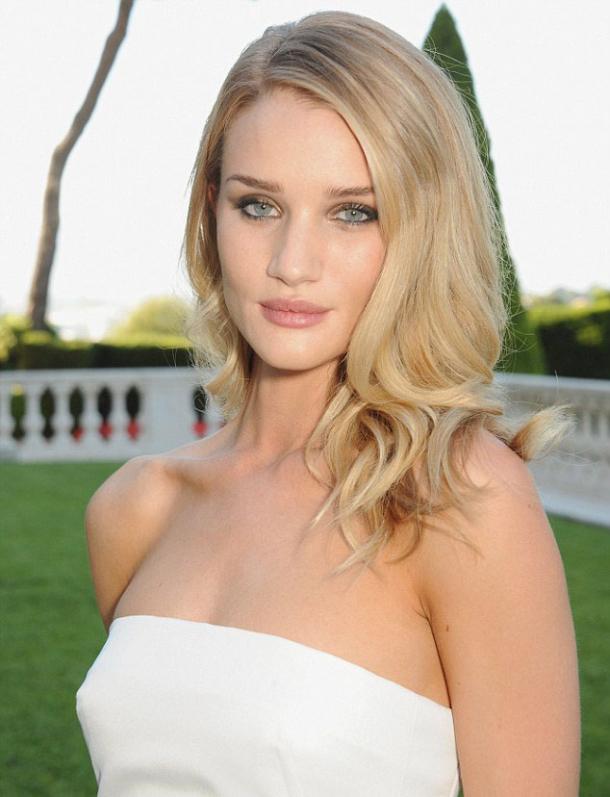 Do not care about the dress code and Karlie Kloss, who appeared at the event in an unusual ensemble of black trouser. The costume looks very unbanal and interesting, but this is not enough for the ball.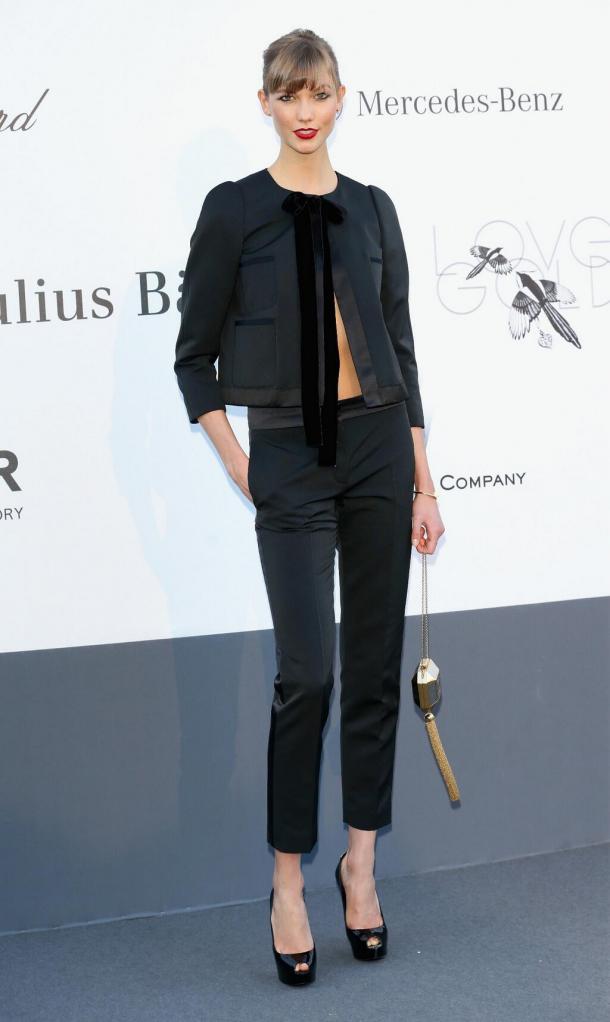 Heidi Klum decided to take time off from Versace (thank God!) And put on a dress from the collection of amfAR Marchesa, the creation of which was inspired by the designers of India. Personally, I do not see the dress outright flaws, but there is something that bothers me and does not love this image in full. By the way, in the original version (that is on the podium), this outfit was introduced in midi length to mid-calf, and I would be very glad if Heidi did not shorten it - so the dress would look even more interesting.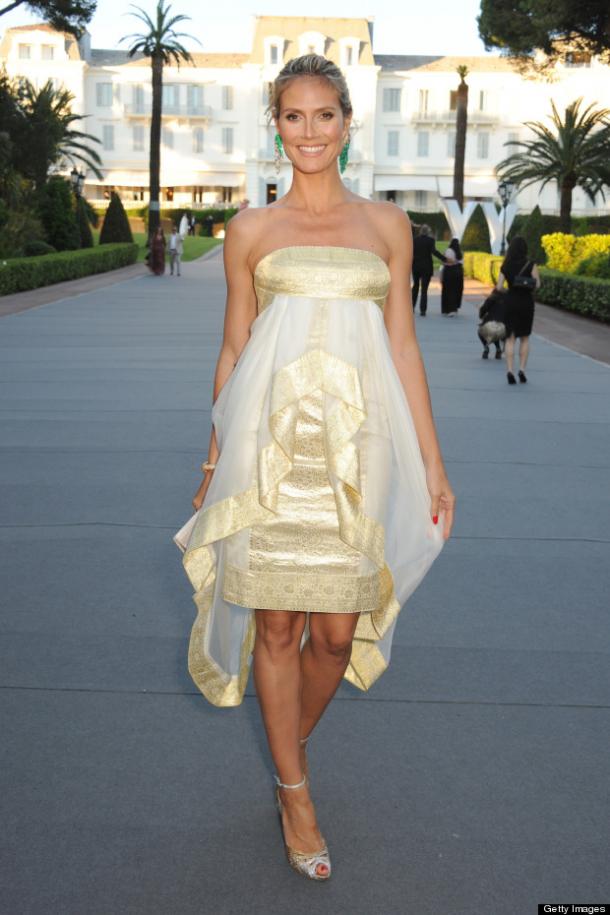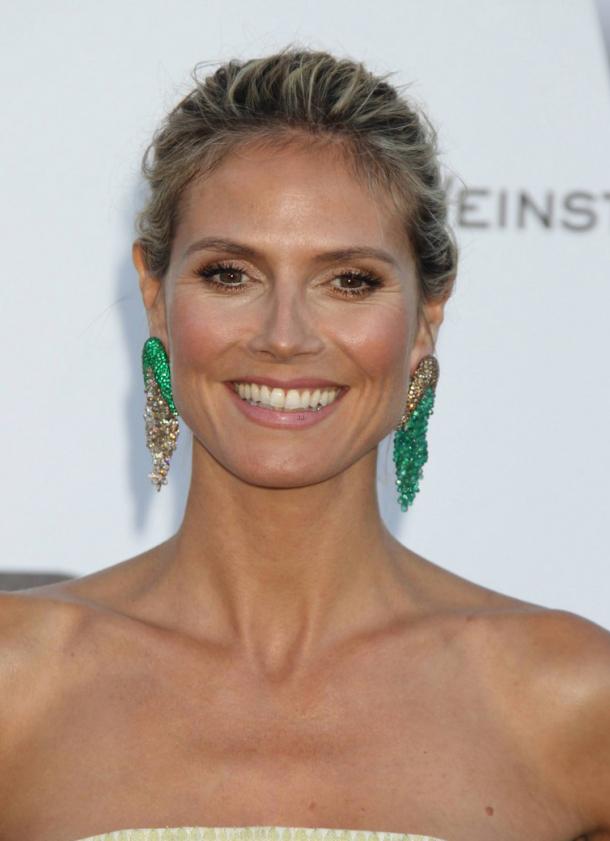 This unusual style dress with two cuts and interesting form bodice was created specifically for Lily Donaldson head of the fashion house Emilio Pucci Peter Dundas. Great outfit, it is a pity Lily did not bother to present it properly - hairstyle clearly summed up.
Lily and Peter Dundas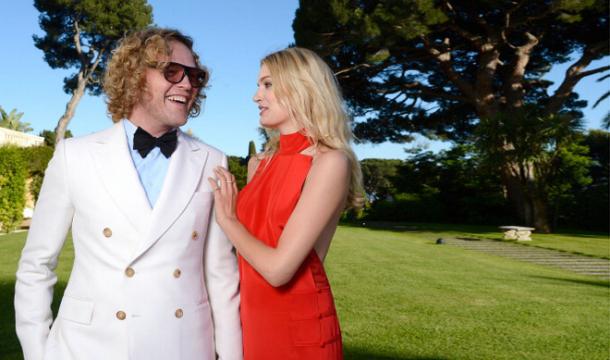 Like many other guests at the Cannes Film Festival this year, Eva Herzigova opted for the creation of Raf Simons for Dior. Despite the lack of a significant trim and bright elements, elegant ivory dress with asymmetrical neckline line looked very interesting and very proceeded its owner. Berry lipstick shades perfectly complement the images and the desired color accent.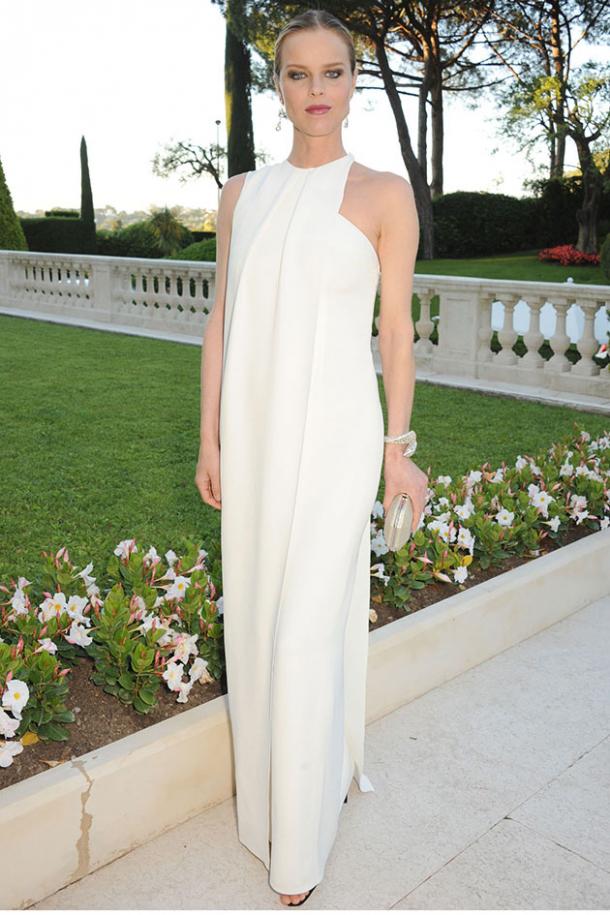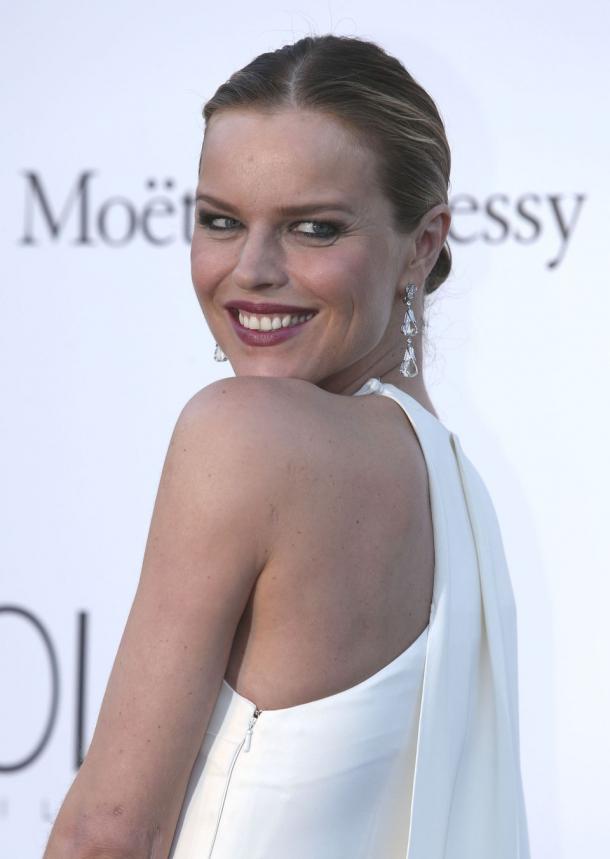 This image will taste only the true connoisseurs of fashion and people with unconventional views on clothing. Joan Smalls dress by Givenchy consists of a dress with a floral applique in pink over which is worn sweater transparent black chiffon with leather trim unusual and original belt. As you are such a turn? Joan should wear a dress without a jumper or not it would be lost in the crowd evening dresses?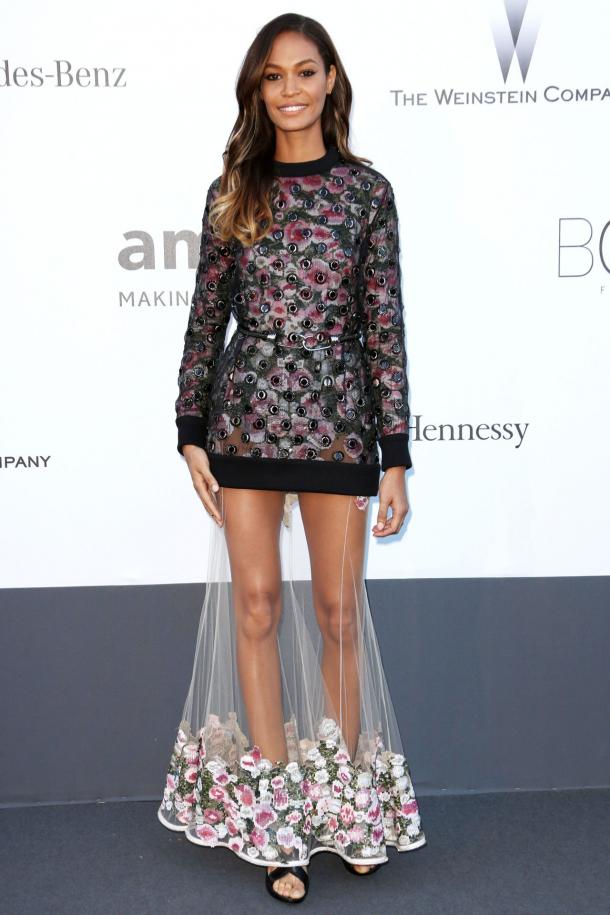 While most of her colleagues walking their red carpet outfits playful kitties, Selita Ebanks exploit the image of a fairy princess in a pink dress rustling. Only trouble is - in dresses of princesses no such cuts. But seriously, the image of Celite showed me some cheap and vulgar. Dress Barbie in conjunction with open chest rarely produces a different impression.
I almost forgot to tell you about the promised surprise that the organizers of the ball amfAR prepared for its guests. In honor of the 20th anniversary of the Charity Ball was organized by the spectacular "golden" fashion show, which was attended by models, editors and other staff of glossy magazines. All they showed on the catwalk perfect golden wardrobe and costumes for which were personally selected Carine Roitfeld from the latest collections of Versace, Givenchy, Emilio Pucci and other fashion houses. And at the end of the show, all the dresses were sold at a charity auction. Of course, all the money raised for the lots went into the Fund to Fight AIDS.