Last night on the red carpet at the Metropolitan Museum of Art in New York to create real madness! Ball Costume Institute, whose theme this year was a punk, hosted a visit hundreds of different people, who, nevertheless, were eaten one purpose - to surprise and shock. And many of them have succeeded. This time the guest arrives at the ball is not in the usual evening gowns, and dresses entirely and adorned with studded studs, stones, chains and nets. There was a place for traditional punk culture crosses and weighty earrings in one ear, and even Iroquois. Well, welcome to the world of punk and couture!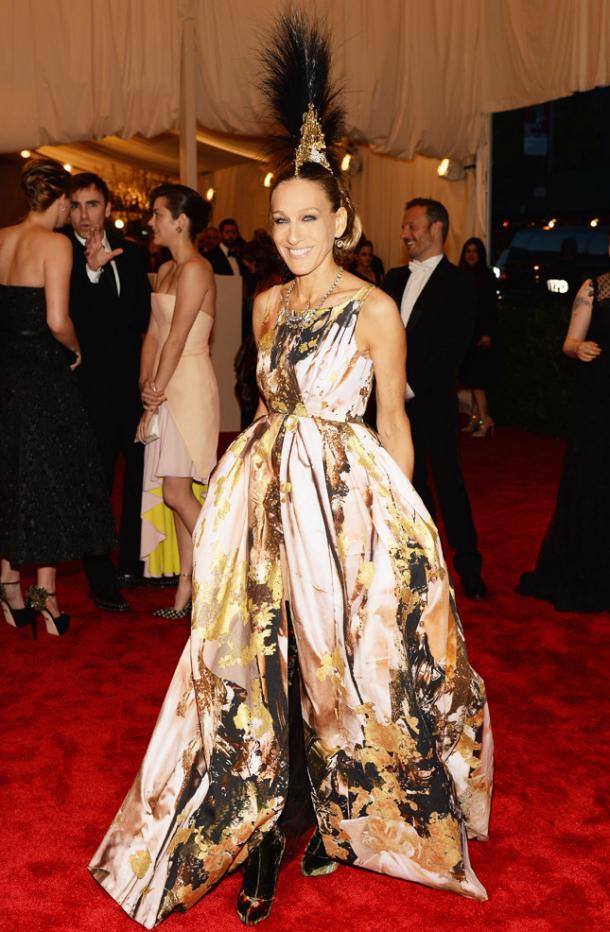 "Walking as a walk!" - Thought Sarah Jessica Parker and built a mohawk on his head. Of course, the mohawk was not real - it was just a luxury accessory from star milliner Philip Tracy - but this hairstyle looks very impressive. A stunning addition to the original decoration has become a ball gown by Giles with print in the form of gold paint splashes.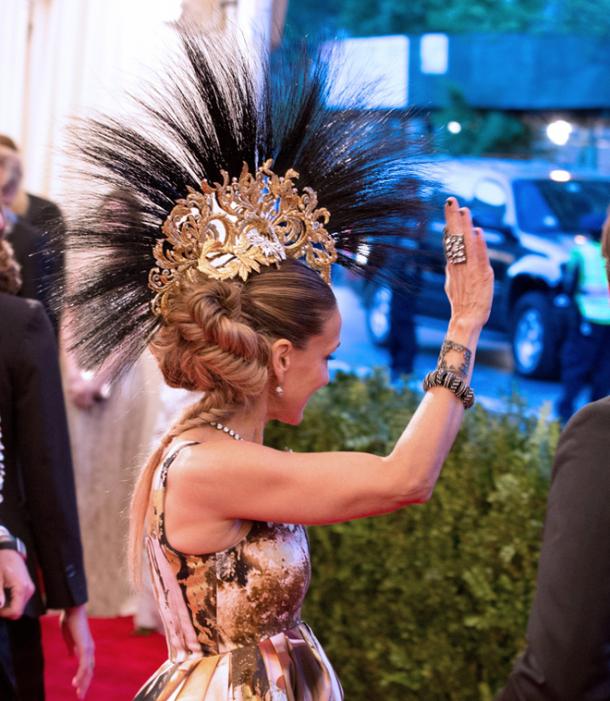 Sarah looked much more modest on the red carpet Olivia Wilde. Laconic outfit silver-white color looked good, but in this modest attire actress almost lost in the crowd dressed colleagues.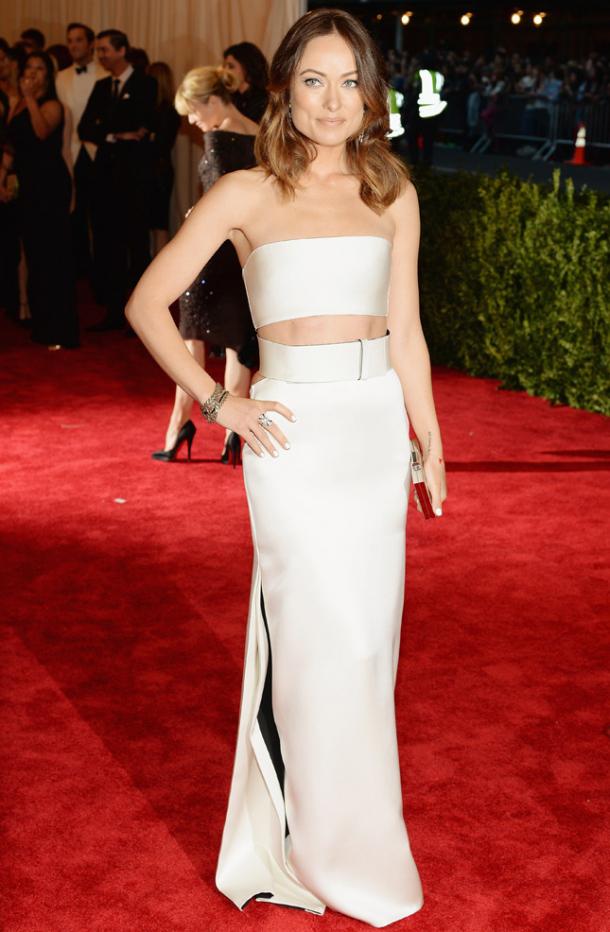 Pretty Kate Bosworth complained about the ball in mini dress Balmain. Despite the lack of lush skirts and crazy accessories, the actress managed to get everyone's attention because of its luxurious decoration dress and fantastic color.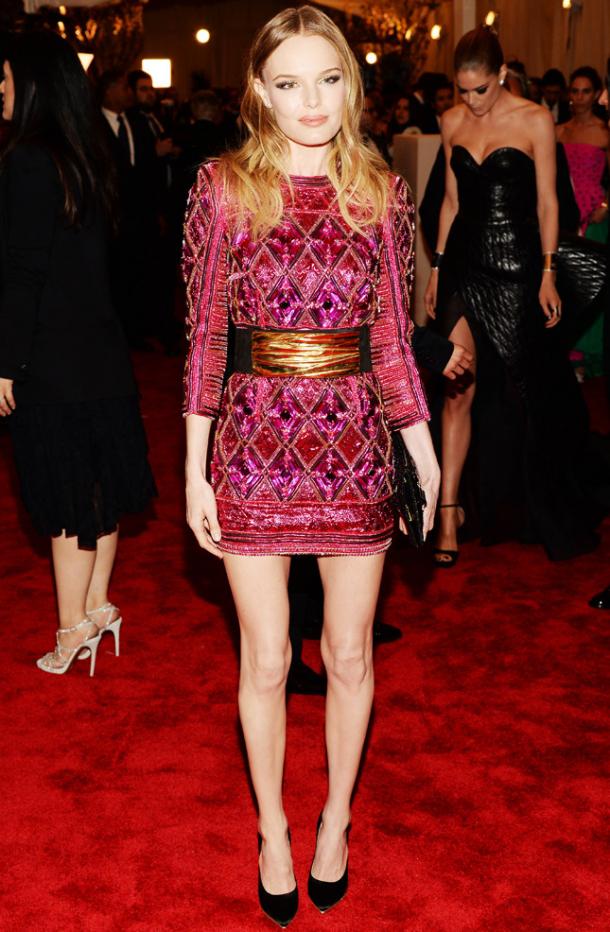 Sienna Miller, as expected, there was an evening in Burberry. Delicate white silk dress was complemented by a leather black leather jackets with gold studs and the same rim.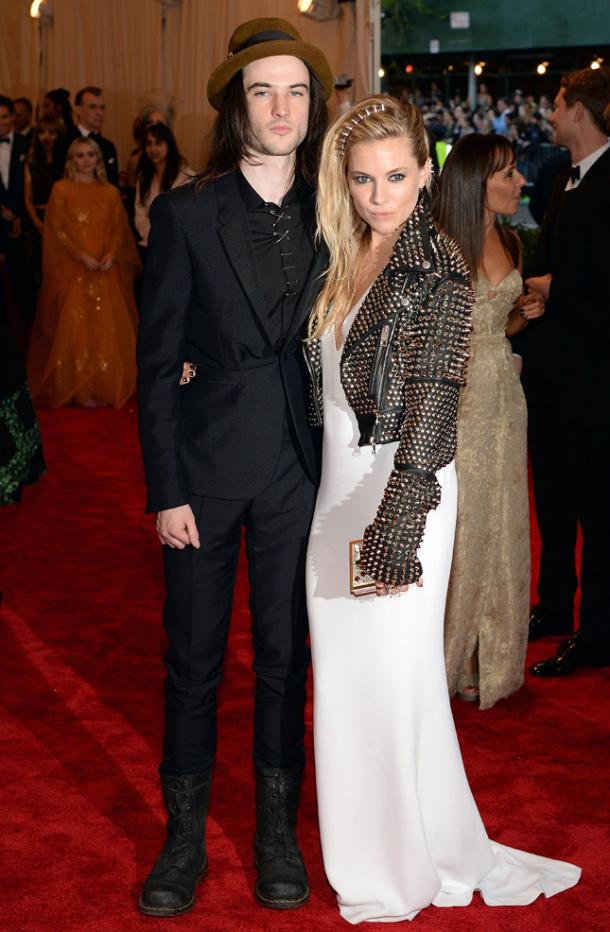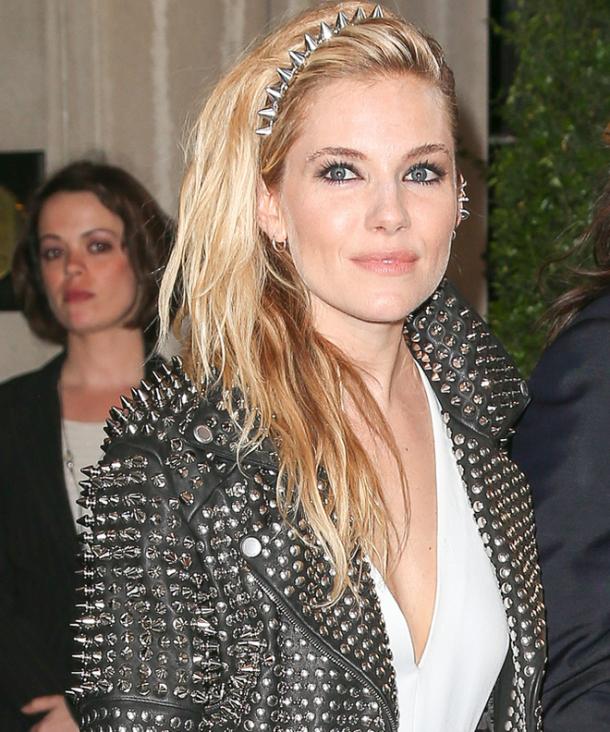 Punk party - that's really where the Olsen sisters will not put a reproach their imperfect appearance. That evening, the twins have focused on couture - Mary-Kate appeared on the track in Chanel Haute Couture dress and coat Balmain, and Ashley tried on orange vintage outfit, also from the house Chanel.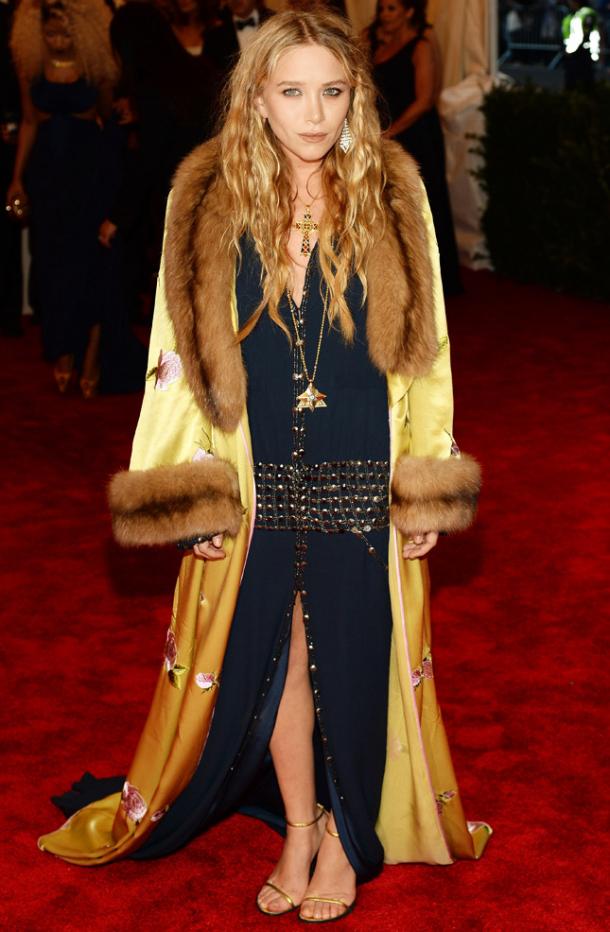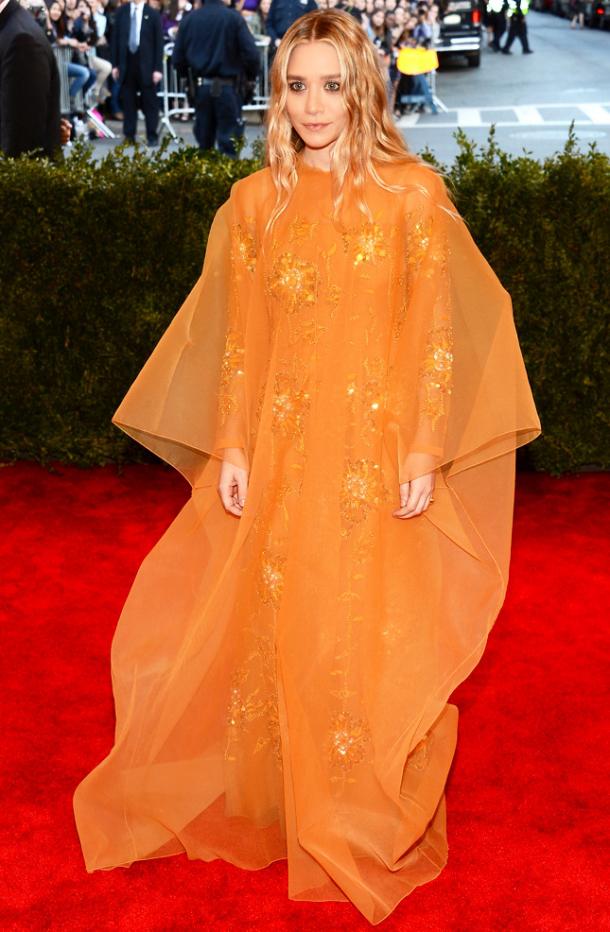 Jessica Paré posed for photographers in the ensemble from Jason Wu, consisting of classic satin trousers and original stamp from the Basques and train an intense blue color. The original kit supplemented dramatic eye makeup in shades of blue.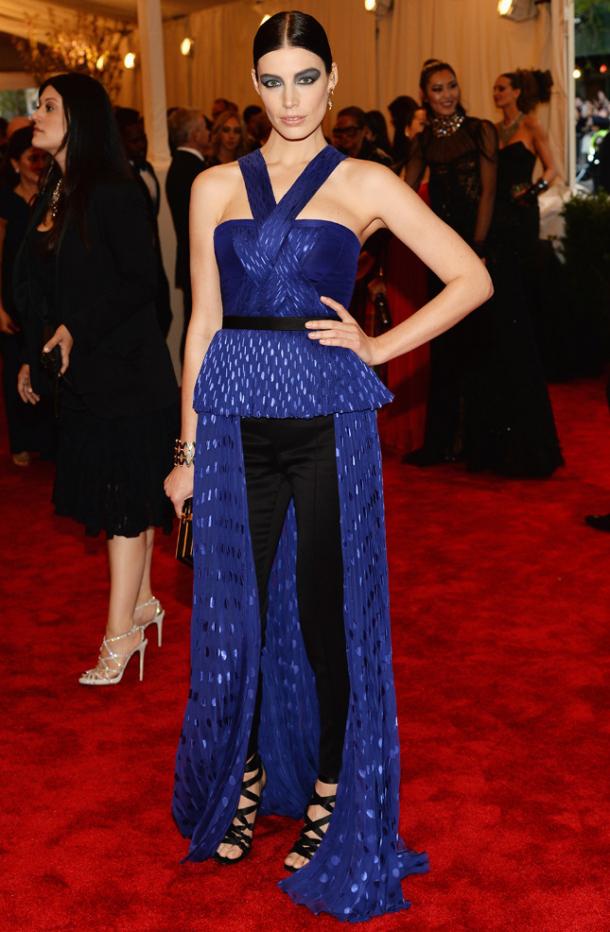 Could not have done this event and without Madonna, who knows how to attract attention - it just does not wear pants. The Queen of Pop walked the red carpet in the image of Givenchy, decorated with chains, crosses, studs and mesh cloth. Bright image for punk party, but I would be very grateful to Madonna if she complemented her outfit at least a micro-shorts.
Carey Mulligan was strict and impenetrable black suit Balenciaga. Major gold pin and cutouts at the waist gave a light effect along informality.
Rita Ora in Thakoon. Very decent and elegant image. Surprising that punk pm Rita chose a discreet outfit - in real life she prefers a more daring clothes.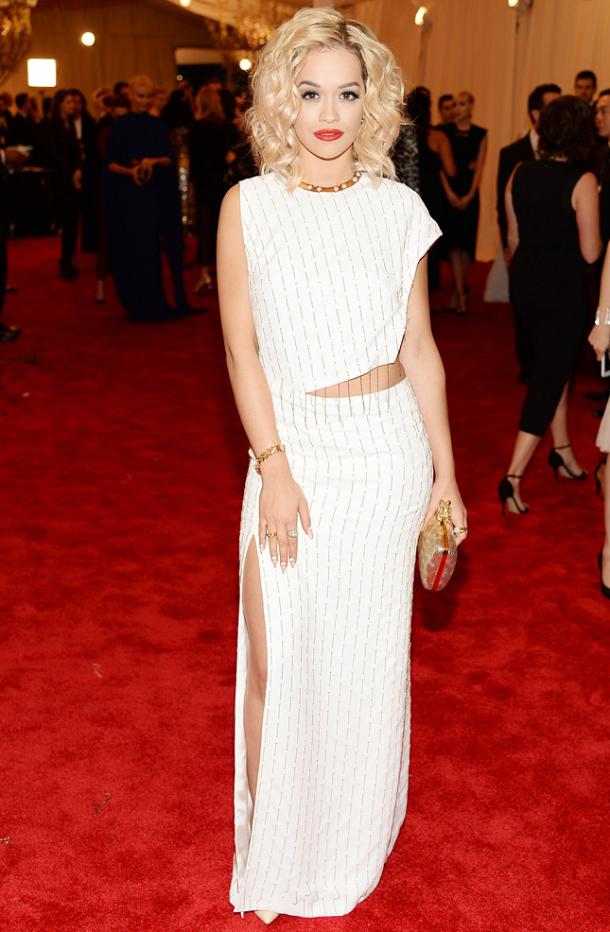 Beyonce, like last year, has opted for fashion house Givenchy. The original and very daring outfit Bee has become one of the most vivid images on the red carpet this evening. Luxury print!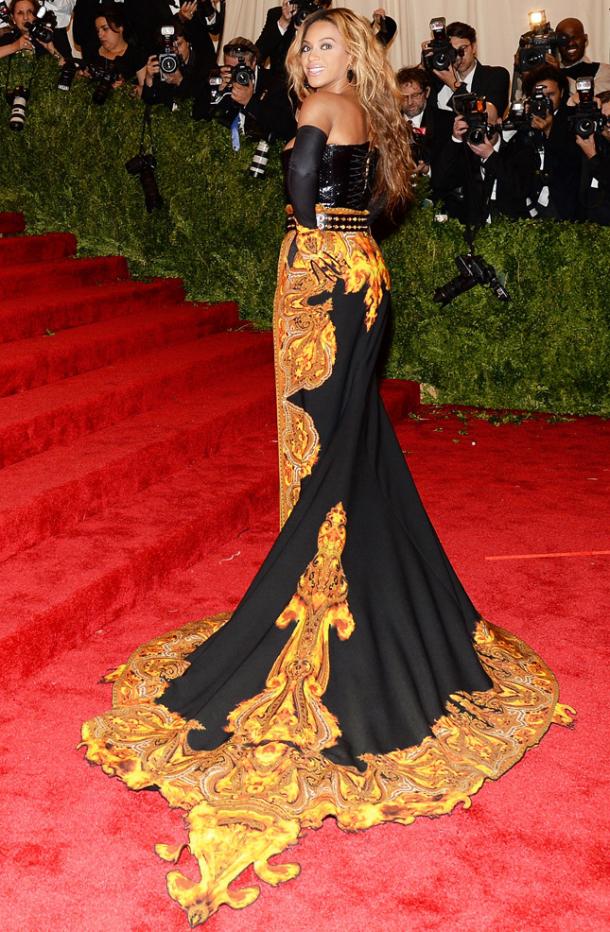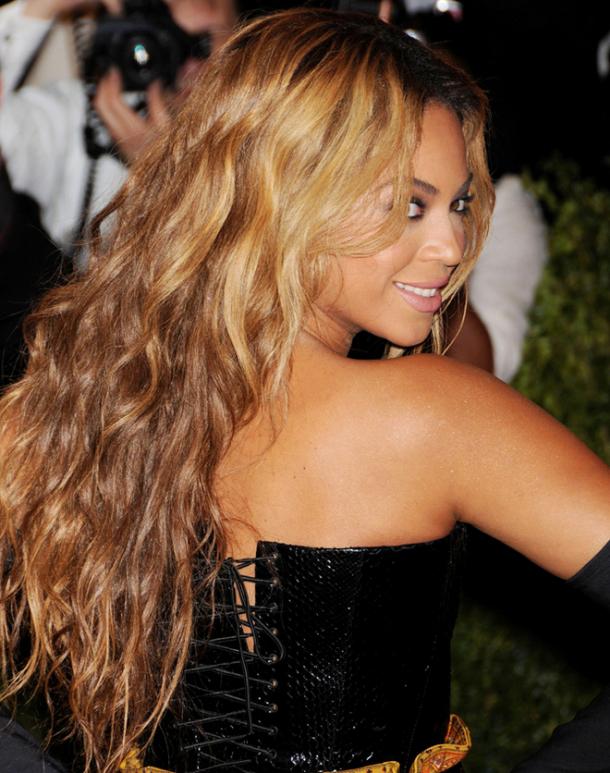 Modest (by the standards of our party) black dress Emma Roberts has added an impressive belt with large stones and gold ornaments. To heighten the effect coquettish young actress bared knife to certainly not look at the background of controversial colleagues too shy.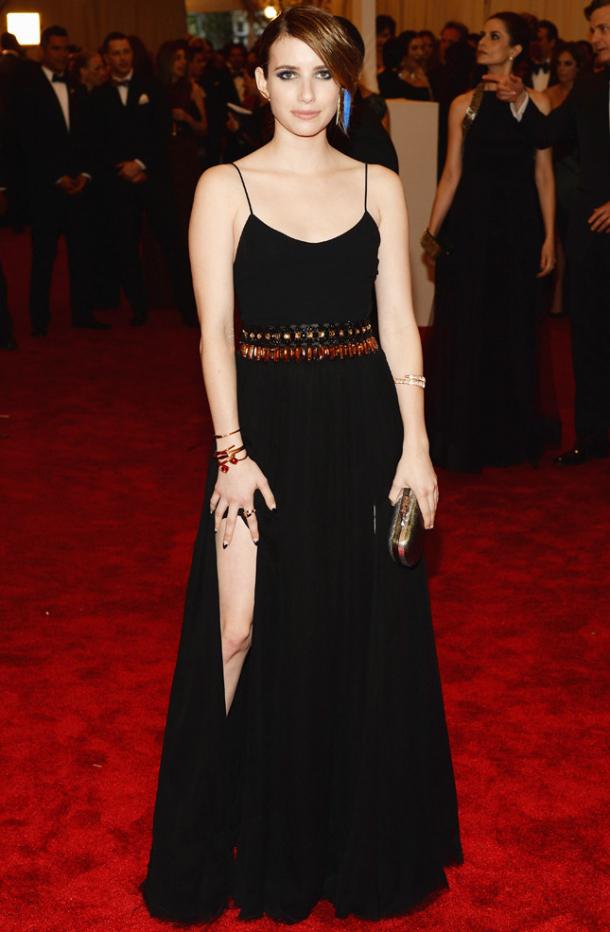 But Kate Beckinsale and denude did not have to - it and so it was in plain sight. Gorgeous red dress Alberta Ferretti was decorated with beautiful wave draperies and effectively complemented by luxurious legs Kate.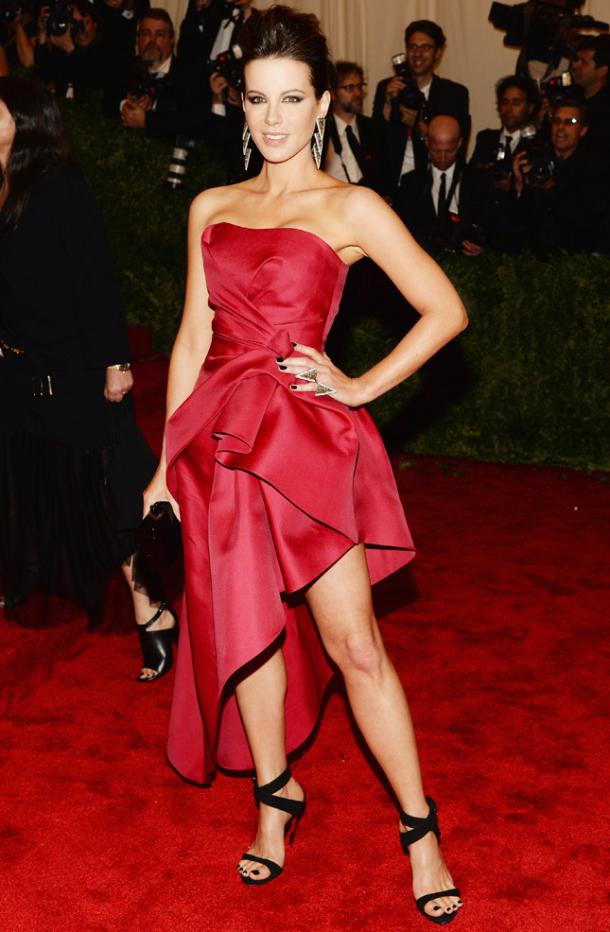 Amanda Seyfried arrives on the red carpet accompanied by Pedro Almodovar himself. Actress wore a dress fashion house Givenchy, a person whom she is now, with fantasy print in discreet beige and brown colors. Effective design backrest made even more original outfit.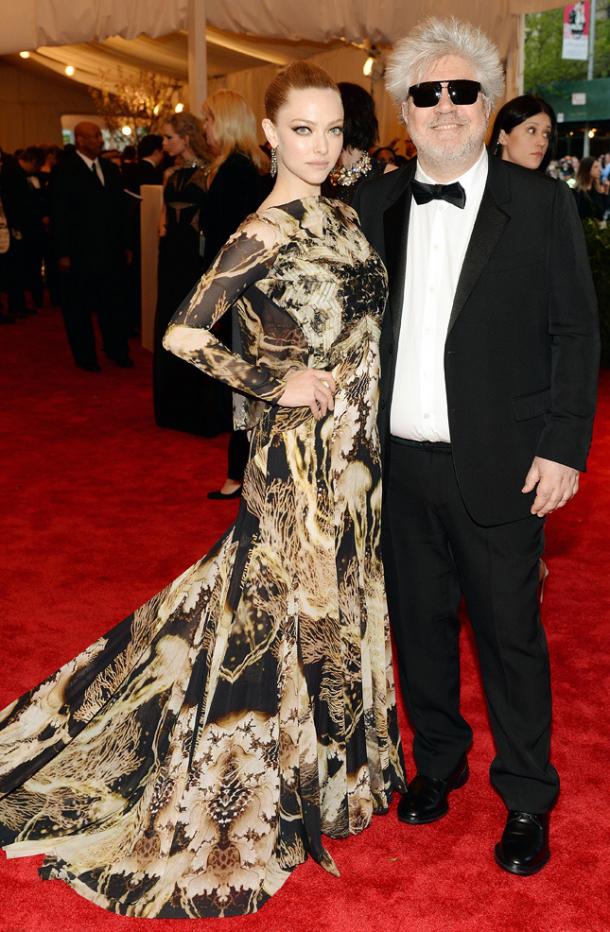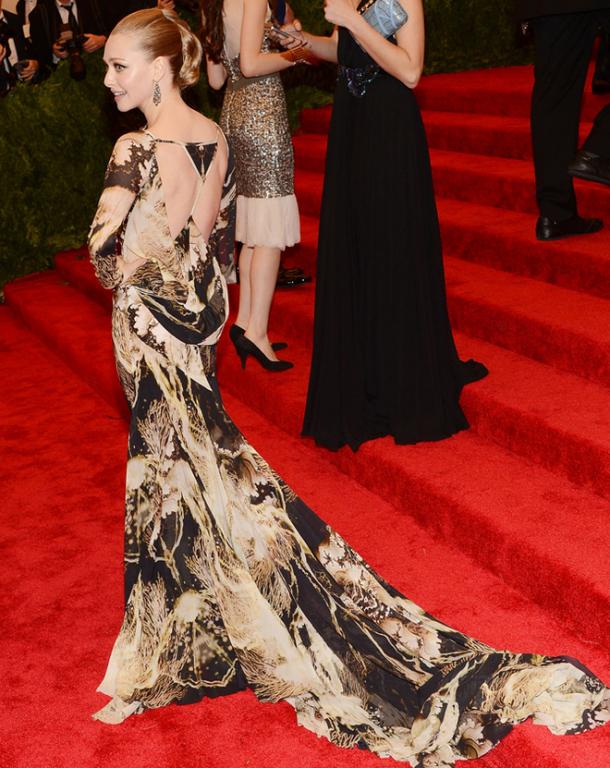 Leelee Sobieski walked the red carpet in Dior. Black and white dress in the minimalist style actress complemented transparent gloves with floral embroidery. A great example of the dress where the whole image creates an accessory.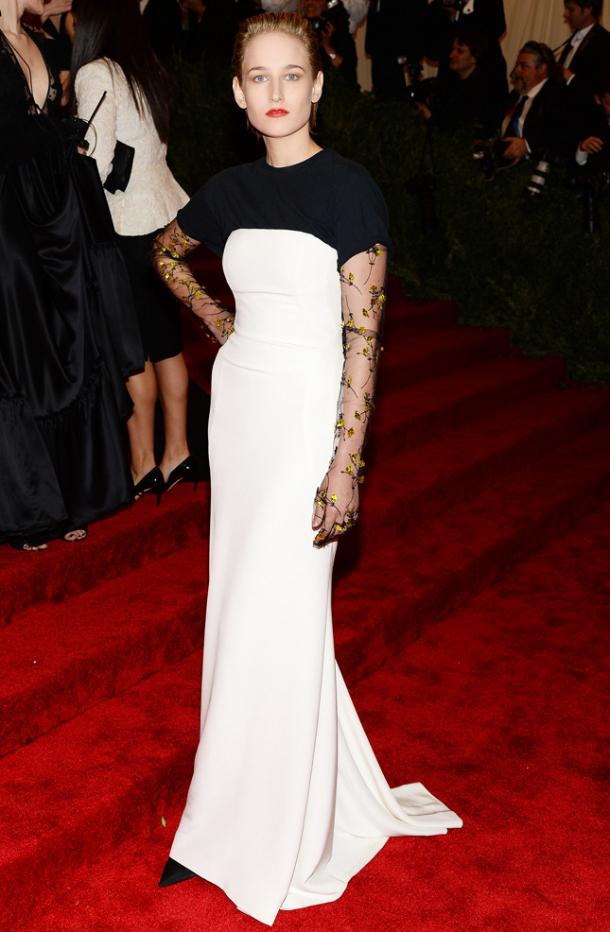 Even on the red carpet event punk Zooey Deschanel has remained true to his favorite retro style. Designer Tommy Hilfiger stitched for actress asymmetrical dress is in pajama stripes, and even herself Zoe supplemented his punk element - the clutch with the image of a pin.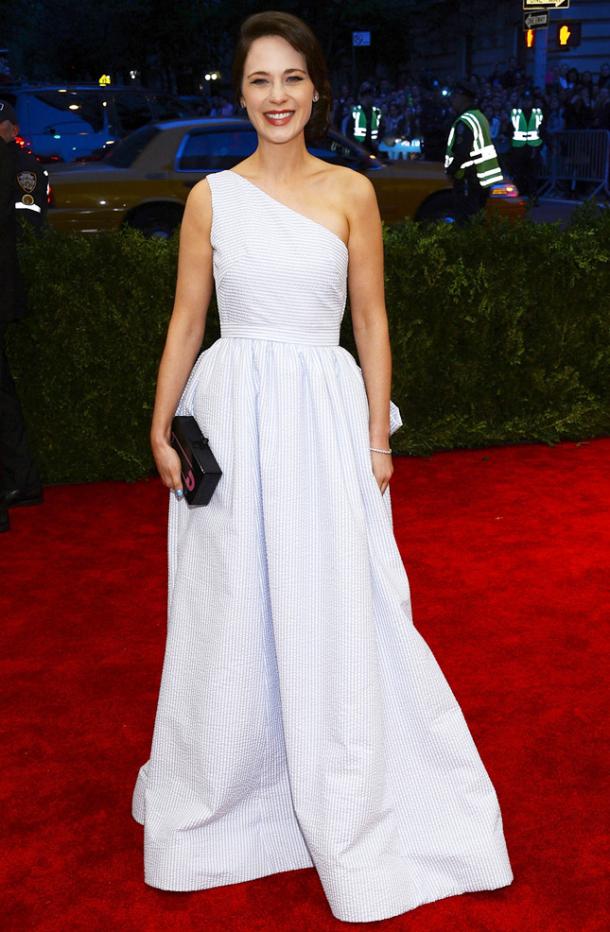 Kate Mara chose for the evening playful mini decorated with embroidery, studs and fancy Basques. Created this dress burgundy fashion brand Delpozo.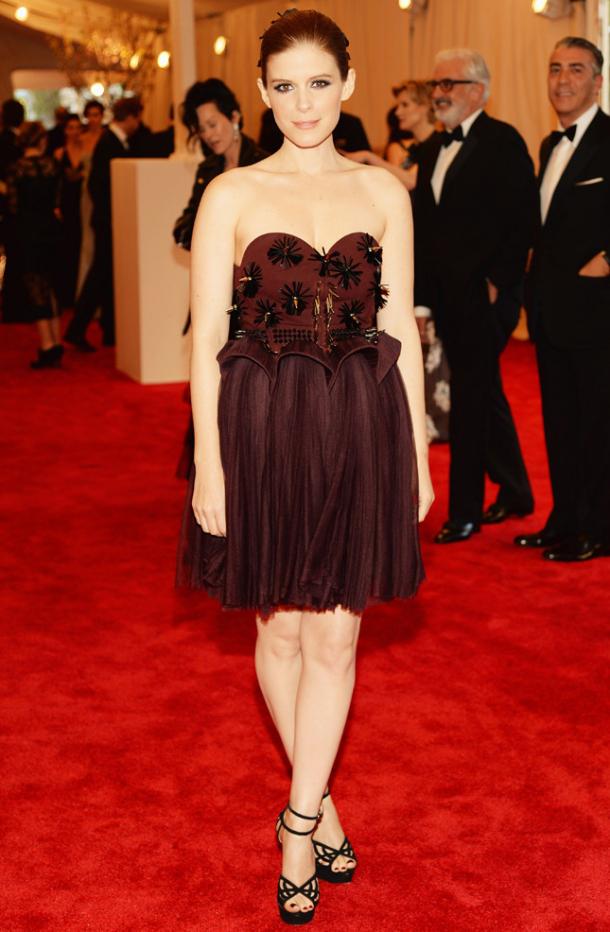 Emma Watson paraded down the red carpet in the creation Prabal Gurung. Open black dress did not need some bright supplement, so the actress has provided her outfit unpaired earring - to fit into the crowd.
But Kylie Minogue generally forgot where she came - her outfit can hardly be associated with the punk culture. But it is worth to pay tribute to the singer - in this dress anyway she looks great.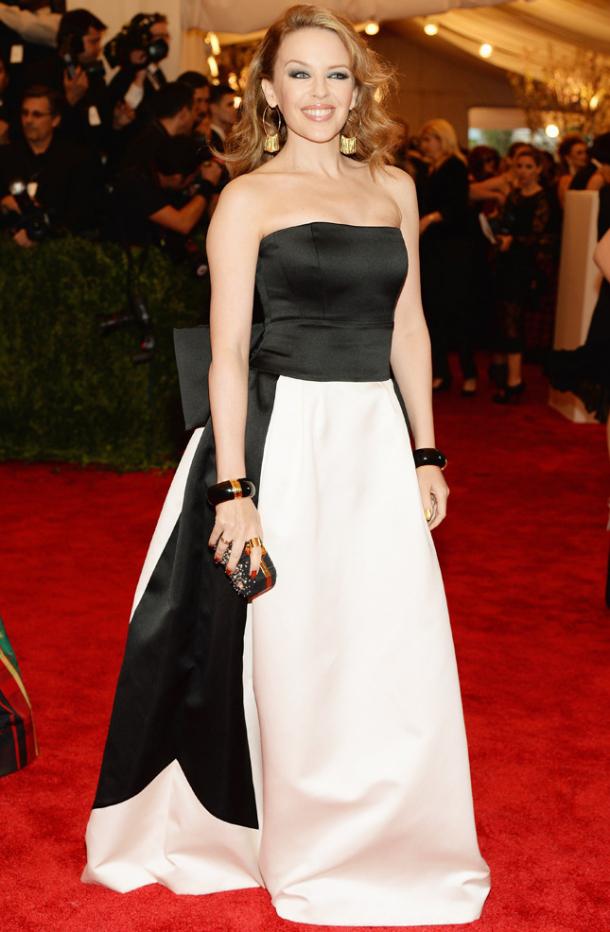 Perhaps this evening Cameron Diaz was left without arms. I certainly would not have ventured to cuddle with the actress when her such a dangerous accessory. On the topic: outfit at Cam turned out just gorgeous! Violet-blue ensemble with gold accessories specifically for Diaz created Stella McCartney.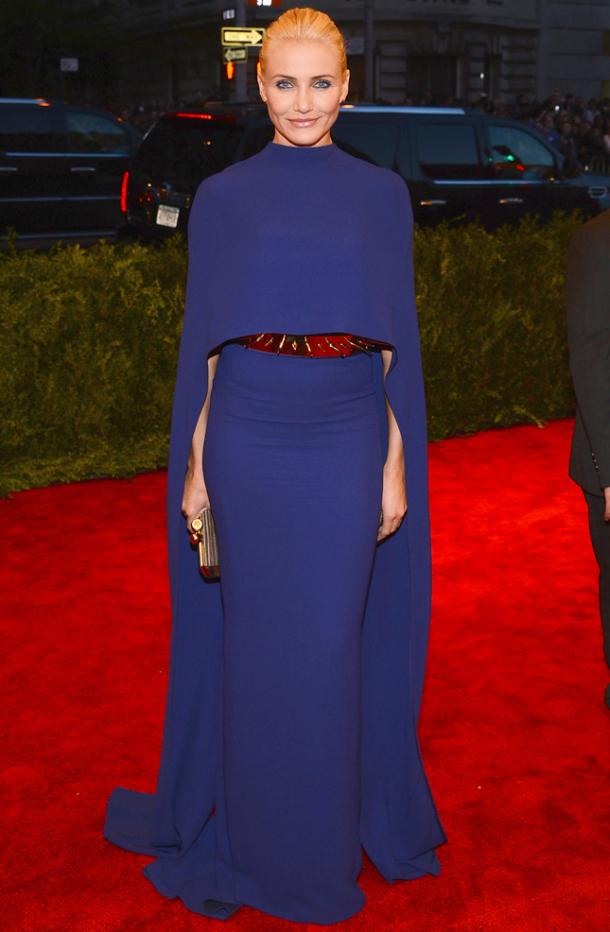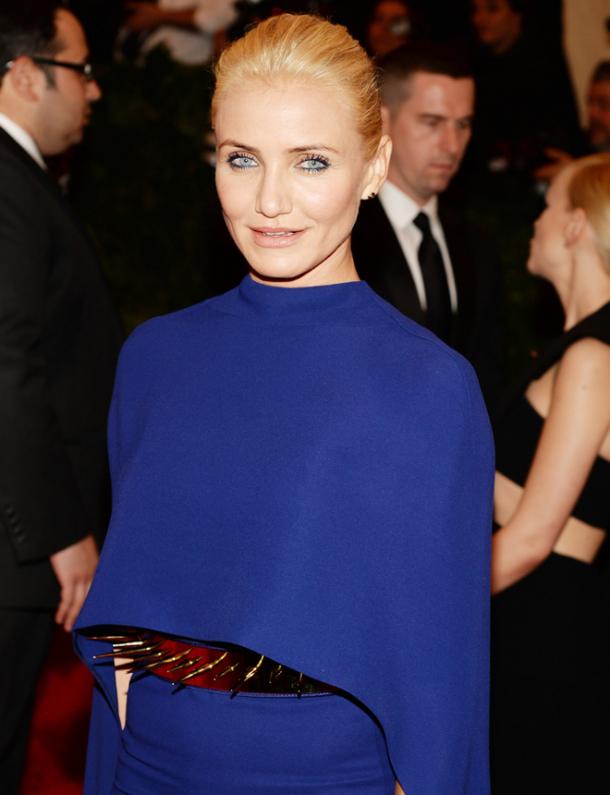 Unlike many of his colleagues, Gwyneth Paltrow decided to abandon the spikes and pins and put on the red carpet of bright pink evening dress. In this outfit was not deprived of originality - a transparent insert on the chest and sleeves as if divided into two dress. And it will agree, looks impressive.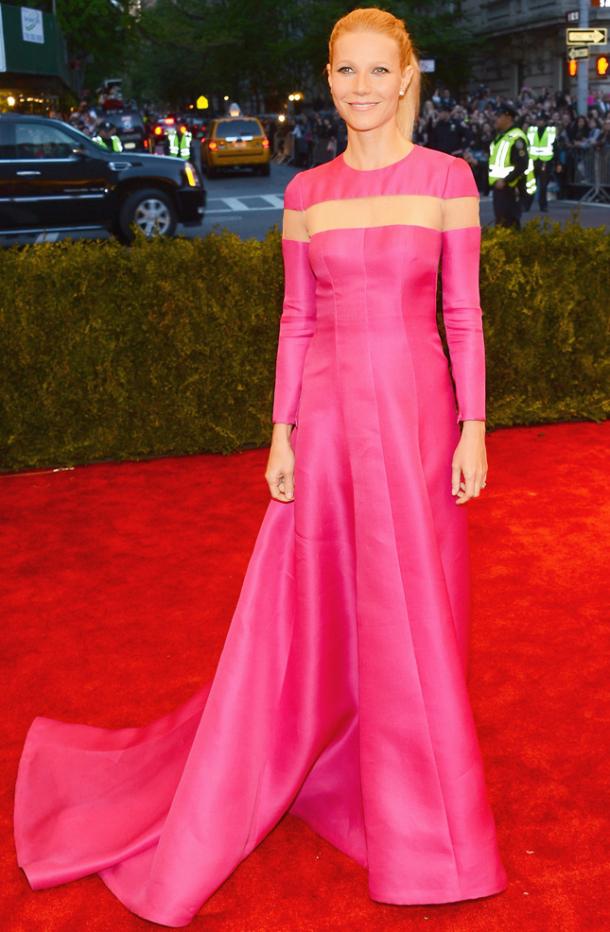 The spectacular ensemble of Maison Martin Margiela showed us Gwen Stefani. Rejecting the cellular tissue, and so that the singer is in everyday life, Gwen made a bid for relaxed silhouette and understated graphic quality.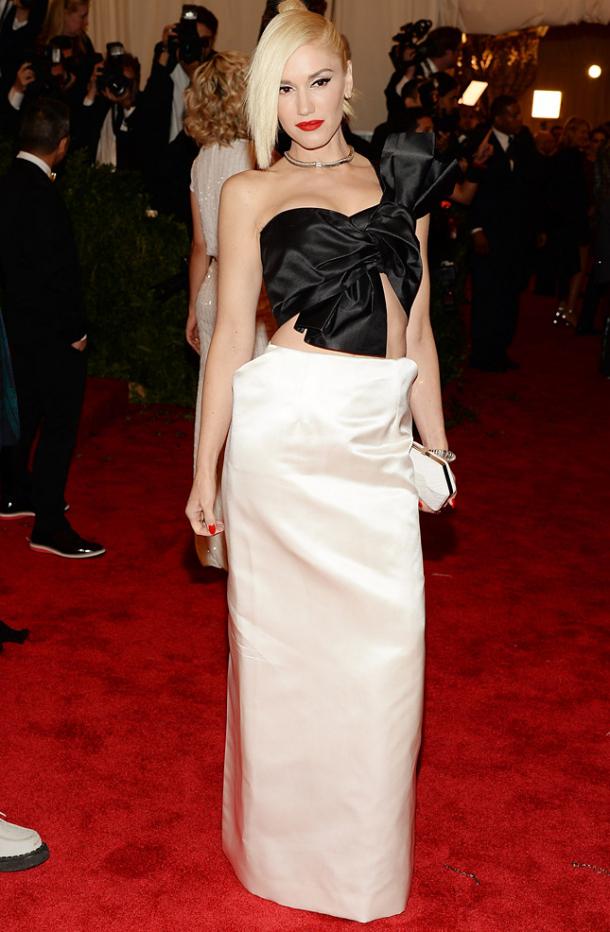 Selecting a luxurious floral print, Kim Kardashian made a big mistake - a small ornament turned it into a big ball with a small head. In contrast to his beloved West Kani decided to bet on the classic suit and has not lost.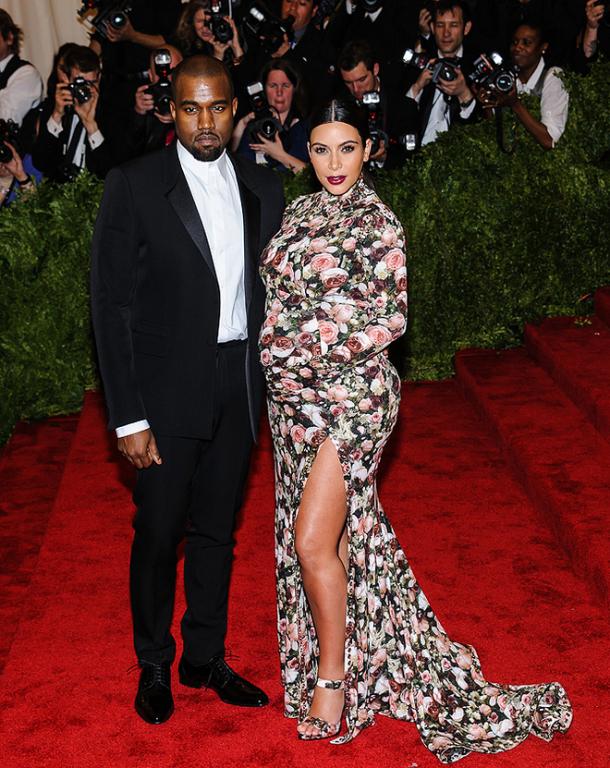 Alexa Chung in Erdem. Translucent black outfit with exquisite embroidery - the perfect choice for a punk party. He did not like the costume for Halloween, but it fits perfectly into the atmosphere of the event.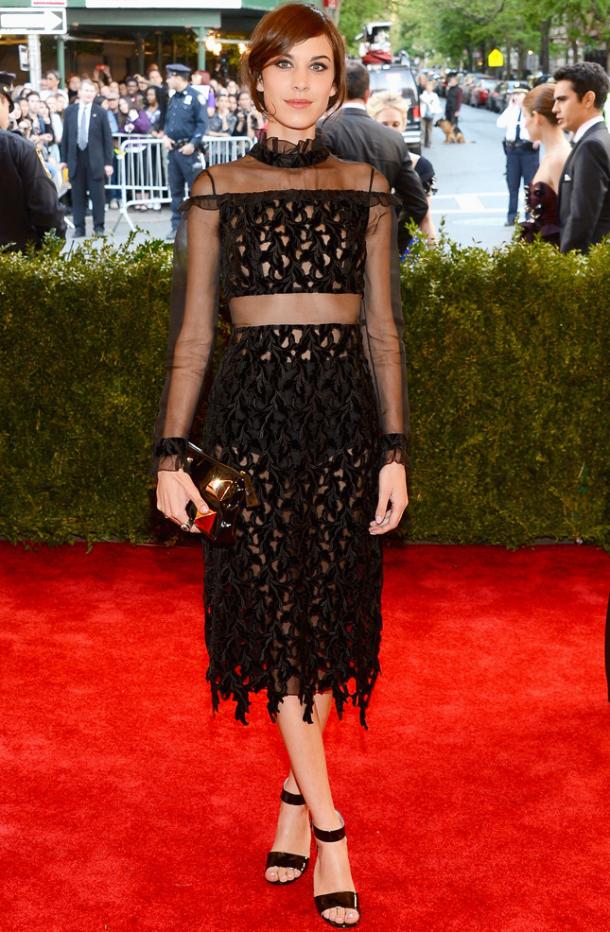 Felicity Jones at Proenza Schouler. Not a bad dress, but, in my opinion, it looks boring.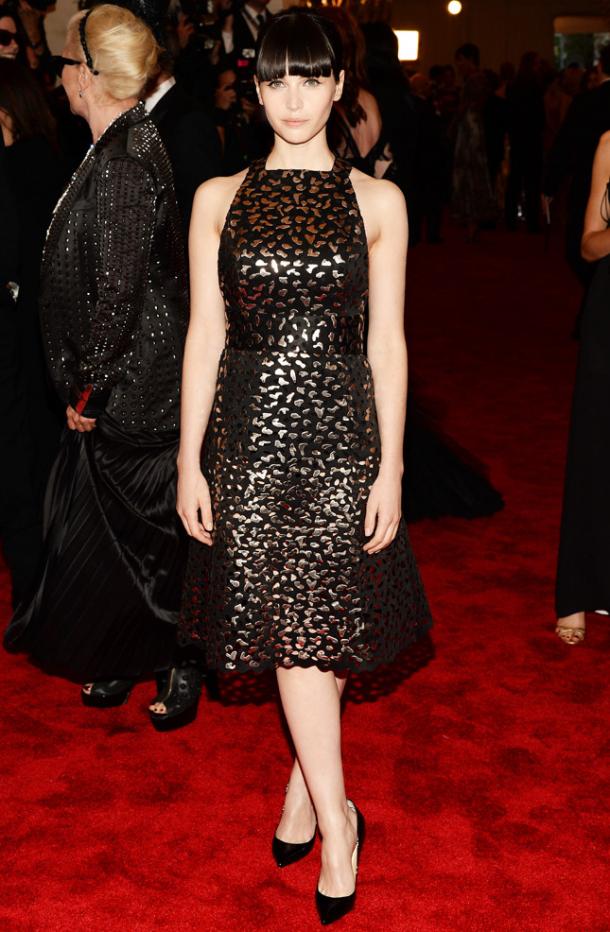 Kristen Stewart - one of the few who chose for the event overall. Red silk ensemble with abundant large embroidery - the choice is very original, though not sitting perfectly - this style trousers distorts the shape.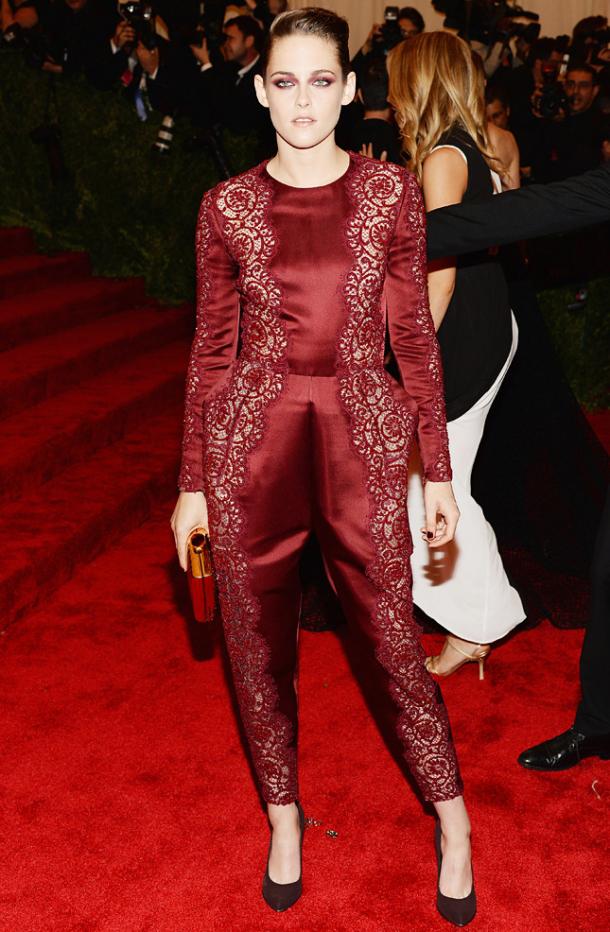 Kirsten Dunst Louis Vuitton. Dark green dress with snakeskin effect on the bodice and feathered skirt looks organically only this original event.
Julianne Hough and her spider's web. With this outfit important not to overdo it, otherwise it will go in the closet waiting for the next Halloween.
To be continued ...