Nicole Scherzinger was the "highlight" on a grand disco "Asқaқtay ber, Astana!»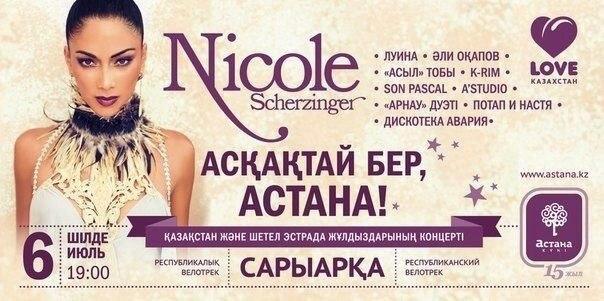 Nicole, as befits a superstar demanded in Astana luchshee.V only five-star hotel room, she ordered Indian dishes and pink champagne. The ex-soloist of The Pussycat Dolls rolled in a separate executive car, as well as her team of ten people. However, Nicole arrived five dancers - dark-skinned and athletic. If desired, they could play the role of security. For his concert in Astana Nicole it includes not only the songs, but hits The Pussycat Dolls.
Behind the scenes covered with drops of sweat pearls star shared her impressions with the sharks of the pen. All this time, six pairs of bloodshot eyes fiercely guards drilled nowhere who took journalists.
- I was in Kazakhstan - Nicole admitted, smiling. - You have such interesting looks and affable people! By the way, in my veins flows besides Philippine and Russian blood. My middle name Praskovja. So I called my Russian grandmother. And my hair is Asian - thick and black. As cheekbones.
Nicole admitted that every day is engaged in dancing for 5-8 hours and do not trust anyone to put themselves make.