December 7, 2011
Mind blowing beauty of a woman (neither give nor take) Nicole Scherzinger leaving a restaurant in Manchester. For a dinner with friends the singer chose a total black-bow - a perpetual trend among the stars and beyond. Frankly, that she, unlike Angelina Jolie black talking a lot more, although earlier it was different ... Nicole image is quite simple, but very sexy, because it turned out real black panther. Shuba delicious, although I do not welcome the carrying of natural furs. As for the rest, I am more than sure that the dress fits perfectly on her figure.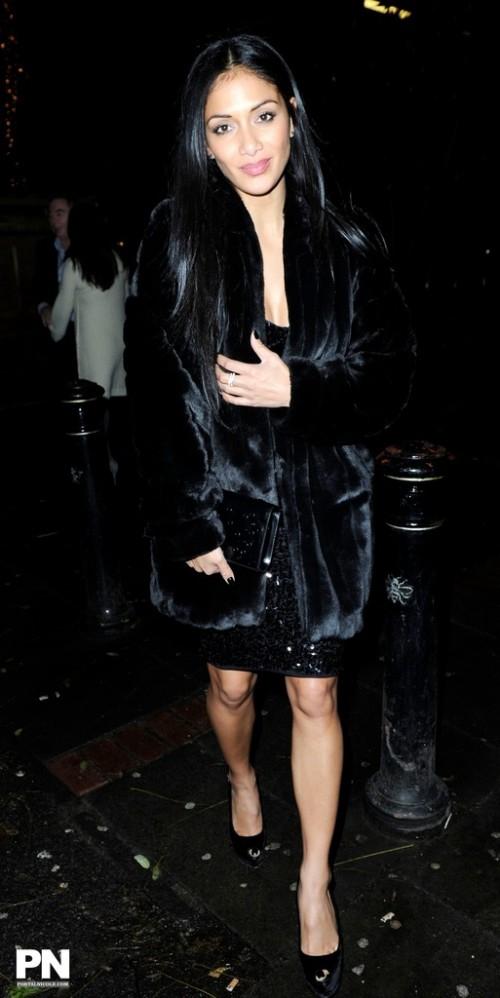 December 21, 2011
Nicole left the Hollywood party. Burlesque know it firsthand, because it is a former member of «The Pussycat Dolls» and this image is in the best tradition of burlesque divas approached her perfectly. Brilliant dress emphasizes beautiful legs Scherzinger and hairstyle completes the image. One thing I do not like - too bright make-up, but without the night anywhere, especially on the party.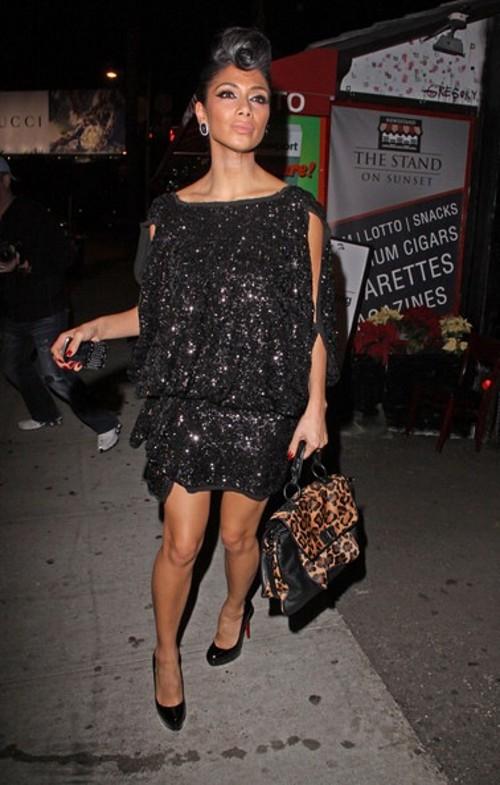 January 26, 2012
Nicole goes to the airport LAX. Again, absolutely black onion, but I like the choice of clothing of this singer. Every little thing is very fashionable and stylish image of Nicole creates and somehow his (her style, I can not be confused with someone more only with Beyonce). Of course, not original, but beautiful.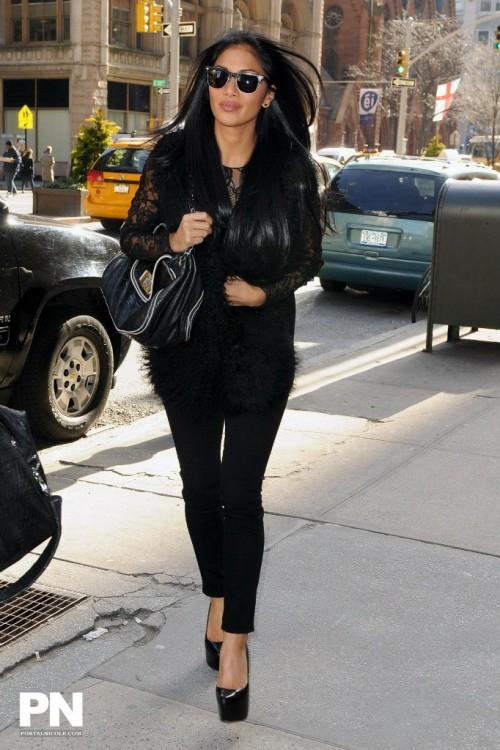 January 30, 2012
Nicole rushes for New York, as always in a stylish way. Now she is no longer in black and warm clothing blue and gray tones. She sat perfectly still, so at least that it pulled everything will look perfectly (though, of a bag of potatoes for such a woman, I would not put them under any pretext, she is beautiful too). I like this free, but at the same time sexy (due to tight jeans) image. Simple, convenient and without unnecessary frills.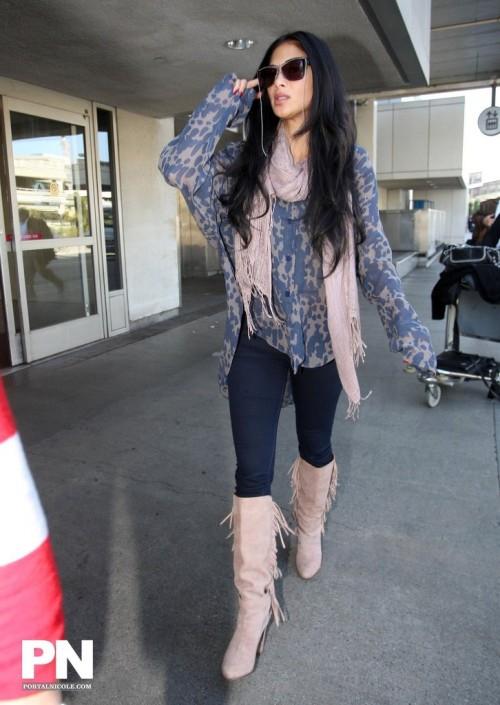 February 1, 2012
The third in a row image large sunglasses adorned with Swarovski crystals. It so happens that the glasses distort the face, but in the case of Nicole's different, it really points go. But that image somehow does not cause positive emotions. Okay black, but too vulgar. Like Christina Aguilera it seems that Nicole sometimes forgets about the existence of skirts. I do not like that image.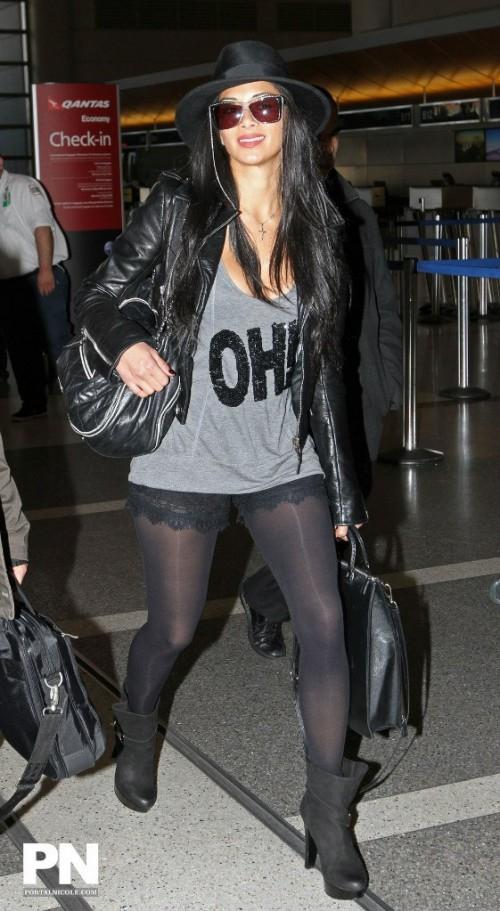 February 19, 2012
Nicole goes to «Boujis Club» in London. Luxury suit of shiny fabric with a luxury body Scherzinger looks magnificently. It would seem that such an unprepossessing shapeless-looking thing (well, except that the fabric is impressive), but Nicole her decorate, so this is another proof that clothes do not make the man, but man clothes. Do not be surprised if she was the best club.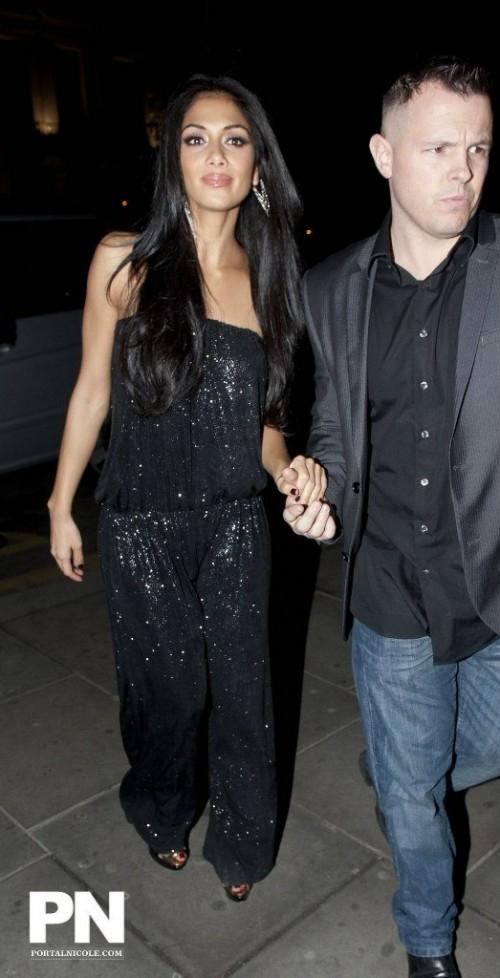 February 20, 2012
Shopping - is a serious matter and Nicole decided to be on the ball, even on the n-hour choosing new outfits. Leather boots with high heels, tight pants and corset - is to dress like shopping? I think not, but if she is comfortable, then so be it ... Personally, I do not go shopping in this way, and it pleases me, but everyone is different.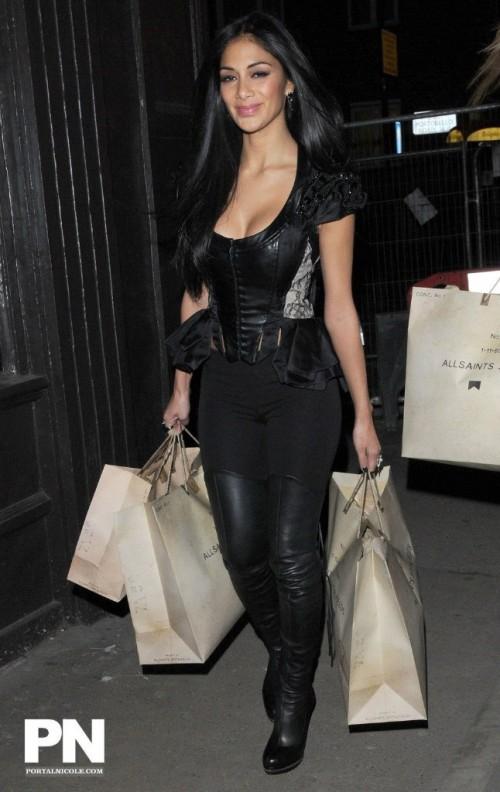 February 21, 2012
Reunited couple - Nicole Scherzinger and Lewis Hamilton - paced the streets of the French. Out and about somewhere in the south of France in love hold on the handle, giving their relationship a second chance. Nicole looks surprisingly easy to elongated jacket with a belt, but the image in my mind is original and cozy. Very harmonious couple, hope they have it for a long time.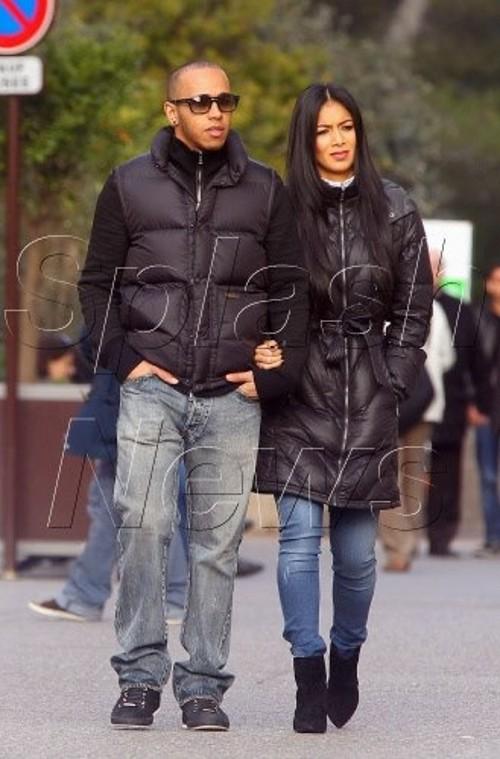 March 11, 2012
Nicole at the airport LAX (Los Angeles). Life of a Star - constant flights and sometimes tired of heels Nicole chooses simple shoes on a low platform, and, tired of the attention, hiding their ideal figure. Onions below a good example of when a star wants to move away from their status and be an ordinary man disappeared into the crowd (it's true, no one comes out).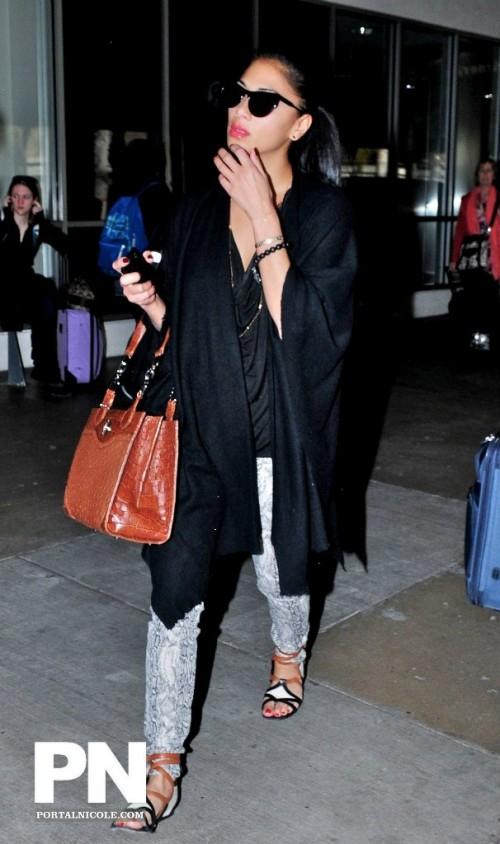 April 4th, 2012
Nicole and Lewis leave the London club. The perfect woman, a single flaw in the figure and face! I do not know where she had a temper, but I advise Lewis quickly to propose to her. A wonderful short dress and long boots sitting on a gorgeous figure and looks decent, at least for the club is very good option.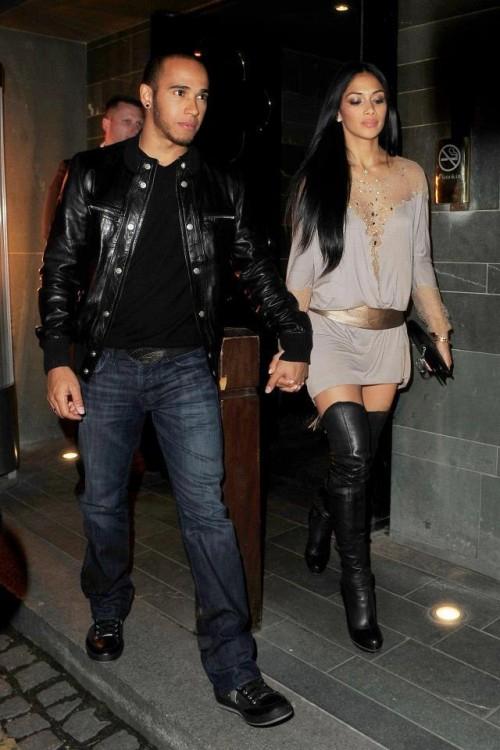 April 6, 2012
Nicole at Heathrow. The image is quite good, but the colors are somehow not in harmony with each other, which is very strange, because Nicole knows how to choose the color. Figure excellent, select More and boots.