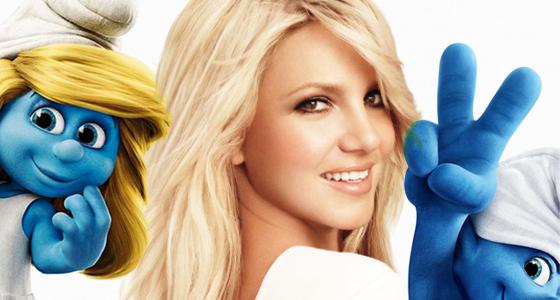 Britney is back! Pop princess finally pulled herself together, adjust a working mood and settled in the recording studio, working hard on new material. Just last week, blond recorded a song entitled «Ooh la la», which became the soundtrack to the sequel of the adventures of the blue men - Smurfs. A few days ago, the world saw the video for this track, has managed to become a hit. In the shootings took part and the children of Miss Spears - fans of cartoons about the Smurfs, so the video turned mischievous and summer.
Britney, her son Sean and Jayden and Smurfs in the video «Ooh la la», RCA Records, 2013.
It should be noted that Brit - is not the first singer participating in the soundtrack to the animated film.
Among the performers to popular audio multi present many popular personalities.
Katy Perry
Other Hollywood starlet Katy Perry also made a contribution to the history of cartoons in 2010, writing for the film "Madagascar 3" song Firework.
Lady Gaga
Hit «Americano» freaks from the queen Lady GaGa joined the list saudtrekov the animated film "Puss in Boots", released in 2011.
Christina Aguilera
In 2007, together with the reppershey Missy Elliott, fiery diva recorded track to the film "Shark Tale." Composition «Carwash» was ideal for the final scene.
Avril Lavigne
Canadian singer in 2010 to join the world of Tim Burton fantasy, created for the film "Alice in Wonderland," a ballad «Underground».
Antonio Banderos and Eddie Murphy
At the end of the second part of the epic about Shrek and his friends Donkey and Puss in Boots irresistible sung the legendary Ricky Martin song Livin`La Vida Loca. Vocal Murphy and Banderas, though not up to the level of Latin American singer, but sang the donkey and the cat just lazy. Bright composition bright cartoon!
Sir Elton John
For the animated film "The Lion King," which later became a Hollywood classic animation in 1994, the master performed a lyrical song «Can you feel the love tonight». Melody remembered from the first listen, and not for nothing settled in the collections of the multitude of music lovers.
Sacha Baron Cohen
If we talk about the main soundtrack for the first part of the cartoon "Madagascar" - first of all recall the masterpiece «I like to move it». Sit still under the groovy rhythm is extremely difficult. Julian King, voiced "Borat" and "dictator" Sacha Baron Cohen - not just a born comedian, but also a great hip-hopper!
Ilya Lagutenko
Domestic Star lag behind overseas counterparts and are actively involved in the creation of soundtracks. Naughty hit "Kung Fu Panda" to the same name back in the multi significantly in 2008 contributed to the popularity of paintings in Russia.
Maksim
Marina Maximova, better known under the pseudonym of Maksim, scored twice: voiced the main character of the cartoon movie "Enchanted" and sang all the vocal compositions in the film. Disney came in nice and organically.