Exactly 192 years ago, August 4, 1821 was born the man whose name is now synonymous with luxury - Louis Vuitton, the founder of the fashion house Louis Vuitton. French master in manufacturing travel bags had not suspected that glamorous girl in all the world will be spread in Instagram photos with his monogram handbags. Vuitton invented a compact suitcase, which made the success of the rich European puteshestennits accustomed to carry a bulky chests. One of the most loyal clients Vuitton was Empress Eugenie, wife of Napoleon III. Now the range has expanded considerably, and the fashion house Louis Vuitton entered the world's largest holding company LVMH. With the arrival of Marc Jacobs for the post of art director in the late '90s, the brand divisions appear ready-made clothes, shoes, accessories and jewelry. Today, Louis Vuitton is represented in 53 countries around the world.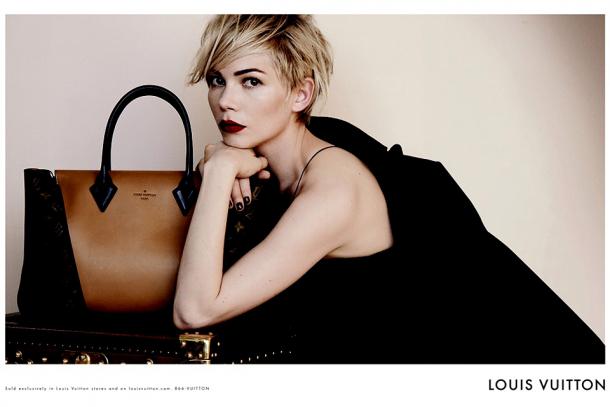 At the beginning of the twenty-first century, Louis Vuitton has become not only the undisputed leader in the segment of luxury handbags and leather goods, but became one of the first brands that make the face of their collections not only models, but also well-known musicians, athletes, actors and even politicians and astronauts.
We present you a selection of promotional images for the campaign Louis Vuitton Core Values, taken by photographer Annie Leibovitz. Eternal values ​​(or main value) - this is one of the most successful advertising campaigns in the fashion industry. It illustrates the life journey of the great men of our time, which accompanies them modestly "eternal" bag monogrammed LV.
1. In the photo - US astronauts Buzz Aldrin, Sally Ride and Jim Lovell. Slogan - Some travel change mankind forever.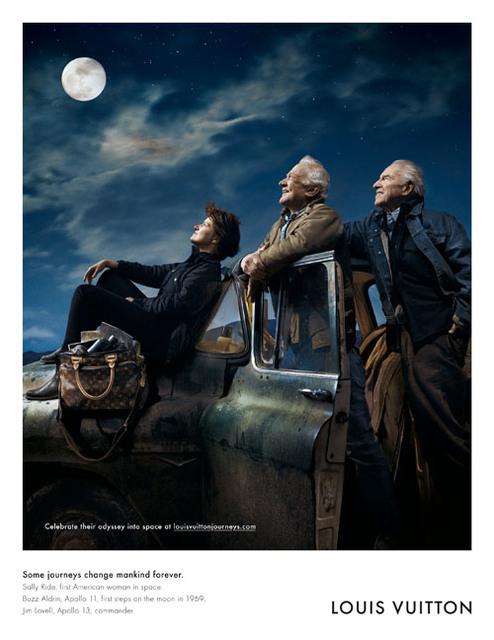 2. Legendary footballer Zinedine Zidane, Pele and Diego Maradona playing foosball. Slogan - Three exceptional way. A historical game.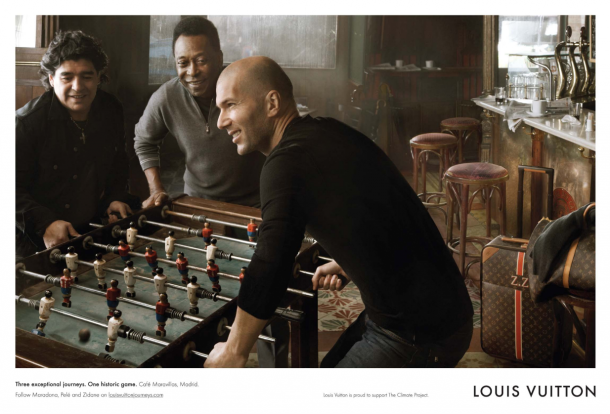 3. Mikhail Gorbachev on the background of the Berlin Wall. Slogan - Travel puts us face to face with ourselves.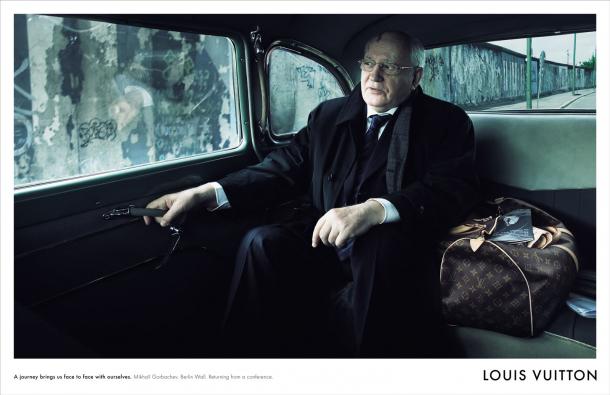 4. Legendanaya gymnast Larisa Latynina and swimmer Michael Phelps. Slogan - Two extraordinary way. Only one way to get there. (This refers to - to reach the final, becoming the first only)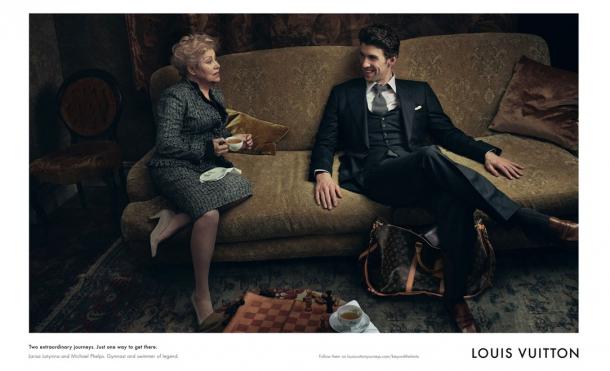 5. The best James Bond of all time - Sean Connery. Bahamas, 10. 07. Slogan - There are journeys that turn into legends.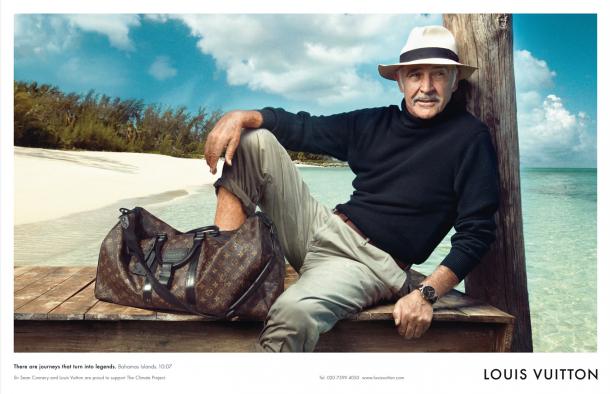 6. Actress Catherine Deneuve. Slogan - Sometimes the house - it's just a feeling.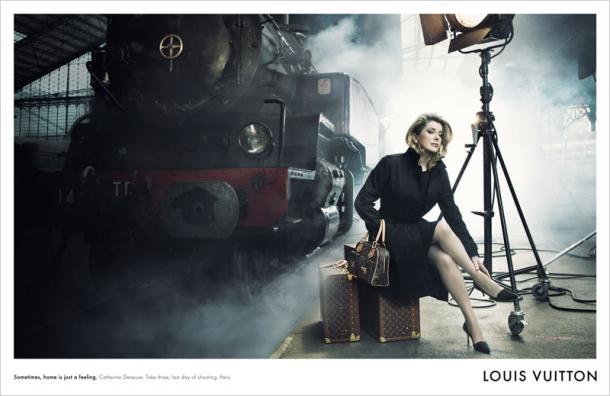 7. Directed by Francis Ford Coppola and his daughter, filmmaker Sofia Coppola in Argentina. Slogan - within each story has a wonderful trip.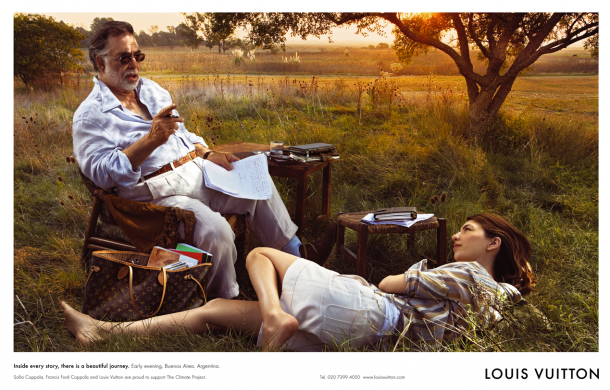 8. Tennis Steffi Graff and Andre Agassi. Slogan - Is there a more beautiful journey than love?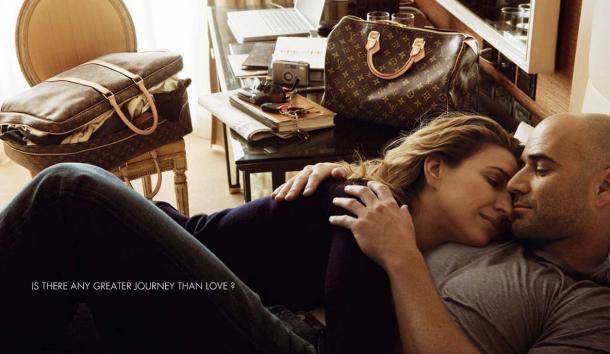 9.Bokser Muhammad Ali with a child. Slogan - sometimes stars indicate you the way.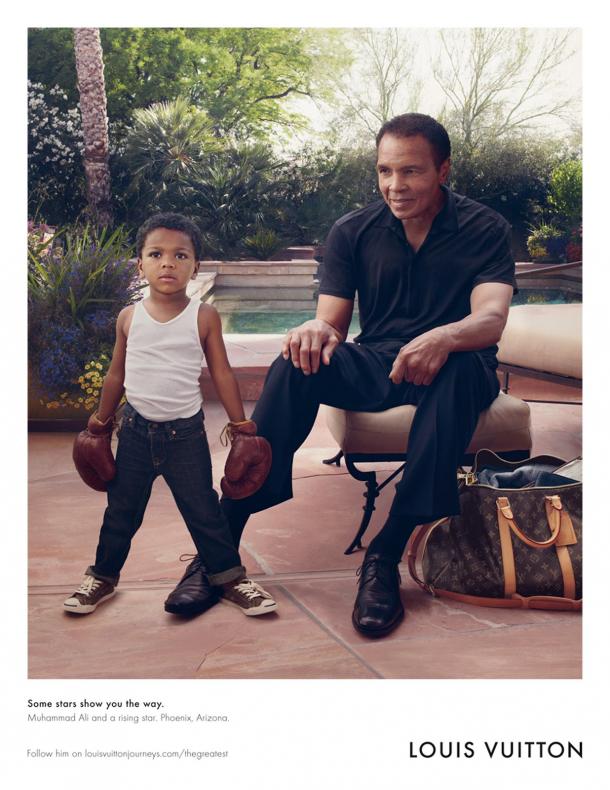 10. Rolling Stones guitarist Keith Richards. Slogan - Some travel is impossible to describe in words.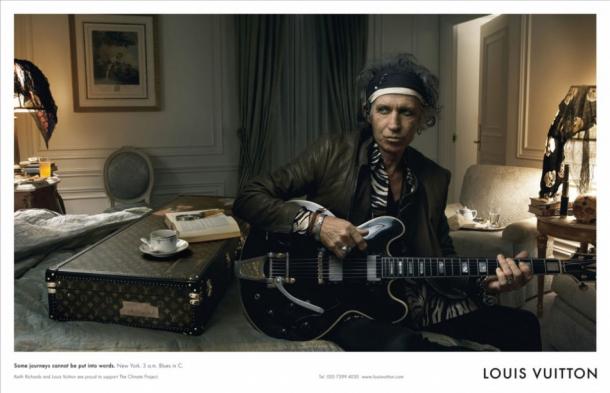 11. Anne Leibovitz and Mikhail Baryshnikov in the studio of the New York studio Ann. Slogan - Star journey, captured with flash.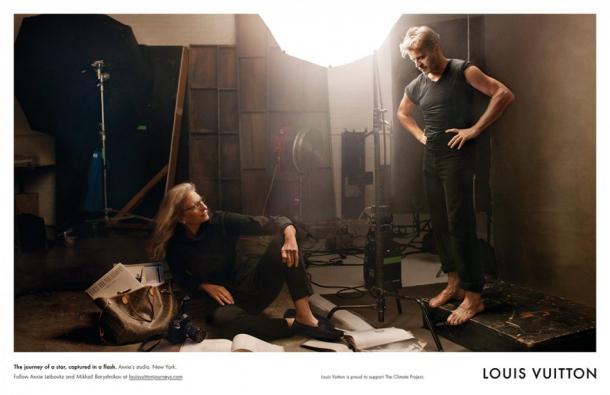 12. Bono and his wife Ali Hewson. Slogan - every journey began in Africa.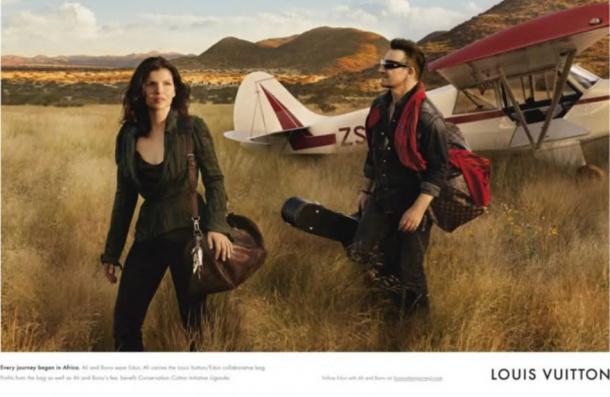 13. Angelina Jolie in Cambodia. Actress snimalsas own clothes and with his bag LV, which is more than 6 years. Slogan - One trip can change the entire course zhizni.