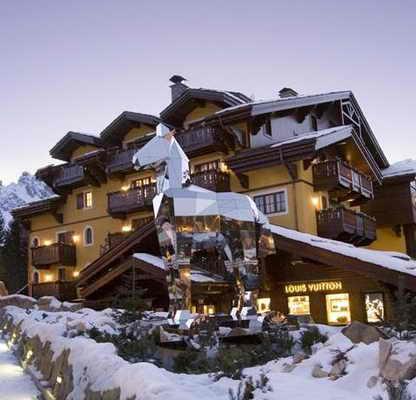 Owners ultralyuksovyh hotels expect new competition from well-known French luxury goods company LVMH Moet Hennessy Louis Vuitton, writes Wall Street Journal.
Photo: Hotel Louis Vuitton Cheval Blanc in Courchevel.
Representatives of the company LVMH also said they plan to establish a unit LVMH Hotel Management, "to exercise control and supervision over the activities of the group in the sector of luxury hotels" and "maximize the value of their brands».
Two stylish new hotel called Cheval Blanc (White Horse) in honor of the vineyard LVMH, currently under construction in Oman and Egypt, and is expected to be opened in 2012.
Hotel Maison Cheval Blanc in Oman is located on the island of Al sodas (Al Sodah), whose area is 11 square kilometers and includes 32 luxurious private villas.
In Egypt, the hotel is built on a private island in Aswan Amun, and it will include 40 luxury apartments with views of the Nile, the representatives of the company LVMH.
Representatives of the company LVMH added that "other hotel projects are currently being studied for networking in exclusive areas." Although it is not thought leaders LVMH opens Kiev hotels, we hope that in the near future and we will have similar luxury hotels.
The first hotel under the name Louis Vuitton Cheval Blanc was opened in the French ski resort of Courchevel in 2006, the move marked the expansion and development of the hotel business known fashion brand.
Hotels LVMH will be parallel to the showroom for many of its brands. In the luxury Hotel Cheval Blanc in Courchevel has a spa Givenchy, and visitors can buy products design line Louis Vuitton and Dior directly at the hotel.
As with many of the leading operators of hotels, LVMH limits the scope of its own impact on the hotel industry unstable.
The brand will not acquire their own property or engage in financing the construction, and instead launched a network of resorts under its own control, similar to other high-end networks, such as The Ritz-Carlton.