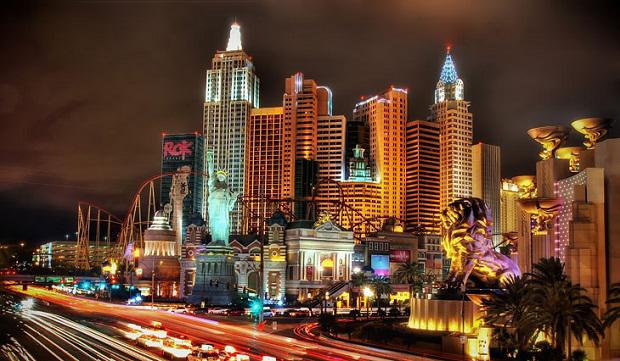 Las Vegas - the legendary and unique city, completely dedicated to recreation and entertainment. Hotels, casinos, restaurants and all kinds of shows. This is a city which is sure to want to come back ... to imagine without his famous Vegas hotels impossible. Not only that, somewhere to live, so also all the big casino is located at the hotel! The best restaurant in town is also on site, so take a walk along the famous Las Vegas Boulevard, which the locals call simply Strip.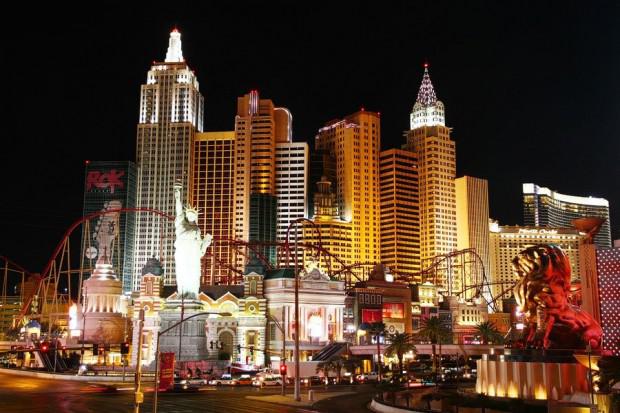 It is the largest hotel in the world - MGM Grand. Now his championship contested by some bungalows in Malaysia, but the MGM building new territory, so I'd still consider the most-most. I lived it here, and I came to Vegas for work. So on to the conference room in the same hotel I had to walk for 25-30 minutes! Imagine a hotel of this size?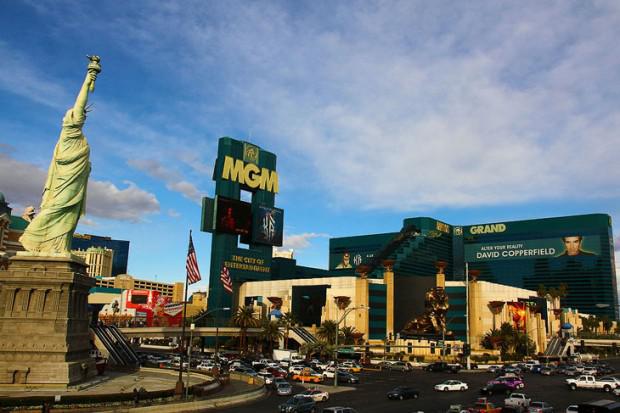 Opposite MGM Grand and New York - New York is a fabulous hotel complex strange Excalubur. Originally built for a family vacation (fabulousness was meant more for children), he was replaced quickly enough guidance on a medieval interiors and entertainment. It turned out to Vegas with children are reluctant to go - they do not give parents otryvatsya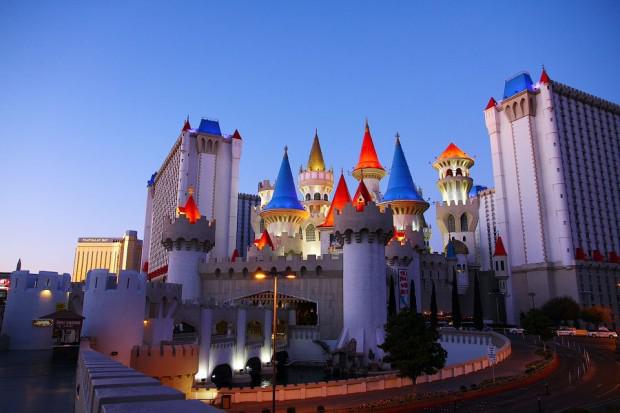 View Ceasars Palase. Each hotel in Vegas - hotel, a concert hall, a food court and Megamall in one bottle. Therefore, the buildings are constructed size of a small Parisian district: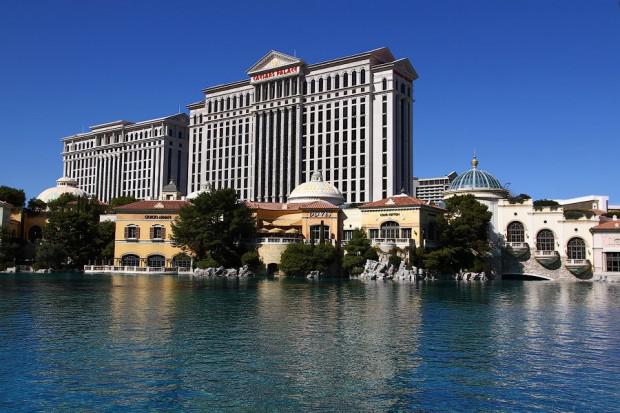 That's an example of the shopping gallery in the "Caesar's Palace". And so almost everywhere!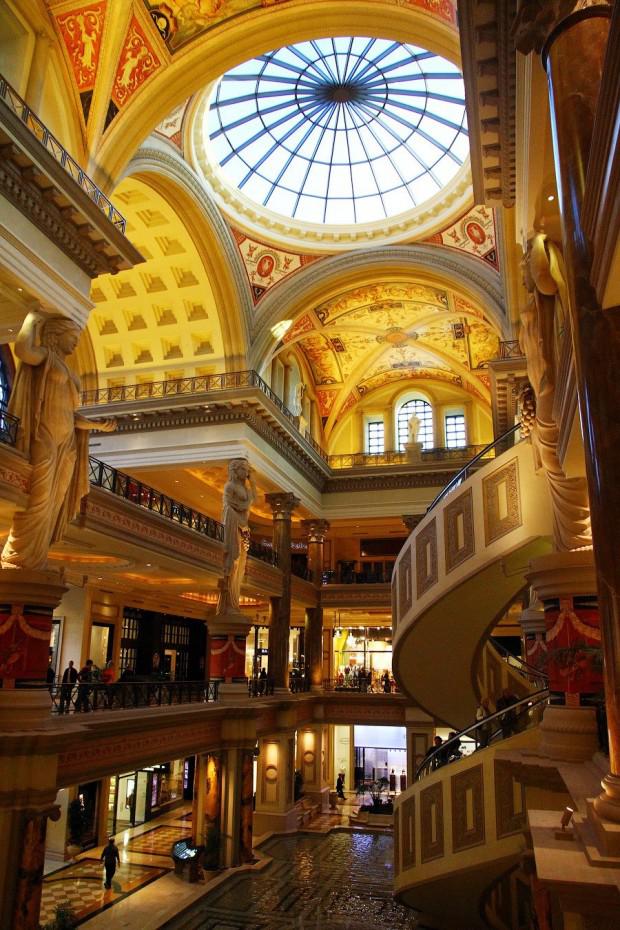 This picture should be higher under the New York - New York, but the pick here to illustrate the typical species in casinos in Las Vegas. They do not make the individual rooms, machines, poker tables and roulette are right in the hotel lobby and guests anyway go day and night through the casino. Literally the next day already want to lose a little money, not to go past the machines in vain!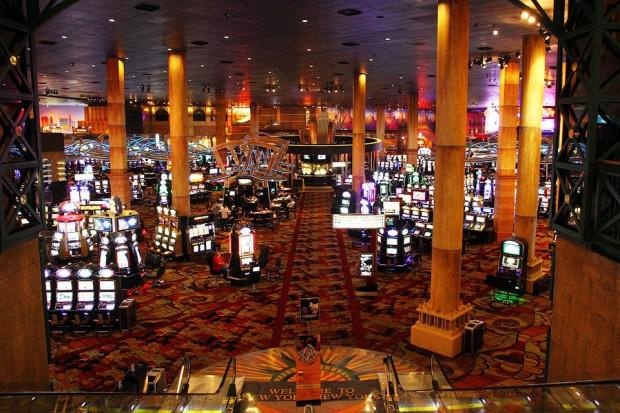 There is already 2 at once - Palazzo and Encore. I do not know why, but lived many Russian Encore: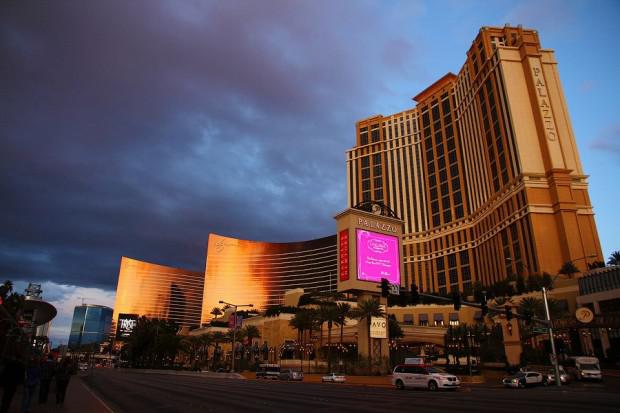 Paris! Wonderful and very authentic hotel in the French style. Next to him - Opera Garnier, Eyfleva Tower and Arc de Triomphe. Very nice!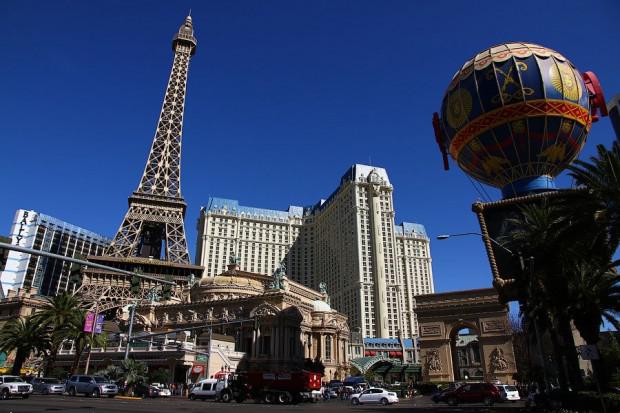 Hotel "Mirage":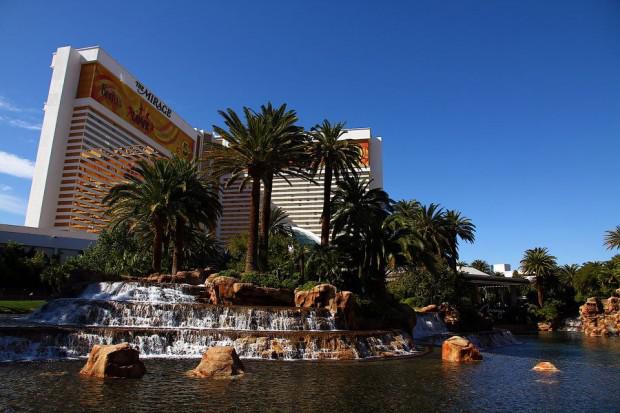 In Nevada, prostitution is prohibited, but the girls come on a call from the neighboring states, where it is permitted (about an hour). City debauchery could not do without such pranks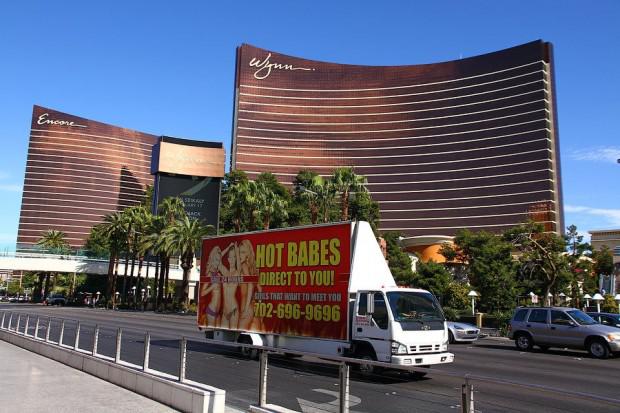 Another unique hotel - Venetian. This Venice in the Nevada sands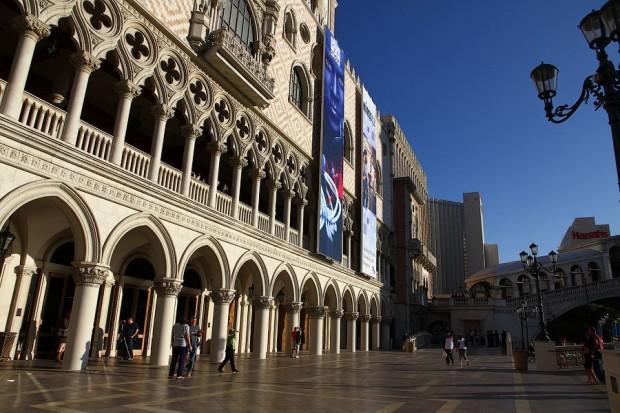 Not only that, it is built in a typical Venetian architectural tradition, so also these gondolas float!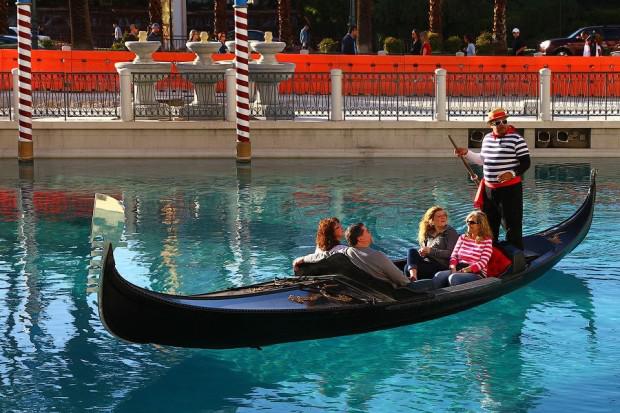 In each hotel, you can go on a tour, everything is open and accessible. But on this day will take 2-3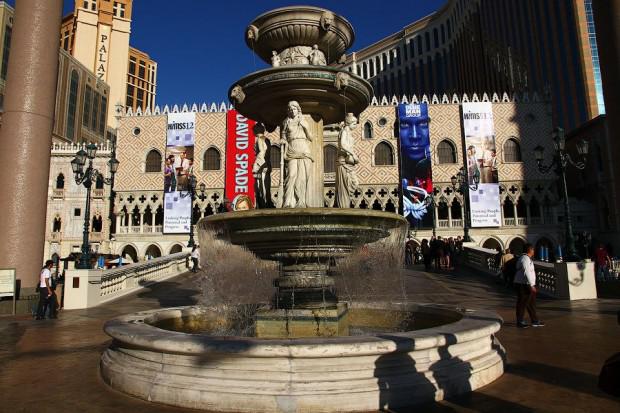 Hotel "Stratosphere". 350 meters of happiness. Especially for those who have decided to drop the top down!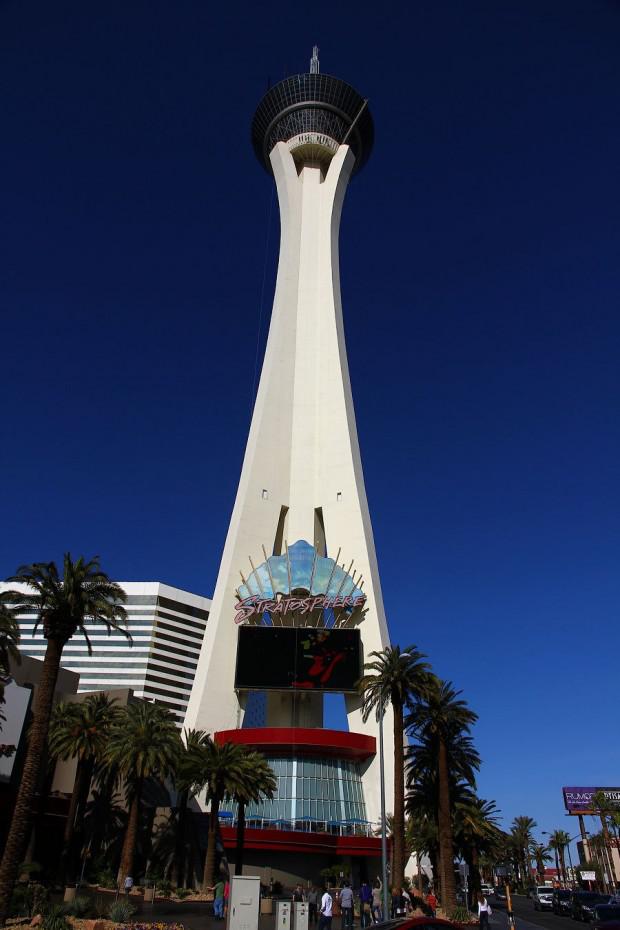 In addition to the fun rides on the roof of the tower, particularly daring can go down to 350 meters high on the winch actually in free fall (as required braking almost ground). I do not know who decided on such ...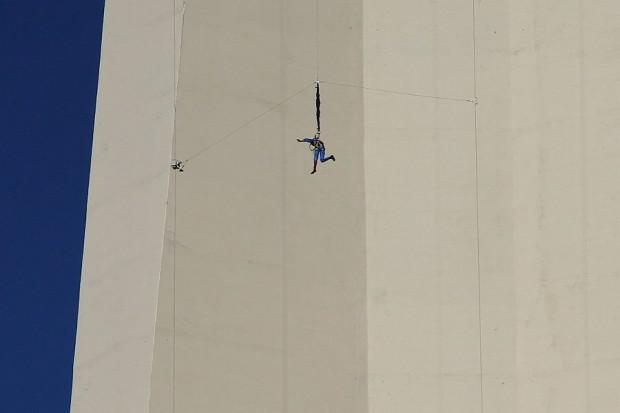 But for those not afford to live in a posh expensive hotel, there are these simple motelchiki. If expensive hotels there are only about $ 100-120 per night (hotel of this level would cost in New York from $ 600 and above), such motelchiki ready to shelter guests just 30-40 dollarov.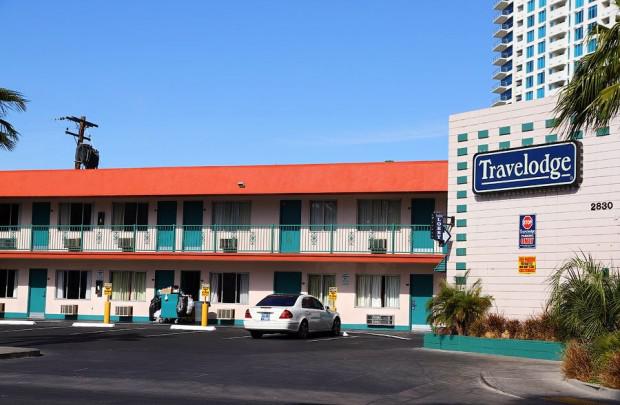 Now we walk through the night in Las Vegas. I lived in a boring hotel MGM Grand, which is no different beauty neither inside nor outside. But on the other hand was a piece of me so beloved New York - Hotel New York. All important sights of the "Big Apple" in a nutshell: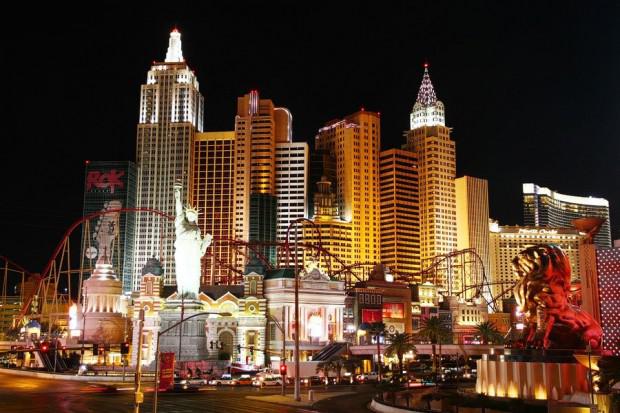 A little closer to the center (if you can call it that, because in Vegas just one major street with huge hotels, everything else looks like a big village) you can meet the real Paris. Conveniently like this walk on the cities and countries, without spending time on the flight: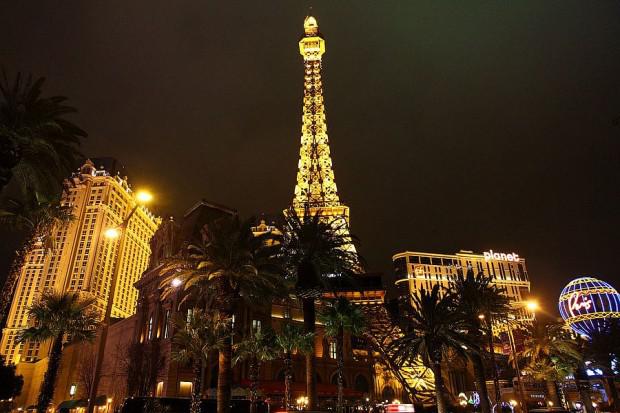 The famous Bellagio hotel, it is an action movie "Ocean's 11":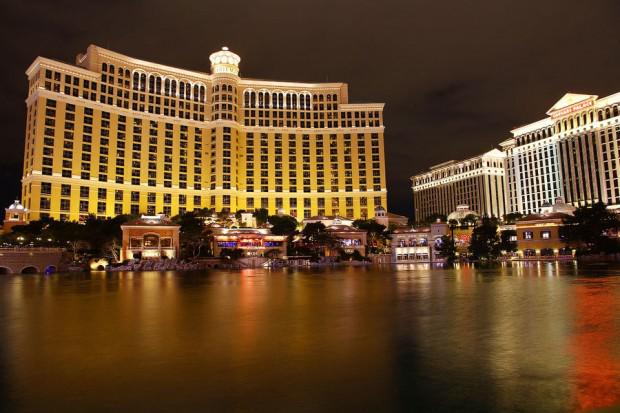 Almost every large hotel local filming a movie. But his dancing (and singing) fountains at the Bellagio only! 60,867,769
Ceasars Palace - the hotel is not less legendary, and only the size of it amazes even seasoned travelers. In Vegas, as already mentioned, it is the largest hotel in mire.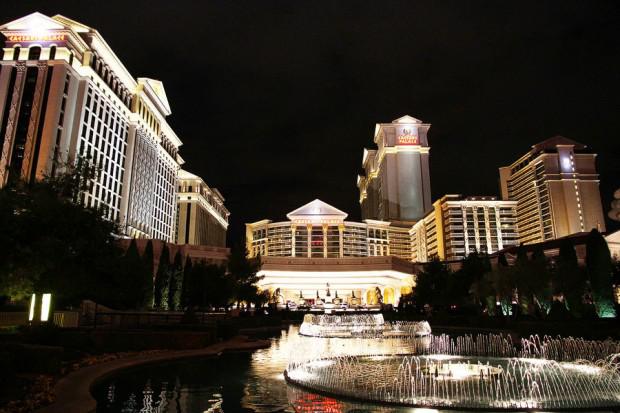 Another "icon" Vegas - The Mirage. And Las Vegas takes all kinds of world-class shows, and they stay there forever. One only representations of the circus Cirque du Soleil at the same time there are already 7 pieces! The Mirage is a show about the Beatles. Zarkana after a season in Moscow went for a few months in New York, and from there moved to Vegas.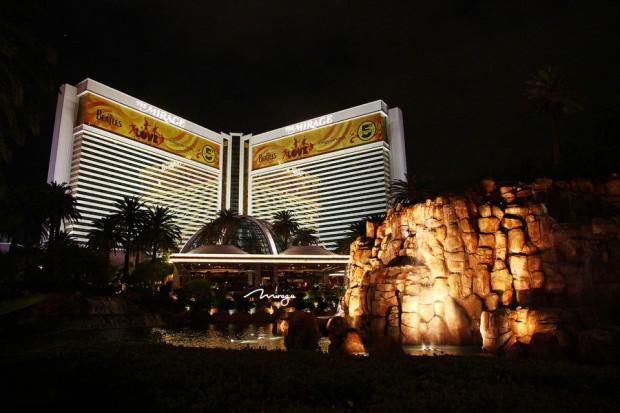 However, it is just 100 meters to deviate from the main street, as the landscape changes dramatically. All of a sudden one story, a lot of cheap motels and eating houses: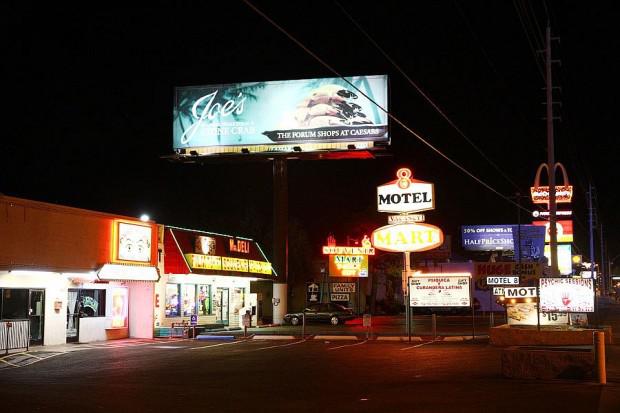 But the main event in Vegas the night - a visit to the highest local hotel - Stratosphere. 350 meters high and more than 100 floors. Bottom scale disasters do not understand, you have to climb to the very top: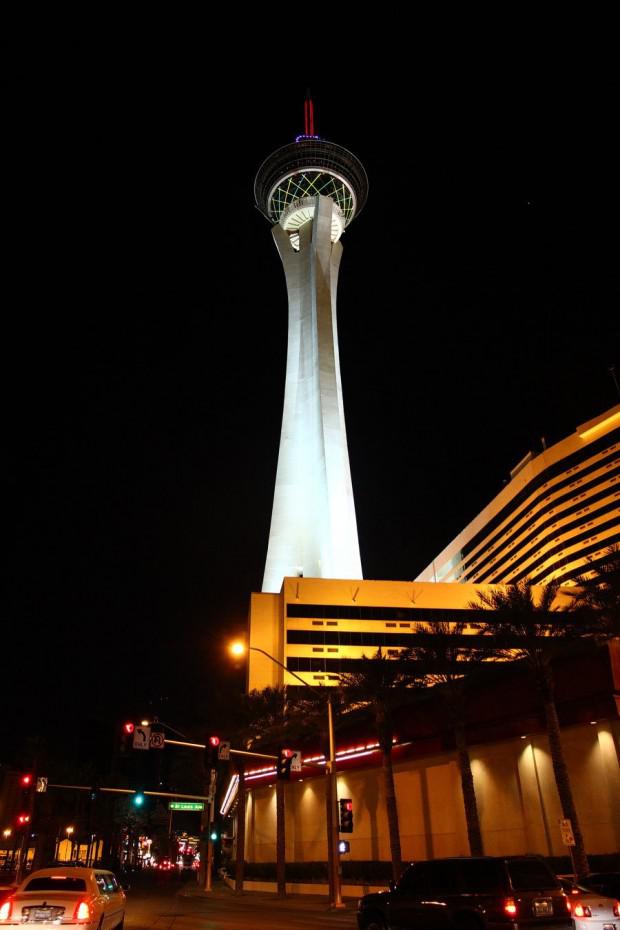 Top offers awesome views of the city. I would like to consider it for hours: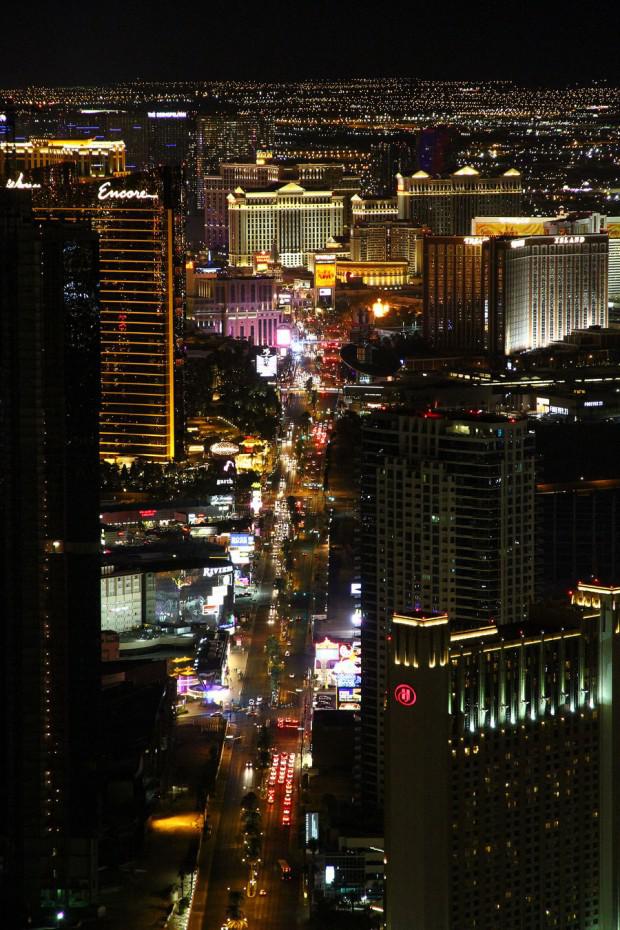 The Americans would not be Americans, if not made on the roof of the Stratosphere a small amusement park. 3 chilling attraction, each worse than any "roller coaster." All the fear that the local attractions are hanging over the abyss at a height of 350 meters!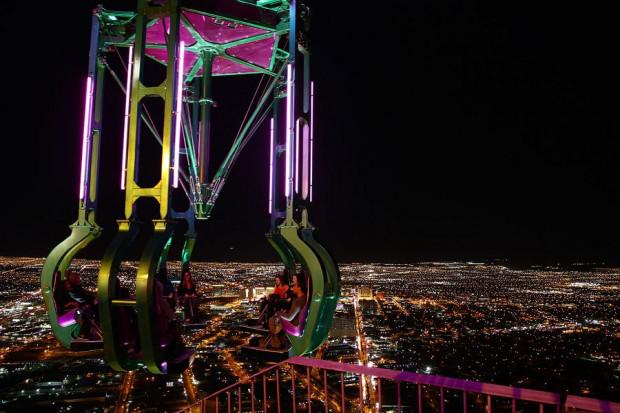 When the garbage starts to spin and rotate the seat riders down - the worst time. I broke down and closed his eyes ... very scary!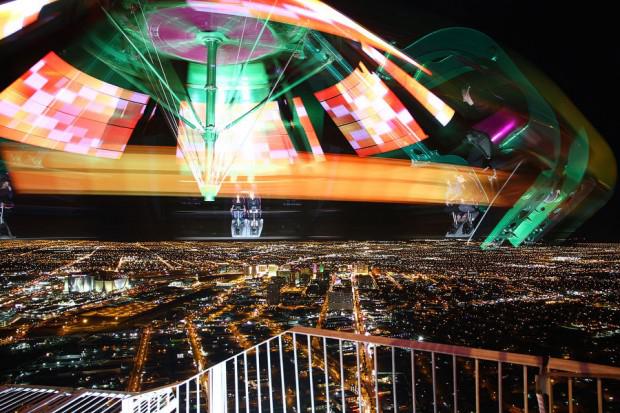 2 other attractions even more frightening, even to talk about them do not want to enjoy a better view of the night Las Vegas: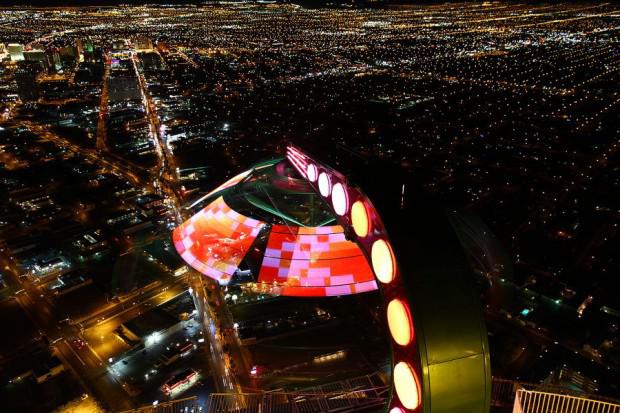 Hotels, of course, a good thing! But the city can not consist only of them the Las Vegas Strip at dawn. Night lights are turned off gradually: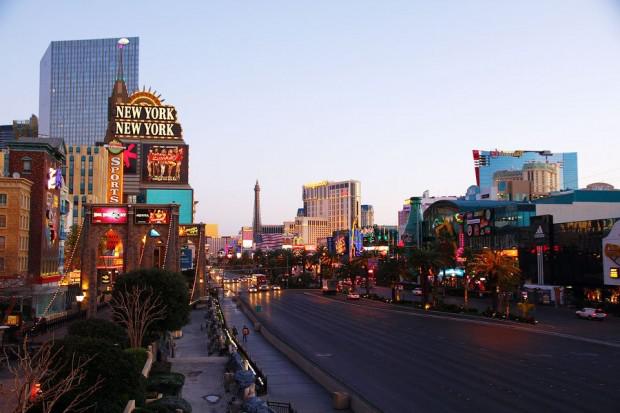 A strong desire to be like the "old Europe" makes Americans do strange things. For example - to put ancient Roman statues on perekrestkah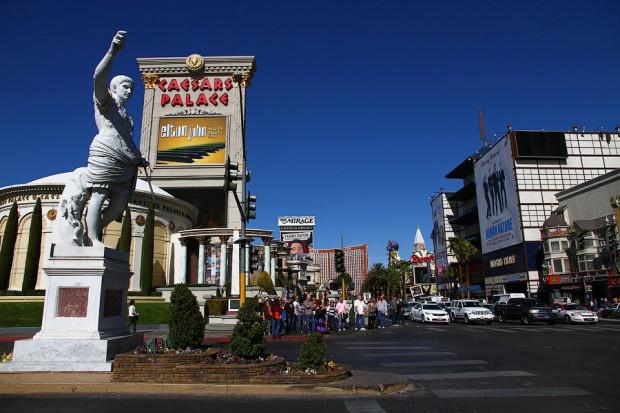 People come to Vegas to have fun and relax, and a holiday without shopping? This is the most beautiful and unusual of the shops that I've seen in America. Gucci, Louis Vuitton, Prada, and t.d.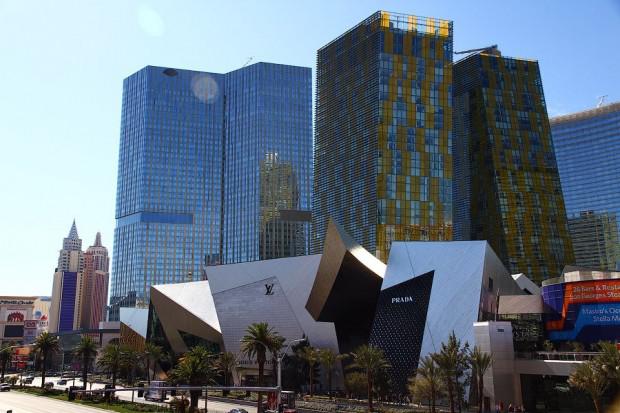 Inside, too, all very unusual, architects have come off in full! Prices for luxury brands, incidentally, is not lower than in Europe (especially in view of the mandatory sales tax and the lack of US Tax Free) .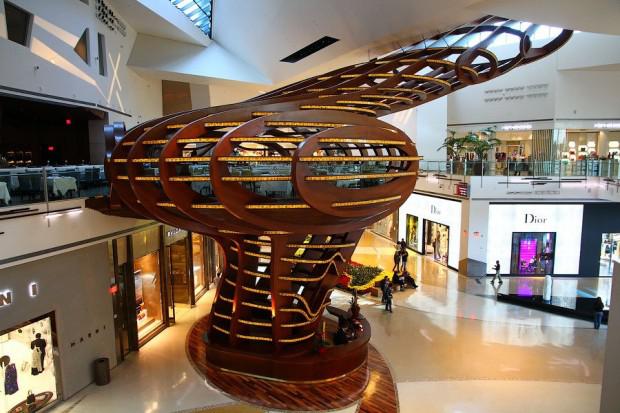 Las Vegas is impossible to imagine without a little "marriage palaces", available at almost every step. Nevada state law allows to get married (and even get married!) Right "here and now", so many Americans (and other tourists) go marry syuda.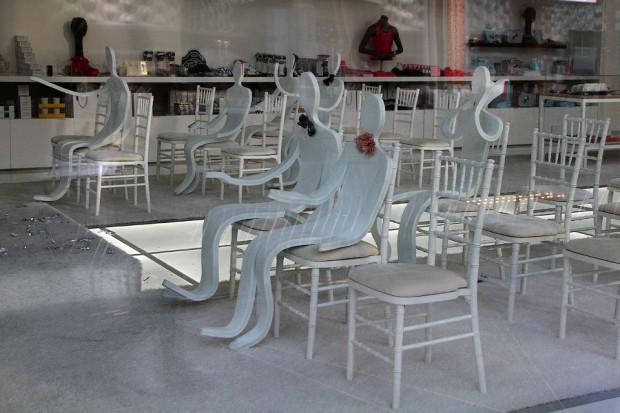 Spontaneity wedding would not normally bring witnesses here, and friends, they successfully replace the wooden figures on the chairs: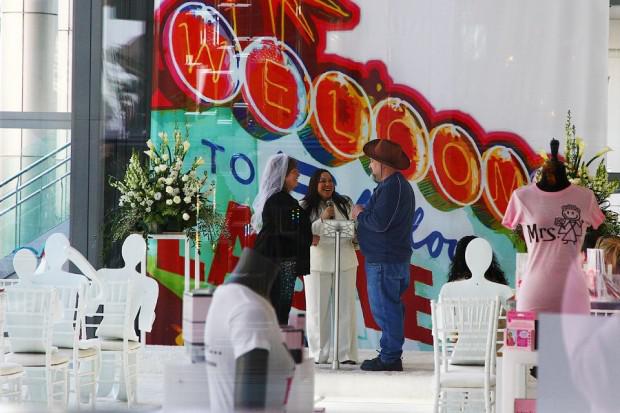 Weddings are held under the simplified scheme, without massacre and drunken songs. Wooden guests even "bitter" can not shout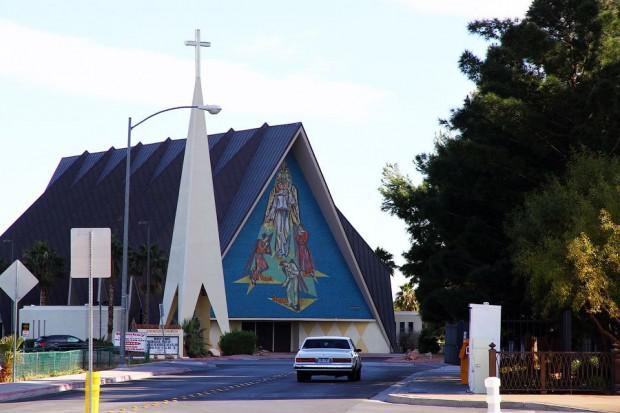 America is very tolerant of religious communities. What are the only church I've never met! Here is another example of a very unusual temple unknown to me religious movement: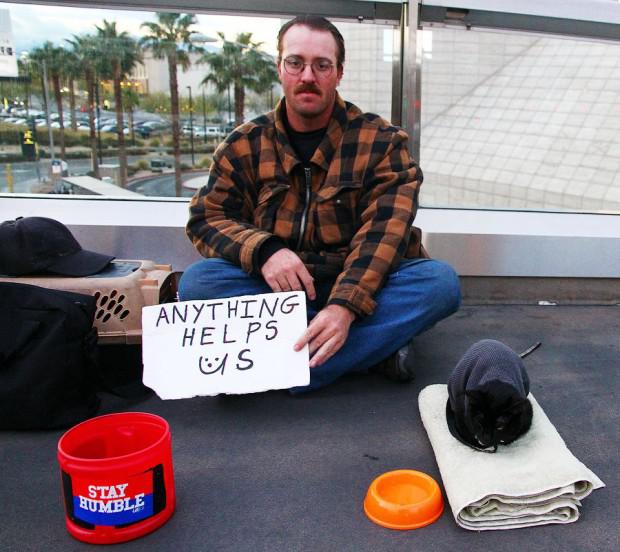 Morning and evening on the streets of many beggars. It looks pretty neat, and most of them begging they are not alone, but with koshak. Cats put pressure on the pity - the owners collect profits: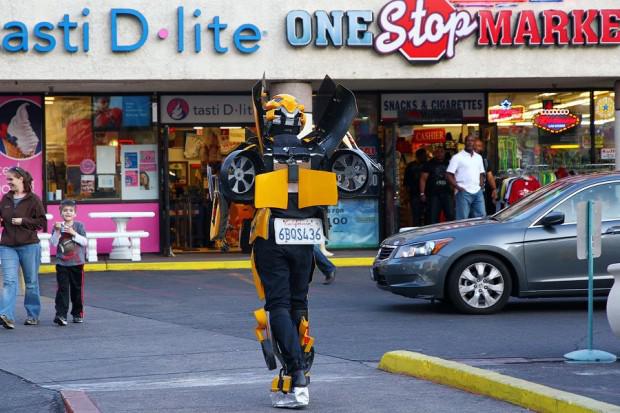 For those who are bored to sit and just ask for money in Vegas is an entire industry built on pumping money from parents through the children. The children see familiar characters of cartoons and movies, in a hurry to take a picture with them (for the status on Facebook, of course!) ... And the parents have to pay for that money. Here Bumble Bee from "Transformers" hurry home from work. I hope he has already earned his: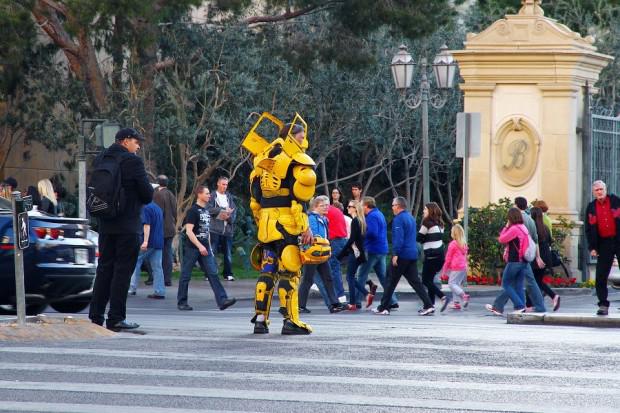 Transformers, by the way, lead me on the number of characters encountered. I do not know why they are here so fond of ...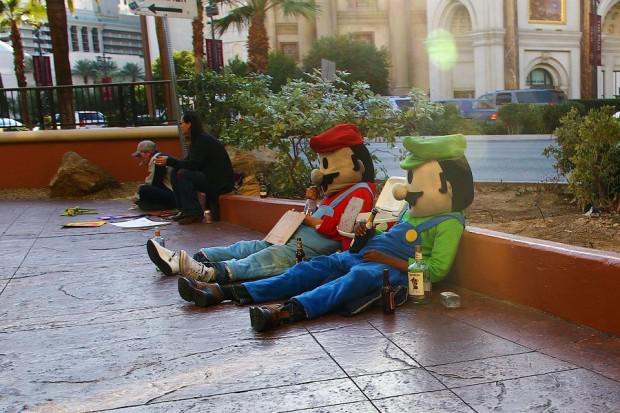 Separate genre - ravzodit money not children, and their parents immediately. To beat on pity, it is necessary to wear a suit to portray the hero and the poor. Drunk and miserable. Americans work 100%, fit and fed! 90,533,984
Garfield with Minnie Mouse, by the way, served much less than Superbratyam Mario:)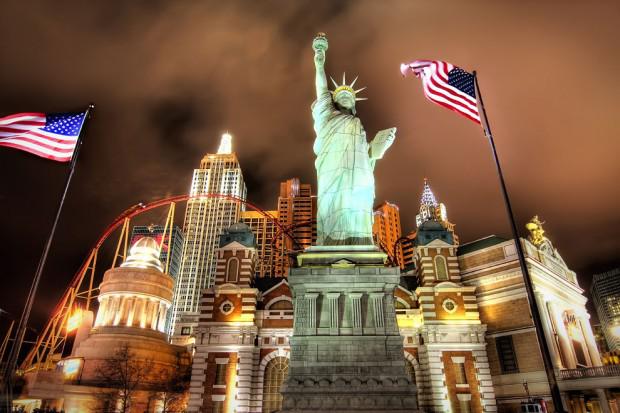 It was a walk of Las Vegas - a unique city, entirely dedicated to rest and razvlecheniyam.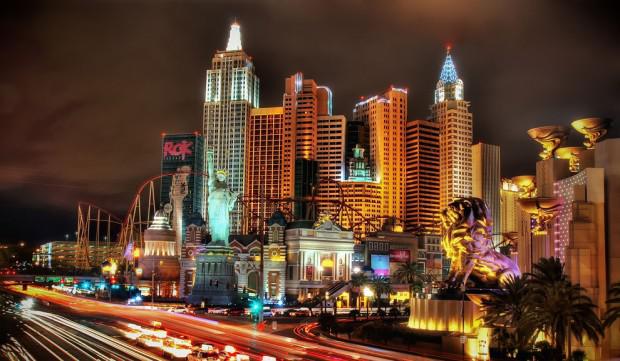 This is a city which is sure to want to come back ..)
Source:
loveopium.ru/severnaya-amerika/progulka-po-las-vegasu.html