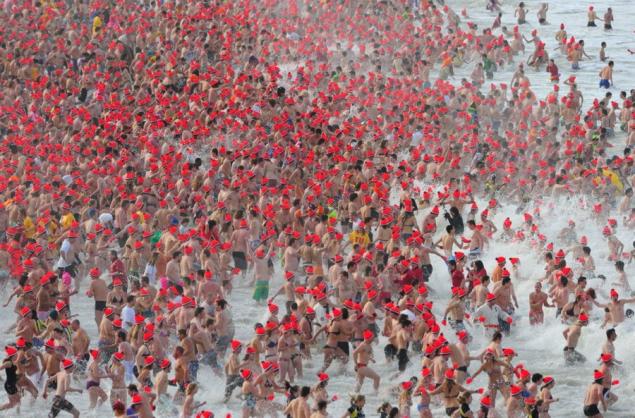 Who Dec. 31 goes to the bath. And it is a very good tradition, already consecrated decades. (At least something of the soviet heritage without spitting and sour Face accepted). And someone, as an alternative to this is certainly exciting, but not always good for your health and life event, prefer swimming in the sea on January 1st. In principle, a dip in the sea to surprise anyone problematic. (Although the 1st day of? Braves. Respect!) Here funny in another. This is not red or the Caribbean Sea. Or do any more or less suitable for the temperature regime for bathing waters. This is, for a moment, the North Sea. Of course, this is not the Barents and Laptev Sea. But it is quite chilly temperature of 8 degrees Celsius it to someone on the first day of the New Year has provided. That, however, did not stop the forty thousand who want to splash in his searing unfriendly waters.
And now - a tricky question. Residents of any country will celebrate a mass swim? If it were not an indication of the sea, one would think - Russia. However, in Europe there is another no less crazy nation. And it's Dutch. (For some reason, never surprised)
And they heyday bluish northern waters forty thousand orange swimsuit.
Record, though! Something tells me that beat eogo can either themselves residents of the Netherlands, or the Russians, if it touches them to the quick.
And why not?