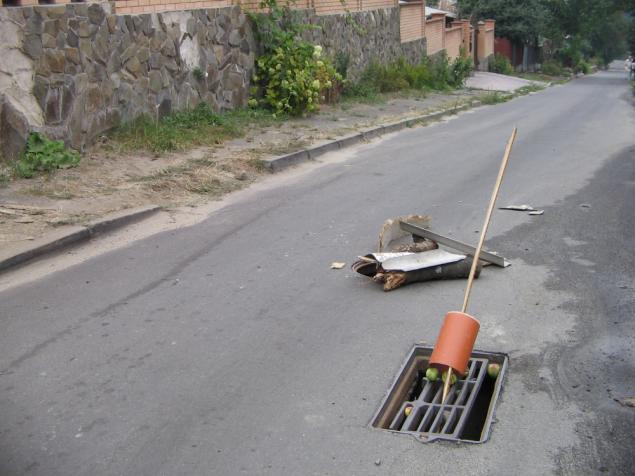 If not all, many of us are faced with the inconvenience that bring reaching the neighborhood construction. It is clear that the magnitude of these events are different. But as a whole - is increased noise, dust and other inherent attributes of construction. Unpleasant, but the thing is - people need to be built.
Not so long ago (with the beginning of the season works) began the construction of an object near the site of my living on the street in Kiev Dovatora. It is clear, concrete mixers, monstrous trucks with bricks - all, as usual.
Did not survive the first grating on plum livnevki. Well, is not designed for everyday she was on her multi-ton Caracol crap. Stuck in her board, as usual. But as long as the width of the road allows the rounds. However, that's bad luck. Now the wheels of construction equipment began to go exactly to the sewer manhole. Side by side they are at the whim of highway construction workers.
Luke honestly resisted. But on Thursday cracked into four parts (did not have time to shoot), and then collapsed. The natural question of "how and when will be eliminated and the one and the other" response has not been received. Perhaps the estimate is not provided. Nice, still have to deal with the company closed cycle - there to build, here is broken. And everyone has a job.
Tapericha detour through our border. It rained once. The impression is that this building - the projection of all that is happening in the country. Like to build something and cheerfully about this report. But at the same time as destroyed - that's another conversation, elsewhere and with other people.
The object